Selecting a Caribbean cruise itinerary can be a tough choice. With so many stunning Caribbean Island ports, how do you pick the right ones?
Luckily, there are plenty of options depending on the duration and starting point of your voyage. For instance, cruise ships sailing from Florida take longer if you're heading to the Southern Caribbean.
A year-round destination, the Caribbean ports attract vacationers for their beautiful beaches, historical sites, duty-free shopping, and the opportunity for adventure.
Seven-day voyages provide three to four port stops, but you can take a mini-cruise of four to six days.
Should you take a partial or full-transit Panama Canal cruise, you'll enjoy ports of call in the Caribbean and Central America.
Caribbean Cruise Embarkation Options
For those looking to embark on a Caribbean cruise, most journeys begin in Florida. Miami boasts the highest passenger count of five million per year.
Alternatively, you can begin your journey from other ports like Fort Lauderdale, Orlando, Tampa, and Port Canaveral.
Caribbean cruises from Florida go to all areas of the Caribbean, and most itineraries consist of seven days. Cruise visitors wanting a longer vacation can opt for an extended itinerary or sail back-to-back.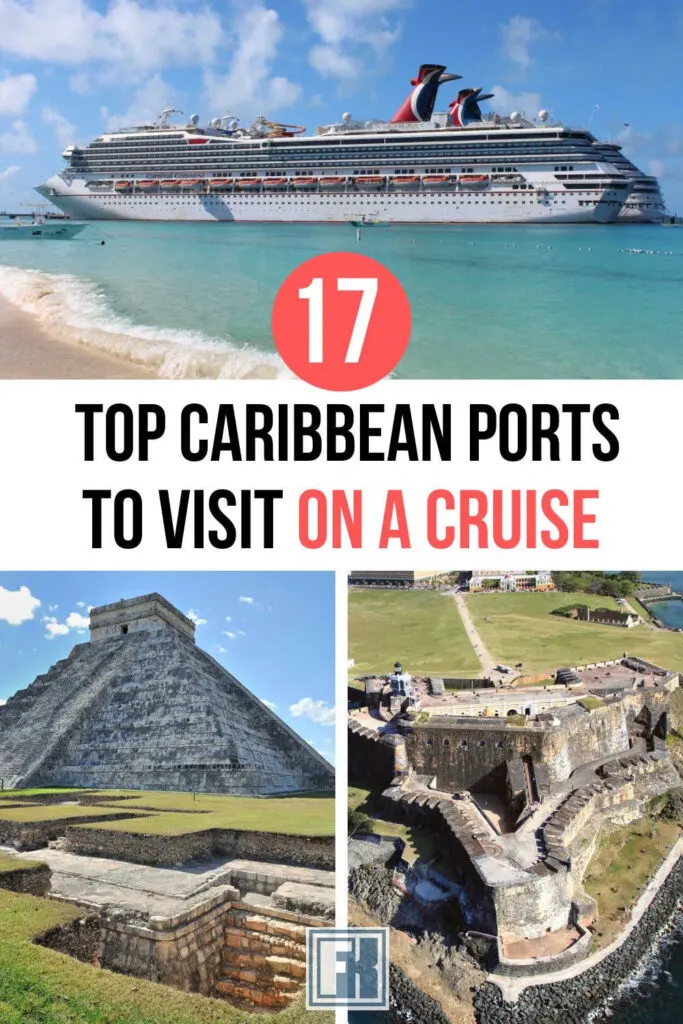 Those who live further north can take an eastern Caribbean cruise from New York, Baltimore, Bayonne, and Norfolk. West of Florida, Galveston, and New Orleans provide itineraries to the Western Caribbean.
If you prefer the islands in the southern Caribbean, you can embark in Guadalupe, Barbados, Martinique, and Puerto Rico.
Best Ports In The Eastern Caribbean Islands
Since the eastern Caribbean Islands are closest to the mainland United States, they see more travelers than the other regions. While each area has its star attractions, its history and culture are hard to beat.
Since it takes a short time to reach some eastern Caribbean cruise ports, you can opt for a sailing of under 7 days.
Old San Juan, Puerto Rico
Old San Juan offers a bit of everything, such as world heritage sites, the El Yunque Jungle, and pristine beaches. Vessels dock downtown, so cruise passengers can walk on cobblestone streets to the most popular attractions.
Since Puerto Rico sits in the storm path, you'll want to avoid traveling there between June and November. December through March offers slightly cooler temperatures (in the 80s) and lower humidity.
If you embark in Old San Juan, consider spending a few days in Puerto Rico exploring the city and beyond. The colonial architecture and historic forts provide a cultural escape for history buffs.
You can choose to tour El Morro or Castillo San Felipe del Morro, constructed to protect the city from pirates. Alternatively, a tour of Castillo San Cristobal allows you to see the fortress that prevented invasions from the land.
Both structures are National Historic Sites and sit within the old walled city.
If you prefer to escape the city, immerse yourself in the serene beauty of El Yunque Rainforest. This 28,000-acre national park is home to some of the most beautiful waterfalls Puerto Rico has to offer.
La Coca Falls, Juan Diego Falls, and La Mina Falls are only some of this park's natural wonders that beneath the Sierra de Luquillo Mountains. If you love nature and adventure, El Yunque Rainforest is a great place for an unforgettable day trip.
During your port day, stop to sample the local Puerto Rican cuisine. Mofongo, Empanadillas, and Arañitas will tantalize your taste buds.
Philipsburg, St. Maarten
Philipsburg, St. Maarten, is a beautiful destination to visit while cruising and a popular port on many itineraries. Cruise ships dock at Port Philipsburg, where its two piers can accommodate up to four vessels.
Downtown Phillipsburg is about a 1km walk from the port to a white sandy beach with inviting turquoise waters. You can also take a water taxi if you prefer a quicker route.
Located just minutes from the city center of Phillipsburg, the cruise terminal is near boutique shopping, local restaurants, a tourist information center, and numerous hotels.
December through April provide the best time for visitation as it has the warmest weather. The island is unique in that it is divided between two nations: the French and the Dutch.
Despite this division, St. Maarten is known for its beautiful coastal lagoons and stunning beaches, making it a must-visit destination for any Caribbean traveler. Philipsburg is a great location to come back and enjoy an all inclusive Caribbean getaway.
If you're planning a trip to the Dutch side of the island, make sure to add Great Bay Beach to your itinerary. This stunning beach allows visitors to rent a comfortable lounger and umbrella and buy a bucket of ice-cold beers for just $20.
Great Bay Beach is perfect for families to enjoy sand castle building and swimming. The beach has a shallow, gradual entry, with excellent restaurants steps away.
If you're not looking for a beach day, head to Maho Beach, known worldwide for watching planes land right over your head. Maho Beach has a noisy location at the end of Princess Juliana International Airport's runway.
Nearby restaurants display the arrivals timetables as watching airplanes pass over the beach is a popular tourist attraction.
Contributed by Erin from The Exploring Family
Puerto Plata, Dominican Republic
Along the northern shores of the Dominican Republic in the eastern Caribbean lies a beautiful gem of a city called Puerto Plata. And lucky for cruise lovers around the world, this town also has a cruise port!
With a rich history, Puerto Plata was founded in 1503 by Christopher Columbus himself. It is located along the islands' Amber coast, which got its name because, underneath the surface, you find some of the clearest ambers on Earth.
Surrounded by the fierce sea, mountains, and valleys overflowing with lush greenery, Puerto Plata is one of the most popular destinations on the island.
There is a myriad of stunning beaches close by. Plata Dorada, the golden beach, is the most famous and a short taxi drive from the port.
When you dock at Taino Cruise port, you are within walking distance of the cruise center in Puerto Plata. You can walk to the historic center with numerous museums and historical sites to explore, as well as lots of nice restaurants, bars, and shopping options.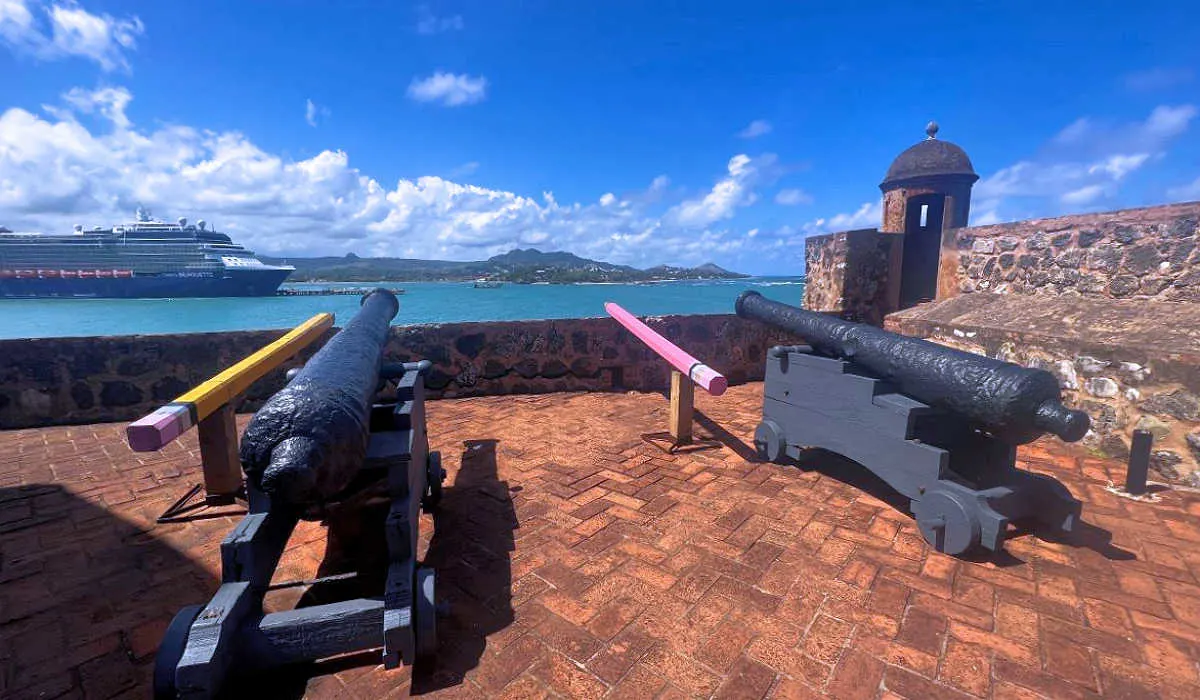 Puerto Plata's most famous historic sites include the Cathedral San Felipe and the 16th-century Fortress of San Felipe, with fantastic city and bay views.
While in Puerto Plata, take the teleferico, the cable car, to the top of Mount Isabel de Torres (you can hike up, too) for the amazing city views!
Other fun options nearby are visiting the Ocean World Adventure Park, the Monkeyland, or going on an airy zip line adventure! Alternatively, you can repel down the 27 waterfalls of Damajagua.
The most pleasant time to visit Puerto Plata is between December and March, during the dry season when the temperature is in the 70s or low 80s.
Contributed by Hege from The World By Hege
St. Thomas, US Virgin Islands
St. Thomas is located in the Eastern Caribbean and is renowned for its white-sand beaches, sparkling turquoise waters, and rich history. Whether you're a beach lover or a cultural enthusiast, St. Thomas has something to offer everyone.
The beaches here are simply stunning. Magens Bay, one of St. Thomas's most famous beaches, is known for its mile-long stretch of white sand and crystal clear waters. Other popular beaches include Sapphire Beach, Lindquist Beach, Coki Point Beach, and more.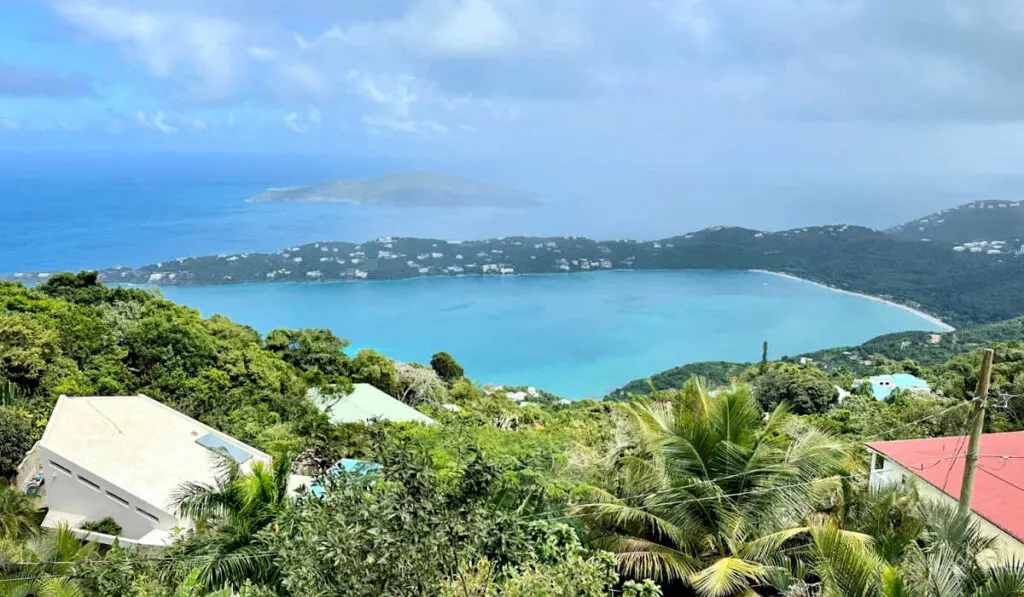 In addition, St. Thomas offers visitors a glimpse into its past with colonial architecture, cobblestone streets lined with colorful buildings, and historic sites like Fort Christian and The Blackbeard Castle — all intertwined with the local culture that makes this island truly unique.
St. Thomas has two cruise ship ports on the island's south side: Havensight Cruise Pier and Crown Bay Cruise Pier. Both piers make it incredibly easy to disembark and explore the island immediately, with plenty of transportation options once you get off the ship.
The best time to visit St. Thomas is from December to April when the temperatures are pleasant and rainfall is low. You can expect warm days filled with sunshine and pleasant breezes during these months.
There are plenty of things to do in St. Thomas on a port day. You can spend the day exploring the abundant underwater world with a snorkeling or scuba diving excursion around Buck Island National Refuge, Secret Harbor Beach, or Hull Bay.
If you want a relaxing day, you can spend the day at Magens Bay Beach. There's a bar behind the beach, so you can have a drink while listening to the gentle sound of the Caribbean waves.
Last but not least, you can even go on a sightseeing tour of St. Thomas's best attractions, including the Skyride to Paradise Point, The Mountain Top, Drake's Seat, and the Pirate's Treasure Museum.
Contributed by Disha of Disha Discovers
Port Zante, St. Kitts
St Kitts is in the leeward islands of the West Indies and one of the best ports in the Caribbean for cruisers. Ships dock at Port Zante in the main town of Basseterre, and there is plenty of activities on port days.
With average temperatures between 28-31C/82-89F throughout the year, there is no best time to visit in terms of temperature. However, June-November is hurricane season, so it may be wetter during those months.
St Kitts has an incredible mix of history, beaches, and nature to explore. Some of the best beaches on St Kitts are easy to reach from the cruise port in a short taxi ride.
The best white sand beaches are down the southeast peninsula, where you can also stop for spectacular views at Timothy Hill viewpoint.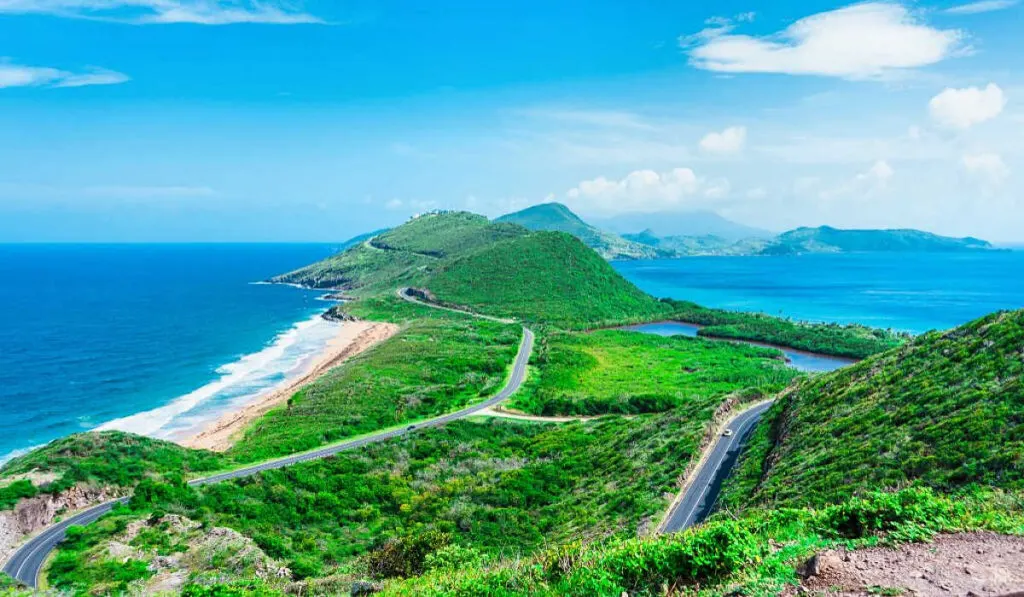 Most of the island's natural beaches are black sand due to the volcanic nature of the island. You can find some fantastic shallow snorkeling spots off the beaches, namely South Friars Beach.
For history lovers, you won't want to miss a trip to Brimstone Hill Fortress, a UNESCO world heritage site. Brimstone Hill is one of the only remaining forts in the Caribbean and has been largely restored so visitors can get a real sense of what life was like in the 1700s.
Alternatively, St Kitts is the perfect place to get out into nature. Many hikes around the island are suitable for everyone, including children.
Some walks go to hidden waterfalls or secret beaches, while others go into the jungle, where you can see some of St. Kitts' unique flora and fauna.
Contributed by Steph of Book It Let's Go!
Grand Turk, Turks And Caicos
Grand Turk is a small island in the Caribbean but the largest of the Turks and Caicos Islands. It is the ideal destination for those seeking a relaxing beach vacation.
While the island is only 7 miles long and 1.5 miles wide, it can accommodate two large cruise ships daily at its southern dock.
Unlike other Caribbean islands, there is no town at the cruise port.
Instead, visitors can enjoy a stunning beach with opportunities for paddleboarding, snorkeling, and other water sports.
The cruise center complex offers shopping, a Margaritaville, a large pool with swim-up bar, a FlowRider, and more. It's an ideal venue for families who want to stay close to the port. If two cruise ships are in port, expect a crowd at the pool area.
Most cruise guests spend their day at the beach, where they can snorkel amongst nurse sharks, barracudas, and sea turtles.
Like the islands further south, December through April provides a warm climate and temperatures in the low 80s. Water temperatures are lower, in the mid to high 70s.
A catamaran fishing cruise is also available for those looking for a more private experience. To escape the crowds, visitors can head to the island's lighthouse, built in 1852, or visit the Turks and Caicos National Museum in Cockburn Town for a dose of history.
While the southern Caribbean Islands have the best beaches, Grand Turk provides an excellent option for those wanting a shorter cruise.
Best Cruise Ports In The Western Caribbean
The western Caribbean Islands' top shore excursions are all about adventure. If you're looking for fun in the sun, diving tours, and zip-lining, be prepared for an adrenaline-filled week.
Ocho Rios, Jamaica
Jamaica is a popular cruise port because of its amazing beaches, a hallmark of the Western Caribbean islands. Each cruise line has its port around the island, and Ocho Rios is where the Norwegian Cruise Line docks.
A Caribbean cruise is excellent for first-time cruisers since the tropical weather is warm year-round. The rainy season in the Caribbean is from July to November, and the best time to visit is February to May, when you'll enjoy drier weather.
Right outside the dock of Ocho Rios is a shopping center that cruisers can visit if they want to stay near the ship. There is a Starbucks and lots of shops with Jamaican-themed gear and souvenirs.
The waterfront is pretty, and there are chairs available to spend the day sunbathing. But it is way better to go out and explore! There are many places within a short drive of the pier.
The Blue Hole and Dunn's River Falls are fun outings for those who love nature. Both require a pair of water shoes since visitors have to hike through the jungle and walk in the river to see the sites.
Jamaican jerk chicken is a must-try! Foodies can visit Scotchies for delicious grilled chicken. For an authentic Jamaican experience, a plate of chicken should be partnered with scotch bonnet hot sauce and washed down with a glass of Ting, a grapefruit soda.
These are just a few things to do while in Ocho Rios for a day. Cruisers should visit this lovely city to get a taste of what Jamaica offers.
Contributed by Bernadette of Live A Relaxed Life
George Town, Grand Cayman
The western island of Grand Cayman is filled with unique adventures and one of the Caribbean's best beaches.
Ships anchor slightly offshore, and cruise passengers tender to the George Town Cruise Port. Guests require a tender ticket which can be a lengthy process. So plan ahead and leave early.
January to April provides the best months to visit, with little rainfall and warm weather. Generally, the average lows are in the 70s, and highs are in the mid-80s during these months. The ocean water is warm year-round.
Grand Cayman is famous for Stingray City, a shallow sandbar offshore where hundreds of stingrays aggregate daily. You'll have the chance to interact with and feed the stingrays if you feel brave.
Most Stingray City tours offer the chance to explore the area's abundant marine life, including schools of colorful fish and friendly stingrays. You may even spot a sea turtle if you're lucky. Tour operators offer trips around cruise port times, making it an excellent activity for cruise guests.
If you prefer a low-cost activity, hop in a taxi in George Town and make your way to Seven Mile Beach. This pristine strip of shoreline attracts visitors and locals alike.
There are a few coral reefs offshore, but it's best to spend the day with your feet in the sand or swimming in the warm waters.
Overall, if you're making a port stop to Grand Cayman, you can't go wrong with Stingray City or Seven Mile Beach.
Contributed by Rachel of Caribbean Uncovered
Cozumel, Mexico
Cruise lines visit Cozumel more often than other ports in the Caribbean. Located off the coast of Mexico's Yucatan Peninsula, vessels dock in one of three ports. Taxis are readily available to take you around the island or to an all-inclusive resort.
Cozumel is known for its amazing diving and snorkeling. The crystal-clear waters of Palancar Reef are ideal for both divers and snorkelers. Protected from fishing, the coral reefs are home to a variety of tropical fish in every color of the rainbow.
If you prefer to stay dry and enjoy the sun's rays, there are lots of beaches near the port. While you can walk to some, the ones further away have more amenities, such as Mr. Sanchos.
A popular choice for families, Mr. Sanchos has lots of water toys to keep the kids entertained. If you prefer a quieter locale void of children, Nachi Cocom will fit the bill.
Depending on your time in port, passengers can head to the mainland instead. To avoid missing your ship, these tours should be booked through your cruise line.
So, if seeing Chichen Itza or visiting a cenote is on your bucket list, expect to spend most of your eight-hour tour in transit. Depending on your cruise line, you can visit Chaak Tun Cenotes or Amazing Secret River.
March through June provide the driest months, and temperatures in the high 80s. Should you visit in the early months, you could enjoy the festivities of Carnaval.
Havana, Cuba
Havana – Cuba, is considered one of the best ports in the Caribbean for cruisers due to its rich history, scenic location, vibrant culture, stunning architecture, and warm, hospitable locals.
Located in the western Caribbean, Havana has a modern cruise terminal centrally in the city that can accommodate large ships. It is easily accessible for cruise passengers to disembark and explore the city.
Havana boasts a picturesque harbor surrounded by hills and mountains, and the city offers a range of activities for cruise passengers on a port day.
Visitors can explore Havana's historical landmarks, such as the Old Town of Havana, a UNESCO World Heritage Site. They can also visit the Museum of the Revolution, the Cathedral of Havana, the Morro Castle, or the Plaza de la Revolucion.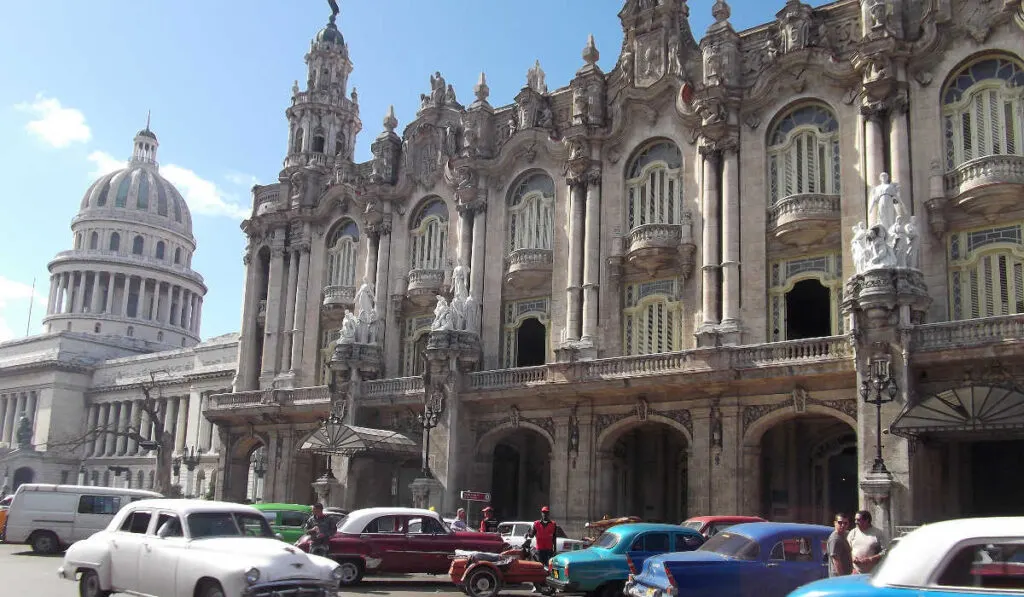 If you don't fancy walking much and want to see the sights in style, a great option is to take a vintage car tour of the city!
Those who want to immerse themselves in Cuban culture can take a Cuban salsa dancing lesson, a Cuban cooking class, or stroll down the Malecon and mingle with the locals.
Cuban people are known for their warm hospitality and friendly nature, which makes Havana a welcoming destination for cruise passengers.
The best time to visit Havana is between November and April, the dry season, with average temperatures ranging from 73°F to 81°F. May to October is the wet season, with higher temperatures and more rainfall.
Contributed by Catrina of 24 Hours Layover
Roatan, Honduras
If you're looking for the best Caribbean cruise parts, you can't leave Roatan, Honduras, off your list. Roatan is one of three Honduran Bay Islands Located in the Western Caribbean Sea. It has stunning scenery and entertaining excursions for adults and kids alike.
Roatan makes the list of the best cruise ports in the Caribbean, first and foremost, for its exceptional snorkeling.
Grand Roatan Resort on West Bay Beach is one of the best resorts for snorkeling in the Caribbean because the reef starts just offshore in shallow waters. That means you can access the top-notch snorkeling area from the beach without getting on a boat.
West Bay Beach is public so cruise ship passengers can snorkel here too! The water is crystal clear and filled with vibrant coral, tropical fish, and sea turtles. It's a must-do experience for anyone who loves the underwater world.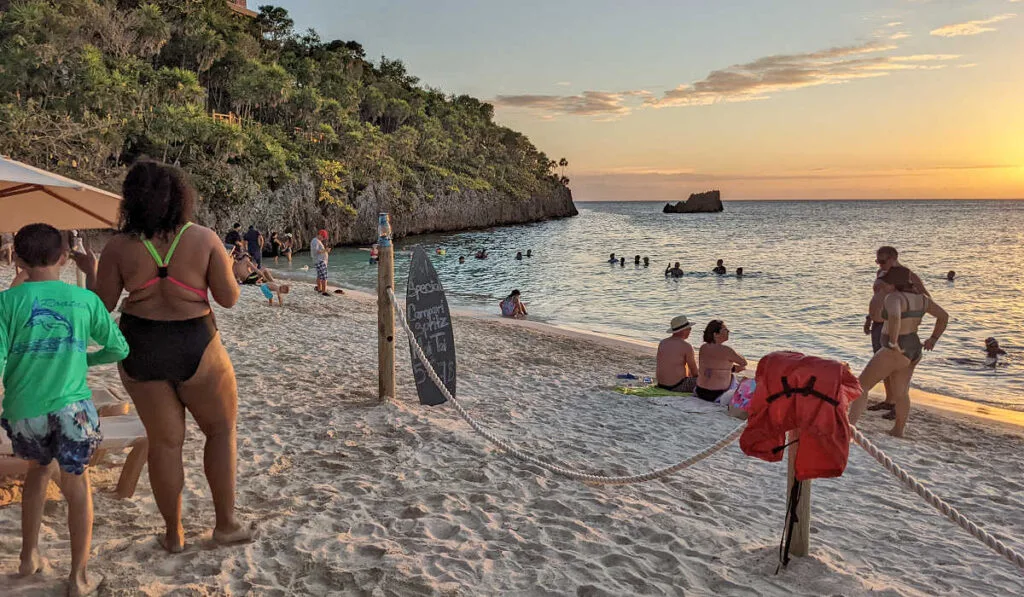 If you want something more thrilling or unique, visit Gumbalimba Park for ziplining through the jungle canopy and then a snorkeling break. Alternatively, head to Roatan's more remote East End to escape the crowds on the long, secluded Camp Bay Beach.
Roatan is home to two ports: Mahogany Bay and Coxen Hole. The ports are only about 20 minutes apart from one another, and each offers easy access to the island's excursions and beaches.
Roatan is a small island; you can reach all the island's top sights from the ports in an hour or less. You'll have a fantastic day, no matter the excursion you choose, but the best ones should include snorkeling.
The best time of year to visit Roatan is from March to August when average temperatures range from approximately 76-88 degrees.
Contributed by Lee of Mango Tree Travel
Belize City, Belize
Belize City is a popular destination for cruise ships, and for good reason. The city boasts a perfect climate year-round, the stunning Belize Rainforest, and the second-largest reef system in the world.
December through April provide the best months to visit to avoid hurricane season. During these months, you'll enjoy average temperatures in the low to mid 80s.
Visitors can choose from various activities, including jungle ecotours, cave explorations, and the Mesoamerican Barrier Reef excursions.
Offshore, you can choose from a myriad of islands to spend a port day.
A day trip to Caye Caulker lets you enjoy a laid-back isle with a hippie vibe. Your operator may combine your tour with snorkeling at Shark Ray Alley. Here you can swim with stingrays and nurse sharks in crystal-clear waters.
Those without a budget might prefer a flight to see the mesmerizing Great Blue Hole. The giant underwater sinkhole is so large it can be seen from space.
Inland, tours travel to ancient Maya archaeological sites for a chance to immerse yourself in the Mayan cultural history. Xunantunich and Lamanai ruins are rated the most popular.
If you prefer to explore the rainforest, book with a repeatable guide. Half of Belize is covered in rainforest, home to wildlife species you won't find back home. Jaguars, Ocelots, Tapirs, Poison Dart Frogs, Spider and Howler Monkeys call the jungle their home.
You can also find hundreds of bird species, over 500 different trees, and 250 types of orchids. The Black Orchid, which is actually purple, is Belize's national flower.
Best Southern Caribbean Ports Worth Visiting
Many of the southern Caribbean ports lie outside the storm path. So, you can travel there safely year-round.
Of the three areas in the Caribbean Sea, the southern provides the best beaches. Here are some top ports to visit.
Willemstad, Curacao
Curacao is an amazing island that should be on everyone's Caribbean cruise itinerary. The cruise ships headed for Curacao dock right in the capital city of the island, Willemstad.
The newly built cruise terminal is only a few steps away from Willemstad's history-rich, colorful capital city. There is a shopping center and a tourist center adjacent to the cruise terminal, making it very convenient.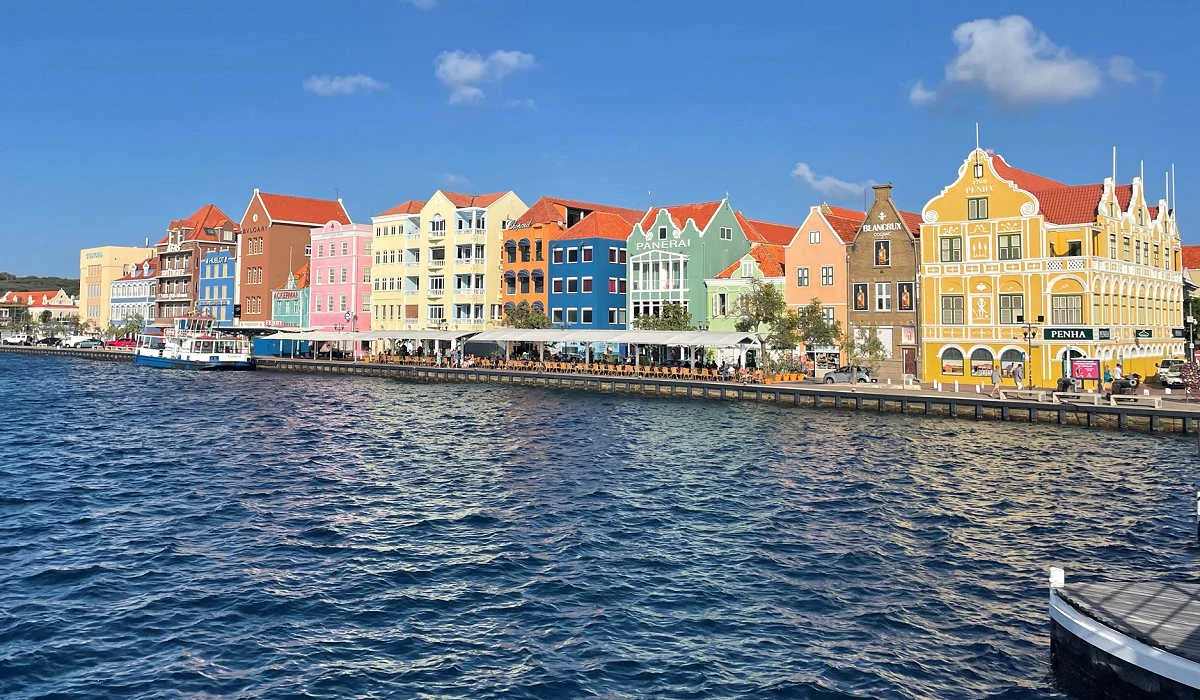 Curacao is located outside the hurricane belt, so it is a great destination year-round. Temperatures hover between 29 and 31 degrees all year. Even during the official rainy season (December until March), the weather is fantastic, aside from a few short showers.
When arriving by cruise ship in Curacao, there are many amazing things to do. The island's magnificent beaches invite visitors for a fun day of beach hopping, snorkeling with sea turtles, and colorful cocktails.
The island's northwest is quite rough and offers some magnificent natural spectacles. The Shete Boka National Park invites visitors to see stunning waves crashing onto impressive cliffs.
Visitors looking for an untouched Caribbean Paradise will love a day trip to Klein Curacao. The small, uninhabited island offers a magnificent beach and great diving to undersea caves.
Visitors looking for a more cultural experience will love exploring Willemstad on foot. The city is separated into two districts (Otrabanda and Punda) by Sint Anna Bay.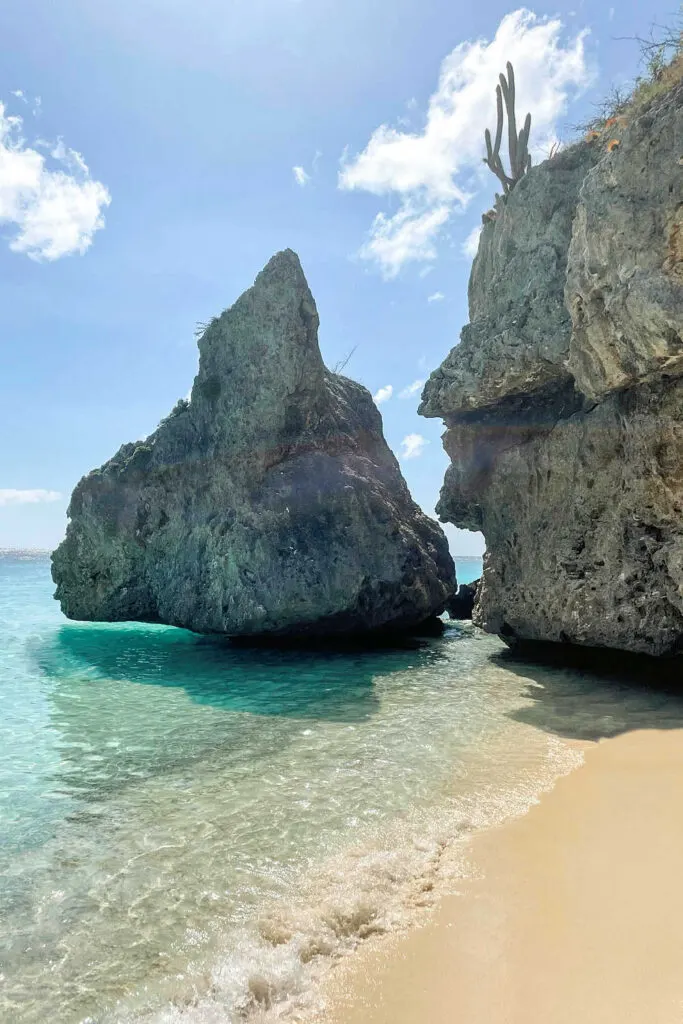 Stunning street art, colorful houses, and interesting museums fill both communities. Of course, there are many shops scattered around the capital city for souvenir shopping.
Contributed by Sabrina of Shades of Summr
Roseau, Dominica
Dominica, located in the southern Caribbean, is a ruggedly beautiful island known as the 'Nature Island of the Caribbean.' Dominica is the perfect place to enjoy the beauty of nature and is known for its incredible waterfalls and pristine waters for snorkeling.
Most cruise ships will dock at the Roseau cruise terminal, which is on the southwestern coast of Dominica.
February through April are the most popular times to visit Dominica, as it's the season with the lowest rainfall. (Since most of Dominica is a rainforest, you'll likely get some rain whenever you visit – especially in the mountainous areas.)
Expect high temperatures in the low-mid 80s and lows in the low 70s.
There is little infrastructure in the town of Roseau, so you'll want to book a shore excursion or tour in Dominica to explore this beautiful island. You could hike through the rainforest to see the island's stunning waterfalls, such as the twin waterfalls of Trafalgar Falls.
Whale watching tours are extremely popular in Dominica, as the island's unique geography provides the perfect harbor for sperm whales. Sperm whale sightings are most common from November through March.
Another excellent choice for your port day in Dominica is to go snorkeling! Dominica has some of the best waters for divers. Snorkel in Champagne Reef, where bubbling volcanic gases make you feel like you're swimming in a giant glass of Champagne.
Whatever activity you choose, you'll have a great day in Dominica!
Contributed by Lisa of Waves and Cobblestones
St. George's, Grenada
Grenada is one of the most Southern ports in the Caribbean, and the destination is fondly known as the Isle of Spice.
Though it covers a landmass of only 133 square miles, the island is the second-largest producer of nutmeg in the world after Indonesia.
This port is an extraordinary one to visit as Grenada has a rich history, wrecks, waterfalls, reefs, and some of the best beaches in the Caribbean.
Grand Anse Beach, which visitors love for its blue turquoise waters and a two miles stretch of white sand, is only 15 minutes away by car. Public transportation is available for only USD 1, and access to all beaches on the island is free.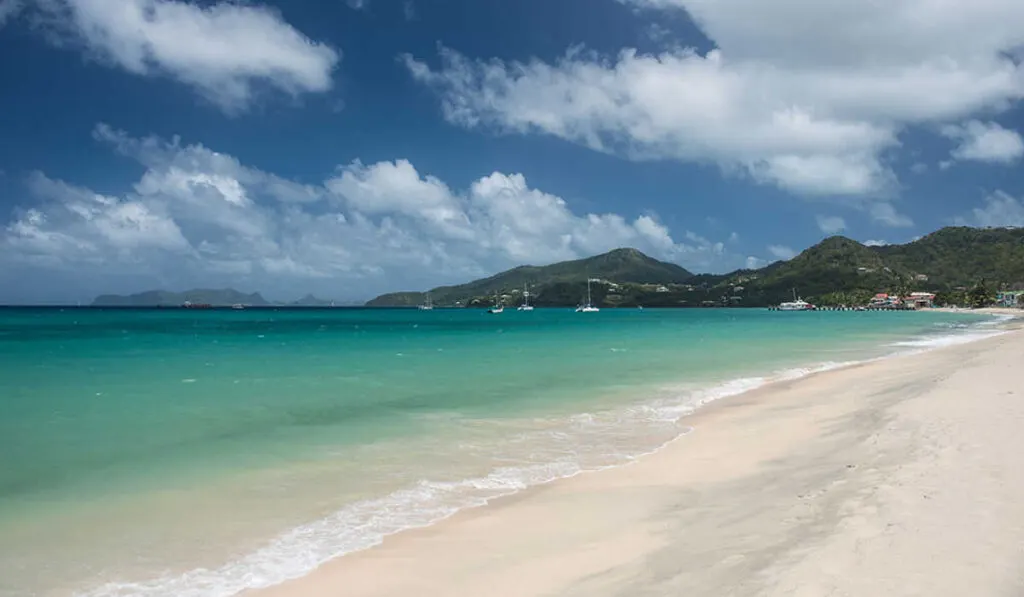 Malls, banks, and restaurants are all within walking distance of Grand Anse Beach, so it's a perfect place to go also to explore the South of the island.
Cruise ships dock in the heart of the capital city, St George's, and there are lots to see and do by walking.
One of the best things to do in St George's is to visit a café on Young Street called House of Chocolate, which serves locally made eats and drinks made with premium cocoa beans grown on the island.
The best time of year to visit is between December to April, which marks the end of the hurricane season and the start of the dry season.
Temperatures are in the mid-eighties, so prepare for warm sunny weather.
Contributed by Rachel of Around The Caribbean
Bridgetown, Barbados
Are you looking for the perfect Caribbean cruise port? If so, Barbados has it all! It has crystal-clear waters, white sand beaches, lush tropical rainforests, and vibrant culture.
Barbados is the ideal destination for those seeking a unique and unforgettable vacation. Moreover, as Barbados is south of the Caribbean, it is often considered one of the better islands during the hurricane season, with lesser impact than some islands further north.
The best time to visit is January to April, when you can catch the rays and have minimal rainfall to worry about.
Arriving at the port of Bridgetown, the island's capital, you'll be right in the center of the action. You're close to the shopping district, where you can snap up some tax-free bargains (just take your passport), or you can easily head south to one of the beautiful beaches nearby.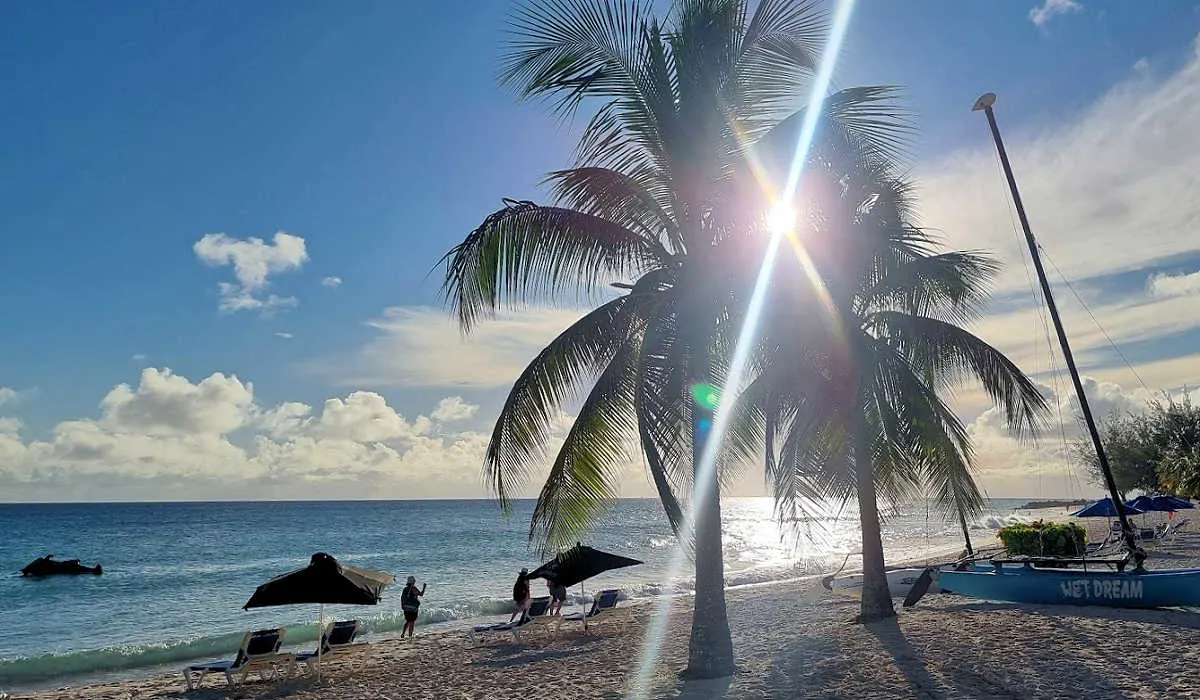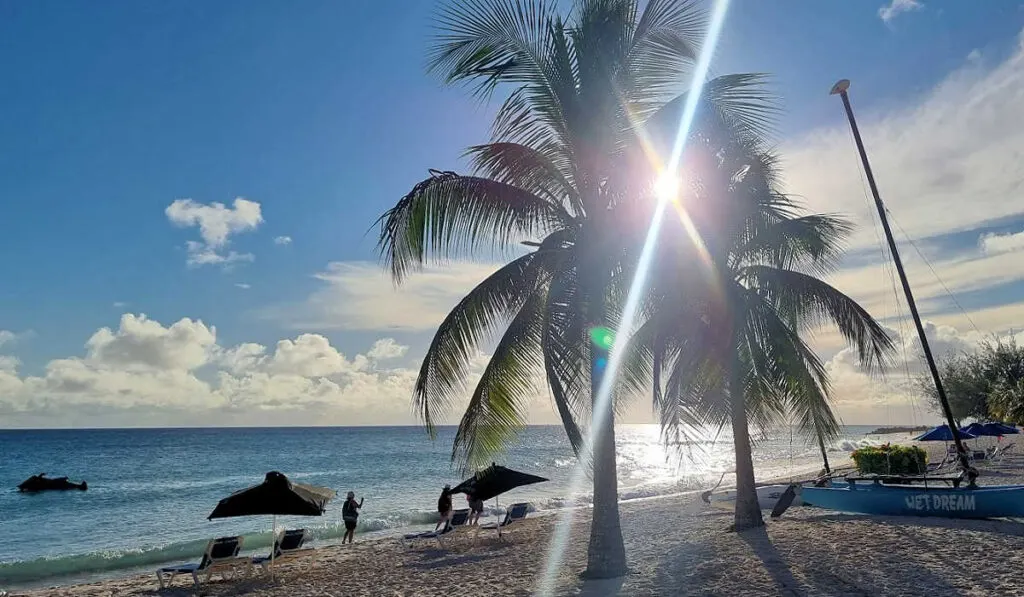 Barbados is one of the best Caribbean islands for adventure, and for a good reason! If you have time, take to the waters for unforgettable snorkeling with sea turtles or scuba diving around the infamous shipwrecks.
If you want to explore, you can hire a driver for the day. He will take you to where Rhianna grew up, the Animal Flower Caves on the north coast, or Harrison's cave in the central region.
Barbados offers something for everyone, so whether you want adventure or relaxation, you can get it all here.
Contributed by Kerry of VeggTravel
Oranjestad, Aruba
Aruba is a small island, a mere 21 miles (33km) long and 6 miles (9km) wide in the southern Caribbean Sea. It's just north of Venezuela, which you can sometimes see on a clear day.
Aruba is a popular destination while cruising and part of the ABC Islands (Aruba, Bonaire, Curacao). The weather is good year-round, for a start.
The ships dock in northern Oranjestad, the capital, just a 5-10 minute walk from downtown. You can get public transportation to access the rest of the island at the end of the dock.
The main drawcard of visiting Aruba is its beaches. In fact, Eagle Beach has been voted the #2 Caribbean beach by a USA Today survey. Discover its magnificent stretch of white sand, clear turquoise waters for watersports, Divi Divi Trees, and shaded picnic areas for yourself!
If you don't want to sit on a beach, shop till you drop in Oranjestad. Lloyd G. Smith Boulevard, Main Street, and the Renaissance Marketplace are the main shopping precincts. They also offer some great restaurants.
Or hop on the Street Car, taking you to the capital's landmarks – the Archaeological Museum of Aruba, Fort Zoutman Historical Museum, and City Hall.
Although Aruba can be easily explored by public transport if you only have a day in Aruba, a shore excursion organized onboard your ship may be the best option.
Tours will take you around the island, to the beaches, the natural arches, and through the rugged terrain of Arikok National Park with its tall cacti before ending in the capital.
Contributed by Sharyn of Live Work Play Travel