Puerto Plata's Amber Cove Cruise Port in the Dominican Republic is a world of its own. It is not just a simple cruise port in the Dominican Republic; it is a whole resort area reserved exclusively for Carnival passengers (incl. their sub-brands).
You face a tough choice: enjoy Amber Cove's amenities or explore the Dominican Republic's beauties on an excursion.
The following port guide shows you all these options, including the best things to do in Amber Cove for cruise ship passengers.
What Is Amber Cove?
Amber Cove is Dominican Republic's biggest cruise port. It is used exclusively by ships of Carnival Corporation and its subsidiary cruise lines. These include Carnival Cruise Line, Princess Cruises, and Holland America Line vessels.
Planning your trip to AMBER COVE?
It is only accessible with a cruise and features fun attractions such as watersports, pools, water park, restaurants, and shopping. Its impressive amenities make it more like a resort in the Dominican Republic than a port of call.
From Florida, you can enjoy extended itineraries of 14 days or more or opt for a five-day mini-cruise.
While the national currency is the Dominican Peso, most businesses, restaurants, and taxis will accept the US dollar.
Amber Cove Facts
Amber Cove is located on the Dominican Republic's north coast, close to the provincial capital of Puerto Plata. You can visit several famous tourist attractions with easy access to Puerto Plata.
You can read more about the city and its sights further below. Puerto Plata is just a 15-minute drive from Amber Cove cruise port or approx. 7.5 miles.
From the approx. 1.3 million cruise passengers the Dominican Republic received last year, 55-60%, arrived at Amber Cove port. With more than 700,000 passengers annually, it ranks as the most popular cruise port in the country.
Amber Cove cruise terminal opened in 2015, making it the Dominican Republic's newest cruise port. It has two berths to hold two large cruise ships simultaneously and can handle up to 8,000 passengers.
With an investment of over 85 million USD, this top-notch facility has been designed to offer an unparalleled experience for cruise-goers and was always one of the showpieces of the Dominican government.
Port Of Amber Cove Amenities
This Caribbean port is super convenient as all the port amenities are just a short walk away. Still, if you have mobility issues, tricycle services (complimentary, tips expected) are available.
The Dominican Republic may be part of your eastern Caribbean cruise along with St. Thomas, Grand Turk, Bahamas, Key West, and San Juan in Puerto Rico.
Amber Cove Cruise Center has various amenities: duty-free shops, restaurants, bars, tourism info, car rentals, ziplining, pools, watersports, and more.
A few things to note:
You don't need any transportation for the things to do right at Amber Cove. It takes a 2–3-minute walk from the cruise ship to access ziplining, water slides, water activities, and food options.
You'll find plenty of lounge chairs by the swimming pool, which are free.
Taxi services are available for a fixed price. If you're looking for cheap taxis, you can walk to the main road and hail a local cab (but you should know what you're doing).
Amber Cove Cruise Port Activities
If you decide not to leave the cruise port, there are plenty of things to do at Amber Cove. Here are some of the choices you have:
Enjoy the pool:
Lounge chairs are free for cruise ship passengers, and the pools are set in a pleasant and tropical environment. Enjoy the Caribbean vibe and order drinks or food (for an extra charge) from the Coco Cana bar & restaurant.
Zipline:
The zipline over the entire port area is a top attraction not to miss if you love adrenaline and action. With USD 20 (subject to change) for an unlimited pass, it is also reasonably priced.
Rent a private cabana:
You can rent private cabanas and Bali beds around the port area. While scattered through the lush tropical vegetation and shoreline, consider an ocean cabana instead. These overwater cabanas provide a special highlight to your Dominican Republic port day.
Most of these cabanas accommodate up to eight guests, with the exception of the grand cabanas which fit up to 20.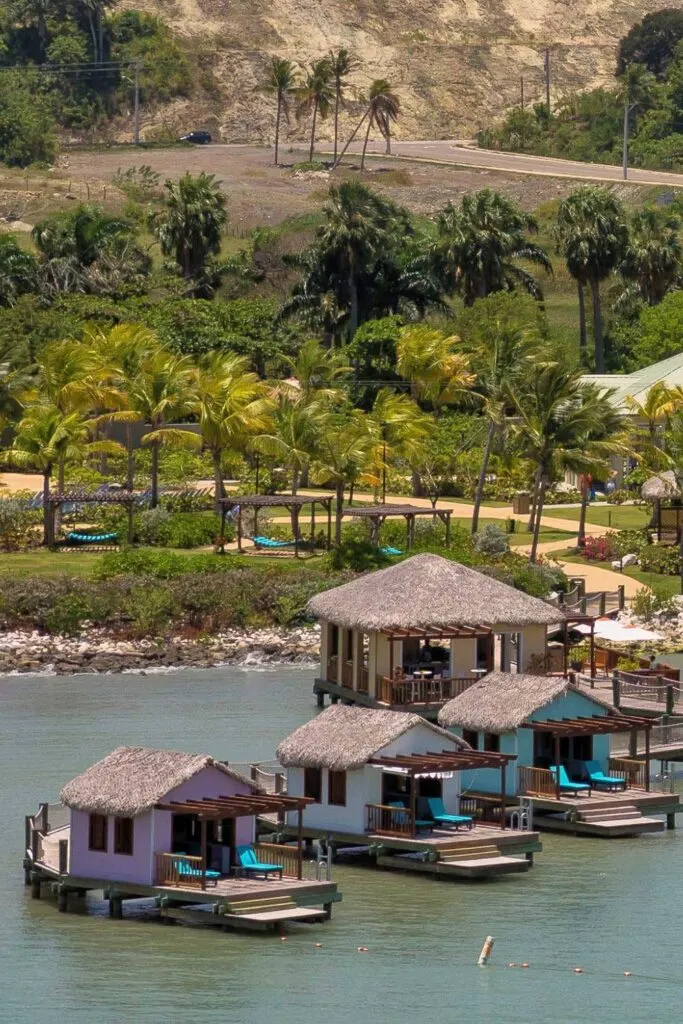 Cruise passengers can choose from poolside, ocean, grand, and hillside cabanas. Cabanas are air-conditioned, include complimentary Wi-Fi, a TV, zipline, and selected refreshments.
However, at USD 480 to USD 2,000, this option may be out of most travelers' budget, unless you're cruising with a large group.
Do some watersports:
If you love the ocean, you can enjoy thrilling ocean water sports. Kayaks, SUPs, hydro-bikes, pedal boats, and solar catamarans are available to rent for an extra charge.
Expect to spend around USD 20 for half an hour or an hour, depending on your water toy.
Do some shopping:
Amber Cove also features an extensive shopping mall with jewelry, gift shops, and vendors offering local goods and travel essentials.
It can't hurt to look here, particularly as prices are signposted in most cases. This avoids the typical haggling you might be used to in countries of the Caribbean.
Top Amber Cove Shore Excursions In Puerto Plata (2 To Avoid!)
Even though Amber Cove is relaxing, you want to take advantage of its fantastic shore excursions in Puerto Plata.
The surrounding area has tropical vegetation offering a picturesque backdrop with the city's landmark Mount Isabel de Torres. Check out the following section for some of the best things to do in Amber Cove when looking for a shore excursion.
Puerto Plata City Tour
When looking for activities from Amber Cove, nearby Puerto Plata is a great place to start. The provincial capital offers a lot of different attractions in the city center.
In La Puntilla, you can tour Fort San Felipe, a historically important fortress and a great stopping point for history buffs. Alternatively, a picturesque oceanfront park, the interesting Amber Museum, a rum distillery, the local market, or several charming alleyways might be more to your liking.
Usually, there are different Puerto Plata shore excursions to the city, so check the description to find the right one for you.
Compared to its more famous counterpart Punta Cana, Puerto Plata has a rich history and a very authentic vibe; hence, there is much to explore.
Punta Rucia And Cayo Arena (Paradise Island)
This is the ultimate highlight when visiting the North Coast of the Dominican Republic and a must-do activity in Amber Cove.
Imagine boarding a speed boat, cruising the open ocean for 20 minutes, when suddenly, a sandbar appears in turquoise waters. That's Cayo Arena, aka Paradise Island.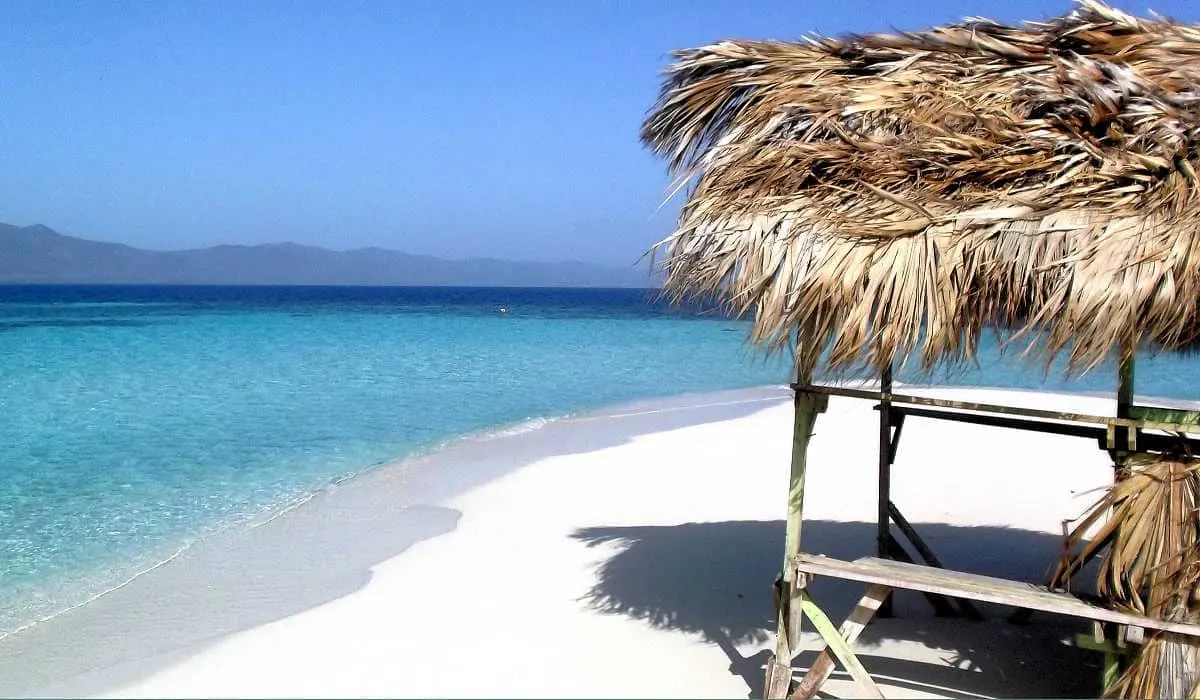 It is the best snorkeling destination in the Dominican Republic and offers impressive scenery and marvelous views. However, there are just two drawbacks of Cayo Arena:
It is a 1:45 hour drive to Punta Rucia, where you board the boat to Cayo Arena.
If many people book this, Cayo Arena gets pretty packed, as the sandbar is relatively tiny.
Still, it remains one of the most beautiful places in the Dominican Republic.
Ziplining
If you prefer some action in the air instead of the water, you can book two different ziplining excursions from Amber Cove.
One features the longest zipline over the ocean in the Dominican Republic. The other lets you zip and fly through tropical vegetation and stunning hills.
Damajagua Falls(27 Waterfalls)
If Cayo Arena is too far for you, you can visit another place which is a must-do on any Dominican Republic itinerary. Luckily, it is pretty close to your port of call.
This Amber Cove shore excursion to the 27 Charcos de Damajagua – sometimes called 27 waterfalls guarantees excellent fun and action.
This canyon features a river with several natural slides, swimming pools, and cliffs. First, you hike up a mountain before descending through its unique gorge.
During this tour, you'll jump, swim or slide down the waterfalls of Damajagua, a unique experience and a pretty cool family activity from Amber Cove.
You can reach Damajagua Falls in under 30 minutes from the cruise port. If you want to save money, you can skip the tour and do this on your own.
Take a taxi or public transport, and pay your entrance fee of USD 10-15 (depending on the waterfalls you do). You'll be ready for an exhilarating adventure once you're assigned a local guide and have safety equipment.
ATV Tour
The third option for action-filled fun is a guided ATV adventure. This adventure keeps you on the ground instead of going into the water or up in the air.
You can explore the countryside with a knowledgeable guide and visit authentic villages. During the tour, you'll learn more about the Dominican culture and sample different fruits or local products, such as cacao and coffee.
Usually, ATVs and buggy tours in Puerto Plata vary a little, so check the description before booking if something is crucial for you.
Chocolate And Coffee Farms
Another very local thing to do in Amber Cove and a unique experience is visiting a coffee plantation and chocolate farm.
The Cordillera Septentrional, the mountains just south of Puerto Plata, provide suitable conditions for growing both crops.
The best part is that both experiences are not very touristy. So, you can enjoy authentic farm production and learn the field process to a sellable product.
El Gallo Eco-Lodge
The shore excursions from Puerto Plata mentioned above are some of the most popular ones. However, there are also some things to do from Amber Cove which are less touristy. These hidden gems are guided excursions as well.
One of them is an excursion that heads to El Gallo Eco-Lodge, a small family-run accommodation in Puerto Plata's backcountry.
The lodge features a large garden with local fruits, a strong sense of responsible tourism, and a sustainable lifestyle. Here you can learn more about the local fruits and produce and enjoy a fresh farm-to-table dinner.
You could come here on your own (but only with previous reservations) and expect the taxi ride to take 30 minutes. When booking through the cruise line, the official Carnival shore excursion to El Gallo Eco-Lodge is called Ecolodge Getaway & Farm-to-Table Experience.
Puerto Plata Resort Day Passes
In Amber Cove, we recommend a resort day pass if you prefer to avoid the common shore excursions in Puerto Plata.
It's not like Punta Cana, but there are decent resorts within a 15-20-minute drive from the cruise port.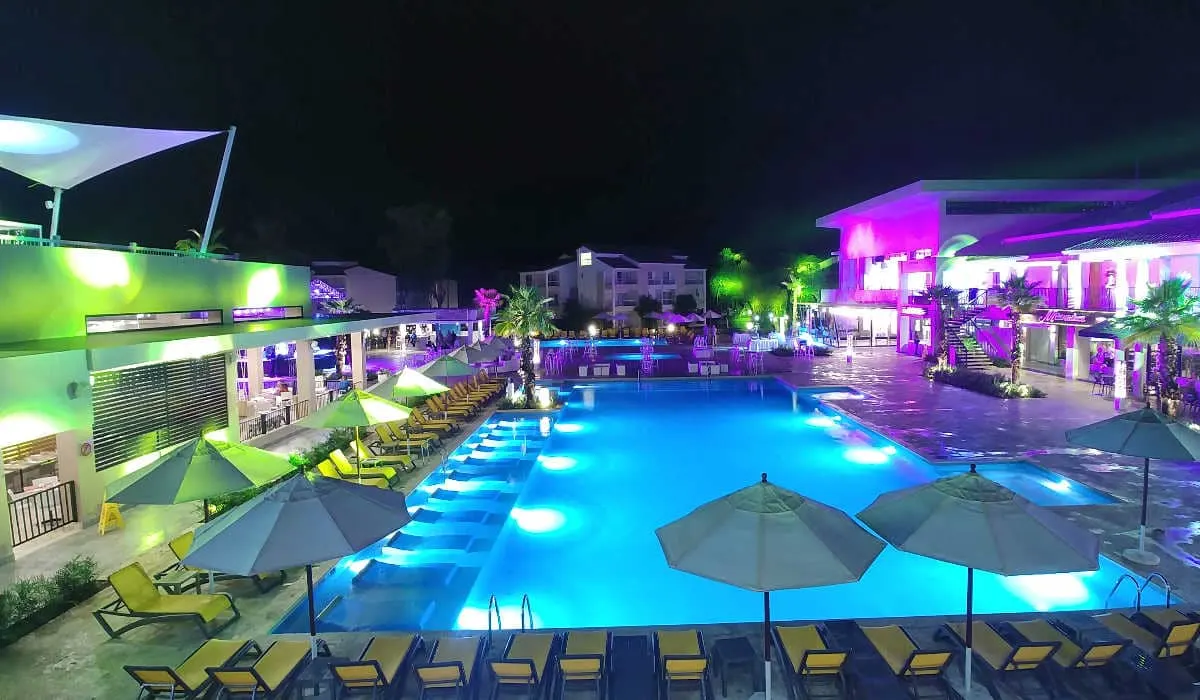 Not all of them sell day passes, but Sunscape Puerto Plata Resort & Spa, Iberostar Costa Dorada, and Viva Heavens by Wyndham usually offer access for cruise ship passengers.
You can book these individually with the resort and add your transport, or book it as a package with your Carnival shore excursion agent.
Beach Escape Packages
Some of the things to do in Amber Cove we would not recommend are the several beach escape packages. Several are on offer, but there is no spectacular beach in Amber Cove, Puerto Plata, or the surrounding area.
Is it worth paying nearly 100 USD per person to get there and have some food and drinks? You will have a better experience spending this money on some of the shore excursions described above.
However, if you want a real beach experience, continue reading the next section. It outlines the DIY adventures from Amber Cove cruise port to see what extraordinary experiences you can organize yourself.
Dolphin Explorer & Monkeyland
These are two more Puerto Plata shore excursions you definitely should avoid: Dolphin Explorer & Monkeyland. Are you seriously traveling to the Caribbean to see a captured species (dolphins) or not native to the island (monkeys)?
You can probably answer the question yourself. Therefore, please don't support this kind of shore excursion and pick one of the other amazing things to do in Puerto Plata and Amber Cove.
Things To Do In Amber Cove: DIY Adventures And Hidden Gems
Activities in this Caribbean port can be as expensive, even though the Dominican Republic is a much more affordable destination than many other Caribbean islands.
Therefore, we'd like to highlight also a few things to do in Amber Cove you can organize on your own, including some pretty spectacular adventures you won't find anywhere else.
Beach Day (incl. Snorkeling)
Let's start with the activity I mentioned above: a relaxing day at the beach. Instead of heading to one of the crowded cruise ship beaches in Puerto Plata or the surrounding area, here are the four hidden gems most Amber Cove visitors don't know about:
– Playa Bergantin (30 minutes by taxi): an absolutely pristine beach near Puerto Plata with no infrastructure.
– Playa Sosua (1 hour by taxi, reachable by public transport also). Sosua Beach is a pretty beach popular among locals (don't go here on Sundays) surrounded by cliffs which also features some decent snorkeling opportunities right off the beach.
– Playa Encuentro & Kite Beach (80 minutes by taxi, reachable by public transport). These are two of the Caribbeans' best beaches for kite- and windsurfing. Both beaches feature cool beach bars, low-key restaurants, hip coffee shops, and a relaxed vibe.
– Playa Alicia (1 hour by taxi, reachable by public transport). Alicia Beach is the most beautiful beach in the Sosua area, perfect for a relaxing beach day.
Visiting Cabarete
While Playa Encuentro & Kite Beach are Cabarete's main beaches, you can take a day trip from Amber Cove to Cabarete. Reaching this world-class surfing destination takes 90 minutes by taxi or 2+ hours by public transport.
In Cabarete, you can enjoy beach bars, restaurants, and chillout music, at affordable prices compared to touristy areas in the Dominican Republic.
If you're looking for something unique, head to the southeastern end of Cabarete Beach, take a little boat, and head to Wilson's restaurant right on the river.
Puerto Plata Cable Car
The Puerto Plata cable car is a top attraction in Amber Cove, offering incredible experiences and marvelous views. The cable car ride provides a great activity to do on your own.
It's just a 10-minute drive from Amber Cove to the valley station. Public transport is available too. Buy your ticket (approx. USD 10 return) to reach Montaña Isabel de Torres, over 2000 feet high.
The peak offers botanical gardens and a panoramic view of Puerto Plata and the surrounding area. The Puerto Plata cable car, called "Teleférico" in Spanish, is an effortless and super safe thing to do on your port day.
Insider tip: you can already see the top of the mountain when arriving at Amber Cove. If it is cloudy up there, it is not worth the trip, as clouds are the only thing you will see.
Explore The North Coast On Your Own
If you prefer to avoid the organized shore excursions in Puerto Plata and Amber Cove, you can hire a local driver or rent a car to get around.
Even though the traffic is sometimes crazy, a road trip in the Dominican Republic is a perfect way to explore the country. You'll enjoy an authentic and adventurous way to see the area without foregoing personal safety.
Some of the top spots you can reach on your own in a maximum of 90-minutes from Amber Cove are:
– Luperon, where you find historical ruins at a place where Christopher Columbus first landed when arriving in the Dominican Republic.
– Ruta Panoramica, a scenic road from Sosua to Santiago via Yasica Arriba. It features lots of local food and fruit stalls, lovely views, and local communities.
– Sosua and the unique art museum (Castillo Mundo King).
– 27 Damajagua Waterfalls, Playa Alicia, El Gallo Eco-Lodge, and the Puerto Plata Cable Car as described above.
Waterfall Adventures (La Rejolla & Charcos de Militar)
If you're looking for real adventures, you should head to one of the waterfalls in the area, which still need to be discovered. So unknown that you only might meet very few other travelers here.
It is essential to hire a guide when you go there, as you want to avoid getting lost in the jungle in your limited time.
La Rejolla is a series of four waterfalls and multiple cascades, where one is more spectacular than the other.
While the first one is easily accessible (approx. 1-hour hike one-way), you can only reach others if you're in good shape. The trail is primarily flat, but you must cross the river multiple times.
Charcos del Militar is another series of smaller waterfalls that are relatively easy to reach. You'll need more than an hour from the trailhead and can take a refreshing swim in one of the natural waterfall pools, surrounded by lush vegetation.
Amber Cove Cruise Port Conclusion
While Amber Cove in the Dominican Republic makes a great travel destination, it's prone to tropical storms at certain times. However, should you choose to cruise in wave season, you'll benefit from lower prices and ships sailing at a lower capacity.
If you have more than one week to travel, consider a back-to-back itinerary of the eastern and western Caribbean. With additional stops in Grand Cayman, Honduras, Cozumel, Jamaica, Honduras, or Belize, you can experience adrenaline-filled tours and trips to Mayan ruins.
This guest post was written by Chris
Chris has not only studied and worked in tourism for more than 15 years, but he has traveled to more than 80 countries and lived more than 10 years abroad, mainly in the Caribbean (Grenada and the Dominican Republic). You can find more information in his travel blogs My Travelworld and Punta Cana Travel Blog, and follow him on Facebook and Instagram.