Spending 3 days in Jasper National Park is the perfect amount of time to see all of the highlights of this incredible place! As the largest Canadian Rockies' national park at 11,228 km², Jasper offers beautiful scenery and plenty of outdoor activities.
It has a lot of the things that Banff has to offer, but Jasper sees fewer crowds than its neighbor to the south. From powerful waterfalls to great day hikes and amazing lakes, in this article, we'll explore its best attractions on this Jasper National Park itinerary.
While many tourists only visit Banff, combining a few parks in one visit makes sense, depending on the length of your stay. With four national parks (Banff, Jasper, Yoho, and Kootenay), and a few provincial parks, you can enjoy the mountain ranges in a variety of areas.
If you're vacationing for ten days or more, it's possible to cover all four national parks.
Planning your trip to Jasper?
How To Get To Jasper
To explore the parks, having a vehicle gives you the freedom to set your own schedule and cover more ground.
From the closest airport, Edmonton International Airport, the drive to the town of Jasper takes four hours. It will take an extra hour from Calgary without stopping along the way.
If you plan to visit both Jasper and Banff, flying into one airport and out the other makes sense. Driving a one-way itinerary eliminates the need to backtrack on the Icefields Parkway, enabling you to enjoy more of the beautiful lakes, waterfalls, and hiking trails.
You'll need a Park Pass or Discovery Pass to access the park. While you can purchase one at the gate or visitor center, you can also get one online from Parks Canada.
Where To Stay In Jasper
Expect to pay high prices for a hotel stay in peak season. As the Canadian Rockies grows as a desired travel destination, don't be surprised to find many lodgings sold out long before warm weather arrives.
The Fairmont Jasper Park Lodge provides a luxury stay in a beautiful setting close to downtown. Located on Beauvert Lake, the resort boast a stunning golf course, on-site restaurants and a top-notch spa.
Alternatively, Pyramid Lake Lodge provides a budget-friendly stay with lovely lake views.
If camping in Jasper is more your style, you'll have plenty of options. Wapiti and Whistlers, the largest campgrounds in Jasper National Park, together provide almost 1200 camping sites with fire pits, electrical hookups, and hot showers.
These two campgrounds sit in the valley of the elk migration. So, don't be surprised to find a herd of elk passing through during breakfast and dinner.
3 Days In Jasper National Park Itinerary
Like Banff National Park, you can visit Jasper year-round. While its winter landscapes are just as picturesque, you'll need to deal with winter driving conditions and dress for -30C or more temperatures.
So, while it can be a great place to visit anytime, this 3 day Jasper itinerary focuses on summer activities. The late spring or early summer welcomes new offspring, wildflowers, and waterfalls with thunderous volume.
As the summer progresses, the trails dry out, and the turquoise tones of lakes begin to shine in all their glory. The tail end of summer turns the landscapes to tones of yellow, orange, and red, and the animals begin the rutting season.
Rutting season is a wonderful event to witness, as dominant males must defend their position against younger opponents. The call of a bull elk is haunting and amazing to hear.
Day One In Jasper
Spend much of your first day in Jasper on the Icefields Parkway, the highway that connects Lake Louise in Banff to the Town of Jasper. If you're starting in Banff and making your way to Jasper, this will fit seamlessly into your itinerary.
If, however, you're driving from the nearby city of Edmonton and planning to continue to Banff after visiting Jasper, start on day three of this itinerary and end with the activities outlined on day one.
You'll stop at all these day-one spots on your drive between Jasper and Banff by completing the stops in reverse order.
Make sure to mark these places on Google Maps before driving the Parkway to ensure you have them listed in the correct order (the order will differ depending on if you're coming from Banff or starting in Jasper).
You may want to stop at other viewpoints along the way too, which is the perfect plan depending on your time!
Athabasca Falls
One of the most powerful waterfalls in Jasper National Park is the great Athabasca Falls. You can get here with just a short walk from the parking lot and explore the thundering waterfall's different viewpoints.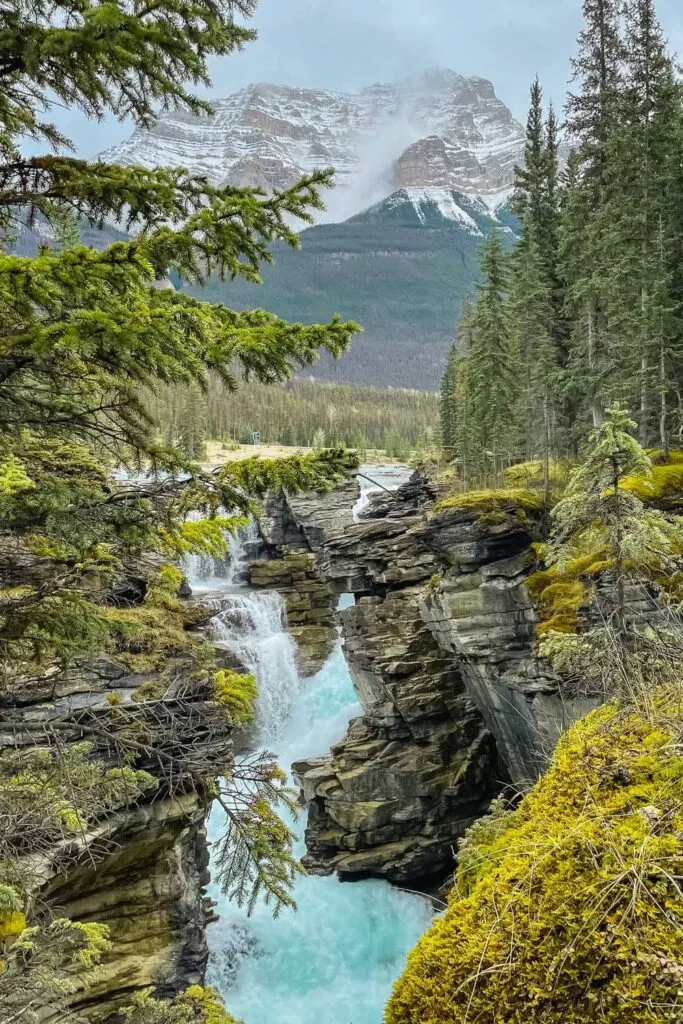 There are small trails that lead through the forest near this waterfall.
One will bring you up close, almost beside the waterfall. Another one of the small trails will take you under a bridge and down to the shore of the Athabasca River, just downriver from the waterfall's base.
These trails are fun to explore for contrasting views of Athabasca Falls and fantastic scenery!
There are a few waterfalls in this itinerary – please remember to exercise caution and be safe near these waterfalls, as you are responsible for your own safety!
Sunwapta Falls
About 18 minutes down the Icefields Parkway from Athabasca Falls, you'll come to Sunwapta Falls. Before reaching your destination, stop at the goat lick, which provides an opportunity to see some mountain goats.
Sunwapta Falls is another unique Jasper attraction on most visitors' Jasper National Park bucket list.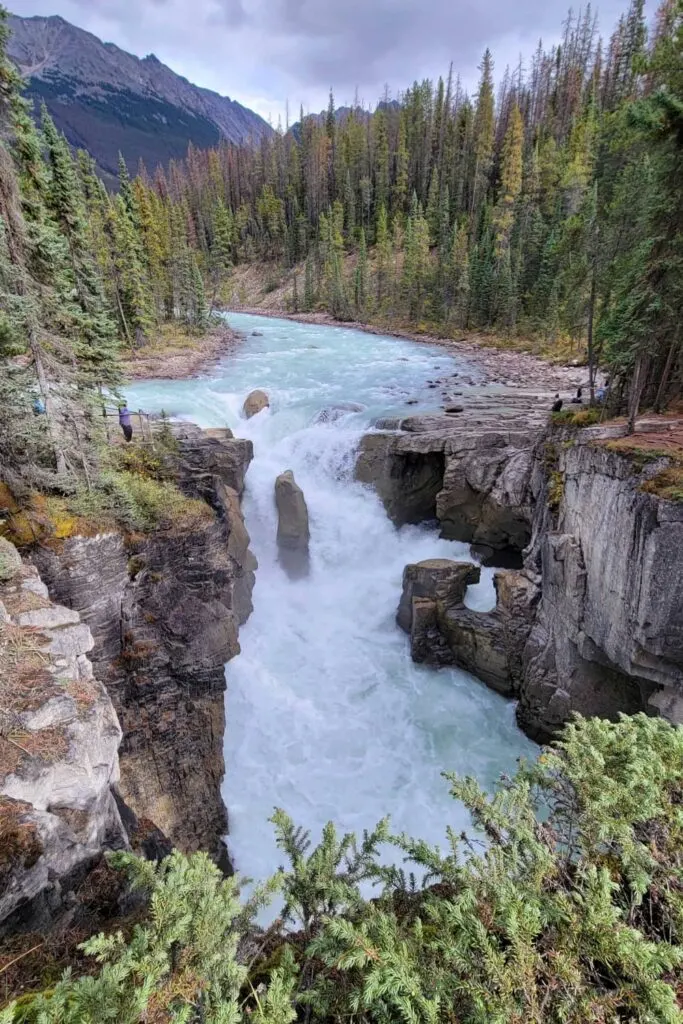 This venue is a popular one among photographers. A small island of trees right before the waterfall provides beautiful photos with amazing mountain peaks in the background.
If you're interested in a mini hike, follow the trail down to Lower Sunwapta Falls. Only a few visitors make the short walk down, but you'll come to another little waterfall if you do.
Here, you can explore the Sunwapta River, which connects to the Athabasca River that runs through Athabasca Falls.
Columbia Icefield
Continue driving down the Icefields Parkway until you come to the Columbia Icefield, the largest icefield in North America's Rocky Mountains. Here, you have several options to explore the Columbia Icefield.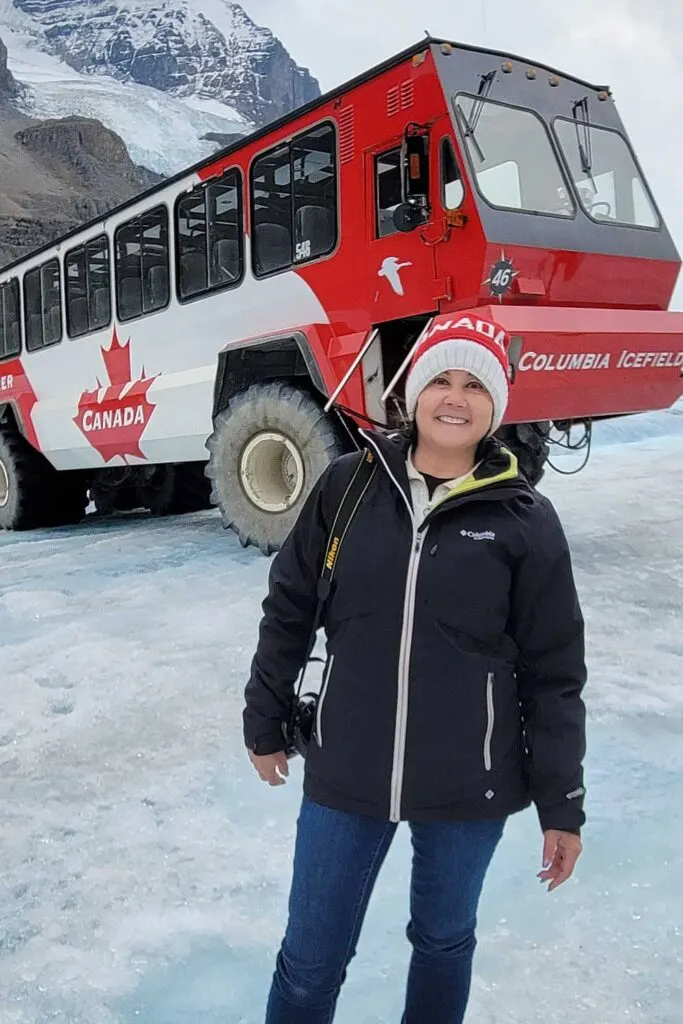 You can take the Ice Explorer Tour or enjoy the hiking trail to the Athabasca Glacier's terminus for free. By taking an Explorer big-wheeled bus, you'll venture onto the glacier, where you can walk on the ice.
The trail to the glacier's toe provides an informative walk to learn about the rapid retreat of Athabasca Glacier.
If you're looking for a unique experience, check out the Icefield Skywalk, which is also nearby. Its suspended glass platform on the edge of a cliff isn't for the faint of heart.
However, if you're brave enough, you'll enjoy fantastic views and an amazing experience!
Looking to do the Columbia Icefield adventure?
The Columbia Icefield Explorer and Skywalk tours are very popular in the summer months. Since you can wait several hours to get a time slot, purchasing advanced tickets is advisable.
Get your tickets HERE
Hiking On The Icefields Parkway
Wilcox Pass provides a popular trail if you want to hike on the Icefields Parkway on your first day. The trailhead is about 10 minutes south of the Columbia Icefield.
Starting your day early and driving straight to Wilcox Pass is recommended if this hike interests you. Dress warmly, as the winds from the glaciers can be pretty frigid.
Upon completing the hike, you can continue onto Columbia Icefields, Sunwapta Falls, and Athabasca Falls as you return to Jasper.
If you're coming from or continuing to Lake Louise or the Banff area, make sure to stop at the other places along the Icefields Parkway. In Banff National Park, must-visits include Peyto Lake, Bow Lake, Mistaya Canyon trail, and Waterfowl Lakes.
Day Two In Jasper
Spend your second day in Jasper National Park hiking, exploring a popular lake, and taking the SkyTram up Whistler's Mountain for incredible views.
Hiking One Of Jasper's Best Trails
Many people choose to visit Jasper because of the national park's amazing hikes and to escape the crowds of Banff. Edith Cavell Meadows and Valley of the 5 Lakes are two of the most popular trails.
Depending on the type of hike you're interested in, one of these will surely fit your skill level and interests! The Mount Edith Cavell hike is an 8.2 km hike with 573 m of elevation gain in a loop-style trail.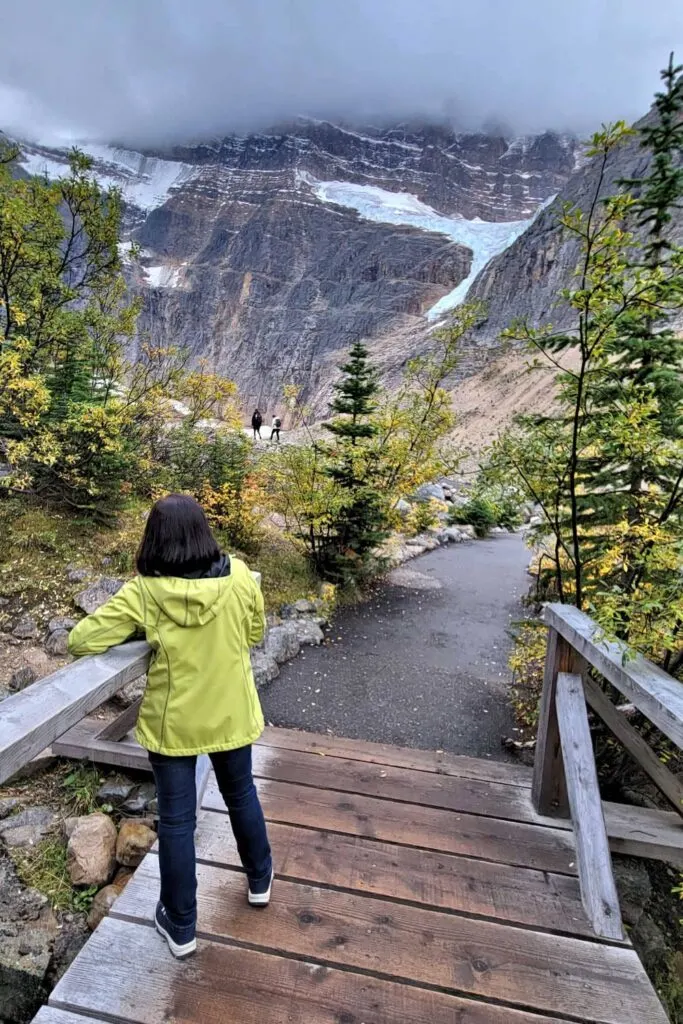 It is an excellent hike for amazing views, and even better if you visit during wildflower season.
In July, the pretty alpine meadow filled with wildflowers adds to the appeal of this trail. This hike typically takes around 3.5 hours, and the path can get pretty busy, so go early to avoid the crowds!
Due to weather, road access only opens from late June to early October, depending upon snowfall. Plus, the road is only accessible by small private vehicles.
If you're not interested in a hike with elevation gain, the Valley of the 5 Lakes might be a better option. Easier than Edith Cavell, the 4.8 km loop has only a 163 m elevation gain, making it an excellent choice for families.
On this hike, you'll go to 5 different tarns, each with pretty scenery and photo opportunities. Make sure to pack your bathing suit because the 5th lake has a nice dock where you can jump into the water, which is incredibly refreshing on a hot day!
Pyramid Lake
After your early morning hike, drive to another of Jasper's most popular spots, Pyramid Lake. You can rent a canoe from the nearby Pyramid Lake Lodge or explore the lakeshore here.
Don't miss the famous Pyramid Island or enjoy the hiking trails in the area for a bird's eye view of the lake.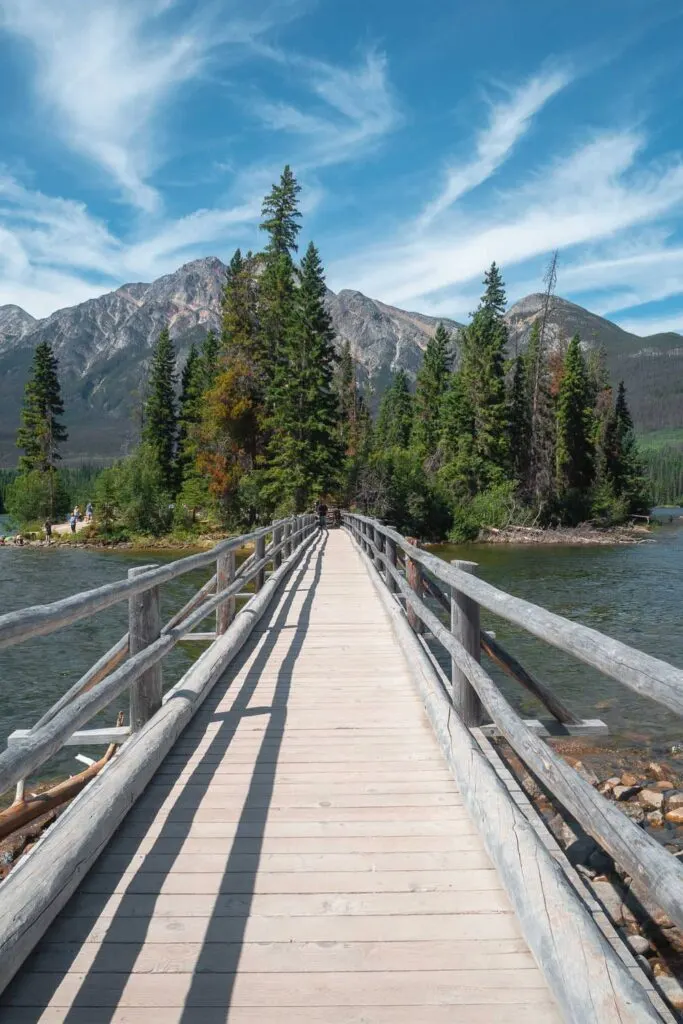 Pyramid Lake will give you a nice view of Pyramid Mountain and is the perfect place to bring a stand-up paddleboard if you have one.
If the Northern Lights are forecasted to appear at night, this Jasper lake provides a popular spot to try to see them. It's also a charming place to watch the sunrise as well!
If you have extra time after your visit, stop at Patricia Lake for a nice little walk or swim!
Jasper SkyTram
Finish your second day in the park with the best views of Jasper town and surrounding mountains. Take the Jasper SkyTram to the top of Whistler's Mountain, where you can hike and look for wildflowers, pikas, and ptarmigans.
Consider a meal at the Summit Restaurant, where you enjoy the views a little longer.
On the way up the Jasper Tram, a guide will tell you about the tramway and the mountains on your journey. At 2,263 meters, you'll stand in the heart of the Rockies and savor the breathtaking 360-degree views.
You can take a 1.4 km hike from the tram to the summit, which incurs a 200-meter elevation gain. You can see the Columbia Icefields, glacial lakes, and Mount Robson from the peak.
If it's not a clear day, you should forego this stop and try to fit it in the next day.
Day Three In Jasper
Your third day in Jasper is filled with more amazing views of the longest natural lake in the Canadian Rockies (Maligne Lake) and a visit to Maligne Canyon.
As the deepest canyon in Jasper, you can peer into its gorge from six different bridges and enjoy an amazing waterfall.
Maligne Lake & Spirit Island
The road from downtown Jasper to Maligne Lake (Maligne Lake Road) is one of the best roads for wildlife viewing. So, start early and keep your eyes peeled as you make your way to the alpine lake!
It takes around 45 minutes to drive the entirety of the road without stopping. During the scenic drive, you could see a black bear, elk, or Bighorn sheep. During my last visit, I was lucky enough to see this one.
Depending on how much time you have, you can stop at Medicine Lake. Known as a disappearing lake, its underground cave system sometimes leaves it with little water and muddy flats. You'll notice the area was devastated by the Excelsior fire in 2015.
Once you get to Maligne Lake, there are a few things you can do depending on your interests!
For hiking options, try an easy hike around the lake, such as the Mary Schaffer Loop or Moose Lake Loop (and a chance to see moose). Or, opt for a more challenging hike, such as Opal Hills or Bald Hills.
You can also rent a canoe from the Maligne Lake Boathouse and spend some time on the water. Alternatively, grab some food and drinks at The View Patio, one of Jasper's top restaurants (although it doesn't open until around lunchtime).
Visiting Spirit Island, a breathtaking photo spot that is only accessible by boat. There are two ways to get to Spirit Island: by booking a Maligne Boat Tour or by paddling in a canoe or kayak.
Since Spirit Island is around 14 km from the lakeshore, only attempt it if you're an athlete. If you're short on time and really want to go, the boat tour would probably be the better option.
Maligne Canyon
On your way back to Jasper, stop at Maligne Canyon, a great spot for exploration. Here, you'll explore by hiking along the canyon edge, peering over to see waterfalls and the Maligne River. It's a fascinating trek, to see how the power of water has carved out the edges of the canyon.
Most people complete this hike as an out-and-back hike. On route, you'll cross six different bridges over the canyon, and then return the same way back to their car. Expect to spend three hours or more, if you plan to hike to all six bridges.
With three different parking lots, you have the option to start at the top and hike down, or begin at the bottom and go up. Most people refer to do the uphill first and enjoy a leisurely downhill hike back.
If you're short on time, you can park at the main parking lot to explore the first 2 bridges, and then jump back in your car and continue back to Jasper.
Then, stop at the 5th and 6th bridge parking lots for more great views. These parking lots at 5th and 6th bridge are a great time saver when needed!
Jasper In 3 Days Summary
Spending 3 days in Jasper National Park allows you to explore incredible scenery in the largest national park of the Canadian Rockies! It's a great addition to a road trip to neighboring Banff National Park or a great escape from the nearby city of Edmonton.
Since this itinerary includes a bit of hiking, wear boots with ankle support, use mosquito spray, and be bear aware. Hiking with a buddy, making noise, and carrying bear spray is advisable.
If you're not a hiker, driving Jasper's roads provides many chances to see wildlife. Since its highways aren't fenced like Banff's, you can often see elk and bighorn sheep beside the road.
Close to Jasper Park Lodge, you can take a horseback tour or spend some time exploring Beauvert, Annette, or Edith Lakes.
As you can see, Jasper National Park is full of so many amazing activities in the summertime, and three days is just enough time to explore most of the highlights!