When embarking on an adventure in the Canadian Rockies, you'll have endless choices of great hiking trails, especially if you're spending a few days in Jasper National Park.
To sustain your energy for trekking, plan to try these best restaurants in Jasper for great food, atmosphere, and many with gluten-free options.
Jasper may see fewer tourists than Banff to the south. However, its culinary scene is just as incredible. So, whether you're looking for a gourmet meal at the Fairmont Jasper Park Lodge or a quick bite before hitting the road, there are plenty of flavors to savor.
If you're staying in the town of Jasper, you can reach some venues on foot. However, if you're staying in a Jasper campground, you must drive to eat at local restaurants.
So, here are some fantastic eateries to try during your Canadian Rockies road trip.
1. The View
Location: Maligne Lake Road | Cuisine: Canadian
If planning a trip to Maligne Lake, you must stop for lunch or dinner at The View. As the name suggests, this restaurant is all about the views of the mountains and beautiful lake.
While you'll be paying for a high-end dining experience, there's something to be said for enjoying a delicious meal on a patio surrounded by mother nature. It just doesn't get any better than this.
The restaurant has limited hours (lunch and dinner) and depends on the weather. Outside of summer, The View closes in the off-season months.
It has a limited menu too, but what it serves is utterly delicious, making it a favorite spot for both tourists and locals.
Try the Hunter's Board, an amazing charcuterie board for two, if you're hiking the area in the afternoon. Wash it down with a local craft beer or the Lavender Lemonade before hitting the trail.
The Bison Short Rib or Alberta Beef Burger make great dinner options for those with larger appetites. Finish with the Chocolate Loaded Donut if you aren't counting calories.
If you follow a special diet, don't worry. The View has vegetarian, gluten-free, lactose-free, nut-free, and vegan options. They have a small kids' menu too.
Moreover, The View Restaurant focuses on sustainable practices, utilizing Ocean Wise seafood and the freshest ingredients from local farms and suppliers.
2. The Spice Joint
Location: 614 Connaught Drive | Cuisine: Quick Bites Cafe
One of the best places to eat in Jasper for a quick or low-key meal is The Spice Joint.
Located in the heart of the downtown area, this small, locally-owned restaurant is a gem that you likely need to scout out, or you might just miss it – which would be a shame as they serve some of the tastiest food!
The restaurant serves Jamaican food, mainly in the form of sandwiches. They are well-known for their grilled cheese sandwiches that come in a variety of flavors. The crab grilled cheese is a local favorite, as is the jerk chicken grilled cheese!
They also serve salads, wraps, and Jamaican patties. You'll find a couple of vegetarian options on the menu, too. While you're there, be sure to grab a cup of their delicious (and strong!) coffee.
The Spice Joint is more of a takeaway restaurant because there is very limited seating inside. There are only a couple of tables indoors as well as a couple outside. If you can't snag a seat, grab your food to go and sit at one of the benches in town nearby.
Alternatively, The Spice Joint is the perfect place to grab a bite to-go and bring with you on your adventures around Jasper National Park. Why not pack a picnic to visit Maligne Lake or one of the other beautiful lakes nearby?!
Walking into The Spice Joint, you'll likely see one of the owners cooking away in the back or serving you. This place is a family-run restaurant that's been a staple in Jasper town for many years now.
The friendly service and delicious food at an affordable price make this a top choice for a restaurant in Jasper.
Contributed by Bailey from Destinationless Travel
3. Raven Bistro
Location: 504 Patricia Street | Cuisine: Healthy Mediterranean, Fusion
Located downtown, you can enjoy lunch and dinner at the Raven Bistro Restaurant. If you are Celiac like me, this is one of the best places to find gluten-free options, and you'll have so many choices – almost too many!
This downtown Jasper restaurant serves a terrific Mediterranean and Alpine cuisine made from locally sourced ingredients. It has a few elk and bison options if you prefer wild game. The Steak Argentine with Prawns was a massive hit with my husband, although not as large as my Schnitzel serving.
You can enjoy specialty dishes such as savory risottos, fresh seafood, and decadent desserts, all meticulously prepared by skilled chefs. The restaurant gets quite busy in summer, so making a reservation will avoid disappointment.
While everything from the kitchen looked amazing, top marks go to the Lemon Sesame Schnitzel. It had an interesting coating of ground crispy rice and lemon zest that melts in your mouth. Accompanied by rhubarb date chutney and charred aioli, the flavors were heavenly.
If you have room for dessert, the Chocolate Pecan Tart is both vegan and gluten-free and will entice you to return to this restaurant a second time.
The locals advocated this eatery, and it didn't disappoint. Not only will you enjoy fine dining, but reasonable prices too. So, if you've had a long day of hiking in Jasper, eating at the Raven Bistro will reward your efforts.
4. Maligne Canyon Wilderness Kitchen
Location: Maligne Lake Road | Cuisine: Smokehouse
Maligne Canyon Wilderness Kitchen is in the most picturesque location in Jasper National Park. Situated at the start of the Maligne Canyon, this iconic restaurant is a great place to relax and refuel after completing the Maligne Canyon hike.
Visiting the canyon is one of the best things to do in Jasper National Park. When traveling south, you'll find the restaurant adjacent to the upper parking lot, the third parking area off Maligne Lake Road.
Maligne Canyon Wilderness Kitchen offers table-service dining and has indoor and outdoor seating. The outdoor patio has beautiful views of Maligne Canyon.
This smokehouse restaurant is open for lunch and drinks during the tourist season, from May till the end of October.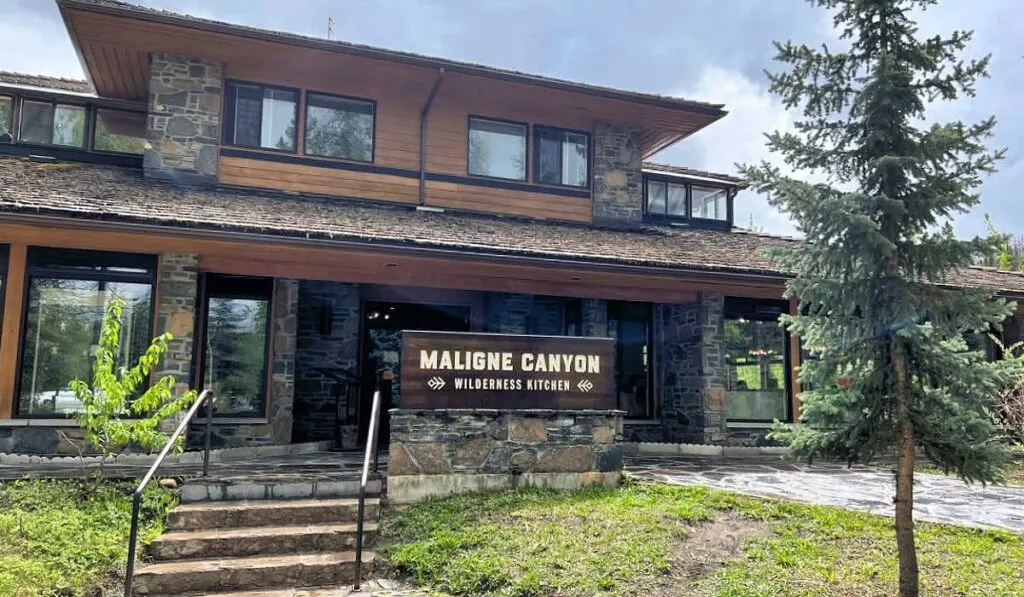 The restaurant specializes in house-smoked brisket, wings, and pulled pork. Try the Wilderness platter to sample a little of everything. There are dishes catered to vegetarians, and the menu has gluten-free items.
The drinks menu has craft beers and cocktails to enjoy. For young hikers, the kids' menu has some favorites like mac-n-cheese.
The restaurant also has a grab-and-go cafe with excellent coffee, sandwiches, bakery snacks, and ice cream. There is a cute gift shop to buy souvenirs and gifts.
Contributed by Anu of Destination Checkoff
5. Olive Bistro & Lounge
Location: 6 Pyramid Lake Road | Cuisine: Canadian, Mediterranean
If you're seeking an outstanding 'Farm to Table' cuisine, look no further than the Olive Bistro. The family-owned restaurant supports small sustainable Alberta farms and prides itself in using grass-fed meat and free-range eggs.
Chef Huculak believes in scratch cooking, starting with the best local and seasonal ingredients. They make their sauces, breads, soups, burgers, and desserts in-house. One taste, and you can tell the difference.
The Olive Bistro is a place to enjoy sharing food and offers plenty of small tasting plates. This is the place to be if you're seeking a delicious tapas-inspired menu. Who can resist the Coconut Prawns, White Truffle Scallops, or Truffle Poutine?
There are many options for gluten-free, including pasta, hamburger buns, and homemade sauces. So, don't think you have to sacrifice taste by missing out on the best part – the sauce!
You can enjoy one of its most popular items, the 'Farm Burger,' with a gluten-free bun. Paired with 'Truffle Poutine,' it offers a Canadian delight suitable for most palates.
The Braised Bison Gnocchi or Bison Burger may be more to your taste if you prefer something gamey.
Leave room for dessert because their Creamy Haskap Berry Cheesecake Jar is a massive hit with their patrons.
6. Bear Paw Bakery
Location: 4 Pyramid Lake Road | Cuisine: Bakery, Cafe
Are you spending a few days exploring the many things to do in Jasper National Park? Be sure to plan at least one breakfast at Bear's Paw Bakery for Jasper Township!
Located right in the heart of town, Bear's Paw Bakery offers terrific coffee (or hot chocolate if you aren't a coffee drinker) and bread/baked items. They offer espresso, latte, flat white, and many more selections.
If you're a tea drinker, the chai is superb, and they also have a chocolate chai!
Their cinnamon-sticky buns are so delicious you won't be able to stop at just one. You'll also enjoy their muffins, Danish, and scones. If you're in the mood for something more decadent, you can choose from a variety of cakes and pies.
Are you planning to go hiking or take a drive? You can pick up sandwiches and cookies for a picnic lunch as well. On the savory side, the jalapeno cheese bread is full of salty, spicy goodness!
There's almost always a line in the morning if you want to get your breakfast to go, but it usually moves fairly quickly. Although it's a small space, you can also sit inside to eat.
Contributed by Dhara of It's Not About the Miles
7. Evil Dave's Grill
Location: 86 Connaught Drive | Cuisine: Canadian, International
If you're staying at the north end of Connaught Drive, you can forego a drive downtown and walk to Evil Dave's instead. This hidden gem at the edge of town offers a contemporary décor and a wicked menu that leaves a lasting impression.
While only open for dinner (from 5 pm to 9 pm), Evil Dave's Grill has been delighting patrons with its innovative dishes since 2006.
If you love a good burger, its Wicked Burger, gives you a choice of a chicken or prime rib patty. While it comes with a side of fries, you can request a healthy salad for a small fee.
The service impresses with its impeccability, and the wait staff knows a great deal about food allergies. If you need vegan, gluten-free, or lactose-free options, the kitchen can modify most menu items or recommend suitable substitutes.
From the spicy 'Malevolent Meatloaf' to the vegan 'Vicious Hippies,' the food never fails to satisfy both the taste buds and the imagination.
Top marks go to the Karma Curry, both vegan and gluten-free. If you prefer protein, you can add free-range chicken or grilled shrimp. The portion was just the right size, with a small side of Jasmine Rice.
8. Jasper Brewing Company
Location: 624 Connaught Drive | Cuisine: Brewpub
Opened in 2005, this brewing company's claim to fame is being Canada's first national park brewery. They don't take reservations, but you can leave a phone number, and they'll text when a table is available.
While the Jasper Brewing Co. has modeled its restaurant around its carefully crafted beer and cocktails, it offers traditional pub grub too. If you're new to this restaurant, ordering a sampler lets you taste six 4 oz brews at Jasper's favorite pub.
The restaurant has year-round favorites and seasonal brews. Be sure to try the Babe Tangerine Dream with a citrus kick. If you require gluten-free, try the Helix Saison Houblonee.
If you like what you try, the restaurant sells beer packs, cocktails, and growlers, ideal if you're camping in Jasper.
Its menu isn't fancy and offers many of the usual restaurant items such as nachos, chicken wings, salads, and fish and chips. However, you can select from game entrees too.
The Rustic Elk Meatloaf offers excellent flavor and suitable for Celiacs. Alternatively, those with bigger appetites can choose the generous portion of Cherry Cola Pork Ribs.
The menu clearly marks lots of gluten-free, dairy-free, vegan, and vegetarian options. The children's menu has many favorites, such as chicken fingers, grilled cheese, and kids' pasta.
If you're spending a few days in Jasper, you must visit at least once, if only for a brew. While it's not one of the best restaurants in Jasper for food, it's unrivaled when it comes to beer.
9. Orso Trattoria
Location: Old Lodge Road | Cuisine: Canadian, Italian
If you're in the mood for Italian cuisine, check out Orso Trattoria at Fairmont Jasper Park Lodge outside of downtown. Orso Trattoria is one of the best Jasper restaurants with a view (of Lac Beauvert).
In a Tripadvisor survey, patrons ranked it as the number one restaurant in Jasper. Here, you'll enjoy spectacular food presentations, ideal for any foodie.
You can dine for breakfast, lunch, and dinner, and its brunch buffet is quite extensive. The breakfast buffet has various options, even for those with dietary restrictions.
Being part of the Fairmont chain, expect to pay top dollar for your meal. Portions are small but beautifully presented. You can choose from a 3-course, where you select your items, or a 5-course Chef Experience, curated for you. Complete your meal with wine pairing.
Alternatively, you can order a la carte if you have a smaller appetite. Some of its dishes have unusual ingredient pairings, such as the Apple Ravioli, made from Granny Smith apples, cashews, and mushroom caramel.
A must-try, the Lobster Tortellini arrives with an unusual vanilla bean milk foam. Expect a tiny portion for a main course, so you'll definitely need an appetizer too.
Finish your meal with the Tiramisu for Two, and pretend you're in Italy.
10. Syrahs Of Jasper
Location: 606 Patricia Street | Cuisine: Steakhouse, Seafood
Syrah's of Jasper might have the most innovative menu and accompanies its food with equally inspiring cocktails. Its cuisine combines popular Canadian dishes with wild game, served in imaginative ways.
Chef Jason Munn creates most of his dishes gluten-free, making it an excellent option for Celiacs and those who opt to go without gluten. For wine connoisseurs, this restaurant boasts an extensive wine selection, local beers, and premium spirits.
Syrahs of Jasper opens for dinner from 5 pm nightly. If you want to experience the area, start with the Wild Game Meatballs made with elk, boar, bison, and goat cheese. It's both gluten-free and lactose-free.
While all their entrees are flavorsome, the Elk Wellington is a top choice amongst patrons. The blend of Alberta elk, wild mushrooms, and fluffy puff pastry melt in your mouth.
Leave room for dessert, as you'll have many great choices. A Syrahs original, Double Chocolate Blondie comes with vanilla bean ice cream and salted caramel.
My pick, the White Chocolate Goat Cheesecake, is sinfully decadent.
Best Restaurants In Jasper Conclusion
Dining in Jasper's best restaurants is an experience not to be missed. From gourmet delights to casual fare, the variety of culinary options is designed to satisfy even the most discerning palate.
For those with dietary restrictions, many of Jasper's top eateries offer gluten-free, dairy-free, and vegan selections, ensuring that everyone can partake in the flavorful journey.
Make sure to explore these dining havens on your next visit. By spreading your wings, you may find a new dining favorite or discover a hidden gem.