If you are planning a trip to Northern California and wondering if San Francisco is a gluten-friendly city, you've come to the right place! In this article, you'll discover some fantastic gluten-free restaurants in San Francisco and some hidden gems.
California is typically one of the best states in the US to find gluten-free food, as well as healthier food options.
San Francisco, specifically, has plenty of eateries to choose from, including one of our favorite gluten-free restaurants in the country!
On our recent trip to San Francisco this past summer, we searched the city for healthy and gluten-free food we could eat, and we ended up finding delicious baked goods, fresh melt-in-your-mouth seafood, and the best wheat-free crispy chicken.
If you spend a few days in San Francisco, you'll have no problem finding healthy options in the bay area without the dreaded 'G' ingredient.
Planning your trip to San Francisco?
Where To Find The Best Gluten-Free Restaurants In San Francisco
Whether you visit San Francisco to check out Alcatraz prison or ride the cable car through Chinatown, you need to stop to eat. There are many gluten-free restaurants around the city, and most restaurants offer items that can be adapted.
Although, be aware that some restaurants offer gluten-friendly dishes suitable for those on a gluten-free diet. However, gluten-friendly establishments aren't safe for Celiacs who require no risk of cross-contamination.
We stayed in the Fisherman's Wharf area as this was our first visit to the city. However, most gluten-free restaurants are not within walking distance. Since the city is technically not that large, getting transportation or even ordering for delivery is pretty straightforward.
Healthy Gluten-Free Restaurants In San Francisco
Traveling for us can be difficult food-wise because not only do we need to find gluten-free options, but we also live a clean lifestyle. So, we eliminate tons of other foods like certain oils, dairy, soy, sugar, additives, and so on.
Finding restaurants with these ultra-healthy specifications isn't easy, but every city usually has at least one option, and some even have a few more.
Fortunately, California is an excellent place to find healthy food, and San Francisco has a few good healthy restaurants.
So, if you're looking for gluten-free restaurants in San Francisco, here are some places to consider.
1. Kitava Kitchen
Location: 2011 Mission Street | Cuisine: American, Healthy
Although it is typically hard to find a restaurant we can eat at with our clean lifestyle, Kitava Kitchen met our ingredient standards and was absolutely delicious.
Everything on their menu is dairy-free, soy-free, peanut-free, refined sugar-free, and free of seed oils. And the best part – it's a dedicated gluten-free restaurant!
They use some organic ingredients, source sustainable and local ingredients, and prepare food from scratch to eliminate as much process as possible. This little gem is one of San Francisco's best restaurants for Celiacs.
We still crave their cassava flour crispy chicken, but everything we tried here was excellent. The restaurant is located in the Mission District of San Francisco, less than four miles from Fisherman's Wharf.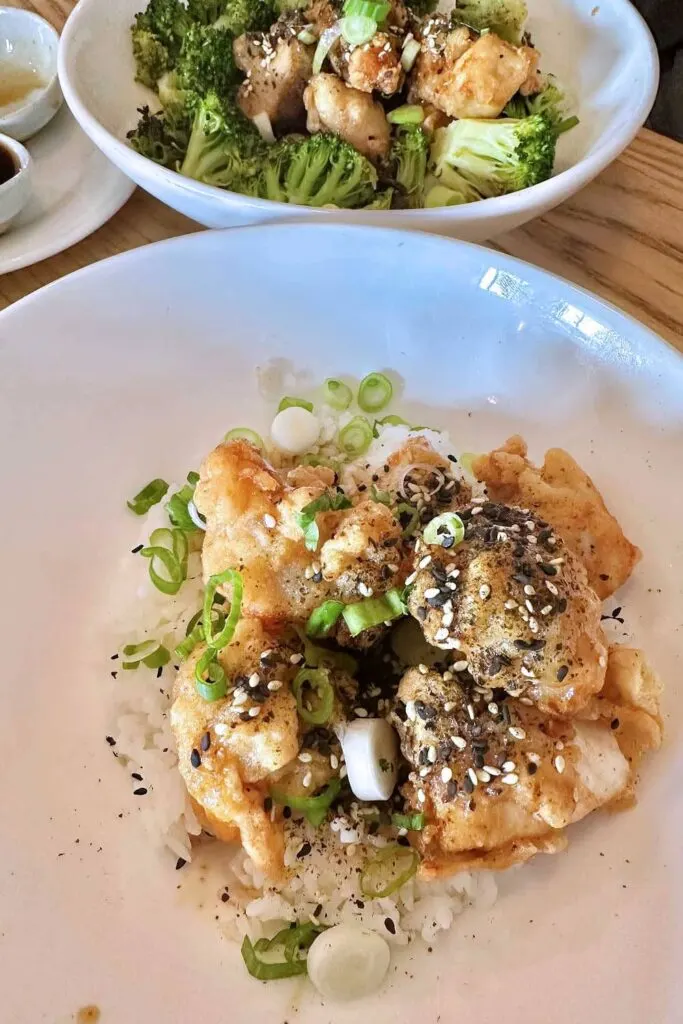 2. Asian Box
Location: 2031 Chestnut Street | Cuisine: Vietnamese
Asian Box is a Vietnamese restaurant that cooks from scratch to create 100% gluten-free food with fresh ingredients.
It has a bit of a Chipotle style with boxes you fill, starting with a base, protein, toppings, and sauces. The Banh Mi is a favorite, and they also have vegan and vegetarian options.
3. Wholesome Bakery
Location: 299 Divisadero Street | Cuisine: Bakery
We didn't find Wholesome Bakery until our last morning in San Francisco, and we were so bummed because they have the best gluten-free bagels! They actually look more like English muffins, but they have that special San Francisco bread flavor.
We learned on our recent trip that San Francisco's famous sourdough bread is unique because of the way the bread is baked in the foggy bay air.
Although we found no gluten-free sourdough bread in the city, Wholesome Bakery's bagels have that unique bay area flavor.
In addition to being 100 percent gluten-free, the bakery uses soy-free ingredients, ethical vegan ingredients, no refined sugar, organic ingredients, no processed or additive ingredients, and sustainable ingredients.
So, if you're looking for gluten-free bread or baked goods, head to Wholesome Bakery.
The bakery is only a couple blocks from the Painted Ladies, so if you plan to take some Full House pictures, be sure to stop by Wholesome Bakery before they close in the afternoon.
4. Peña Pachamama
Location: 1630 Powell Street | Cuisine: South American
Although the Bolivian restaurant Peña Pachamama isn't strictly gluten-free, they only have two items on their menu that are not gluten-free; and everything is organic and vegan. They even have a decent sized dessert list which is all gluten-free and vegan.
They also source locally grown produce and only use extra virgin olive oil and coconut oil in their food. And on Friday and Saturday nights, they have a live music and dancing show you can experience while you eat.
If you're arriving in the city by cruise ship, Peña Pachamama is less than a mile from the San Francisco cruise port.
5. As Quoted
Location: 3613 Sacramento Street | Cuisine: Cafe, Quick Bites
The gluten-free cafe, As Quoted, is located a little west of the central part of San Francisco near the Presidio. It's open for breakfast and lunch from 8 am to 3 pm daily, except Sundays.
Although their menu is on the smaller side, it is filled with organic, gluten-free, dairy-free, soy-free, and nut-free food. As Quoted is a great little place to grab a coffee, bone broth, or smoothie and a salad, sandwich, or soup.
If you're seeking simple organic food, this farm-inspired eatery delivers.
Restaurants With Gluten-Free Options In San Francisco
Although an entirely gluten-free restaurant is preferred, many restaurants around San Francisco offer gluten-free options on their menu.
If you are not worried about cross-contamination, here are some great restaurant choices in San Francisco.
6. Nopalito
Location: 306 Broderick Street | Cuisine: Mexican
Nopalito is a Mexican restaurant located relatively close to the Painted Ladies, and most of its menu is gluten-free. It is a small menu, but they do their best to avoid cross-contamination and even have a separate fryer for gluten-free items.
Its Mexican food is reasonably priced, and you can order all your favorites, from Ceviche and Gorditas to Quesadillas and Tacos.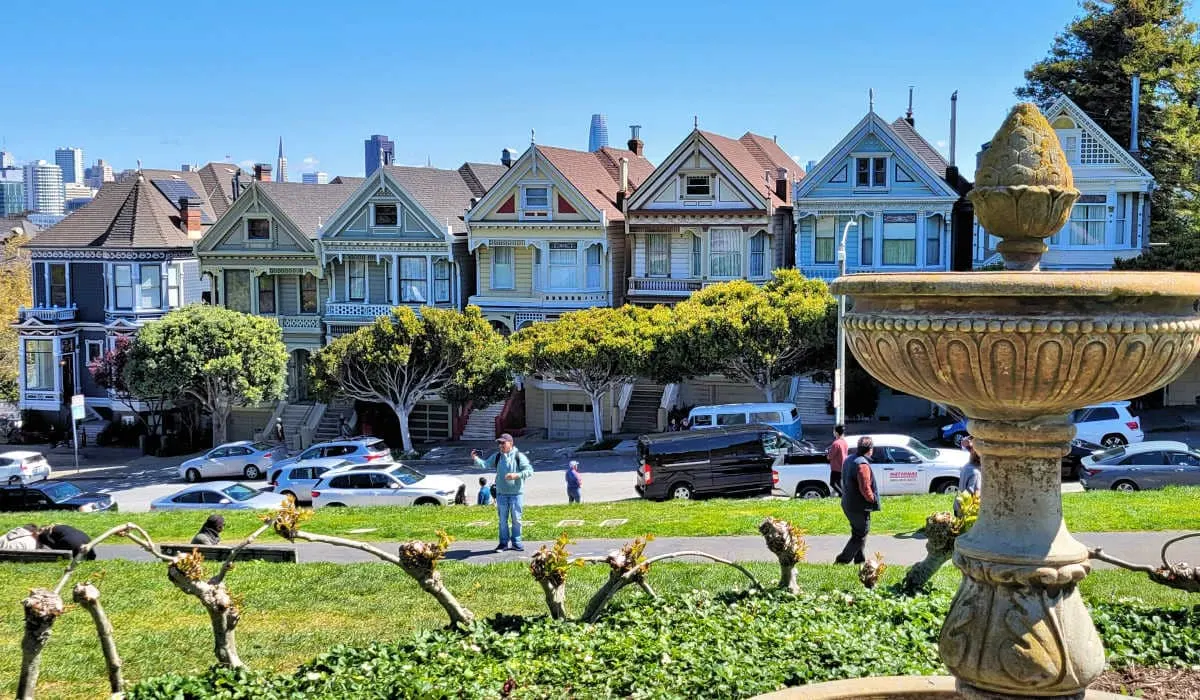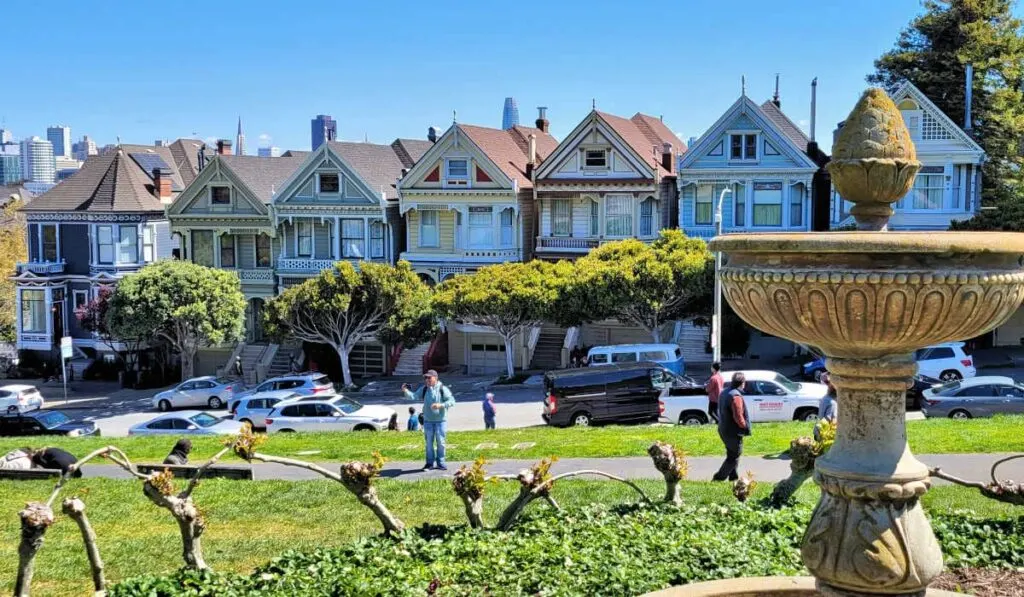 After dinner, stroll over to Alamo Square, where you can enjoy those iconic views of San Francisco behind the Victorian homes.
7. Dancing Yak Restaurant And Bar
Location: 280 Valencia Street | Cuisine: Asian, Nepalese
Further expanding San Francisco's international cuisine, the Dancing Yak Restaurant and Bar is a traditional Nepalese restaurant with gluten-free, dairy-free, vegan, and vegetarian options.
They have an extensive menu, and their curries are very popular. Since they don't have a dedicated fryer, you may want to avoid anything deep-fried if you have Celiac disease.
They are open nightly for dinner and on weekends for lunch and dinner.
8. House Of Nanking
Location: 919 Kearny Street | Cuisine: Asian
San Francisco's Chinatown is one of the world's largest and oldest Chinese neighborhoods, and it is a must-see while visiting the bay area.
Grabbing a meal at one of the delicious smelling restaurants off the street is a typical activity here, but that is a little harder when you have food allergies.
Even with a menu to look at, the language barrier can make things a little tricky. So, we took a small group tour of the city, and our fantastic guide helped us figure out a good restaurant option for eating in Chinatown without the risk of cross-contamination.
After looking up House of Nanking and reading the reviews, we saw many happy customers who had great gluten-free meals.
We couldn't eat there because of their use of MSG in everything, but they were willing to help with gluten, dairy, and soy allergies.
9. Bella Trattoria
Location: 3854 Geary Blvd | Cuisine: Italian
Situated between the Presidio and Golden Gate Park, Bella Trattoria is a prominent Italian restaurant with some popular gluten-free options.
Although their handmade pasta menu is not entirely gluten-free, their gnocchi is, and it is one of the most favored options on the menu.
So, if you visit the Richmond District, you'll enjoy great food at reasonable prices.
10. Scoma's
Location: 1965 Al Scoma Way (Pier 47) | Cuisine: Seafood, American
Fresh seafood is a must-try in San Francisco, and another recommendation our amazing tour guide made was for the bayfront restaurant Scoma's in Fisherman's Wharf.
It is a fancier, more expensive restaurant, but they were very willing to accommodate gluten-free allergy requests, and the seafood was melt-in-your-mouth good.
Afterward, walk over to Hyde and Powell, where you can see the iconic cable car turntable. Here, they still rotate the cars manually.
11. Roam Artisan Burgers
Location: 1785 Union Street and 1923 Fillmore Street | Cuisine: American, Quick Bites
Roam Artisan Burgers is not an entirely gluten-free restaurant, but they carry wheat-free buns and use quality ingredients, some of which are organic. It's a great option if you're looking for a casual bite during a busy day.
Roam's menu includes vegetarian and vegan options, including a vegan bacon cheeseburger. It's one of the top spots for farm-to-table burger dishes.
Other Gluten-Free Restaurants In San Francisco
The further you go towards San Jose or Oakland, you'll find even more allergy friendly restaurant options, but below are a few more gluten-free restaurants you can find within the city of San Francisco.
12. Farmhouse Kitchen Thai Cuisine
Location: 710 Florida Street | Cuisine: Asian, Thai
The Farmhouse Kitchen Thai Cuisine is a cute little restaurant located in the Mission District with a super friendly staff willing to help with food allergies.
We were super excited to eat at this restaurant, but unfortunately, they couldn't avoid using MSG from certain sauce products.
They were highly knowledgeable and helpful though, and can accommodate gluten, dairy, and soy allergies. The dishes are beautifully presented, and their cocktails are pretty impressive.
13. Firefly Restaurant
Location: 4288 24th Street | Cuisine: American
The Firefly Restaurant is one of the furthest restaurants from the touristy areas of San Francisco. However, the almost gluten-free menu is a favorite for customers who must avoid dairy and gluten.
The gluten-free fried chicken is one of the most popular dishes because it's moist but wonderfully crispy. It's hard to believe they make it without wheat flour. They can also make many of their menu items vegan as well.
14. Moonbowls
Location: 60 Morris Street | Cuisine: Korean
Moonbowls is a Korean chain restaurant that serves 100% gluten-free food at locations all over the country. You'll find their San Francisco location a little south of the Union Square area, and they also have venues in Oakland, San Mateo, and San Jose.
We tried their bowls when we were down in Los Angeles and really liked the sweet potato noodles with the antibiotic-free chicken.
We also tried their sweet potato potstickers, but it was either an off day, or we liked them less.
15. Pica Pica Arepa Kitchen
Location: 401 Valencia Street | Cuisine: Venezuelan
Pica Pica is a naturally gluten-free Venezuelan arepa restaurant located on the Mission District's north end.
Some of the most popular items on the menu are the yuca fries, the vegan arepa, and the Shuli vegan arepa. You can also get the Arepa Trio Taster to try a mini version of three different arepa flavors.
16. The Stinking Rose
Location: 430 Columbus Avenue | Cuisine: Italian
The Stinking Rose might be an odd name for a restaurant, but an awesome place to eat if you like garlic! As you might guess, garlic is the main ingredient in most dishes.
This restaurant serves Italian food, and most of its entrees are gluten-free. So, choose Rib-Eye Steak, Baby-Back Ribs, Lamb Shank, Sea Bass, Filet Mignon, or Cioppino. There are many vegan options too.
You can accompany your meal with a Gartini (garlic martini) and finish with garlic ice cream. If you believe in vampires, you surely won't have a problem after eating here.
Known as the stinkiest restaurant in San Francisco, The Stinking Rose uses 7 tons of garlic a year or 40 lbs daily!!
17. Mariposa Baking Company
Location: 430 Columbus Avenue | Cuisine: Bakery
Located in the Ferry Building on the waterfront, you'll find a smorgasbord of gluten, dairy, nut, and soy-free treats at Mariposa Baking Company. While this isn't a restaurant, you can grab breakfast or lunch here. If you're stopping for lunch, try the veggie pocket, tuna melt sandwich, or falafel plate.
They have several varieties of cookies and bagels made fresh daily. You'll also find other items like pretzels, croissants, gingerbread cookies, and graham crackers. Plenty to tickle your taste buds!
Each item is marked with its ingredients, so you can easily pick the items suitable for you.
So, whether you want a meal or a snack to go, you'll enjoy gluten-free heaven at Mariposa Baking Company.
San Francisco Gluten-Free Restaurants FAQs
Below are a few FAQs about food in San Francisco.
What Food Is San Francisco Known For?
The San Francisco food scene is most known for sourdough bread and seafood.
San Francisco has many restaurants with delicious cuisines from all over the world. Still, their special-tasting sourdough products and seafood dishes like Cioppino, crab, and oysters are specific to this city.
If you love oysters, stop by the Swan Oyster Depot, but expect a long line at the door. It's a great place to eat Boston Clam Chowder along with your oyster order.
Is It Expensive To Eat In San Francisco?
All of California is pretty expensive compared to other parts of the country, so yes, it is relatively expensive to eat in San Francisco. You'll be lucky to find a meal for less than USD 15 in San Francisco, especially if you're eating at some healthy or gluten-free restaurants.
What Sweets Is San Francisco Known For?
Even if you are unfamiliar with the Ghirardelli Chocolate brand, you won't leave San Francisco without seeing the large square and giant letters that light up at night on the west end of Fisherman's Wharf.
You can taste and tour this San Francisco-based company known for its delicious chocolate.
San Francisco is also known for the sweet treat of the fortune cookie, which many believe was created by a Japanese man in San Francisco in the early 1900s. You can visit the Golden Gate Fortune Cookie Factory to watch how they make the cookies. You'll even get a little taste.
Final Thoughts
Despite some negative news about the city, San Francisco is a beautiful place to visit and a great foodie destination with many restaurants.
On our trip, we saw almost everything we wanted to see in San Francisco. However, we still want to return to eat in these delicious healthy restaurants again!