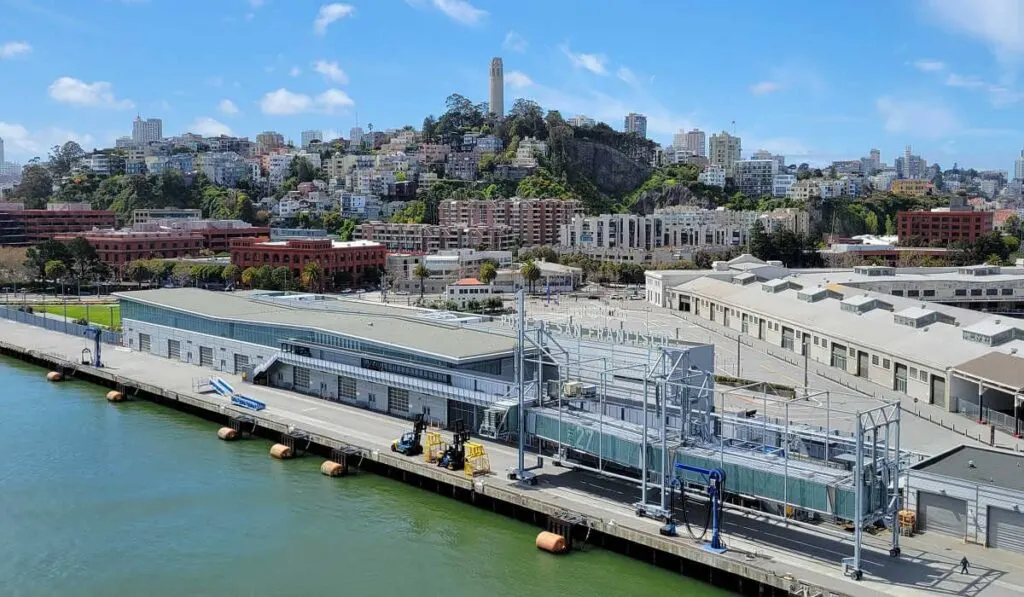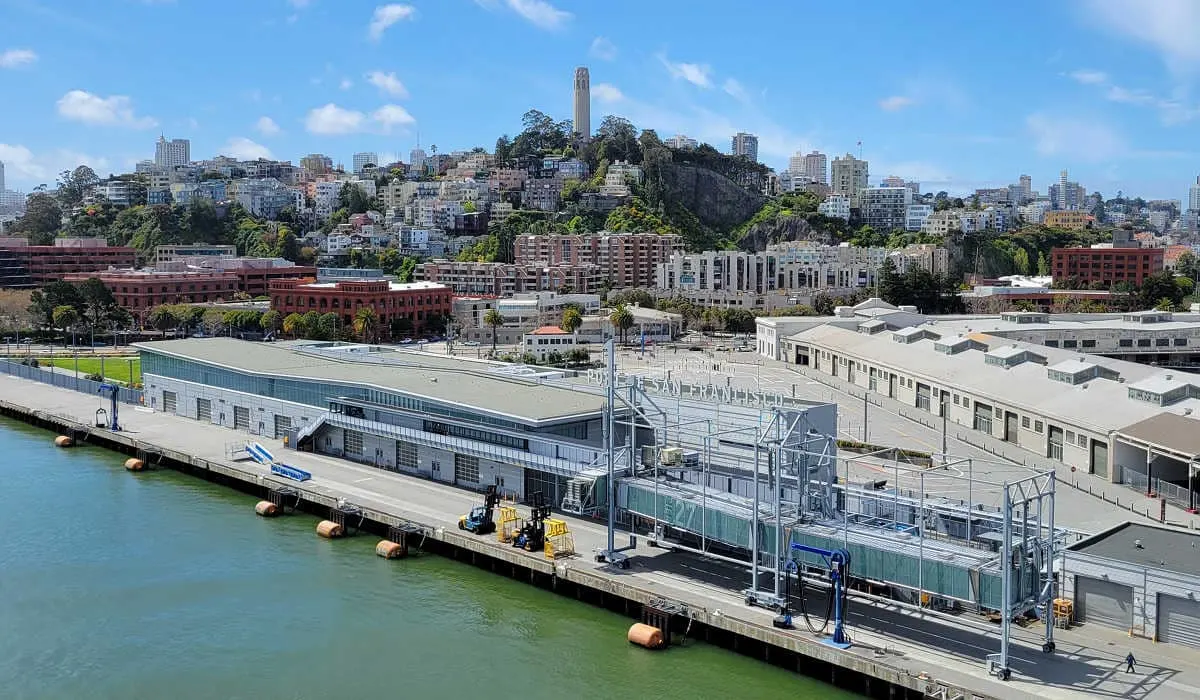 Located in the northeastern part of the city, the San Francisco cruise port is a bustling hub on the picturesque San Francisco Bay. You'll enjoy an iconic sail away under the Golden Gate Bridge when cruising out of the port.
The port can accommodate large cruise ships with two main berths, Pier 27 and Pier 35. Several ships a week dock in San Francisco from mainstream lines such as Carnival Cruise Line and Princess Cruises.
While this port sees fewer vessels than the Los Angeles cruise ports further south, the terminals can accommodate up to three cruise ships at once. Those embarking at Pier 35 will be close to the popular Pier 39 attractions.
The lion's share of the vessels dock at James R. Herman cruise terminal at Pier 27. It gives easy access to Union Square, Bay Cruises, and Coit Tower.
If you're looking at cruises from San Francisco, the port of San Francisco is an excellent starting or ending point, with easy access to many city attractions, including the iconic Alcatraz Island and Fisherman's Wharf.
Getting To The San Francisco Cruise Port
San Francisco International Airport (SFO) and Oakland International Airport provide the nearest airports to the cruise terminal.
SFO is about 16 miles from the port and will take 35 minutes by taxi or rideshare. Alternatively, the latter takes 45 minutes to drive the 20-mile distance.
If you are driving, here are the north, east, and south directions.
Directions From The North (Santa Rosa)
Drive on US-101 S for approximately 49 mins. You will cross the Golden Gate Bridge, which has a toll.
Take the 437 exit to Girard Road. Girard turns into Marina Blvd.
Continue on Marina Blvd, which turns into Laguna Street.
Make a left at Bay Street and continue to the waterfront.
Turn right on The Embarcadero to reach your destination.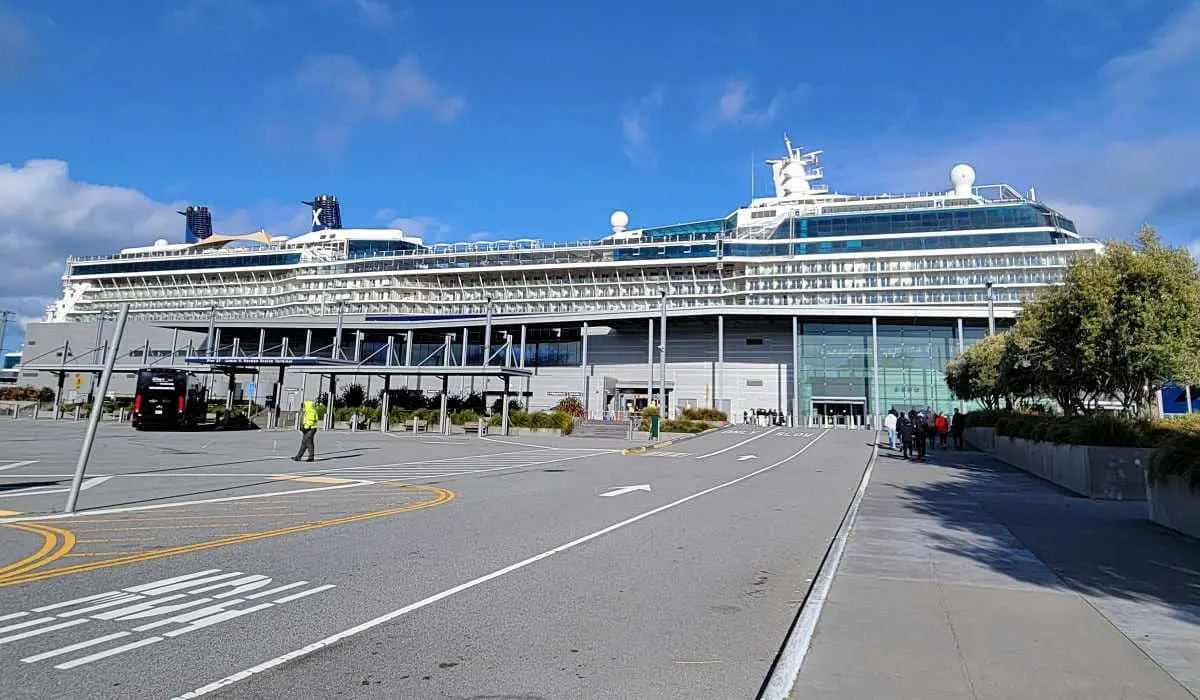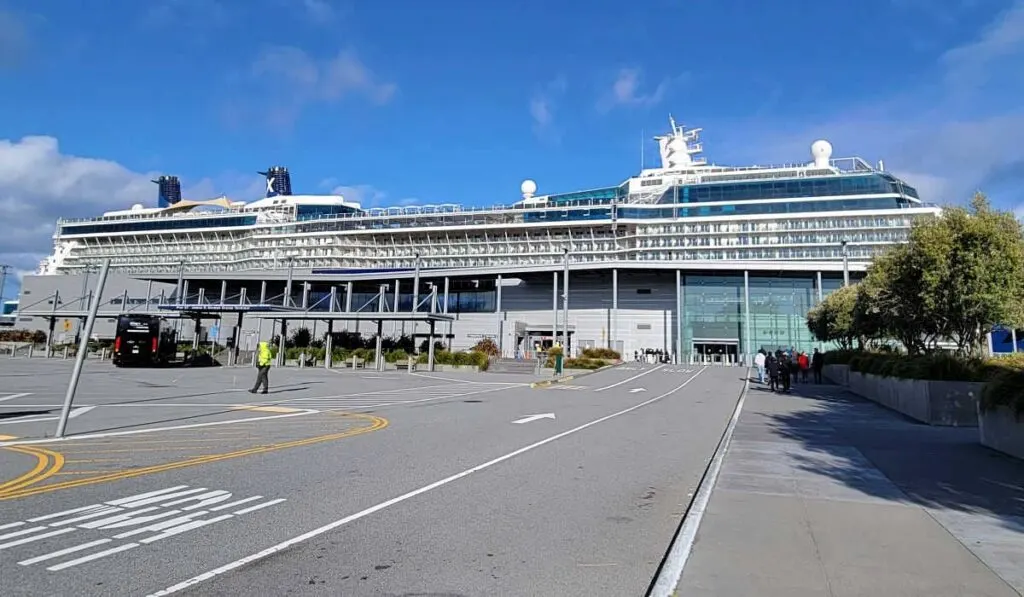 Directions From The East (Sacramento)
Take I-80 W to Fremont St in San Francisco.
After 73 miles, Use the right 3 lanes to keep right at the fork and continue on I-580 E/I-80 W.
Keep right to continue on I-80 W, follow signs for San Francisco. Again, this route has tolls.
Use the right 2 lanes to take exit 2C to merge onto Fremont St.
Take The Embarcadero S to your destination.
Coming From The South (Sacramento)
Get on I-280 N, and travel north for 55 minutes.
Take King St and The Embarcadero S to your destination.
Driving tip: If you're driving in the day of embarkation, allow for extra time due to traffic congestion. Also, pre-book parking to ensure you'll have a spot.
Pre-Cruise Stay
If you're flying into San Francisco Airport for an Alaska, Hawaii, or an itinerary to the Mexican Riviera, arriving a day ahead removes the stress of embarkation day.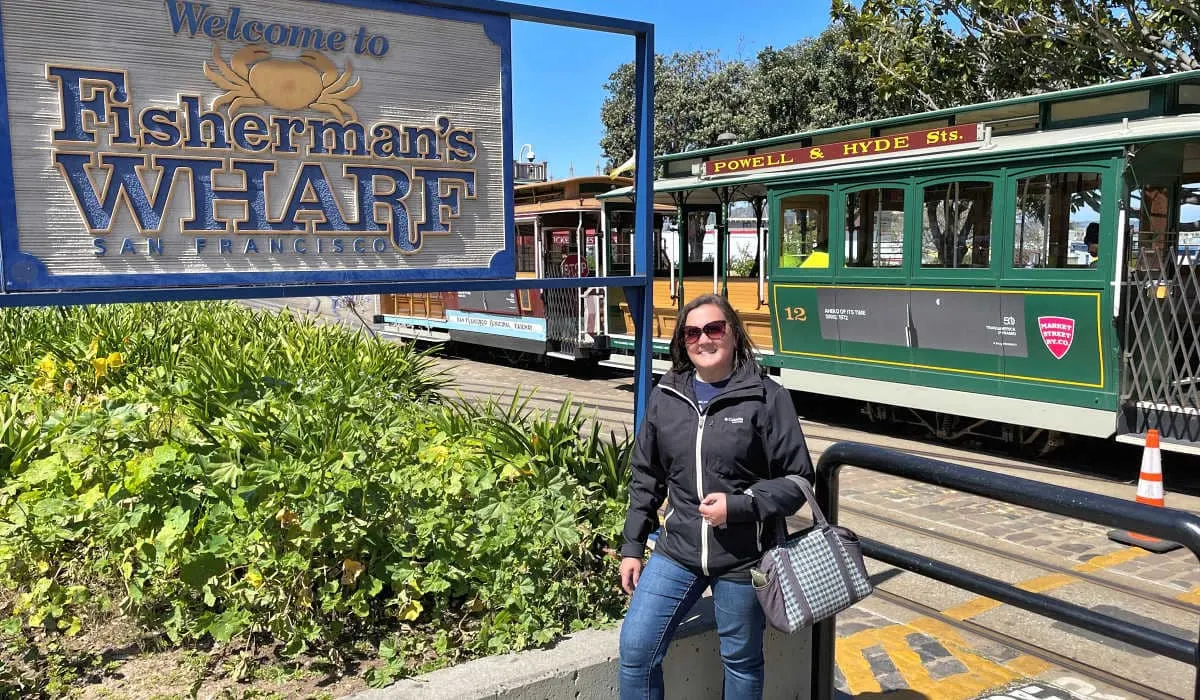 There are many options for hotel stays downtown, many near the Fisherman's Wharf area. With so much to see and do, consider flying in early to tour San Francisco for a few days.
Hotel Boheme offers a Bohemian boutique stay near Pier 27. With steps to Italian restaurants and a short walk to the famous Lombard Street, it makes the perfect pre-cruise stay.
Hyatt Regency San Francisco – Another option close to Pier 27. It offers spacious rooms near the Ferry Building and easy access to Alcatraz tours.
Hotel Zephyr has nautical-themed budget-friendly rooms, just steps from Pier 39, perfect for embarkation at terminal 35.
Riu Plaza Fisherman's Wharf includes a complimentary breakfast buffet.
Flying late, here's a tip: Staying at the airport and going to the port the following morning might be the best option.
San Francisco Cruise Port Facilities
While Pier 35 served as a San Francisco cruise terminal for many years, today, most ships dock at Pier 27 due to its new facilities.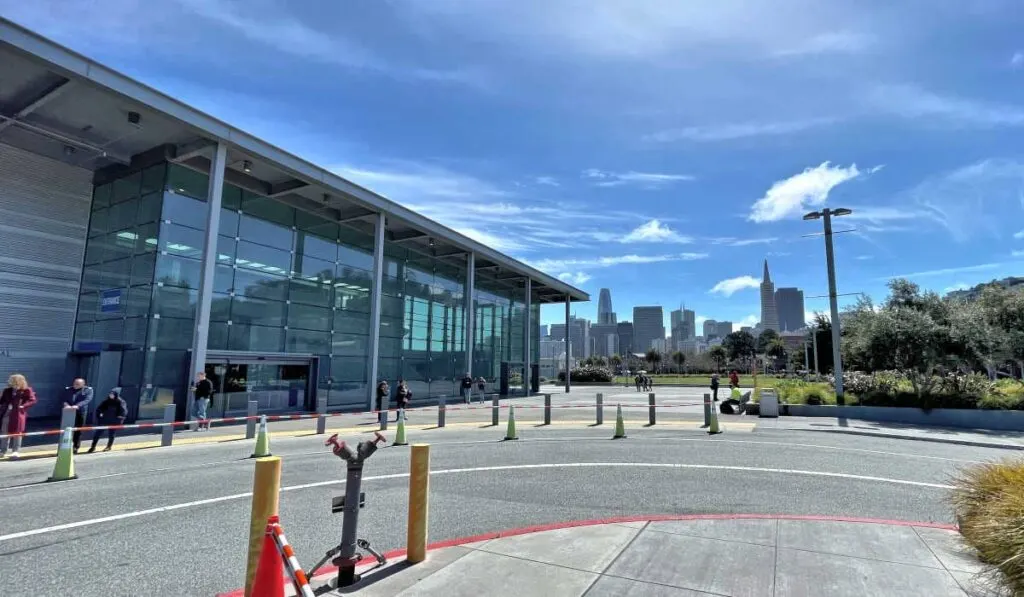 Opened in 2014, the James. R. Herman terminal 91,000 sq. ft. two-story building hosts events when vessels aren't in port. You can enjoy views of Treasure Island from its glass building, reachable from the Oakland Bay Bridge.
Should there be multiple vessels in port (which doesn't happen often), the port may utilize Pier 35 further down The Embarcadero.
The James. R. Herman terminal does not offer long-term cruise parking. If you drive to the port, a lot on 80 San Francisco Street provides the nearest parking. Operated by Impark, it charges USD 20 per calendar day and not a 24-hour period.
You can look around for other parking garages. However, parking in downtown San Francisco comes at a premium. So, even if you stay at a hotel, expect to pay double this rate or even more.
Guests using the terminal will have access to the port's free Wi-Fi.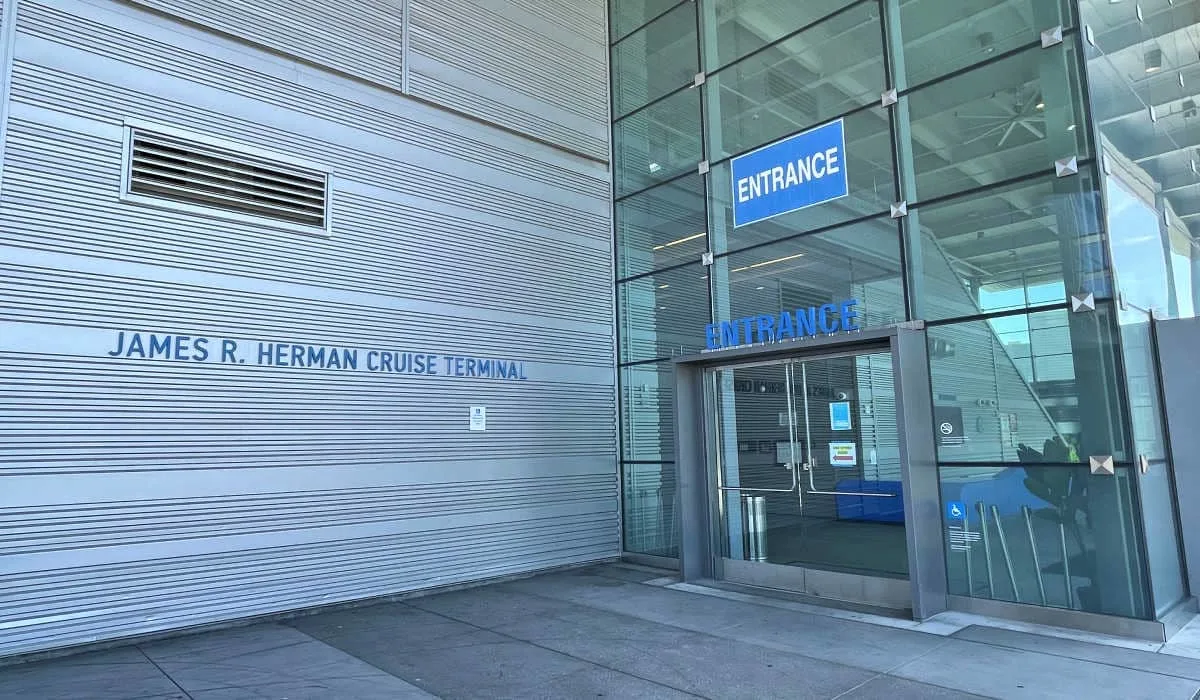 Embarkation usually starts at 11 am and can take several hours. If you're taking ones of the cruises out of San Francisco during shoulder season, be aware it can get very windy on the San Francisco waterfront.
During our last visit, we found the port process extremely slow due to a lack of staff. Onboard, we met many Californian residents who used the port often and said it was always slow.
Luggage Storage
If you are disembarking a cruise, and need luggage storage before a late flight, here are your options.
LuggageHero offers storage by Pier 39. They offer rates by the hour or day.
Bounce Luggage Storage offers daily rates and several downtown locations. Open 24 hours, drop-off and pick-up are quick and easy.
Nannybag has several locations, many in nearby hotels.
Additional tip: Instead, book a shore excursion through your cruise line with drop-off at the airport.
Cruise Lines Served By The Port Of San Francisco
The following mainstream lines have itineraries which start or end in San Francisco.
| | |
| --- | --- |
| Ruby Princess | Alaska, Panama, and Mexico |
| Crown Princess | Hawaii |
| Grand Princess | Repositioning to Australia |
| Emerald Princess | Pacific Coast |
| Carnival Miracle | Alaska, Hawaii, and Mexico |
| Cunard QE | Panama, Australia, and world |
| Norwegian | Panama |
Royal Caribbean, Oceania, Silversea, Holland America, Celebrity, and Regent stop in San Francisco while repositioning to other destinations.
Popular Attractions Near The Port
If you have time before or after your cruise vacation, be sure to check these points of interest.
Aquarium Of The Bay
Located on Pier 39, its interactive displays make a great day out for families. Kids will enjoy the touch tank where they can touch and learn about sea stars and anemones.
The aquarium also offers daily guided tours and unique behind-the-scenes experiences for a fascinating underwater world experience. Outside, you can get selfies with the colorful sea lion sculptures.
Fisherman's Wharf
This bustling tourist area is home to seafood restaurants, souvenir shops, and street performers. You can also see a large sea lion colony at the end of the pier.
For families, don't miss the carousel and Magowan's Infinite Mirror Maze near the end of the pier.
Take An Alcatraz Island Tour
Take a ferry from the Embarcadero to visit the infamous Alcatraz Island, which was once a maximum-security prison. You can tour the prison and learn about its history and notorious inmates. Allow up to 3 hours to thoroughly enjoy the tour.
San Francisco Bay Cruise
Get a different perspective of the city skyline on a Bay cruise. The tour includes famous landmarks such as the Golden Gate Bridge and Alcatraz Island.
Ride A Cable Car
No trip to San Francisco is complete without riding its iconic cable cars. Its unique form of transportation provides a fun way to see the city.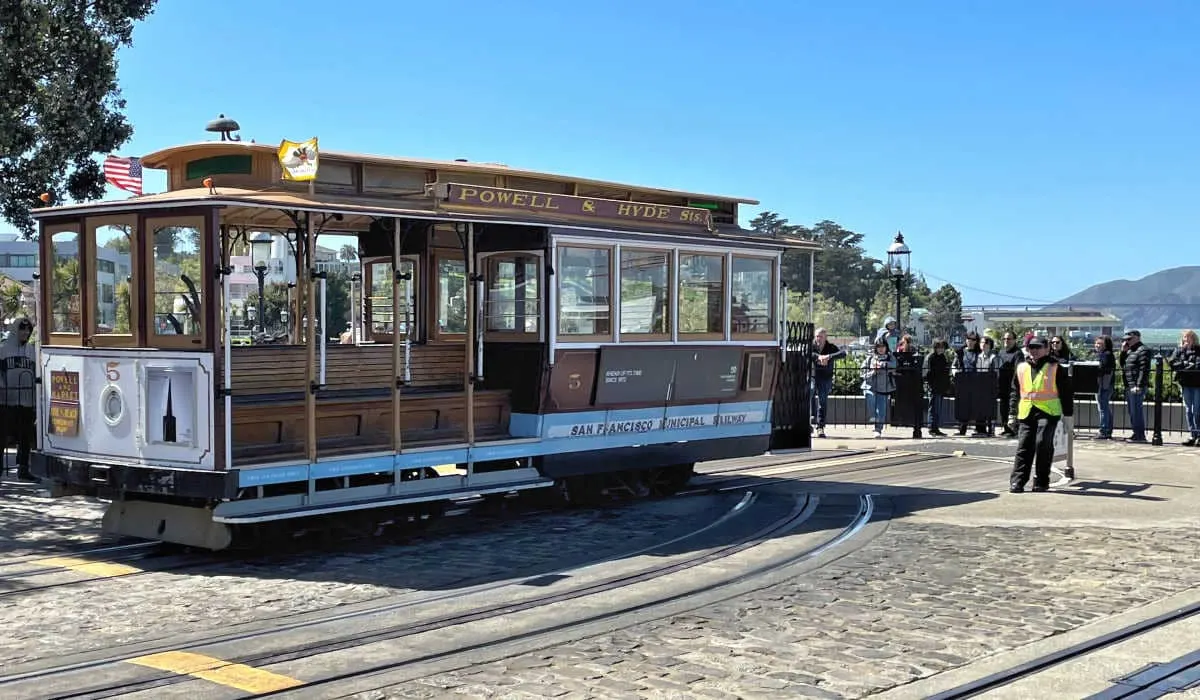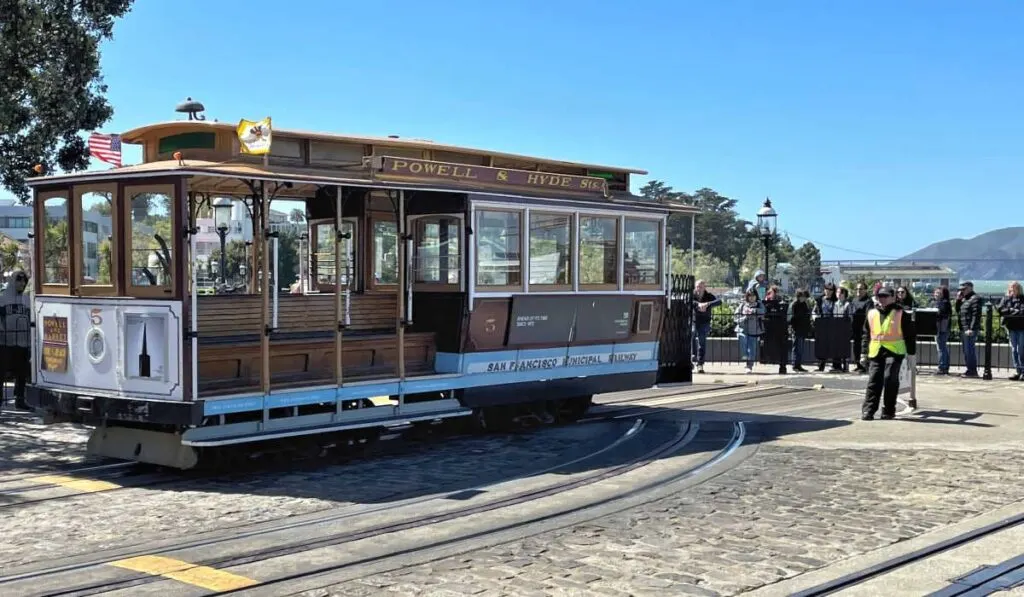 The Powell-Mason and Powell-Hyde lines both start near Fisherman's Wharf and take you up and over the hills to downtown San Francisco. Be sure to see the cable car turnabout at Powell and Hyde Streets.
Chinatown
San Francisco's Chinatown is the largest in North America. The fascinating neighborhood allows you to walk along the bustling streets, visit the shops and markets, and sample some delicious Chinese cuisine.
The House of Nanking makes a gluten-free option in San Francisco. They can cater to dairy, nut, and soy allergies too.
Sail Away From San Francisco
Cruising under the Golden Gate Bridge and out to the Pacific Ocean might be a bucket list sail away. It's much more picturesque than leaving Los Angeles, but expect breezy weather.
If you didn't get a chance to drive over the bridge, at least you got to sail under, which is much more scenic.