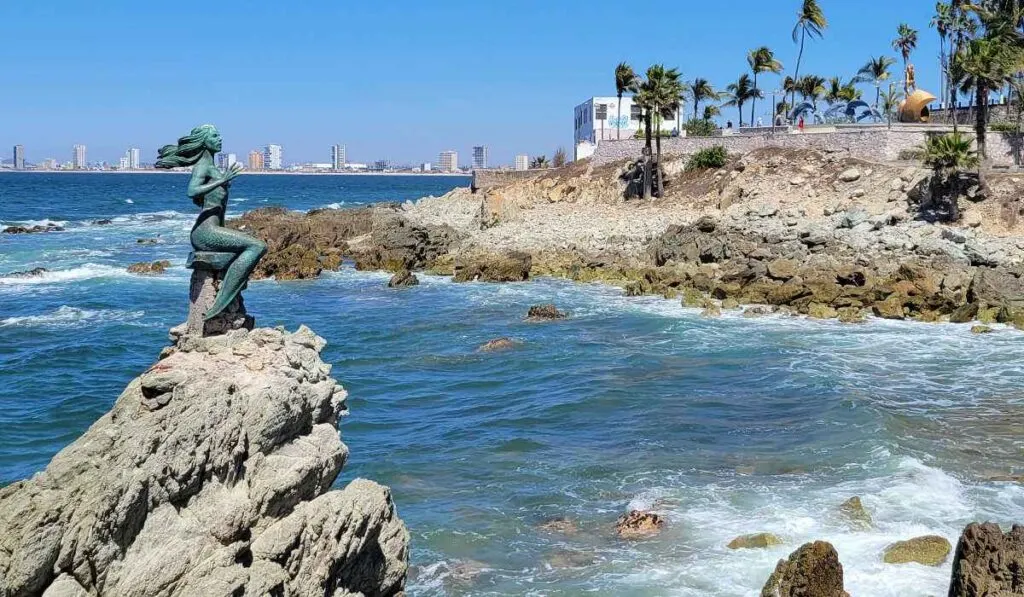 While Caribbean cruises offer a quick getaway to those on the east coast, a Mexican Riviera cruise provides west coasters the same sun-filled vacation. Most cruises to the Mexican Riviera sail out of Los Angeles and usually visit three ports; Puerto Vallarta, Cabo San Lucas, and Mazatlan.
However, you can also find Mexico itineraries from northern California, from San Francisco's port instead.
You can also find shorter itineraries of four days sail to Ensenada and Catalina Island. Longer itineraries of nine to twelve days may include La Paz, Loreto, and Manzanillo. Regent, Princess Cruises, Holland America, and Oceania offer these longer cruises.
Only a Panama Cruise visits Mexican ports further south. These can consist of Manzanillo, Huatulco, San Blas, and Acapulco. The Mexican Riviera cruise ports will be determined by the cruise length and how far your ship sails.
Mexico borders the Pacific Ocean and the Caribbean, although vastly different. While the Caribbean is famous for its crystal blue waters and white sandy beaches, Mexican cruise ports on the Pacific coast offer a more rugged landscape.
The Arch or El Arco is an example of the beautiful scenery on the west coast.
🛳️ Haven't booked your cruise yet?
Find your perfect Mexican Riviera cruise here. You can choose from short 3 to 4 day trip or extended itineraries of 14 days.
Find your cruise here
Is Mexico Safe?
While there have been advisories about traveling to Mexico, I have never felt unsafe during my visits. While there may be violence in Mexico, crime is everywhere, even in your own town.
However, it's best to exercise extreme caution when sailing to Mexico. To make yourself less of a target, remove expensive jewelry and watches and leave them in your cabin safe.
So, carry only one credit card, a small amount of cash, cruise card, and your passport.
It's advisable to walk in a larger group and NEVER alone and go where the other cruise passengers are walking.
Avoid traveling to remote places on your own. During some of my cruise port visits, there was a high degree of police presence, which put me at ease.
If you plan to spend some time at a beach or on a shore tour, protect your valuables with a travel safe. This one is water-resistant and carries a few small items like a cell phone, money, wallet, and a small camera.
It's made of lightweight plastic and has a heavy-duty flexible steel cable to securely lock around almost any fixed object.
Pacific Coast Embarkation
There are two ports in Los Angeles to sail from: World Cruise Center in San Pedro and the Long Beach Cruise Terminal in Long Beach. Princess Cruises and Norwegian sail from San Pedro, while Carnival Cruises sails from Long Beach.
Knowing your embarkation port is essential so your shuttle or taxi will drop you at the right one. Travel time in a taxi or shuttle from LA International Airport (LAX) is approximately 40 minutes but can take up to an hour in heavy traffic.
Location: World Cruise Center, 100 Swinford Street, San Pedro
Location: Long Beach Cruise Terminal, 231 Windsor Way, Long Beach
San Diego also has two terminals: B-Street Pier & Cruise Ship Terminal and Port Pavilion on Broadway Pier. Holland America and Disney Cruise Line sail from San Diego.
Both terminals are approximately a ten-minute drive from San Diego International Airport (SAN).
Location: B-Street Pier, 1140 N Harbor Drive, San Diego
Location: Port Pavilion on Broadway Pier, 1000 N Harbor Drive, San Pedro
Mexican Riviera Cruise Tips
While you can cruise to Mexico year-round, the summer months are far too hot to enjoy your vacation. The best months are from November to March when the weather is warm but bearable and the rain is minimal.
I cruised to Mexico in March with Norwegian Cruise Line and soon learned that it can have a party atmosphere if it's spring break. If you prefer a quieter vacation, it's an ideal place to cruise in January.
Currencies accepted in Mexico include the Mexico Peso and the US Dollars. Should you ever need to exchange money, most banks will exchange Sterling pounds, Euros, and Canadian dollars.
Mazatlan is in a different time zone to Cabo San Lucas and Puerto Vallarta. It's best to wear a watch when going ashore or change your smartphone to the correct time.
When I sailed to Mexico for the first time, my itinerary visited Cabo San Lucas, Mazatlan, then Puerto Vallarta. This meant my clock moved forward one day and moved back the next.
While the captain reminded us to change our clocks, someone on my cruise ship forgot. Subsequently, they were one hour late. Luckily, the ship waited for them, to the boos of our fellow passengers.
Don't be that pier runner or the guests that missed their ship. These are the time zones for the commonly visited Mexican ports.
Mazatlan: Pacific standard time (GMT-7)
Cabo San Lucas, Puerto Vallarta, La Paz, Manzanillo, and Loreta: Central time (GMT-6)
Since vessels sail on the Pacific Ocean, guests may experience rough seas. Use sea bands, Bonine, or motion sickness patches to avoid seasickness.
Avoid The Drinking Water
One of the biggest concerns when traveling to Mexico is Montezuma's Revenge. It's commonly known that water in Mexico is unsafe to drink. Please don't make the mistake of drinking tap water in Mexico because it will make you unwell.
While the locals can drink it, their bodies are accustomed to the unpurified water, but westerners aren't. So, order drinks in sealed cans or bottles when visiting a port.
Also, avoid ice cubes in your drinks because these are made from the same unpurified water. Don't travel to Mexico without a bottle of activated charcoal.
Should you get sick, activated charcoal contains small chambers and cavities that "capture" or bind up toxins in the digestive tract. The charcoal then carries it safely through the digestive system.
A LifeStraw is a handy gadget to pack for Mexico because it contains a microfiltration membrane that removes bacteria and parasites from water.
So, if you're uncertain about that jug of water your waiter bought for your table, use the LifeStraw. If hiking in a remote area with no bottled water, use a life straw to purify water from streams and rivers.
Alternatively, you could purchase the LifeStraw Go Water Filter Bottle instead. LifeStraw also gives back to the less fortunate. For every LifeStraw product you purchase, a school child in need receives safe water for an entire year.
Port Days On A Mexican Riviera Cruise
It's essential to remember it's hot and dry in Mexico. Carry bottled water, sunscreen, and a hat when leaving your vessel. Instead of sunscreen lotion, we found it better to carry a sunscreen spray. That way, we never needed to wash our lotion-covered hands.
Cruise lines will allow you to take their beach towels ashore if you plan to spend some time at the beach. Not needing to pack your own towel saves space in your luggage.
Water activities can wash away sunscreen, and the ocean breezes will often mask the effects of the sun's rays. Wearing Rashguard clothing can help prevent your skin from getting burned.
The tops have a UV Block fabric of UPF 50+, which helps prevent sunburn. They are available in short and long-sleeved styles; for men, women, and children.
So, here are the cruise ports commonly included on a cruise to the Mexican Riviera. Seven-day cruises usually have three port days but may not include three different ports. Some lines stay at Cabo for two days.
1. Cabo San Lucas
At the end of the Baja Peninsula, Cabo San Lucas is almost an Americanized city with its modern vacation resorts. With its jagged rock formations in the ocean, most visitors take shore excursions to see the famous Arch and nearby Lover's Beach.
Nestled where the Pacific Ocean meets the Sea of Cortes, Cabo offers plenty to do, from water-based tours to a lazy day at the beach. Of all the ports, Cabo might be the most popular of the Mexican Riviera cruise stops.
At Cabo San Lucas, you will need to tender. For those who have not cruised before, tendering requires you to go ashore by smaller boat while the cruise ship stays out in the ocean.
Whale-watching tours are second to none should you visit between December and March. However, the number one activity is deep-sea fishing.
The area's warm waters are a haven for many fish varieties, including the Marlin. Marlin fishing is so fantastic that it's made Cabo the unofficial global Marlin capital.
For the fearless, take to the skies on a paraglider. Alternatively, see the Arch parasailing in Cabo from the back of a boat. On land, the thrills continue with zip lining and bungee jumping into a canyon.
For something more sedate, head over to Médano Beach by water taxi. Here, you can learn stand-up paddleboarding or relax on the beach where the drinks keep flowing.
Before returning to your ship, have a drink at Sammy Hagar's Cabo Wabo.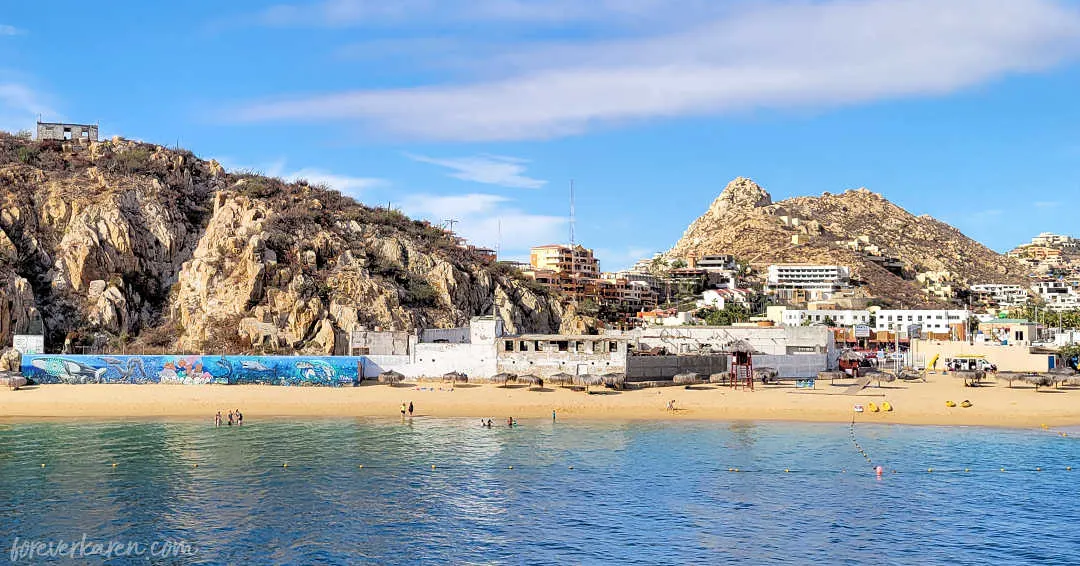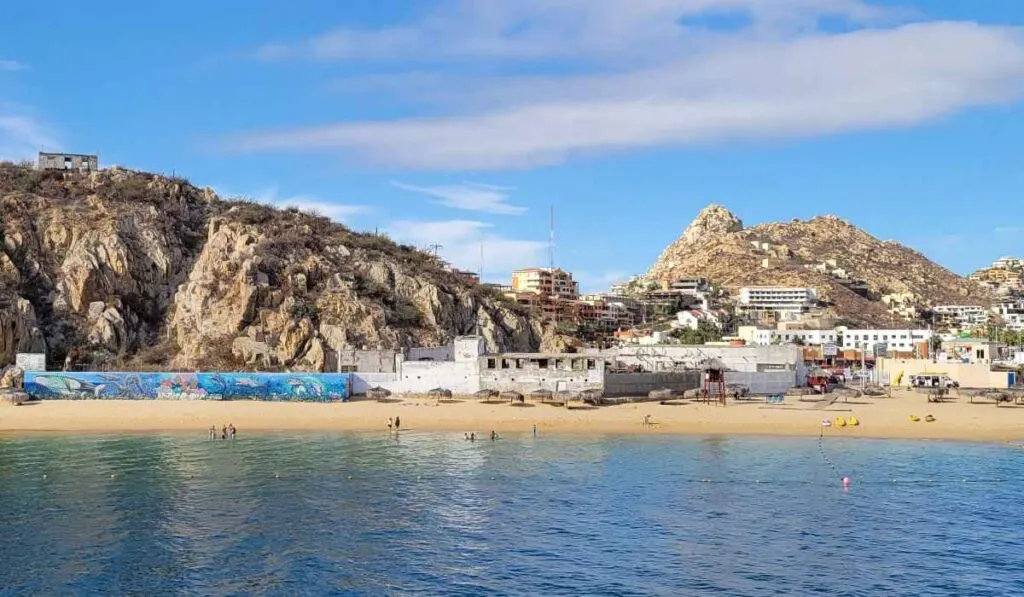 2. La Paz
Travelers enjoy Baja California Sur's capital, La Paz, for its old-world charm and vibrant atmosphere. The longer Mexican Riviera cruises of ten days or more generally stop here.
Like Puerto Vallarta, it has a Malecon that has interesting art sculptures. The picturesque church, the Cathedral of Our Lady of La Paz, is a must-visit.
The best La Paz activities are ocean-based. Bucket list excursions to swim with whale sharks are fantastic. The waters can sometimes be cold since whale sharks visit Baja California between December and April.
So, check with your tour operator to see if they provide wet suits. Other tours give options to see blue whales and swim with sea lions.
Since whales are prolific in La Paz, the whale museum (Museo de La Ballena) allows guests to learn more about these gentle giants. You'll learn about their habitat and behavior through photos, exhibits, videos, and even see skeletons.
If you're a certified diver, scuba diving in the Sea of Cortez allows for giant manta ray, whale and hammerhead shark, and dolphin sightings. There are multiple dive sites such as El Bajo, Espiritu Santo National Park, and Isla Cerralvo.
La Pax has Uber, so it's easy to get around. Balandra Beach is a must for beach lovers to laze in the sun or do some paddleboarding.
3. Puerto Vallarta
Puerto Vallarta was made famous by the 1964 movie The Night of the Iguana in Mismaloya Beach. Mismaloya Beach became a lover's destination for Richard Burton and Elizabeth Taylor.
Even today, it's a favorite amongst those cruising to the Mexican Riviera.
The highlight of Puerto Vallarta is the Malecon, a winding promenade that runs along the oceanfront. The picturesque pathway is dotted with interesting and unique sculptures by various artists.
Just off the Malecon, Our Lady Guadalupe dominates the skyline with its crowning tower.
It's a bustling city with many bars, restaurants, shopping, and outdoor activities to occupy your time. Puerto Vallarta activities include zip-lining tours, speed boat rentals, surfing lessons, stand-up paddleboarding, and diving for the adventurous.
For a leisurely day, stroll the Malecon, sample some tequila, visit a chocolate factory, and have your hair braided. If you prefer to escape the tourist area, take an excursion to Chico's Paradise.
A great way to see Puerto Vallarta is by taking a Segway tour. I took a tour with Wheeling Vallarta Segway, and the experience was a blast. Alternatively, enjoy the city's best sights on a Hop-on Hop-off bus tour.
4. Ensenada
Ensenada in Baja California is a common port on shorter itineraries. So, if you're taking a 3 day cruise to Mexico, Ensenada might be included. Being Mexico's Napa Valley, tourists shop for wine at bargain prices, or enjoy other outdoor activities in Ensenada.
Wine connoisseurs can visit one of many local wineries and sample some vino and cheese before making a purchase. Dating back to 1888, Bodegas de Santos Tomas offers a fantastic selection.
Seventeen miles south, you can see Ensenada's marine geyser known as La Bufadora. It attracts visitors to view its fantastic water show. Rated as the world's second-largest marine geyser, it spouts water over 60 feet into the air.
Unlike the cruise ports further south, Ensenada isn't known for its pristine beaches. In fact, its coastline is rather rugged, and activities are suited to kayaking, surfing, and scuba diving.
For the history buffs, the Ensenada Museum of History tells the history of the Baja Peninsula and the locals who impacted the area. On a guided tour, you'll learn about the European influences and the arrival of the missionaries.
5. Huatulco
Located in the state of Oaxaca, Huatulco, which once was a fishing village, brings visitors to soak up the sun on its expanse of sandy beaches. With over thirty beaches to choose from, you can't go wrong with choices like Cacaluta Beach or Playa La Entrega.
Save some time to explore La Crucecita or the downtown area. While not large, its intimate restaurants and shops are charming, and who can resist an authentic Mexican meal?
A visit to the Pluma Hidalgo Coffee Plantation is a must for coffee lovers. Located an hour from Huatulco, travelers can take a tour or taxi to get there. You'll see where the coffee beans are cultivated and how it's roasted. Of course, the best part of the tour is coffee tasting.
It's hot and dry at the plantation, so remember to use sunscreen. The working farm also has an abundance of bugs. So, it's best to protect yourself against mosquito-borne illnesses like the Zika virus with mosquito repellent.
Ten miles from Huatulco, travelers can explore the Spanish culture at Copalita Ecological Park. The 200-acre grounds feature an indoor museum with exhibits and historical artifacts.
Outside, wander one of many trails to enjoy the flora, fauna, and crumbling ruins.
To finish your port day, enjoy a sample of Mezcal. Like Tequila, Mezcal is produced from agave. However, over 70% of Mezcal is made in Oaxaca, so it's the best place to try some.
6. Manzanillo
South of Puerto Vallarta, Manzanillo is Mexico's busiest port, supplying goods to Mexico City. It also holds the title of "Sailfish capital of the world." Other than fishing, visitors can choose to immerse themselves in Mexican history or choose from a selection of ocean tours.
Touring historic Comala and Colima, the Colima Cathedral, and the pyramid ruins of La Campana are the highlights. Dating back to 1500 BC, the storm drain system and earthquake-proof construction are pretty impressive for their age.
While Caribbean Mexico is known for its Mayan ruins, the La Campana ruins are the largest archaeological location in Western Mexico.
Alternatively, the Cuyutlan Turtles Tour allows you to learn about endangered turtle species at El Tortugario. Many turtle species like the Leatherback, Olive Ridley, and Green's Hawksbill have been hunted and eaten, causing their numbers to dwindle.
By visiting the center, admission fees help in turtle conservation. At the center, an optional Cuyutlan Lagoon boat excursion tours the wetlands to view a variety of fauna and flora.
For a family-friendly beach, Santiago Bay is regarded as the best. If you prefer to snorkel, take a catamaran to Elephant Rock, an excellent location for snorkeling.
7. Mazatlan
Mazatlan is a coastal town in Sinaloa known as the Pearl of the Pacific. A trip to Mazatlan must include a stroll to the historic center of Old Mazatlan, which offers visitors so much history. It's an easy walk on the blue line from Mazatlan cruise port.
Start at La Plazuela Machado, which is undoubtedly one of Mexico's loveliest plazas. Constructed in 1837 by a wealthy businessman, the Plaza Machado allows locals to relax under the orange trees. Today, it's an ideal shady spot to enjoy some incredible seafood.
The incredible 19th-century buildings surrounding the plaza are of French and Spanish influence. Painted in bright colors with lovely iron railings, they reminded me of buildings in Old San Juan, Puerto Rico.
Continue on the cobblestones street a little further to discover the Cathedral Basilica of the Immaculate Conception, also known as Mazatlan Cathedral. Along the coastline, cliff divers perform for tourists, and a new monument celebrates the Beatles.
To the city's south, the Cerro del Creston is home to a working lighthouse called El Faro. While the lighthouse itself is not impressive, you'll enjoy commanding 360-degree views of Mazatlan and the Pacific Ocean if you take the trail to El Faro Lighthouse.
8. Loreta
Located north of La Paz, Loreta offers a chance to see the giant blue whales from January to March. Outside of Blue whale season, whale-watching tours include sightings of humpback, orca, and fin whales.
The waters off Loreta are rich with marine life. So, it's not unusual to see sea lions and dolphins too. Kayaking, scuba diving, snorkeling, and paddle boarding are all popular water sports.
An ATV desert tour provides adventure on land. You'll spend a couple of hours riding breathtaking trails away from the ocean.
This unique tour is barrels of fun and still leaves time to explore the town. Alternatively, you can head to the Baja desert on horseback instead.
A must-visit, the Mission of Our Lady of Loreto was the first Spanish mission constructed in the Baja Peninsula. Still an active church, you can see its bell tower, baroque ornamentation, and beautiful religious paintings.
9. Acapulco
Seventy years ago, Acapulco was considered a hip city and visited by celebrities such as John F. Kennedy, Judy Garland, and Frank Sinatra. While its popularity fell to cities in the Riviera Maya, it's steadily becoming a trendy city to visit.
Acapulco might be known best for its cliff divers. Today, the made-for-tourist activity remains as the La Quebrada cliff divers still wow travelers with their leaps of faith.
Cruises to Acapulco are usually part of an itinerary, transiting through the Panama Canal.
Within walking distance of this Mexico port, passengers can explore the Fort of San Diego. It charges a minimal entrance fee to explore its museum and unusual five-pointed star-shaped structure.
For the perfect beach day, choose Playa Condesa, which offers good access to water sports, or the less crowded option of Playa Icacos, next door.
Mask-making is essential to Mexican culture, as locals use masks in ceremonies and festivals. By visiting Museo de la Máscara, you can admire the manmade masks made of wood, paper-mache, leather, wax, and metal.
Embellished with hair, mirrors, horns, and ribbons, the facades represent human faces, animals, aliens, and fantasy creatures.
Did You Know?
Did you know that Mexico is the world's largest producer of silver? If you love silver, you'll love browsing the local merchants for handcrafted bracelets, necklaces, earrings, and rings. The prices are very reasonable, and the selection is vast.
Did you know Mexico is the birthplace of vanilla? Like everyone who travels to Mexico, I always bring home a few large bottles of pure vanilla extract, enough to last me until my next trip.
When shopping for extract, don't buy the cheapest-priced bottled. Learn to read the labels. When it comes to vanilla extract, you get what you pay for. Make sure the ingredients include pure vanilla and not vanilla flavor.
Did you know Mexico severely lacks an adequate sewer system? It's not advisable to flush toilet paper with low water pressure, poorly vented drains, and small septic tanks.
So, look for the waste basket, and that's where the used toilet tissue goes.
Mexico is also a place you can purchase medications such as antibiotics and Viagra without a prescription. We even found vending machines with medication.
Did you know it's commonplace to haggle with vendors? If you love to bargain shop, negotiate with merchants when purchasing Mexican silver jewelry, hand-woven hats, hand-embroidered clothing, and colorful textiles.
Mexico is where you can experience almost any port excursion for rock-bottom bargain prices. I took a glass-bottom boat to El Arco for under USD 10 and parasailing for USD 40.
Mexico is known for its premium chocolate. If you're a chocolate lover, consider purchasing some chocolate bars or a few jars of mole sauce. Some ports offer chocolate-making classes where you turn the cacao pod into chocolate.
The Day of the Dead, or "Dia de Los Muertos," is a holiday celebrated by people of Mexican heritage. During this holiday, family and friends gather to celebrate and pray for their loved ones who have died.
All over Mexico, visitors can find Day of the Dead tourist souvenirs, from sugar skulls and statues to t-shirts, magnets, and candles.
Final Thoughts
Whether you stop in cobblestoned Puerta Vallarta, Scenic Cabo San Lucas, or historic Mazatlan, a Mexico Riviera cruise provides relaxation and plenty of sunshine.
From palm tree-lined beaches to its exotic-flavored foods, you're bound to experience something new.
And one last thing; try to catch the sunset one night because the Pacific coasts sunsets are spectacular. My husband and I ate in a specialty restaurant the last night on our cruise.
We were lucky enough to have an intimate table for two by the window, where we watched the sun slowly drop below the horizon. It was magical!
Happy travels ~ Karen