If you live in North America, you know that January is winter. However, imagine planning a cruise on one of your favorite cruise lines after the holidays. In this article, you'll discover the best places to cruise in January.
While your friends and family may have cold weather back home, you will enjoy warm temperatures and white-sand beaches. As a person who lives in Canada, January is the best time and the best month to take a winter cruise.
If you call the United States home, it's easy to take a Caribbean cruise from Florida or Texas. For those on the West Coast, consider taking a January cruise out of Los Angeles to the Mexican Riviera.
Whatever destination you pick, I hope to help you see why January is the best time of year to take your next cruise.
Now that you've decided to cruise, let's look at some of the best destinations. There are many places to get away and scratch something off your bucket list!
The Caribbean
For Americans, the Caribbean is one of several convenient and amazing destinations. With 34 countries and territories, it is rich with tropical islands and pristine beaches. Also, with a population of 44 million from many sovereign states, it has an incredible cultural diversity.
The hurricane season in the Caribbean Sea runs from June to November. As a result, January makes the Caribbean one of the best winter cruise destinations.
The risk of tropical storms impacting your itinerary is rare during this time of the year. However, with climate change occurring everywhere, anything is possible!
Due to its size, the region for cruising is divided into Eastern, Southern, and Western Caribbean. If taking a 7-day cruise out of Florida, you'll need to pick which area you want.
If sailing for more than seven days, you have more options. Many cruise ships have Florida as their home port and provide alternate itineraries.
A ship may sail the Eastern Caribbean in one week, followed by the Western Caribbean in the second week. This provides a great option when sailing 'Back-2-Back' (B2B) cruises.
Eastern Caribbean
The Eastern Caribbean includes tropical destinations such as St. Kitts, St. Maarten, St. Thomas, the British Virgin Islands, Puerto Rico (San Juan), Dominican Republic, and more.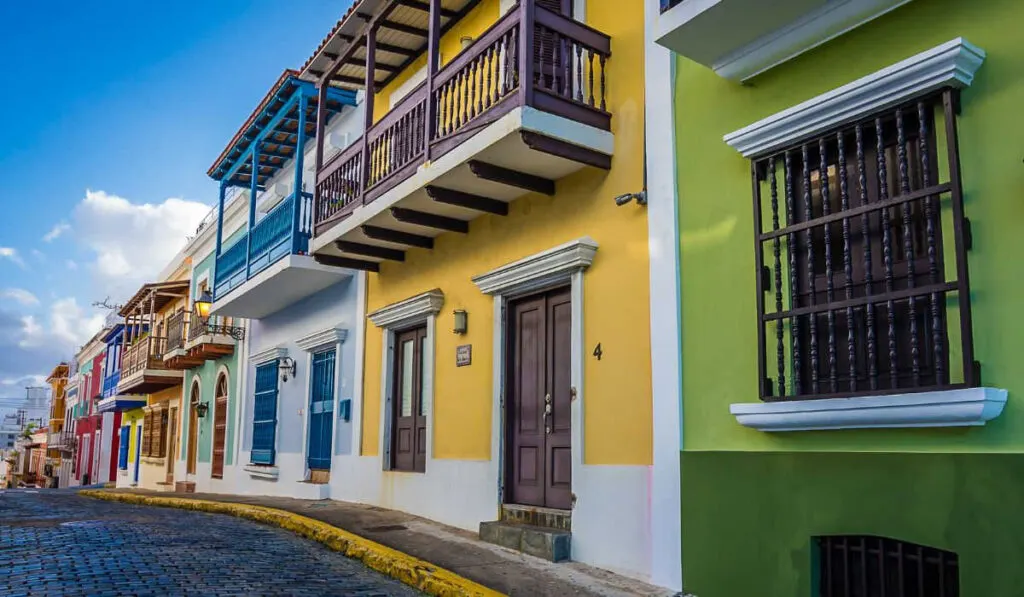 Many of these islands, such as Puerto Rico and the Dominican Republic (Puerto Plata) has rich histories with fascinating forts and colonial architecture.
Some cruise lines also include their own private islands in their itineraries.
Royal Caribbean has its private island – Coco Cay – in the Bahamas. Princess Cruises has a private island named Princess Cays, also in the Bahamas.
Southern Caribbean
This Caribbean region includes southern destinations such as Aruba, Barbados, Curacao, Trinidad and Tobago, and more. Being closer to the equator, this region has year-round warm weather. Outside of the hurricane zone, the ABC islands are an ideal destination.
Aruba, especially, appeals to families for its family resorts, shallows beaches, and kid-friendly activities.
Cruises from Florida to the Southern Caribbean are usually longer than nine days. Alternatively, you can fly to a Caribbean Island and start your journey there.
Western Caribbean
Western Caribbean cruises typically depart from the Florida ports of Port Canaveral, Fort Lauderdale, Miami, or Tampa. However, a few cruises depart from Galveston, Texas.
This region includes destinations like Jamaica, Belize, Honduras, Grand Cayman, and Mexico.
Central America
Central America is the tiny strip of land that connects North and South America. It is a rich and exotic region with lush forests and unique wildlife.
It includes the countries of:
Belize
Costa Rica
El Salvador
Guatemala
Nicaragua
Panama
One of the cruises on most bucket lists is cruising the Panama Canal. The canal is an incredible feat of engineering, allowing large ships to sail from the Pacific to the Atlantic.
Whether you depart from Florida or California, choose the 'Full Transit' route. A full transit itinerary includes sailing through the Panama Canal and not just a partial canal cruise and return.
Many cruise itineraries include the Panama Canal, as they reposition from Alaska in September to another warmer port. However, I recommend sailing from Florida (Miami or Fort Lauderdale) to California in January.
South America
While North America experiences winter in January, South America has its summer. Some of the best destinations with warm weather are in the Southern Hemisphere. Due to the continent's size, an entire South American cruise would be two to three months!
Many major cruise lines, such as Princess and Holland America, offer a variety of itineraries to South America. Costa Cruises, which is huge in Europe, has many South American cruises.
If Royal Caribbean is your favorite cruise line, unfortunately, they do not cruise South America in January. This is at the time of this writing, but all cruise lines update their itineraries frequently.
Buenos Aires and Rio de Janeiro are vibrant cities with amazing architecture. Don't miss the Plaza de Mayo and the Christ the Redeemer statue.
Galapagos
The Galapagos islands are an archipelago off the west coast of South America. The best time to cruise the Galapagos is from December to May.
Ships that sail in the Galapagos region must meet their environmental guidelines. Celebrity Cruises has a unique cruise ship – Celebrity Flora – that was built exclusively for sailing the Galapagos.
Galapagos cruises can also be bundled with land tours that include exotic destinations such as Machu Picchu. These cruise-land tours are typically 16 days and offer a once-in-a-lifetime experience.
The low end of Galapagos cruises starts between USD 8-10,000, with the top end exceeding USD 20,000. These small ships give more of an expedition-type experience.
Travelers take a Galapagos cruise to see its unique wildlife. The wildlife species is remarkable, from giant tortoises and Galapagos Penguins to Blue-Footed Boobies and flightless cormorants.
Southeast Asia
Asia has become a popular destination to cruise. While the northern region experience climatic changes, the southeast areas remain hot year-round.
January is a great time to cruise because you'll experience lower humidity and slightly cooler temperatures.
Singapore, Malaysia, Hong Kong, Vietnam, Thailand, and Indonesia are great options in January. Cruise itineraries range from a few days to several weeks. If you sail out of Singapore, plan to have afternoon tea at the Raffles Hotel.
With the Chinese New Year usually falling in January, your January cruise may become a celebratory vacation.
If you're from another continent, the one-way cruises from Singapore to Hong Kong include several countries. With stops such as Halong Bay, Ho Chi Minh City, and Da Nang, you can check a few places off the bucket list.
Mexican Riviera
In January, you'll enjoy cooler temperatures along the Mexican Riviera and avoid hurricane season. Mexican Riviera cruises are best suited to those living along the west coast.
I recommend flying in the day before and booking a night in a hotel to ensure you embark on schedule. Nothing worse than having your flight delayed and you miss your cruise!
Los Angeles has two cruise ports, and both are south of downtown. One is near San Pedro, and the other is near Long Beach.
If taking a taxi, Lyft, or Uber from the airport, ensure you travel to the correct cruise port. Although they're only about 10 km (6 miles) apart, so it's pretty close if you pick the wrong one!
The most popular destinations for a Mexican Riviera cruise are Cabo San Lucas, Puerto Vallarta, and Mazatlán. Cabo San Lucas has no port, so it requires a tender. You can go parasailing, deep-sea fishing, enjoy Mexican architecture, and savor authentic Mexican food in ports.
Shorter cruises often stop in Ensenada in Baja California. Its top tours include wine tasting at nearby vineyards or a trip to Ensenada's spectacular blowhole called La Bufadora.
January provides the best time to go whale watching as whales have migrated from Alaska to give birth. Whale watching in Cabo is top-rated, and you'll see lots of humpbacks, often with young ones.
Old Mazatlan has incredible architecture rich with history. Be sure to walk the Malecon and 21 km (13 miles) of pristine beaches.
If you're up for a trek, consider hiking to El Faro Lighthouse. At the top, you'll enjoy magnificent views but be prepared for 330 steps in the scorching Mexican sun.
Hawaii
As part of Polynesia, Hawaii has great year-round weather and is a fantastic place to cruise in January. While the islands can experience rain in January, the showers are short-lived.
Oahu, the Big Island, and Maui offer a tropical paradise in January and every month. My favorite is Oahu because there's so much to do, and every region offers unique activities.
When visiting Oahu, check out Kualoa Ranch, the Polynesian Cultural Centre, and the Dole Plantation. For excitement, try snorkeling with sharks or hiking Diamond Head Crater.
On the Big Island, you can go diving or night swimming with Manta Rays. It's a unique experience only offered in a few places globally.
For my wife Karen, Hawaii is a magical place that we will return to again and again. There are many cruise options that are very convenient.
You can fly into Honolulu and take Norwegian's Pride of America which is home-based in Oahu. Alternatively, you can sail from Los Angeles or San Diego in January and return without a flight needed.
If you live in the northern U.S., sailing across the warm Pacific and seeing dolphins beside your cruise ship will be a fantasy come true.
Antarctica
The South Pole is in Antarctica and is the ideal January destination if you love expedition cruises. Although not inexpensive, a voyage to the Antarctic is sure to be a unique experience.
For me and my wife Karen, an expedition cruise in January has long been on our bucket list. The shore excursions and being on the ice with penguins provide an unforgettable experience.
Travelers cannot visit Antarctica for much of the year due to the extreme climate. However, January is the summer peak, where the temperature can rise to 0 Celsius (32 Fahrenheit).
Some cruise lines, such as Celebrity, occasionally cruise to the Antarctic, but passengers are not allowed to leave the ship. Expedition cruises are always on smaller vessels with Zodiac boats that enable passengers to walk on the ice.
Expedition cruises, while expensive, usually include all the weather gear you will need. Some expedition cruises even allow camping on the ice or doing a 'Polar Dunk' in the frigid water!
The Canary Islands
The sun-drenched Canary Islands are often too hot to visit in summer. However, January provides a more tolerable time to explore the islands.
Departing from Tenerife, 7-day itineraries include Funchal, Lanzarote, and Grand Canary Island on P&O Cruises.
Alternatively, you can take a slightly longer round-trip cruise from Malaga, Spain, or Lisbon, Portugal. In Santa Cruz, Tenerife, the average temperature is 27C or 81F, far better than the 43C or 109F in July.
Due to its proximity to Northern Europe, cruises to the Canary Islands are best suited to Europeans trying to escape the cold weather.
Dubai, Middle East
If you don't mind a flight outside of North America, a cruise including Dubai can be one of your best cruises.
Dubai is a unique destination within the Middle East and a great place to see the world's engineering wonders.
While November to February has cooler temperatures, January is the best month. In January, the average temperature is a comfortable 20 Celsius (68 Fahrenheit).
Compare these temperatures to the summer, where highs are often 40 Celsius (104 Fahrenheit). Rainfall is minimal in January.
Dubai is a major cruise port in the Middle East. Cruise lines, such as Norwegian, Cunard, MSC, and Costa, offer cruises there.
Several luxury cruise lines, such as Emerald, Ponant, and Regent, also offer stops in Dubai.
If you are considering Dubai for your January cruise, either start or end in Dubai. There is so much to see that you will want to stay for a few extra days to experience the wonders of Dubai.
Australia, New Zealand Cruise
Flying to Australia is a long flight regardless of where you call home in North America. Australia and New Zealand is an obvious January cruise vacation because it's their best weather season.
Several cruise lines reposition their ships from the Northern Hemisphere to Australia during the winter months of October to March.
We recently took a repositioning cruise on Royal Caribbean's Ovation of the Seas from Vancouver to Hawaii. Many passengers stayed on the ship and cruised all the way to Australia.
Virtually ALL major cruise lines offer January cruises around Australia and New Zealand. One of the best things about Australia is the wildlife.
For example, of the seven species of marine turtles, six can be found in Australian waters. There are several species of wildlife that are unique to Australia.
With the Great Barrier Reef, Australia is a diver's paradise. Although climate change has impacted this unique region, it still should not be missed.
As the sixth largest country in the world, Australia is massive. Plan on staying/cruising more than a week or combining a cruise-land tour.
Final Thoughts
January is the perfect time to get away on a cruise. However, it can be the peak season for many of the warmer destinations.
If you are willing to go last minute, you can often find great deals on a Caribbean cruise. After the hectic time of Christmas, a New Year cruise is a great way to relax in a tropical paradise.
Since many have overspent during the holidays, cruise lines often lower prices to entice you to book.
If you love snorkeling, many of the destinations listed above provide a perfect excursion as part of your cruise.
I hope this guide has motivated you to consider a January cruise. Once you've taken the plunge and booked your itinerary, you may discover a new "best place to cruise" during your January getaway.