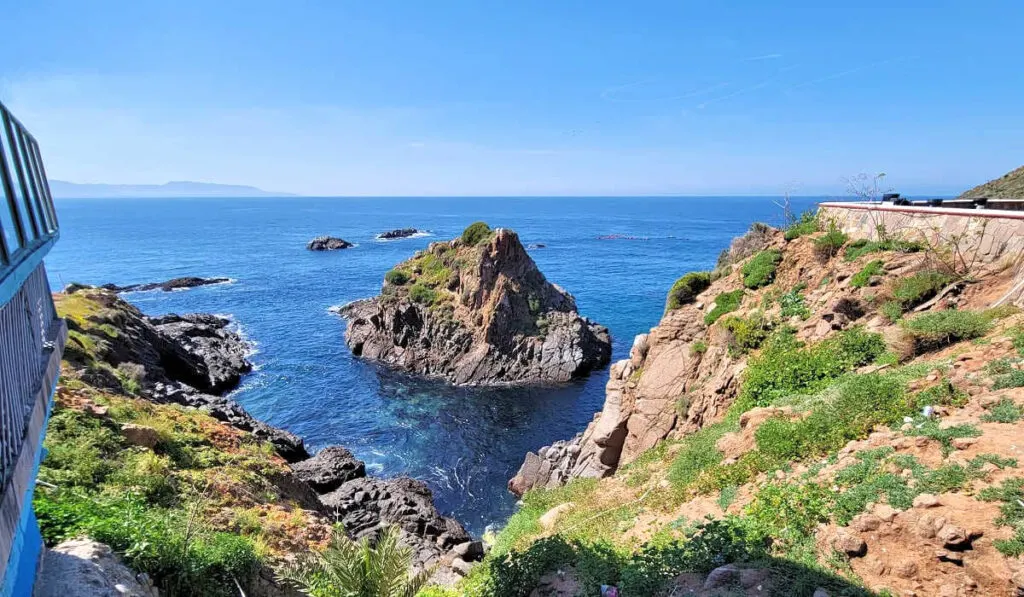 La Bufadora, located in Ensenada, Mexico, is a popular destination for travelers arriving by cruise ship. Many cruise lines offer tours to this natural wonder, a marine geyser that shoots water up to 100 feet in the air.
If you're on a cruise to Hawaii from the Los Angeles port, you'll likely stop in Ensenada due to the Jones Act regulations. Some 4-day Mexico Riviera itineraries also include a stop in Ensenada.
We stopped at Ensenada as part of a Celebrity Solstice cruise. While the cruise line excursion was sold out, we booked a private shore excursion to La Bufadora for a more personalized experience.
In this guide, you'll discover the history, ways to reach the attraction, and what to expect there. Then, you can decide if this day trip suits you.
Planning your trip to Ensenada last minute?
Skip the line and get your tickets for a private La Bufadora tour. You'll pay less than booking through your cruise line.
La Bufadora with Las Canadas Ecopark – A great excursion for families. Children will love the baby animals and you have the option to go zip lining.
What Is La Bufadora?
Located in Baja California, La Bufadora (Spanish for blowhole) draws in countless tourists yearly to see its natural wonder's spouting action. This impressive geyser is situated south of Ensenada and requires transportation to see it.
The history of La Bufadora dates back millions of years when volcanic activity formed the peninsula. Its name describes the sound the blowhole makes when it releases water into the air.
While we know how it was created in reality, legend says it's the result of a baby whale trapped in the sea cave. It spouted water to attract its pod but eventually turned to stone.
During your visit, wait for the tide comes in. As it does, the waves force water through a partially submerged sea cavern, causing it to spout out a blowhole.
The resulting explosion creates a spout of seawater, which shoots up through the only exit. The result is a spectacular display that can reach heights of several stories. It's a must-see attraction if you're visiting the area!
If you plan to visit the blowhole, the tide and sea conditions can impact the height of the water spray. If it's a calm day, the marine blowhole won't be exercising its fury.
However, during high big sea swells, you could get very wet from the spray.
How To Get There
The tour was sold out through Celebrity Cruises' website, so we booked an independent tour instead. It was inexpensive (around USD 39), lasted 3-1/2 hours, and included a city tour.
Our group consisted of nine, and we were thankful to have a small air-conditioned van. Cali-Baja Tours picked us up at the cruise port, and we could come back or return to downtown.
The blowhole attraction is 23 miles (37.5 km) south of the city and takes 45 minutes to get there. Due to the widening of the Ensenada Lazaro Cardenas (Hwy 1), traffic can be slow in sections.
However, once you leave the highway and head to the Punta Banda Peninsula, you'll arrive at your destination relatively quickly.
Traveling from Ensenada to La Bufadora, you'll see the countryside, where they grow buckwheat, lemonade berries, olives, and tomatoes. Further away, grapes are popular, as are tours to local wineries to sample their wines.
Now if you're expecting an off-the-beaten-path tourist attraction, think again. Before booking, I had read a few reviews about this tour, so I knew what to expect. Here are some reasons to visit La Bufadora in Mexico.
1. Natural Wonder
The main attraction at La Bufadora is the blowhole caused by the mighty Pacific Ocean waves pushing water through a natural cave system and out through a hole in the rock formation.
The resulting spray and sound are impressive, making it a must-see natural wonder. Apart from the blowhole, La Bufadora also offers terrific views of the Pacific Ocean and the surrounding cliffs.
You can stroll along the cliffside boardwalk and enjoy the fresh sea breezes as you take in the stunning scenery.
While it may not be the largest marine geyser in the world (that title belongs to one found in Oahu), it is still an awe-inspiring sight to behold and is considered the second-largest marine geyser in North America.
Witnessing a natural phenomenon like La Bufadora is an experience you will remember. Seeing a natural geyser up close and personal is not an experience you can savor daily.
During our visit, we hung around to watch the spouts, which happen every minute. While we didn't see the 100-foot spray, the experience was fun, nevertheless.
Near the blowhole, you'll have a chance to take a selfie at the colorful Ensenada sign. Mexico has a love affair with these signs. You'll find a few downtown along the waterfront.
When it comes to natural wonders in Baja California's coastal area, both El Arco in Cabo San Lucas and La Bufadora in Ensenada offer breathtaking views.
While El Arco is a must-visit attraction in Cabo, Ensenada's La Bufadora boasts equally stunning rock formations and a mesmerizing blowhole that will leave you in awe.
2. Cultural Experience
Visiting La Bufadora allows you to experience the vibrant Mexican culture and enjoy its delicious food. You can also watch local artists create handicrafts.
The experience can be good or bad, depending on how well you adapt to different cultures. While you'll see a marine blowhole, you'll be greeted by a mob of locals, all peddling their wares at a local marketplace or flea market.
You'll have to weave your way through the sellers to reach your destination, some 500 meters from your tour bus. Some enjoy the cultural experience, while others find it overwhelming.
We had an early tour at 9 am, so fortunately, we arrived before the crowds. While we walked an empty street, the locals were eager for us to sample margaritas, churros, and dried fruits.
Our tour guide spoke good English and told us to follow her through the marketplace. We followed, although most wandered off and went their own way.
As we strolled past the vendors, our guide told us where to get the best margaritas (Habana Banana), tacos, and Mexican candy and even use a washroom. You have to pay a fee to use the bathroom, so don't make the mistake of not having any cash.
Once you've used a bathroom in Mexico, you're thankful for modern plumbing back home.
At the marketplace, you'll find a few pharmacies selling penicillin, antibiotics, and other medications without needing a prescription. Yes, it's so Mexico!
3. Authentic Mexican Food
On the walk through the marketplace, you can sample margaritas, pina coladas, tequila, churros, and dried mangoes. We stopped at one vendor to purchase Mexican candy and get a giant vanilla macaroon, which was tasty.
We found one vendor selling tequila with a giant scorpion inside. And another selling Mezcal with a worm. If I were a drinker, that would have put me off drinking for life.
Be aware that some vendors can scam you. Always ask the price before purchasing. I've read online that visitors are charged hundreds of dollars for a few drinks and some tacos.
We took our guide's advice and stopped at Lidia's Taco Grill near the parking lot to try their Mexican food.
She told us the shrimp and fish tacos were the best. Since they were both battered and I needed something gluten-free, I settled for the beef, and my husband, Brian, picked the chicken.
At USD 2 each, they were fresh, served on freshly made corn tortillas and the best tacos we've eaten. We also purchased corn chips and salsa, which were significantly more expensive at USD 5. Still, at USD 9, it was quite a bargain meal.
4. Marine Wildlife
The Pacific Ocean surrounding La Bufadora is home to diverse marine life, including dolphins, sea lions, and whales. Whale-watching tours are popular along the west coast, but you may enjoy sightings from the land.
During the winter months, gray whales migrate from Alaska to Baja California, and you can often spot them from La Bufadora. If your itinerary stops further south, consider a whale watching tour in Cabo instead.
If you're an avid photographer, you'll have fantastic photo opportunities during your visit. While you may have come to capture the sight of the water gushing up, you might also see humpback whales, gray whales, or sea lions.
5. Souvenir Shopping
If you want to do some last-minute souvenir shopping, La Bufador Ensenada tour includes a marketplace with a bit of everything. You'll find the usual Mexican blankets, hats, Mexican vanilla, shot glasses, and everything in between.
There are many souvenir shops where you can buy locally-made handicrafts, clothing, and other items. Your only limitation is time and budget.
Our guide showed us the stalls to purchase silver (since some vendors sell silver-plated brass and sell it as the real thing) and leather handbags.
It was interesting to see vendors trying to sell Gucci, Prada, Coach, and Louis Vuitton all knock-offs, of course!
6. Adventure Sports
The area around La Bufadora is breathtaking and ideal for adventure sports such as surfing, paddleboarding, and kayaking. You can take lessons and rent equipment from qualified instructors to experience the thrill of the Pacific Ocean.
However, kayaking tours don't require any previous experience. These popular kayak excursions allow you to see a different perspective of the blowhole. With pick-up and drop-off at the cruise port, it makes for another great inexpensive shore excursion.
Alternatively, adventure seekers can book a paddleboarding adventure. With a beautiful coastline, clear blue waters, and rugged cliffs, seeing the stunning scenery from the water makes sense.
The waves in the area can range from calm to moderate, so it's essential to have some experience with paddle boarding before attempting it here.
Some Tours Include A City Tour
While the La Bufadora excursion includes a city tour, the bus actually drops you downtown. After you've had time to browse the downtown area, the bus will return to collect you.
Downtown was an extension of La Bufadora marketplace with vendors selling more trinkets. However, if you didn't eat anything earlier, there were more places to sample authentic Mexican dishes.
One of the must-sees is the Ensenada Fish Market near the waterfront. Here, you can see the fresh catch of the day. If you're staying in Ensenada, you can purchase seafood and have someone cook it nearby.
If you're traveling by cruise ship, you can enjoy the sights and sounds of the seafood stalls. You may spot varieties of fish you haven't seen before.
In downtown, you'll find no end of vendors allowing you to sample tequila and other liquors. If you need free Wi-Fi, pop into the McDonalds.
Along the Malecon, you can browse more vendors, take a horse carriage ride, or enjoy the water fountains, which are refreshing on a hot day.
Best Time To Visit
The best time to visit La Bufadora blowhole depends on what you're looking for, as the weather and crowds vary throughout the year.
We visited on a Friday and arrived early in the morning. Honestly, it was the best time to go. Our tour allowed us to spend 1 hour 15 mins at La Bufadora, and while that may seem like plenty of time, we spent most of the allotted time walking through the vendors.
As we were making our way back, tour buses were starting to arrive, and the crowds appeared.
If you could choose the ideal time, high tide provides the best blowhole action, and you want to avoid the weekends. However, if you're on a cruise ship, you won't have the luxury of picking a day and time.
If you're staying in Ensenada or making a day trip from San Diego, June to September provides the peak tourist season. The weather is warm and sunny during this time, but you'll encounter large crowds.
With more visitors, you may have to wait in line to see the blowhole, cutting into shopping and eating time.
Is La Bufadora In Ensenada Worth Visiting?
In conclusion, La Bufadora is a natural wonder whose power is unparalleled.
Whether you're looking to see the power of the blowhole, experience the local culture, or simply relax in a beautiful setting, this attraction has something to offer everyone. With plentiful tours, you'll enjoy a few hours of Mexican culture, without breaking the bank.
With a variety of activities, pleasant weather, and stunning ocean views, this Ensenada attraction is definitely worth adding to your travel bucket list.