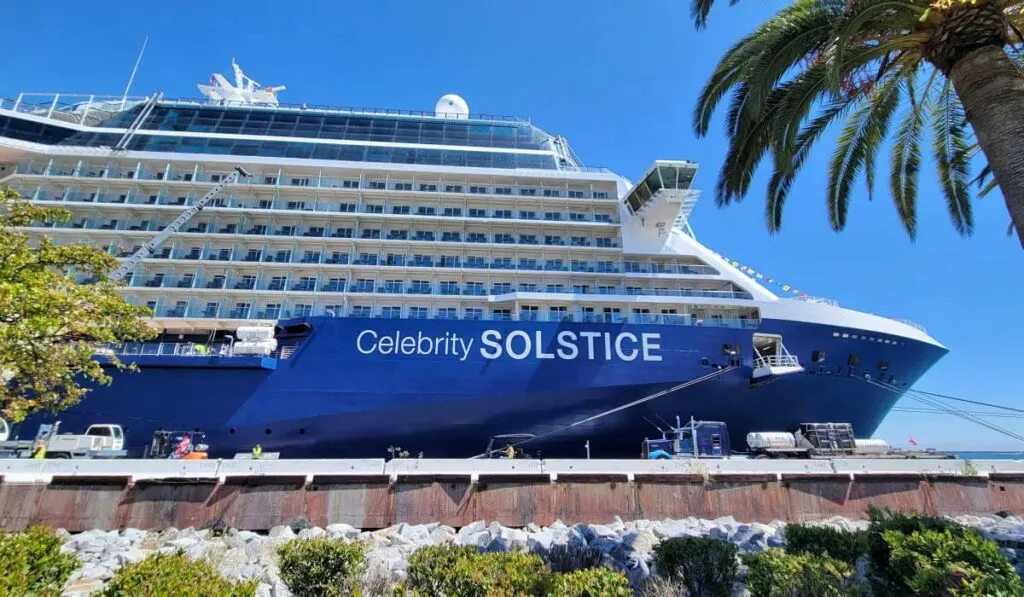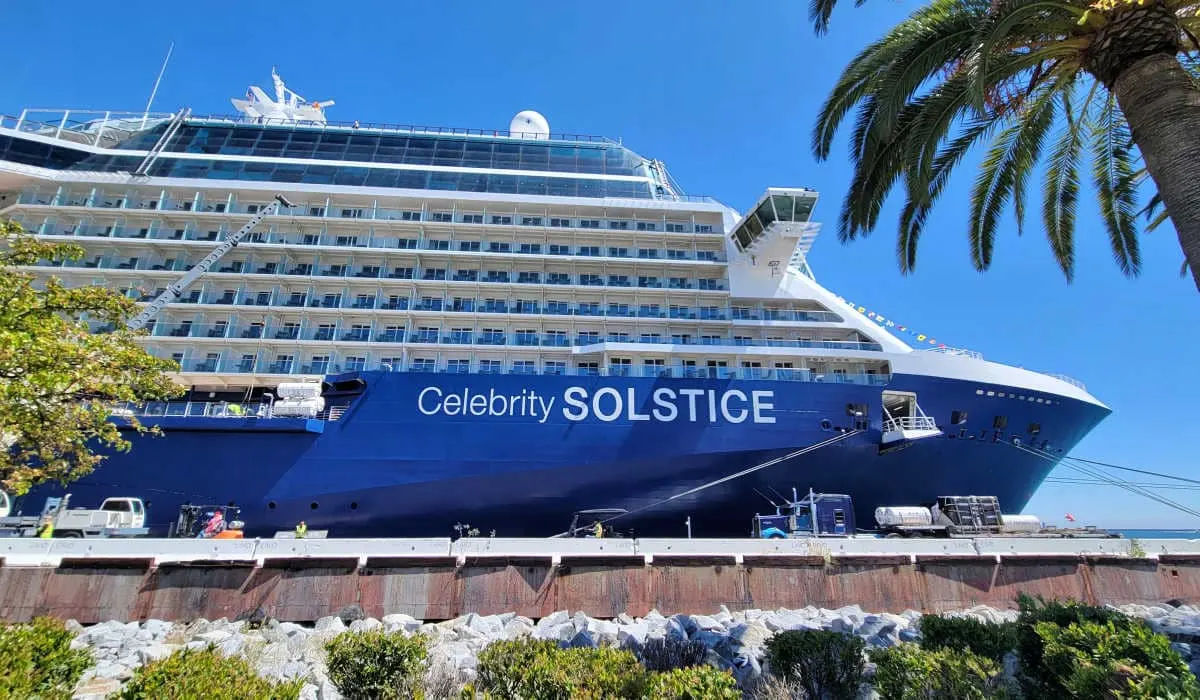 Are you planning a cruise with Celebrity Cruises? In this article, I review the Celebrity Solstice on my 7-day cruise. The Solstice is the first ship in the Solstice class for Celebrity Cruises. The Solstice is the sister ship of Celebrity Eclipse, Celebrity Equinox, Celebrity Silhouette, and Celebrity Silhouette.
They featured forward-thinking amenities such as the Lawn Club, Hot Glass Class, Le Petit Chef animated dinner show, and a live tree in its central atrium.
My wife, Karen, and I sailed on the Celebrity Solstice in 2023 on a Pacific Coastal cruise. The packed 7-day itinerary only included one full sea day, making for a hectic itinerary with lots to do.
During the summer, the Solstice repositions to Seattle to offer 7-day Alaska cruises before moving to Asia for the winter. If you're a fan of repositioning cruises, you can sail the Solstice to the Hawaiian Islands and across the South Pacific to New Zealand and Australia.
This is the second time we've sailed on a Celebrity Solstice-class ship. The first time was on the Celebrity Eclipse in 2019 when Karen and I sailed to Hawaii on our honeymoon.
I hope this review of our cruise helps you decide if the Celebrity Solstice suits you. Celebrity continues to be one of our favorite cruise lines, so read on to find out why.
About The Celebrity Solstice
Celebrity Cruise Line launched the Solstice class in 2008. At the time, it was the largest ship for Celebrity, but the Edge class has since surpassed it, which launched in 2018.
At the time of our sailing, the Solstice was near maximum capacity with approximately 2,600 passengers. Not surprisingly, most passengers were from the United States, followed by Mexico, Canada, several European countries, and more.
First Impressions Of The Celebrity Solstice
After taking a shuttle from our hotel, we boarded the ship at the Los Angeles World Cruise Terminal. We find all Solstice-class ships have an interior design that is elegant and timeless.
We boarded at Pier 46 in San Pedro, which the cruise port only uses if the main piers (91, 92, and 93) are occupied. As we walked from the bus parking lot to the ship, the size was large and impressive.
Celebrity ships are always well maintained, and the Solstice showed no signs of its age. In fact, Celebrity last refurbished the vessel in 2016. With her new hull color of royal blue, she looked as good as a new vessel.
We had been spoiled when we cruised pre-pandemic on the Celebrity Eclipse in 2019. On that cruise, staff members gave all passengers a glass of champagne when they stepped on the ship.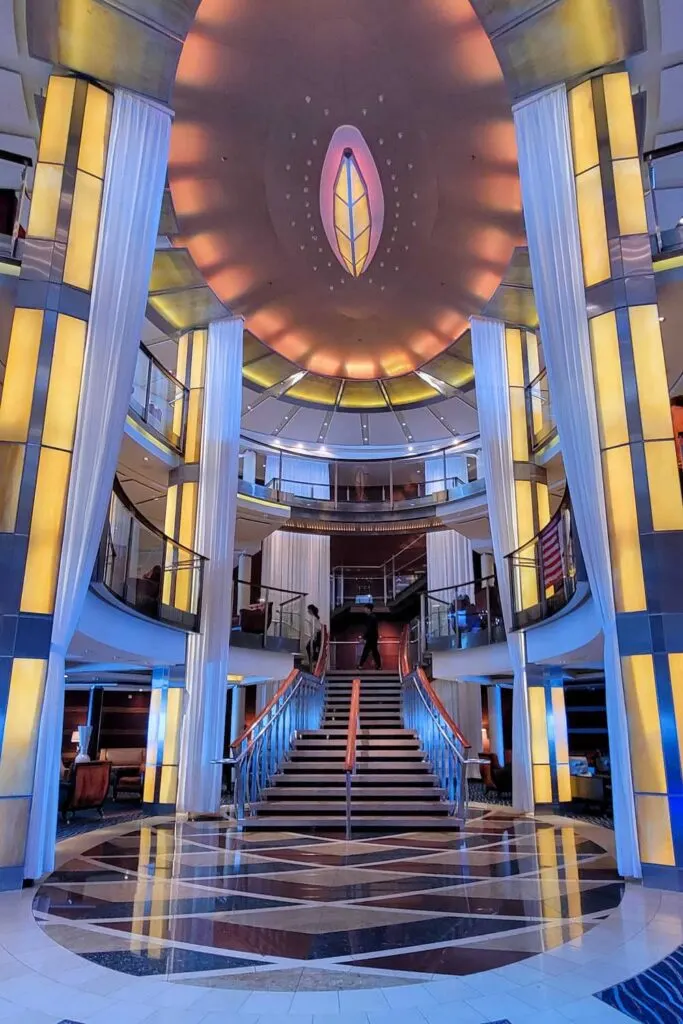 However, post-pandemic many cruise lines are struggling to return to profitability. Nowadays, cruise lines have cut back on some of the "freebies" that made cruising a great vacation.
Our welcome on the Celebrity Solstice included greetings from the staff, but the complimentary champagne was gone. It was only my 2nd time on a Celebrity ship, but I couldn't help but feel immediately some cost-cutting had been implemented.
In fairness to Celebrity, owned by the larger Royal Caribbean Cruise Line, I'm glad they survived the COVID-19 pandemic. It's okay if they need to trim expenses after being shut down for almost two years.
Classic Décor
The Solstice has a pleasing classic décor and is similar to the Eclipse we enjoyed for our honeymoon cruise from Vancouver to the Hawaiian Islands.
Celebrity has an upscale and refined look as a premium cruise line compared to other mainstream cruise lines such as Carnival and Princess.
In contrast, the Edge-class vessels feature modern luxury, more contemporary colors, and forward-thinking designs.
The Solstice has a large Ficus tree in the main atrium, a signature feature of the Solstice-class vessels. While each ship has a tree, they feature them in different pots. A red-pointed cone provided the base for the Solstice's tree.
The Solstice has lovely public areas, with lots of seating around the central atrium, often featuring live music. The atrium was also used by a staff member teaching various dance classes.
Celebrity Solstice Cabins
We booked an inside cabin on the Solstice (Cabin #1031), and this was my first time not being in a veranda stateroom. Inside cabins can vary significantly across cruise lines and even within a ship.
We booked inside because there was an incredible deal at approximately USD 350, not including port fees or gratuities. A fantastic deal since our one-night pre-cruise stay at the Crowne Plaza was almost USD 300.
While Celebrity invited us to bid on an upgrade, and we initially did, we canceled the bids because we wanted to review an inside stateroom.
I was amazed at the spaciousness of our cabin. Karen and I had ample storage space, and the stateroom was our oasis after a long day of exploring ports.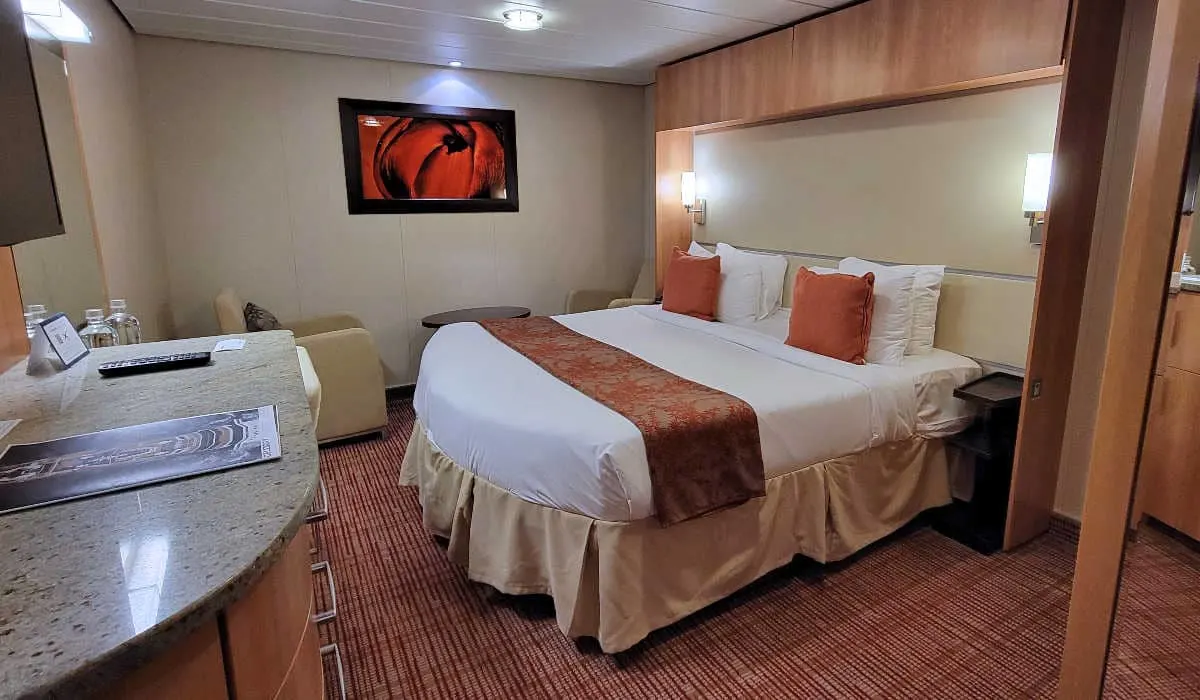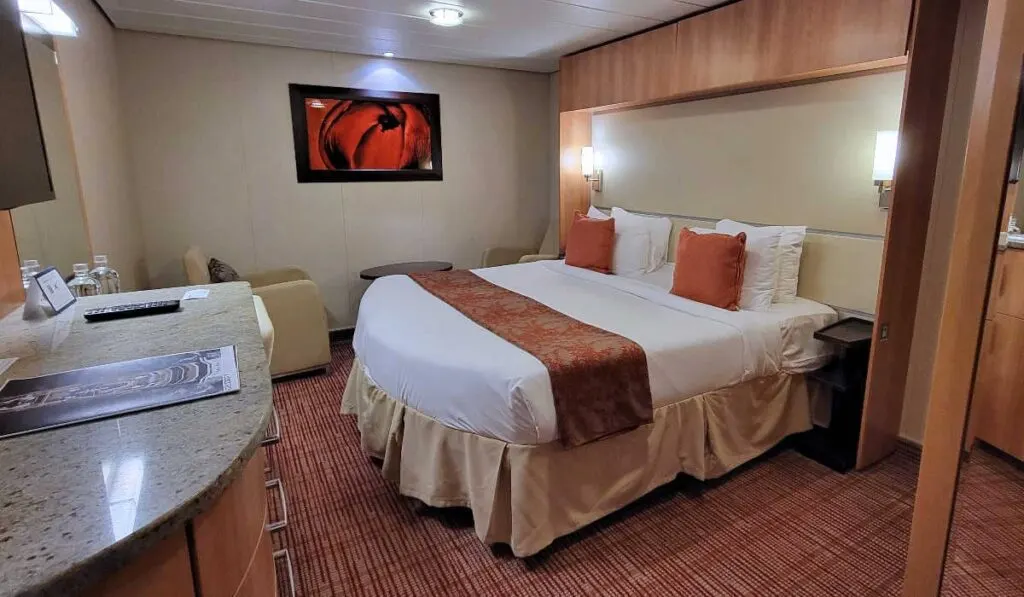 When cruising, we use our cabin just for sleeping or an occasional movie. It was perfect for that and was 166 sq. ft.
The cabin was in the forward section of Deck 10 at the start of a short hallway with other inside cabins. We did not share a wall with another stateroom. It was tranquil, and I slept soundly every night.
One of the best parts of an inside cabin is that there is no outside light to disturb your sleep. To counter the total darkness, we brought 2 LED night lights to make the trip to the bathroom during the night easier.
The Solstice has ocean view, balconies, and various suites, to round out their cabin offerings. Here's our full review of our interior Solstice stateroom.
Celebrity Dining And Bars
Celebrity Cruise Lines prides itself on high-quality dining and has won several awards. Of the premium lines we have sailed on, dining on Celebrity was second only to Cunard.
The Eclipse and the Solstice had quality dining and service in the main dining room. However, due to the pandemic, Celebrity has streamlined food selection with fewer premium cuts of meat.
Regardless, I'm sure you will be pleased with the food served on the Celebrity Solstice.
Oceanview Café
This buffet is on Deck 14 and is open daily from early morning until late in the evening. The Oceanview Café offers various breakfast, lunch, and dinner culinary options.
We had most breakfasts there because it was fast and easy to get a hearty meal before a busy port day. Karen especially enjoyed the English Bacon, which was offered most days.
The best change Celebrity has made to the buffet is its markings of foods with certain ingredients. Since Karen is celiac, knowing which items were gluten-free was nice.
The buffet had an area for vegan selections and a kids' section. You can read a detailed review of dining onboard, including menus.
It's a busy area during breakfast, but thankfully, the staff constantly cleans tables, so the wait is never long. It's also a great area to start a conversation with fellow cruisers dining at a nearby table.
Alternatively, you can get specialty coffees and teas at the popular Café al Bacio. While specialty drinks incur extra charges, you can get pastries, cookies, and sweet treats for free.
Grand Epernay Restaurant
Most of our dinners were in the main dining room, the Grand Epernay. This impressive dining venue covers two decks on Deck 3 and 4.
The expansive room is airy and bright with its white décor. We selected the early seating at 6 pm, which worked well for us during busy port days.
One of the highlights of the dining room is the wine cellar containing hundreds of bottles of wine at the end of the room. Passengers with reserved dining times are seated at the same table on the lower level each night.
With Karen's food allergies (gluten-free, lactose-free, and nuts), we prefer having the same wait staff each night. Also, she gets to order her dinner the night before so the chef can adjust the ingredients as needed.
The menus have several dining options that change each night, so there is variety across your cruise. They also offer popular "classics" which are featured each night.
The classic menu items include a choice of:
Broiled Salmon
Grilled Chicken Breast
Grilled New York Sirloin Steak
The dress code aboard the Solstice during dining is relaxed. However, as all cruise lines try to appeal to a broader range of passengers, gone are the days when specific dress or formal attire is required.
During our cruise, I was surprised to see many women wore hoodies and men very casual, even on formal nights. What was previously a suit jacket required for men has now been described as "Classic Chic."
While T-shirts and shorts are still frowned upon, men can wear any slacks or shirts.
Specialty Restaurants
The Solstice offers several specialty dining restaurants at additional cost if you enjoy fine dining. During our cruise, the following specialty dining options were available:
Sushi on 5
Murano
Tuscan Grille
Silk Harvest (Le Petit Chef)
Since we previously experienced Le Petit Chef, we tried the Murano and Sushi on 5 to review the specialty dining options on the Celebrity Solstice. The classic French menu at Murano offers one of the best dining experiences I have ever had on a cruise ship.
The service was impeccable, and the food presentation was in the class of a top Michelin-star restaurant. I ordered Murano Lobster which was flambeed with Cognac at our table!
If you are fortunate enough to be in a suite cabin, you are eligible to dine at Luminae Restaurant. The décor is upscale, and the venue is open for breakfast, lunch (on sea days), and dinner.
The Blu Restaurant is reserved for Aqua-Class passengers and offers a menu available during breakfast and dinner.
Solstice Bars
The Solstice has more than a dozen options to grab a drink. Its most popular spots are the Martini Bar and Cellar Masters on the Promenade Deck (deck 4).
The Martini Bar has entertaining bar staff who deliver an action-packed show if you order a Martini flight. It consists of six martinis for USD 35.
For something unusual, consider a black forest or banana split martini, which combines a dessert with a drink.
Located a deck up, the Ensemble Lounge often gathered a crowd to listen to live music in a darkened room. At the bow, the Sky Lounge offered drinks based on your zodiac sign, which cost USD 12 if you didn't have a drinks package.
In warm weather destinations the sunset bar allows you to enjoy your drinks with those perfect wake views.
The Lawn Club and Outdoor Theater
The Lawn Club is on Deck 15 at the ship's aft. This incredible area has half an acre of real grass and is unique to Celebrity Solstice class vessels.
On a warm sunny day, playing lawn games or taking your shoes off and walking barefoot in the grass is so much fun. This is while you are cruising at 20 knots out at sea with no land in sight!
On our Celebrity Eclipse cruise in 2019, the Lawn Club was wide open with over 20,000 square feet of grass – over a half acre! Celebrity has now installed private cabanas on the Lawn Club, which guests can rent for a day or less.
The cost was over USD 200 with seating for up to 4 people. While the cabanas were spacious, they were severely weathered and needed some TLC. During our cruise on the Solstice, we saw only one be utilized.
The Lawn Club area also has a large outdoor screen. Weather permitting, you can watch movies, sports, and other popular shows. On one side of the Lawn Club, a smoking area borders the grass.
The Pool Deck
The Solstice has a large outdoor pool area on the Resort deck. It has two pools, four hot tubs, and a wet zone. The pool area has many loungers and alcoves if you prefer some privacy.
This area typically gets busy on hot days or sea days. Since we had only one full sea day, cruise passengers rarely used the pool area.
On the same deck, the adults-only Solarium Pool provides a place to swim if it's cold outside. Along with two hot tubs, it's an ideal place to relax on an Alaskan cruise.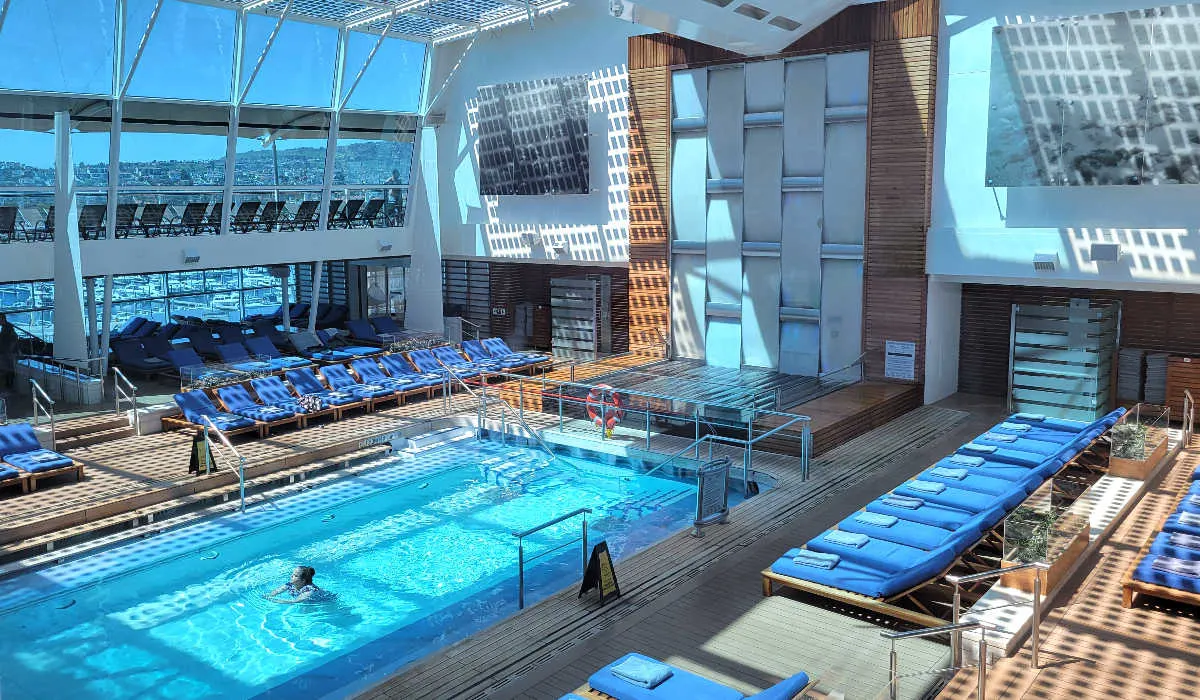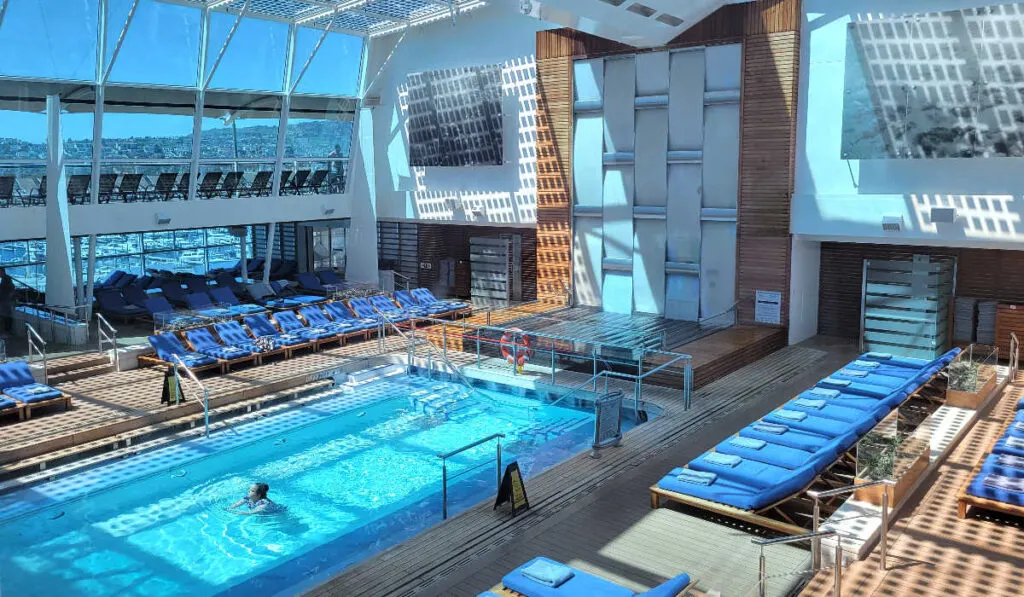 The Sky Lounge
You'll find the Sky Observation Lounge at the ship's bow, one deck up from the pool area. Enclosed with floor-to-ceiling windows, it provides a quiet spot to read or take in the scenery when there are no activities.
This lounge can accommodate lots of guests. When cruising to Alaska, it provides a great viewing area if the weather isn't cooperating outside.
You can take a cruise from Seattle or Vancouver when planning an Alaska cruise. The Solstice sails from Seattle and the Eclipse from Vancouver.
Entertainment
There are several entertainment venues throughout the ship, so there's always something to see. We enjoyed the nightly shows in the Solstice Theater, but if you want something less-formal, check out the other venues.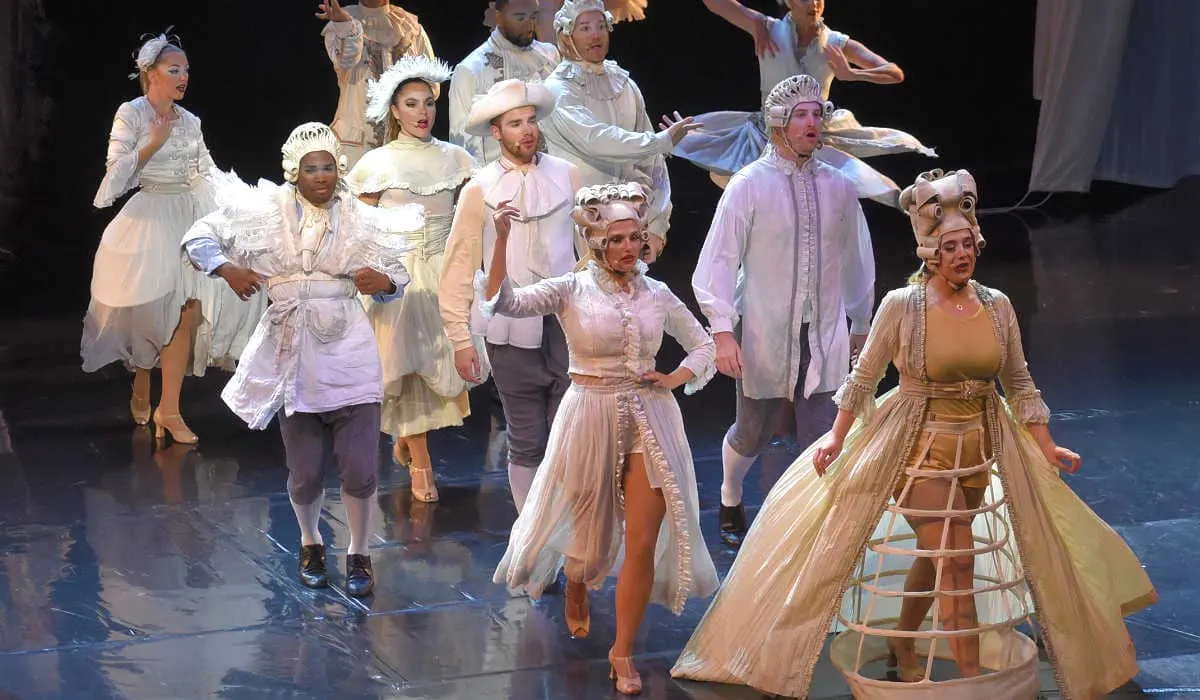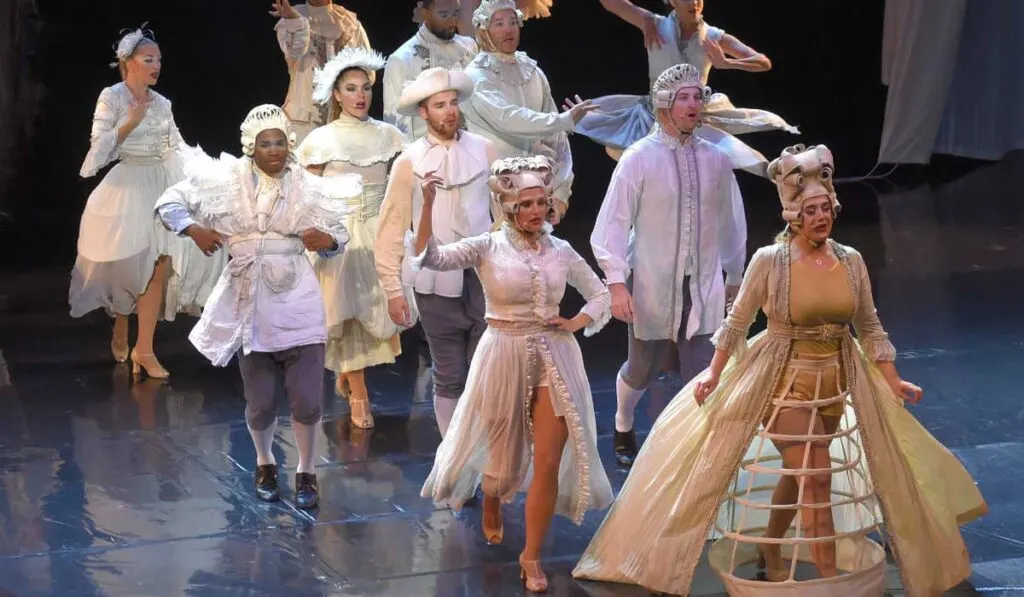 Some of the popular areas for entertainment of all tastes include:
Grand Foyer (Deck 3)
Ensemble (Deck 5)
Sky Lounge (Deck 14)
Celebrity Central (Deck 4)
Poolside (Deck 12)
Quasar (Deck 4)
Solstice Theater
The Solstice Theater is the largest venue on Deck 4 and 5 in the ship's forward section.
During our cruise on the Celebrity Solstice, there were various shows each evening. Performances included magicians, comedians, musicians, Broadway-style shows, and more.
Show times were at 7 and 9 pm, and since we dined at 6 pm, we chose the 9 pm show. Most shows are 'family-friendly,' so it's fine to bring your kids.
The production shows were of the standard type shown on cruise ships and were nothing spectacular. However, we did enjoy the "Rock City" show the last evening.
The comedian we enjoyed on embarkation day put on a 2nd show on Day 6 that was more 'Adult-content.' Check the daily "Celebrity Today" newsletter for what show is on each evening.
Celebrity Central
This theater is outside the large Solstice Theater and features movies, comedy shows, and other entertainment.
During our sailing, movies included blockbuster films that Hollywood had released within the past year.
The theatre holds approximately 200 people, but attendance varies greatly depending on what's playing there. I like Celebrity Central because it's a very comfortable theatre with often great entertainment.
Celebrity Solstice Activities
Every cruise ship has a Cruise Director to oversee all the activities during your cruise. There are activities for all interests and ages.
The everyday activities on the Solstice are fitness classes, dance lessons, art auctions, shopping-related contests, and various game shows.
Some activities provide a chance to meet others with the same interest. There are meetups for solo travelers, LGBTQ, wine tasting, and more.
Karen and I have decided we both have "2 left feet," so you'll never find us in the dance classes. However, I was amazed when over 100 passengers in the Grand Foyer were trying to learn salsa!
One of the best parts of the activities is that you can be a people-watcher and look from the sidelines.
Celebrity Today (Daily Newsletter)
As more cruise lines and ships move to a paperless environment, there is less chance of getting a printed daily program for activities. However, on the Celebrity Solstice, our room steward would put a paper copy of Celebrity Today each night.
As much as I support sustainability and consider myself "environmentally friendly," we appreciate the hard copy of tomorrow's activities.
Sometimes cruise apps are glitchy or hard to navigate. With paper, you can scan a couple of pages and highlight what you want to see or do in a quick minute or two.
However, when we sailed on Royal Caribbean's Ovation of the Seas last year, it was great that you could use their app to book the activities.
The Solstice is not digital; you just show up to an activity and hope there are not too many people there.
Silent Disco
The Solstice offered Silent Disco a couple of times during our cruise. You can only hear the music through your glowing headphones.
It's fun to watch the crowd as they all move individually and silently to the music playing in their head. Karen and I didn't have a chance to try it on the Solstice but did dance the evening away on our cruise previously on the Celebrity Eclipse.
If you cruise on one of the Solstice-class ships, be sure to make time for Silent Disco!
The Library
The library on all Solstice-class ships is impressive and a great place to relax with your own book or one from the ship. This area is on Deck 10 and is part of the central atrium with ample sunshine from above.
Seating is limited, so plan on arriving early if you want to enjoy one of the big comfy chairs. However, passengers come and go throughout the day, so the wait would not be long, if at all.
On our Pacific Coastal cruise, we had only one sea day. As a result, Karen and I rarely spent time in the library because we were busy with excursions.
Below the library, you'll find a card room with cards, puzzles, and games.
Hot Glass Class
If you have glass blowing on your bucket list, you can do it on the Celebrity Solstice, Equinox, or Eclipse. With the help of a master glass artist, you can take a class to create your own work of art.
The Hot Glass Class is unique to Celebrity and impressive that you can do it on a cruise ship. Fire is one of the great fears of the cruise ship crew, and extremely high temperatures are needed for glass art.
You can watch a hot glass show or take a class for a fee of USD 120 (small item) and up to USD 160 (large item). The Hot Glass Class is a must-do activity if you love artistic glass!
One tip, the glass class is held on the aft of Deck 15. During our cruise, the wind was blistery, and you needed a coat to fight against the cool temperatures. Times vary per cruises, but classes are available when ships aren't in port.
By pre-booking the class before your cruise, you can get a discount if choosing two classes instead of one. I met couples at the glass studio who make it a ritual to create a piece on every ship with a glass-blowing studio.
Children And Youth Services
No review of the Celebrity Solstice would be complete without mentioning their children's program. On our cruise, of the 2600 passengers, over 400 were kids due to the spring break in most school districts.
I know some older passengers prefer to sail without kids on board and avoid cruises during peak times for kids.
However, kids were present on our cruise but seemed just to be part of the passenger mix. I assume many kids were involved in various Fun Factory or X Club activities because we didn't see many children onboard.
The youth programs offer different interest categories, including Art, Recreational, Culinary, and S.T.E.M. (Science, Technology, Engineering, Math).
Camp At Sea
Celebrity's program for all kids under 13 is Camp at Sea. The program is divided into three age groups as follows:
SHIPMATES – 3-5 years old.
CADETS – 6-9 years old.
CAPTAINS – 10-12 years old.
Each group has age-appropriate activities in the morning (9 am-noon), afternoon (2 pm-5 pm), and evening (7 pm-10 pm).
Babysitting was available for USD 15 per hour for children one and up. Slumber parties and port day programs cost USD 6 per hour for those three years and up.
The Spa
The spa area is a strong source of revenue for cruise lines, and it's no different on the Celebrity Solstice. We toured the area after embarkation but did not take advantage of any spa facilities during our cruise (probably because we had only one sea day).
Here are some sample spa services offered on the Solstice. All prices are USD and not inclusive of the 18% gratuities.
| | |
| --- | --- |
| Couples Aroma Spa Seaweed Massage | USD 499 for 75 mins, USD 599 for 100 mins. |
| Thai Herbal Poultice Massage | USD 199 for 50 mins, USD 299 for 100 mins. |
| Body Nectar Nourishing Wrap | USD 189 for 50 mins, USD 229 for 75 mins. |
| Acupuncture Session | USD 199 for 50 mins. |
| Personal Training | USD 99 for 60 mins. |
| Fire and Ice Pedicure | USD 89 for 60 mins. |
| Full Leg Waxing | USD 85. |
Note the spa does not have a jetted pool area as part of its thermal suite, the Persian Garden. In higher-end spas, the powerful jets are therapeutic and very popular among cruise passengers.
Laundry Services
Unfortunately, Celebrity does not provide a self-serve laundromat for passengers. Celebrity is part of the Royal Caribbean Group (RCG), and no cruise lines within RCG offer it.
As a result, plan on paying for laundry services, or using your onboard credit, if you need to get something washed. When traveling on Celebrity or Royal Caribbean, Karen and I always bring extra clothes so we will not need to pay for washing.
This is one of the reasons some cruise guests prefer Princess, Carnival, or Cunard. They offer self-serve washing machines and dryers.
On Cunard and Discovery Princess, the service is FREE; they even provide laundry detergent at no charge!
Laundry is expensive, so plan accordingly. However, if you have Elite status with Celebrity, you qualify for one no-charge bag of laundry.
Celebrity Solstice Extras
Guests may purchase additional items for their cruise, such as Wi-Fi, drinks packages, and specialty dining options.
Wi-Fi costs USD 19.99 daily and is suitable for email, messaging, and browsing. If you want to stream, you need to upgrade to premium Wi-Fi for USD 34.99 a day.
Even though the Solstice had upgraded its internet service to Starlink, many guests complained of slow service.
Drink packages varied from USD 30 a day for the zero proof package (soda, premium water, specialty coffees, smoothies, and non-alcoholic drinks) to USD 109 daily for a premium drinks package.
The Premium package included drinks up to USD 17 without a limit on the number you could consume per day.
The slightly cheaper Classic package costs USD 89 a day for drinks up to USD. However, we saw only a few drinks under USD 10, and these were generally wine by the glass or a beer.
To save money, Celebrity often offers a sale on drink packages pre-cruise. We received an email offering a buy one, get one 50% off before our cruise.
Final Thoughts On Cruising The Celebrity Solstice
Karen and I were fortunate enough to cruise four times in 2022 across Royal Caribbean, Princess, and Cunard. Our cruise on the Solstice was our first Celebrity cruise since 2019.
Cruising has changed since the pandemic, with all cruise lines cutting back on their services, food, and other areas. However, I was still impressed with the quality of the cruise we had on the Celebrity Solstice.
Celebrity is still a premium cruise line, but I couldn't help but feel the "magic" was not quite the same as our cruise in 2019 on the Eclipse. However, that was our honeymoon cruise which I'm sure added to the memories.
On the Solstice, I was impressed with the quality of service from our room steward and dining servers. You can't beat the service on a Celebrity vessel, and they made our stay incredible!
My wife Karen still considers Celebrity and Royal Caribbean her "favorite cruise lines," but I feel my cruise on Cunard's Queen Elizabeth to be my favorite among the Premium lines.
The Celebrity Solstice is an ideal ship for a couple. Whether you choose an Alaska, Asia, Australia, New Zealand, or Hawaiian itinerary, you'll savor your time onboard.