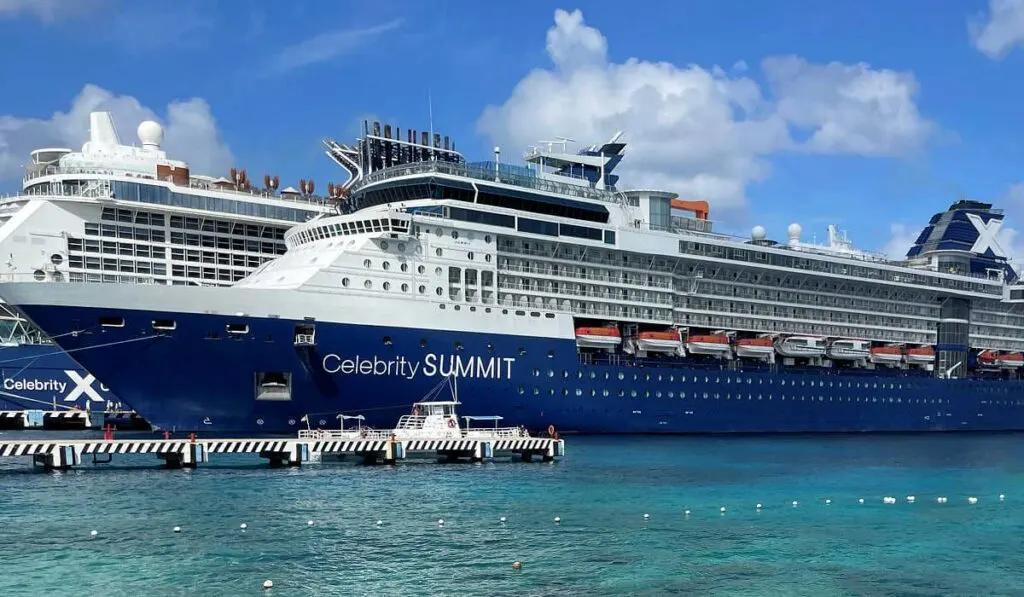 Need help planning your next cruise? I recently returned from a 5-night cruise, and it couldn't have been better! Here's my Celebrity Summit Review, plus everything you need to know before deciding whether this is the ship for you.
The Celebrity Summit Ship offers a luxurious experience of the high seas. With its incredible design and technology, guests will feel at home on the state-of-the-art, Millennium-class vessel.
Initially built in 2001, the older ship underwent a major renovation in 2019. It added modern touches and amenities during dry dock to enhance your travel experience. The interior design was refreshed, and the hull changed from white to royal blue.
It holds 2218 guests, making it one of the smaller ships in Celebrity Cruise's fleet. On board, you'll find plenty of opportunities for entertainment.
This includes world-class dining, trendy cocktail bars and clubs, live performances, indoor and outdoor pools, hot tubs, and so much more!
For the 2023 season, the Summit offers Caribbean sailings from Miami, Bermuda cruises from Cape Liberty, and New England itineraries from Boston.
In 2024, the Summit will replace her sister ship, the Millennium, offering Alaska cruises from Vancouver, British Columbia and Anchorage.
First Impressions
As I stepped onto the Celebrity Summit Ship, I was immediately taken aback by the friendliest welcome from the crew members.
Checking in was a breeze, and I had plenty of time to discover my way around before we set sail.
The first thing that struck me was how modern and updated everything looked, despite the ship being over 20 years old. From its 2019 refurbishment, every part of the vessel looked brand new. I also found the Celebrity Summit deck plan easy to negotiate.
The vibe and atmosphere of the ship are unbeatable. Every corner of it felt inviting, from the multiple lounges to its delicious cuisine options.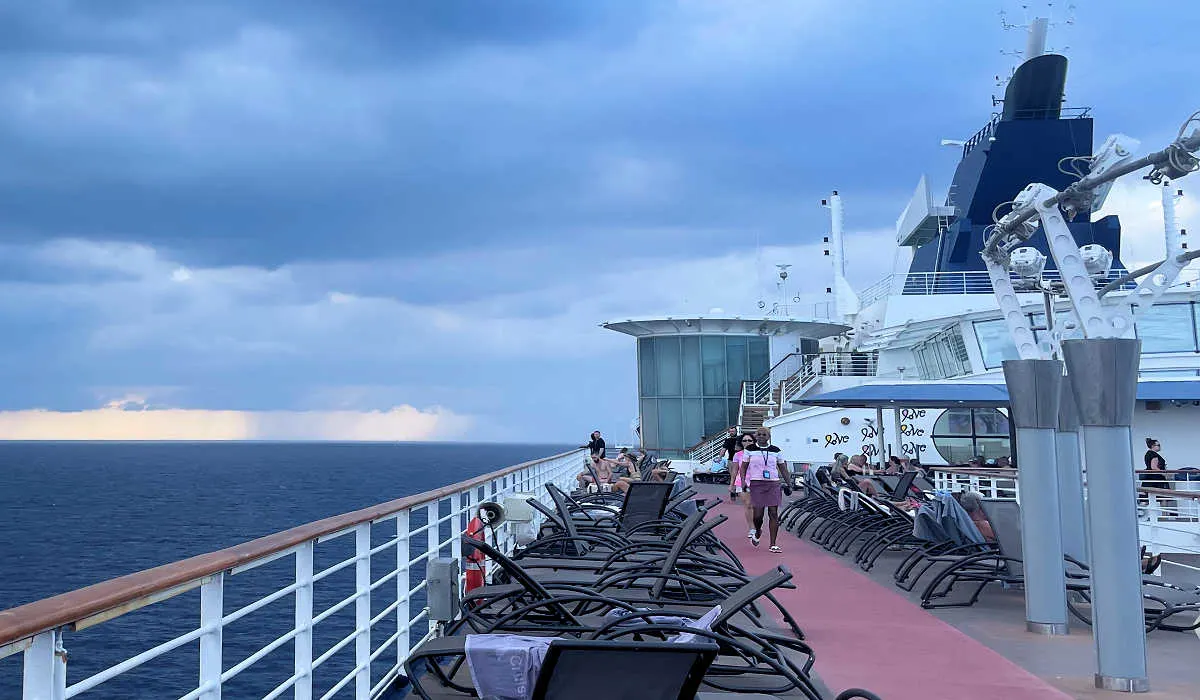 On a ship, one of the first things I do is find quiet spots for working and reading. Even with fellow guests around, I still had peaceful areas to take time for myself.
Morning, noon, or evening, there were plenty of reading nooks and relaxing public areas to escape to.
It was easy to see why Celebrity is considered a top cruise experience, with impeccable service, amazing facilities, and top-of-the-line amenities at every turn.
Cabin Review
Our Celebrity Summit stateroom was located in the forward section of the ship – Inside Stateroom 9002. I didn't mind not having a window in the room since I spend all my time on the outside decks anyway!
It was far from the stairwell, at the very end of the hallway, so I heard little to no noise all week.
The room had a closet that fit my suitcase, plus a few drawers for clothes. The room was spacious enough to have a small sofa and comfortable to walk in and out of. During the refurbishment, Celebrity Cruises added USB ports to each side of the bed.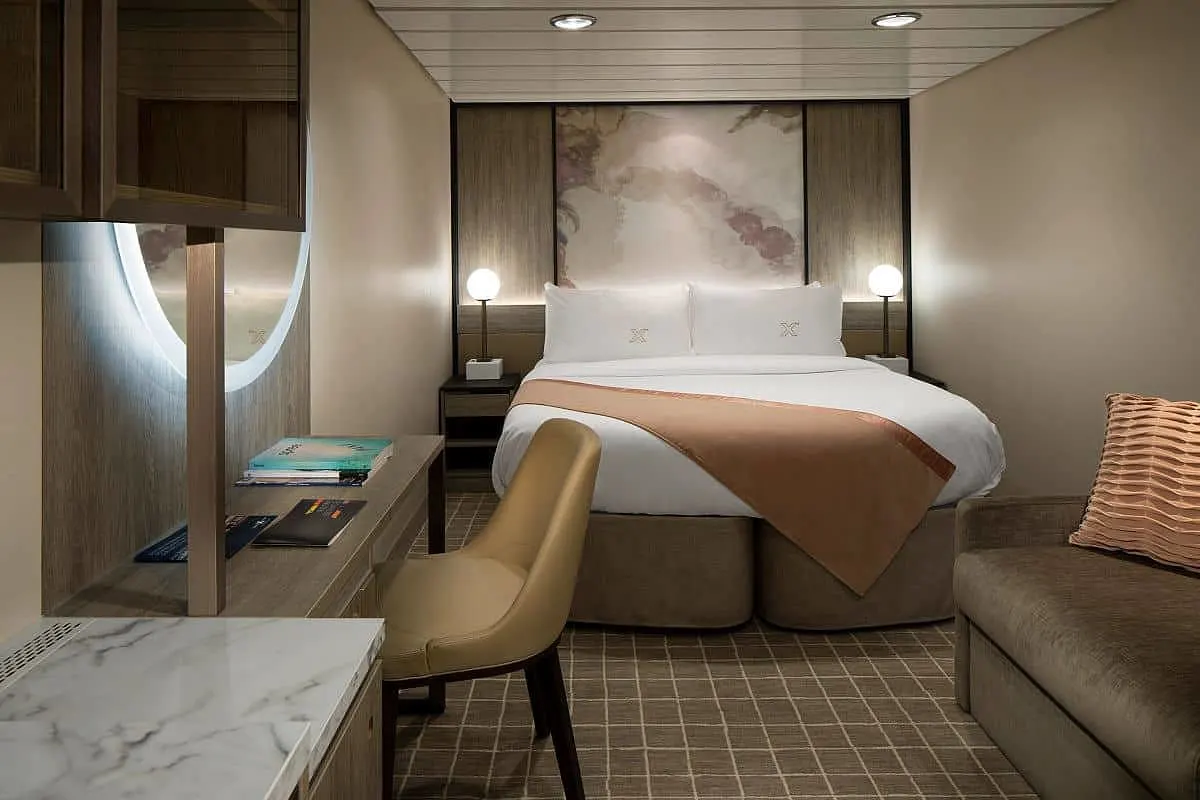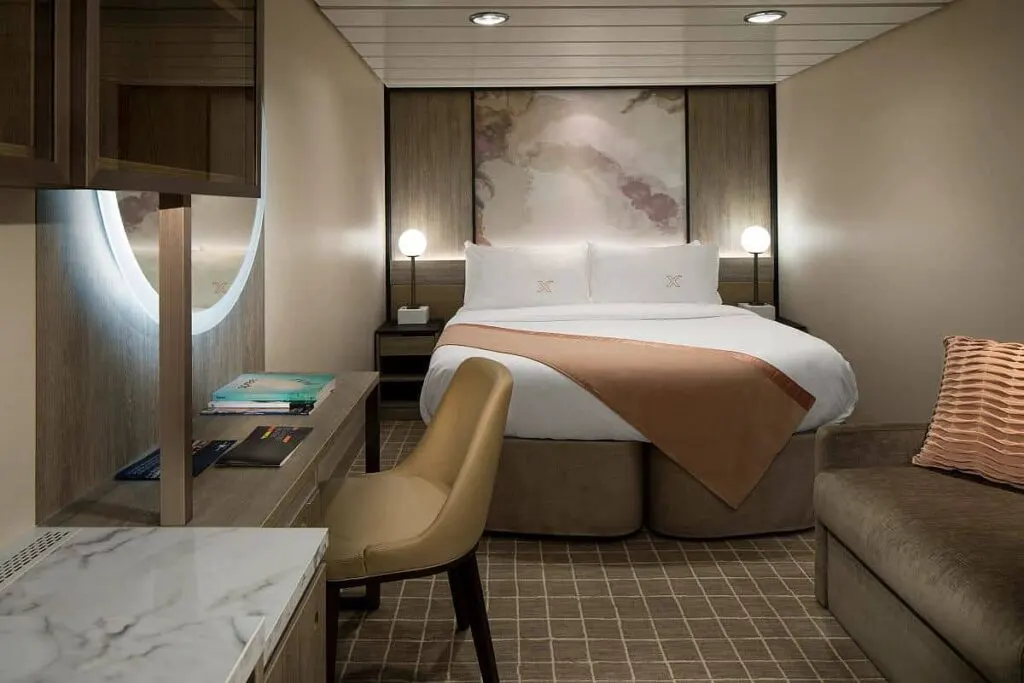 The bathroom was small, which is typical of cruise ships. However, it had great lighting, ample storage, and a spacious shower with glass doors.
While it was a small room, I never felt too constricted – I had enough room to shower and get ready. It was a lovely little oasis to come back to if I really wanted to get away from everything.
The bed was super comfortable. I could easily control the room's temperature with a thermostat and was comfortable all week.
The walls were a bit thin, so I could see how someone in between two loud guestrooms could be an issue. I only had a room on one side of me, and they were quiet for the most part, so the noise wasn't a problem.
The stateroom attendant was one of the best I've ever had. Our cabin steward was kind, always available, and refreshed the room twice daily.
If you prefer natural light and fresh air, the balcony rooms are the most popular; some come with concierge service.
Celebrity Summit Cabins To Avoid
When browsing the Celebrity Summit cabins, be wary of those on deck 2 because they are below the bust Promenade venue with the casino and bars. Deck 6 cabins are above common areas although these include shops and restaurants.
Deck 9 staterooms are below the pool deck and buffet, so you could hear early morning noise as loungers are moved.
Celebrity Summit Dining
The dining on the Celebrity Summit ship was arguably my favorite part of the trip. Every restaurant exceeded my expectations with its fresh and delicious food.
The complementary options for dining included the Oceanview Café, Mast Grill, and Cosmopolitan Restaurant.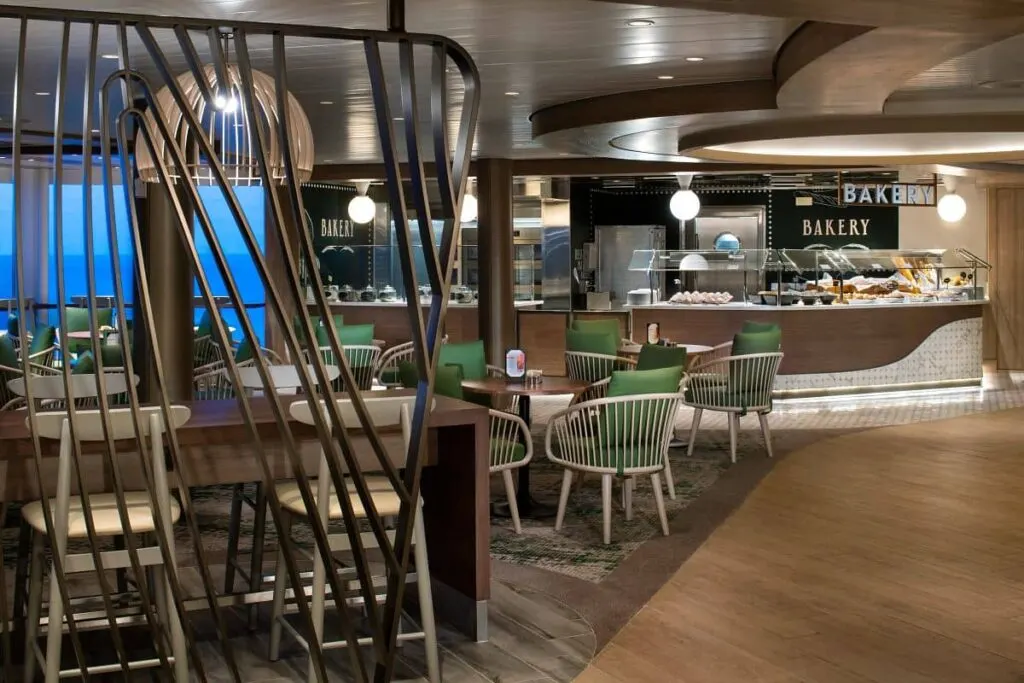 Oceanview Café was the buffet-style dining hall on the ship. It was open for breakfast, lunch, dinner, and even a late-night snack. Oceanview offers a variety of cuisines every day, from make-your-own breakfast omelets to Indian food and salads to dessert bars.
There was a pasta bar, sandwich bar, and plenty of vegetarian, vegan, and gluten-free options every day.
For quick bites, you could grab a smoothie or fresh fruit from the Spa Cafe. The Spa Cafe was the perfect "fresh and healthy" choice on board, offering fresh juice and acai bowls.
And, of course, the Mast Grill, the outdoor poolside grill serving hamburgers, hot dogs, and fresh fries all day. The Mast Grill was excellent for grabbing a bit when I didn't want to leave the poolside.
Cosmopolitan Restaurant, the main dining room, offered a nicer dining experience with cocktails, seafood, appetizers, and entrees. The dress code was relaxed, although shorts, t-shirts, and flip-flips were prohibited.
Specialty restaurants included Tuscan Grill, Sushi on Five, and Le Petit Chef virtual dinner show. If you're a foodie, I highly recommend splurging for the Specialty Dining Package.
But food packages aren't for everyone, and the food on the ship is so good it's definitely not necessary. Room service was always available for a fee of USD 7.95.
However, if there's one thing, I can leave you with on this Celebrity Summit Review, it's to not get off the ship without dining at the Tuscan Grill!
The Tuscan Grill was a 5-course high-end, Italian-style restaurant offering one of my favorite meals I've ever had. The service at every restaurant was impeccable.
However, The Tuscan Grill went above and beyond to create a luxury experience. They even had a sommelier to help you pair the perfect wine with your meal.
Celebrity Summit Bars
There are bars all over the Celebrity Summit ship. Choices included the Rendezvous Lounge, Pool and Mast Bar, Cellar Masters, and my personal favorite, the Sunset Bar.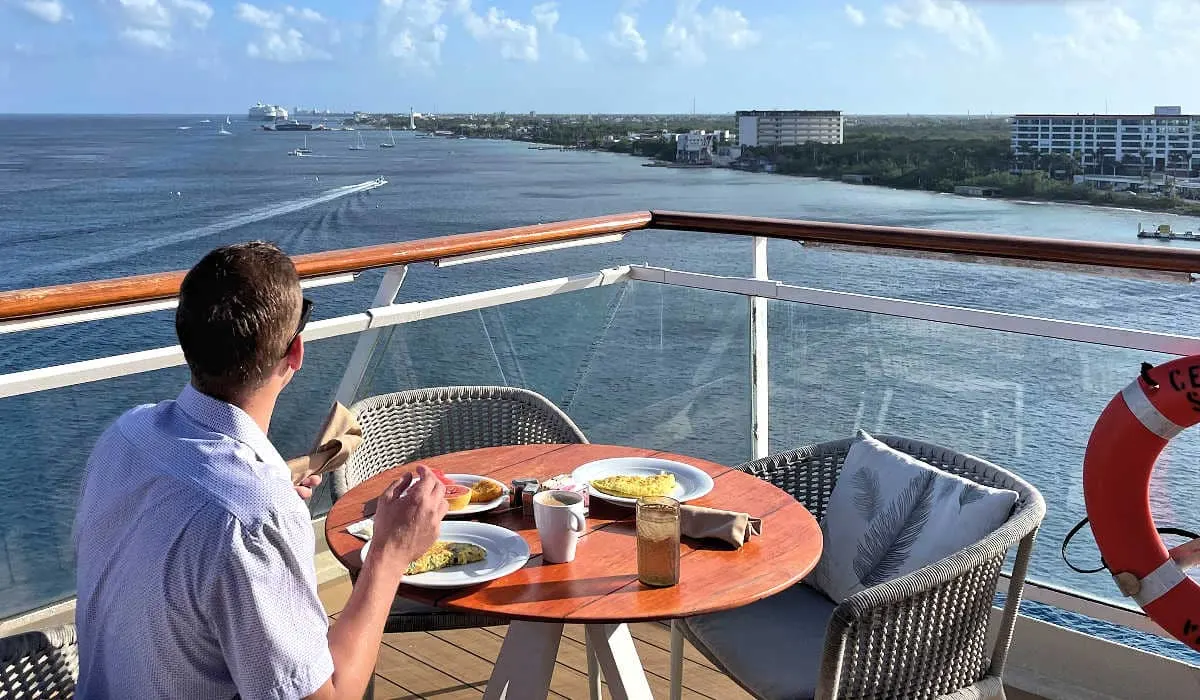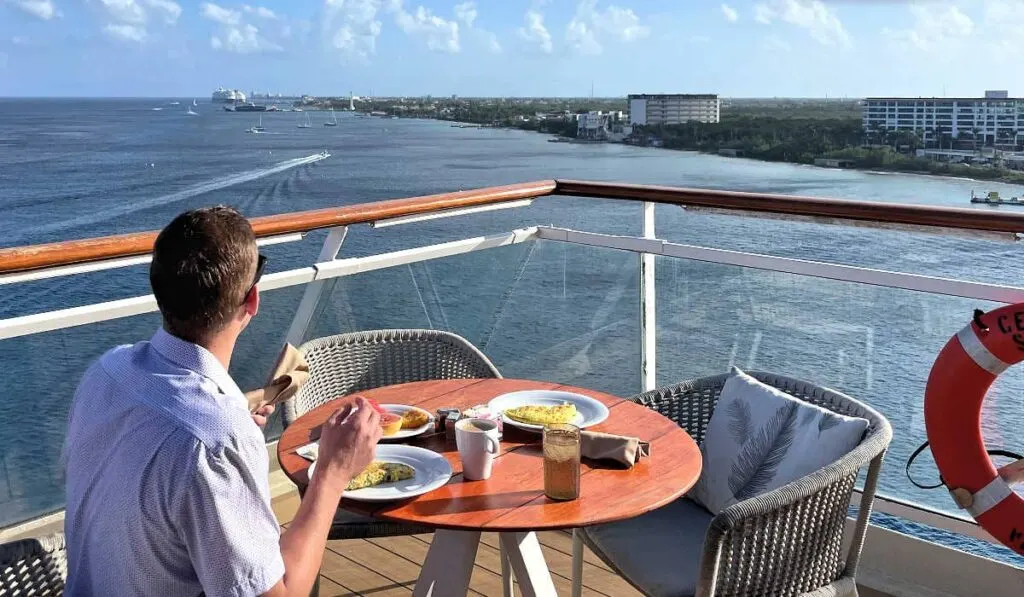 The Sunset Bar is outside, connected to Oceanview; this is where I ate most of my meals. It was a bit hidden, offered incredible sunset views and irregular meal hours, and was relatively quiet. If you love the aft view, it's a great place to watch the ship's wake.
For a more bar and lounge feel, Cellar Masters and Rendezvous Lounge frequently have live music and game nights. There is also an incredible Cocktail Bar serving up top-shelf martinis, and they put on a show if you order a flight.
I'm not a huge drinker, so the hefty drink packages weren't worth it for me. Zero Proof is the cheapest drink option at USD 30 a day. The cost for the basic alcohol package was USD 89 per day.
Top-shelf packages go for USD 109 a day. Add 20% gratuity, and it makes drinking an expensive add-on to your cruise fare. Drink prices range from USD 8-15 each. Knowing I would drink less than 8-10 drinks daily, I opted to purchase my drinks separately.
There was always coffee and water available, which was all I really needed! Celebrity also allows you to pack two bottles of wine or champagne per stateroom, so I planned and packed my two bottles of wine to enjoy onboard.
If you want to purchase the drink package for soda, beers, cocktails, and juice all day long, there's no shortage of bars, poolside, and throughout the ship. You'll never have to be without a drink if you choose!
Celebrity Summit Entertainment
The entertainment onboard Celebrity Summit was awesome and typical of most cruise ships. There was truly something fun going on all day, every day. From the live singers and musicians to the DJs and even fun pool games to participate in.
The onboard Casino offered blackjack, poker, and slot machines, perfect for a night out or some afternoon excitement.
The main theater offered movies and shows ranging from family-friendly, action-packed, and even an adult-only comedy show.
There were two main evening shows during the week. My honest review was that they were pretty amateur.
The dancing and singing were okay, at best, and the music/show choices could have been of higher quality. I could chalk it up to a personal preference, as there were plenty of guests making their way to the theater each night.
The theater was beautiful, so either way, it was fun to get a little dressed up, grab a drink, and watch the show.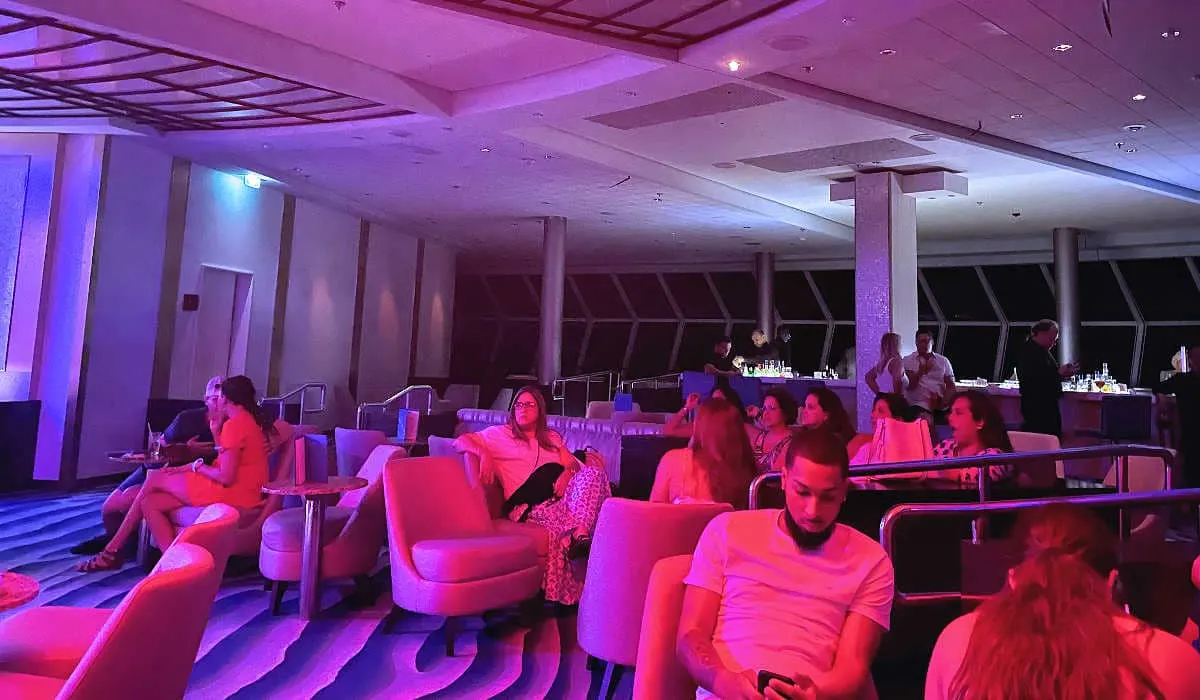 The real highlight of the entertainment, in my opinion, was the live music. Whether it was a singer, musician, or DJ, each one had impeccable talents.
Their enthusiasm and skill created an atmosphere that felt more than just onboard entertainment. All in all, Celebrity Summit Cruise Ship's entertainment offerings are sure to impress!
Review Of Summit's Venues
Celebrity Summit cruise ship guests can take advantage of many venue options onboard.
The outdoor pools have high-energy fun, live music, and games. There are tons of lounge chairs and cabanas to hang out in.
There are also hot tubs surrounding the pool deck for when the evenings get a little chilly. If you want to escape the sun, head to the indoor solarium for pool or hot tub time in the shade.
The spa and gym offer high-end amenities. You can schedule a variety of luxury spa treatments like massages, facials, or hair and nail appointments. However, expect to pay much more than for the same experience back home.
You could also enjoy the Persian Garden (thermal spa) for an additional fee. Guests booked in an Aqua class stateroom enjoy complimentary use of the Persian Garden.
The fitness center has everything you need to keep up with your routine with treadmills, machines, and free weights.
One of my favorites was taking advantage of the indoor and outdoor movie theaters. They featured Caribbean movies like Pirates of the Caribbean and new favorites like Top Gun Maverick.
A Review Of The Celebrity Summit Activities
The onboard activities go from sun up to sun down on the Celebrity Summit ship! They offer Bingo, game shows, dance lessons, live music, casino events like blackjack and poker tournaments, and more.
These activities cater to guests of all ages, so you'll never find yourself without something to do.
Additionally, the ship offers fitness classes for those looking for a more active experience. For shopping lovers, there are plenty of jewelry, trinkets, art, and clothing shops to browse through.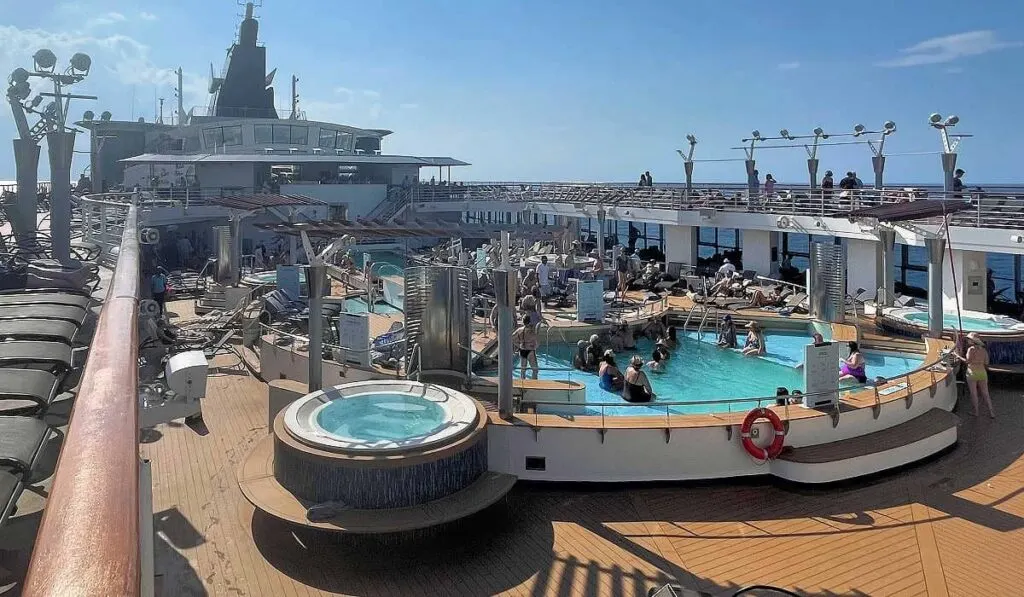 Now on to Celebrity Summit kid-friendly activities. Celebrity has a kid's club for families. Offering four levels, no matter what age your child is, they'll have plenty to keep them busy all day.
Shipmates, ages 3-5
Cadets, ages 6-9
Captains, ages 10-12
Teens, ages 13-17
These clubs offer interactive activities like video game tournaments for the older kids, arts and crafts for the younger kids and learning opportunities.
Their educational programs range from STEM programs to sailing basics. You can even utilize their babysitting on port days.
Internet Access And App
Overall, I have to give the internet access and Celebrity App an 8/10. Starlink powers Internet access on Celebrity's ships.
However, it's incredibly expensive. Internet service on the ship costs between USD 35-49 per 24 hours, depending on the service you purchase.
I purchased premium internet for one of my sea days to get some work done, and it worked well, although sometimes it lagged.
The Celebrity Summit App is a convenient way to organize and plan your day. A great benefit to the app was the ability to search for guests you meet on the boat and message them to keep in touch.
You could message guests using Celebrity's free WiFi, which only allows you to use the app.
Another excellent app feature is that it keeps your up-to-date account activity right there. This makes it easy to keep track of your spending throughout the week.
The app also makes check-in easy. You can schedule your arrival time, plan your dinner reservations, and even view ship safety information from the app. You can also check the daily program through the app.
The biggest downside to the app is that I don't believe it's super user-friendly for everyone. I can see why some people struggle with finding their way around it. Guest services on the ship, however, are always available to help when necessary.
The Celebrity Cruises App is free to download and use, simply connect to the ship's free Wi-Fi option and get started!
Summit Itinerary
This six-day, five-night vacation on Celebrity Summit "cruised" by! We had two sea days and two ports of call.
Day 1: Depart from Miami Florida
Day 2: At Sea
Day 3: Cozumel, Mexico
Day 4: George Town, Grand Cayman
Day 5: At Sea
Day 6: Return to Miami, Florida
I loved having time at sea to relax and take advantage of the ship's activities and amenities. But I still had plenty of time to explore the two ports we visited.
The first port was Cozumel; this was an easy walk off the ship and into the port. I visited a small beach near the Cozumel cruise port and cooled off in the water. Having a beach day was perfect, as I knew I had a long day at our second port the next day.
Cozumel is a very small Caribbean Island off the shore of the Yucatan Peninsula. The port was busy with lots of free mezcal tastings, jewelry shops, and some restaurants.
We departed Cozumel around 4 pm and cruised overnight to George Town, Grand Cayman. If you've ever been to the George Town port, you'll know you must tender into port.
Give yourself plenty of time between leaving and your excursion. The tenders can get backed up, and you may encounter crowds at the port.
In George Town, we hopped off the tender and went on a 4 hours Stingray City and Snorkeling Tour. After snorkeling all over the Caribbean, the reef in Grand Cayman was one of my favorites.
Stingray City was amazing, and I'd recommend it to anyone stopping in Grand Cayman.
Then it was back to the boat to soak up the last day on the ship before returning to Miami. Though it went by quickly, it was the perfect length for a winter getaway.
Celebrity Summit Review FAQ
How old is the Celebrity Summit?
Celebrity Summit was initially built in 2001, so it may seem old. But, being recently refurbished, the interior and exterior of the ship are anything but old.
When was Celebrity Summit refurbished?
Celebrity Summit went through a massive refurbishment in 2019. The interior was updated to include modern designs, high-end amenities, and exterior upgrades.
What type of ship is the Celebrity Summit?
Celebrity Summit is a Millennium-class cruise ship offering luxurious amenities and recent renovations. The Summit is 965 feet with a 2218-person capacity.
The vessel offers a variety of indoor and outdoor amenities and has a recommended rating from Forbes Travel Guide.
Overall Thoughts
To finish my review of the Celebrity Summit, would I recommend it for your next trip? Absolutely, I would.
With unbeatable customer service, incredible amenities, great food, and onboard events and activities, you won't spend a moment wondering what to do next during your time on the ship.
No matter what type of cruiser you are, you will love every minute of your cruise on the Celebrity Summit. And with plenty of activities for adults and kids alike, you're guaranteed to leave with memories for the whole family that will last a lifetime.