Cozumel is an elongated island in the Caribbean off the eastern coast of Mexico's Yucatan Peninsula. It is part of the state of Quintana Roo, Mexico. For some, the appeal of Cozumel is its crystal clear waters and Cozumel beaches.
If you are cruising, and want a beach day, this article lists the best beaches near the Cozumel cruise port. Many who visit Mexico want to relax on Cozumel beaches near the port or take one of these other popular Cozumel excursions.
Cozumel Cruise Port
Depending on who you sail with, cruise lines dock at one of three main terminals in the Cozumel cruise ship port.
🛳️ Ready to book your Cozumel cruise?
Find your perfect cruise for any budget with Cruise Critic. It features more than 650,000 cruise reviews, advice and money-saving tips.
Find your cruise here
These are Punta Langosta in the town of San Miguel, the International pier just south of town, and Puerta Maya which is the furthest from town and known as the Carnival Cozumel port.
I sailed the Caribbean on the Carnival Glory, so my ship stopped at Puerta Maya which is the Cozumel Carnival port. Puerta Maya has a well-designed tourist area with lots of shopping in the Cozumel cruise port for cruise passengers.
While there are lots of Cozumel public beaches, most of the best Cozumel beaches are not within walking distance of the Cozumel cruise port.
When researching which Cozumel beaches are near the port, I found it's best to take a taxi to the beach of your choice. So whether you want a beach to snorkel, one with kid-friendly attractions, or a place to go diving, here are the best Cozumel beaches to try.
Cozumel Beaches And What To Expect
When most people think of Mexico, they conjure up dreams of turquoise waters and white sandy beaches. However, that isn't always the case in Cozumel.
In fact, much of the coastline is rocky and void of beautiful sand. Be prepared by bringing a pair of non-slip water shoes to protect your feet.
If you're looking for the best places to relax, expect to pay a fee for the best beach club. While that might put you off, the best private beaches in Cozumel offer great value when you consider all food, alcoholic drinks, private beaches, pools, and sometimes water toys are included.
Let's also remember that your time on a private beach will be void of crowds and vendors trying to sell you Mexican trinkets.
While Cozumel is on an island and has beaches on both the east and west coasts, the beaches nearest to the cruise port are on the west coast.
Since the east side of Cozumel faces the Gulf of Mexico, the waters are rougher and not suited to leisurely swimming. The west side faces the sheltered waters of Mexico and offers much calmer waters, and better snorkeling but due to its proximity to the port, also has larger crowds.
It's important to remember it's very hot in Mexico so prepare by packing wisely. While a reef-safe sunscreen is great, I love my Rashguard clothing.
It's lightweight and worn over my bathing suit, and blocks the harmful sun's rays. There are styles with short sleeves and long sleeves, for men, women, and children.
Cozumel Beaches For Snorkeling
If you love snorkeling as I do, then Cozumel is the place for you. The Meso-American Barrier Reef is the second-largest coral reef in the world after the Great Barrier Reef in Australia.
It is also the largest barrier reef in the western hemisphere. The Meso-American Barrier Reef is nearly 700 miles long and contains over 500 species of fish and 65 different corals. Without a doubt, it offers the best snorkeling in Cozumel.
The east side of Cozumel experiences rough seas and, therefore not advisable for snorkeling. The best snorkeling places are found on the north and west side of the island. Here are the best Cozumel beaches near the port for snorkeling.
El Cielo
El Cielo is the best place to go if you want to snorkel right from the beach. The water is clear and shallow, and the sand is white. The beach is one mile from the cruise port or you can take a catamaran snorkel tour out to the sandbar, half a mile offshore.
El Cielo is literally starfish heaven, and stingrays are often viewed at the sandbar. Get a Grand Cayman stingray adventure without going to Grand Cayman.
Nearby, the coral reefs are teeming with colorful fish and, if you're lucky, turtles too. And remember to take your GoPro for those underwater photos.
The Money Bar (Dzul-Ha)
Dzul-Ha (pronounced Zool-Ha) is another excellent beach in Cozumel, Mexico, for snorkeling. This location is popular with snorkelers because the reef is close to shore. Snorkeling equipment is available for rent for just USD 10 a day.
Be sure to wear water shoes and tread carefully when you enter the water as sea urchins and coral rock are plentiful. Lockers are available to rent to secure your belonging while in the water.
Also, this Cozumel beach has a pool for those who prefer to avoid the ocean.
Stingray Beach
Stingray Beach in Cozumel is a must-visit for cruise travelers. Located just 10 minutes from the cruise port, it's easily accessible. This unique destination offers a thrilling experience: snorkeling with stingrays and nurse sharks.
Visitors can interact closely with these magnificent creatures in their natural habitat. While most cruise guests take a stingray adventure in Grand Cayman, this one offers a similar experience if the Cayman Islands aren't on your itinerary.
The beach itself is stunning, with crystal-clear waters and vibrant marine life. It's an ideal spot for those seeking adventure and a memorable experience.
Sky Reef Beach
Enjoy the colorful fauna and flora of the Caribbean at Sky Reef Beach. While a relatively new establishment, the development has made a reasonable effort to integrate modern amenities into the natural surroundings.
Sky Reef is only a short 10-minute drive south of the cruise port in Cozumel. Not only does this beach offer great snorkeling, but it also has modern comforts.
These include a bar and grill, lockers, showers, and how about a relaxing massage to help you unwind on your vacation. Expect to pay USD 20 for snorkel gear, a drink, tequila tasting and a quick 5-minute massage.
Be sure to try the spicy Margarita which packs a punch!
Buccanos
Buccanos Resort is a 20-minute drive from the cruise port. A one-way taxi should cost you around USD 15 so make sure you're not over-charged.
The Cozumel water off the beach is crystal clear, and the snorkeling is very good. The current moves quite slowly offshore so it's a great place for novice swimmers.
If you prefer a snorkel guide, the cost is free, but they work for tips. They will video and take pictures of you, which they will try to sell you for a hefty price.
The food is tasty here, and the service is exceptional. The resort also offers parasailing, jet skis, and lockers for an extra fee.
Sunset Beach Cozumel
If you're looking for one of the free beaches in Cozumel near the cruise port, try Sunset Beach. While it's not the nicest beach, it is, however one of the nearest beaches to San Miguel, Cozumel's main town, making it easily accessible.
While the beach is best known for its stunning sunsets, it offers other activities too.
For adventure seekers, snorkeling and scuba diving are popular activities. Local vendors provide delicious food and drinks, adding to the beach's charm. It's an ideal spot for a relaxing day or an evening watching the sun dip below the horizon.
It's very popular with cruise ship passengers who have the urge to snorkel while in port. The scuba shop nearby has snorkel equipment for rent, so you don't need to venture far should you fancy snorkeling in Cozumel near the cruise port.
Given its close proximity to the cruise ship terminal, expect Sunset Beach to be busy if multiple ships are in port. Adjacent to the beach is the Sunset Beach Restaurant which is a popular hang-out spot for cruise ship passengers.
Cozumel Beaches That Are All-Inclusive
When I was researching some Cozumel beach clubs near the cruise port that were all-inclusive, I came across many. These resorts and beach clubs offer a day pass to use their beaches, water toys, and facilities.
Nachi Cocom
If you are looking for a quiet beach away from the crowds, Nachi Cocum Beach Club is a popular destination. The all-inclusive resort includes a private beach, an outdoor pool with a swim-up bar, jacuzzi, beach loungers with umbrellas, unlimited drinks, and a 4-course lunch.
The cost of a pass is USD 55 and a bargain considering what's included. Since this resort offers no water park, it does not attract families with small children. So, if you want a quiet beach away from the crowds, this is the place.
I booked a day at Nachi Cocum Beach Club based on Cozumel Nachi Cocum reviews I read online, and I was not disappointed. The food at Nachi Cocum is terrific, and the service is excellent.
The facility only allows 130 guests to enter each day, so advance booking is advised if you want to secure your spot. I buddied up with another couple from the cruise ship to save money on taxi rides to and from the resort.
The resort was fairly empty the day I was there, and it was nice not to have to fight for a spot on the beach. The waiters come around regularly offering drinks from the bar and endless appetizers, so you'll never go hungry.
The sandy beach is quite nice and well-maintained. The waters are calm and suited for swimming, even if you aren't a strong swimmer.
The snorkeling is not good here due to not having a reef. However, you can pay for a snorkeling excursion which, in my opinion, was mediocre.
Mr. Sanchos
Mr. Sanchos is located 15-minutes south of the cruise ship terminal and close to Nachi Cocum Beach Club. It's a popular resort for those arriving at the Carnival Cruise Cozumel port.
The resort offers both an all-inclusive package and a pay-as-you-go package so that you can choose the one best suited for you. The cost for an all-inclusive is US 55; you can reserve online for US 5 and pay the balance when you arrive.
The benefit of a deposit is if you change your mind last minute and decide to go somewhere else. Bear in mind, the legal drinking age in Cozumel is 18 years.
This all-inclusive resort offers something for everyone, from romantic cabanas with couples' massages to water sports and horseback riding for an additional fee.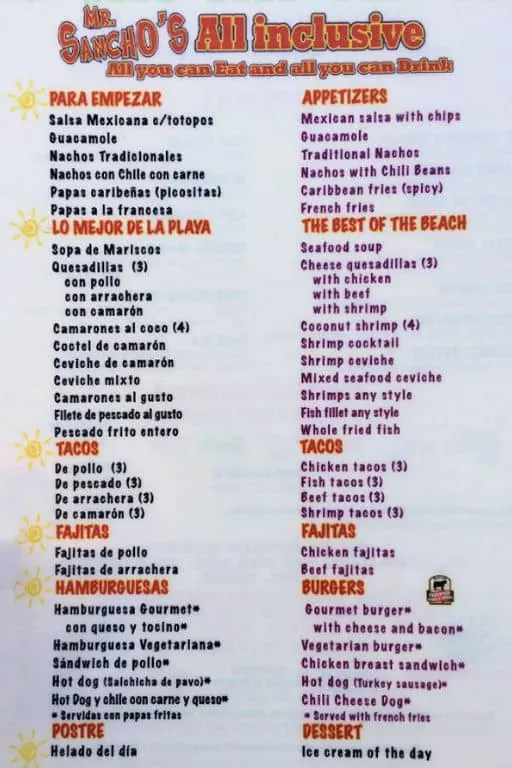 The aquatic park has various water toys for the young at heart to keep you entertained for hours. Climb an iceberg, jump on trampolines or zoom down water slides; Mr. Sanchos is a water lover's paradise.
Chankanaab Park
Declared a national park in 1980, Chankanaab (Mayan name for small sea) Park is a unique area dedicated to preserving the natural fauna and flora of the region.
Chankanaab Beach Adventure Park has something for everyone, whether you want to visit the crocodile farm, snorkel in the ocean, or swim with dolphins and manatees.
Chankanaab Park is close to the cruise ship terminal and costs approximately USD 10 to get there by taxi. Advanced ticket purchases allow you to skip the line at the gate.
The pen in which the dolphins are kept is quite small. While there is a lot of controversy about keeping wild mammals in captivity and using them for tourist entertainment, it's entirely up to you whether you choose this kind of tour excursion.
Paradise Beach
Located just 5 miles from the international cruise port, Paradise Beach Cozumel is an excellent choice for families and those who love water toys.
The entrance fee is as little as USD 3 or USD 18 for the "fun pass," but you are expected to purchase at least USD 10 in food and drink per person.
The fun pass includes all the water toys like the trampolines, 14-foot climbing icebergs, and waterslides, as well as the use of paddleboards, kayaks, and snorkel gear. Now, that's a bargain!
If you prefer, select a lounge chair by the inground heated pool where you enjoy the free WiFi.
Playa Uvas
Playa Uvas offers both an all-inclusive, and basic package. For USD 15, enjoy a welcome drink, snorkel gear, 30-minutes of kayaking, a shore tour, and access to paid amenities.
However, paying the USD 55 all-inclusive fee, gives the benefits of a full bar, all you can eat food, a locker, and towel.
Cozumel Beaches for Diving
There are several great options for Cozumel beaches near the cruise port suitable for scuba diving. These are as follows:
Playa Palancar
Playa Palancar has one of the whitest beaches in Cozumel. As a result, it is one of the best beaches in Cozumel for swimming. While it's quite a distance from the cruise port at a 20-minute taxi ride, it's still worth the trip.
Experience some excellent diving off Palancar Beach as the waters are crystal clear, up to 200 feet. Drift in the gentle current while you enjoy the large selection of tropical fish, eagle rays, and sea turtles.
Palancar Reef diving site has some fantastic coral formations and an exciting variety of huge crustaceans. Playa Palancar snorkeling is great if you aren't a certified diver.
Columbia Reef
Columbia Reef is located near Punta Sur Park. This reef is unique because it has shallow sections, ideal for snorkelers, and deeper parts for diving. Deep diving is at its finest at this spectacular reef.
Comprised of caves, tunnels, caverns, and stunning coral formations, the reef has an interesting mix of underwater features. The water can be cold where the wall drops off, so a full wet suit is necessary.
Whether you come to Mexico to escape the winter or it's just a stop on your cruise itinerary, you may as well enjoy the Cozumel beaches too. For the adventurous, the Meso-American Barrier Reef offers a fantastic opportunity to dive and snorkel.
Those who want a quieter pace can enjoy a margarita as you take in some rays on a white sandy beach. While there are some free beaches in Cozumel for cruise travelers, some also charge a fee for use.
If you're staying in a hotel, why not try more than one of these amazing Cozumel beaches?
Conclusion
It's also good to note, many of the Cozumel resorts offer one-day passes to use their facilities. The hotel grounds, swimming pools, and beaches are immaculate, the day pass comes with unlimited drinks and food from the hotel's restaurants.
These vary greatly in price from the Cozumel Occidental grand day pass at USD 70 per person, USD 78 for the Iberostar Cozumel day pass, or USD 75 for the Sabor Cozumel day pass.
Planning a trip to Mexico by cruise ship? I've taken several cruises to the Mexican Riviera on the Pacific Coast, and they are equally as enjoyable as a Western Caribbean cruise.
During my Western Caribbean cruise, my highlight was swimming with nurse sharks and stingrays in Belize.