Are you looking for a unique way to cruise? Check out the Discovery Princess, which launched in March 2022! In this ship Discovery Princess review, you'll discover how to use the MedallionClass technology to order food straight to your stateroom without ever leaving your room.
From movies under the stars to a glass floor walkway, the Discovery has features unique to Princess's vessels. Suite passengers are also welcome to indulge in an exclusive 360 dining experience, an all-around sensory journey unique to select vessels.
We sailed the Discovery Princess recently as a family cruise. My wife Karen and I were in one balcony cabin, and Karen's 81-year-old mum was in another cabin just two doors down the hall.
It was Mum's first cruise, so we weren't sure if she would like it. I'll let you know what she thinks at the end of this review!
We sailed on the Majestic Princess in 2022. Both the Discovery and Majestic cruises were from Los Angeles to the Mexican Riviera (Cabo San Lucas, Puerto Vallarta, and Mazatlan).
We loved our cruise on the Majestic, so it was natural that we would cruise on the new Discovery Princess. Here's my review to help you decide if it's a ship you want to cruise on.
First Impressions
We boarded the ship at San Pedro, California. The World Cruise Terminal is about 40 min. drive from Los Angeles international airport.
At the time of our boarding, the ship was less than one-year-old, so my expectations were high! I hoped the ship would be pristine, updated (compared to the Majestic Princess from 2017), and flawless in its operation.
We never want to be on the inaugural sailing of a brand-new ship because it often takes a bit of time for the crew and operations to stabilize.
Upon boarding, the ship was very clean and almost had a "new smell" that you get with a new car or home.
The other thing I noticed was the updated color scheme compared to the older Majestic Princess ship we sailed on almost a year earlier. All Royal-class Princess ships have a similar layout and design.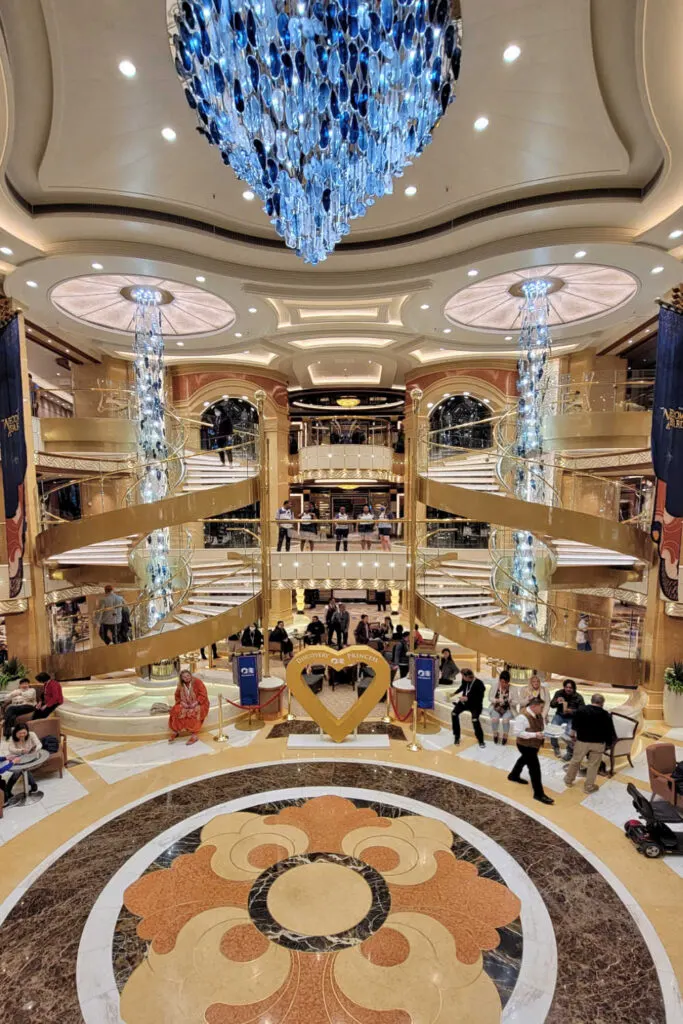 Discovery Princess Info
The Discovery Princess is the 6th and final Royal Class ship in the Princess Cruises line. She is the 2nd Royal-class ship we've cruised within Princess Cruises.
Other ships within the Royal Class fleet include Enchanted Princess (2020); Sky Princess (2019); Majestic Princess (2017); Regal Princess (2014); and Royal Princess (2013)
Note that Carnival Cruise Corporation owns Princess Cruise Line. Carnival also owns Holland America, Seabourn, Cunard, Aida Cruises, Costa, and P&O Cruises.
On our sailing, the ship carried 3,300 passengers and was at 90% capacity. This contrasts with our sailing at the end of the COVID pandemic, where ships were often cruising at 50% capacity.
Ocean Medallion
Like all other vessels, the Discovery uses the Ocean Medallion instead of the traditional cruise card. While you check in through a desktop computer, some things like restaurant reservations can only be done through the app.
Interestingly, before we left home, an email reminded us to pick an embarkation time. However, we couldn't find where we could do that through the app or on a desktop. In the end, we assumed we didn't need a time slot since no one asked us.
The app can be glitchy at times. For the most part, it worked well throughout our journey. However, Karen couldn't find her mum through the app's "locator." Since mum doesn't use a smartphone, we thought the app was an ideal way to locate her onboard.
We talked to the person in charge of the Medallion several times, and it took until day four to get it working.
Should you choose to use your Medallion to pay for purchases on land, you earn 7% back as an onboard credit. Select restaurants, stores, and pharmacies accept the Medallion, but you must activate its use through the app.
Our Balcony Cabin
We booked a balcony cabin on the starboard side of Deck 11 – "Baja." Our cabin was B129, near the forward section of the ship. You can read a full review of the balcony cabin and other staterooms.
The cabin was spotless and comfortable, in shades of pale tan with aqua accents. For us, Princess cruise ships have a 'classic look' compared to cruise lines such as Celebrity which have a more modern and contemporary look.
On our previous cruise, we booked a Princess mini-suite, which was larger and approx. 299 sq. ft. Our balcony cabin on the Discovery Princess was smaller at approximately 222 sq. ft, including the balcony.
The ample walk-in closet area was more space than we needed, and there were plenty of hangers for all our clothes. In addition, there was lots of storage via drawers and closets that would accommodate two passengers.
There was a nice desk and work area near the balcony. Since the closet took up a good deal of square footage, there was no couch.
While we didn't miss the couch, when ordering food to our stateroom, we had to sit on the bed to eat it. If you eat in your cabin a lot, not having a couch and table might be inconvenient.
The bed was a standard Queen-size with an amazing duvet that we loved. Karen and I agreed that the bedding was likely the best we ever had on any of our past cruises! Well done, Discovery Princess!
The built-in mini-fridge was great, but we missed having a tea/coffee station that some of the other cruise lines offer. The walk up to Deck 16 to get early morning and late evening tea or coffee is a hassle after the second day!
Overall, the cabin was a perfect retreat after a busy port day of excursions or at the end of a sea day.
In-Cabin Entertainment and Media
One of the things we love about Princess Cruises is having a good selection of TV, movies, and other channels. This was ideal for Karen's mum traveling with us, who turned into her cabin early and relax with a couple of movies after a busy day.
Channels include MSNBC, CNN, BBC, National Geographic, and more. There is a wide range of TV shows, including many ancient episodes of The Love Boat.
Depending on where you are cruising, live reception can be spotty if you are in areas that don't have good satellite coverage. The video reception was great on our cruise from Los Angeles to the Mexican Riviera.
In-cabin media also includes all the Princess channels with much of the same information you will find on the Medallion app on your phone. A couple of our favorite Princess channels are the LIVE outside view from the bridge and the Ship's Position showing where we are.
No longer can you check your current outstanding balance on the in-cabin TV. You can only do that on the Medallion app or by checking with Guest Services.
Princess Dining
Princess Cruise Line prides itself on offering a premium dining experience. We were happy and even impressed with some of the food, while others lacked flavor and presentation.
Both my wife and her Mum, unfortunately, have food allergies, so the dining experience and review will be different from those without allergies.
Thankfully, we connected early with "Robert," our Assistant Restaurant Manager, and he ensured both Karen and Mum had the right food.
There are many dining venues onboard the Discovery Princess, all focused on a unique and pleasurable dining experience. We enjoyed the World Fresh Buffet and the Juneau Dining Room and tried a couple of specialty restaurants.
Note that specialty restaurants are always an additional cost, but it is reasonable compared to some other lines, such as Royal Caribbean.
If you want a detailed review of our Discovery Princess dining experience, check out our other post.
World Fresh Marketplace & Bakery – Buffet
This large buffet is located aft of the ship on Deck 16. It's open from 5 am to midnight, with the available food changing according to breakfast, lunch, or dinner times.
Some cruisers eat all their meals here because of the convenience and the wide variety of options. For Karen and I, we prefer to have dinner in the main dining room or one of the specialty restaurants.
We found the service to be very good, but it's too easy to grab extra portions, and one of the reasons I always gain 5 lbs when I cruise. The downside of the World Fresh Buffet is that it can be packed during mealtimes.
Main Dining Rooms (Juneau, Skagway, and Ketchikan)
The Discovery Princess has three main dining rooms. If you've ever cruised to Alaska, you'll recognize that the rooms are named after popular Alaskan towns.
We were assigned to the Juneau Dining Room and typically dined early at 5:30 pm. The food was decent, well-presented, and generally served on time.
However, the first two nights seemed to be extra slow which may have been because of embarkation. When ships turnover all passengers and some crew and receive new supplies, it can take a day or so for things to settle in.
I found the layout of the three dining rooms on the ship to be odd. Most cruise ships have main dining rooms located forward or aft of the ship.
On the Discovery Princess, the Ketchikan Dining Room is located appropriately on Deck 5 aft of the ship. However, the Skagway and Juneau Dining rooms were located partially mid-ship on Deck 6.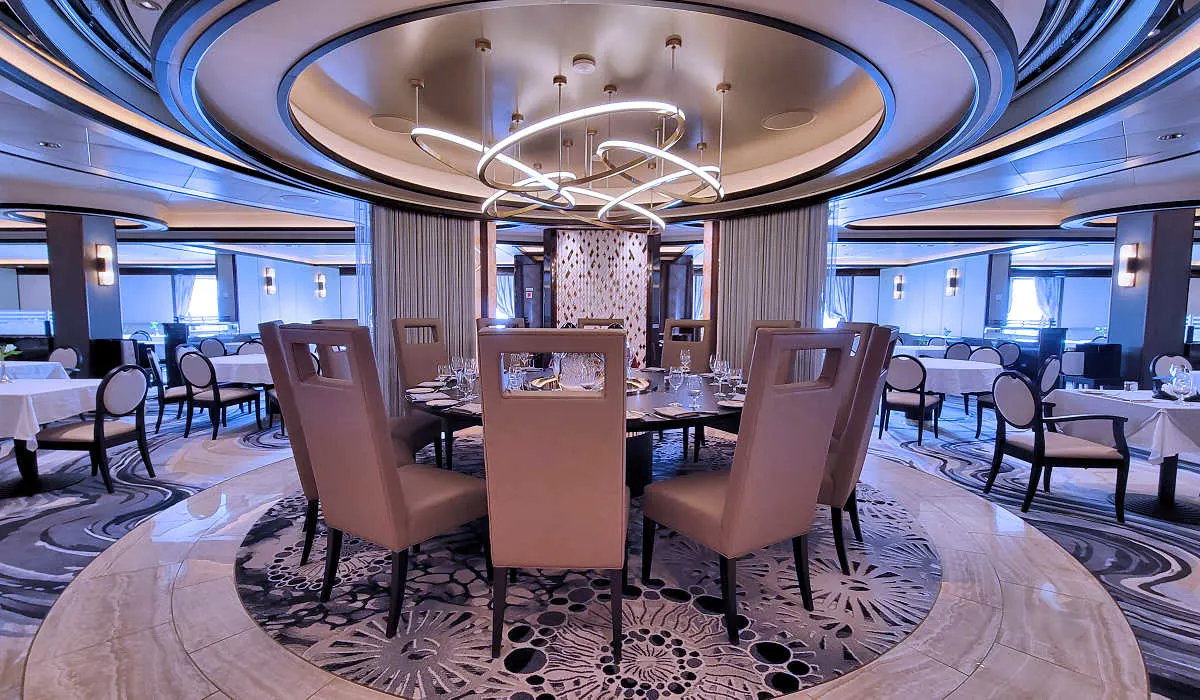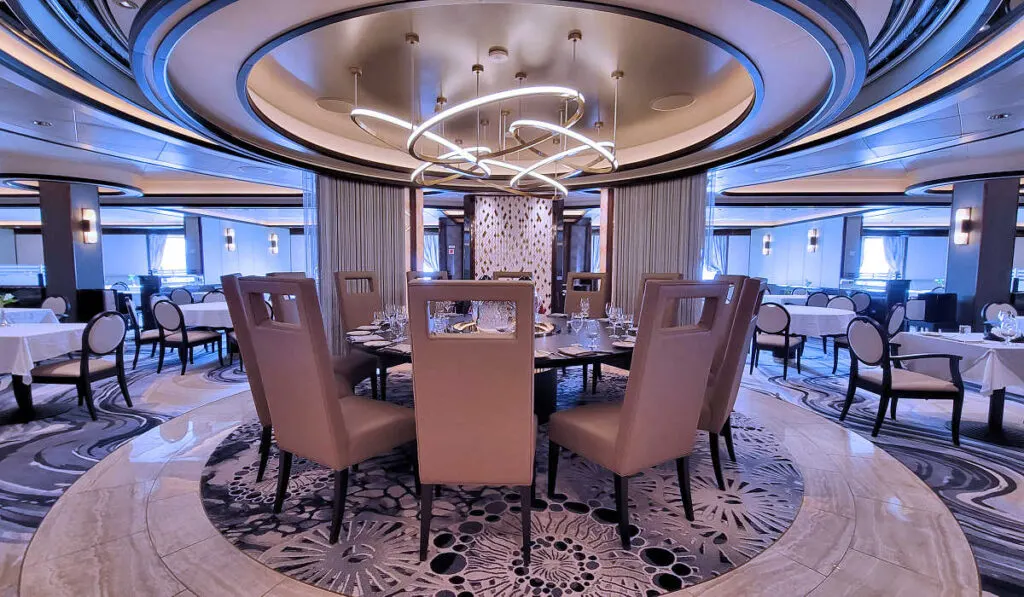 The result is depending on where you were on Deck 6, you may need to take the elevators down to Deck 5 or up to Deck 7 to get past the dining rooms. This was a poor layout design, in my view.
Specialty Dining
The Discovery Princess has three specialty dining areas available at a cost (at the time of this review) of USD 25 to 29 per person per meal.
Sabatini's Italian Trattoria (Italian dining)
Crown Grill (Steak house)
Bistro Sur La Mer (French cuisine)
Karen, Mum, and I tried both Sabatini's and Bistro Sur La Mer. I love a good steak and usually try the steak house whenever we are cruising.
However, since we had eaten at the Crown Grill on our earlier cruise on the Majestic Princess, we decided to pass this time.
I'm not a huge fan of classical Italian or French dining, but I like to try something new when cruising. The food at Sabatini's was exceptional and, in my opinion, better than our experience at Bistro Sur La Mer.
If you get a chance to cruise on the Discovery Princess, you can make your own decision on which specialty restaurant is best for you!
Other eateries on board included in your cruise fare are:
International Café
Salty Dog Grill
Swirls
Gigi's Pizzeria
Burger and Hot Dog Grill
Ocean Terrace – Sushi/Seafood Bar
Gelato
And more!
If you're booked in a suite, suite guests enjoy an immersive dining experience called the 360-dining experience. The experience tantalizes your senses with smells, tastes, visuals, and listening to stories. It's not just dining but a celebration of the senses to enhance the cuisine.
The Discovery Princess Bars
There are numerous bars are lounges across four decks of the vessel. Good Spirits and the Salty Dog Gastropub are on deck 5. Crooners, Take Five, and the Casino Bar are found on deck 6.
Deck seven has the Vista Lounge, Crown Grill, Princess Live, and Bellini Bars. Deck 16, or the Lido deck, has the Mix, Wake View, and Seaview Bars.
Since all Princess ships are MedallionClass, you can also order drinks through the app and have them delivered wherever you are onboard.
On our cruise, a Plus Beverage Package was USD 64.99 a day. It included cocktails, wine by the glass, specialty coffees, and beer up to USD 15. At USD 84.99, the Premier Beverage Package included drinks up to USD 20.
For the non-drinkers, the Classic Soda Package was USD 12.99 a day. Guests with this package could have fruit juices, fountain sodas, smoothies, and mocktails.
Alternatively, the Zero Alcohol Package costs USD 39.99 per day. It includes specialty coffees and teas, bottled water, smoothies, mocktails, and Red Bull Energy drinks.
The Sanctuary
Located on Deck 17, the Sanctuary is a private area at the ship's aft. It is available to all guests for a fee depending on how long and at what level you book.
The Sanctuary is on an open deck and is not protected from the weather. On the day we viewed it, it was a blustery cold day, and it was empty except for a handful of passengers.
Karen and I are not a fan of paying a premium to have a private secluded area on the ship. Maybe we're just too frugal and social!
I would also not recommend the Sanctuary when cruising into Alaska in May or September when temperatures are very cool.
The pricing for our cruise was as follows:
Full day USD 40, half day USD 20 per person
Cabana full day USD 220

Includes two drinks, TV, headphones
Pricing can change based on the itinerary. You can reserve a specific lounger, depending on your preference for location (e.g. sunny, shady). Also, you can cancel if the weather changes.
Staff claimed the Sanctuary sells out, so booking early is recommended. However, it was a cold, windy day during our cruise after leaving L.A. in January, and the space was almost empty with only six people.
Discovery Princess Pools
There are four pools and ten hot tubs on the Discovery Princess. The two Sky Pools are on Deck 16 and in view of the giant Theater Under the Stars screen.
The Retreat Pool is adults-only and on Deck 17. During our cruise, the Retreat Pool was also less crowded compared to the Sky Pools. It felt closed in because additional cabins were added on either side of the pool.
The Wake View pool is located aft of the ship also on Deck 16. This pool is often not crowded, although small compared to the other pools. It's a great place to enjoy an amazing view with a drink.
For those who love the wake view, the infinity pool didn't block those amazing vistas.
Unfortunately, there are NO covered pools on the Discovery Princess. I consider this a real "MISS" for Princess Cruises. I'm not sure why they designed the ship that way.
As we sailed out of Los Angeles during the cold winter rain of January, it was obvious there were no covered pools, and all outside decks were empty.
This is especially problematic if you take the Discovery Princess to Alaska, where the weather can be unpredictable. Hot tubs are okay, but when you can only get 4-6 people in, they fill up quickly.
Karen felt the Majestic Princess was a better ship because it had a nice, covered pool mid-ship. The pool was the perfect retreat, regardless of what the weather outside was doing.
SeaWalk
Like other ships in Princess' Royal-class family, the Discovery Princess has a SeaWalk. The layout is slightly different from the Majestic Princess, as there is no gap between the glass floor and the ship. However, it still overlooks the side of the ship.
These glass walks have become popular this past decade, and Princess has been copying the trend. The SeaWalk is a nice spot for photos with couples, family, and anyone else in your cruise party.
Entertainment
As one of the largest ships within the Princess Cruises fleet, the Discovery Princess offers high-quality entertainment. There was something different each night, with two show times at 7:30 and 9:30 pm.
Shows
The lineup for our 7-day cruise included the lineup found on most cruises – a comedian, magician, Broadway-style shows, singing couples, solo singers, etc. There's something for everyone, but you'll find you may miss a show or two because of your lack of interest.
The evening shows are held in the large Princess Theater, which seats approximately 1,000 passengers. On most cruises, the early show (7:30) fills up faster, so be sure to get there early.
The most popular Broadway-style show on our cruise was "Rock Opera," performed by a new cast. Due to our specialty dinner being served late, we got to the Princess Theater just about 15 minutes before show time.
The theater was already full, and our only option was to return for the late show at 9:30. We heard that the theater was already full a half-hour before showtime.
Some passengers often arrive 45 minutes before the early showtime if they want to guarantee they get a seat.
Other Theaters
The Discovery Princess has a few smaller theaters or venues for other entertainment throughout the day. Princess Live is a medium-sized venue located mid-ship on Deck 7, where you catch presentations, bands, and other performances.
The Vista Lounge is smaller than Princess Theater but still a large venue. It hosts a wide variety of performances and events throughout the day and into the evening. Game shows included the Marriage Match Show and Deal or No Deal.
All the theaters also serve as gathering places for groups before embarking on excursions on port days.
Take 5
A smaller venue, the Take 5 is a unique spot that is focused on Jazz. Take 5 can only be found on Sky Princess, Enchanted Princess, and Discovery Princess.
If you're a Jazz-lover, the Discovery Princess is a must for you. Some passengers have said they spent much of their cruise in Take 5 just for the great Jazz music and entertainment.
Take 5 also hosts private events such as the Cruise Critic meetup that we attended on our first sea day.
This venue was one of the few places onboard where you could enjoy quiet time if they were no activities scheduled.
Activities
As one of Princess's largest ships, the Discovery Princess had lots going on every day to keep you busy, entertained, and informed.
If you've never cruised before, be prepared to enjoy the chance to play bingo, take ballroom dance lessons, learn how to make animals out of towels, play trivia games, sing karaoke, and much more!
Princess has moved away from the Princess Patter (printed copy of daily activities) and encourages guests to use the app. If you still want the Patter, be sure to ask your room steward or mark it on registration online.
Movies Under the Stars
Princess Cruises has trademarked its "Movie Under the Stars," although some other cruise lines have copied the idea with large outdoor screens near the top of the ship.
On Princess, the giant screen shows everything throughout the day, from concerts, movies, sports, and other special events.
Padded loungers, blankets in the evening, and even popcorn are all provided free of charge when viewing movies in the evening. Karen, Mum, and I enjoyed the film "Elvis" which had been in theaters about six months earlier.
If you're old enough to remember the old days of Drive-In Theaters, an evening movie is reminiscent of that. Imagine seeing a few hundred people on loungers in the evening light, all aimed in the same direction.
If you get hungry, you can order food and drinks through the Medallion app and not have to give up your coveted lounger.
Everyone is captivated by the movie as they eat popcorn or sip their drink. We try to watch an evening movie at least once on each Princess cruise.
Casino
The casino onboard the Discovery Princess is typical of most cruise ship casinos. If you love to gamble, you will find all your favorite games there.
Note the casino is only open at sea, with a minimum of 12 miles offshore. This is in order to comply with local gambling jurisdictions.
While we don't gamble, we found the casino was quite smoky when walking through to another venue.
Children And Youth Services
Camp Discovery is Princess Cruises' area devoted to providing a fun and educational time for your kids aged 3 through 17. Even though our children are all grown adults, I'm always impressed when I tour the areas for kids.
I almost wish I had discovered cruising when our kids were much younger. Who knows, maybe someday we'll take our grandkids to the kids' centers when we cruise.
The Tree House is available for children aged 3-7. During sea days, activities are available from 9 am to Noon, 2-5 pm, and 7-10 pm. The areas are safe, supervised, and loaded with games and equipment suited for young children.
On port days, programming is available from 7-10 pm to allow families to enjoy the ports. Note that late-night group kidsitting is available from 10 pm-1 am as a handy service for all the parents!
The Lodge is available for middle-school-aged kids ages 8-12. This includes higher-level activities, including science, junior Olympics, designing their own invention, and more.
The hours are the same as the Tree House during port and sea days.
The Beach House provides a great place for your teens to hang out, make new friends, and do teen stuff. The hours of operation are similar to the younger youth centers, except the Beach House goes until later in the night.
Fitness And Play Areas
The Discovery Princess has a large, fenced, and netted basketball area aft of the ship. Located on Deck 18, it provides a great place for basketball, badminton, and other activities for your teens or anyone.
A small jogging or walking track circumnavigates the court. Seven laps of the track equal one mile.
Fitness Center
All cruise ships have a well-equipped fitness center for passengers to get their cardio or weight-training workouts. The Discovery Princess has a well-equipped gym with an appropriate amount of equipment for a ship with over 3,600 passengers.
The fitness center is open 24 hours which is a huge plus for those passengers that like a very early or late workout. I've been on some cruise lines where the venue hours were limited and found it very frustrating.
If you're a fan of Peloton equipment, you will NOT find any on a Princess Cruise. However, they have an impressive range of high-end bikes, treadmills, ellipticals, and more.
Princess Cruises: The Love Boat
If you are old enough to have watched TV in the 1970s, you will remember the show called The Love Boat.
Throughout our cruise, we were reminded frequently that Princess Cruises is the Love Boat. The Love Boat theme played when leaving port, and a giant heart welcomed guests to the Piazza on embarkation day.
The Pacific Princess was the ship used during the filming of the original TV show. It's nostalgic but definitely out of date if you watch it today.
One of the services the Discovery Princess offers is Renewing Your Wedding Vows. This is done with the Captain in the Piazza as the official, with all the willing couples joining him.
Karen and I took the opportunity to renew our vows (along with a dozen other couples), even though we have been married less than five years. All I can say is it took me a long time to find my Soul Mate!
After our brief ceremony with a bunch of other couples, one of the crew members actually proposed to the violinist performing during the service.
The new Bride-to-be was surprised, and the event got a huge round of applause. It was very romantic and appropriate on the Love Boat!
The Lotus Spa
Like most modern cruise ships, the Discovery Princess has a fully equipped spa located on Deck 5. I found this interesting but odd because almost all cruise ships have a spa near the fitness center.
The fitness center is located on Deck 17. The Lotus Spa offers a wide range of services, including facial therapies, body therapies, massages (individual and couple), acupuncture, a beauty salon, and more.
Since you're on a cruise ship, treatments cost more than those back home. As a result, the spa is a significant source of revenue for cruise lines.
The Enclave (thermal suite) was USD 179 per person for our seven-day cruise. Princess limits the number of passes, and if the passes weren't sold out, guests could purchase a daily one for USD 49.99.
While we have used the thermal spa on other ships, we chose not to on the Discovery because the Enclave was enclosed with no windows to enjoy the views.
Here are some prices from the Lotus Spa price list at the time of this review. All prices are USD.
Acupuncture
50 min.
$109
Fire & Ice Manicure
45 min.
$79
Fire & Ice Pedicure
60 min.
$89
Teeth Whitening
30 min.
$179
Deluxe Brow
45 min.
$49
Waxing – Full Leg
$85
Facial – BIOTEC Line Eraser
$229
Facial – Collagen Age Defy
$199
Couple Seaweed Massage
75 min.
$499
Bamboo Massage
75 min.
$229
Chocolate Indulgence Body
75 min.
$229
Reflexology
50 min
$149
The Library?
I found it interesting that the Discovery Princess does NOT have a library or a games area. Instead, passengers are encouraged to find a table anywhere on the ship and play games.
Granted, you will need to bring your own games to play. I assume you can still get a complementary deck of cards at Guest Services.
We often saw families playing cards or a game of Mah-jong on the pool deck near the Piazza and other places. In the "Old days of cruising," there was less to do, and games were a common past-time during sea days.
One of the things we loved on our recent Cunard Queen Elizabeth cruise was being able to work on a puzzle. They had a designated puzzle area that many of us used.
However, since most passengers travel with iPads, smartphones, etc., I assume Princess decided a games area or library was no longer needed.
Laundry Services
Princess Cruises is well-known for having self-serve laundromats. This service is especially convenient for families traveling with kids or taking a long voyage. When Karen and I travel, I often do a quick laundry around Day 5 if we're on a 7-day cruise.
The laundromats onboard the Discovery Princess are near the Aft of the ship on all decks with cabins. Previously the laundromats required U.S. coins or ship tokens, but now all washers and dryers are FREE!
They even provide free detergent and dryer sheets. A wash is 35 minutes, and the dryer is 45 minutes.
On other cruise lines that don't have self-serve laundry, you need to either pack extra clothes or pay for expensive laundry service.
Alternatively, Princess provides a fee for laundry service. Jeans and pants cost USD 4.50, t-shirts USD 2.75, pajamas USD 3.75, and underwear and socks USD 1.25.
Smoking Areas
The Discovery Princess offers two smoking areas onboard. Outside at the aft (rear) of the ship on Deck 17 is a large open area with beautiful views of the ship's wake.
Inside the ship is Churchill's Smoking Lounge, located on Deck 6. The lounge is open 24 hours a day throughout your cruise.
Internet Access
Princess Cruises claims to be the "Best Internet at Sea," but the download speed is average among cruise lines. If you need tech support or want to access the internet via one of the onboard computers, visit the Internet Café on Deck 5 of the Discovery Princess.
Prices vary according to what level of passenger class you are in. Elite or Platinum-class passengers receive 50% off posted pricing.
At the time of our sailing, accessing the internet for non-Elite/Platinum passengers was as follows:
One device – USD 20 per day, USD 105 for a 7-day cruise
Up to 4 devices – USD 30 per day, USD 175 for a 7-day cruise
Internet speeds are claimed to be 2-3 Mbits for download and 2 Mbits for upload. However, on the day I tested internet access, I got about 1Mb upload and download.
The internet staff claimed that the last day of the cruise (when I tested) is always the slowest day due to passengers trying to confirm travel arrangements.
Can I Work Remotely On A Princess Cruise Ship?
If you are trying to work remotely during part of your cruise, you will likely not have a great experience. The internet system used by Princess Cruises is built for social media such as Facebook, Instagram, etc.
However, if trying to access corporate email or other secure systems, it can be very slow. The tech staff at the Internet Café get asked many support questions when passengers work remotely onboard.
Apparently, work meetings via Zoom apparently are okay. Bottom line, be prepared for slow internet access onboard if you are trying to use a couple of your cruise days to keep up with work stuff.
Discovery Princess Excursions
All cruise lines provide a variety of choices for port excursions. Generally, but not always, you will have a better experience with tour companies that have been vetted by the cruise line.
In addition, booking your port excursion through Princess will ensure the ship will remain if the tour is running late. During our cruise, the captain announced our arrival time in Puerto Vallarta was delayed by almost two hours.
As one of the largest cruise lines in the world, Princess offers a wide range of options for excursions. Naturally, excursions are specific to your itinerary and vary according to where you are cruising.
On our cruise, we booked PVR-775 Snorkel at Marietas Islands with Lunch & Open Bar. It was USD 90 per person for a 6.5-hour tour. Due to the late arrival, Princess adjusted our tour time which meant we returned to the ship close to departure time.
We rode the catamaran boat, along with about 50 other Princess passengers, out to the Marietas Islands, which is a National Park for Mexico. The islands are a sanctuary for birds and various marine life.
The snorkeling was poor due to too much turbulence near the island. Some small tropical fish were visible, but none of the larger sea life (manta rays, sea turtles, dolphins) that were listed in the brochure.
However, the Captain of our boat did stop numerous times to see humpback whales on the way out and back from the islands. For me, whale watching was the highlight of the tour.
Karen did the snorkeling, and I tried the kayaking briefly. While at the islands, a cold buffet lunch was provided with an open bar throughout the excursion.
We chose this excursion because it was suitable for Karen's mum as she could view the whales and birds from the boat. If you have family members with mobility restrictions, this is a great excursion.
Here's some info on the type of excursions available while cruising on the Discovery Princess to the Mexican Riviera. Note that prices and available options are subject to change.
Final Thoughts
In reviewing the Discovery Princess, both Karen and I really enjoyed one of the flagships of their line. The ship has a good overall layout, but there are a couple of quirks with the location of dining and the spa.
I felt we had a premium dining experience both from a cuisine and service perspective. Be sure to try Sabatini's Italian if you are cruising.
While the Discovery Princess is the newest ship in the Princess fleet, Karen preferred the old sister ship, Majestic Princess, because of its indoor pool and having the Hollywood Conservatory instead of the Sanctuary.
For me, I would recommend the Discovery Princess on any tropical or warmer itinerary (not Alaska). I loved that everything was in pristine condition as a brand-new ship. Granted, all new ships eventually become older ships in need of refurbishment.
After our seven-day adventure, Karen's mum loved her first experience at sea. In fact, she asked where we planned to take her next!