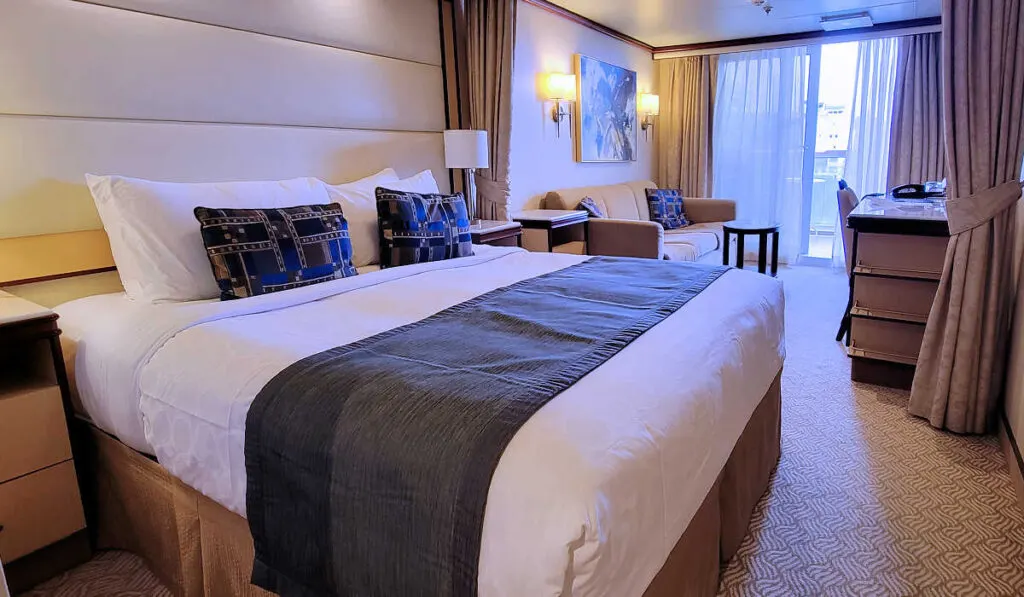 On our recent 7-day Majestic Princess cruise, we chose a mini-suite with an extended balcony near the center of the ship. Some of these staterooms can accommodate up to four with sofa beds. In comparison to our standard balcony cabin, the mini-suite is wider and much longer.
Launched in 2017, the Majestic Princess has 374 mini-suites of the 1438 cabins with verandas. These cabins are located on decks 10 to 16, with the majority located mid-ship.
A mini-suite is essentially an upgraded balcony cabin, but not quite in the suite class. During our Mexican Riviera cruise, we appreciated the spacious accommodation, prime location, and extra perks that came with this cabin category.
We chose C429, a stateroom on Caribe or deck 10, around the corner from the central elevators. With an angled balcony, we enjoyed an outside space that was more than twice the size of the veranda staterooms.
The Majestic Princess is the third vessel in the Royal Class. Similar mini-suites can be found on the Royal, Regal, Sky, Enchanted, and Discovery Princess. So, if you're thinking of sailing with Princess, here are some reasons for choosing a mini-suite.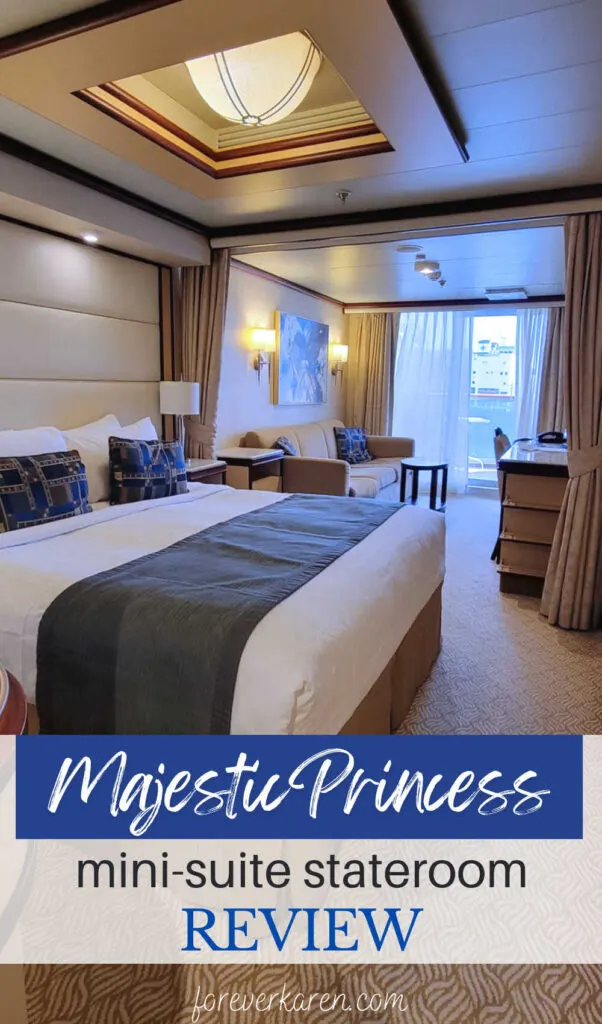 1. Separate Sitting Area
In most balcony cabins, the room consists of a bed (or beds), desk, and sofa or chair. A Princess mini-suite is wider and provides some separation from the bedroom area to the living space.
The sitting area can be closed off by using heavy curtains. While it won't cut out sound, it does provide privacy, ideal if you're cruising with more than two in the cabin.
Our mini-suite had the largest couch I've ever seen on a cruise ship, which opened up to allow for one more guest. However, the sofa bed opens sideways rather than lengthways, making the seating area extra deep.
Since Brian and I are not tall, we found the sofa too deep to sit comfortably. In the living area, we noted the extra width of the cabin. So, we could walk by the coffee table with ease, without feeling it was "in the way," like on other cruise lines.
Across from the sofa, a large marble-topped desk doubles as a vanity. With vanity lighting and the hairdryer in the top drawer, it was a great place to do my hair and makeup.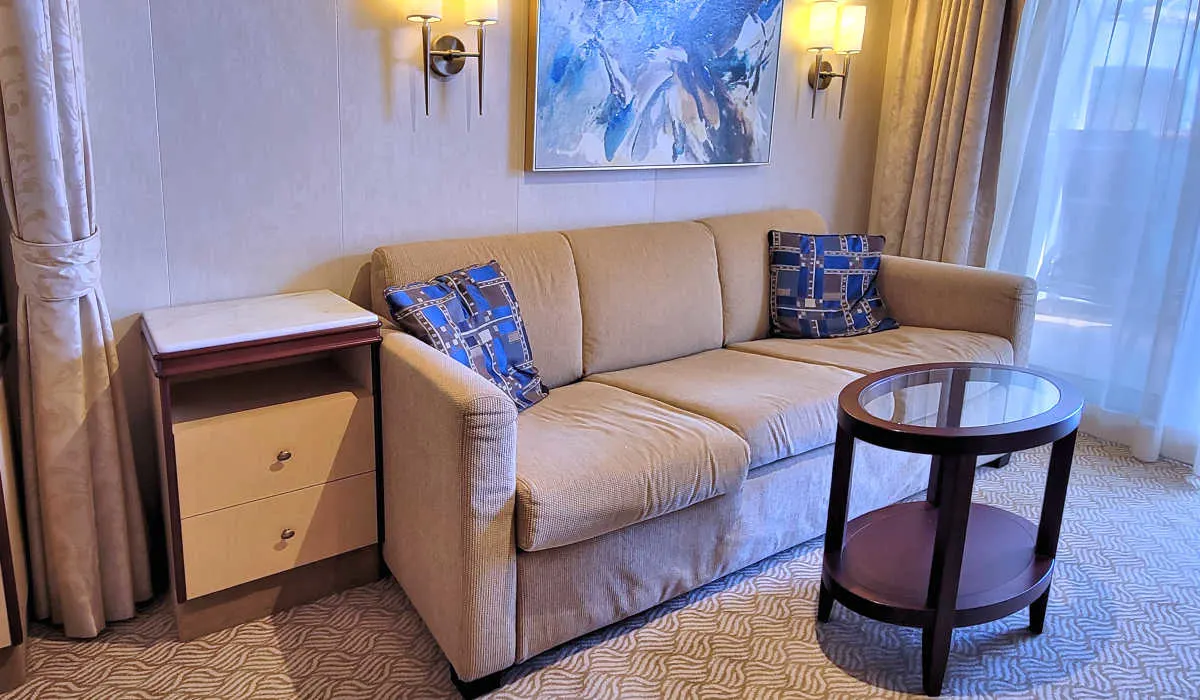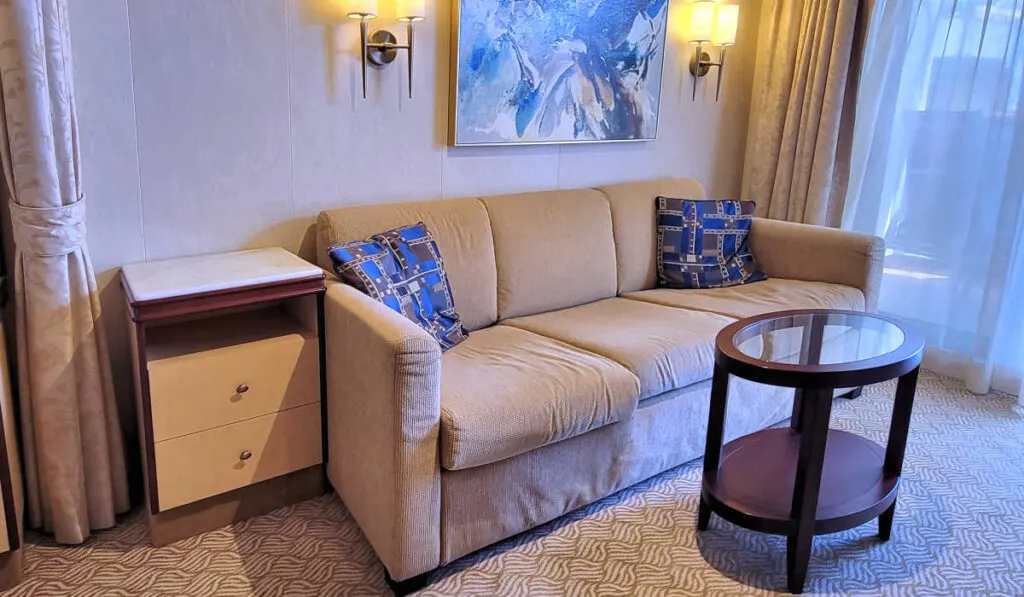 Two plug sockets supplied power for US and European travelers on the vanity. For our cruise, this space was our "catch-all," a place to put medication, souvenirs, paperwork, and cameras.
While some Princess Cruises mini-suites measure up to 323 square feet, our Majestic Princess stateroom was slightly smaller at 299 square feet. However, with our extended balcony, we had almost 400 square feet of usable space.
We later cruised on the Discovery Princess with my mum. When we looked at the cost of having three of us in a mini-suite, it was actually cheaper to have two balconies and pay the single supplement.
The Discovery's balcony cabins are smaller, without a couch, but they have premium beds with amazing bedding.
2. Premium Bedding
There's nothing I value more than a good night's sleep, especially on vacation. So, I was thrilled to enjoy a luxury bed with a comfy mattress topper, upgraded pillows, and premium 100% Egyptian cotton sheets.
Two marble-topped night tables sit on either side of the bed, with a third next to the couch. Overall, there are nine drawers, more than we needed for a 7-day cruise.
There are two USB ports on one side of the bed, convenient for charging cellphones or tablets. But I wished they had placed them on both sides of the bed.
3. Bath And Shower Combination
Princess Cruises mini-suites come with a bath and shower combination, making them ideal for families with young children.
While we prefer to shower, by extending the bathroom to accommodate the bathtub, the larger space allows for more storage in the vanity area.
Unfortunately, the tub still has the pesky shower curtain that we all love to hate. However, the shower has an adjustable massage showerhead and retractable clothesline.
All mini-suites come with soap products from the Lotus Spa, extra plush Egyptian cotton towels, and plush cotton bathrobes.
4. Midship Location
The majority of mini-suites are located midship. If you suffer from motion sickness, a stateroom in the ship's center minimizes the rocking and rolling movements.
While I don't suffer from seasickness, it was pretty windy the night we sailed out of Los Angeles. With ten-foot waves, the motion was very noticeable in the dining room and theatre and had some people running for Dramamine.
However, we did not feel the motion as much in our mini-suite. So, if you want to prevent seasickness, the mini-suite might be an excellent choice of cabin.
I chose our mini-suite mid-ship, and it was the perfect location on the Majestic Princess. Being around the corner from the atrium elevators, we found it easy to access other venues on the ship without feeling like we were walking a marathon.
5. Two Flat Screen Televisions
Princess Cruises mini-suites have not one but two flat-screen TVs. The two 40" TVs were positioned one across from our bed and the other in the living area. Traditional cabins have one, and I always found I got a stiff neck from trying to watch it at an angle.
While some might argue that a 300-square-foot room only needs one, we enjoyed watching both. During the day, we watched the safety drill, information on ports, and enrichment shows in the sitting area. At night, we sometimes viewed a movie in bed.
6. Some Staterooms Have Angled Balconies
When looking at the deck plans for the Royal Class vessels, the center staterooms have balconies that curve outwards. These verandas, especially those at the point, offer much larger balconies.
We were lucky to book one of these, C429, on deck ten or the Caribe deck.
Our balcony was so big that we could turn our deck chairs sideways and place the table between them. We did this to show the size of our balcony as seen in the picture below.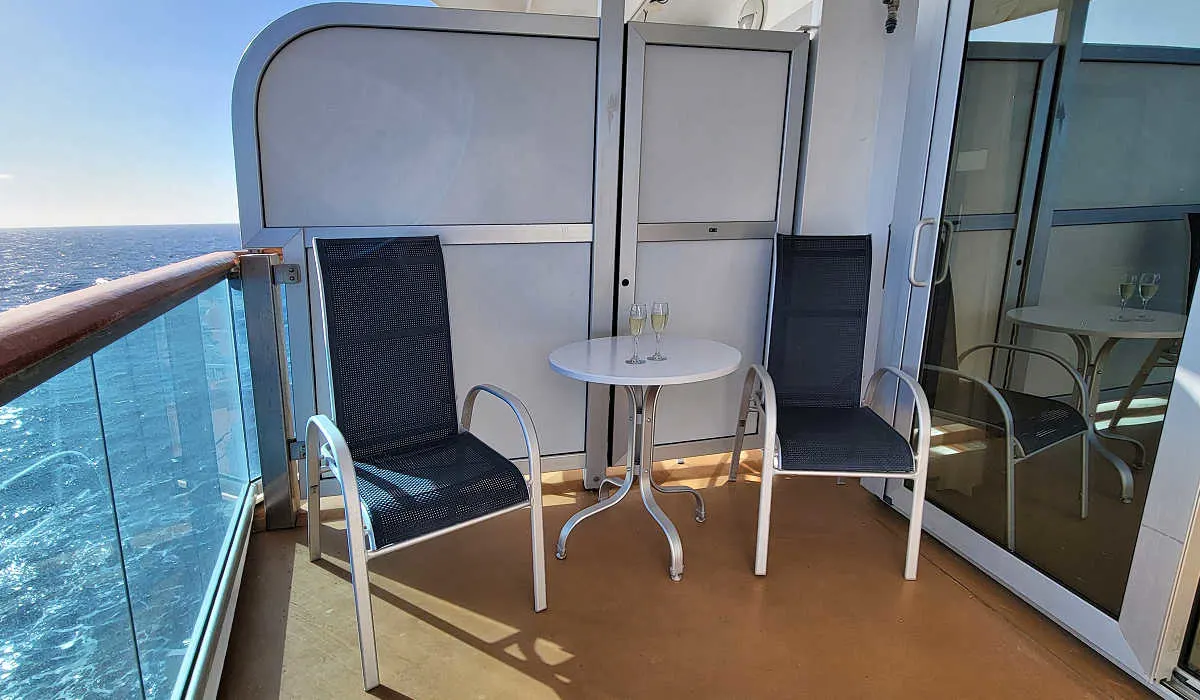 While we only had two chairs, our balcony could easily accommodate four. Looking at the other balconies, which measured 40 square feet, I estimate ours was about 90 square feet.
I wished Princess would have added footstools to turn our deck chairs into loungers. These are the largest ones if you'd like to book a mini-suite with an angled balcony.
| | | | | |
| --- | --- | --- | --- | --- |
| DECK | STATEROOM | STATEROOM | STATEROOM | STATEROOM |
| Caribe/deck 10 | C414 | C415 | C428 | C429 |
| Aloha/deck 12 | A414 | A415 | | |
| Riviera/14 | R414 | R415 | | |
| Marina/deck 15 | M411 | M412 | M424 | M425 |
The diagram below shows the Caribe deck plan with angled balconies. While cabins C414, C415, C428, and C429 are the largest, C409 and C410 are slightly smaller.
Bear in mind that cabins C409 and C410 have less privacy due to the angle of the balcony. Do note, that C432 and C433 also have large balconies, but are wheelchair-accessible staterooms.
If you like to read on your balcony or hang out there on sea days, I highly recommend getting one of these angled balconies.
7. Undercabinet Nightlights
One of the things I appreciated in our mini-suite was the undercabinet lighting on our night tables. They provide soft lighting and are triggered by motion. Once triggered, they stay on for a short while and turn off by themselves.
If you often make trips to the bathroom in the wee hours, you'll love these nightlights. Since we have these motion sensor lights in our bathroom at home, we were pleasantly surprised to find them in our stateroom.
The only downside to having the motion sensor lights next to the bed instead of the bathroom was that they were easily triggered. When I moved around in my sleep, the light would sometimes come on, waking me up.
If you're a restless sleeper, you can deactivate the light by placing an accent pillow in front of the sensor.
8. Lots Of Space And Storage
The Majestic Princess standard balcony cabins seem smaller than similar staterooms on other cruise lines. Maybe it's due to the large walk-in closet, which takes away space from the bedroom/living area.
However, the mini-suites provide more space and plenty of storage. Since Princess Cruises offer long itineraries and world cruises, it makes sense that they offer plenty of cabin storage for two or more guests.
Our open closet had 38 hangers but could accommodate twice as many. Above, a shelf held our life jackets, but there was space to store other items.
Since we kept our luggage under the bed, there was lots of space below the hanging area for shoes and small bags. Next to it, the tall closet had five large shelves and a mini-safe.
The cabinetry provided nine drawers and multiple shelves in the bedroom and living areas. A half-circular shelf with a mirror was a great place to leave our Ocean Medallions, travel mugs, or keys as we entered the room.
Since only my husband and I traveled in the stateroom, there was more storage than we needed. However, if you're traveling with children or more than two in the cabin, this room category provides plenty of options for storage.
Having traveled in an interior stateroom on the Coral Princess, which measured only 158 sq. feet with a bathroom, this was a major upgrade.
With so much storage, we didn't use magnetic hooks or an over-the-door to organize our items. Even with four in this type of cabin, I'm sure they would be adequate storage.
9. Complimentary Bubbly
On Celebrity Cruises, all guests receive a complimentary glass of champagne on embarkation day. On Princess, guests in mini-suites and higher receive a complimentary glass of bubbly the day they board.
Mini-suite guests received a one-time complimentary mini-bar setup not so long ago. However, since Princess Cruises introduced a Club Class Mini-Suite category, some perks of the mini-suite are now only available in Club Class.
Final Thoughts
This was my first-time cruising in a mini-suite and my husband's second. While we traditionally book a balcony, we thoroughly enjoyed the extra space of our cabin and especially our extended balcony. Having a three-seater spacious sofa gave us plenty of room to relax over a single chair.
The large desk provides space to store items but still has room to work on a laptop. If you need to work while cruising, the mini-suite is a better option than the standard balcony stateroom.
With a premium location, steps away from the central elevators, we never felt like we had to walk a mile to get anywhere. In the end, we wouldn't hesitate to book a mini-suite again for a future cruise.
Happy travels ~ Karen