Princess Cruises Ocean Medallion is a state-of-the-art device that makes cruising much easier. Carnival Corporation and Princess Cruises partnered with SES Networks to create the onboard device.
The coin-sized Medallion links to your cellphone and allows guests to open their doors, order drinks and food, see daily activities, and more.
Launched in 2018, Princess Cruises' leading technology was a massive hit with customers. Initially, the technology was added to the newer vessels.
However, Princess has added the Medallion to all older ships like the Coral Princess, making them MedallionClass cruises. Since Covid-19, other cruise lines have created a similar device because the Medallion provides contact tracing.
Not just used onboard, the app allows cruise passengers to fast-track to the "green line" by providing vital information before embarkation day.
What Is The Princess Medallion?
When booked on a MedallionClass cruise, the Medallion device is free and replaces your cruise card. The circular disk (a little bigger than a quarter) comes engraved with your name, ship name, and sailing date.
As you can see, we cruised on the Majestic Princess and included a full ship review. The Medallions are magnetic, so Princess cautions against using them with pacemakers.
The wearable device comes with a complimentary lanyard, but guests can purchase accessories too. Also, should you reside in the United States, Princess will ship your cruise ship Medallion and accessories to your home at no charge.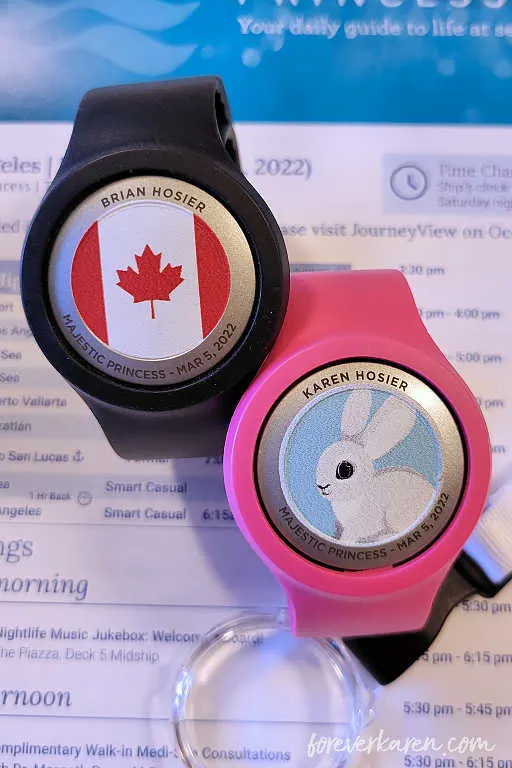 Since I reside in Canada, I had to pick mine up at check-in. The complimentary disks come with the Princess Cruises logo in your Captain's Circle color. However, you can choose from a selection of custom designs, which cost USD 5.
My husband picked the Canadian flag, and I chose a cute bunny. The disk had our chosen design on one side, and the other contained an SES logo. Other designs included zodiac signs, birthstones, global landmarks, pets, military emblems, celebrations, and more.
How To Wear The Princess Medallion?
If you prefer not to wear a lanyard, Princess Cruises sell Medallion class accessories at reasonable prices. We chose the sports bands, which come in a selection of colors and two sizes.
We paid USD 10 each for the bands but noticed they were priced two dollars more onboard. The device is waterproof, so you don't have to remove it when in the pool or hot tub.
Onboard, the selection of accessories was great. I especially liked the silver and gold pendants and dressy bangles. Unfortunately, since I have a small wrist, I couldn't wear a bangle without the risk of it falling off. Men might prefer a clip accessory or sports band.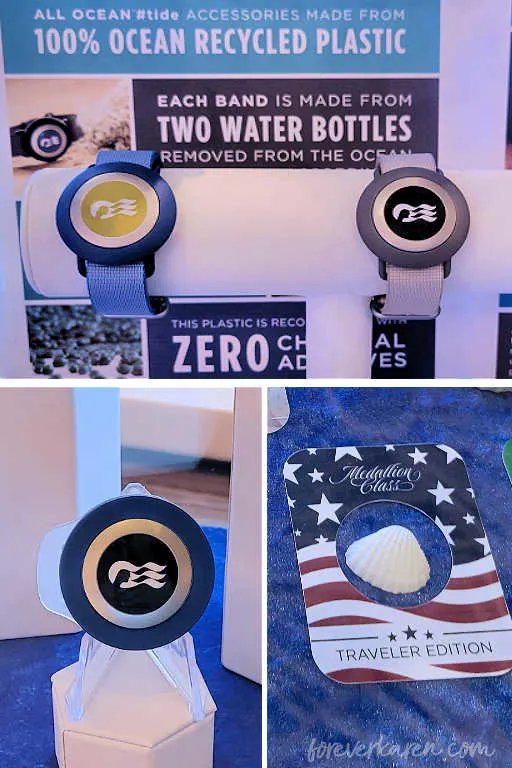 Before The Cruise – Get OceanReady
Booked guests should download the app from Google Play or the App Store. Then, they can prepare for their upcoming cruise by going into the OceanReady profile and updating relevant information.
In this section, you'll add an emergency contact, travel documents, a security photo, and complete a health questionnaire. While you can do the health questionnaire in advance, it must be confirmed within 24 hours of sailing.
By completing the OceanReady section and choosing your arrival window, the app will produce an Ocean Ready QR code for check-in.
The app expedites your arrival experience and makes embarkation day contactless. If you do not complete the pre-boarding steps, you'll board through the blue lane, which is much slower.
Before embarkation day, guests can order MedallionNet. For my 7-day Mexican Riviera cruise, the cost was USD 69.93 for one device or USD 139.93 for up to four devices. You can also add a credit card for your onboard charges.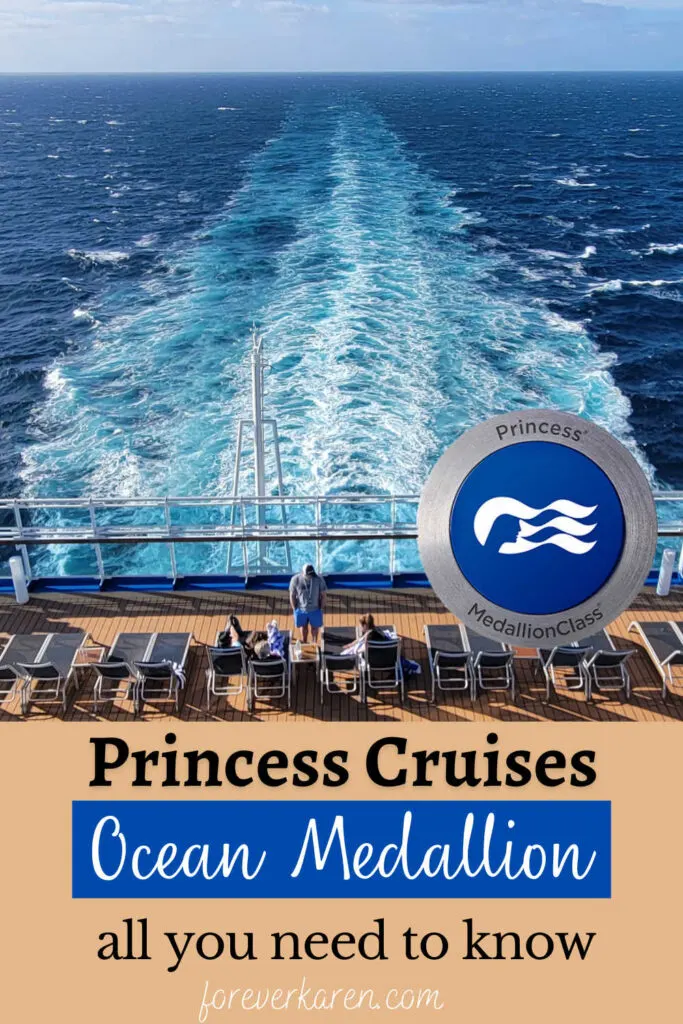 Traditionally, cruisers completed these steps at check-in. But by doing them ahead of time, you fast-track getting on the ship. We did not purchase MedallionNet.
Instead, my husband bought an internet package through our cell phone company in Canada which he could use to check emails in port. I did have complimentary Wi-Fi onboard for 24 hours and found it fast compared to Wi-Fi I'd tried on other cruise lines.
Cruisers can also purchase shore excursions and make specialty dining reservations on the app.
What Can The Ocean Medallion Do?
Once onboard, guests can access other parts of the app. OceanNow refers to being on the ship and opens up many other possibilities. One of the things I loved was that I could unlock my stateroom with the Medallion.
Traditionally, cruisers always had to carry their cruise card. Since I didn't always have pockets, carry a purse, or want to wear a lanyard, I had to rely on my husband to unlock the door. By wearing the Princess Medallion on a watch strap, I could unlock the door as I approached it.
We later cruised on the Discovery Princess with my 81-year-old mum, and the cardless entry was the feature she enjoyed the most.
The Medallion has almost made the Princess Patter obsolete. Instead, guests can find a detailed itinerary on the JourneyView. Here, you can see daily activities and plan what to do on sea days. With the app, guests can request to go paperless.
When it comes to dining, traditionally, cruisers chose a set dining time or went to the dining room whenever they wanted. With the app, guests can select a seating time and make reservations with friends.
However, if you did not arrive in the dining room within 15 minutes of your reservation, the dining room staff will give your table to someone else.
PlayOcean allows guests to create a custom Tagalong on a display screen near the elevator. Just for fun, I selected a seahorse with colorful markings. These Tagalongs swim the tropical ocean on the screens throughout your cruise.
PlayOcean includes a snap-and-share feature and allows guests to participate in trivia and games under the stars.
You can also book shore excursions, bookmark ship activities, and book spa treatments. Now, if only it would do laundry!
Use The Medallion As A Credit Card
Like your cruise card, guests can purchase drinks with the app. However, they don't need to go to a bar to do this.
You can order on the app, and someone will deliver it to you wherever you are on the ship. Since the Medallion has a tracking device, the staff knows wherever you are.
The Medallion makes purchasing anything easier, almost too easy. Want to do some duty-free shopping? Or spend the night gambling in the casino? No problem. Just make sure your credit card can handle the final bill at the end of your cruise.
Princess Cruises has made it easier to shop shoreside too. Before you go ashore, register a credit card, shop at select stores, and pay with your Medallion.
With MedallionPay Rewards, you'll also earn 7% back on purchases made at selected stores in ports. The app lists merchants in Alaska, the Caribbean, and Mexico.
Is The Medallion Safe?
No personal information is saved onto the device. Any information put into the app is transferred by encrypted messages and saved on the guest network platform.
If you lose your device, notify guest services immediately. They will cancel the device to prevent unnecessary purchases and issue you a new one at no extra charge.
The same goes for if your Ocean Medallion stops working.
Our Experience With The Medallion
In theory, the casino chip disk can do some fantastic things………when it works. On embarkation day, many guests were having problems with the app. Mine worked, but my husband's Brian did not.
We joined the lineup of cruisers in guest services to get help with the app. After two IT specialists attempted to get the platform operational, we left with a non-working app. They advised him to try it again at sea.
Before sailing away, we had the option to watch the safety drill on a smartphone or stateroom TV. We chose to watch in our cabin on the 40" flat screen. Afterwards, we headed to our muster drill station to "check in."
Unfortunately, the system didn't register that we had watched the safety drill, so we were asked to watch again on a smartphone until it gave us the "green light."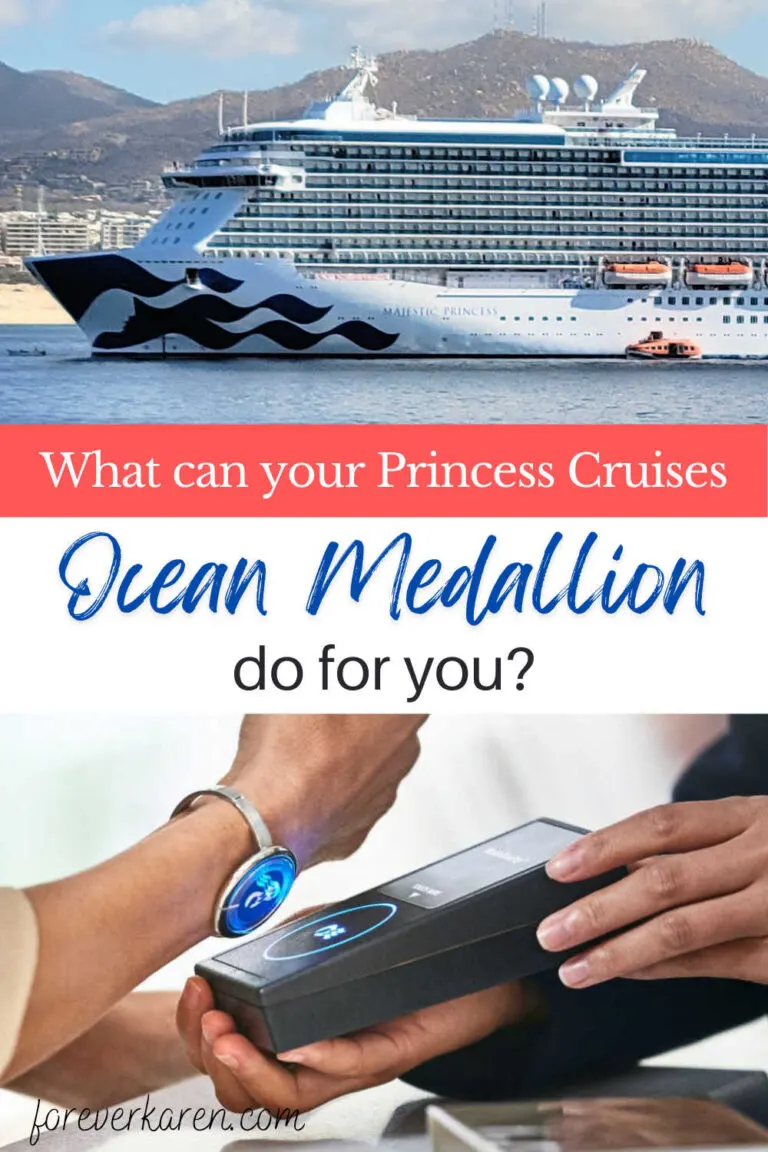 After watching it three times, I finally received the "green light," but Brian had not because his app didn't work. So, we had to make another stop at guest services to override the system.
Once at sea, my husband's app began working, but mine started having problems. By the end of day two, the Medallion app stopped working for me.
Each time I tried to use it, it would ask for my booking number, name, and birthdate. Then, I was stuck in the "loading" spiral of going nowhere.
On day five, IT removed my app because it was faulty, gave me complimentary Wi-Fi for 24 hours, and downloaded a new version. Wi-Fi is needed to download the app onboard.
With only a few days left on the cruise, I was thrilled to have a working app again. That's when Brian's app started working on and off. After all the issues we had, we were thankful to still receive the Princess Patter, the printed version of daily activities.
Throughout our 7-day cruise, we met many other passengers who had non-working apps and some whose Medallions stopped opening their stateroom doors.
When approaching our stateroom, my disk would only open the door if I stood within 12 inches of the panel. Brian's Medallion would unlock the door from a ten-foot distance.
Ordering Through The Medallion App
Before our cruise, I had read reviews of ordering food and drinks using the Medallion. Since many mentioned it took 45 minutes to receive their order, we wanted to test the process for ourselves.
Bear in mind our Mexican Riviera cruise was sailing at 68% capacity, so in theory, things should be faster.
We were sitting in the Hollywood Conservatory at the ship's bow when I suggested we try placing an order. Brian wasn't hungry, but I joked, he might be by the time the food arrived.
We kept our order simple; two sodas, two garden salads, and a bowl of fruit. It took 14 minutes to receive the drinks and an incredible 52 minutes to get the food.
Had we ordered cooked meals or food from a specialty restaurant, the wait may have been a lot longer.
While we loved this option of getting food on the Majestic Princess, in the future, I'd place the order long before I'd want to eat.
Checking Your Onboard Account
On MedallionClass cruises, guests check their onboard accounts through the app. If you don't have a cellphone, I assume you check your account through guest services since you don't have that option through the stateroom TV.
For our travels (and this one was no different), I made all the bookings, used my credit card, and gave my card to settle the account. However, Princess Cruises allowed me to view only my charges and credits.
My husband, Brian, could view BOTH his and my charges and credits. I'm not sure why they have this policy, but I found it a bit odd.
Even after returning home, I received an email statement for my charges. Brian got the statement for both of us, even though all charges were billed to my credit card. It seemed strange that the credit card holder didn't receive the final statement.
Our Watch Band Accessories
Wearing a sports band was simple and eliminated the need for pockets. I was thankful Princess offered the band in two sizes because I have a tiny wrist. Brian ordered a large black band, and I chose the small bright pink one.
The only downside to the watch bands was the cumbersome closure. One end of the strap has to slip inside (not outside) the other end of the band, forming the loop.
We found attaching the bands was a bit fiddly on the first few days. I'm sure Princess received many negative comments about the design because onboard, they sell a new band that fastens like a traditional watch.
The onboard selection of accessories far exceeded what we could purchase online. While the medallion disks are not reusable, passengers can use the purchased accessories on future cruises.
The Pros And Cons Of The Ocean Medallion
With any new technology, there are pros and cons of the device. While the app had many issues during our cruise, here's what we liked and what needed improvement.
The Pros
By completing OceanReady, we could get onto the ship faster.
We loved that the stateroom door unlocked when approaching it.
Guests can order drinks and food through the app. While the service was slow, we didn't have to give up our prime seating spot to eat or get a drink.
OceanPlay allows children (or adults) to create a Tagalong creature that swims in the ocean on the large screen displays. OceanPlay also has games like scavenger hunts.
Should you celebrate a birthday, anniversary, or special event onboard, the app makes your day extra special. We watched in amazement as one guest viewed a birthday surprise on a hallway display.
Instead of carrying the Princess Patter, we could view the daily activities on the app.
The Medallion accessories are inexpensive and can be used on multiple cruises.
Guests can message each other through a complimentary chat feature. So, if you choose to forego the Wi-Fi package, you can still keep in touch with family and friends at sea.
Passengers can find their shipmates through the app locator.
Since the staff can locate you, your stateroom steward will know when you're in your room. So, they won't disturb you when taking a nap, and they will choose to clean your cabin once you have left for breakfast.
The Cons
We found the app temperamental and only worked half of our 7-day cruise.
We tried to use the app to change our dining time, and it wouldn't allow us to make a change.
Sometimes, my Medallion wouldn't unlock my stateroom door unless I touched the screen with my disk.
Without a cell phone, guests must access information through the large display screens or visit guest relations for onboard statements.
Guests concerned about privacy might not like the fact that their names are displayed on the panel outside their stateroom door.
The app has too many features. Those who are not good with new technology might find the app too challenging to use.
Guests must check their onboard account on the app. There was no option to see it on your stateroom TV.
Final Thoughts
Coming out of the pandemic, I felt the Medallion's touchless feature makes cruising a whole lot safer. Princess Cruises can use the app to contact trace, should there be any cases of Covid-19 onboard.
If there were, they would be able to speak to passengers near those who tested positive. Luckily, there were no cases of Covid on our cruise of 2475 passengers and 1100 crew.
Although we found the app problematic, it elevated our cruising experience when it worked. We especially liked the features that allowed us to unlock our door and order food and drinks anywhere on the cruise.
I love that the Ocean Medallion is a wearable accessory, and I look forward to the next MedallionClass cruise.
Happy travels ~ Karen