We recently took a cruise on the Majestic Princess, a 7-day adventure to the Mexican Riviera. While I always had good service, great food, and many choices on Princess Cruises pre-pandemic, I wanted to see if things changed after the shutdown.
It was our first post-pandemic cruise and first international travel experience with new restrictions. The Majestic Princess has many options for dining, and her dining areas never seem crowded.
While I cruise with food allergies, my review of cruise food may differ from other opinions because cruise lines only provide limited choices of food. Even though I wanted to try out all the specialty restaurants, sometimes I can't because the kitchen lacks the necessary ingredients to prepare a meal.
So, this is my food review as a Celiac to expand on our full ship review.
Majestic Princess Dining Choices
Unlike most cruise ships with one large main dining room, the Majestic has three. We were assigned the Concerto Dining Room, mid-ship on deck 6.
At the aft, the Allegro Dining Room also has complimentary food. These dining rooms were open from 5 pm to 9:30 pm for dinner.
The Symphony Dining Room on deck 5 was closed to passengers during our cruise and was used by the staff. Of the three, the Concerto Dining Room also offered breakfast from 7 am to 9:30 am and lunch between 12 pm and 1:30 pm.
Other complimentary options included the Burger and Lobster Grill, Swirls Ice Cream, and Noodle Bar on deck 16 or Lido. Also, on the Lido deck, the Worlds Fresh Marketplace provides a large buffet area for those who prefer not to eat in the dining room.
At the Burger and Lobster Grill, passengers have the option to purchase New England Lobster Rolls for USD 15.
On deck 6, Alfredo's Pizzeria allows passengers to enjoy complimentary pizza. However, it's easy to mistake it for an a la carte venue with its prime location. Vines on deck 5 have complimentary appetizers with the purchase of a drink or cocktail.
Open 24 hours, the International Café offers specialty coffees, teas, and snacks for a nominal fee. They also had breakfast sandwiches and wraps.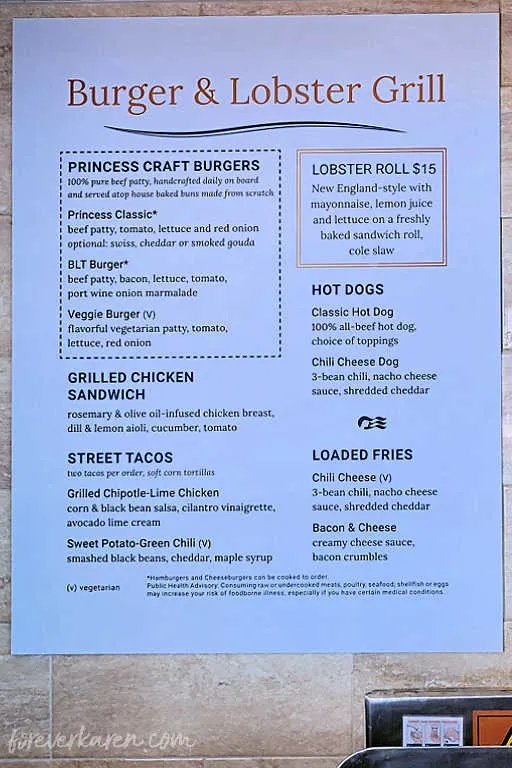 Never Judge The Food By The First Night
Since I have life-threatening food allergies, I don't have the luxury of doing anytime dining. Instead, I find it safer to eat at the same time, the same place, and with a consistent waiter. Before my cruise, I notified Princess of my allergies so they could add them to my booking.
On the first night, I always make an effort to connect with the Maitre D, who takes my food orders for the following day. I never saw the Maitre D or restaurant manager on embarkation day.
In fact, my waiter confused my food allergies with the lady beside me. It worried me that he kept repeating the wrong food allergies back to me.
In the end, while the meal wasn't fantastic, it didn't contain my allergens. Since I know turnaround day often comes with chaos, I never judge the food or the service the first night.
On my second evening, I met Dorde, the assistant restaurant manager. He became my food lifeline to eating safely onboard. Each evening, he'd provide the menus for both lunch and dinner.
Then, I would place my orders for appetizers and an entrée. The pastry chef would provide a dessert surprise, which they called the "pastry chef's choice."
Majestic's Concerto Dining Room Food
Although the complimentary food menu was limited, the food got better as the days progressed. I was surprised the menu had no symbols for gluten-free, lactose-free, or sugar-free items. The cruise line marked only vegetarian choices.
The menu contained a lot of seafood choices which made me a happy camper. My favorite meal was the herb-crusted leg of lamb, served with lamb jus and mint sauce. I ordered lamb twice, and both times, the lamb was cooked to perfection.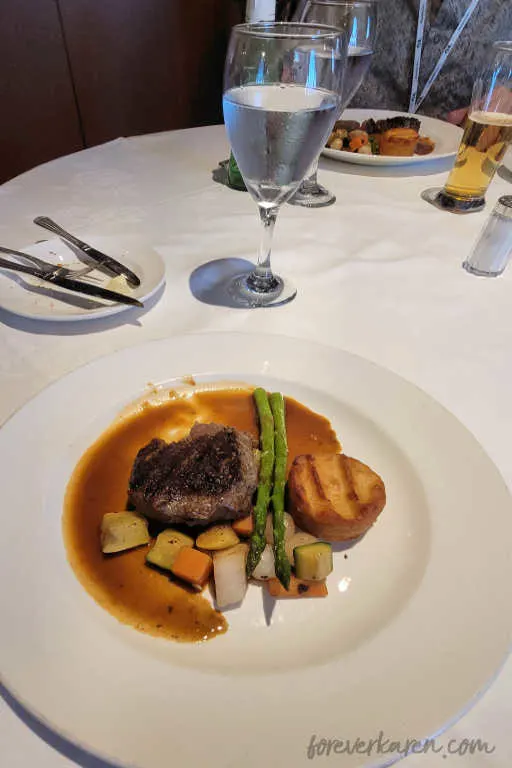 Some of the stand-out dishes included a seafood entrée of shrimp and scallops, a seafood appetizer with a fantastic aioli, and the surf and turf. Brian's favorites were escargot, prime rib, surf and turf, and onion soup.
On our second formal night, the dining room served lobster, a popular choice for cruise passengers. While my husband, Brian enjoyed his lobster entrée, mine was disappointing. My steamed lobster arrived dry with a baked potato.
Since the Majestic Princess carried no lactose-free spread, meals with a butter-based or cream sauce arrived dry, without flavor. I sent back the baked potato and requested some steamed vegetables instead.
On our last night, we enjoyed one of the best meals onboard; surf and turf. While some surf and turf entrees come with lobster, shrimp accompanied our filet mignon.
The galley cooked our meals perfectly, and mine even had gravy. For dessert, guests could choose Baked Alaska, a cruise favorite.
The Desserts
I felt Princess Cruises excelled in their presentation when it came to desserts. They are known for their Chocolate Journeys, so it was no surprise many of the desserts had chocolate embellishments.
Brian had a lime slice at the Crown Grill, which was exquisitely displayed on the plate. Another stand-out was his chocolate mousse. Since I needed desserts that were gluten-free, lactose-free, and nut-free, mine lacked the presentation.
Majestic Princess Specialty Restaurants
We wanted to try out the specialty restaurants during our cruise, which charge a cover fee of USD 29. However, due to my milk, gluten, and nuts allergies, Dorde recommended that I only try the Crown Grill, a steak and seafood restaurant.
The day before our reservation, I didn't have to pre-order my food from the Crown Grill menu. I was told the kitchen could adapt the dishes to eliminate my allergens.
We didn't try the Harmony Asian Restaurant. While I had read, they served an unusual Jellyfish appetizer; that item was no longer on the menu.
Instead, it had starters like Crab Rangoon, Peking Duck Salad, and Shrimp Spring Roll. Entrees consisted of Braised Pork Belly Ribs, Lemon Chicken, and Mongolian Beef.
The French restaurant Bistro Sur La Mer's menu consists of pasta with cream sauce. I found the layout of this restaurant rather odd.
Instead of being in an enclosed, intimate space like the Harmony, the Bistro covered an open area on deck 7 near the panoramic lifts. When guests were dining at dinner, others walked through as it was the main thoroughfare.
While Bitsro Sur La Mer couldn't accommodate my allergies on this ship, I eventually tried it on the Discovery Princess. You can read about the dining options on the Discovery.
Before our cruise, I had heard the Majestic Princess pizzeria made the best pizza, so I wanted to try it. While they had a gluten-free crust, they didn't have lactose-free or vegan cheese. Well, you can't eat a pizza without cheese.
So, I spoke to Dorde, who ordered a package of goat cheese to be sent to the Concerto Dining Room one night. If it was lactose-free, I could take it to the pizzeria and request they make a pizza with it.
Unfortunately, the goat cheese was mixed with cow's milk making it unsafe to eat. I appreciate that Dorde went above and beyond to find a way for me to eat outside the main dining room. Princess should give this man a raise!
Tip: If you're a big fan of specialty restaurants, sometimes the cruise lines offer discounts on the first night.
Dining In The The Crown Grill
We tried booking the Crown Grill using the Ocean Medallion, but it didn't work. So, we called guest services early in the morning and requested dinner seating at 6:30 pm on our Mazatlan port day.
Unfortunately, Brian got sick from something he ate in Mazatlan. We assumed it was the ice in his drink since I had none. By the time we arrived at the Crown grill, he didn't have much of an appetite.
So, he passed on his usual selection of rib-eye steak in favor of the Maine Lobster tail with peppery butter. I chose the New Zealand double lamb chops with rosemary essence.
Brian requested a garden salad as an appetizer, and I had the Jumbo Sea Scallops with Salmon Caviar.
For me, the appetizer was the best part of the meal. While Brian thought his lobster main was adequate, my entrée came with three stalks of asparagus and a bowl of fries.
Fries at a specialty restaurant, really? My waitress told me that since I couldn't have gluten or lactose, that was the only item they could make.
However, the waitress offered a salt menu to accompany my fries. The choices were Himalayan Mountain Pink Salt, Smoked Applewood Salt, and Hawaiian Black Salt. I chose the Black Salt, which was really good!
Even though Brian wasn't hungry, I asked him to order the Key Lime Pie Bar. We were blown away by the presentation, and he said it had a fantastic flavor. I received a tapioca pudding that was so bad that I couldn't eat it……….that's a first for me.
Tip: Don't leave your specialty dining reservation to the last sea day. On our cruise, the Crown Grill was constantly booked.
The World Fresh Marketplace
The Majestic Princess has one of the largest buffet areas I'd ever seen. The World Fresh Marketplace has two sections with a Bakery in the middle. Only one side was open during our cruise, which sailed at 68% capacity.
With both the bakery and one side closed, the buffet became congested with guests not always following the one-way system. We ate some breakfasts and some lunches in the buffet, but I found the selection limited and the dishes unappealing.
I could eat fresh fruit, eggs, and bacon for breakfast. The first morning, I tried the omelet station and requested fresh eggs (because carton eggs have other ingredients). My omelet arrived uncooked in the middle, so I stuck to boiled eggs after that.
Lunch was not much better. So, I stuck with the salad and baked chicken or fresh fruit. While we had read many negative reviews about the World Fresh Marketplace, we agreed it has lots of room for improvement.
Room Service
Since we had a couple of early port days (at 7 am), we decided to try room service. While I have taken more than a dozen cruises, I had never ordered room service once. We also had a Princess mini-suite with an extended balcony, so it was the ideal area to enjoy breakfast.
Breakfast had a limited menu with no bacon and eggs. Instead, there was cereal, fruit, a breakfast muffin, pastries, croissants, yogurt, juices, tea, and coffee. Our breakfast always arrived on time, and one morning, it came 15 minutes early.
I was happy to have just fruit, and Brian had yogurt and cereal. We ordered both orange juice and tea. On the day we arrived in Cabo San Lucas, we opened our curtains to see the famous Arch outside our stateroom.
With a bottle of Prosecco in our stateroom, we decided to have an impromptu Mimosa breakfast on the balcony in our bathrobes. It was a great way to add a little romance to our cruise.
Pre-Covid, Princess Cruises offered an Ultimate Balcony Dining experience, but this service was no longer available. No problem! We created our own memorable Champagne breakfast with a million-dollar view to boot.
Tip: Since I had an empty mini-fridge in my stateroom, I could stock it with fresh fruit from the buffet. I could also get boiled eggs which I could eat for breakfast. While I could heat them, I was happy to have some protein.
Princess Cruises Afternoon Tea
The Majestic Princess offers complimentary afternoon tea in the Concerto Dining Room. Since I'm half British, I couldn't resist the urge to go.
Being Celiac and lactose-intolerant, I didn't expect I could eat anything. However, I wanted to enjoy a good cup of tea and watch Brian enjoy the tasty treats.
I was surprised there was no selection in tea, just Orange Pekoe. Having been to many high teas in England, there's usually a tea menu. Even the Lake Agnes teahouse that you have to hike to in the Canadian Rockies has over 100 selections of tea.
However, when they came around with the sandwiches and pastries, I was astonished they had fresh scones with strawberry jam and English clotted cream. While I couldn't eat one, I ensured Brian had one for me! All the pastries and sweet treats looked terrific, and Brian said they were fresh and tasty.
As the tea progressed, my waiter presented a plate of gluten-free sandwiches with grilled vegetables. While the bread was dry, I appreciated the extra effort to serve me something.
Ordering Food With The Medallion
Since we were sailing a MedallionClass cruise, we had to order food through the app to test the speed of the service. The option to order food and drinks meant we could keep our prime seating spot in the Hollywood Conservatory.
Unless you're purchasing alcoholic beverages (without a drinks package) or requesting food from a specialty restaurant, it costs nothing to order. We wanted to keep the order simple.
So, we ordered a Pepsi, a Sprite, two salads, and a fruit bowl using the Ocean Medallion. Since our ship was sailing at 68%, we hoped the food would come fast. But it took 14 minutes to get our drinks and an astonishing 52 minutes to receive the food. It's a good thing, we weren't that hungry.
Final Thoughts
While we thoroughly enjoyed our cruise on the Majestic Princess, we felt the food choices were limited, and maybe this is due to worldwide shortages of ingredients. We wouldn't rate the food as the best, but it wasn't the worst.
We understand that times have changed, and we must adjust to the new "norm." We also understand that post-pandemic cruise ships are understaffed, and lines have made cutbacks to recover losses.
We found some dishes were outstanding and others were ok. Some of Brian's desserts were extraordinarily presented, and I'd comment that they were too good to eat.
Presentation is half the joy of eating because we eat with our eyes first. We loved the layout of the Majestic Princess, and I was thankful to have Dorde help me with my meal choices.
Happy travels ~ Karen