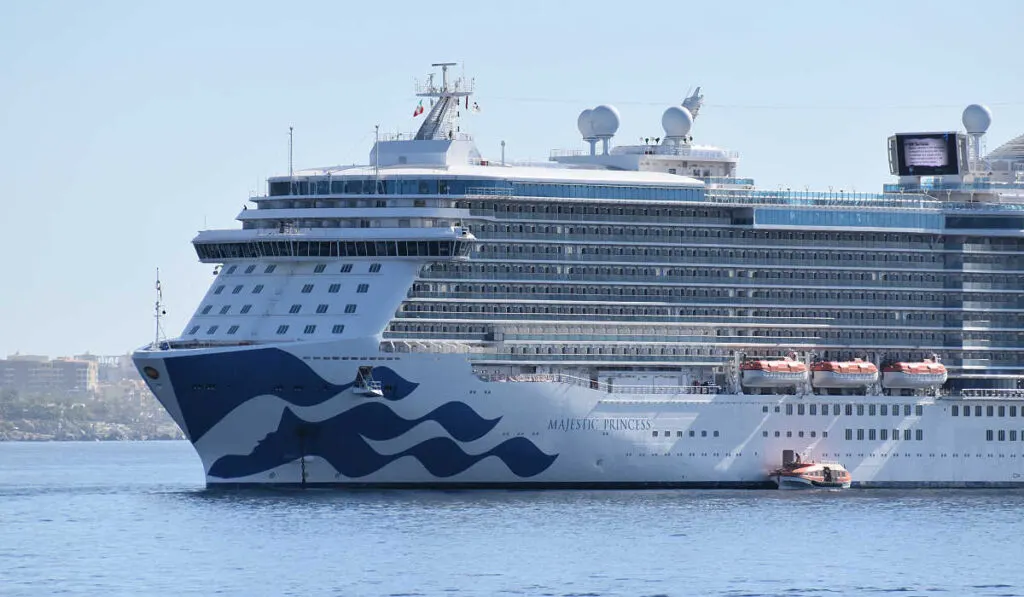 The Majestic Princess is one of the Royal Class ships within Princess Cruises. She is a larger vessel with 19 decks and can sail with more than 3500 passengers.
Princess has six ships in the Royal Class fleet. Launched from newest to oldest, they are the Discovery Princess, Enchanted Princess, Sky Princess, Majestic Princess, Regal Princess, and Royal Princess. Here's my review of the Majestic Princess.
Recently, Karen and I cruised the Mexican Riviera from Los Angeles on the Majestic. It was only my 2nd cruise onboard a Princess ship, and our mini-suite was the perfect cabin for our romantic "winter getaway"!
Cruising During the Pandemic
Our sailing occurred in early 2022 as the COVID-19 pandemic started its 3rd year. We had eight cruises canceled in two years, and this was our first post-pandemic cruise. While things were getting "back to normal," there were still some signs of the pandemic.
With a capacity of 3,560 passengers, the Majestic sailed with 2,475 guests, or at about 70% of its maximum capacity.
Even though we sailed under capacity, the crew struggled to keep up, due to lack of staff.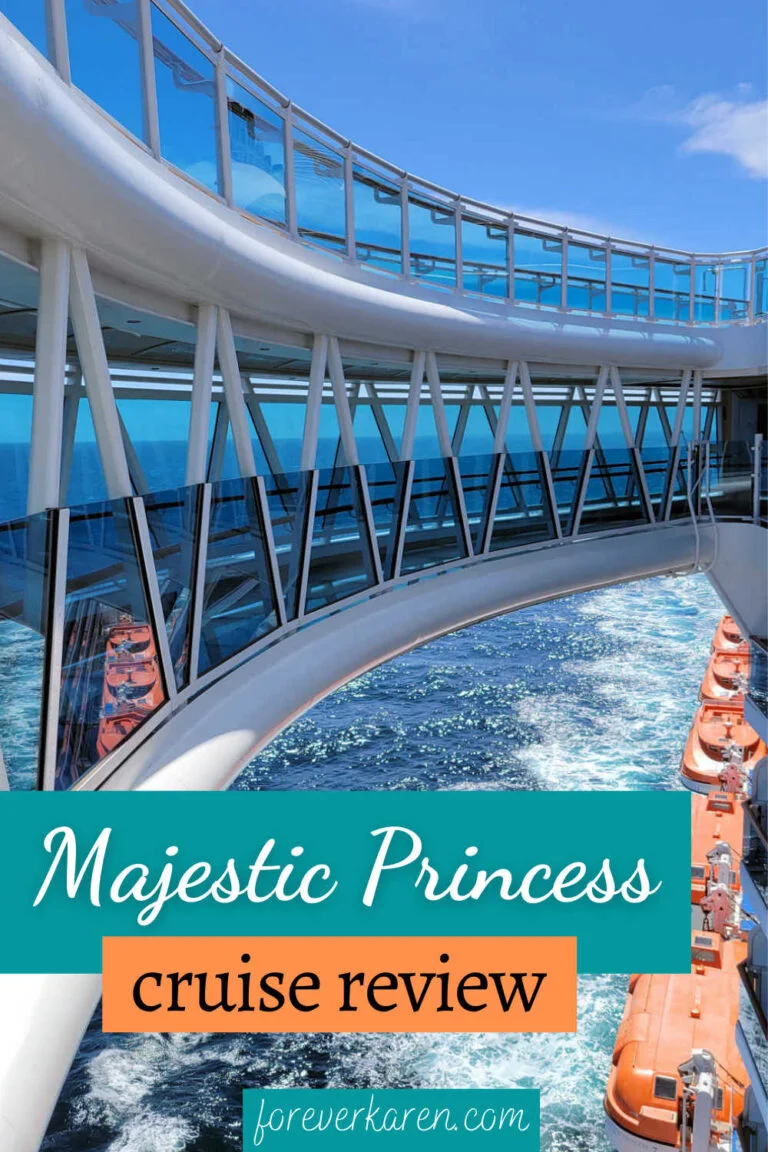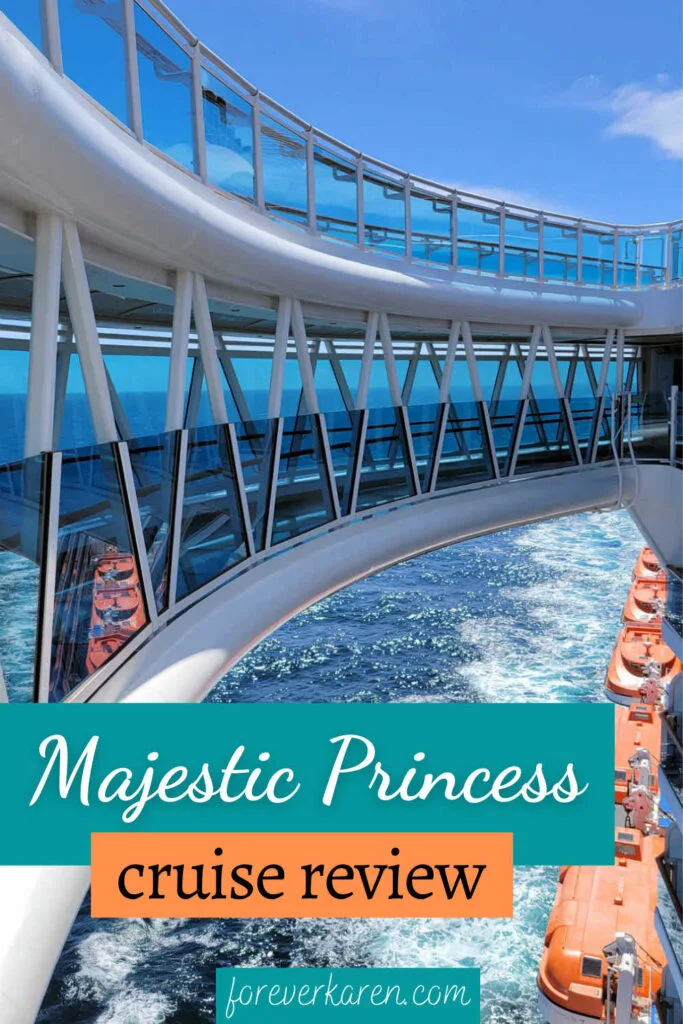 First Impressions Of The Majestic Princess
We boarded the ship at the Long Beach Cruise Terminal, not far from Los Angeles. While we arrived early, we waited a modest amount of time for embarkation.
One of the areas I always check out after boarding is the central grand area known as the Piazza on Princess. As a newer ship, the Piazza is impressive and provides an excellent view of 3 decks all at once.
While the central Piazza is definitely grand, the style was not to my taste. Even though she was built in 2017 and was barely five years old, it looked dated.
However, I tend to favor modern décor in my home and while cruising, so I cannot fault Princess for the style. I'm sure they considered it a timeless design.
The vessel has 19 decks, and although it can hold up to 3,560 passengers and 1,346 crew, it didn't feel large. I have cruised on the Crown Princess, and Karen has sailed on the Coral Princess, so this ship is much larger.
We liked the ship's layout and found it easy to get from one place to another. Throughout the vessel, we found numerous large-screen displays that aided navigation and were easy to use.
When I used an elevator the first time, I noticed the panel lacked the name of the decks. I found this very odd.
Since we regularly went to the Lido deck, we would look for Lido, but instead, there were numbers. It took a while to remember the numbers for specific venues.
Overall, the Majestic Princess is a large grand ship that showcases the Ocean Medallion experience. At five years old and due to the pandemic, she shines with newness since she was not sailing for a couple of years.
The Asian Decor
When reviewing the Majestic Princess's décor, it's hard not to notice the Asian influence. The Majestic took her inaugural cruise on March 31, 2017. Former NBA All-Star Yao Ming and his wife, Ye Li, christened the vessel.
A giant bottle of champagne was given to the ship during the ceremony. Today, guests can see the bottle in front of the International Café on Deck 5 or the Plaza deck.
The Majestic initially launched in the Asian market and was based in Hong Kong. I believe it intended to stay there.
However, with the pandemic impacting cruising in Asia, Princess decided to relocate the Majestic to North America.
Virtually all signage is in English and Mandarin, so there are no language challenges for passengers like us who speak only English.
Another thing that you notice is the Asian-theme décor in certain areas. The Hollywood Conservatory has an Asian Wishing Wall, Deck 18 features a Chinese dragon mural, and an exhibit around the Piazza once housed Asian trinkets, now sits empty.
The buffet dining area features glass panels with etched bamboo on the Lido deck. When it comes to dining, guests can choose from two Asian options in addition to other selections.
Browsing the ship, its décor is a little eclectic. I found picture mosaics on staircases of David Bowie, Mick Jaggar, and The Beatles. There is a humpback whale painting on an outside wall next to a dragon mural.
Color-Coded Hallways
One of the small things that we quickly appreciated was the different colors of the carpets on each side of the ship. Most cruise ships have contrasting carpets on different decks, but very few vary the color on each side of the vessel.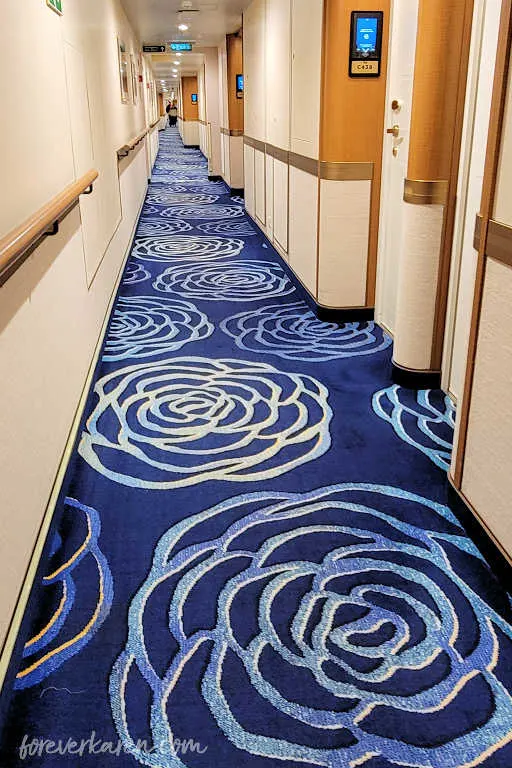 It can be frustrating after boarding and trying to get familiar with the layout of a new ship. You'll exit the elevators, not be sure if you are facing the bow or aft, and try to determine which hallway you should go down.
Our initial cabin was on a RED hallway, so after a quick look left and right, we could pick the right hallway to find our stateroom.
Even though we had to move part-way through our cruise due to noisy neighbors, the move was easy. We moved up two decks and from the RED hallway across to the BLUE hallway.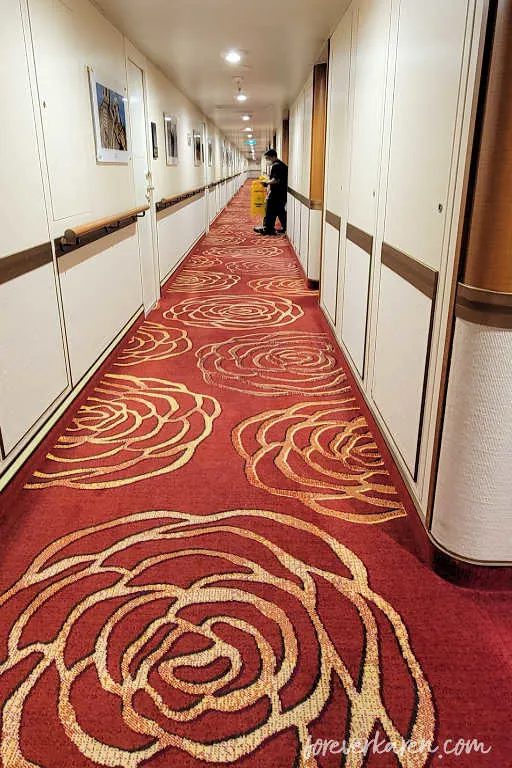 What a great idea, and our thanks to the Majestic's interior designers! We later cruised on the Discovery Princess, which lacked the color-coded carpets.
CruiseCritic Reception
CruiseCritic is an excellent community for cruisers. We have attended private receptions for CruiseCritic members on most of our cruises.
There are usually some of the ship's officers at the reception. One of the best things about the gathering is meeting other passengers.
At our meetup on the first sea day, there were about 50 people in attendance. The Hollywood Conservatory, located on Deck 17 at the front of the ship, hosted our event. Princess provided a modest selection of appetizers at the request of the organizer.
Everyone had the chance to introduce themselves and tell a brief cruising story. It was fascinating to meet fellow Canadians and hear about their adventures. Some of the attendees were first-timers, and some had been on probably a hundred cruises.
We made a few friends that afternoon, which added to the value of our cruise. By meeting other cruisers virtually before our cruise, we arranged a private group tour in Puerto Vallarta.
We enjoyed a 7-hour day to Chico's Paradise with 18 of our fellow cruisers, which only cost USD 40 per person.
The Hollywood Conservatory
Located on Deck 17 or the Sun deck, the giant skylights allow the sunlight to bathe the airy area. It is both eclectic and whimsical, with a collection of private cabanas, a giant chess set, and human-sized topiaries.
Throughout the space, musical instruments invite guests to create soothing sounds. The Hollywood Conservatory became one of my favorite areas on the ship.
Facing the forward direction, you have a constant view of what's coming on your journey. Since Princess designed the Majestic for the Asian market, this serene area replaced the Sanctuary. Quite frankly, I didn't miss the "pay for use" Sanctuary.
As we walked into the Conservatory on the port side, a Chinese Wishing Wall remained, a reminder of its origin.
After securing one of the private cabanas, we spent a couple of hours relaxing on large cushions before ordering our lunch via the Ocean Medallion app on our phones.
Sometime later, I heard my name called as the hostess entered the Conservatory to deliver our order. Unfortunately, drinks arrived in about 15 minutes, but our luncheon did not come for about 52 minutes. Needless to say, we were hungry once the server delivered our food!
Hollywood Pool Club
Located adjacent to the Hollywood Conservatory, the Hollywood Pool Club is that ideal resort getaway. The climate-controlled pool area is always balmy and warm regardless of the weather or temperature outside.
We found it was a very popular location for bathers during our March cruise from Los Angeles.
There was a generous amount of deck loungers, a jacuzzi, and "private" rooms on either side with a view of the ocean. However, it was sometimes hard to find an area to sit down.
The Majestic Princess repositions to Vancouver, Canada, for the Alaska season during the summer months. With an indoor oasis, this Royal-class vessel is ideal for Alaska. Its sister ship, the Discovery lacks an indoor pool.
Should you book a southbound Alaska cruise, your itinerary will include Glacier Bay and Hubbard Glacier.
Other Venues
The Majestic Princess has a modest library that is relatively small. Located on Deck 7 – Promenade, the library has many books and games. If you want that quiet area where you can read, the library would be the ideal place.
However, if you're going to play a game with family and friends, it's better to take a game and play it somewhere else.
Since we rarely gamble and try to avoid the casino because it is one of the few places on the ship where guests can smoke. It has the usual number of slot machines, gaming tables, and other places to take your money.
I suffered from Asma over the years, so I couldn't spend very long in the casino without finding it hard to breathe. However, the Ocean Medallion allows guests to gamble on the app without stepping foot in the casino.
The Majestic has nine bars located on Decks 5, 6, 7, 16, and 17. Many of them open until 11 pm, and the Hollywood Pool Club Bar operates until 2 am.
SeaWalk
Glass floors that are suspended in the air have become very popular in the past twenty years. No matter where you travel in the world, you are likely to find one in your travels.
The Majestic Princess is no different, and their SeaWalk is a fun place to visit during a walkabout.
Guests can find the SeaWalk on the Lido's starboard side or Deck 16. On the port side, a smaller glass floor runs next to the SeaView Bar.
During the day, you can watch the ocean race beneath you. At night, the walkway lights up to give a different perspective.
Entertainment And Shows
The evening shows are held in the large Princess theater that spans both Deck 6 and 7. The Majestic Princess had a good variety of entertainment during our cruise, with lots of dancers, Vegas-style entertainers, a magician, and a comedian.
However, we found certain entertainers performed for more than one night. While we like Cheaza, a singer who sang Whitney Houston's songs, the comedian was a miss for us.
So, for a couple of nights, Karen and I chose not to attend the evening show. As a result, I would rate the nightly entertainment and shows as good but not great.
By comparison, on our earlier cruise to Hawaii on board the Celebrity Eclipse, we didn't miss a single night of shows and found them to be of higher quality.
While it's not fair to compare one cruise to another, I don't believe that Princess is known for having the greatest shows at sea.
Regardless, the entertainment was good and much what I expected. In addition to the large main theater, the Majestic has smaller theaters, such as Princess Live and the Vista Lounge.
Princess used these venues for smaller attractions or presentations, such as during the afternoon on sea days. We attended an informative session called "Life@Sea," where our Cruise Director Natalie talked about what it's like to live and work at sea as one of the officers of Princess Cruises.
Entertainment also included "Deal or No Deal," "Rock the Room," and the "YES NO" game shows.
The Pool Deck
Princess was the first cruise line that offered a giant outdoor screen for showing movies, sports, and many other types of presentations.
Karen and I enjoyed the padded loungers with comfy blankets, hot tea, and popcorn while watching a good movie on a couple of evenings.
Movies, concerts, and shows were only shown once, which disappointed us. Since we had a set dinner time, we missed seeing Michael Bublé and Shania Twain in concert.
The Lido deck was always packed on sea days as guests gathered around the large Fountain Pool. On the opposite side of the Fountain Pool, a smaller circular pool has shallower waters.
There are two hot tubs on Deck 16 and two more one level up. A circular deck with water jets featured "Princess Watercolor Fountain Fantasy" shows. The shows ran twice per evening, usually at 6:30 pm and 9 pm.
The fountain shows change each night, and the water dances to music. If you've seen the Bellagio fountain show in Las Vegas, this one is similar but on a much smaller scale.
One night they featured Michael Jackson, and another night, Frank Sinatra songs.
Children And Youth Services
Camp Discovery is devoted to providing a fun area for kids aged 3 to 12. Princess also provides a kid-sitting service for a small fee.
Youth programs have become a vital area for cruising families, and the Majestic Princess has a dedicated team to meet your needs.
While reviewing the area, we were impressed with the kids' spaces and the selection of activities. In the youth area, teens can play air hockey, skee ball, or choose from many PS4 games.
During our cruise, there were 65 youths aged 12-17, but the numbers would swell during cruises when kids were not in school.
Fitness And Play Areas
The Majestic Princess has a large basketball court on Deck 18 at the ship's aft. It's the perfect area for your teens to hang out and shoot some hoops. It was never too busy, but watching the occasional pick-up game was fun.
Next to the basketball court, exercise equipment encourages guests to get fit while watching the game. Along the deck, large murals adorned the metal walls.
Who can resist a photo with butterfly or angel wings? One deck down, five ping pong tables allowed guests to play table tennis, and these were always busy.
There is a fully-equipped fitness center with a wide selection of equipment to keep every part of your body in shape. It's open 24 hours and is busy during the typical early morning rush.
There's lots of equipment, and even during busy times, I was always able to get access to treadmills. Although, since we were sailing at 70% capacity, it might be a different story when the ship is full.
The Promenade Deck, or Deck 7, has an outside walking area. It's a great place to sit and escape the crowds on the Lido. Unfortunately, the walkway doesn't circumnavigate the whole deck if you like to walk laps.
One of the missing venues on the Majestic is a mini-golf course. While it has a tiny putting green, it was always busy with youngsters using the area for drinking alcohol.
The Lotus Spa
Like most modern cruise ships, the Majestic Princess spa area is a significant source of revenue for the cruise line. The massive spa offers fitness, beauty, wellness, and spa treatments.
The procedures include massages, skin treatments, teeth whitening, hair services, etc. There are even acupuncture treatments, a men's barbershop, and other nature-health services if that appeals to you.
The "Enclave," the thermal spa, was lovely but lacked the majestic ocean views. For our 7-day cruise in March 2022, Princess charged USD 49 a day, USD 179 a week, or USD 299 a week for a couple.
The spa limits the number of passes to 35 to 40 for each cruise.
One of Karen's biggest disappointments was the spa had no complimentary saunas and steam rooms. If interested in spa services, take the complimentary tour on embarkation day.
Reviewing Majestic Princess Cabins
We booked a balcony cabin in Princess' 'Mini-Suite' category, and it was spacious and well-equipped. Our Majestic Princess mini-suite was 299 sq. ft and much larger than a typical balcony cabin.
They are also located in a prime area mid-ship. I was very impressed with the ample storage for clothes and luggage. We later tried a balcony stateroom on the Discovery Princess.
We found the cabin had more storage than needed, although we are efficient packers. Also, the extra space width was a "luxurious treat" because most balcony cabins are not much wider than the Queen bed, so you have to squeeze by every time you walk through the stateroom.
I also appreciated the desk and work area. As travel bloggers, if we were on a lengthier cruise – e.g., 14+ days – we would consider bringing both our laptops.
Having a generous desk means we could work on our blog on sea days. Although, we try for a 'digital detox' to relax and enjoy the voyage.
Of the 1780 staterooms, 80% are outside cabins. The Majestic Princess has 36 suites, 374 mini-suites, 313 Deluxe Balconies, and 715 Balcony cabins. There are no actual "outside" (no balcony) staterooms. The remaining 342 rooms are interiors.
What To Do About Noisy Neighbors?
Our cruise on the Majestic Princess happened during Spring Break for some of the U.S. universities. So, across the hall from our mini-suite was an inside room with four young ladies of college age. The first night was not a problem, but they were not quiet for very long.
My wife Karen is a light sleeper; at 2 am, she could still hear guys pounding on the door across the hall. With frequent door slamming and music blasting, it was impossible to sleep. So, at 2:30 am, Karen made a complaint.
With a visit from security, the young girls reduced the noise for the rest of that night. However, the next night the noise continued. After much back and forth with the customer service agent and a manager, our only option was to move!
While we didn't want to move, according to Princess Cruises' policy, they couldn't move the rowdy crowd because they hadn't requested it. So, the noisy youngsters got to stay, and we had to relocate.
While our initial mini-suite had a double-sized balcony, the new cabin had a slightly smaller one with less privacy. We agreed to the switch if it meant we could get a good night's sleep. With the new cabin approved, three porters arrived 20 minutes later to move our things.
In less than five minutes, they moved everything from our closets and loaded our packed luggage onto the dolly. Within 30 minutes, we had packed, unpacked, and settled into a new stateroom two decks up.
While changing cabins on a cruise was never fun due to noisy neighbors, I felt Princess treated us respectfully. We even received a complimentary dinner at the specialty restaurant – Crown Grill & Bar Steakhouse.
In addition, when we returned to our stateroom, we found a complimentary bottle of champagne. While Karen and I don't generally drink, we created an impromptu mimosa breakfast while looking out on the sun-drenched Pacific Ocean.
Laundry Services
One of the features I like best on Princess Cruise ships is that they offer a self-serve laundromat. Even on just a 7-day cruise, I like the option of being able to do a quick wash and dry.
The laundromat includes a complimentary iron and ironing board if you want to look your best on formal nights.
On the Majestic Princess, the laundromats are on all decks with cabins. On older vessels, the laundromats are on alternate decks but are still very convenient. The washers and dryers are token-operated.
At the time of this writing, each token was reasonably priced at USD 3. Even better, we could use the Ocean Medallion instead of carrying quarters.
I don't mind doing laundry on vacation, and it's cheaper than cruise lines like Celebrity, which offer only paid-for laundry services. A small bag of dirty clothes on other lines would likely cost you USD 50 or more.
Complimentary Dining Options
Princess Cruise Line has a reputation for good quality food, and the Majestic is no exception. The Majestic has three large complimentary dining rooms; the Concerto, Allegro, and Symphony. They can accommodate several hundred guests in two sittings.
Since Karen has life-threatening allergies, on the first evening, we asked to speak with the Maitre d'. It wasn't until the second night that "Dorde," the assistant restaurant manager, introduced himself.
A wonderful gentleman from Serbia, Dorde went above and beyond the call of duty and impressed us with his exceptional service.
Other complimentary dining options included the Burger and Lobster Grill (although the lobster roll incurs a fee), Alfredo's Pizzeria, Chopsticks Noodle Bar, and the International World Fresh Marketplace (buffet).
Guests could also get soft-serve from the Swirls Ice Cream Bar and pastries at the International Café.
The buffet was only partially open during our cruise due to us sailing at the tail-end of the COVID pandemic.
The service was slow as they were short-staffed, which created a long lineup of hungry guests. However, the table service was generally excellent once we were seated.
Since Karen is British and my grandparents were English, we both appreciate the experience of "High Tea." On Princess, they offer their complimentary version called Afternoon Tea.
It surprised us that they only offered English Breakfast tea – with or without caffeine. There is usually a selection of teas during authentic High Tea, and picking one can be part of the fun.
We also noticed the presentation lacked the white gloves service. Although, there was a good selection of sandwiches and even clotted cream and scones.
Specialty Dining Review
The Majestic Princess offers several specialty dining restaurant experiences available for an additional charge. Chef's Table Lumiere is a classy private dining experience where you get your own secluded space for up to 10 people.
Other specialty options include Bistro Sur La Mer (French Bistro), Crown Grill (steak house), and Harmony Restaurant (Asian).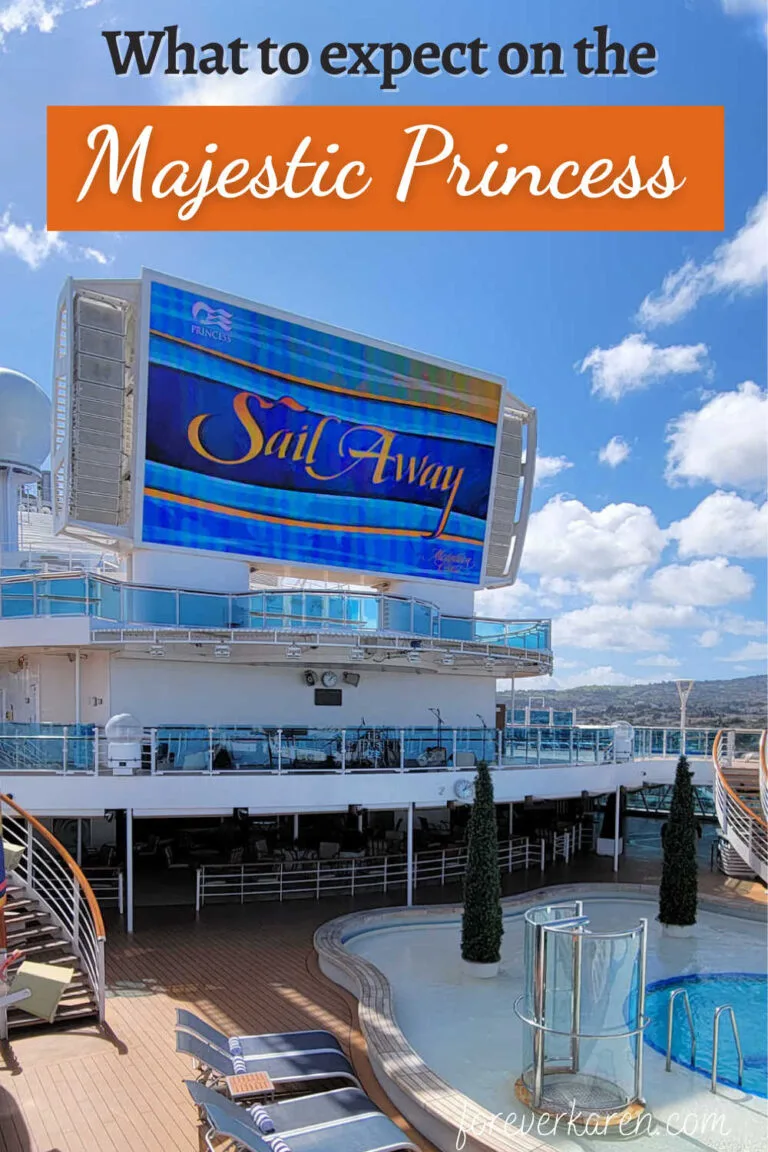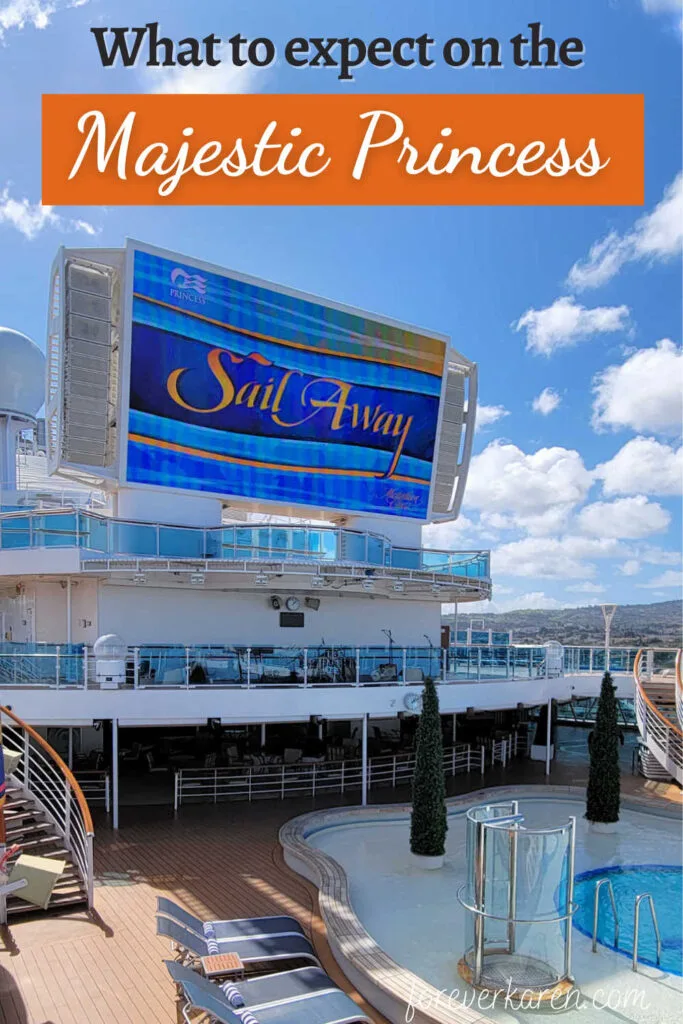 As a guy who loves a good steak, I am drawn to checking out the onboard steak house while I cruise. We dined at the Crown Grill one evening to sample the fare. Overall, my dinner was good but not exceptional as I had hoped.
Karen was disappointed because of the limited options available. Guest Services had covered the cost of this due to our cabin change. In the end, we were unimpressed and glad it was no charge for us.
The layout of the specialty restaurants surprised us. While the Harmony had an intimate location with elegant décor, the steak house and French Bistro were part of other areas.
The seating for Bistro Sur La Mer is in the Piazza with no enclosed walls. So, those walking by can see what you're eating. The Crown Grill and Crown Grill Bar share a space, with only a half-wall between them.
Due to Karen's allergies to gluten, lactose, and nuts, we couldn't eat at Harmony or Bistro Sur La Mer. Overall, we wished dining on the Majestic Princess would expand to offer more specialty restaurants, maybe a Brazilian, Japanese, or Mediterranean option.
Final Thoughts
Both Karen and I felt that the Majestic Princess was a grand vessel. We appreciated the luxury and convenience of a Medallion-class ship, which provided a quality cruising experience.
I have always found that the Princess line appeals to a wide range of cruisers, and would recommend the Majestic to everyone who loves to cruise.
If you are a fan of Mega-ships such as those found with Royal Caribbean, Norwegian, or MSC, then the Majestic Princess may not suit you.
With only 3,600 passengers, there are no Go-Carts, Rock-Climbing Walls, or Ziplines. However, there is a great cruising experience that Princess is known for.
We enjoyed our relaxing cruise getaway to the Mexican Riviera. There was lots to do, the food was good, and we weren't bored for a minute. We would definitely sail the Majestic again when the opportunity arises.
Happy cruising ~ Brian and Karen