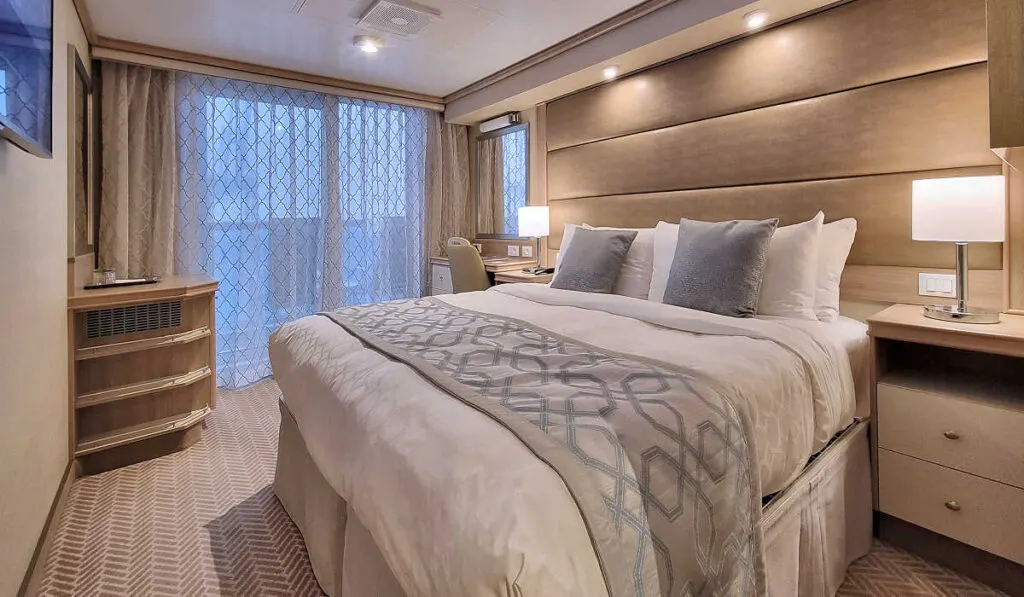 In this Discovery Princess balcony cabin review, I'll share why I selected this type of stateroom and my thoughts on the overall layout and features. You'll learn about other stateroom options and the pros and cons of booking them.
We cruised the Mexican Riviera on the Discovery Princess, the newest vessel in the Princess fleet. It was our fourth time sailing this itinerary.
We had previously cruised to Cabo San Lucas, Mazatlan, and Puerto Vallarta on the Majestic Princess and were looking to escape the winter.
Although the Discovery and Majestic are both Royal class vessels, the Discovery has more cabins and a higher passenger capacity.
Balcony Cabin Choice
While we cruise as a couple, on this trip, we were bringing my mum, who was visiting us from England. At 81 years of age, I wasn't sure if she'd like cruising.
We considered cruising with three to a stateroom, but since balcony cabins only have a Pullman bed, we'd need to upgrade to a mini-suite. If we chose a mini-suite, we'd pay for three adults.
However, choosing two cabins meant we'd pay a single supplement, so Princess would charge me for four adults. Ultimately, we decided on two balcony cabins because we preferred mum to have her own space, which was the less costly option.
Since mum goes to bed at 9 pm and we stay awake until after midnight, it made much more sense to have separate spaces. While we couldn't get adjoining rooms, we were on the same deck, with one room between us.
B129 Balcony Cabin Review
During our 7-day cruise on the Discovery Princess, we stayed in balcony cabin B129, and mum was two doors away in B121. Both rooms were identical.
While we enjoyed a mini-suite on the Majestic, the balconies are significantly smaller.
At 222 square feet, including the balcony, the overall interior space was about 180 sq. feet. Being less than a year old, its newness was evident around the ship and in the cruise cabins. I liked the choice of colors, which were calming and soothing.
The room had a queen bed (which could be separated into two twin beds), a mini-fridge, and a desk that could double as a vanity. Since the Discovery Princess cabins have walk-in closets, this category lacked the space for a couch.
The bed was extremely comfortable, and the duvet was heavenly. In fact, I remarked it was the best cruise ship bed I've experienced on 17 cruises!
The bedside table lamps featured a USB plug, allowing guests to charge their phones on BOTH sides of the bed. There were a couple of sockets at the desk, one for North America and a couple for Europe.
The 40" flat-screen was hung opposite the bed since there was no sitting area. Since adjoining cruise cabins mirror each other, the TV in the adjoining room was hung behind ours.
With the cords running through holes in the wall with no soundproofing, we could hear their TV whenever it was on.
We didn't miss the couch in the living area except when we ordered room service. With no sofa and table, we had to eat our breakfast on the bed (and thankfully, we had no spills!).
The walk-in closet was extensive and provided more space than we needed. Adjacent, a cupboard housed the small safe and five shelves for folded items. There were six drawers in the bedroom area too.
Outside, the balcony was tiny, with little leg room once you sat down. I sometimes found the balcony door hard to open due to its tight fitting and newness.
The bathroom was your typical small space with a shower. It surprised me that the shower stall had a curtain, especially for a new vessel. However, the curtain was weighted and didn't stick to me in the shower.
The shower had a retractable clothesline, Lotus Spa shower gel, 2-in-1 shampoo, and conditioner. By the sink, the sample Lotus Spa products included soap and lotion.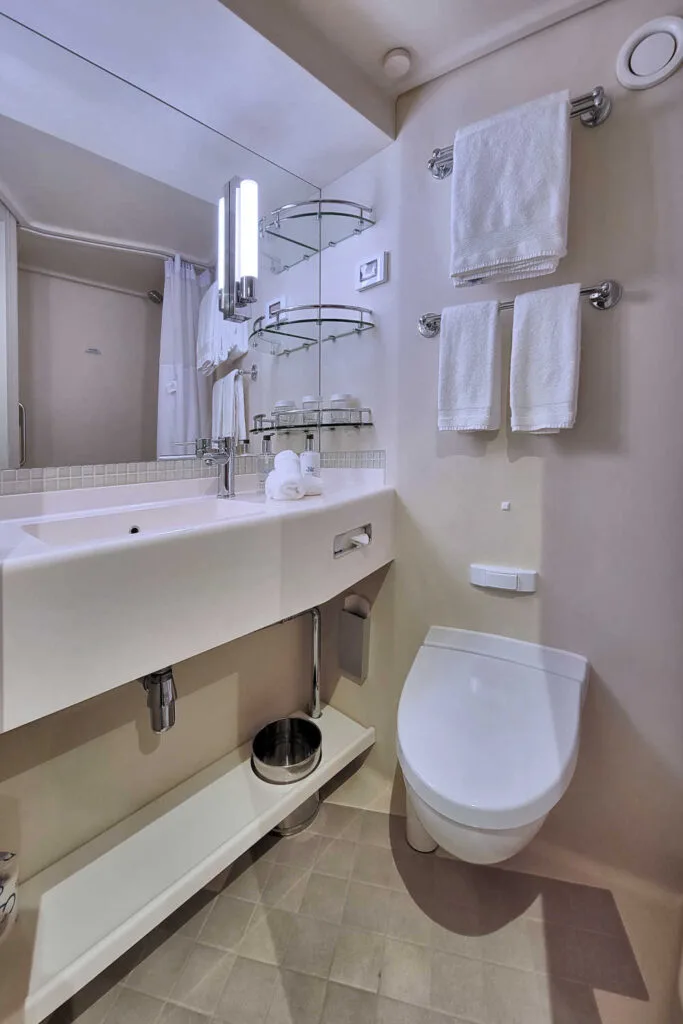 Since all Princess ships use MedallionClass technology, we used our Ocean Medallions to open the stateroom doors, which mum really liked.
Other Stateroom Options
Princess Cruises recently joined Celebrity, Royal Caribbean, Norwegian, and Azamara, who offer a "bid for an upgrade" program. Princess invited us to bid for a higher category of cabin. Since we had staterooms close together in a location we liked, we chose not to bid.
It's important to know that should you bid and win; you cannot pick the location of your new cabin. If you dislike its location, you cannot return to the original cabin.
The extended balcony gives an extra 10 to 20 square feet as an alternative to a balcony cabin. While that may not seem like much, you will get a small couch.
Choosing the best stateroom for you can come down to many factors. It could include budget, the number of people traveling, and if anyone suffers from motion sickness.
Discovery Princess Interior Cabin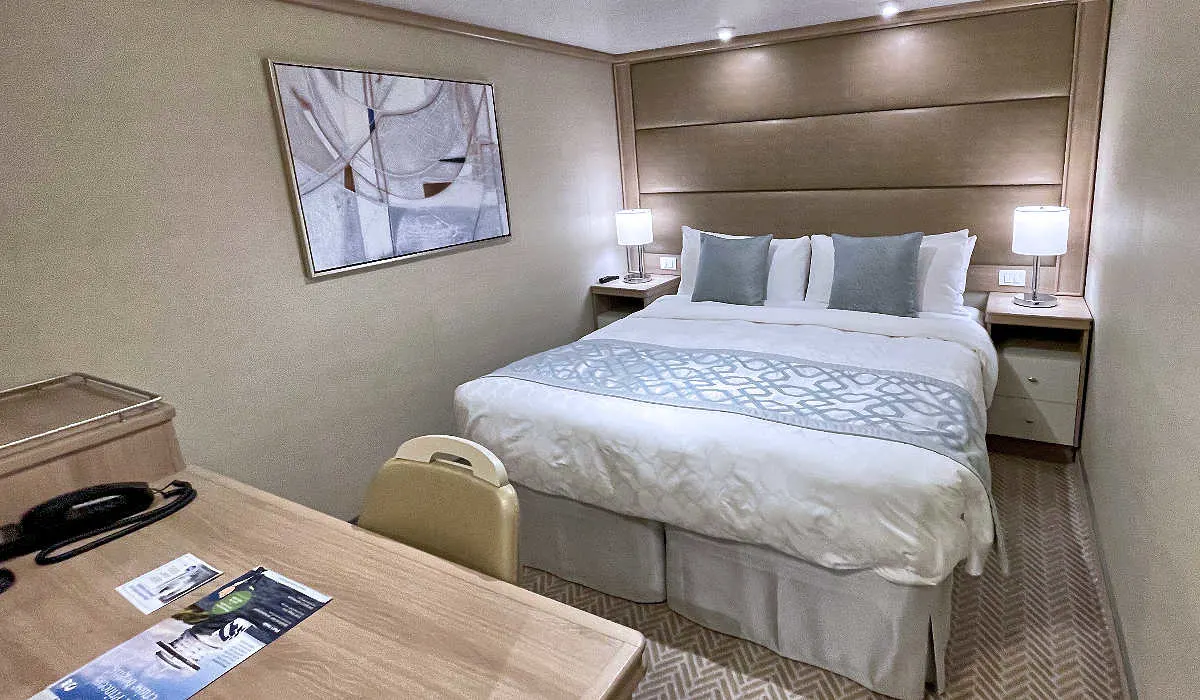 We viewed an inside cabin, which was much bigger than others I'd seen on competitor cruise lines. At 166 to 175 sq. feet, it was a little smaller than our balcony stateroom.
The stateroom had a different layout but still had the same size bathroom and walk-in closet. The desk and mini-fridge are positioned together, opposite the bed in this category.
The TV wasn't quite opposite the bed. It was hung over the mini-fridge and tucked in the corner of the room. Overall, the cabin has the same hanging and drawer space as the higher-category balcony cabins.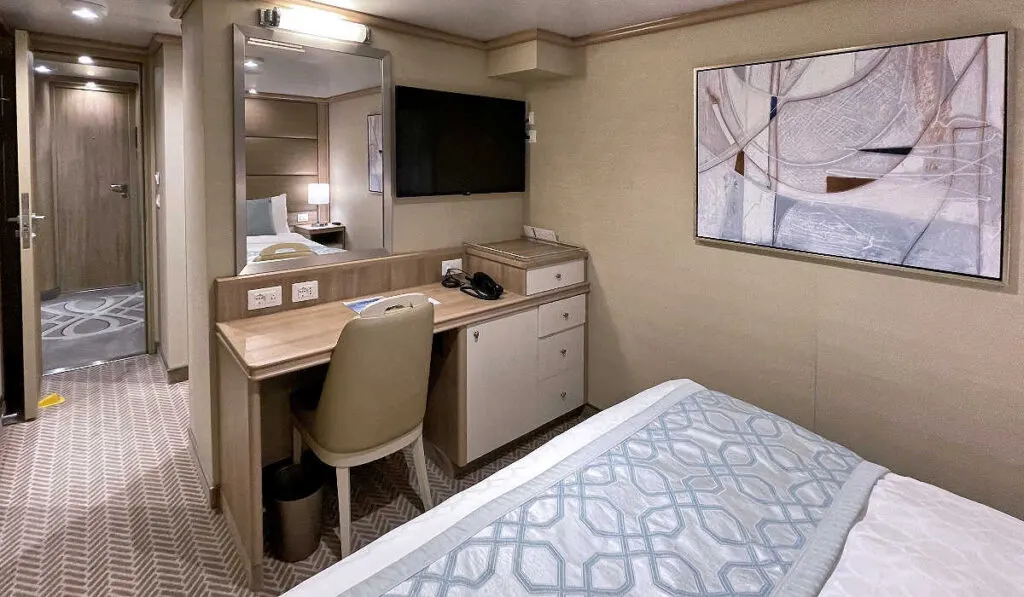 Interior cabins are great for those on a budget or need a dark space to sleep. Staterooms mid-ship are ideal for those with motion sickness.
Deluxe Oceanview Stateroom
Oddly enough, the Discovery Princess has very few oceanview cabins. You can find six cabins on deck 17 or the Sun deck at the ship's bow. At 172 sq. feet, they are slightly smaller than a balcony but have an identical layout.
Located at the bow, they have a sizeable sloping window with complete privacy since there's no deck outside. If you enjoy those views when pulling into a port, this is the room for you.
However, because there are at the front of the vessel, you will feel more motion. So, if you're prone to motion sickness, you may want a different cabin category mid-ship.
Mini-Suites
Mini-suites are ideal if you want more space or cruise as a family. There are three categories of mini-suites; basic, Club Class, and Premium. The Premium mini-suites (category M6) can measure up to 558 sq. feet, including the balcony.
Since the basic and Club Classes are larger at 299 sq. feet, the oversized couch opens to accommodate two more people.
The Discovery Princess mini-suites are identical to the mini-suite we enjoyed on the Majestic Princess. A family of four can enjoy the space comfortably.
This category has two TVs, one in the sitting area and one opposite the bed, and a privacy curtain separates the two spaces. Mini-suites come with upgraded linens and a table, which is handy for ordering room service.
The addition of a bathtub in the bathroom is ideal if traveling with small children.
Mini-suites benefit from premium locations mid-ship, perfect if you're sensitive to motion. You'll benefit from double the outdoor space if you book a cabin with an angled balcony.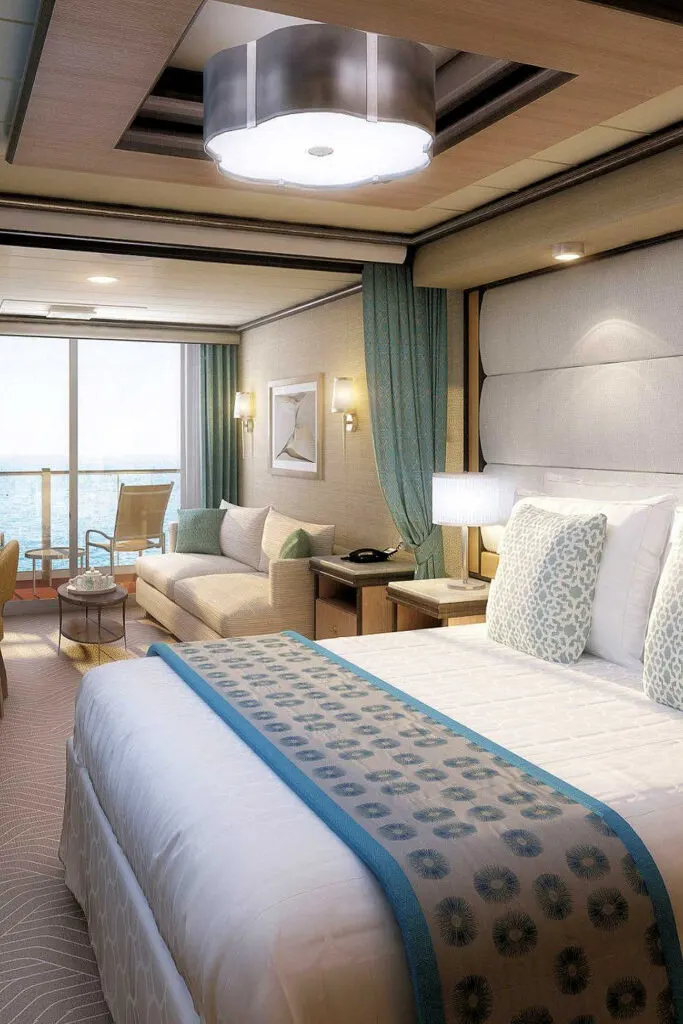 Since these staterooms are in a higher category than insides, oceanviews, and balconies, you will pay a slightly higher gratuity.
A step up, the Club Class min-suites offer identical staterooms with extra perks, like priority embarkation, priority disembarkation, evening canapes, and Club Class dining.
Discovery Princess Suites
The Discovery has six categories of suites, with Window Suites offering no outdoor space and the colossal Sky Suite, which is larger than most condos at 1,873 sq. feet (including the balcony).
There are only two Window Suites on deck 17, either side of the Oceanview cabins at the ship's bow. These staterooms are roomy at 710 sq. feet. They are ideal for families as the sofa bed accommodates two more. Also, the bathrooms have separate showers and bathtubs.
One step up, the Vista Suites are smaller at 441 sq. feet but have a private balcony. The Discovery has only six Vista Suites on deck 17 at the bow.
Like the Window Suites, these contain a sofa bed, separate bathtubs, and showers.
The Premium Suites are roomier at 554 sq. feet. Overall, there are eight Premium Suites, all located at the corners of the ship's bow. There are two cabins on each deck from floors 9 to 12.
Since these suites can accommodate four, they will benefit from extra balcony furniture of two chairs and two loungers.
This category enjoys the perks of a complimentary mini-bar set-up, upgraded bathroom toiletries, a Luxury Princess bed, and priority embarkation and disembarkation.
A step up, the Penthouse Suites offer the same amenities as the Premium cabins. You can select from 26 staterooms in two different locations.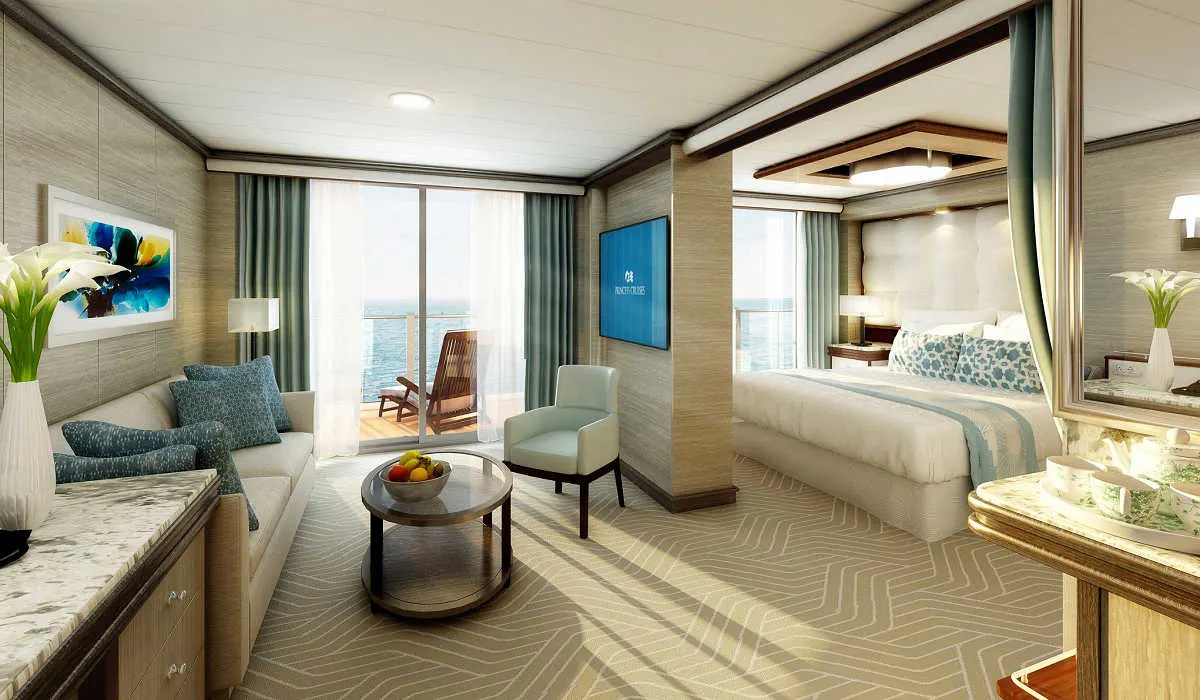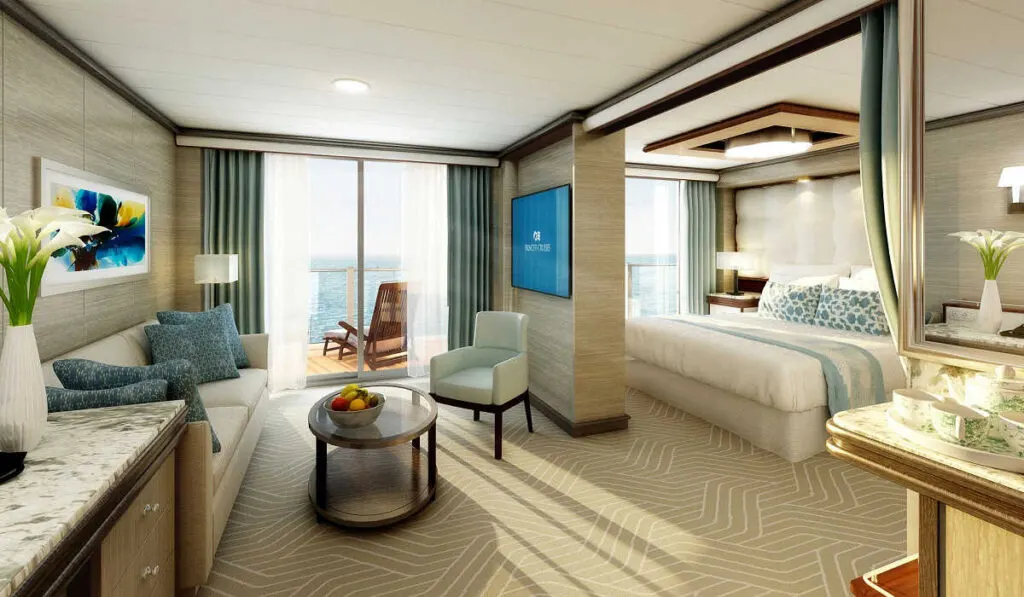 While some of them are aft from decks 9 to 15, you can have a cabin on either side of the vessel.
Located on deck 14, on either side of the Wedding Chapel and Concierge Lounge, you can find fourteen more staterooms. If you're prone to motion sickness, the location of these cabins might serve you better.
At 587 to 682 sq. ft, the Owner's Suites are the second to largest staterooms onboard the Discovery Princess. These are located aft and offer wrap-around balconies.
If you enjoy a wake view, these provide that and the benefit of extra space. Since only two of these cabins are onboard (deck 8), you'll have to book early to get one.
Top of the line, you can choose from two Sky Suites on deck 18. These include a 1,000 sq. foot balcony offering 270 degrees of unobstructed views.
These luxury accommodations can sleep five. You'll also have close access to the retreat pool, the retreat pool hot tubs, and the Sanctuary, just across the deck.
To elevate your cruising experience, why not book a cabana in the Sanctuary for a secluded spot onboard?
Discovery Princess Cabins To Avoid
Princess has done a great job laying out the cabins to avoid obstructions and noise. Since staterooms start at deck 8 and the casino and most of the bars are on decks 5 and 6, there are few cabins to avoid.
If you're concerned about privacy, on deck 9, cabins D145 to D227 and D701 to D725 have extended balconies. Passengers in higher balconies can see into these balconies providing no privacy.
On deck 8, E101 to E110, have steel railings instead of plexiglass, obstructing your view. On the same deck, cabins E228 to E315, E 414 to E506, E524 to E612, and E622 to E631 are all obstructed. The lifeboats obstruct these deck 8 cabins.
Light sleepers should stay clear of deck 8, above the Promenade deck's public areas. Mid and aft of deck 15 are below the Lido deck, so you may experience noise from staff moving the loungers.
You'll hear the buffet foot traffic at the aft, which can start early and end late.
On decks 15 and 16, the bow staterooms don't have access to their balconies at sea due to high winds. These include M101 to M108 and L101 to L108.