Celebrity Cruises has a strong brand and positions itself as an premium cruise line. I sailed on the Celebrity Eclipse ship as part of my honeymoon cruise from Vancouver to Hawaii, and in this review, you'll discover what we loved about the ship.
The Celebrity Eclipse offers weekly to Alaska out of Vancouver from May to September in 2023. However, the Celebrity Edge will replace the Eclipse to Alaska starting in 2024.
You can also sail on the Eclipse from Los Angeles, Boston, and Fort Lauderdale. Other destinations also include South America and Antarctica.
On our cruise, the Eclipse lived up to that reputation. If you are a Cruise Critic follower, contributor, or read cruise reviews, the Eclipse won many 2019 Cruisers' Choice Awards, including:
#3 Best Overall Ship
#9 Best Cruise Ships Cabins
#7 Best Cruise Ships for Fitness & Recreation
#6 Best Cruise Ships for Public Rooms
#1 Best Cruise Ships for Service
#2 Best Cruise Ships for Value
Celebrity Eclipse Facts
Celebrity Eclipse is a Solstice-class cruise ship operated by Celebrity Cruises. She was the third vessel built in the Solstice series, later followed by the Silhouette and the Reflection.
While the Millennium class ships like the Celebrity Summit are popular, the Solstice class is 30% larger. The Eclipse is the sister ship of Celebrity Solstice, Celebrity Equinox, Celebrity Reflection, and Celebrity Silhouette.
Celebrity Eclipse First Impressions
We boarded the ship at the downtown Vancouver Cruise Terminal after taking the Skytrain from Vancouver airport. It was my first time aboard a Celebrity Solstice-class ship, and once on board, it's timeless décor impressed me.
Immediately after setting foot on the ship, we were handed a glass of champagne. What a nice touch because it made us feel like we were at a party, a celebration.
This created the perfect start to our honeymoon. Plus, the crew that greeted us were all smiles as we began our leisurely tour of the ship.
The first thing I couldn't help but notice was the amazing décor. Celebrity is a premium cruise line and makes extensive use of art throughout the ship.
Its central atrium features a large tree which reaches up to the skylights. Above it, a stunning library with high ceiling provides a great place to read a book.
There was a sense of class and sophistication as we went through various restaurants, bars, lounges, and sitting areas.
Celebrity Eclipse Obstructed Balcony Review
While searching through some cruise deals, we chose Celebrity Eclipse for its itinerary. We had booked an obstructed balcony cabin, and it was immaculate and much what I expected.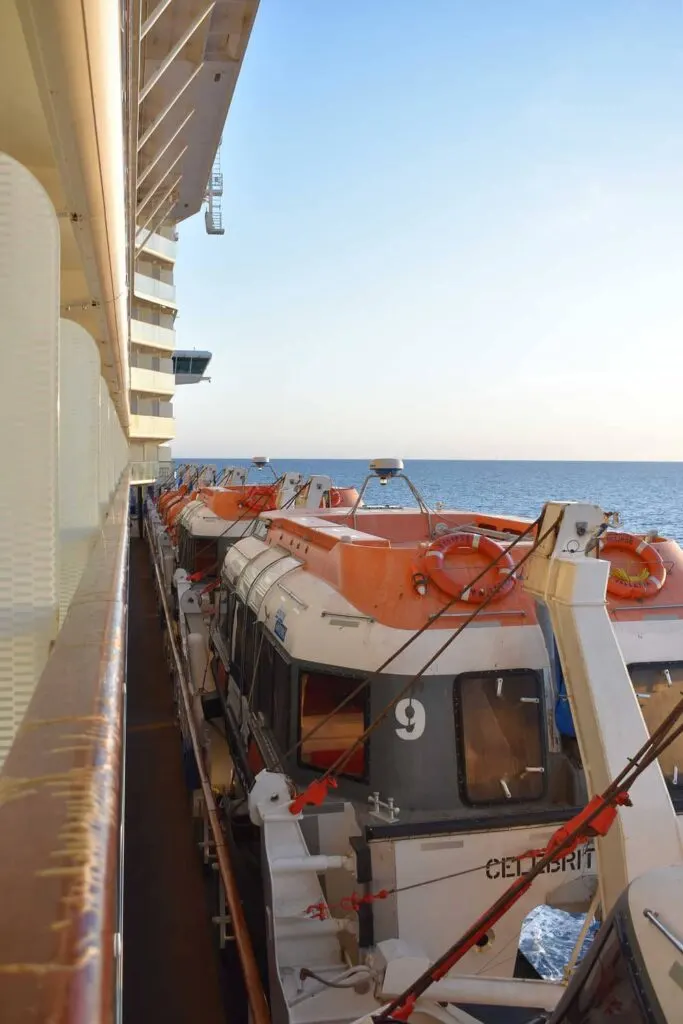 There was ample storage for our clothes and luggage, but we have learned to pack 'efficiently' over the years.
Surprisingly, there was storage over the bed. While we didn't use this storage area, it would come in handy if you're cruising with more than two.
The stateroom had a large sofa, desk, mini-fridge, and flat screen TV. However, it lacked the USB sockets next to the bed.
While we had an obstructed balcony cabin and could see the top of the lifeboats, it didn't distract from our enjoyment of the balcony.
The bathroom was roomier than other cruise lines, and I especially liked that the shower had a door and no pesky shower curtain.
It also had plenty of storage, and there was no need for an over-the-door organizer that most cruisers like to use.
The Celebrity Eclipse has almost 1300 staterooms ranging from a 183 sq. Ft inside cabin to the 1291 sq. Ft penthouse suite with a separate bedroom. 85% of the cabins have a balcony, so you can enjoy the sea views and relax on your deck.
We later cruised on the Solstice and chose an inside stateroom to compare the space. It was just as roomy with lots of storage too.
CruiseCritic Reception
If you are not a member of CruiseCritic, consider signing up ahead of time. That way, you can attend the private reception put on by the Eclipse Captain and crew at the start of the cruise.
It's an excellent opportunity to meet other passengers and the crew. Sometimes these groups organize a cabin crawl, which gives you the opportunity to see other staterooms.
Daily Planner
The newsletter is delivered to your room daily throughout the cruise. It is packed with information, and one of the handiest sections is The Daily Planner listing all the activities, games, and entertainment available throughout the ship.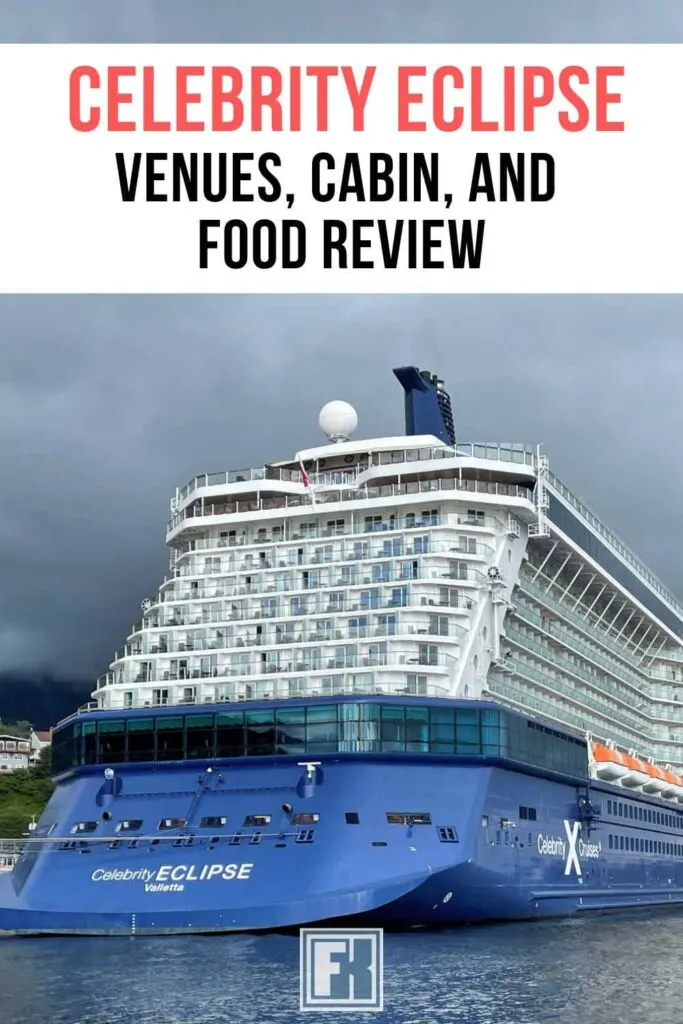 One handy feature of the Daily Planner is that it is printed in multiple languages for the convenience of Celebrity passengers. During port days, the newsletter highlights suggested shore excursions
Like many cruise lines, Celebrity encourages guests go paperless, and use their app instead. The app features a "my calendar" which keeps track of restaurant reservations, spa treatments, and shore excursions.
The daily planner allows you to look up activities, entertainment, and excursions. If you're hungry, you can find what's open at a glance.
Celebrity Eclipse Dining Options
Celebrity Cruise Lines is known for its high-quality dining, and the Eclipse is no exception. In my opinion, Celebrity has the best food of any cruise line I have experienced.
The Eclipse has a mix of complimentary dining venues and some specialty restaurants. If you're cruising in Aqua class, you'll have access to Blu, and guests in suites can eat at Lumiere.
Reserved for Celebrity Eclipse suite passengers, the Luminae restaurant offers a culinary experience with extraordinary service. The décor is beautiful and elegant as you would expect for passengers in more expensive accommodation.
Described as "globally inspired and cutting-edge dining," the menu varies but includes entrees such as Veal Cannelloni, Seared Cod, or traditional fare such as Grilled NY Strip.
Main Dining Room
Other than the occasional specialty restaurant, such as Le Petit Chef, we had most of our dinners during the late dining (8:30 pm) seating in the Moonlight Sonata. The décor is stunning, and the seating is spread over two levels.
They also have a two-story glass wine cellar that showcases approximately 1,000 bottles of wine.
The service here is exceptional, and because you have the same waiter/waitress each night, you quickly get to know your servers.
We were greeted by name each evening, and the service was some of the best services I have ever had – on land or at sea!
Since Karen suffers from life-threatening allergies, eating in the same restaurant each night is far safer. Each evening, the Maitre D would visit and go over the next day's lunch and dinner menus with Karen to accommodate her food allergies.
On evenings when I was feeling particularly hungry and adventurous, I would order two entrees. There were always certain staples on the menu each night, such as New York Steak.
However, they would also add variety with other choices each evening.
Dress Code
Many cruise lines have traditionally had a formal night where guests were required to dress up (suit and tie for the men and formal dresses for the women) when dining in the main dining room.
However, recently, this has changed on Celebrity with their announcement to "Say goodbye to Formal Night, and hello to Evening Chic."
Men can now wear pants or designer jeans with a dress shirt, button-down shirt, or sweater. A sports coat or blazer is now optional. Women can wear a skirt, pants, or designer jeans with an elegant top, but a cocktail dress is optional.
You can still wear a tuxedo or formal gown on Evening Chic nights if you prefer. Cruises that are seven nights or longer will have two Evening Chic nights, and cruises 6-nights or shorter will have one Evening Chic night. During our 'Evening Chic' nights, Karen and I still dressed to the nines!
Oceanview Café
The Oceanview Café is the daily buffet that is open daily from early morning until late in the evening. We had most of our breakfasts here, and other than occasionally waiting for a table during peak times, we always had a great experience.
Regardless of your food preferences, allergies, or dietary restrictions, you are always able to find something delicious to eat.
Karen was especially thrilled to find food marked with labels showing if they were gluten-free, lactose-free, vegan, or vegetarian.
Table clearing service was always prompt, so the entire crew had been well trained to provide the best customer experience.
One of my favorite times on our cruise was during Easter. The chefs put out a fantastic display of chocolate and various desserts that were colorful and delicious.
Throughout the Oceanview Café, Easter eggs were randomly left for passengers to take. The Easter bunny even showed up to hide eggs for the kids in the Lawn Club.
They would also do occasional culinary themes during dinner. One evening, the theme was Indian cuisine, which was my favorite.
Specialty Dining
The Eclipse offers several specialty dining restaurants at additional costs and not included in your cabin fare. The specialty restaurants each offer a different culinary experience, but all are worth trying depending on your dining preferences.
The specialty restaurants include Murano, Tuscan Grille, Qsine (Le Petit Chef), and Sushi on 5.
Murano
The Murano is a classic French-inspired restaurant and offers fine dining in an elegant setting. The menu includes caviar and entrees such as Chateaubriand for Two, Dover Sole Veronique, and Lobster.
While we didn't dine in the Murano on this trip, we tried the food on the Celebrity Solstice, and it was amazing.
Tuscan Grille
Not surprising, this restaurant is Italian-inspired, but its location at the rear of the Eclipse is one of my favorite features because it provides some fantastic views.
It has the perfect spot to catch a beautiful sunset, depending on where you are traveling. The Tuscan Grille menu features homemade pasta, Lobster Alfredo, various steaks, and more.
Qsine – Le Petit Chef
Le Petit Chef at Qsine offers a fantastic dining experience that uses 3D video and multimedia while dining. Qsine is one of the specialty restaurants, and it is best to reserve ahead of time if you want to ensure your seat.
Qsine is also a Celebrity Cruise Line exclusive, which is even more reason to experience it if you are cruising on the Eclipse.
Le Petit Chef is a miniature character that creates your meal for you via a presentation that plays out on your table. The performance is exceptionally well done and entertaining at the same time.
However, the food didn't quite match the excellence from the other specialty venues. In our opinion, Le Petit Chef is more about the show than the cuisine.
The menu consisted of two different main courses to maximize the impact of the integrated show. During your dining experience, the lights dim, and the silent Le Petit Chef appears on your table while he catches or cooks your next course.
Sushi On 5
Sushi on 5 offers the traditional sushi rolls, sashimi, hot pots, nigiri, and starters. If you don't want to eat Japanese for dinner, you have the option to go for lunch.
Unlike other specialty restaurants which have a set price, at Sushi on 5, the cruise line charges a la carte pricing. We found the pricing very reasonable.
It's important to note if you are gluten-free, Sushi On 5 has gluten-free soy sauce to accompany your meal. They can also accommodate other food allergies.
We ate at Sushi on 5 for lunch one day. The service was great and the sushi delicious. We tried the shrimp tempura udon and sunset roll. Both were extremely fresh and well presented.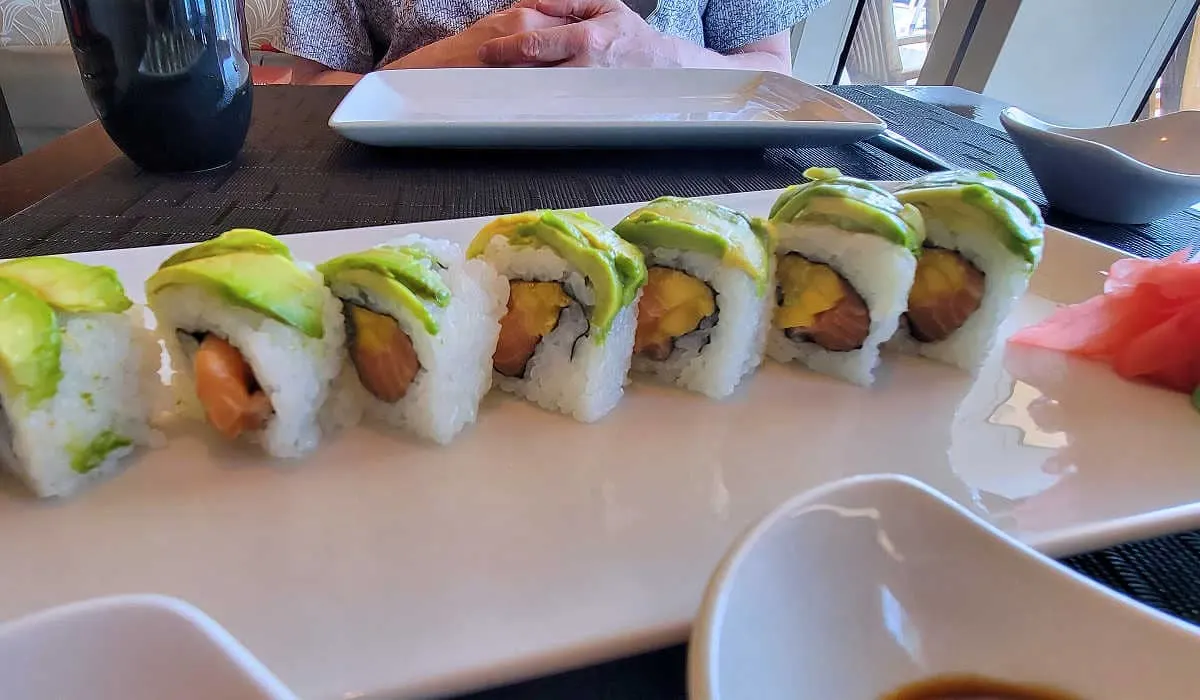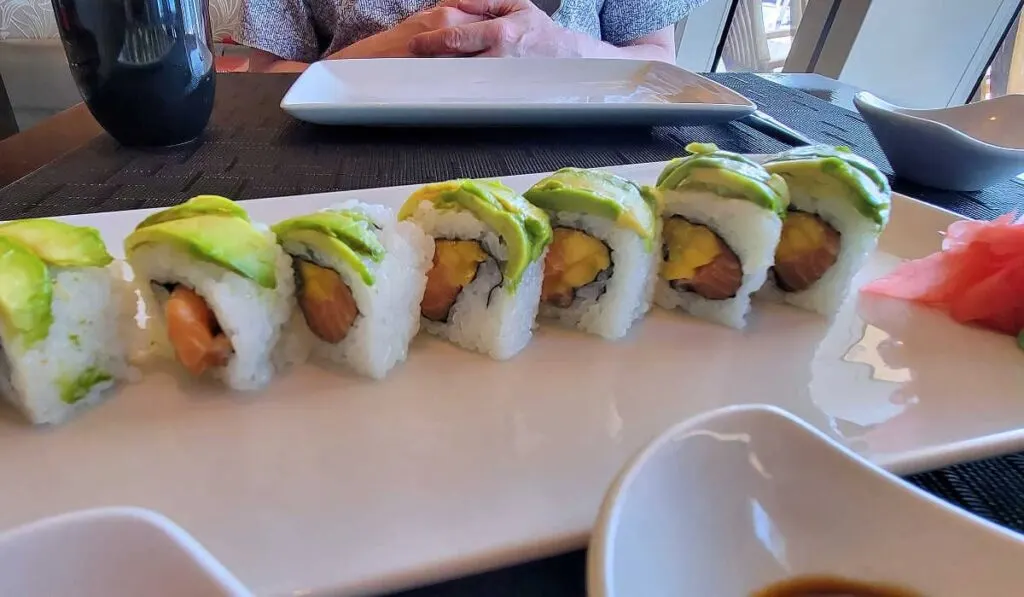 Celebrity Eclipse Entertainment
Celebrity prides itself on providing enjoyment for all ages that is high quality and in line with its premium brand. While most cruise lines tout their entertainment, I was very impressed with the range of shows and especially the quality of performers.
Unlike other cruise lines, Celebrity Cruises allows passengers to take photos and encourages them to share them on social media.
The Eclipse Theater is the main stage and provides the same show twice nightly to correspond with the two main dining options.
During our 12-day cruise, we saw rock concerts, local Hawaiian performers, and incredible shows. Our favorite, "Topper," was similar to Cirque de Soleil.
Celebrity Central is a smaller theater reserved for movie screenings, comedy shows, and other specialty entertainment. The Easter Sunday Service took place during our Easter cruise in the Celebrity Central Theater.
Activities
As one of Celebrity's largest ships, the Eclipse has many activities available regardless of your age. For me, that is one of the reasons that I prefer to sail on a bigger ship – especially during 'at sea' days.
Karaoke
For those of you that are courageous karaoke fans, you have to give the nightly club a try. I can't sing a song without being way off-key, so I tended to just enjoy the show. Karaoke sessions are held in the Quasar on the Promenade Deck (deck 4).
It was lots of fun, and while you sometimes hear the same people singing the same song multiple nights, there's always a cheering audience with warm applause.
On a couple of nights, some of the "amateur" singers were professionals who sang in touring bands, so they set a high bar, but regardless of your singing ability, everyone had a great time.
Silent Disco
Silent disco is not unique to Celebrity Cruises, but this is a 'must-try' evening activity. It's a fun activity where everyone on the dance floor is wearing a wireless headset but listening to different tracks of music. You can pick your own theme, and the headsets glow in different colors according to the type of music.
Even if you can't dance, everyone shakes away and makes a fool of themselves as they jive to their favorite tracks. If you take off your headset, you can occasionally hear cruisers singing along to different tunes. During Silent Disco, you can change your theme if you don't like the track playing.
The Library
The Library is an impressive two-story sanctuary in the large atrium with beautiful sunlight from the above glass ceiling. Stocked with lots of games and books to pass away the hours, it's a popular spot amongst cruise ship passengers.
During busy times such as sea days, it's best to arrive early if you want to grab a table or comfy chair because families or groups will sit for hours playing bridge or other games.
Celebrity's Hot Glass Class
Unique to Celebrity Cruises is the Hot Glass blowing studio. While any type of fire is usually banned on all cruise ships for obvious reasons, the fire in the kiln burns throughout the entire cruise.
On the Eclipse, head to deck 15, and you'll find the hot glass blowing class next to the Lawn Club. The Hot Glass Class offers amazing demonstrations and classes where passengers can make their own unique glass sculptures under the guidance of expert instructors.
Jeff Mick and Victoria (Torey) Buckland led the classes during our Celebrity Eclipse cruise.
Fortunes Casino
The casino is your typical fair with a large number of slot machines, gaming tables, and other places to take your money. Yes, you can probably tell I'm not much of a gambler because I know "the house never loses" in the long run.
Since Hawaii does not allow any gambling, the casino remained closed as we toured around the islands during our Honeymoon cruise.
Canyon Ranch Spa
Focused on fitness, beauty, and wellness, the Canyon Ranch full-service spa provides the perfect sea-day amenities. We thought the thermal spa was especially nice as the heated beds overlooked the ocean.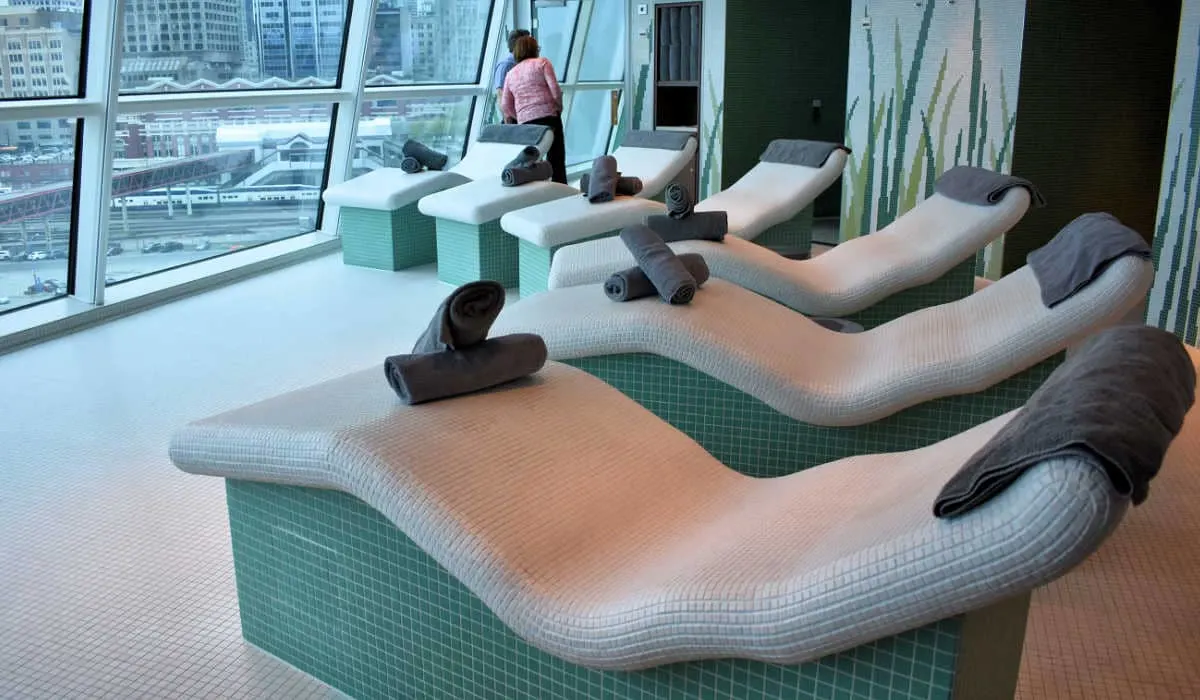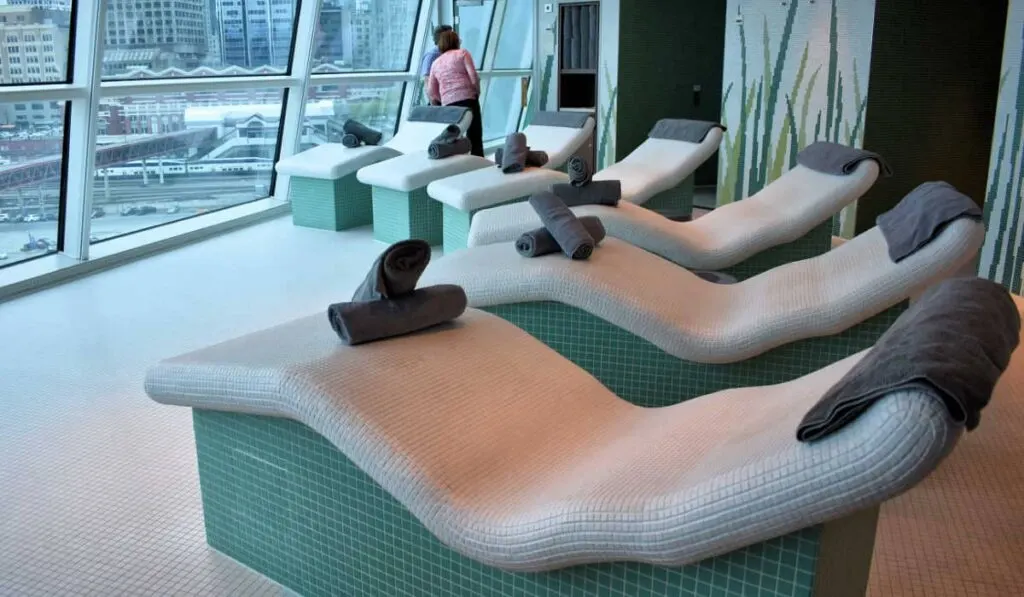 At Canyon Ranch, you can enjoy a wide variety of activities and services such as fitness classes, massages, skin treatments, teeth whitening, and much more.
Martini Bar
With its ice-covered surface and entertaining bartenders, the Martini Bar is worth a visit even if you're not a drinker.
We visited the Martini Bar a couple of times just to watch the talented bartenders create intriguing cocktails and the show-stopper Martini Flight in full action.
Children and Youth Services
Celebrity has the Fun Factory for kids and X Club for teens. During peak family season, these areas can often have hundreds of kids of all ages, and the area is professionally managed with a wide variety of activities.
Kid and youth programs are not unique to Celebrity, but they can provide a welcome escape for your kids who may not want to do what you are doing, and they give a chance for all kids to make new friends during the cruise.
The "Super" Captain
I have traveled on several cruises, but I have not encountered a ship captain quite like the "Super" Captain. Captain Leonardos Palaiokrassas is a fourth-generation Captain and has been with Celebrity since 1997.
While most captains participate in the obligatory "Meet the Captain" evenings, the Super Captain could be seen almost daily walking about the ship, engaging with passengers, being on stage in a comedy act with the Cruise Director, welcoming passengers during embarkation and debarkation, and more.
We had the incredible privilege of interviewing him during one of the port days. We found him to be honest, humble, professional, and a genuine person concerned about the welfare of his passengers.
Celebrity cruise ships have two captains who alternate with 3-month terms throughout the year. We had the great fortune to have Captain Leo on our honeymoon cruise to Hawaii.
The Pool Deck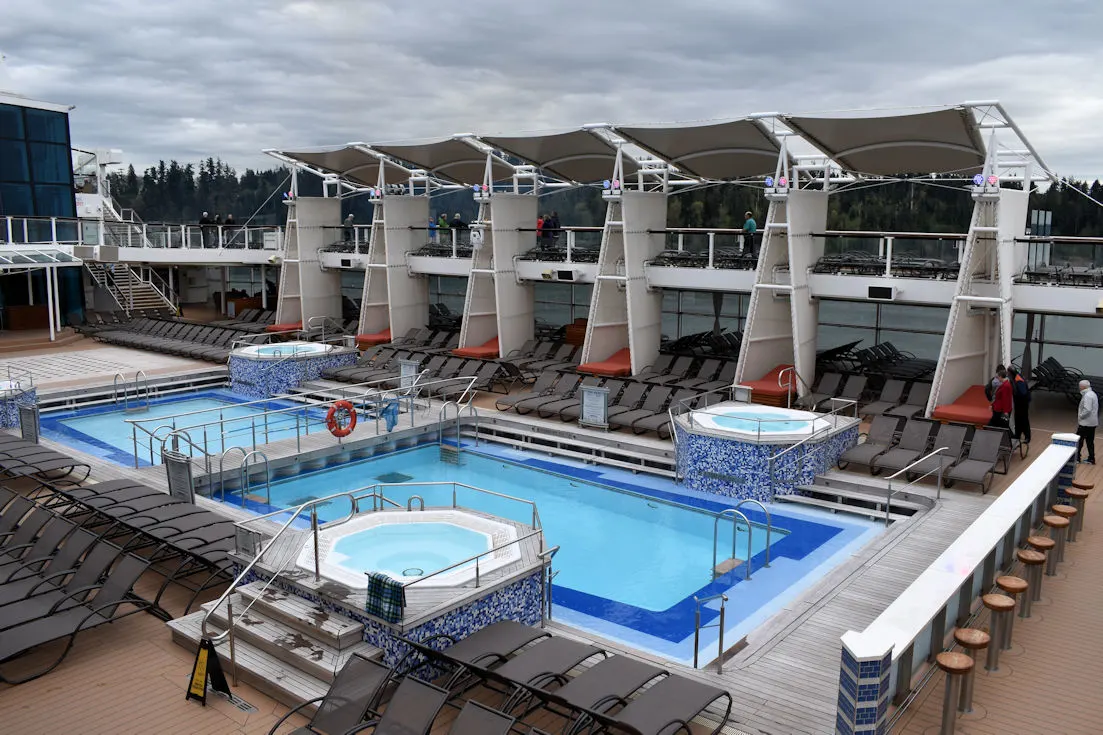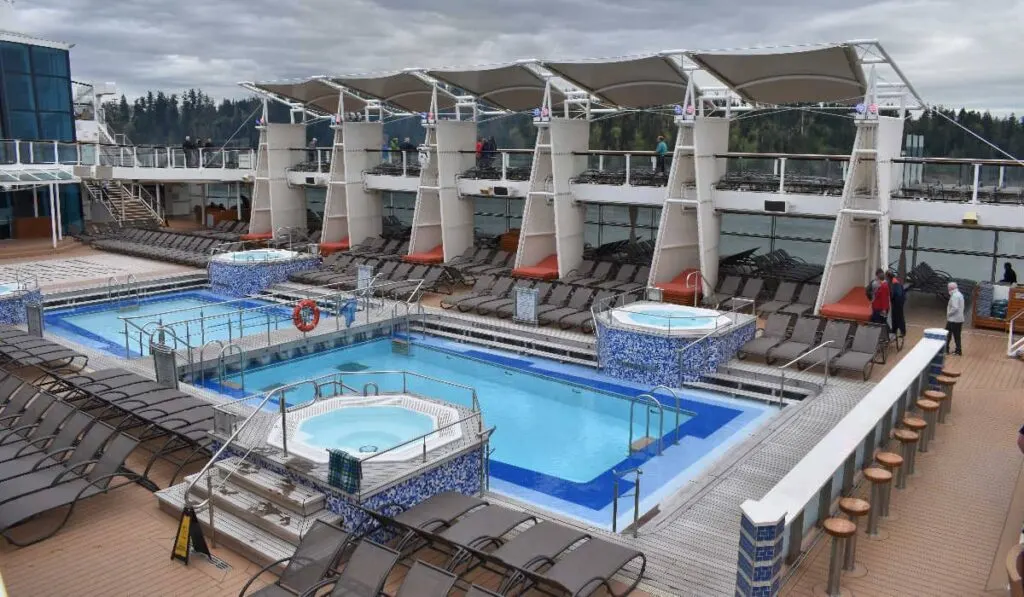 No cruise ship is complete without the popular pool deck. Located on the Resort Deck, passengers can find plenty of loungers to enjoy the sun.
There is a kids shallow pool next to a sports pool, plus a wet zone. Surrounding the pool area are four hot tubs.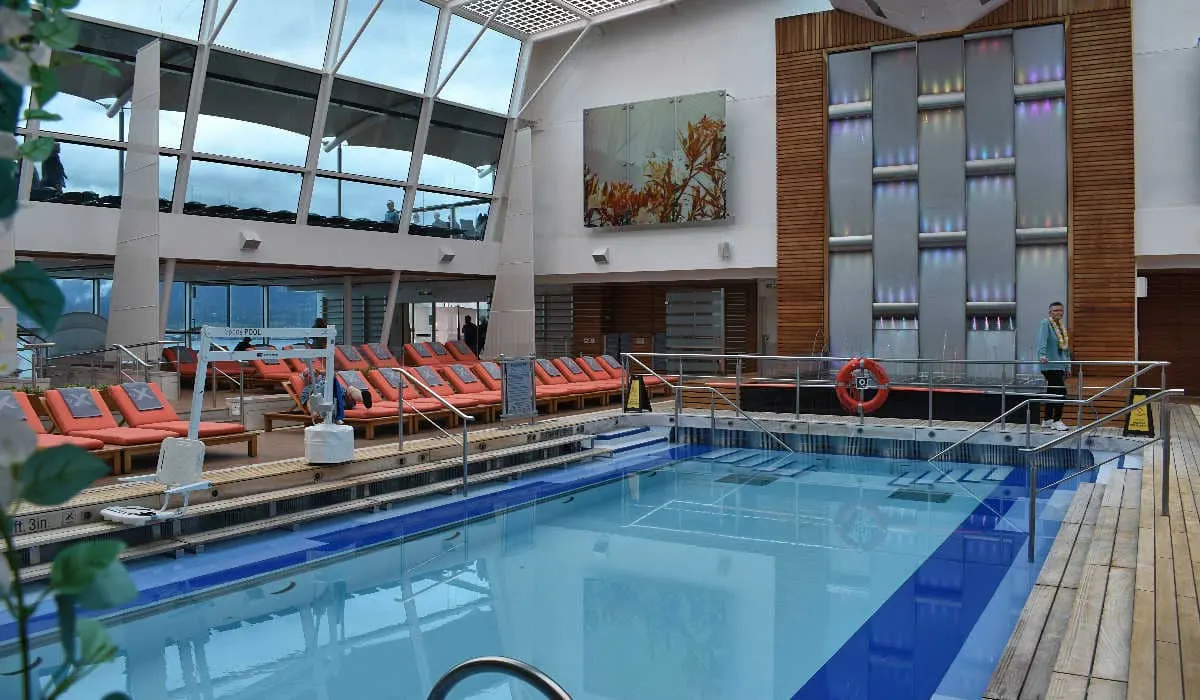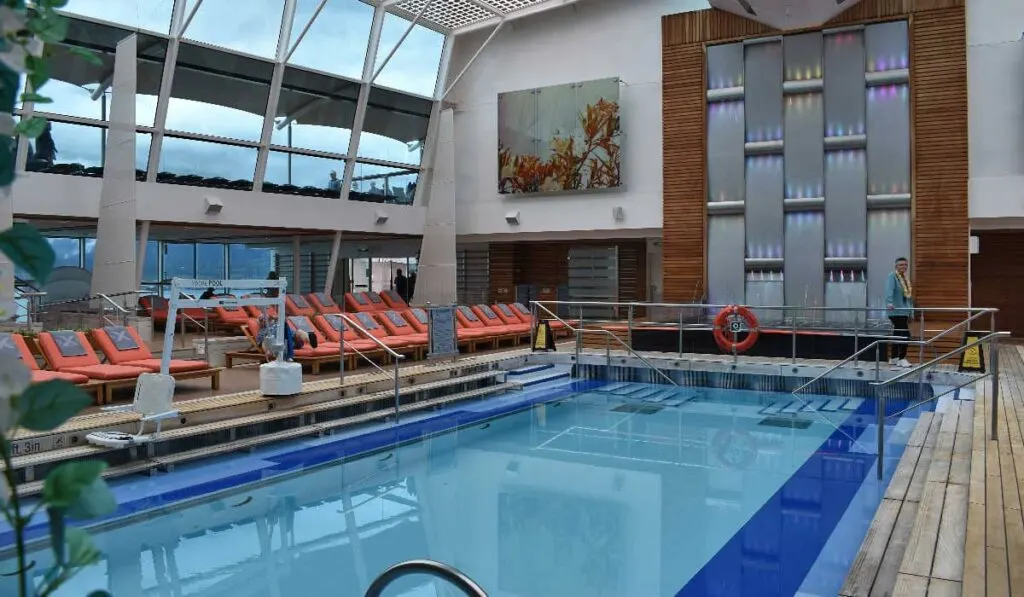 Additionally, the inside pool with two hot tubs provides a sanctuary for the adults to escape the little ones. A covered pool is a must for sailing areas like Alaska, where the weather is unpredictable.
Celebrity's signature touches of elegance did not go unnoticed with their two-person, padded loungers surrounding the pool. These padded lounging beds were 'calling us' to curl up and relax the moment we saw them.
Laundry Services
Celebrity does not offer a self-service laundromat, so passengers must pay to have clothes laundered during the cruise.
This is something to consider during your vacation because the laundry service available on Eclipse is expensive. Be prepared to add USD 50 to your bill if you have even a modest bag of laundry.
We knew this in advance, so we took enough clothes to last our 12-day cruise from Vancouver to Hawaii. To save money on laundry, I had seen more than one passenger carrying a large plastic bag of laundry that they carried off the ship to use the local laundromat during one of the port days.
Medical Services
Every cruise ship, by necessity, has an area to deal with passengers who may be struggling with various health-related issues. Since motion-sickness is something some passengers experience, you can get free Gravol (or similar) to help you throughout the cruise.
The service is open from 8 am-11 am and 4 pm-7 pm daily.
Final Thoughts
Both Karen and I felt had an amazing honeymoon on the Celebrity Eclipse. Our 12-day cruise was magical because of the incredible service, dining experiences, different shows, and the beautiful ship. I have friends who have told me, "they only cruise with Celebrity," and I can understand why.
If you're a new cruiser, I would highly recommend the Celebrity Eclipse as one of the premium ships within the Celebrity fleet. Karen and I would gladly cruise with them again.
I hope this Celebrity Eclipse review has provided some useful information and that you will consider the Eclipse on your next cruise!