For my honeymoon, I sailed a 12-day cruise on the beautiful Celebrity Eclipse. The cruise from Vancouver to Oahu had many sea days. We spent the first six days crossing the Pacific Ocean, a journey that usually takes five days.
The cruise director joked that it took an extra day to find Hawaii, lol. Since we had six days at sea, we decide to try one of the specialty restaurants and chose Le Petit Chef at Qsine.
Celebrity's Le Petit Chef is an animated presentation combining a four-course dinner with an entertaining show. Since my son, Chris, works as a 3D modeler, the concept of an animated cruise dinner fascinated us.
I had seen numerous YouTube videos of this dinner performance but wanted to try this one-of-a-kind experience firsthand. This article is my review of Le Petit Chef at Qsine on the Celebrity Eclipse.
Who Is Le Petit Chef?
Location: Le Grand Bistro or Qsine Restaurant on select ships
Le Petit Chef is a tiny animated quirky character who works hard to deliver your meal through 3D visual mapping. He doesn't speak but makes some comical sounds and gestures reminiscent of Charlie Chaplin.
The fact that he doesn't talk makes the arrangement perfect for every nationality.
Le Petit Chef is the brainchild of Skullmapping, and their idea of creating a thumb-sized chef came about in 2015.
This little man is a miniature version of a life-sized chef, complete with a white jacket, red scarf, and chef's hat. Their tiny chef became so popular that many land-based restaurants started using their technology.
In December 2018, Le Petit Chef debuted on the Celebrity Edge, and the cruise line has slowly been adding him to their other ships.
As of April 2022, the animated dinner is now featured on the Apex, Beyond, Eclipse, Equinox, Solstice, Millenium, Constellation, Reflection, Summit, Silhouette, and Infinity. On some ships, the show is called Le Petit Chef and Friends.
On the Edge class cruise ships, the tiny chef demonstrates his cooking skills at Le Grand Bistro. On other ships, he calls the Qsine restaurant his home.
Le Petit Chef At Qsine Menu
Since this dinner is not only a meal but a show, seating times are set at two intervals; 6 pm and 8:30 pm. Reservations are required, and it's best to book early during your cruise.
Servers deliver the food simultaneously because the 3D orchestrated animation shows your tiny friend preparing each course. If you're a fast eater, you will need to wait until everyone else has finished before the animation and next course can begin.
Arriving at the restaurant, I noticed the simple white décor and sparsely dressed tables. The center table was long and thin with elegant, tall backed chairs that oozed so my opulence.
This long table would be the perfect spot for a large crowd, a special occasion, or a wedding party. Since it was just my husband, Brian, and I, we were seated against a wall at an intimate table for two.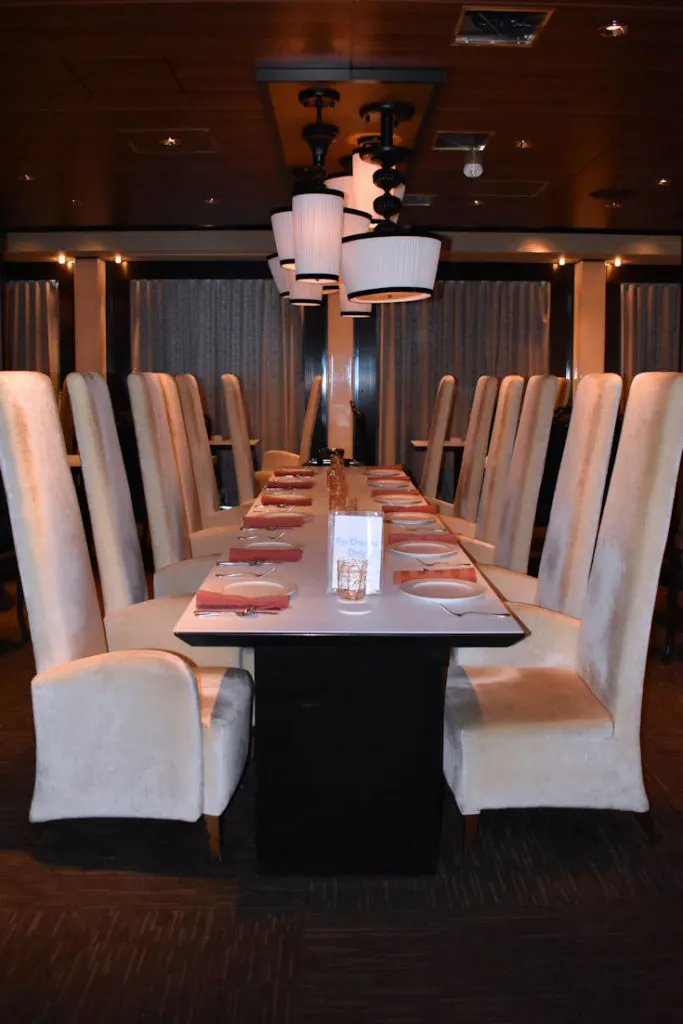 Browsing the small menu, there were only two choices for dinner. The most popular choice or as they called it, "Le Menu Extraordinaire" consisted of bouillabaisse soup, lobster, filet mignon with broccoli, potatoes, and bordelaise sauce.
A vanilla ice cream sundae completed the meal. This meal selection matches the 3D animation while the second meal option does not.
Should you not like lobster and steak, there is an alternative. The other option is French onion soup, pan-roasted sea bass, sautéed chicken breast with baby vegetables, and fruit sorbet.
The Cost
The regular price for this dinner show is USD 55 per person plus gratuities. We booked our dinner on the second day of our cruise when the cruise line offered a discounted rate of USD 40.
Should you be trying other specialty restaurants, Celebrity often gives discounts to those dining in specialty restaurants for three nights of their cruise.
At the booking time, I informed the staff that I suffered from celiac disease and had significant food allergies. They noted my allergies and assured me it was not a problem. I selected my meal at the time of booking so the kitchen could make my meal separately.
However, when I arrived for dinner the following night, the booking staff had not passed on my allergy alert to the restaurant staff. The kitchen scrambled to improvise. Instead of the bouillabaisse, I received a green salad with oil and vinegar dressing.
My entrée arrived with no potato, no sauce, and the steamed lobster was dry. The meal they managed to throw together was flavorless and disappointing, to say the least.
However, Brian has no allergies and said his meal was delicious, although pricey. At USD 55, you're paying for the entertainment more so than the dinner. Also, bear in mind that there is no price reduction for children when traveling with a family.
The Cruise Ship Animation
As the anticipation builds for the pocket-sized chef to create his magic, I examined the stark white place setting and minimalistic décor. Your plate is placed on a specific spot, and you're informed not to move it.
As the lights dim, the projectors above shine lights onto your plate. When the light hits your plate, you can see if your plate is in the perfect spot for the animation. The ring of light should ideally match the outer rim of your plate.
Shortly afterward, the table cloth turned into an ocean full of tropical fish who swam under my plate. Now I understood the reason for the empty table. Anything on the tablecloth would obscure the animation.
The French chef arrived in a submarine and wrestled an octopus to add his tentacles to the seafood soup. Once the chef completes the soup, the lights come back on, and your server presents you with your real bouillabaisse soup.
Once everyone in the restaurant has finished their soup, then the lights are dimmed again for the next course. My favorite animation was the making of the dessert, the vanilla ice cream sundae.
My table became a blanket of white snow, and the little chef appeared with a sled and igloo. He rolls a giant snowball, which he tosses onto your plate. This snowball is a symbol of your scoop of ice cream.
He decorates your ice cream with chocolate sauce from a fire hose, catapults raspberries onto it with your spoon, and uses a wood chipper to chop nuts.
At the end of the creation, he lights a celebratory candle, which falls and melts the ice. The miniature chef falls victim to the icy water near the igloo.
Le Petit Chef And Friends
The animated version on the Edge class ships differs from the presentation at Qsine restaurant. This unique set-up has three other chef friends to aid in the cooking demonstration.
The four chefs hail from different countries cooking international dishes in a friendly cooking competition with the cruisers as judges. At the end of the four-course dinner, diners vote by a round of applause over which tiny cook conjured up the best course.
The meal selection is different too. The primary selection features a marinated tomato salad, cheese ravioli, steak frites with béarnaise sauce, and a dessert of green tea matcha cake.
Alternatively, the second meal has French onion soup, pan-fried sea bass, sautéed chicken breast, and sorbet. Again, the animated show only matches the primary meal selection, and everyone sees the same presentation.
The Spanish bullfighter chef uses his bull to help create the tomato salad. The Italian chef creates the five-cheese ravioli with the aid of his pig friend. The French cook prepares the main course, while the Japanese chef finishes the meal with dessert.
While the animation is the same, the competition results will vary as every cruiser has different tastes. The cooking competition adds a touch of fun to the show, and the diners' interaction makes it more enjoyable.
Overall Experience
The concept of table projection mapping is an interesting one and marries entertainment ideas with a culinary experience. I've always said you not only eat with your mouth but with your eyes too.
Food presentation and delivery are just as important as taste. Le Petit Chef is a crucial ingredient in what Celebrity Cruises calls an immersive fusion of entertainment and dining.
If you're looking for an intimate dining experience, Le Petit Chef is not that. Seeing as the meal is orchestrated and follows a set time, you cannot dine at your leisure. However, if you're seeking a different out-of-the-box dining experience, it's definitely worth a try.
Overall, the dining experience was a memorable one, even though my meal lacked flavor due to the kitchen's miscommunication.
Given that there are only two options on the menu and its high price, it's unlikely most cruise passengers would repeat a booking. To be honest, it's not likely I would try Le Petit Chef again. It was one of those do it once experiences.
Given that most people will only dine there once, what is the future of this unique dinner show? To encourage cruise ship passengers to dine again, the menu and animations would need to be changed periodically.
In fact, it would be great if Celebrity had a Christmas version or animations relevant to the area in which I was sailing. If you are thinking of trying Le Petit Chef, I suggest you book early on the first or second day of your cruise so you can enjoy a discounted rate.
Final Thoughts
The animation of Le Petit Chef is genuinely spectacular and the highlight of the dinner. If this type of animation show is on your radar, the USD 55 is considerably cheaper than experiencing the show on land.
For instance, the CIA at Copia in Napa Valley charges USD 140 for a six-course menu and an additional USD 50 for wine pairing.
While Le Petit Chef is a unique dining experience, the fun doesn't end there with Celebrity. Celebrity Cruises offer many other distinctive features. Did you know the solstice class ships have real grass?
And some ships have glass blowing studios. Book a hot glass class and make an art glass souvenir or a Christmas ornament with a glass blowing expert's aid. The Eclipse, Equinox, and Solstice ships have glass blowing studios next to the lawn club.
If you're interested in seeing the ship's galley, take the complimentary Operations Galley Tour. While some cruise lines charge a fee for such a tour, this one is great for families because it's free.
Have you tried Le Petit Chef on land or at sea? If so, we'd love to hear about your experience.
Happy travels ~ Karen