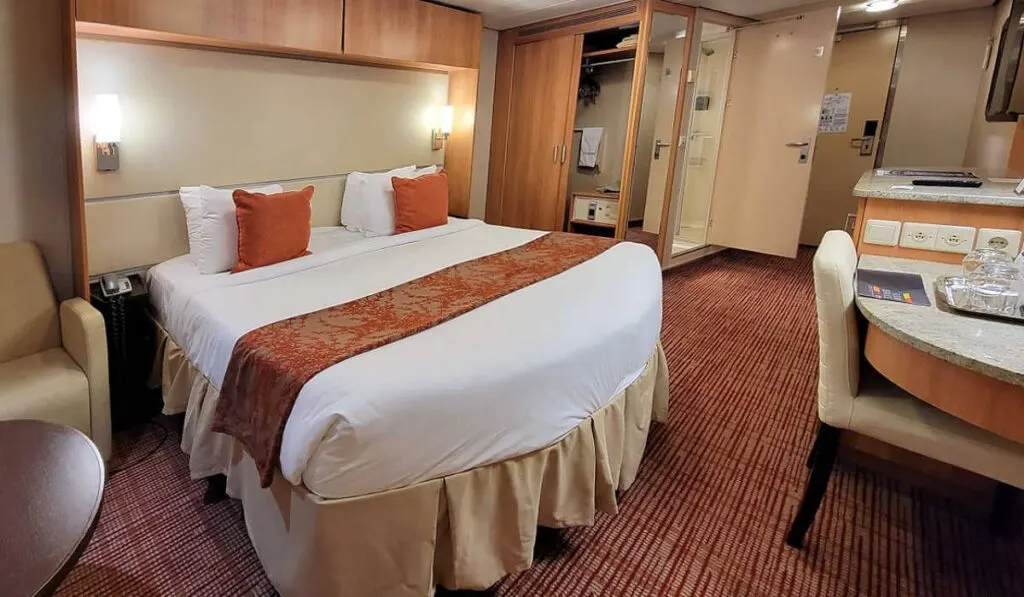 Celebrity Solstice inside cabins are roomier than similar staterooms on other lines. While we had cruised in an obstructed balcony on her sister ship, the Celebrity Eclipse, we wanted to try an inside cabin on the Solstice.
Built in 2008, Celebrity Solstice was the first in its cruise ship class. Celebrity ships are known for their impeccable service, modern public areas, and great dining options.
Its largest cabins, the Penthouse suites, measure almost 1,300 square feet and includes priority check-in.
Most cruise lines have ships with interior staterooms, but we soon learned they aren't always created equal. Here are the reasons to try a Celebrity Solstice inside cabin.
1. Affordable Option
Inside cabins are often the most affordable option for guests who want to experience a luxury cruise without breaking the bank.
Since you can cruise to Alaska on the Celebrity Solstice, choosing an interior room allows you to use the money you saved on the pricey excursions.
Since Alaska cruises are more expensive, budget-conscious travelers can complete a bucket list vacation and enjoy all the amenities onboard.
Families who need more than one cabin and can't quite afford two balconies can pick one veranda and an inside across the hall. They'll still benefit from outside space when arriving in port or glacier viewing in cold climates.
Solstice-class vessels feature a lawn club, a hot glass show, and a Le Petit Chef dinner presentation. You can enjoy all these amenities regardless of your stateroom choice.
During our 7-night cruise, I was surprised at how many guests I met who had only cruised in inside cabins. By foregoing the more expensive staterooms, they said they could cruise more often and take multiple cruises each year.
An inside cabin earns you two points daily if you're trying to gain a higher status with Celebrity Cruises' loyalty program.
2. Modern Amenities
The inside cabins on the Celebrity Solstice are equipped with the same modern amenities as other room types. Our spacious space had a large flat-screen TV, a mini fridge, and a safe.
The flat-screen TVs had an excellent selection of pay-per-view movies. However, when we watched, it said we incurred a USD 0 fee.
The cabins also have a private bathroom with a shower, spa bath products, and a hairdryer. We appreciated the glass shower door instead of a curtain.
We also liked that the toiletries included a hair conditioner, a separate body wash, and lotion.
In the closet, cozy robes were available to use onboard as well as an umbrella. Guests also received a fabric tote bag.
While you won't have the benefit of fresh air without a private veranda, you can control the temperature of your space with air conditioning and heating.
To check the weather outside, turn the TV on and put it on the outside cam channel. The channel alternates with navigation and cam and shows the daily temperature outdoors.
3. Dark And Quiet
One of the benefits of staying in an inside cabin is that it is typically quieter and more peaceful than cabins with a view. The lack of natural light also makes it easier to sleep in and get a good night's rest.
Due to its darkness, we used LED nightlight plugs in the cabin and bathroom. It gave just enough low-level light in case we got up at night.
Our cabin was located off an interior hallway. With only foot traffic to other rooms in that hallway, we rarely heard other guests walk by. We liked the fact that our cabin did not share a wall with another stateroom.
However, cabin 1031 did back onto a staff-only area, and we sometimes heard a noise late at night and early morning.
If you're cruising during spring break, your relaxing vacation could become a party cruise. I've been on cruises when neighboring guests played music on their balconies. You won't experience that problem in an interior stateroom.
The Solstice cruises to Alaska in the summer and experiences the midnight sun. If you're sensitive to light, the darkened room provides the ideal sleeping space without needing an eye mask.
4. Spacious and Comfortable
An inside cabin is the smallest on a cruise ship, behind an ocean view stateroom. Despite being on the inside of the cruise ship, Celebrity Solstice cabins are spacious and comfortable. The best cabins will have staterooms above and below you.
At 174 square feet, Celebrity Cruises' interior guest rooms are roomier than those on competitor lines. I've stayed in competitor rooms measuring 140 sq. ft., where you can barely get by the bed.
Although I'm not claustrophobic, I'd put these in the category of a glorified shoe box!
The Solstice cabins are designed to maximize space and provide a cozy atmosphere for guests to relax and unwind. Ours featured a plush queen-sized bed (which could be separated into two twins), a desk, and the same sized bathroom as the larger balcony cabins.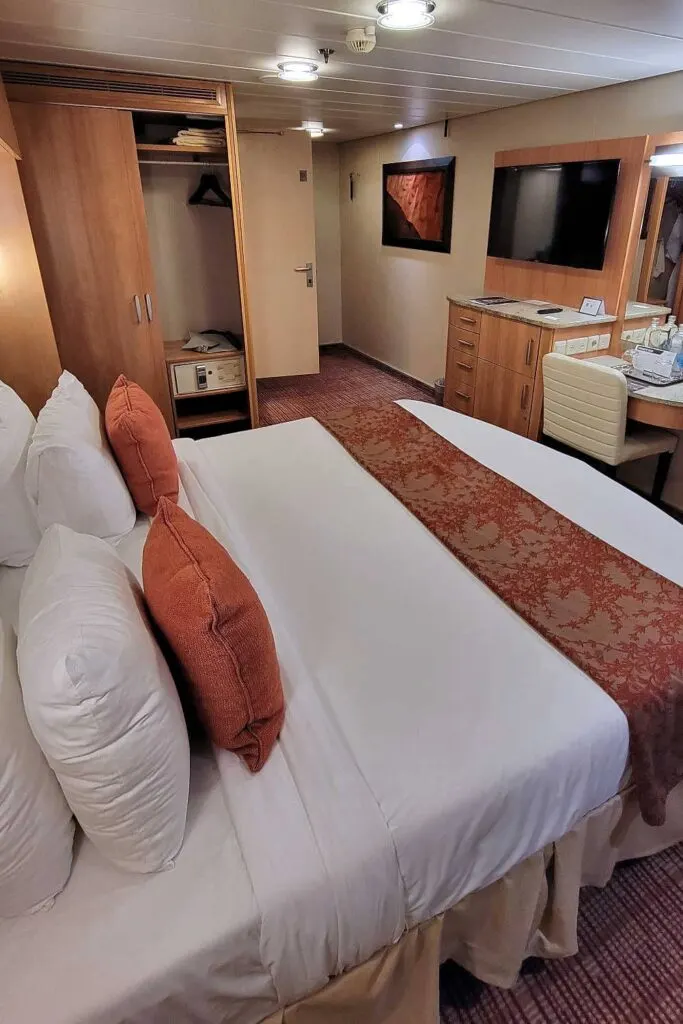 While some have a trundle bed, our cabin on deck 10 could only accommodate two guests. Cabin 1031 was listed as a "Prime inside" because of its premium ship location.
We found the bed extremely comfortable and slept well every night of our seven-day cruise. Celebrity added one soft and one firmer pillow to each side of the bed. I liked that we had pillow choices.
Most inside staterooms feature a sitting area with a sofa and table. However, since ours was extra long and narrow, we had two chairs and a table, which was great for breakfast or casual dining on our Solstice cruise.
We had more than enough storage and didn't utilize all the drawers or space above the bed. It only lacked the USB chargers on either side of the bed.
5. Convenient Location
The inside cabins on the Celebrity Solstice are located in a convenient location near the ship's amenities and activities.
You can easily access the restaurants, bars, and entertainment venues without walking far from your cabin. We were thrilled with our assigned cabin, around the corner from a set of elevators.
We were two decks below the Lido deck and often used the stairs instead of the elevators. It was the perfect spot to get to the pool area or access the buffet for tea.
The inside staterooms are on decks 3, 7, 8, 9, 10, and 11. Those on decks 9 to 11 are considered prime insides. The Solstice has six wheelchair-accessible staterooms in the interior category on decks 8 and 9.
None of the insides can connect to an adjoining cabin.
6. Great for Short Trips
If you're planning a short trip or sampler cruise, and don't plan on spending much time in your room, the Celebrity Solstice inside cabin is a great option.
It's also a great way to test a new line if you're new to Celebrity Cruises or try out a different class of vessel.
It offers all the essential amenities for a comfortable stay without breaking the bank. While we took a 7-day cruise, our itinerary included only one full sea day.
With so many port days, we would only have a little time onboard to enjoy a balcony if we had one. In fact, we struggled to fit in two specialty restaurants and attend certain events scheduled on the daily planner.
7. Ideal for Solo Travelers
Inside cabins are ideal for solo travelers who want to experience a luxury cruise without paying for a larger cabin. While insides are slightly smaller than a balcony, you'll enjoy the same sized bathroom.
We recently took my mom on a Discovery Princess cruise and opted to book two cabins instead of one. While we could have cruised with three in one cabin, we wanted her to have her own private space.
Since she was traveling solo, we had to pay for two guests in her balcony cabin, making it quite pricey.
By booking a Celebrity Solstice inside cabin, you can enjoy a comfortable and affordable option without breaking the bank.
At 174 sq. feet, the cabin is spacious enough for one person and offers all the amenities needed for a comfortable stay. In comparison, solo cabins on the Norwegian Bliss measure 99 sq. feet.
You'll also enjoy a queen bed instead of a double in solo rooms.
8. Can Help With Seasickness
Inside cabins can be great for those who suffer from seasickness. While our assigned room was at the bow, a mid-ship location experienced less motion in rough seas.
If you want to prevent motion sickness, don't book a guaranteed cabin. Instead, choose a location mid-ship, on a lower level. By avoiding the bow and aft, you'll experience smoother sailing.
If you're extremely sensitive to motion, purchase Bonine tablets, which doesn't cause drowsiness, or use a motion sickness patch.
9. You Could Get Invited To Upgrade
If you have good status with Celebrity Cruises, you could receive a special invitation to play the upgrade game. Celebrity invited us to bid on an upgrade about two months before embarkation day.
At the time, Celebrity was having a sale on concierge class staterooms. So, we initially bid to upgrade to a concierge cabin category or balcony cabin. However, we decided to cancel our bids and cruise in an interior to write this review.
If you've purchased an interior, you typically can't bid on Penthouse, Sky, or Royal Suites. However, we could have bid on one of the Aquaclass staterooms, which included exclusive access to Persian Garden, Blu Restaurant, and fitness classes.
Bidding on an upgrade has become quite popular with cruise lines. By inviting guests to bid, they fill their suites and unsold rooms and receive extra money simultaneously.
Before taking our cruise on the Solstice, we bid on Royal Caribbean's RoyalUp for an upcoming cruise on the Quantum of the Seas. Our bid was successful, and we were able to upgrade from an inside to a balcony for an extra USD 100.
If you selected a cabin in your ideal location, or have an adjoining cabin, bidding to upgrade may not be the wisest choice.
However, if you want to try for a better category, you can place a bid. You can change or cancel bids if the cruise line has not accepted your offer.
If you win a bid, you cannot return to your initial room since it could have been purchased or assigned to another guest.
Celebrity Solstice Inside Cabins To Avoid
If you're sensitive to noise, selecting a stateroom may be better than booking a guaranteed one. When picking a room, you'll want to avoid the ones on deck 3 because they are below the Fortunes Casino.
Since guests can gamble into the wee hours, hearing the bells of a slot machine may not act as a white noise machine.
Reasons Not To Book A Celebrity Solstice Inside Cabin
While we had the best sleep in our cabin, here are some reasons not to choose this category:
You have claustrophobia and need to see outside.
You're cruising with four in one stateroom and require more space.
You prefer fresh air over air-conditioning.
You are cruising in a scenic area and want to enjoy views from a balcony.
Before this cruise, my husband had never cruised in an inside stateroom and requested to try one. Overall, we were happy with the space and like that it was significantly larger than insides on other cruise lines. In the future, we wouldn't hesitate to sail in one again.