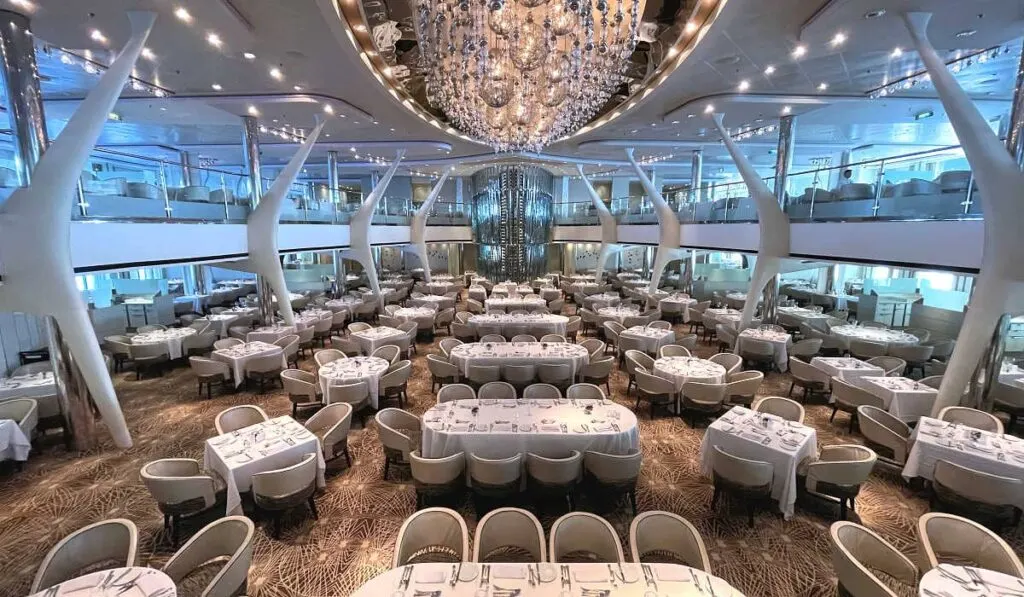 If you're a foodie seeking a luxurious cruise experience, look no further than the Celebrity Solstice. The Celebrity Solstice is just one of five Solstice-class ships offering culinary experiences in multiple restaurants to appease every palette.
Like mainstream cruise lines, the Solstice has various dining options included in the cruise fare. However, you can choose to try one of their four specialty restaurants. Alternatively, guests in aqua class or a suite, enjoy the exclusive venues of Blu and Luminae.
Chef's Table and Luminae feature signature dishes created by award-winning restaurateur Chef Daniel Boulud.
In this review, you can discover what types of food you can expect on this Celebrity Cruises vessel, including menus.
First Impressions Of Celebrity Solstice Dining
For our 7-day cruise, we had chosen Celebrity Select dining, with an early dining time of 6 pm. Since I cruise with food allergies, having consistent wait staff helps to prevent ingredient errors.
While the larger Edge class ships have multiple restaurants, the Celebrity Solstice has one, the Epernay Restaurant. Its two-storey space allows guests with set seating times to dine downstairs and offers open seating on the second level.
On our first evening, we noticed Celebrity had made some changes to its dinner menus post-pandemic. Some premium meat dishes were primarily gone and replaced by many chicken, fish, and pasta selections.
Over the next seven days, we found many premium dishes we grouped on one night (usually formal nights), while other nights had more ordinary choices.
We ate breakfast in the Oceanview Café because getting some food was fast and easy before heading off the ship. The buffet had a good selection of food, and I was thrilled to see whether items were gluten-free, lactose, free, sugar-free and vegetarian.
One section of the buffet contained vegan food, and families with children could find kid-friendly choices in its own area.
Like most cruise ships, the Solstice includes complimentary dining choices and restaurants that incur a fee.
Grand Epernay Restaurant
If you preferred a more relaxing breakfast, you had a short window between 7:30 am and 9 am in the Grand Epernay.
You can get all the usual, from eggs your way, omelets, French toast and bagels with salmon lox and cream cheese, and fresh fruit.
On our sailing, the main dining room didn't open on port days. It was only open for lunch on sea days from 12 noon to 1:30 pm.
The Grand Epernay served dinner from 5:45 pm to 9 pm. If you had the same time each evening, they would reserve your table for a 30-minute window.
You can request a table for two (or for the number of people in your travel party) or share a table. We always shared a table pre-pandemic, but since COVID is still around, we now request a table for two.
We enjoyed fine dining in the main dining room most nights. Its classic design, elegant décor, impressive wine cellar, and excellent service made it our first choice.
While some cruise lines have done away with the "classics," Celebrity still had theirs. The classics are the popular dishes, but not necessarily the best.
The starters included a Caesar salad, shrimp cocktail, French onion soup, and escargots. Of the five appetizers which changed each day, two were always soups.
Broiled salmon, grilled chicken, and sirloin steak were the classic entrees. We tried each one and found the salmon was the best.
Celebrity Cruise Line has tried to adapt their menu items to include fish, chicken, vegetarian, gluten-free, and sugar-free options. Loyal guests know Celebrity for their extraordinary service and outstanding cuisine.
Here's our review of our food choices each evening.
Night One
The evening menus, like the buffet, include health ratings for gluten-free, vegetarian, lactose-free, sugar-free, and fit fare items.
For our first night, Brian stuck with the classics; a chilled shrimp cocktail, grilled New York sirloin steak, and vanilla ice cream.
The menu didn't thrill me either, so I had the classics too; a shrimp cocktail, grilled chicken breast, and kiwi sorbet.
Even though we both chose "classics," which are guests' popular selections, Brian's steak was a bit tough, and my chicken was dry.
Night one menu Night one desserts
Night Two
We enjoyed one of our best meals on the second evening. Brian chose two starters, a shrimp cocktail, and a garden-fresh salad.
His entrée of choice was Lemon-pepper roasted chicken which was very flavorful and tender. He finished his meal with one of his favorites, cherries jubilee, which didn't disappoint.
The Waldorf chicken salad was my starter choice, and it had the most fantastic curry vinaigrette. Although, the kitchen was a bit skimpy on the dressing, and I wanted more.
I continued with the roasted trout, which was cooked to perfection. Chocolate lava cake completed my meal, which was equally tasty.
Night two menu Night two desserts
Day Three
Night three was the first of our formal night, or "evening chic," as Celebrity calls it. Typical for formal nights, some excellent entree options were shrimp scampi, roasted lamb, and beef tournedos.
I always chose lamb whenever possible, but the waiter convinced me to order beef. While I can't comment on the lamb, the beef tournedos were very tender and flavorful.
My other two courses were the watermelon salad and warm apple crumble.
Brian chose the escargots, grilled chicken (which I had tried on night one), and phyllo dough tulip. Like the first night, the chicken was dry, but the tulip dessert was the star of the evening.
Not only did it taste fantastic, but the presentation was superb.
Night three menu Night three desserts
Day Four
On night four, only our desserts were a miss. Brian started with a classic Caesar salad, broiled salmon entrée, and finished with the Cannoli tutti-frutti.
While he enjoyed the first two courses, the cannoli was hard, chewy, and inedible.
I opted for the eggplant caviar, which was out of my comfort zone but tasted great. My entrée of oven-roasted turkey was tender and delicious.
My only miss was a coconut custard made special by the pastry chef. It was too thick and had a strange texture.
Night four menu Night four desserts
Day Five
We had a great meal in the Epernay Restaurant on our fifth night. Brian chose the escargots a la Bourguignonne to start, then aged prime rib and chocolate cherry triple for dessert.
The generous portion of prime rib was tender and tasted terrific. Brian's dessert, however, didn't resemble what we know as a triple with three layers. It was more of a mousse with one cherry on top.
I also chose the prime rib. But I tried the chilled shrimp Louis with guacamole, which had great flavor and was served on shredded lettuce. The pastry chef made me a pear and blueberry crumble which was delicious.
Night five menu Night five desserts
Day Six
Day six was our only full sea day and, as expected, our last formal night. Before embarkation, we had pre-booked a dinner in Murano for a discounted price and could only get a reservation this night. We took it, knowing we would miss lobster in the main restaurant.
Please read our review of the food in Murano further down. I have included the menu in the Epernay Restaurant for night six.
Night six menu Night six desserts
Day Seven
My last night's meal was exceptional. My spiced duck rillettes Quenette appetizer was beautifully presented and tasted great with the raspberry emulsion.
The braised beef short ribs were equally tasty and very tender. The pastry chef made me a gluten-free, lactose-free black forest cake that might have been my best dessert over the seven-day cruise.
Brian started with a classic shrimp cocktail and chose the roasted pork loin with cranberry jus. It had good flavor, especially with the accompanied butternut squash.
He completed his meal with our waiter's recommendation, New York cheesecake with passion fruit topping. The cheesecake was well-presented and delicious.
Night seven menu Night seven desserts
Other Complimentary Dining Options
Our cruise on the Celebrity Solstice itinerary was the busiest we've ever experienced, with just one full sea day. It meant we were up early daily to get a quick breakfast before exploring a new port.
So, the Oceanview Café became a busy spot most mornings.
Oceanview Café
Even with hundreds of people trying to get breakfast on the run, the staff at the buffet were incredible at cleaning tables and getting guests seated right away.
The buffet opened at 6 am and served breakfast until 11 am, although the selection varied for the early risers to the late breakfast.
Breakfast options included all the usual options, including made-to-order omelets and, my favorite, British bacon.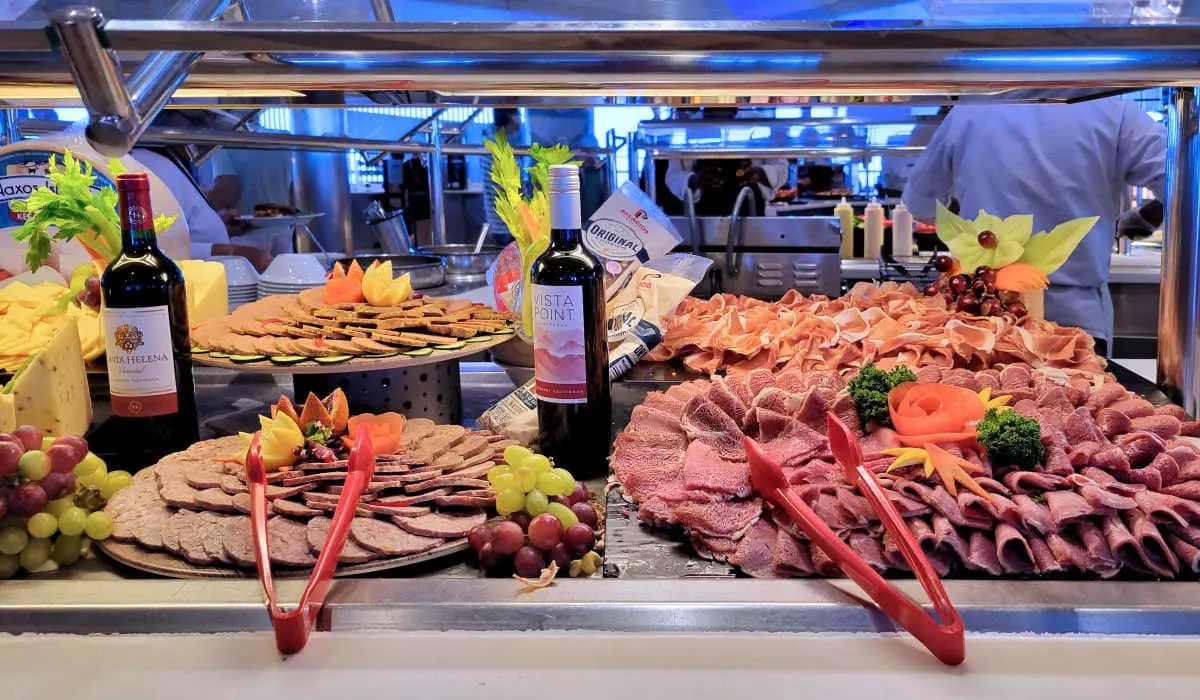 The one thing we couldn't get in the buffet throughout our cruise was decaffeinated English breakfast tea.
Lunch was served from 12 noon to 2:30 pm, which we enjoyed only a few days due to our many port stops. The buffet had a pizza area and pasta made to order. They could make pizza and pasta gluten-free.
The buffet had a vegan section and another area for favorite kids' choices, such as Mac and cheese, hot dogs, and chicken fingers.
Dinner hours were 6 pm to 9:30 pm. However, drinks, coffee, and drinks were available 24 hours. Beyond dinner hours, the buffet's pasta, pizza, and salad bar remained until 1 am.
You could get ice cream (soft served and scooped) from noon until 10 pm. For those who are lactose-intolerant, the ice cream bar has sorbet.
Mast Grill
Located on deck 14 or the Lido deck, you could have your fast-food fix at the Mast Grill. It served hot dogs, hamburgers, turkey burgers, veggie burgers, and French fries.
If you're hanging out by the pool, this is a great place to get food without traveling too far. It opens from 11:30 am to 5:30 pm.
Café al Bacio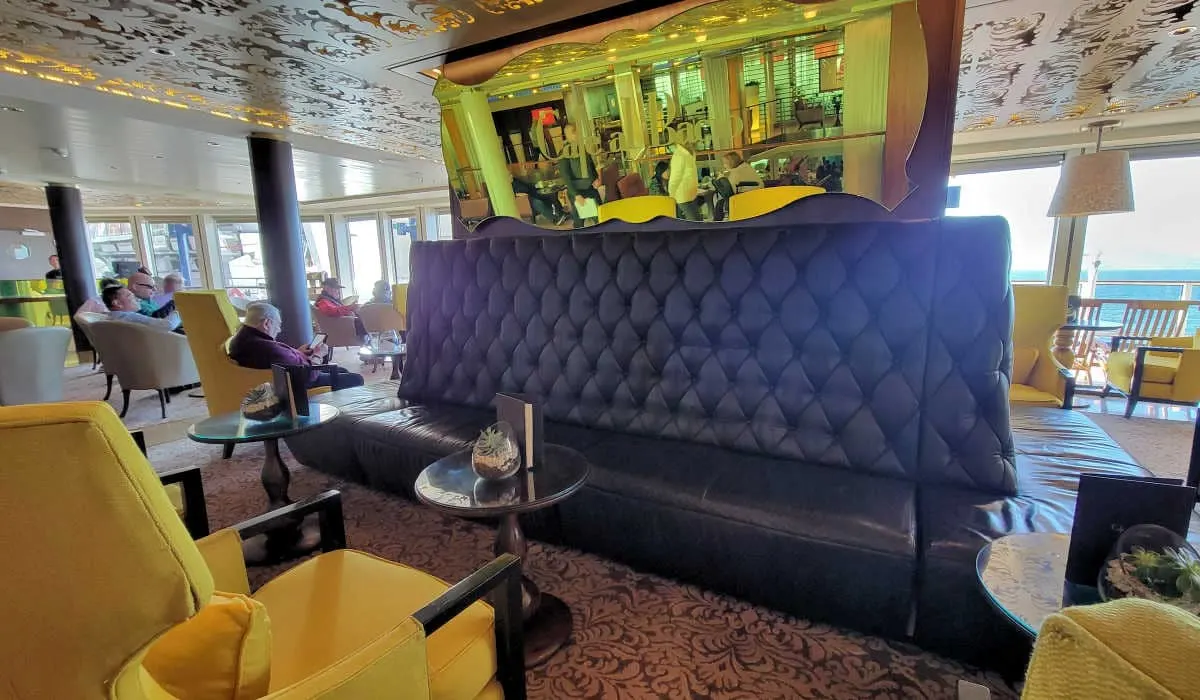 While Café al Bacio has specialty coffees and teas which incur a fee, their food items are complimentary. You can get drinks and snacks from 6 am onwards.
On port days, guests lined up to get a cookie, muffin, or sweet treat before getting off the ship.
Spa Café
The spa café serves breakfast and lunch for those who are more health-conscious. The breakfast and juice bar were open from 7 am to 10 am. You could get cereal, energy bars, yogurt, fruit, bagels, and wraps.
Guests could build their own yogurt by adding honey and seeds. There was also an option to build your own Acai bowl with fruit, seeds, and nuts.
Interestingly, the only gluten-free options were fruit and muffins (zucchini and banana nut). Later, you could grab lunch from 12 noon to 2:30 pm.
Luminae And Blu Restaurants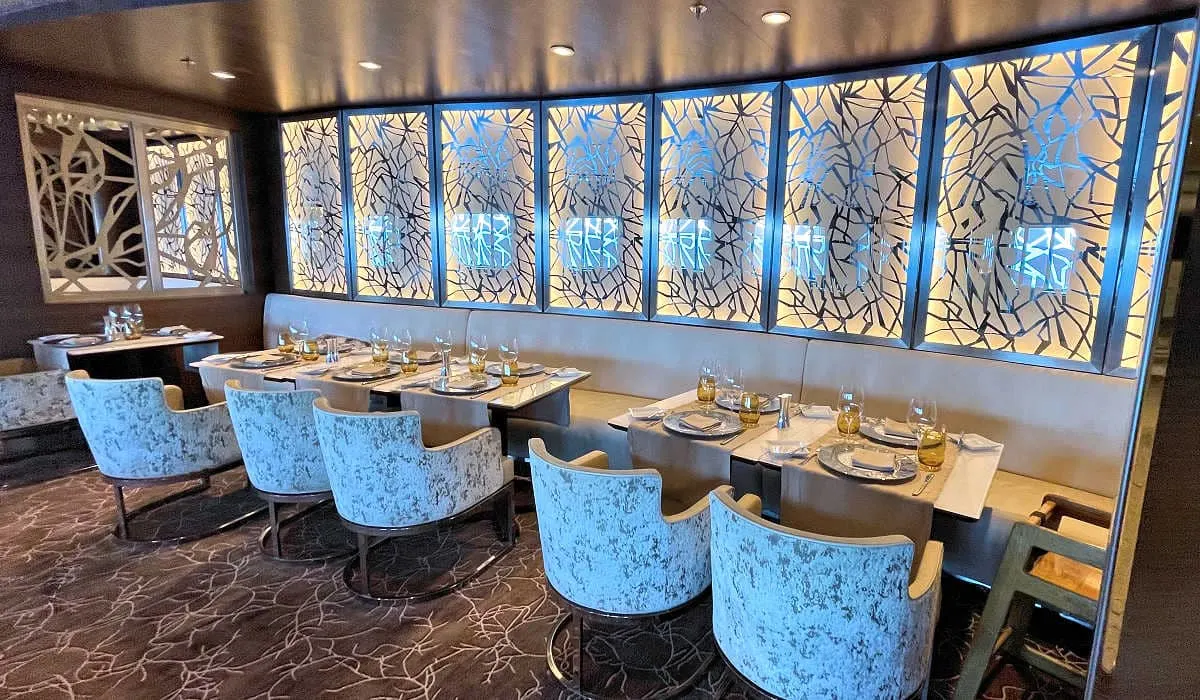 Blu and Luminae restaurants are exclusive to higher-paying guests. Blu is available to Aqua class cabin guests and offers a unique take on spa cuisine. On the other hand, suite passengers could dine in Luminae which provides a refined full-service dining experience.
While suite guests can also dine at Blu, the reverse is not true. You can expect impeccable service and a memorable meal regardless of which restaurant you choose. These restaurants are available for breakfast, lunch, and dinner.
Celebrity Solstice Specialty Restaurants
The Solstice has four specialty restaurants which incur an extra charge. These restaurants have a less casual dress code, and guests are expected to dress as if going out for a special meal.
The Tuscan Grille and Silk Harvest only serve dinner. If you're seeking a dinner experience with a view, the Tuscan Grille delivers.
Located at the aft, the elegant restaurant serves Italian food with a modern twist. Choose from lobster rigatoni alfredo or the 10 oz ribeye for meat lovers.
Near the Tuscan Grille, the Silk Harvest presents a Le Petit Chef presentation show. Since the dinner includes a digital presentation, all diners are seated at the same time, and there are two seatings each evening.
We had tried Le Petit Chef on our Celebrity Eclipse cruise, so we chose different specialty restaurants this time. Guests received a set our course dinner called Le Menu Extraordinaire.
The four courses included an heirloom tomato and feta tartlet, poached shrimp and cucumber salad, braised short ribs, and strawberry Chantilly napoleon.
Murano
On our only sea day, we chose to have dinner at the Murano after reading great food reviews online. Due to my food allergies, I picked my selections the day before. You'll find Murano next to the Ensemble Lounge.
Murano wasn't busy the night we dined, which didn't surprise me since it was one of their "Chic nights." With many restaurant employees, we felt overpampered with staff constantly checking if each course met our expectations.
I started with the smoked salmon and peekytoe crab parfait, which had a small amount of salmon caviar. This appetizer was as terrific as it looked, and probably the best starter I enjoyed during the cruise.
I chose the herb-crusted lamb rack, which was cooked to perfection. The only thing it lacked was a little gravy or mint sauce.
Brian decided to do double lobster, with Maine lobster bisque and Murano lobster, a big restaurant favorite. The Murano lobster was flambeed at the table in Cognac, and Brian remarked it was the best lobster he had ever eaten.
Throughout our dinner, the staff were very attentive and continually checked that my servings were good and didn't contain anything I couldn't eat. When the chef made a mistake with my appetizer, and I had eaten some, the staff quickly replaced it with another plate.
Our waitress presented me with a Grand Marnier soufflé that was heavenly. I was told it was the first gluten-free and lactose-free version they had made.
Brian chose the crepe ballon rouge. Like his entrée, our waitress prepared and flambeed it at our table. His dessert consisted of vanilla ice cream in a crepe with a hot balsamic strawberry sauce drizzled on top.
Our meal at Murano was as expected – SUPERB! And we wouldn't hesitate to eat there again. If you find the dinner a bit pricey, plan to eat lunch there instead.
Sushi On 5
We decided to try Sushi on 5 for lunch the day we dined at Murano. Being our only sea day, the restaurant was crazy busy. We were fortunate to see a few humpback whales who had started their migration to their feeding grounds.
Guests dining at Sushi on 5 pay a la carte pricing. They have starters, noodles, and sushi, including sashimi. One of the pleasant surprises is they carried gluten-free soy sauce.
Brian ordered the shrimp tempura Udon which was hearty and filling. However, he wondered why tempura was added to a soup because it quickly became soft and mushy.
I had the sashimi mixed green salad, which included tuna, octopus, yellowtail, salmon sashimi, and shrimp. There was a good portion of seafood, and the salad was delicious.
We also shared the Sunset roll without the tempura crunch. While we don't often eat Japanese, we enjoyed the opportunity on the Celebrity Solstice.
Gelateria
Adjacent to the Café al Bacio, you can purchase artisan gelato and sorbetto at Gelateria. Waffle cones cost USD 4 for one or two flavors and USD 6 for three to four selections.
You can also get cookie gelato sandwiches and gelato in a bowl with your choice of sauces.
Room Service
Guests wanting breakfast in their stateroom can enjoy a complimentary continental breakfast from 6 am to 9 am. Delivery was in 30 minute time slots.
However, if you prefer the premium breakfast or want food delivered throughout the day, as of 2023, Celebrity charges a delivery fee of USD 9.95. Premium morning meal includes eggs (any way), omelet, bacon, sausage, hash browns, French toast, and pancakes.
Room service is complimentary 24 hours for those staying in The Retreat.
Our inside Solstice cabin had two chairs and a table, so we couldn't easily dine in our interior stateroom.
Final Thoughts On Celebrity Solstice Restaurants
The inclusive restaurants and dining choices are great on the Celebrity Solstice. While I don't tend to eat at the buffet, its choices and signage were excellent. You can beat the service of the wait staff in both the buffet area and restaurants.
More and more, ships are adding specialty restaurants to their add-ons. While they aren't for everyone, we enjoy the premium dining experience, and the option to try something different.