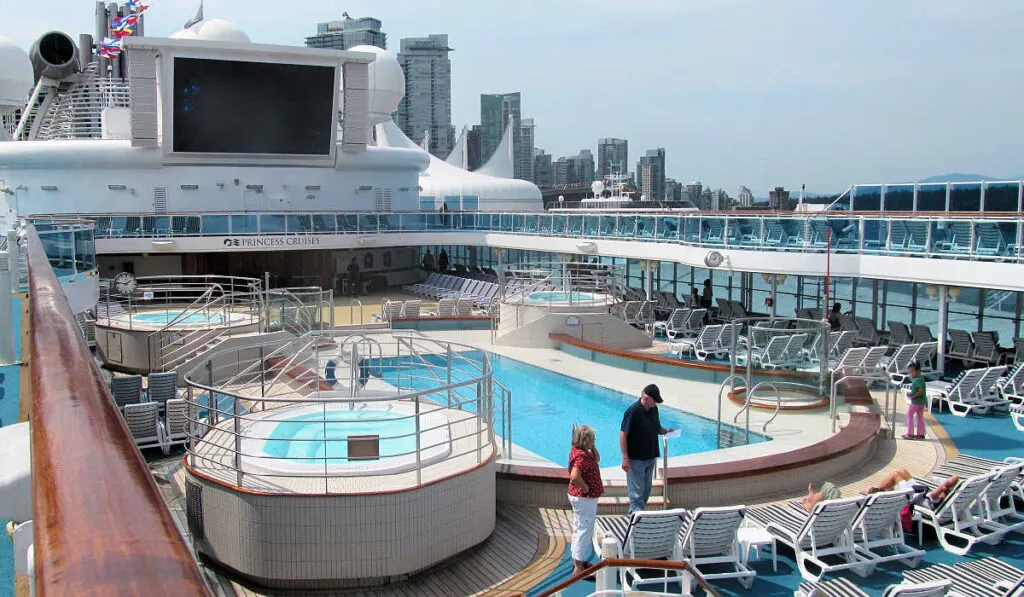 The Coral Princess cruise ship was launched in 2003, and while she sailed the waters of North America for the majority of her life, she now calls Brisbane, Australia, her home port. I had the chance to review the Coral Princess on a 14-day sailing in North America before she relocated south.
Currently, the Coral Princess offers itineraries around Australia and New Zealand between November and April. Then, she positions through the Middle East to London, England, where she sails to Northern Europe.
Guests can take a world cruise of up to 110 days or get exclusive offers on Transatlantic sailings and roundtrip South Pacific cruises from Australia or New Zealand.
About The Coral-Class Vessel
Like her sister ship, the Island Princess, the Coral is a Coral-class vessel owned by Princess cruises, a subsidiary of the Carnival Corporation. With a passenger capacity of 2,000 and a crew of 895, guests can expect good customer service with a low passenger-to-crew ratio.
While built in 2003 for the Panama Canal, Princess refurbished the vessel in January 2019, adding luxury guest beds with pillow tops. She later received an upgrade to MedallionClass and joined the Princess fleet with the Ocean Medallion technology.
More than 70% of her 1,000 staterooms have balconies, allowing you to enjoy the scenery no matter where you sail. Being a smaller vessel, she is best suited to those who prefer an intimate onboard atmosphere.
Princess refurbished her sister, the Island Princess, adding more staterooms but eliminating some common areas. While this wasn't popular amongst guests, Princess decided not to mirror that renovation on the Coral.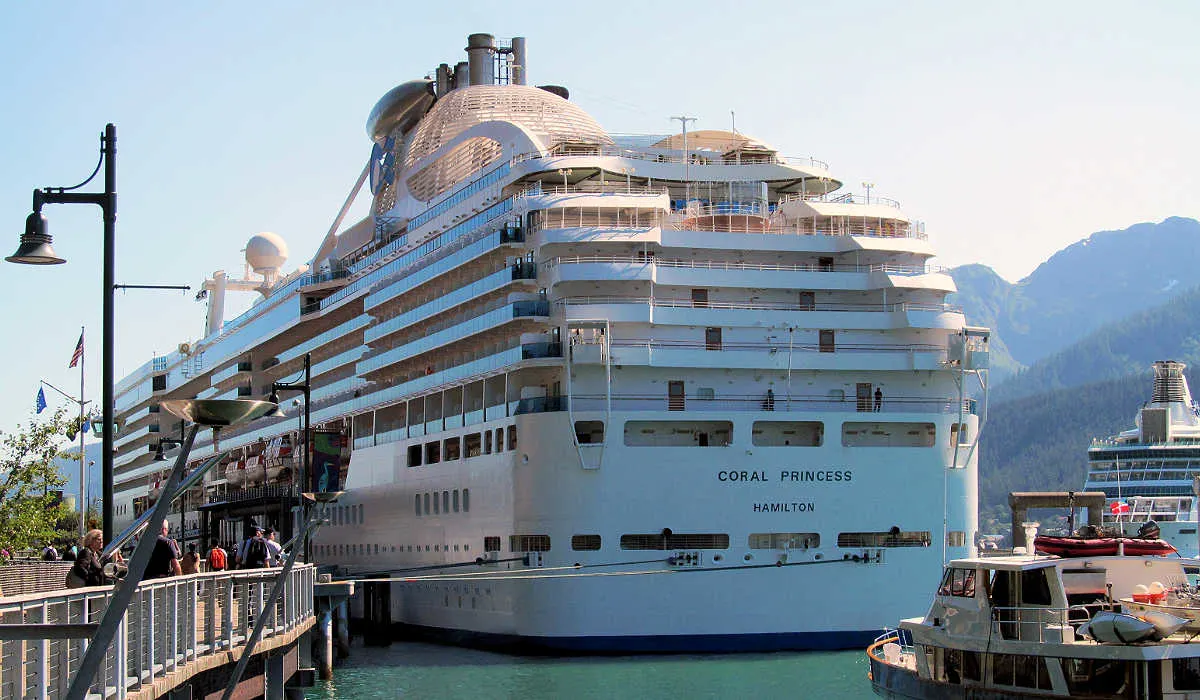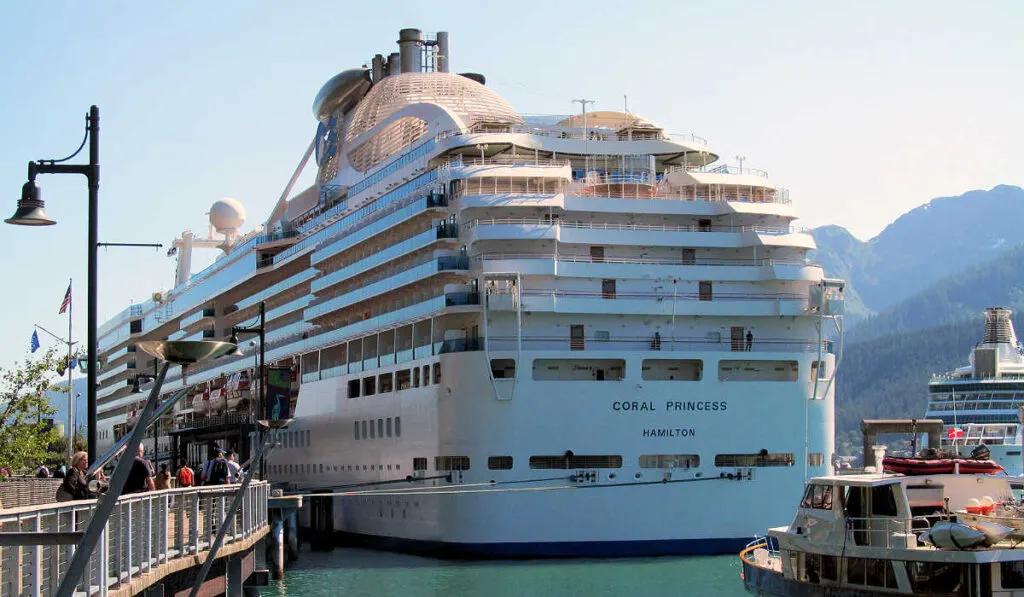 So, the Coral Princess retains her original passenger capacity and remains spacious, like when she was built.
If you prefer a vessel with more venues and attractions, the larger Majestic Princess or Royal Princess might be more suited to you.
First Impressions
While needing a refresh, Coral's public areas are spacious, clean, and well-maintained. With only twelve decks, you'll find it easy to memorize the deck plan and access to dining areas.
The vessel has three swimming pools; the Lido, the Lotus Pool, and one in the sanctuary. The indoor Lotus Pool was quite lovely and wonderful for itineraries with cooler weather. Two hot tubs were adjacent to the pool. While the area is heated, I didn't find it overly humid compared to other ships.
The outdoor Lido Pool and three hot tubs feature a large-screen TV for watching Princesses' movies under the stars. However, you won't find a waterslide, climbing wall, or water sports area for children.
On the Coral, the dining rooms weren't located at the vessel's aft, like most ships. Instead, you can find the Provence dining room mid-ship on deck 6 Fiesta and Bordeaux dining venue on deck 5 Plaza.
What I found problematic was that hallways didn't go through on these decks. So, you couldn't walk through from the bow to mid-ship on those floors.
To access the dining rooms, you had to walk up or down one flight of stairs and then down or up again.
The Promenade Deck featured a complete circuit around the vessel. I like that on ships. It's a great place to walk, get some fresh air, and work off that extra dessert.
Most newer ships have dead ends on the outer decks, so it's a feature I greatly appreciated.
Coral Princess Venues
Mid-ship, the Piazza was a hub of activity with live music, shopping, and special events through the sailing. While only three stories high, it provides a great venue to sit and watch the action. On the bottom deck, a beautiful bronze fountain added tranquility to the otherwise dead space.
The ship hosts the captain's party with its signature champagne waterfall in the Piazza during the first sea day. It's a great time to enjoy a complimentary drink and meet new friends.
One of the most memorable events was the egg drop competition. This challenged participating guests to make something to suppose a raw egg, which would hopefully survive the drop from the top of the atrium to the floor below. No surprise; most of them ended up scrambling!
The Princess Theater and Explorers Lounge had scheduled lectures, Broadway-style programming, and comedy shows.
While Princess Cruises attracts families, their adult-only sanctuary allows guests to enjoy a kid-free zone. The sanctuary spans three decks at the ship's aft, from decks 12 to 15 (Aloha, Lido, and Sun), with the pool on the lowest deck.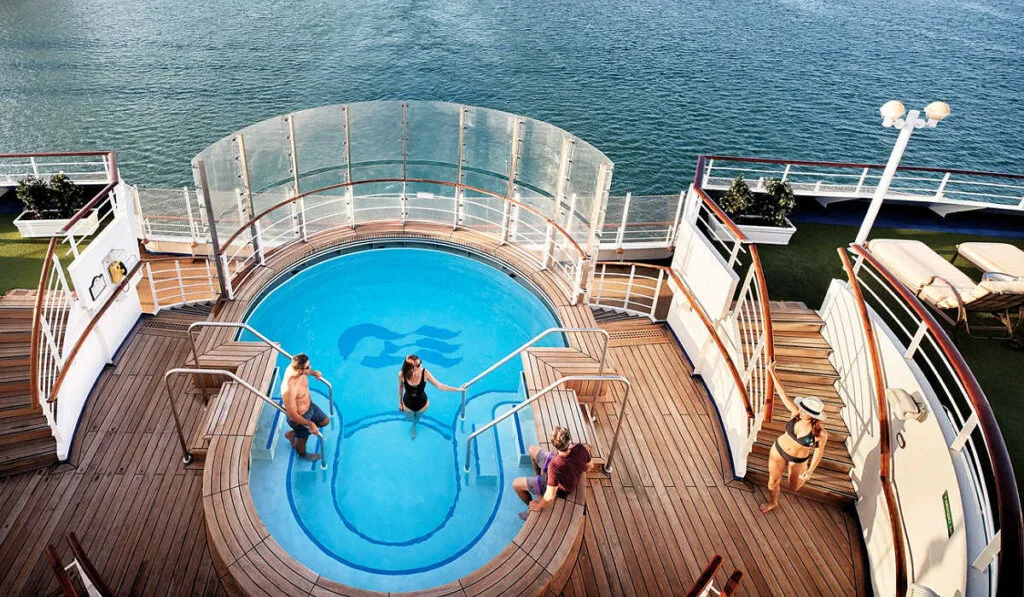 Guests can purchase half-day, full-day, or multiple days access. For an upcharge, you can also opt for a cabana for the ultimate luxury.
The small ship had the usual fitness center, Lotus Spa, basketball court, Links mini-golf, casino, and teen and youth center on deck 12.
There were a few bars around the ship; the Wheelhouse, Crooner's, Lido Bar, and Lotus Bar, to name a few.
Coral Princess Staterooms
Staterooms vary in size from a 158 sq. foot interior to a 932 sq. foot suite. There are some accessible cabins for wheelchair guests.
I stayed in an interior for 14 days. In comparison to other lines, the room was tiny. Other than the bed, there was a small desk and no sofa. Storage was limited too.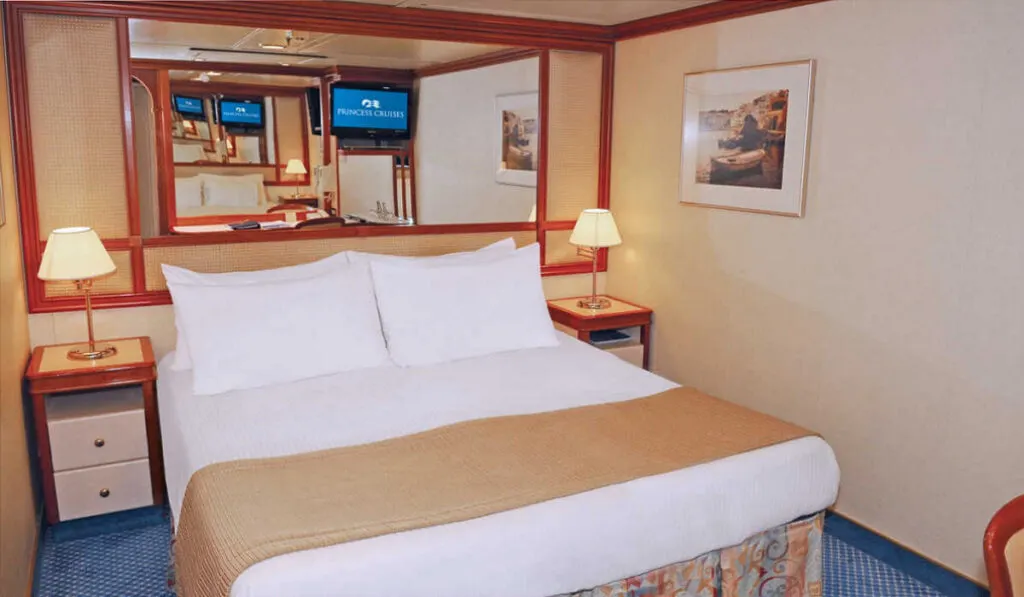 Their outside staterooms are similar in size. While the balcony staterooms are roomer at 212 sq. feet (including the balcony), you still won't have a couch.
Many Princess Cruise ships only add a couch when you book a mini-suite. We enjoyed a mini-suite on the Majestic Princess, and it was hard to go back to anything less than that.
The mini-suites, club class cabins, and suites have bathtubs instead of showers. If you're cruising with little ones, you may prefer to upgrade to get this feature. They also have two televisions, one in the living area and one in the bedroom.
Full suites have priority boarding and disembarkation, upgraded linens and toiletries, premium balcony furniture, plus a host of other perks.
Princess recently introduced their "Princess Upgrade" program inviting selected guests to bid for a better stateroom.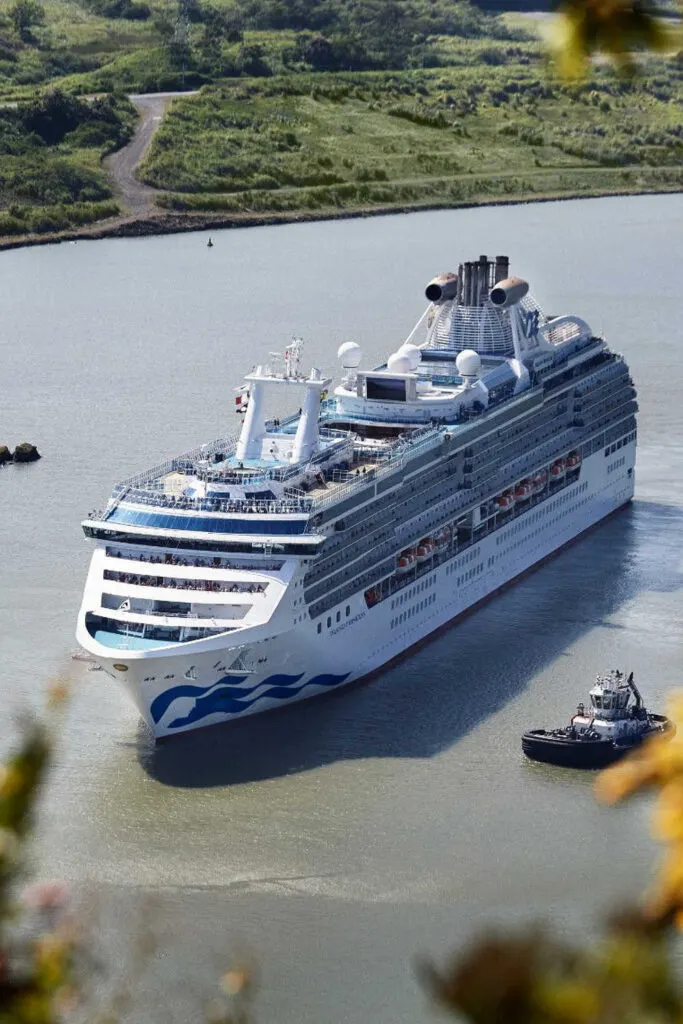 While we were recently invited to bid on our upcoming cruise, we chose not to because we were cruising with family and wanted to keep our cabins close together.
Staterooms To Avoid
If you're sensitive to noise, there are specific staterooms you should avoid. These include the following:
Cabins adjacent to the laundry room. P623 (deck 6), E717 (deck 8), D720 (deck 9), C710 (deck 10), and B711 (deck 11).
Almost all the cabins on deck 5 are underneath the casino and busy traffic areas.
All staterooms on deck 6 are close to the casino.
Mid-ship cabins on deck 8, numbered 312 to 334 and 311 to 335, are over the Wheelhouse Bar.
Many staterooms on deck 12 are over the Horizon Buffet and pool areas. You could hear staff scraping and moving the chairs and loungers across the floors.
Dining On The Coral Princess
No ship review of the Coral Princess is complete without a review of the food and dining options. Passengers can choose a fixed time or "dine my way." Since I cruise with food allergies, having a set dining time at the same table with a consistent server is always safer.
Complimentary options include one of the dining rooms on decks 5 and 6, the Horizon Court buffet, a pizzeria, the International Café, and the Lido grill.
Also in the Lido deck is the popular ice cream bar. While the pizza was free to eat at the pizzeria, ordering to your stateroom incurs a small fee.
Princess also offers 24-hour room service, and during the cruise, you can order food and drink using your Medallion.
Meals in the dining rooms are classically elegant. Even on non-formal nights, guests dressed the part for dinner, and the seating felt intimate even when sharing a table. My food selections were well presented, nicely portioned, and flavorful.
Princess catered well to my food allergies, and their gluten-free bread was one of the best I've tasted across different cruise lines.
All my meals during my 14-day journey were delicious, but I felt Princess excelled in their presentation of desserts. Their chocolate journeys invite guests to "indulge in chocolate journeys," and I DID!
Alternatively, the Coral princess has three specialty dining restaurants. Located on deck 7 (promenade), Sabatini's Italian Trattoria and Bayou Cafe and Steakhouse offer fine dining. The Italian restaurant charges a USD 25 fee, and the latter a USD 29.
I found the pricing extremely reasonable, considering RCI Ovation of the Seas charges USD 64.95 for their steakhouse and USD 49.95 for a meal in the Italian restaurant.
I tried both the Bayou Steakhouse and Sabatini's and was thrilled they could make my food gluten and lactose-free.
To add a little romance to your cruise, the "Ultimate Balcony Dining" allows you to enjoy a fantastic meal while savoring the views in an iconic location.
Laundry Facilities
On an extended cruise, it's nice to have the option of doing laundry without paying hundreds of dollars. By doing laundry, you can pack half as much. The Coral has self-serve laundromats on decks 5, 8, 9, 10, 11, and 12.
Laundry facilities are busiest on sea days (especially the last) and formal nights as everyone attempts to iron their "Sunday best."
With the addition of the Ocean Medallion, you no longer need to carry quarters to pay for laundry but can scan your Medallion instead.
Entertainment
The onboard entertainment was good, from the comedians to the Broadway-style shows in the Princess Theater. The performances were always well attended, and it seemed like everyone enjoyed them.
Sitting and listening to bands and music in the Universal Lounge was lovely some nights. I was thankful Princess Cruises didn't remove this aft venue to add more staterooms, as they did on the Island Princess.
The Explorers Lounge was a great space if you love dancing in the wee hours.
I particularly enjoyed a cooking demonstration that provided some entertainment with comical twists. Afterward, guests could meet the chefs and had the option to purchase a signed cookbook.
Fire!
Unfortunately, the Coral Princess has had a turbulent history, with two "announced" fires. In 2013, an incident caused a fire in the engine room, which was put out quickly and caused minor damage.
Seven years later, in 2020, another fire occurred in the engine room again, but luckily there were no injuries.
As most passengers know, fire is the biggest concern for cruise ships, so they're built with high-tech detection systems and compartments to contain fires quickly.
So, you can imagine my surprise when I was cruising through Glacier Bay National Park when a staff member announced a fire in the Lotus Spa.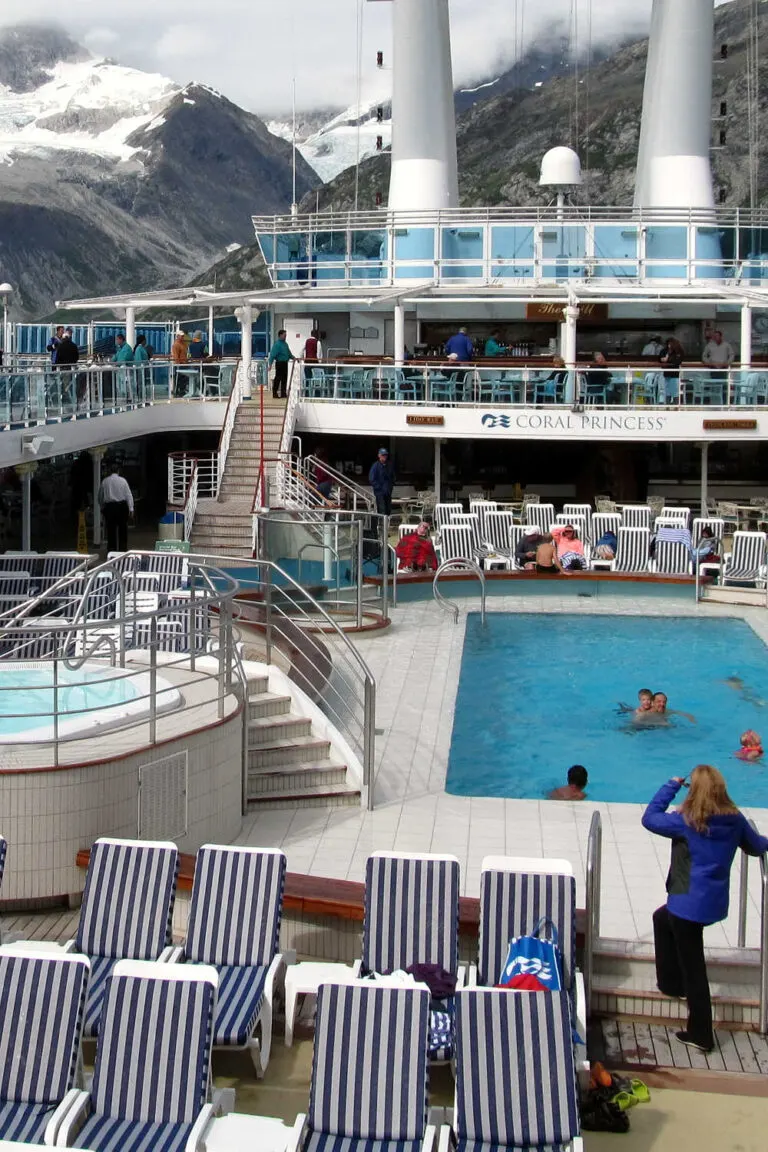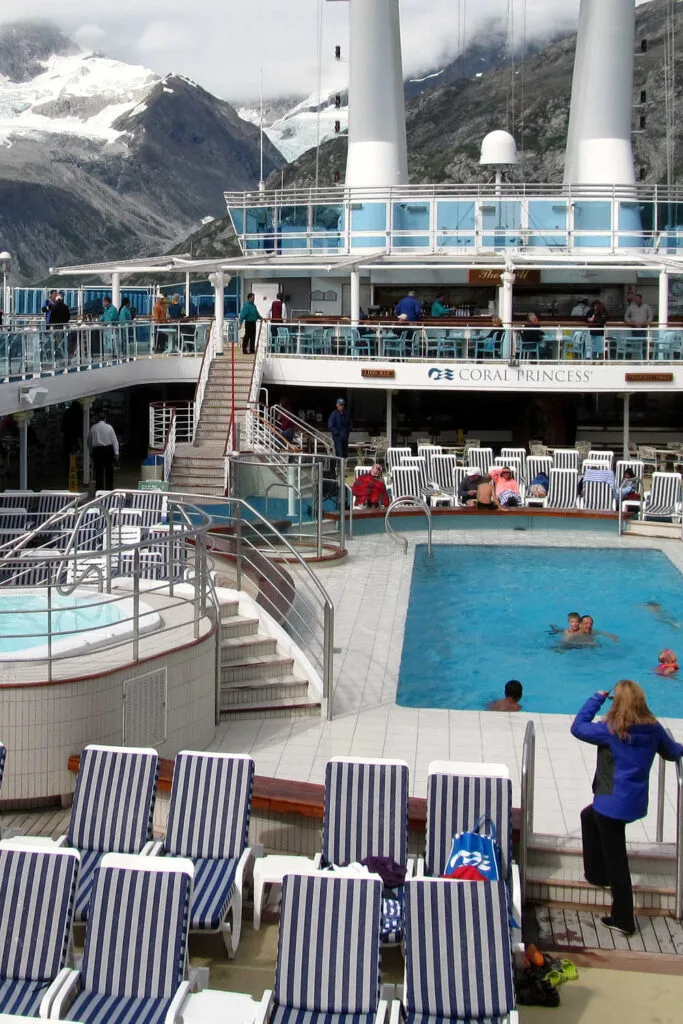 Standing on the Lido deck admiring the glaciers, I could see smoke rising from the ships aft. The captain instructed us to evacuate the spa area immediately.
Knowing that only two cruise ships a day sail in Glacier Bay and I hadn't seen the other one yet, I had visions of the "Titanic" movie. Looking down into the water riddled with icebergs, I knew it was just about the worst place to have a fire globally.
Luckily, the crew extinguished the fire quickly, but it was a valuable lesson in what COULD happen on a cruise ship.
Overall, I enjoyed my cruise on the Coral Princess. I've always been a fan of mid-sized vessels because I prefer their intimate feel. Being an older ship, this Princess ship offers excellent value for those who cruise on a budget.