You don't need to sail with Princess Cruises to experience a piece of the "Love Boat." If you've never cruised before, the common question is, "are cruises romantic? "Whether you're a young couple in love, rekindling a relationship, or vacationing with your soul mate, the idea of sailing on any cruise line can ooze romance. Romance is a state of mind, and no matter where you are sailing, there are plenty of ways to add a little romance to your cruise. If you're newly married, consider one of the honeymoon cruises to Hawaii.
For some, the idea of vacationing on a floating vessel with thousands of people may not sound very intimate. But I can assure you; there are many ways to spark the flame of passion while vacationing on a floating resort. While it's true that some areas of a cruise ship are crowded, other spots are vacant or almost empty. A vacation is what you make it so any getaway can be a romantic cruise.
If cruising is out of budget, try a sampler or mini-cruise instead. You might be surprised to learn a two-day mini cruise is cheaper than staying in a hotel.
Here are some simple romantic cruise tips for couples to add a touch of intimacy to your next cruise vacation. Because why can't all cruises be a honeymoon cruise?
Nothing Says Romance On Your Cruise More Than Candles
Now I know what you're thinking, candles are a banned item on a cruise ship. While real candles are not allowed, we always pack the battery-operated flameless type that look like real candles. If you're short on space, a small box of tealight candles is great and takes up virtually no room in your luggage.
If you want to take it one step further, place your tealights into luminary bags with cute heart cut-outs, to create the perfect mood on date night.
Should you have a balcony stateroom, consider a romantic dinner on your balcony. Accompany your meal with the tealight candles for that perfect touch of romance on your cruise.
Staging Your Stateroom For Romance On Your Cruise
I don't know about you, but I love luxury bedding. While I can't bring my whole bedroom or bedding on a cruise, I can bring a touch of luxury. Preplanning is the key and having a list of things to bring on a romantic cruise. So why not pack silk pillowcases, red pillowcases or celebrate your love with some novelty ones? On our last cruise, I took a pair of bright red pillowcases because nothing says love more than the color red. Plus, it's my husband's favorite color.
Nothing exudes romance on your cruise like roses. While you can't bring fresh flowers on board, silk roses are readily available, and you don't need to worry about them wilting. Fill a Ziploc bag with silk rose petals to scatter on your cabin bed. Not only are they reusable and light, but they pack flat in your luggage.
We all know cruise ship cabins have magnet walls, and most passengers pack strong magnetic hooks. On date night or if you're celebrating an anniversary or honeymoon, adorn your stateroom walls with balloons in your favorite color for that extra touch of romance. Pack and inflate heart-shaped balloons and attach them to your magnetic hooks.
Surprise your loved one with champagne, flowers, and chocolate-covered strawberries before you board. These special touches are available online long before your vacation starts. However, these cruise ships' celebration packages come at a relatively high cost. If you're on a budget, by bringing a few of your supplies, you can create romance on your cruise at a much lower price.
Oh, and let's not forget the sexy lingerie and your favorite fragrance. Need I say more.
Select A Romantic Cruise Itinerary
If romance is high on your list, look at cruise ideas for couples. Avoid the busier months when children are out of school and destinations that are more crowded. Opt for a Mediterranean cruise in the off-season, a Hawaiian cruise instead of a Caribbean cruise, or a New England cruise in the fall.
Are you looking for romantic cruise ideas? How about a Valentine's Day cruise for couples, New Year's cruises, or even a themed cruise?
Cruise ships come in all sizes to suit every cruiser, but the smaller or expedition ships tend to be more intimate.
Book A Specialty Restaurant
During a sea day, book an intimate table for two at a specialty restaurant. During our last night on a Mexican Riviera cruise on the Carnival Miracle, we booked an Italian specialty restaurant. We requested a table by the window so we could watch the sunset, all while enjoying great food and even better company. Seated face to face in an ambient setting with intimate conversation can add nothing but fuel to your flame of passion.
There are many options for specialty dining and depending on the restaurant you eat at; some exude romance with beautifully dressed tables with flameless candles, and fresh flowers. Also, avoiding the more crowded main restaurant means eating in a quieter and more intimate setting.
Movies Under The Stars
After your intimate dinner in a specialty restaurant, consider taking in an open-air movie. Princess Cruises are known for their movies under the stars. So, grab your loved one and head up to the poolside amphitheater for a magical night at sea. Cuddle together under a cozy blanket on a comfortable padded lounger and enjoy some freshly made popcorn, while watching the latest feature film or concert.
Other cruise lines also have large-screen TVs by the pool. It's a great place to relax and enjoy a unique viewing experience, all under the night's sky. You're free to bring food and drink to the poolside. So, if you're not into popcorn, how about some freshly baked pizza, ice cream sundae, or another delicious dessert? Who can resist a date night under the stars?
Couples Massage
Most cruise ships have state-of-the-art spas where you can pamper yourself while at sea. But, be sure to check out the services they offer. Some have couples massage packages where you can enjoy a relaxing massage side by side while enjoying magnificent views of the ocean. Other spa treatments can include a couple's sauna, steam room, and scrub package that gives you one hour in a private area.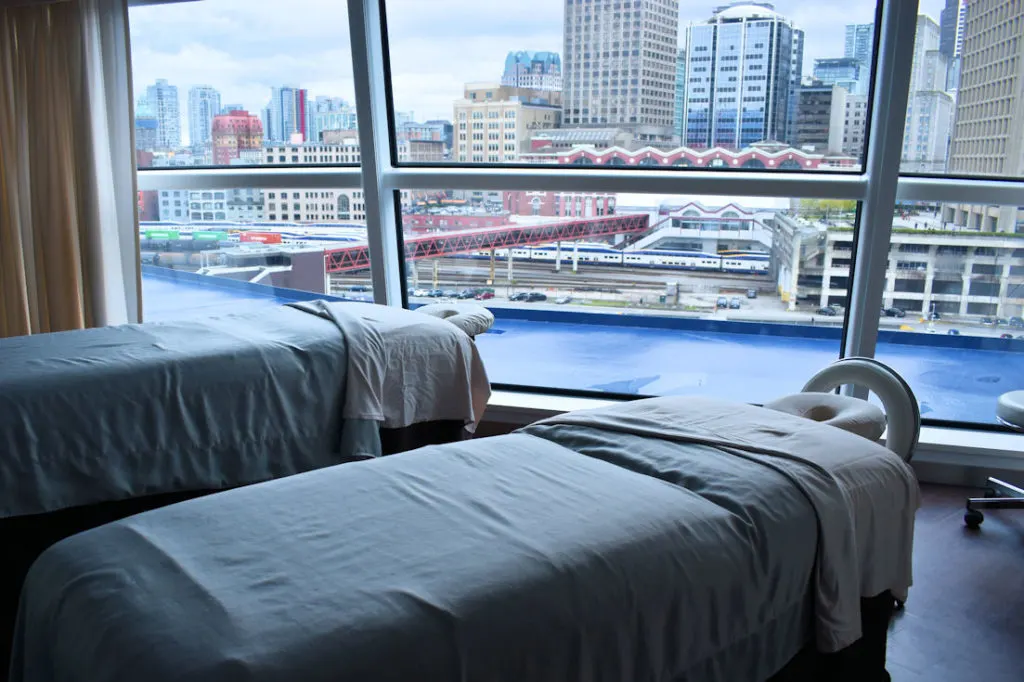 Be sure to tour the thermal spa area on embarkation day. Should you choose to purchase a thermal spa pass, the pass includes the use of steam baths, saunas, thermal beds, and sometimes a private hot tub. While the thermal spa area is not private, passes are limited to a select number of couples. So, depending on when you visit, you could have the thermal spa area to yourselves. While the spa includes free-for-use saunas and steam rooms, men's and women's areas are entirely separate. Only if you purchase a spa package can you use these facilities together?
On some cruise ships, massage classes are available to learn the basics of giving a good massage. Nothing says romance like learning to give your partner a relaxing massage the proper way. Remember to pack some massage oil or massage bars for a smooth and sexual experience. Not only do massages release stress, but they help strengthen relationships.
Leave Love Notes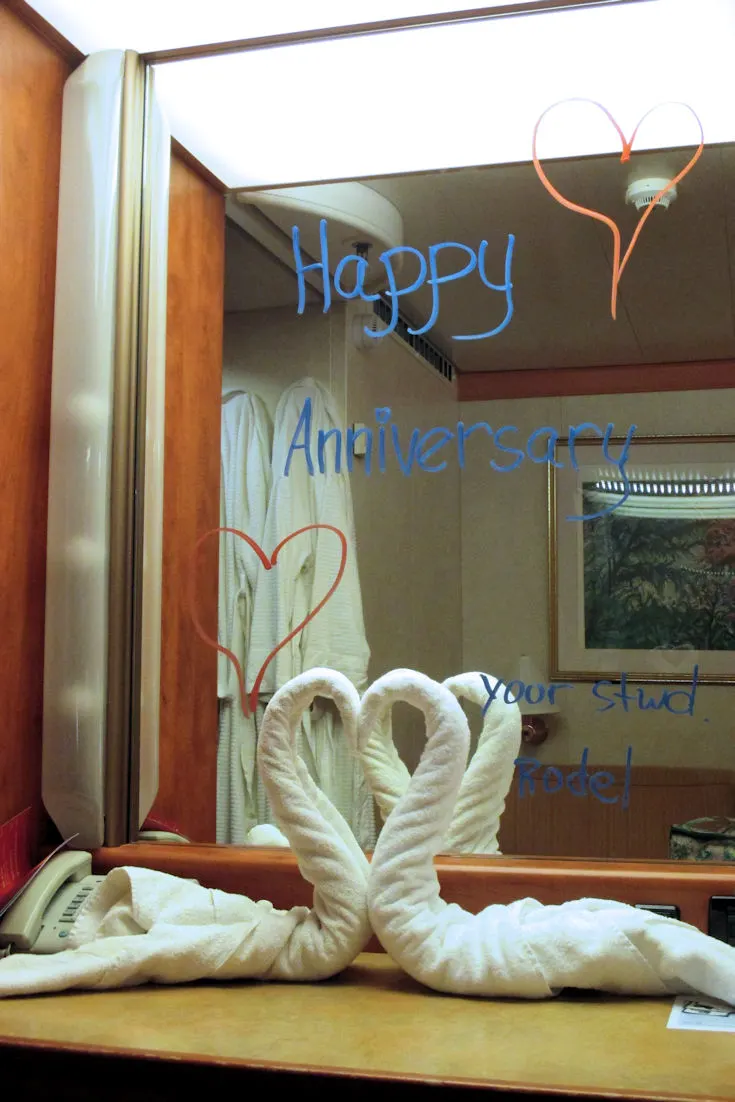 Celebrate your honeymoon, anniversary, or first cruise together, by writing messages or poetry of love. Forget the pen and paper but pack a washable red marker instead. Use your cruise ship cabin mirror to write notes to each other. The marker is easily erased each day and new words are added as you feel inspired.
We sailed the Mexican Riviera on a special occasion, and our Steward wrote a message on your mirror to celebrate the event. It was a lovely touch that brought a smile to our faces and a memory we will cherish forever.
Sing Karaoke Together
While most of us aren't blessed with a singing voice, have some fun on your cruise vacation by singing love songs to each other or performing a duet. Even if you can't carry a tune, just remember, no one on the cruise ship knows you so you won't be seeing any of those strangers again.
Everyone has a favorite song or "your song" so why not confess your love for each other at the karaoke venue? If you're too shy to sing in public, pre-load your smartphone with your favorite love songs and sing along in your own private space.
Sunrise Breakfast
During a sea day, order breakfast in your stateroom and enjoy it on your balcony. Room service is generally free unless you request a paid-for breakfast. Order orange juice and mix it with champagne you brought on board to create a breakfast mimosa. We ordered room service on the Majestic Princess and created our own romantic balcony breakfast in Cabo San Lucas. Most cruise lines allow one bottle of wine or champagne per person.
Check your daily newsletter for the time of sunrise, and arrange your intimate breakfast at that time. Enjoying a champagne breakfast on your balcony in your plush bathrobes is the perfect way to add romance to your cruise.
Plan A Romantic Shore Excursion
Don't let the romance end on your cruise ship; why not continue it on land? During a port day, do something romantic together. During one of our vacations, we got henna tattoos with each other's names. While I'm not suggesting you get a real tattoo, henna tattoos are non-permanent and fade away after a week.
On another vacation, we booked a duo parasailing excursion together. It was incredibly romantic to hold each other's hands as we ascended into the skies over Puerto Vallarta.
Consider a luau in Hawaii, a sunset champagne catamaran cruise in the Caribbean, a sunset horseback ride in Mexico, or a romantic Gondola ride in Venice.
Play The Newlywed Game
Whether you're a new couple or have been married 25 years, try out for the Newlywed Game, Love and Marriage, or Mr. and Mrs. game shows. The cruise ships host picks three couples to play, and all are deemed winners.
It's fun to watch and a blast to participate in. Maybe by playing the game, you'll learn something new about your partner.
Have A Private Photo Session
Most cruise lines offer complimentary private photo sessions. These photoshoots aren't reserved for newlyweds or those celebrating a special occasion. In fact, anyone can book one, and there's no obligation to purchase any of the photos. These sessions are offered earlier in the cruise, so there is time to edit and print your pictures. I booked a time slot on the Carnival Spirit during a Hawaiian cruise vacation. The photoshoot was approximately 45 minutes long and took place all over the cruise ship.
The photographer was fantastic at creating natural poses while showing your "best side." On the last day of the cruise, you can view your photographs with an option to purchase an entire album of pictures or select just the poses you want. These photos are a great way to remember your cruise ship romance and the memories you created onboard.
Renew Your Vows At Sea
If you're been married to your soul mate forever, consider renewing your vows at sea. Not only do some cruise lines host weddings at sea, but you can also renew your vows. What better way to add romance to your cruise vacation than saying I love you forever, again?
If your cruise line doesn't offer this service on board, consider renewing your vows on a port day. There are plenty of beautiful beaches and romantic places to exchange your expressions of love to each other.
Leave A Love Lock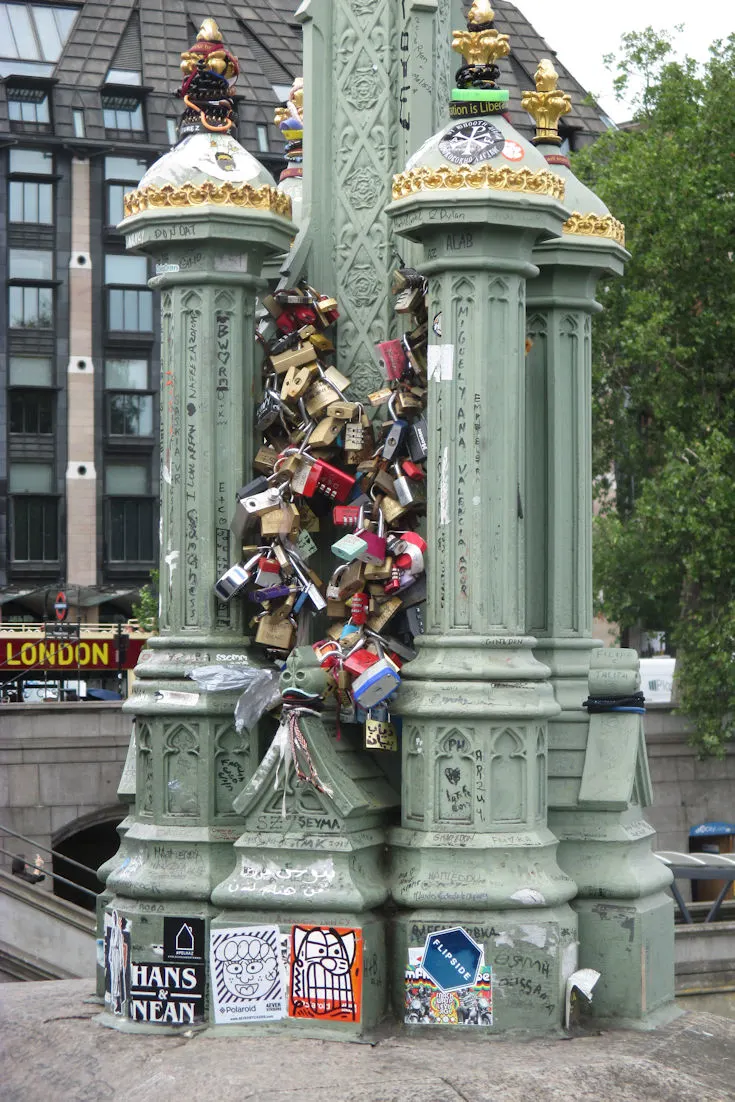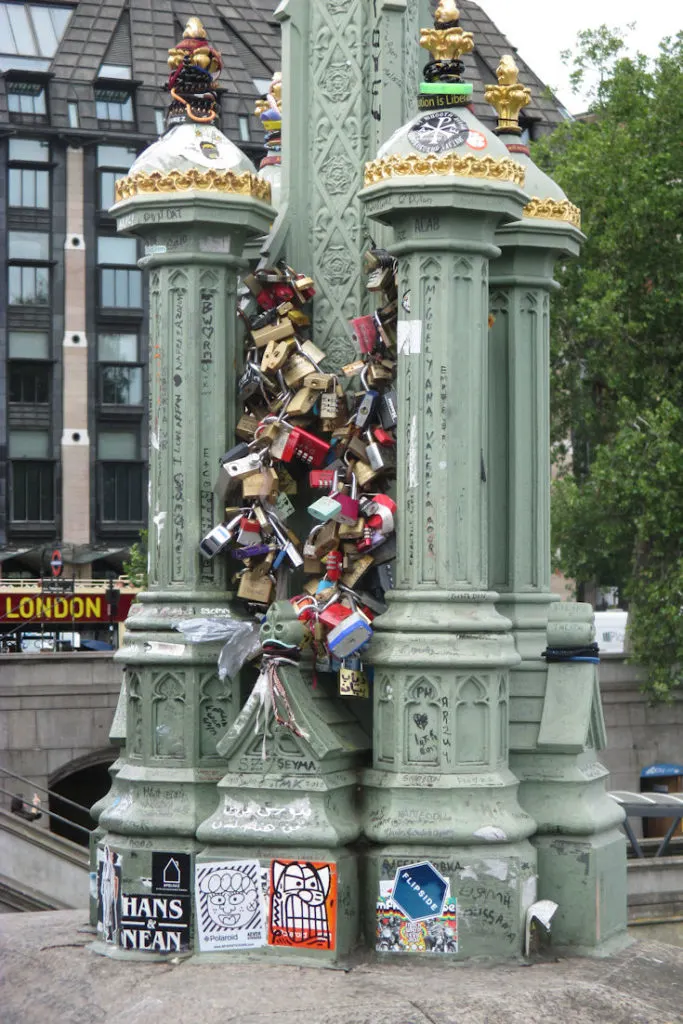 A love lock is a padlock locked to a bridge, gate, or monument to symbolize your love. Why not start a tradition by taking a lock with you and leaving one at every getaway destination? While love locks have been banned in some places, other cities have erected monuments that encourage visitors to attach their locks of love.
You don't need to be newlyweds to start this tradition. I recently visited Queen Elizabeth Park in Vancouver where their 'Love in the Rain' art installation encourages lovers to attach their love locks. It was interesting to see the different shapes and inscriptions on the locks. One of the locks professed the love of a couple married in 1968! We can all probably learn a thing or two from them. ♥ ♥ ♥
Happy travels ~ Karen