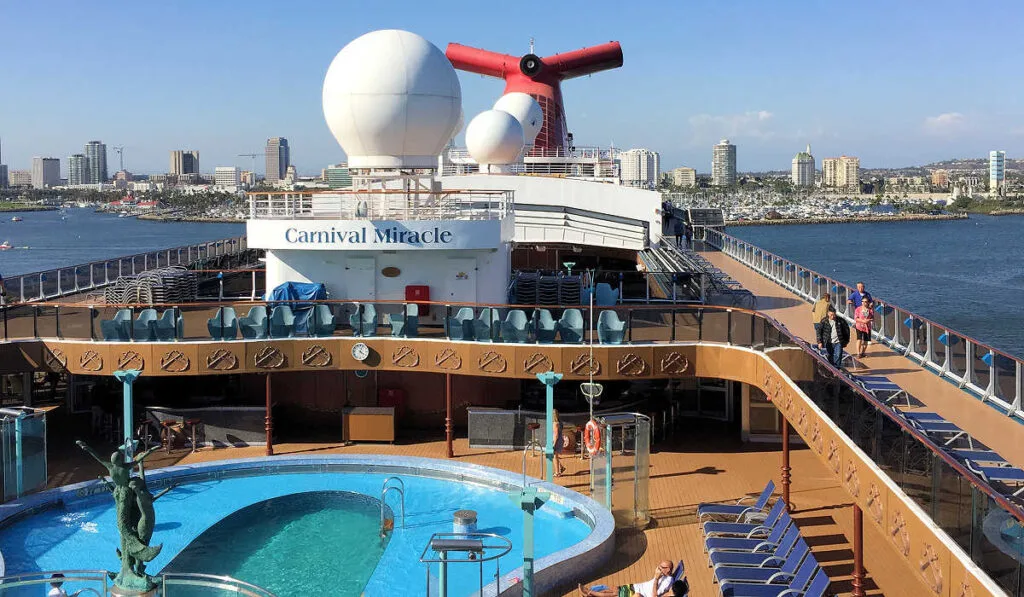 The mid-sized Carnival Miracle is a Spirit-class ship with a passenger capacity of 2124. Built in 2004, Carnival Cruise Line refurbished the Miracle's amenities when it went into dry dock in 2020, giving it some fun ship upgrades.
Its whimsical design contrasts greatly with classic lines like Celebrity Cruises. While the Miracle lacks state-of-the-art new attractions on mega-ships, passengers benefit by saving money on its budget-friendly cruises.
So, if you're not ready to splurge for a new vessel like the Mardi Gras, a cruise on the Miracle will provide good value.
The Carnival Miracle alternates itineraries, offering 3-to-5-day sailings to Mexico in the winter. In the summer, it offers family-friendly cruises to Alaska.
Also, while based in Long Beach, Carnival Cruises offers 14-day cruises around the Hawaii Islands approximately once a month.
Carnival Miracle Staterooms
My review of the Carnival Miracle is based on a seven-day itinerary from California to Mexico. The cruise included two days in Cabo San Lucas and one in Puerto Vallarta.
I selected a balcony cabin on the Empress deck with cabins above and below me to ensure a quiet room. The stateroom measured 185 sq. ft (17 sq. meters) and offered plenty of storage for two adults.
In my opinion, the best Carnival Miracle cabins are on deck 6 (Empress) and deck 7 (Verandah) because they have at least one floor of staterooms above and below.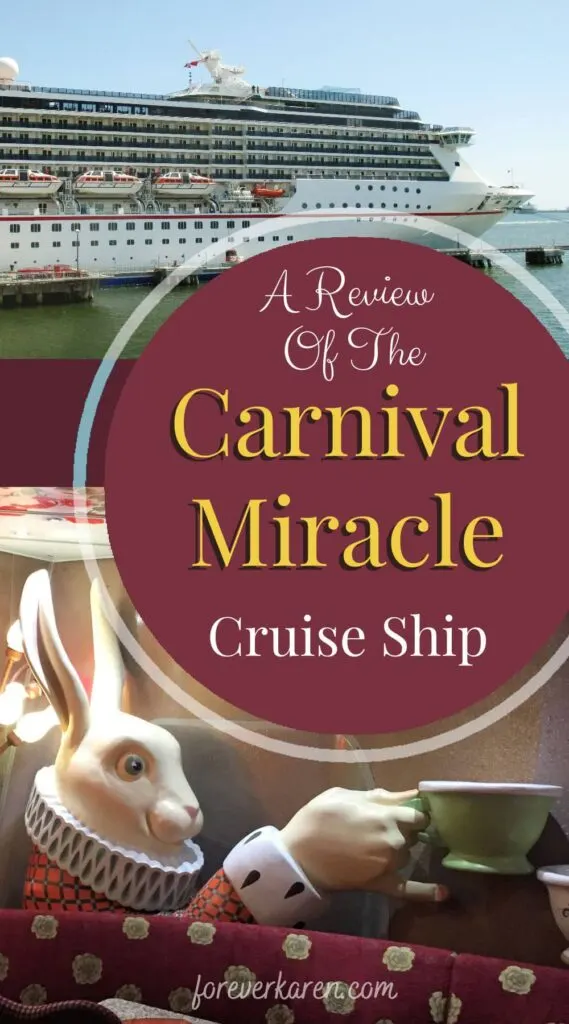 Carnival Miracle, being a budget-friendly ship, we got what we paid for, simple amenities without the frills of a five-star hotel. It was evident the cabins hadn't received an upgrade during the last refurbishment.
For an additional charge, you can get a premium balcony stateroom, which gives you a double-sized balcony and an extra 45 sq. feet of interior space.
Nevertheless, it served us well during our Mexican Riviera cruise, and we slept well every night of the vacation.
While I'm a light sleeper and had a connecting cabin, I did not hear any noise in the adjoining stateroom to disturb my sleep.
The roomy cabin included a full couch, a small coffee table, a desk, and plenty of closet space. The bathroom was a little small, and the shower had a pesky curtain instead of a door.
However, it did include a clothesline which was handy for hanging wet bathing suits.
We noticed our stateroom didn't contain an ice bucket on embarkation day, so we asked if we could have ice. Every day after that, our steward, Rodel, brought ice every day.
Rodel was terrific and knew we were celebrating our anniversary during the cruise. So, one day he left us a celebratory message on our mirror and a towel heart on the bed. Five stars for service, Rodel!
French Door Cabins
Carnival Cruises Spirit-class ships have a unique type of stateroom. Classed as a 4K interior stateroom, it's really a balcony with no access to the outside.
The cabin has a set of French doors that open to a "Juliette-type balcony." While you cannot step outside, the opening doors allow for fresh air, daylight, and the sound of the ocean.
Located on deck 4, these French door inside cabins have partial or fully obstructed views because of the lifeboats. For those who prefer natural airflow to air-conditioning, the 4K inside makes a great option without paying for a balcony, and they are cheaper that an ocean-view stateroom.
As a bonus, these inside cabins are the same size as balcony staterooms with all the same furnishings. Having a 185 sq. ft (17 sq. meters) stateroom is a huge bonus over a 130 sq. ft cabin with a bed and no couch on other cruise lines.
I stayed in a French door stateroom on the Carnival Spirit and was lucky enough to get one between the lifeboats for partial ocean views. If you're interested in viewing one, it may be included in a cabin crawl, so be sure to join one.
Carnival Miracle Suites
Don't expect giant two-bedroom suites on the Miracle. The Grand Suite is its largest stateroom, which measures 300 sq. feet with a 115 sq. foot balcony. It is similar in size to a Junior Suite on a Royal Caribbean vessel but very dated.
The Miracle has three other suite-class rooms; the Vista, Ocean, and Junior Suites. These all include separate living areas, and some have bathtubs instead of showers. The Ocean Suites are the same size as Vista Suites but have larger balconies.
The Miracle has self-serve laundry on passenger decks. Doing laundry on a cruise allows you to travel with fewer clothes and is especially usual on extended cruises.
Staterooms To Avoid
The best staterooms are on decks 6 and 7 because these have cabins below and above, reducing noise. If you're sensitive to noise, avoid the cabins on deck one, as many of them are beneath the casino and bars.
On deck 4, cabins 4112, 4114, 4116, 4118, 4120, and 4122 are above Sam's Piano Bar. Staterooms on deck 8 are under the pool deck, which can result in noise early morning and evening when staff moves the loungers.
Carnival Miracle Dining Review
Unlike larger ships with multiple dining options, the Bacchus Dining Room at the aft served as the only sit-down complimentary main dining room.
The two-level dining room startled me with its giant purple grapes and vines creeping across the ceilings.
While not a sophisticated décor, the food was delicious, and Carnival catered well to my food allergies. I'm lactose-intolerant and gluten-free, and the kitchen made the amazing chocolate melting cake so I could eat it. In fact, I requested it often, haha.
Cruises of six days or more still have lobster on the menu on a formal night. However, Carnival recently changed its policy regarding lobster.
Guests will now incur a surcharge of USD 5 for ordering additional lobsters over the first two. Seems very reasonable to me, and who would order three or four lobsters anyway?
Alternatively, those who prefer a more casual meal can eat at Horatio's Buffet, Guy's Burger Joint, BlueIguana Cantina on the Lido deck, or opt for 24-hour room service. Complimentary continental breakfast is served between 6 am and 10 am.
Although guests can order food from their leisure dining menu from 10 am to 6 am. Examples include a tuna sandwich at USD 6, a Greek salad with grilled chicken at USD 8, and a pepperoni pan pizza at USD 6.
Horatio's Buffet has a great variety of food for a mid-ship, with its international stations offering everything from Italian pasta and fresh salad fixings to authentic Chinese dishes. The seating area has floor-to-ceiling windows so you can enjoy the view while dining.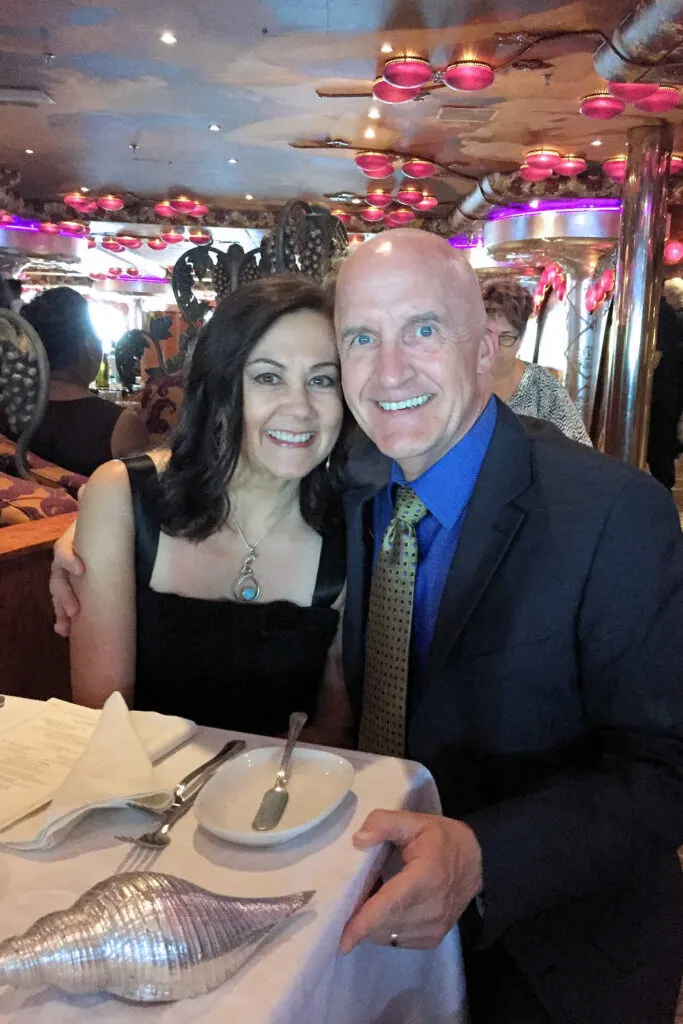 Guy's Burgers has AMAZING burgers, which is a huge compliment coming who someone who doesn't eat fast food. Furthermore, they make their patties without wheat fillers and offer gluten-free buns. Their fries aren't dusted with wheat either.
On the last sea day, Carnival hosted a Chocolate Extravaganza at Horatio's Buffet. It featured everything chocolate from cake and pudding to cream puffs and cheesecake.
When I inquired if there was anything gluten-free and lactose-free, sadly, the answer was no. Instead, the staff pointed out a fresh fruit bar with a chocolate fountain.
While the flowing chocolate included milk, a head chef asked me to wait five minutes. Five minutes later, he appeared with a plate full of fresh strawberries covered in dark chocolate containing no milk. Now, that's terrific service!
Alternatively, specialty restaurants include Bonsai Sushi Express on the Lido deck and Nick & Nora's Steakhouse on deck ten or the Sun deck.
I love sushi but have yet to cruise on a ship that carries gluten-free soy sauce. If you're celiac and want to enjoy sushi while cruising, it's best to travel with gluten-free travel-sized soy sauce.
On our last sea day, we tried out the Nick & Nora's Steakhouse on deck ten.
Nick & Nora's Steakhouse
A glass-floor staircase leads up from the Lido deck to the steakhouse. The staircase is an indication that the room above has a touch of luxury, and it was indeed the nicest space on the ship.
Over the restaurant's center, a red skylight (part of the ship's funnel) filters rosy-colored light into the swanky dining space.
With crisp white linens and bone China dinnerware, Nick & Nora's provided a perfect way to add romance to our cruise to Mexico. A table for two next to the ocean allowed us to watch the sunset while enjoying our Mississippi Delta Shrimp Cocktails.
For entrees, Brian chose the 14-ounce New York strip steak, and I had the surf and turf. While the chef cooked Brian's steak to perfection, mine was tough and barely edible.
So, after apologizes from the waiter, the kitchen prepared another steak, and the replacement was tender and delicious. Nick & Nora's charged USD 38.00 per person, and we agreed it was money spent.
In comparison, Royal Caribbean charges USD 65 for their steakhouse on the Ovation of the Seas.
It's important to note that Nick & Nora's has a dress code, and the staff recommends reservations. The Restaurant was busy the night we dined (on a sea day), but port days see fewer guests.
Carnival Miracle's Outdoor Amenities
For a mid-sized ship, I was surprised the Carnival Miracle has three swimming pools and four hot tubs. Cruisers can swim at the Siren's Pool, and Ulysses Pool, found mid-ship. The latter has a retractable roof, perfect for cooler weather destinations.
Since we were cruising to Mexico, we did not need to use an indoor pool. However, if you're cruising to Alaska, you'll benefit from having an indoor pool.
Between the two pools, the Red Frog Rum Bar and BlueIguana Tequila Bar provide easy access to grab a drink. With live entertainment, the pool deck was hopping some days.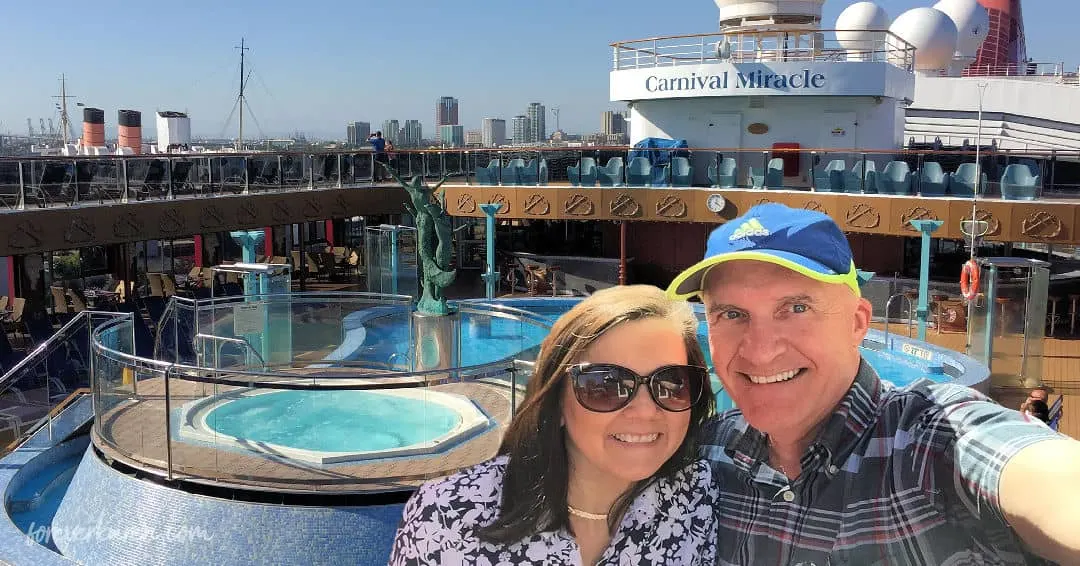 The ship has two waterslides, one for the little ones and the other for the older kids and adults Deck 11 forward also has a nine-hole mini-golf encompassed by a jogging track.
Being a smaller vessel, I found the ship easy to navigate and remember where everything was. On larger ships, I tend to memorize the cruise ship layout by day seven, debarkation day.
The Serenity Retreat
The Serenity pool in the aft was a popular spot both day and night, especially when a live band entertained the guests. This pool was larger than those on other vessels.
We enjoyed many sea days here as there were comfy loungers to relax and listen to the oldies. Unlike other ships where the Serenity adult-only retreat area tended to get overcrowded, we always found plenty of empty seats in the Serenity. We enjoyed the music there; classic oldies, but not head-banging music.
The Miracle's serenity area had a mix of open and covered areas. In a hot destination like Mexico, we appreciated the seating in the shaded areas when we had too much sun.
While we sailed in a warm destination, being at the back of the ship, the Serenity would provide shelter from the wind in cooler areas like Alaska. I'd imagine it would make an ideal place to view the beautiful scenery on glacier viewing days.
The Serenity included a bar for drinks, and nearby, the Lido buffet was a great place to grab pizza, snacks, and salads throughout the day.
Lower Decks
One of my favorite places onboard was Mad Hatter's Ball Lounge. Located on deck one, and as the name suggests, it's modeled after the whimsical Alice in Wonderland characters.
From the white rabbit having his afternoon tea to the Mad Hatter himself, the lounge entertained immensely with its late-night comedy and occasional game show.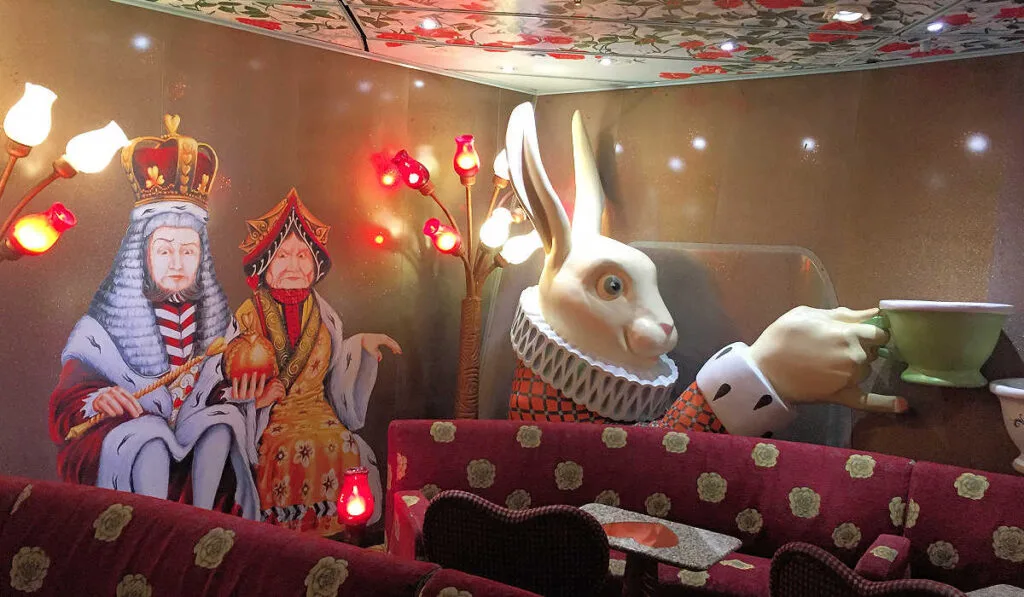 From the Mad Hatter's Lounge, take the spiral staircases to the Phantom Main Lounge. Here, the two-leveled theater featured nightly entertainment shows.
On this deck (Promenade), you'll find more options for bars, such as the Red Frog Pub, Mr. Lucky Casino Bar, and Alchemy Bar. Interesting that the Promenade Deck didn't have an outside area. That can be found one deck higher.
On the Atlantic deck or level three, a narrow indoor walkway runs down either side of the theater. Known as the Gatsby's Garden Promenade, it provides a quiet space to escape the crowds or read a book.
Decks two and three contain all the usual found on a cruise ship. These include Mr. Lucky (or not so Lucky) Casino, Skybox Sports Bar, Shore Excursions desk, the Fun Shops, and more.
The central atrium, called "Metropolis," features a colorful 11-story atrium painted in tones of pink and orange. With three glass elevators overlooking the lobby, cruisers can enjoy elevating views while traveling to another floor. Sometimes, this area featured live music.
The fitness fanatics should not miss Miracle's 14,000 two-leveled gym. One of the little gems of the gym is the enclosed spa. I found it by accident, and it proved to be an ideal spot to escape for some relaxation.
It's tucked awkwardly in the center and accessed by a narrow hallway. I realized not many cruisers know of or find this idyllic spot.
Nearby, the sauna and steam rooms are free to use, which I often utilize in cold weather climates like Alaska. Since newer vessels no longer have the complimentary saunas and steam rooms, it's a bonus worth utilizing.
The Entertainment
One of the things we looked forward to on a cruise is the nightly entertainment. Like most cruise lines, Carnival has the usual playlist productions, comedy shows, game shows, and much more. Hasbro, the Game Show was a huge hit and delights both families and adults.
We really enjoyed the lineup at the Punchline Comedy Club, and the late-night comedy was fantastic. These were usually held in the Mad Hatter's Lounge, which provided a more intimate experience.
The Broadway-type shows in the Phantom Main Lounge were equally entertaining and not the kind that would put you to sleep.
Camp Ocean
If you're cruising with kids, you'll find the Carnival Waterworks on deck 11 aft. Camp Ocean is located on deck 5 (upper deck) at the ship's bow.
It has a youth center, offers free programs for all ages, and provides extra services for an extra fee. The children are divided into age groups, and activities are organized to suit these groups.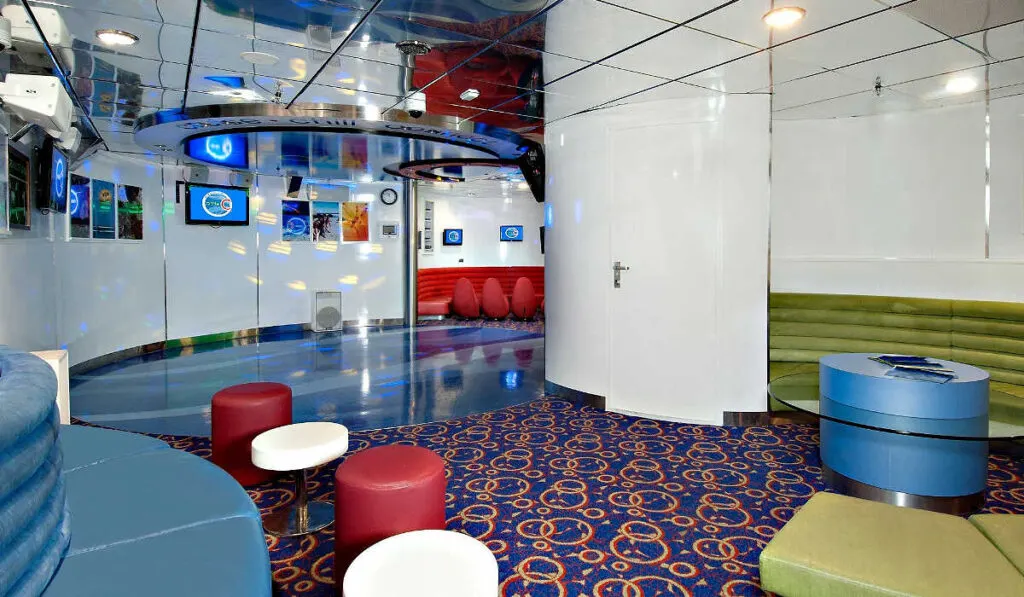 Camp Ocean has late-night programs if parents want a night out. Also available is group babysitting for those aged six months and above.
The youngest group, "Penguins," takes ages 2 to 5 years, while 6 to 8-year-olds join the "Stingrays." Sharks consist of older children aged 9 to 11.
Carnival WiFi Packages
Unlike most competitor lines which offer two speeds of WiFi, Carnival has three. The very basic plan called "social" costs USD 10.20 a day for the duration of the cruise. A step up, the "value wifi plan" costs USD 14.45 a day. For those who want to stream, the premium plan, at USD 17 a day, allows you to do that.
If you can't live without WiFi, you can save money by prepurchasing online before your cruise. Should you only want service for a day or two, you'll pay a higher rate. For instance, a 24-hour pass for the premium plan costs USD 30 onboard.
We found the WiFi slow, but you can't expect the lightning speeds that we're used to at home.
Carnival Miracle Facts
The Miracle still delivers the Fun Times to your stateroom each day. While ships have gone to apps (and Carnival has one), cruisers can use the app or still carry the Fun Times.
The Carnival Cruise App allows passengers to chat with each other for a USD 5.00 flat fee. So, if you're from another country, you can still message family or friends on board without the risk of roaming charges.
The library and chapel were removed during the refurbishment in 2020 and replaced by the Warehouse Arcade. WaterWorks was also added on decks 10 and 11 to make the Miracle a more family-friendly ship.
Final Thoughts
For those cruising on a budget, the Carnival Miracle provides a lively atmosphere without hurting your pocketbook. With plenty of daytime activities for families and late-night comedy for adults, it's a ship that caters to every cruiser.
While the Spirit-class ships are smaller than the newer mega-ships, what it lacks in amenities, the Carnival Miracle makes up for in friendly and excellent service.
If you're a fan of over-the-top hotels in Las Vegas, you'll love the Carnival Miracle. Designer Joe Farcus has created the interiors of many Carnival ships, including the Miracle.
His quirky theme stands out from Batman's Gotham Lounge to Superman's Metropolis atrium. Let's not forget Alice in Wonderland's Mad Hatter's Lounge and the Yellow Brick Road that runs alongside the Fun Shops.
While Joe Farcus' vision might not be to everyone's tastes, his décor is fun, and isn't this why they're called the Fun Ships?