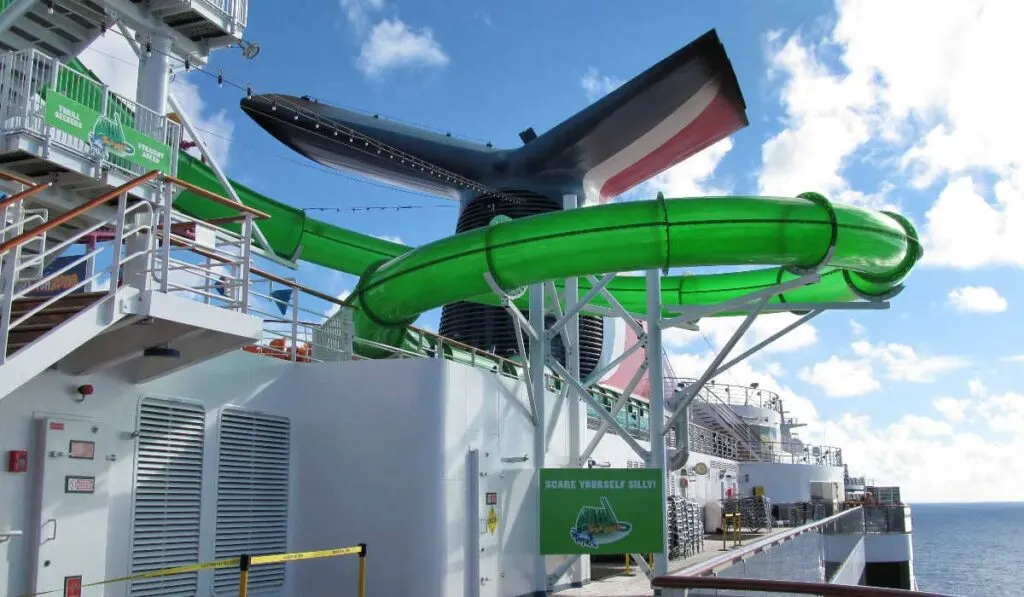 While the Carnival Spirit isn't Carnival Cruises' newest ship, with a few refurbishments (the last one in 2018), it provides a fantastic cruise experience for families and those on a budget.
A Spirit-class vessel, the Carnival Spirit provides guests with twelve decks of venues, which are easy to access in their well-laid-out design.
Initially, this vessel provided sailings in North America. Then, it repositioned to Australia and offered South Pacific itineraries from Brisbane. With cruising uncertainty in Australia, Carnival offers Alaska and Mexican Riviera sailings in summer and Caribbean itineraries in winter.
I sailed on the Carnival Spirit during one of her repositioning crossings. While I didn't complete the entire journey to Australia, I cruised the first leg, a 12-day cruise from Vancouver to Hawaii.
So, this is my Carnival Spirit review of the vessel, including stateroom, entertainment venues, and dining options.
The Carnival Spirit Deck Plan
With a capacity of almost 2,124 guests, Carnival has packed a lot into its mid-sized ship. I liked the ship's design and found it easy to navigate from one area to another.
Unlike the Carnival Glory ship, which has its galley in its middle, the Spirit's deck flow is much better.
Some areas I especially liked included hidden places not always found by guests. The Jungle Interior Promenade on either side of the theatre was a great place to read a book or enjoy some quiet time.
I found a great hot tub rarely used (or located) by other cruise passengers in the spa.
The jogging track on deck 11 didn't run by the loungers by the pool, which is sometimes problematic.
The Spirit's Promenade deck has a partial outdoor circuit. However, it has a large outdoor walking path that connects to an indoor area called the "Jungle interior promenade."
Like most Carnival vessels, the Spirit dons a colorful décor. While the wild décor didn't bother me, those tacky birds featured by the pools just didn't fit the overall design.
She looks almost brand new with her recent refurbishment and new exterior hull color to match that of the Mardi Gras. Let's hope on the next upgrade, they refresh the outdated staterooms.
The Carnival Spirit has a great deck plan, making it easy to find venues.
My 4K Interior Cabin Review
Launched in 2001, the vessel doesn't have the overly large suites or lavish staterooms found on newer ships. In fact, its largest cabin, the Grand Suite, is relatively small at 300 sq. feet.
While newer vessels have mostly cabins with verandas, the majority of Carnival Spirit cabins fall in the interior and ocean view categories.
Even though the rooms are dated, I enjoyed the larger space with plenty of storage. Carnival Spirit's interior, outside, and balcony cabins measure 185 sq. feet, which is quite sizable by today's standards.
With plenty of connecting staterooms, families can choose two rooms next to each other and enjoy the luxury of double the space.
Unique to the Spirit-class ships, Carnival Cruise Line describes its 4K cabin as an interior with a window offering an obstructed view. I booked one of these cabins. In reality, it's a Juliette balcony where you can't step outside.
I appreciated the larger space as I've seen the 140 sq. foot inside cabins on competitor lines. While they call them interior staterooms, I call the 140 sq. foot spaces shoeboxes!
The 4K rooms on deck 4, or the main deck, have a set of French doors that you can open. Since the lifeboats are positioned outside the rooms, you don't have any views, but you can enjoy the fresh air, daylight and hear the ocean waves.
If you dislike air-conditioning as I do, you'll appreciate the ability to turn off the AC and enjoy ocean breezes.
While guests can find a few of these 4K cabins next to the lifeboats, some offer ocean views. Staterooms 4122, 4123, 4140, 4141, 4148, 4149, 4196, 4197, and 4203 fall between the lifeboats.
These cabins sell out fast, but I lucked out on booking 4149 after someone canceled their booking. While I prefer to book a balcony simply for the fresh air, I could enjoy the fresh air without paying for a balcony cabin.
🛳️ Haven't booked your cruise yet?
Find your perfect cruise with Cruise Critic. It features more than 650,000 cruise reviews, advice and information from the team of cruise experts on everything you need to know. The site also offers itinerary and pricing information, deals and money-saving tips.
Find your cruise here
Cabin 4149 has staterooms above and an open Promenade area below. I found the cabin very quiet during the cruise.
My 4K inside cabin had a full-sized couch so I could watch TV from the sofa or the bed.
The bathroom was also outdated, and the shower had the curtain that we all love to hate.
Outdoor Spaces
The Carnival Spirit has three pools on deck 9 or the Lido deck. The Sun Forward Pool and the Dome Main Pool are located back-to-back in the center of the deck, with a couple of hot tubs.
With a sliding dome to cover one of the pools, it's an ideal vessel for cold-weather destinations like Alaska. The Blue Iguana Tequila bar and Red Frog Rum bar sit between them and are always busy with guests.
Plenty of loungers are around the pools, and I never had to worry about finding an empty one. At the aft, the Serenity Pool is reserved for adults only.
The large Serenity area has its own bar and always hops with live entertainment. In fact, it was my favorite place to hang out on the ship, especially on sea days. The comfy loungers are a great place to read a book or relax.
Carnival Waterworks on deck 11 provides entertainment for hours for the little ones. Next to the Waterworks, two waterslides offer fun for children and adults alike. The yellow slide provides a calmer ride for the young ones.
However, the "Green Thunder" swirling slide whips guests out over the ocean at 65 km an hour. It's the fastest slide at sea and promises to get your heart racing. I loved the sign underneath the slide that says, "Scare yourself silly."
When I first saw the slide on embarkation day, I couldn't wait to try it. And let me tell you, I was with the minority. The thought of the floor dropping away and having the person freefall down the slide at high-speed scared passengers away.
With cool days and a bit of wind, I had to wait until day four of my cruise for the Green Thunder to open. With only two other guests willing to try, I had multiple runs on the Green Thunder.
You'll find the jogging track, mini-golf, and sports court, two decks up from the pools.
Dining And Food Choices
Guests aboard Carnival Spirit cruises have many options for meals. The Empire Restaurant, the main sit-down venue, offers complimentary food choices.
The La Playa Grille and the Ol' Fashioned Bbq on the higher decks offer buffet-style selections if you prefer something more casual.
Like many other lines, the dress code is quite relaxed. Even on optional formal nights, expect fewer guests to dress their best.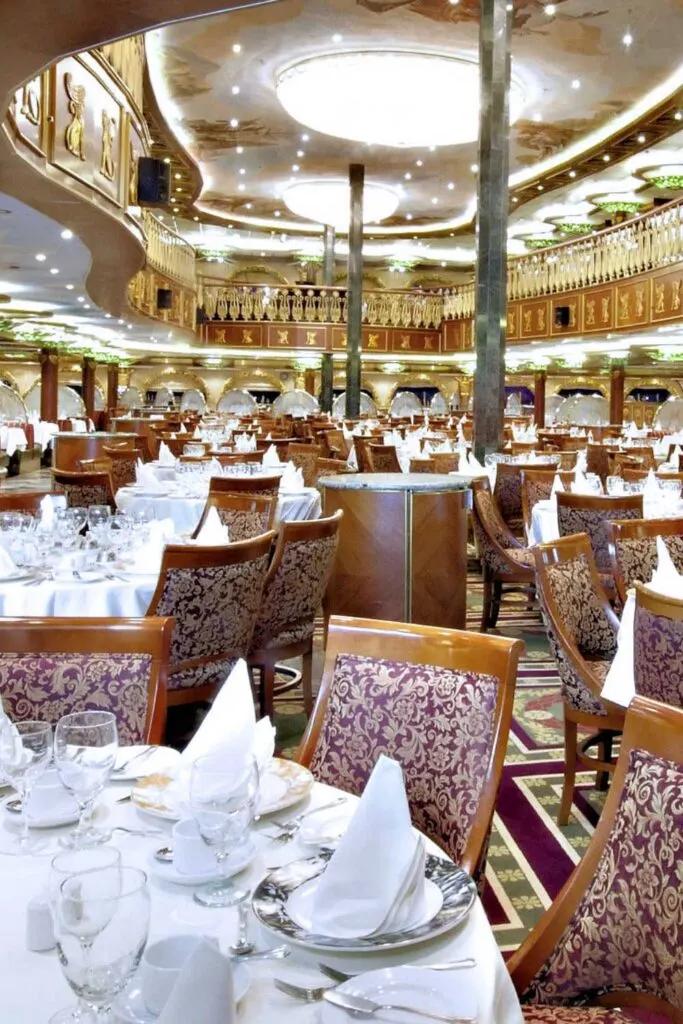 The Lido restaurant is a casual buffet-style dining venue that serves a wide array of dishes throughout the day. It offers a variety of cuisines, including international fare, comfort food, salads, soups, and desserts.
Also, it featured a pizza station and tastes of the nation. The featured food changed each day, offering cuisine from different countries.
The Blue Iguana Cantina offers a taste of Mexican cuisine with a selection of tacos and burritos. Passengers can choose from a range of fillings, salsas, and toppings to create their own flavor combinations. The venue also serves freshly made tortillas and chips.
As with most Carnival ships that have undergone an upgrade, this vessel features Guy's Burger Joint on the Lido deck. Created in partnership with Food Network's Guy Fieri, Guy's Burger Joint serves delicious, juicy burgers and hand-cut fries.
Guests can customize their burgers with a variety of toppings and sauces. While I don't tend to eat burgers, Guy's burgers are fresh and full of flavor. As someone with celiac, I was surprised I could order one gluten-free.
Other complimentary venues include the Red Frog Pub, and pastries and sweet goods at the Fountain Café. Pizza and ice cream lovers can get pizza and soft-serve almost any time they want without a surcharge.
I ate most of my meals in the main dining room because it's the safest place when cruising with multiple food allergies. My waiter was excellent and made daily recommendations.
He often brought things to the table that no one had ordered in an attempt to get everyone to experiment with flavors. I tried the frog legs, alligator, and escargot during that cruise.
While these items were pre-pandemic, it's unlikely you'll find such unusual food options now.
You can choose from Bonsai Sushi Express, Nouveau Restaurant, and The Chef's Table for those who prefer specialty dining. Although the Chef's Table comes with sticker shock, the meal is gratifying.
Located on deck 11, the Nouveau Steak House charges USD 38 for an appetizer, salad, entrée, and dessert. I ate here one evening, and the steaks were done to perfection, and the meal was well worth the surcharge.
With windows all facing the ocean, you can enjoy your steak dinner with sea views.
Bar Options
The Carnival Spirit features an array of bars, whether you're looking for an indoor or outdoor venue. Outside, there are plenty of places to get a drink. Choices include the Blue Iguana Tequila Bar and Red Frog Rum Bar on deck 9.
The RedFrog Pub is a Caribbean-themed bar serving up a variety of tropical cocktails and beers, including the popular RedFrog Ale. It's a vibrant relaxing spot and especially popular in warmer destinations.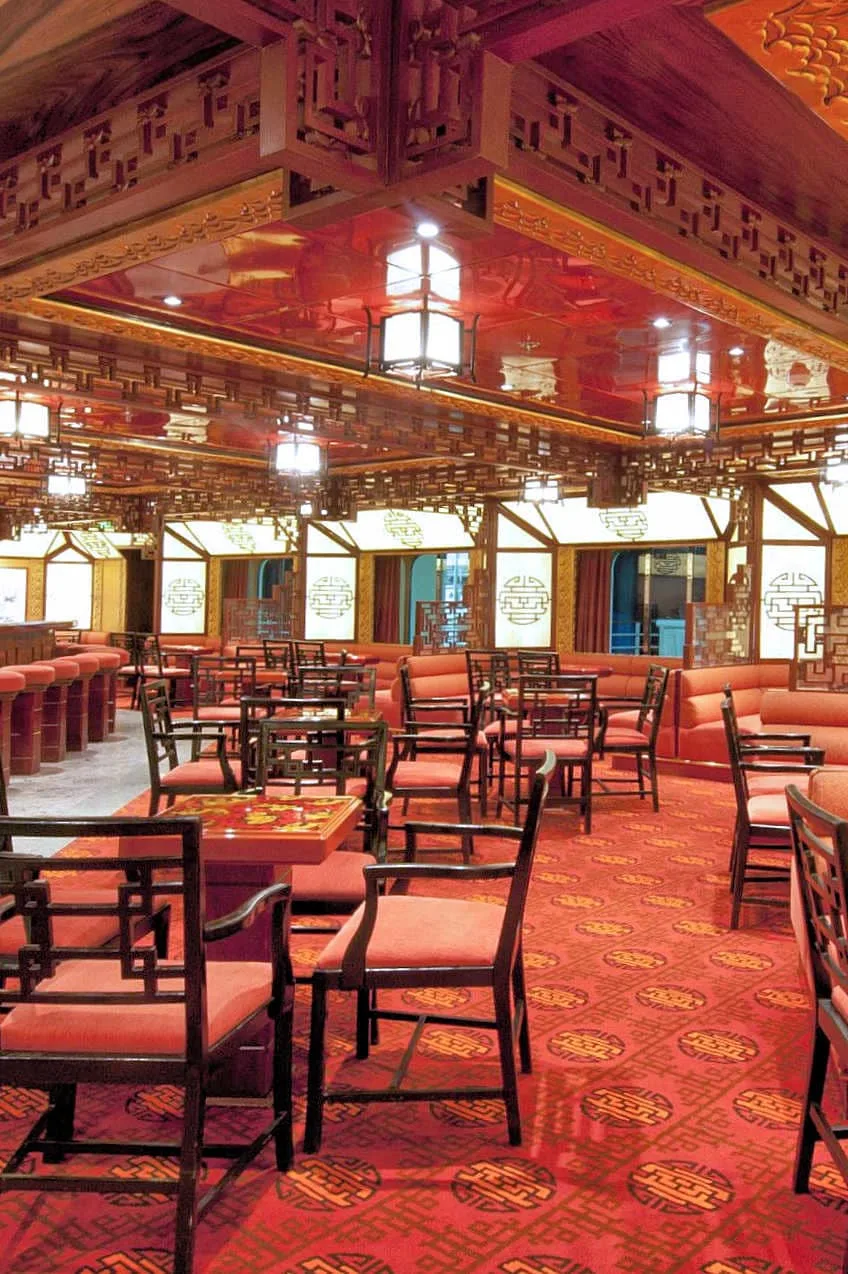 Deck 2 has the Red Frog Pub, Skybox Sports Bar, Louis XIV Casino, Alchemy Bar, and Shanghai Piano Bar one level up. The Alchemy Bar is a sophisticated venue where mixologists craft customized cocktails based on guests' preferences.
For sports enthusiasts, the Sports Bar is the ideal spot to catch live games on large screens while enjoying a cold beer or a refreshing cocktail. It's a lively atmosphere where guests can cheer for their favorite teams.
The Piano Bar offers a cozy and intimate setting with live piano performances. If you're a fan of Billy Joel, Elton John, or other talented piano players, you can unwind and sing along while sipping on your favorite beverage.
If you prefer to try your luck at various gaming tables and slot machines, the Casino Bar is conveniently located nearby and will keep your glass filled.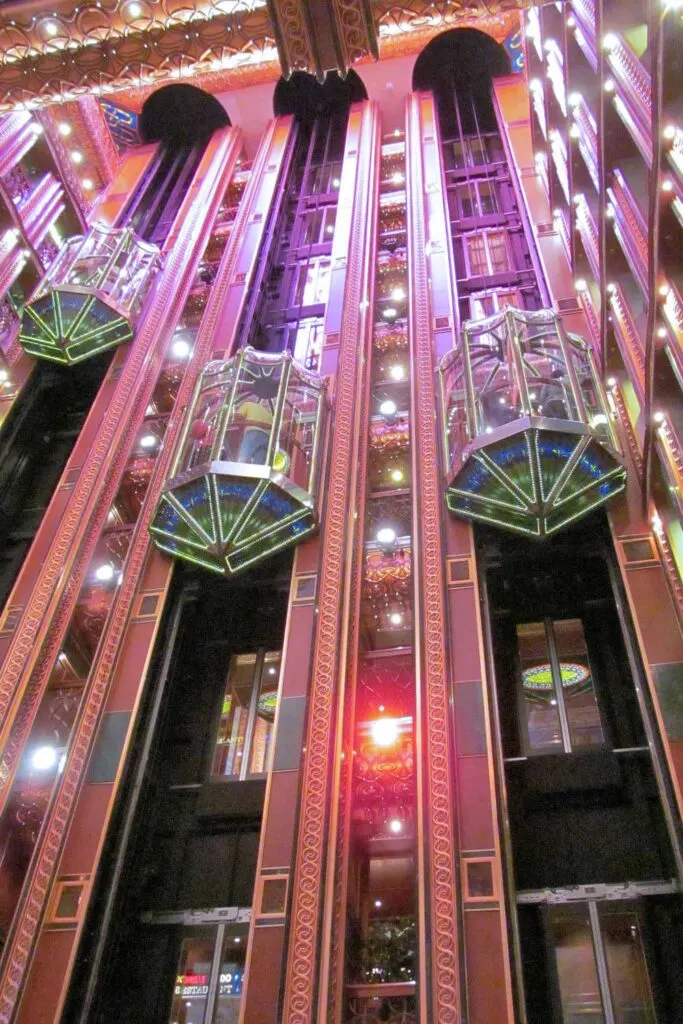 Although less spectacular than newer vessels, the atrium was a great place to hang out.
Should you purchase the USD 59.95 Cheers Beverage Package, you can enjoy drinks up to USD 20 each. These include cocktails, wine by the glass, beer, specialty coffees, and Zero-proof frozen mocktails.
However, you cannot use your package on bottles of wine, gangway beverages, drinks in souvenir cups, or stock your stateroom mini-bar.
Spa And Fitness Center
The spa on the Carnival Spirit offers a tranquil retreat where guests can indulge in a variety of rejuvenating treatments. You can choose from soothing massages to invigorating facials.
Treatments also include teeth whitening, acupuncture, body wraps, exfoliating scrubs, and detoxifying therapies to enhance your spa experience further.
Like most spas at sea, expect to pay up to double what you pay on land. If you're not ready to splurge on an expensive treatment, you can unwind in the steam room or sauna, which are complimentary.
The saunas and steam rooms are especially welcoming after a day of glacier viewing in Alaska.
Additionally, a well-equipped fitness center is available for those seeking to maintain their exercise routine while onboard.
Carnival Spirit Entertainment
While Carnival markets its line as having "fun ships," the Spirit was way more fun than some other vessels. There was no end to dancing on the dining room tables and getting the guests to follow along in their silliness.
In fact, I still remember most of the dining room getting up and dancing to YMCA and doing the Macarena.
The fun continues outside the dining room with the Lip Sync Battle, Love and Marriage show, and the popular Hasbro Game Show.
On the pool deck, the fun continued with the men's hairy chest contest and another contest that challenged guests to build a vessel to float across the pool while carrying cans of beer.
On my warm weather sailing, I often enjoyed the sounds of a live band on the top deck and live music in the atrium.
The entertainment never ends on a Carnival cruise, and being on the Spirit was no different. From the sail-away party to the deck party in Hawaii, I enjoyed it all.
During my 12-day cruise, there were three formal or elegant cruise nights. You can expect two on a seven-night sailing.
On the last night, guests could dress up or wear Hawaiian attire. After all, we were in Hawaii. Almost all passengers chose to follow the Aloha dress code, and it was nice to see the colorful clothing.
The ship may feature other themed nights such as Silent White Hot Night, Superhero Music Party, or 80s Rock'n'Glow in other destinations.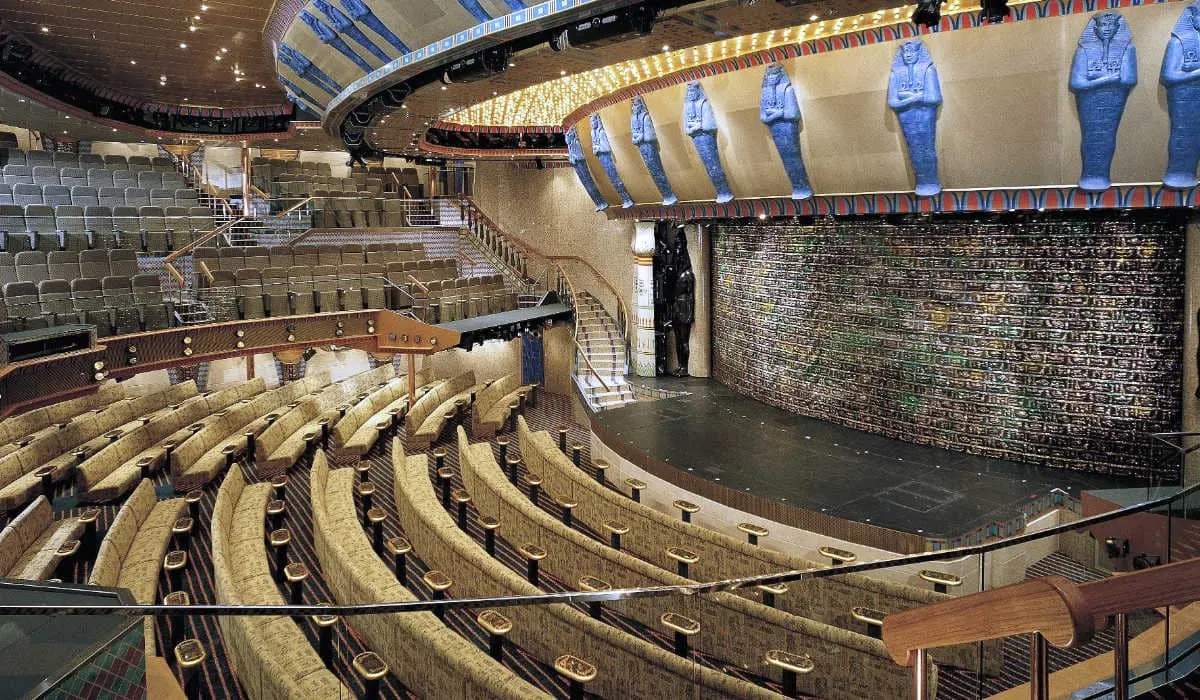 I attended most Playlist Production shows in the Pharaoh's Palace Lounge, and they did not disappoint. Afterward, I enjoyed the late-night comedy at the Punchliner Comedy Club below the theater. The comedian was so impressive that the venue filled up fast.
Around the ship, there were live bands, piano playing, strums from a guitar, and singers. The choice of music varied, so there was something for everyone's tastes.
Other Venues
The Dancin' Dance Club keeps the party-goers dancing on decks 1 and 2. Check out the Cherry on the Top candy store on deck 3 if you have a sweet tooth.
Deck 12, or the aft sun deck, features mini golf, which was rarely ever busy. Being an older ship, the Glory doesn't have any of the characteristics of the more popular mega-ships.
However, you get what you pay for, and those vessels command higher prices.
Like all Carnival vessels, the Spirit has self-serve laundry rooms. While none of us likes to do laundry on vacation, they come in handy on long journeys.
Also, I can pack less and not worry about having overweight luggage at the airport with the ability to do laundry.
Kids Programs
Carnival is a family-friendly cruise line and provides kids programs for different age groups. Camp Carnival offers simple games, art supplies, and scavenger hunts for children aged two to eleven.
For young teens (aged 12 to 14), Circle "C" offers more hands-on sports, video games, pizza parties, movie nights, and more group interaction.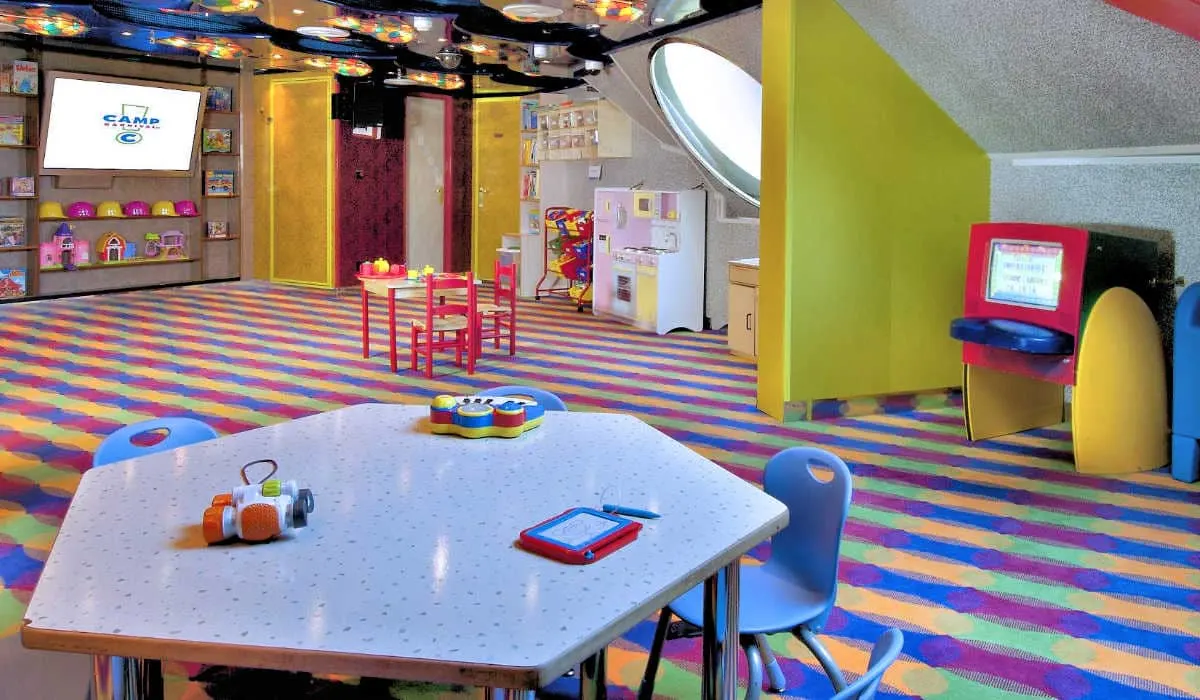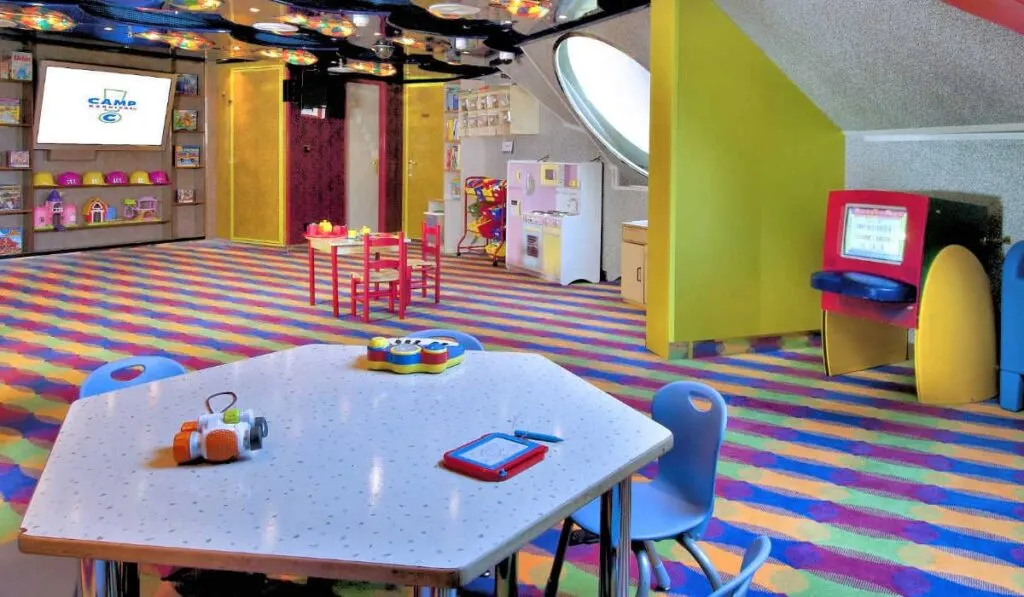 Club 02 is more of a hang-out space for older teens aged 15 to 17. Here, they can chat, listen to music, or choose to play video games.
There are Dr. Seuss-themed events during the cruise, including the iconic breakfasts. Green eggs and ham, anyone? Children can take a Build-a-Bear workshop to make a special animal of their choice.
Around the ship, kids can enjoy a pool, waterslide, basketball court, and miniature golf.
Exceptional Staff
The biggest plus on this cruise was the Carnival staff. While all cruise line staff are trained to be courteous and helpful, I felt many gave exceptional service.
As a Celiac, I have to watch what I eat. However, my servers were always helpful and ensured my food never contained any allergens.
There were also a couple of photographers who were terrific at portrait pictures. While most cruise passengers shy away from photographers, I like to get at least one photo from each cruise.
One photographer did such an excellent job capturing my "best side," and I ended up going home with eight large prints.
Pros And Cons Of The Carnival Spirit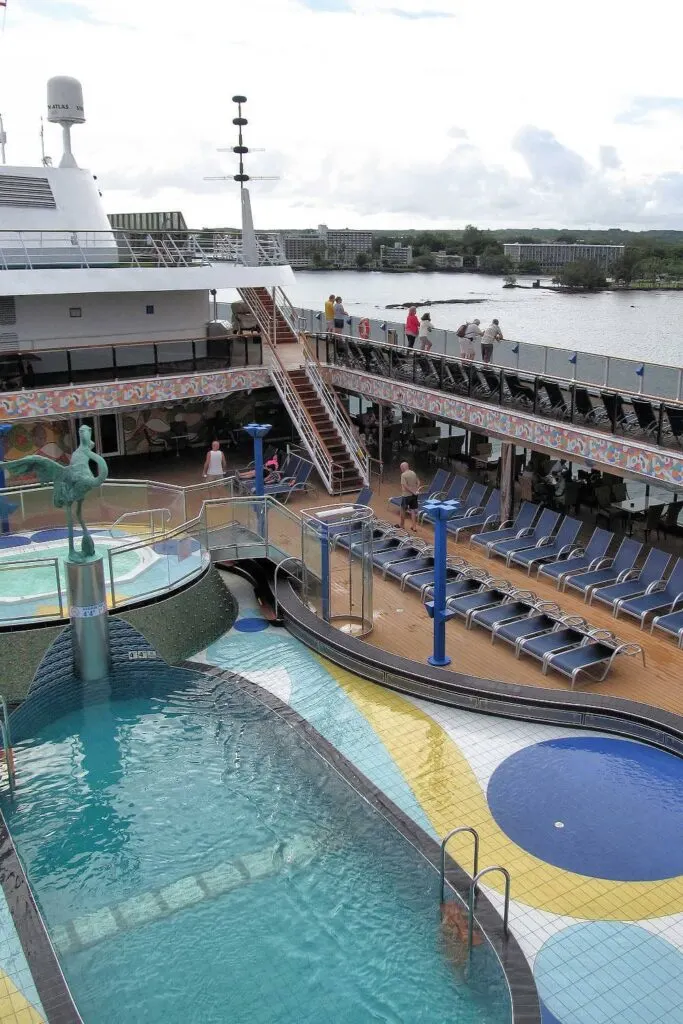 Here are the hits and misses for me:
Pros
Budget-friendly and a great option if you're looking for a cruise ship without the bells and whistles.
Larger staterooms, which can easily accommodate more than two.
Complimentary steam rooms and saunas, which have been removed on newer vessels.
4K cabins make an excellent alternative to a balcony stateroom.
Inexpensive to eat at the Nouveau Steakhouse.
Domed pool, ideal for cold weather areas.
You don't have to pay to use the serenity retreat.
Water slides and Waterworks are great for families.
Cons
Shower curtain instead of a glass shower door.
Onboard venues and cabins need to be updated.
Few options for specialty restaurants.
No wraparound Promenade deck for those who like to walk.
Final Thoughts
The Spirit is popular for budget-conscious travelers seeking a memorable cruise experience.
With larger accommodations, families will benefit from more storage when cruising with more than two to a stateroom.
Being an older vessel, she doesn't offer the new venues of the latest vessels; however, if you're focused on your destination, this ship provides exceptional value for money.
The cruise line understands the importance of providing budget-friendly options without compromising quality or entertainment.
On board, guests can enjoy various complimentary activities, including live performances, poolside fun, and delicious dining options. There is no pressure to upsell specialty dining, racing cars, and other fee-for-use, like on competitor lines.
I enjoyed the Carnival Spirit cruise ship so much that I later took a Mexican Riviera cruise on her sister's ship, the Carnival Miracle. So, if you're seeking a budget-friendly cruise with tons of fun, this "fun ship" delivers.
If you reside in North America, you can enjoy the Spirit before she repositions back to Australia again.
Happy travels ~ Karen