In 2003, Carnival Corporation opened a 30,000 sq. foot cruise terminal in Long Beach, California. Since then, it's been offering family-friendly cruises on various Carnival Cruise vessels. Long Beach Carnival cruises to warm-climate destinations vary in length from 3 to 15 days.
Both Long Beach and San Pedro cruise terminals are located on San Pedro Bay, and there's only a seven-mile distance between them. However, Carnival Cruise guests enjoy a more modern terminal next to The Queen Mary floating hotel.
While Carnival Corp lines sail from the Carnival Cruise terminal, other brands like Royal Caribbean, Princess, and Celebrity cruise from San Pedro.
With many nearby hotels, some offering complimentary shuttles to the Long Beach cruise terminal, passengers can enjoy a worry-free overnight before embarkation day.
The port has a multi-story lot with long-term parking options for those who drive to the cruise terminal. Further north, Carnival also sails out of the Port of San Francisco.
How To Get To Long Beach?
If you're flying into Los Angeles International Airport (LAX), it's a 25-mile journey to the cruise port. The exact address is 231 Windsor Way, Long Beach. Travel times vary on time of day and traffic. Cruise passengers can prearrange a shuttle through Carnival Cruises for USD 34.99 per person.
Alternatively, a taxi takes around 30 to 40 minutes and costs about USD 55 to 60. Since shuttles charge a per-person rate, it's advisable to use alternative transportation if you're a family of four or more.
California has both Lyft and Uber, often costing less than a taxi. An Uber X, suitable for two passengers with luggage, costs about UD 40 one way. A family of four would need the larger Uber XL, which costs around USD 60.
When using a taxi or ride-share program, make sure you tell your driver you're cruising with Carnival. Since Los Angeles has two cruise ports, you could end up at the wrong one.
If you're flying into Long Beach Airport (LGB), it's a set USD 45 fee for a taxi, and the distance is half as far. A prearranged Carnival Cruise Line shuttle costs USD 31.99 per person. The estimated cost of an Uber X is USD 20, and USD 30 for the larger capacity vehicle.
Furthermore, if you purchase a shuttle through the cruise line, there is no discount for booking a return ride for disembarkation day.
If you live close enough to the terminal to drive, long-term parking costs USD 23 a day in its multi-story parking lot. There are 1450 spaces, and reservations aren't required.
Hotels Near The Long Beach Cruise Port
Post-pandemic, it's wise to fly into California a day before embarkation. With multiple flight cancelations and delays, you don't want to risk missing your cruise by trying to save money on a hotel room. There are many options for staying near the terminal, and some offer complimentary shuttles to the port.
The Crowne Plaza Hotel offers a cruise shuttle for just USD 5.50 pp. It has large rooms, an inhouse restaurant, and offers a quiet location.
Hotel Maya Long Beach is literally less than a mile from the Long Beach port. The Hotel Maya offers a cruise terminal shuttle with continental and American breakfast options.
Residence Inn Long Beach Downtown – Less than a mile from the cruise terminal and includes a complimentary hot breakfast.
Best Western Plus Hotel at the Convention Center – This Best Western hotel provides a complimentary shuttle, and a hot buffet breakfast is included.
Hilton Hotel Long Beach offers a complimentary cruise shuttle.
From Long Beach, you have an option of four destinations. Baja cruises offer short getaways, while the Mexican Riviera offers 7-to-8-day itineraries. A 15-day return cruise to Hawaii provides a paradise island escape.
Also, on the longer side, 14-day return cruises to Alaska allow you to see the 49th state without needing airfare.
Baja Mexico Carnival Cruises
From Long Beach, Carnival offers three and five-day Baja Mexico cruises, which are ideal for long weekends or mini getaways for locals. These mini cruises often come with bargain prices. So, if you sail a back-to-back short cruise, you can usually get a longer trip for less than a 7-day cruise.
Three-day return cruises sail to Ensenada, Baja California and back and are offered on the Carnival Radiance for the 2022 to 2024 seasons. Ensenada's coastline is more rugged than its sister cities to the south, and here, you'll have a chance to see La Bufadora, a marine blowhole.
Most who stop in "Mexico's Napa Valley" shop for wine at low prices. Nearby wineries offer tour tours to taste before you buy. Prepare for your port day by getting your tour tickets in advance.
There are two options for five-day cruises. If you prefer different ports, select the itinerary that goes to Ensenada and Cabo San Lucas. Alternatively, spend two days in Cabo San Lucas. The Carnival Miracle sails these itineraries. Here's our full review of the Carnival Miracle.
Contrasting Ensenada, Cabo San Lucas offers pristine beaches and shore excursions focused on water activities. At the end of the Sea of Cortes, the Arch or El Arco, Lover's Beach, and Divorce Beach are must-visits. For fishing enthusiasts, the "Marlin Capital" is a haven for Marlin and other fish species.
Alternatively, travelers can choose a four-day cruise from San Francisco on the Carnival Miracle. It includes one day in Ensenada, Mexico.
For a slightly longer cruise, the Miracle offers a few six-day itineraries, which port in Ensenada for one day and spend two days in Cabo. Carnival schedules all of these shorter Baja Mexico cruises year-round, although the six-day ones are scarce.
Mexican Riviera Cruises
Seven-day cruises to the Mexican Riviera are the most popular. Cruise passengers booked on a 2022 to 2024 itinerary can enjoy the newer Vista-class Carnival Panorama, launched in 2019. These cruises are suited to those living in southern California and residents further north on the west coast.
Seven-day cruises usually include one day in Puerto Vallarta, Cabo San Lucas, and Mazatlan. When choosing port order, it's better to have an itinerary with Cabo as your first port of call. After a full sea day, you'll usually enjoy nine hours in port, from 10 am to 7 pm.
If your cruise ship stops there last, you will most likely have a shortened day in port (6:30 am to 2:30 pm) since it takes a day and a half to reach Long Beach.
With an early arrival, you'll have to rise with the birds to be able to do a port excursion. Since guests need to tender in Cabo, some opt to stay onboard on the shortened day.
The beauty of Cabo is the rugged rock formation and El Arco. Snorkeling, fishing, and beach time are also popular.
In Puerto Vallarta, you'll need a taxi to access the main tourist area. The Malecon, a walkway along the Pacific Coast, features beautiful bronze sculptures created by different artists.
Cruise guests can choose from many Puerto Vallarta excursions from zip-lining, a Segway tour, and chocolate making, to name a few. Getting your tickets without going through the cruise line can save you money.
On our last Mexican Riviera cruise on the Majestic Princess, we took a tour to Chico's Paradise. During the tour, we stopped at a tequila factory, scenic stops to see Banderas Bay, and enjoyed an authentic Mexican lunch.
In Mazatlan, guests favor Old Mazatlan, a historical area you can reach on foot. The area's highlights are La Plazuela Machado, a beautiful plaza, and the Cathedral Basilica of the Immaculate Conception.
Eight-Day Carnival Cruises
By adding another day to the seven-day cruise, cruise passengers can enjoy another port day. Eight-day cruises on the Panorama include La Paz and the same three ports on the seven-day itineraries.
La Paz is located in the Sea of Cortez, where travelers enjoy beautiful sandy beaches and water-based tours. Consider a bucket list excursion to snorkel with whale sharks between December and April. While the sharks are enormous, they are gentle creatures who aren't a threat to humans.
The marine-rich waters provide for excellent scuba diving too. During a dive, you can see whale and hammerhead sharks, dolphins, and giant manta rays.
For those who prefer to keep their feet planted on the ground, the city will delight you with its lively atmosphere and old-world charm. Be sure to see the art sculptures on the Malecon and visit the Cathedral of Our Lady of La Paz.
When Is The Best Time To Cruise To Mexico?
Carnival Cruises offers cruises from Long Beach to Mexico year-round. Expect temperatures of 74 F to 96 F (23 C to 36 C) depending on your cruising month.
Being further north, Cabo San Lucas has cooler temperatures of 74 F to 77 F (23 C to 25 C) from December to February. However, the summer months (June to September can reach as high as 96 F or 36 C.
If the higher temperatures are intolerable, consider cruising December through to early March when it's a bit cooler.
Long Beach Cruises To Alaska
As an alternative to embarking in Seattle or Vancouver, local residents can cruise to Alaska from Long Beach. The 14-day Carnival Miracle cruise takes three days to reach Alaska and has two and a half sea days on the return. There are no port days on the route.
Residents can see Alaska without taking a flight by taking a return cruise from California. These closed-loop itineraries are ideal if you dislike flying.
Alaska cruises from Long Beach run from April to September. It's important to note that the Pacific Coast can be rough. So, if you're prone to motion sickness, choose a midship cabin on a lower level. Also, motion sickness patches are inexpensive and work incredibly well.
Carnival Alaska itineraries from Long Beach include the ports of Sitka, Juneau, Skagway, Icy Strait Point, Ketchikan, and Victoria. They also spend a few hours cruising in Tracy Arm Fjord to see the Twin Sawyer Glaciers.
Located on Baranof Island, Sitka has a rich history and once served as the capital of Alaska. Must-visits include the Baranof Castle State Historic Site, Sitka National Historical Park, Alaska Raptor Center, St. Michael's Cathedral, and the Fortress Bear sanctuary.
Juneau, the current capital, offers the largest selection of tours, from seeing Mendenhall Glacier and whale watching to dog sledding and Taku Lodge Floatplane tours. Since Alaska tours sell out fast, get book your excursions as soon as possible to prevent disappointment.
Whale watching is also offered at Icy Strait Point, as well as the world's largest zip rider.
Skagway, once a gold rush town further north, provides a magnificent train ride into the Yukon. It's rated as one of the best journeys in the world. The train runs over towering wooden trestles that are not to be missed. Alternatively, consider renting a car and driving to Canada to see the picturesque Emerald Lake.
Ketchikan, the "salmon capital of the world," allows travelers to try their luck at catching the big one. Other options for a port day include watching a Lumberjack show, browsing historic Creek Street, visiting the Saxon Native Village, or exploring one of Ketchikan's many museums.
Cruising In Tracy Arm Fjord
Located south of Juneau and north of Petersburg, guests on the Carnival Miracle will enjoy 30 miles of breathtaking scenery in Tracy Arm Fjord. The views are beyond imagination, with steep cliffs, emerald water, and endless cascading waterfalls.
At the end of the fjord, you'll enjoy vistas of two glaciers; North Sawyer and South Sawyer Glaciers. Should you book an Alaska cruise at the start of the season (April or May), ice flow sometimes blocks the passage to the glaciers.
If this happens, your captain with turn the ship around in the fjord, and you will not see the icefield. If you want to get closer to the ice, consider booking the Tracy Arm Fjord & Glacier Explorer cruise in a smaller vessel.
During the tour, you'll feel the mist of nearby waterfalls, get closer to harbor seals, and have the option to purchase a cocktail made of glacial ice.
Should you reach the Twin Sawyer Glaciers, harbor seals hang out on floating icebergs in front of South Sawyer Glacier. You could see mountain goats on the steep cliffs, whales near the entrance of Stephens Passage, and multiple bird species in the fjord.
Carnival Hawaiian Cruises
Between Mexican Riviera sailings, Carnival Miracle makes return trips to Hawaii. These 15-day itineraries port in Kahului (Maui), Honolulu (Oahu), Nawiliwili (Kauai), Kona and Hilo (Big Island), and Ensenada.
It takes four days to cross the Pacific Ocean, so the cruise consists of eight sea days. While some might be concerned about rough seas, I've cruised to Hawaii three times and always experienced calm waters.
The Kahului port is near the airport, making it easy to rent a car. So, on your day in Maui, consider driving the Road to Hana, one of the most iconic roadways in the world.
Alternatively, a drive to Haleakala National Park allows you to experience multiple climatic zones and enjoy a moon-like landscape at the summit.
Pearl Harbor is a must-see in Honolulu and is easily accessible near the cruise port. It takes a full day to tour the USS Missouri Battleship, USS Arizona Memorial, USS Bowfin submarine, and the Aviation Museum.
No trip to Kauai is complete without seeing Waimea Canyon, also known as "the Grand Canyon of the Pacific." Its lush green and rust landscape contrasts greatly with Arizona's canyon.
Kona and Hilo are on the same island, but the landscape varies. Rainfall keeps Hilo green while it's drier in Kona. Hawaii Volcanoes National Park allows travelers to view one of the world's most active volcanoes.
Near the cruise port, Rainbow Falls wows visitors with its beautiful cascade, often with an appearance of a rainbow. In Kona, snorkeling tours are popular, with a chance to see turtles, dolphins, and plenty of tropical fish.
Do I Need A Passport To Cruise?
If you're a United States citizen, you don't need a passport to cruise a closed-loop itinerary. A closed-loop cruise starts in a US port and ends in a US port. However, you will need to show some form of picture ID, such as a state driver's license.
Knowing this, US citizens can sail on return cruises to the Mexican Riviera, Hawaii, and Alaska, without needing a passport.
However, cruise lines recommend guests sail with passports. If something should happen during your cruise and you need to disembark in another country, you will need a passport to get home.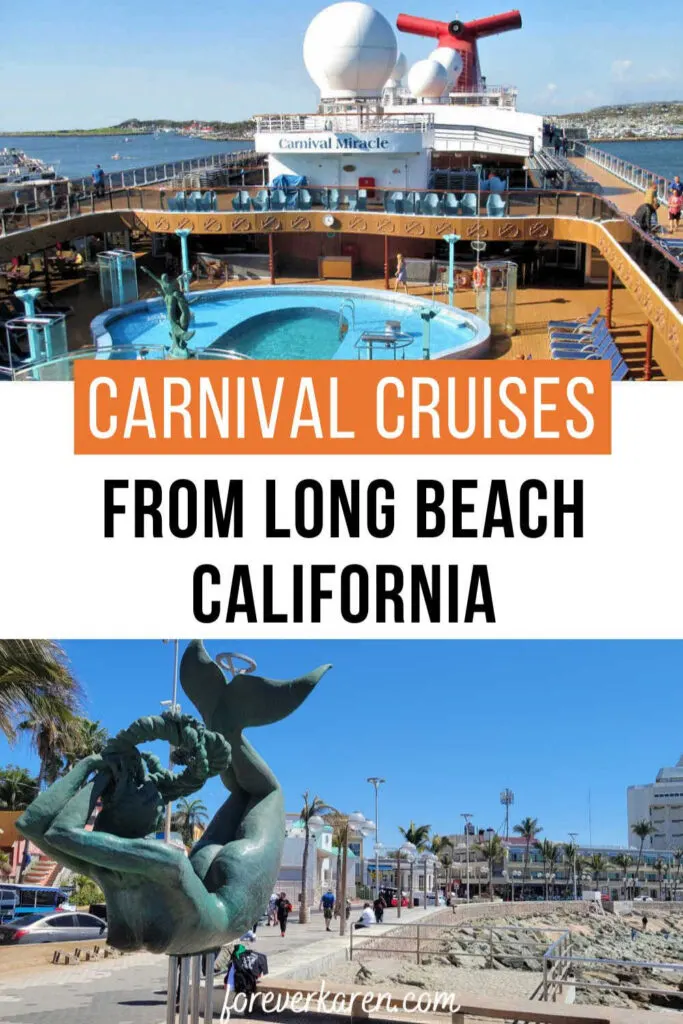 Faster To The Fun
To fast-track your embarkation, consider purchasing the "faster to the fun," also known as FTTF. Exclusive to Carnival Cruises, it gives you "first" rights or additional benefits.
You'll enjoy priority boarding, first access to your cabin, and priority delivery of luggage, and you'll get priority tenders if you need to tender in any port.
Booked passengers can purchase an FTTF pass in the shore excursion section. There are limited passes, so buy one early to prevent being disappointed. You only need to buy one pass per stateroom.
Final Thoughts
Guests who prefer to cruise with family-friendly Carnival Cruises can choose from mini getaways to longer journeys from Long Beach. With budget-friendly choices like the Miracle and the Radiance, you won't have to break the bank to take a vacation.
If you have no budget and plenty of time, you can select back-to-back cruises on the Carnival Miracle and experience two totally different destinations.
Although, if you prefer a newer vessel, the Carnival Panorama has a fantastic Havana sanctuary for Havana guests. The fun continues on board with the SkyRide, an elevated bike course over the Lido deck.
Happy travels ~ Karen