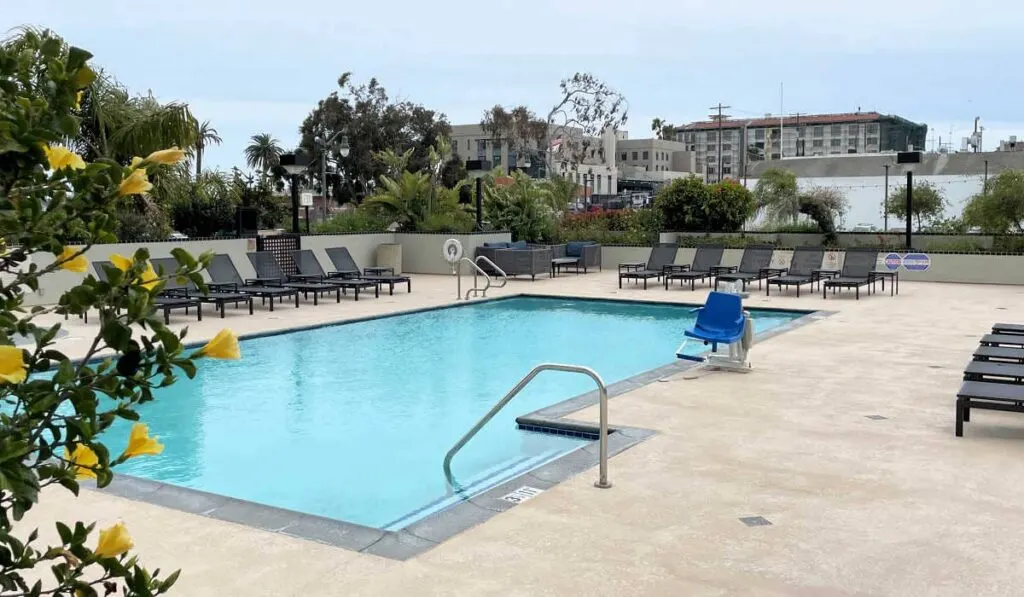 If you're taking a cruise from San Pedro or the port of Long Beach in California, there's no better place to enjoy a pre-night stay than the Los Angeles Crowne Plaza.
For San Pedro embarkations, DoubleTree by Hilton and the Crowne Plaza provides the closest hotels to the cruise port. Their guest rooms are large at almost 300 square feet for the smallest option.
The nearest airports are Long Beach and Los Angeles International Airports. Using a taxi or rideshare, you can expect the journey from the Los Angeles International Airport to take 30 to 35 minutes or much longer in rush hour.
When searching the San Pedro hotels close to the Port of Los Angeles, cruise guests generally want a stay that provides a shuttle, complimentary breakfast, and parking.
We enjoyed a pre-cruise stay before our Celebrity cruise on the Solstice. Our stay was enjoyable and we wouldn't hesitate to book a room again.
Quick tips for traveling to Los Angeles
Plan ahead and book your pre-cruise hotel here:
Crowne Plaza Los Angeles – Close to San Pedro and has a cruise port shuttle.
DoubleTree Hilton – Offers free parking with a pre-cruise stay, and complimentary shuttle to the World Cruise Center.
Where Is The Crowne Plaza In Los Angeles?
From LAX, the preferred airport, it takes a little over half an hour to reach the hotel at 601 S Palos Verdes Street, in the heart of San Pedro. It's hard to miss the towering hotel with its ten stories.
The hotel has only rooms with double or king beds, no queens. Some rooms on the second floor have sliding doors which back onto the outdoor pool and hot tub.
If you like to swim, request a room here for easy access to lounging and swimming. The pool hours are 8 am to 10 pm, but no lifeguard is on duty during opening times.
Adjacent to the pool area, a small gym has basic equipment and weights. It's open 24 hours, but children under 18 must be accompanied by an adult.
In the lobby, a small market store offers cereal, milk, snacks, and convenient foods. Their selection included two gluten-free cereals: Honey Nut Cheerios and Lucky Charms.
Guests can also purchase forgotten items like deodorant, Advil, Pepto Bismol, Toothpaste, and charging cords.
The hotel offers a business center, concierge services, luggage storage, a front desk safe, and accessible rooms. Guests can choose express check-in and out options. You can check in at 4 pm, and check-out time is scheduled for 11 am.
Here are the reasons to choose the Los Angeles Crowne Plaza for your pre- or post-cruise stay.
1. Its Proximity To The World Cruise Center
The biggest advantage of the hotel is its proximity to the World Cruise Center. The 0.7-mile distance takes five minutes by vehicle or 15 minutes on foot.
While some guests walk to the cruise port with their luggage, it's not ideal if you tow heavy suitcases or travel with more than one case per person.
If you're taking a Carnival Cruise from Long Beach, you have further to travel (almost eight miles).
If you receive a room on one of the higher floors and faces towards the harbor, you'll literally wake up to see your ship in port.
2. It Offers Park And Cruise Packages
Cruise guests who drive can purchase a park-and-stay package, including a hotel room and parking for the time they are cruising.
If you're purchasing parking separately, expect to pay USD 15 a night, significantly less than the USD 20 they want at the port. You'll also benefit from secured underground parking instead of the outside lots at the port.
3. It Offers A Quiet Location With Spacious Rooms
Surprisingly, the Crowne Plaza has no queen rooms, which may be because the building was constructed in 1990. Room types include double, king, rooms with two beds, or suites on nine floors, all with private bathrooms.
We chose a king room and received one on the second floor. Although check-in time was 4 pm, we arrived on an early flight and got access to our room around 2 pm. Our check-in was quick, and the lobby staff was pleasant.
Our room was spacious, although very dated. The king bed dominated the room and had two large bedside tables on either side. We appreciated the fact that the bedside lamps had USB sockets to charge our phones.
Air-conditioned guestrooms feature the standard inclusions; hair dryers, safes, irons and ironing boards, complimentary toiletries, and free Wi-Fi.
There was a single chair by the sliding doors, although the room could easily accommodate a loveseat or sofa.
Across from the bed, a bureau housed a Keurig coffee maker, mini-fridge, and small 32″ flatscreen TV. We found the TV small by today's standards and for the size of the room.
The bathroom contained a shower tub combination and a single sink. We noted that the bathroom had no towel bars to hang large bath towels. The small hand towels hung next to the sink, but the bath towels were found on a wooden shelf.
We found this odd because hotels generally promote green initiatives by requesting guests reuse their towels. Surely, we weren't expected to fold our wet towels and put them on the shelf, under the sink?
Throughout the hotel, guests have access to complimentary Wi-Fi.
We found the bed very comfortable and the location quiet. Having stayed in other nearby hotels, we appreciated the restful sleep without hearing the traffic.
4. It Has An Inhouse Restaurant
Located off the lobby area, the Blu Restaurant serves breakfast, lunch, and dinner for those who prefer to stay in the hotel. Alternatively, the hotel offers room service from 6:30 am to 9:30 pm.
The restaurant hours are as follows: breakfast 6:30 am to 11 am, lunch 11 am to 2 pm, and dinner 5 pm to 10 pm. Next to the restaurant, a lounge has opening times of 4 pm to 11 pm with 50% off small plates during happy hour of 4 pm to 6 pm.
We tried the Crowne Plaza Restaurant for lunch when we arrived and had planned to go for breakfast on embarkation day. Unfortunately, the service was slow. The host who seated us also was our server and server to everyone in the restaurant.
Despite a minimal lunch crowd, I waited almost an hour for a salad. However, my salad was fresh and reasonably priced. With three ships in ports the following day, our server warned us of large crowds and long wait times at breakfast.
At USD 21 per person, we thought the Crowne Plaza buffet breakfast was pricey, so we avoided the crowd and ate elsewhere. Alternatively, some booking sites allow you to add buffet breakfasts for USD 20 for two people at the time of booking.
The restrooms on the main floor close to the restaurant remained locked, which we found odd. We'd have to flag down a staff member to get a key card to unlock the door.
5. Walking Distance To Little Italy
The Crowne Plaza Harbor Hotel is located on the edge of the Little Italy neighborhood. Little Italy offers an array of great eateries and small gift shops, many within a few blocks of the hotel.
We chose to have breakfast at the Happy Diner (617 S. Center St), less than a block away. The breakfast was inexpensive, fast, and tasted great. While busy, we sat outside and enjoyed our meal in the morning sunshine.
Behind the hotel, we ate dinner at the Baramee Thai Restaurant, which had terrific service, flavorful food, and healthy portions. Within two blocks of the Crowne Plaza, you can choose from Mexican, Italian, Seafood, Mediterranean, or an Irish Pub.
Like us, many cruise guests ate at other venues. Even in the evening, we always felt safe walking the neighborhood.
6. It Has A Cruise Port Shuttle
The hotel provides a convenient shuttle to the World Cruise Center in San Pedro. Guests pay a USD 5.50 fee per person.
If you are staying at the hotel post-cruise or need to retrieve your vehicle, the shuttle bus will pick you up at the end of your cruise. Shuttles run every half an hour from 9 am to noon.
Since we had an embarkation time of 12 to 12:30 pm, the hotel staff suggested the 11:30 am shuttle. We checked out at the 11 am required time and went to the Cabrillo Room with our shuttle tickets.
If you're checking out early, the lobby has large public areas with seating. It's a great place to meet other cruise guests as you pass the time.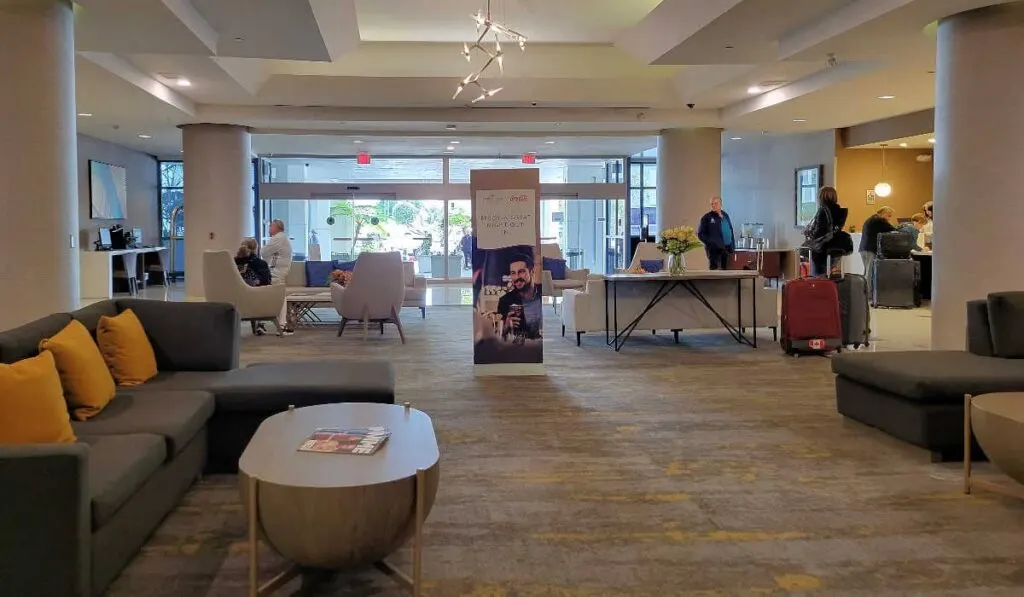 The meeting room was divided into time slots, so we sat in our area and waited for the shuttle. The shuttle process was disorganized, with three ships in San Pedro.
Los Angeles sees cruise ships approximately five days a week. So, even if you're cruising with Carnival from Long Beach, you can stay at the Crowne Plaza and use their shuttle service.
We waited for quite a while as buses came and went, only picking up Princess Cruise guests who were boarding the Emerald Princess and its newest vessel, Discovery Princess.
No one was checking tickets or taking guests from their time slots. Whoever was fasted to stand in line got on the bus.
Our 11:30 am shuttle arrived at 12:20 pm, getting us to the port at the end of our check-in time. Luckily, Celebrity Cruises wasn't enforcing arrival times, as it took another 45 minutes to check in.
Lesson learned for next time; take an earlier shuttle if three ships are in port.
7. It Has Self-Serve Laundry
The Crowne Plaza has a self-serve laundry room on the second floor, adjacent to the gym and pool areas. If you have a day or two between cruises, you can do laundry at the hotel without paying the high fees on Celebrity Cruises, Royal Caribbean, and other lines.
The washers and dryers are inexpensive, and guests can purchase soap and fabric softener at the lobby market store.
8. Close Proximity To The USS Iowa
If exploring the area on foot, you can reach some historical attractions on foot. You can walk to the Los Angeles Maritime Museum in under five minutes and to the USS Iowa Battleship in just over ten minutes.
The Iowa Battleship was one of four completed vessels commissioned by the United States Navy between 1939 and 1940. The New Jersey, Wisconsin, and Missouri are the other three Iowa-class ships, with the latter docked in Pearl Harbor in Oahu.
If you tour the battleship in the late afternoon, you can watch other cruise ships sail away from Piers 92 and 93.
9. Access To The San Pedro Trolley
If you stay on the weekend, you can access the FREE San Pedro Trolley. You can ride a continuous loop along the shorefront between noon and 8 pm at 30-minute intervals.
The nearest stop to the Crowne Plaza is the Maritime Museum. From here, the classic red trolley stops at the USS Iowa, downtown San Pedro, Brouwerij West Brewery, and parking near Pier 46.
The parking at Pier 46 puts you next to the Saturday Morning Fish Market. The hotel's town car service lets you reach nearby attractions such as Cabrillo Beach, the historic Fort MacArthur Museum, and Cabrillo Marine Aquarium.
10. Part Of The IHG Rewards Brand
If you're a member of IHG hotel rewards, you can benefit from better pricing and earn points for complimentary stays. If not, you can join for free and start earning points.
Members have the added perks of late check-out, welcome amenities, bonus night points, and no black-out dates.
While the Crowne Plaza Los Angeles Harbor Hotel is part of the brand, you can earn points at other hotels. These include the Holiday Inn, Avid, Voco, and Regent.