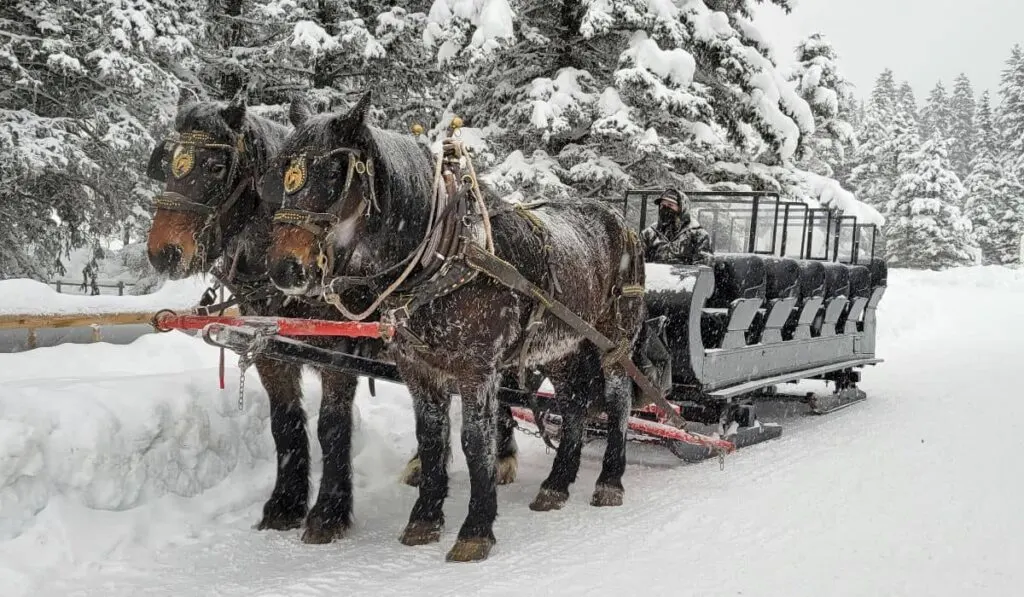 Most of Canada transforms into a winter wonderland during the holiday season, offering unique experiences. If you're planning a Christmas vacation in Canada, you can enjoy bustling European-style markets, ski resorts, and impressive light displays.
Quebec City enchants with its old-world charm and festive decorations, creating a European Christmas feel. Banff welcomes outdoor enthusiasts to its snowy landscapes, ideal for skiing and ice skating on Lake Louise, something we checked off our bucket list.
Vancouver's mild weather allows for enjoying the VanDusen Festival of Lights without the bitter cold. So, if you're looking for the best places to spend Christmas in Canada, these cities present a distinct Canadian Christmas spirit.
1. Québec City, Québec
Québec City is the perfect place to spend Christmas in eastern Canada. If you are looking for a festive ambiance, a ton of things to do, delicious foods, and plenty of culture, look no further.
Québec's Old Town comes alive during the Christmas season. The city decorates the cobblestone streets with festive lights and gorgeous decorations.
Don't be surprised if you come across warming stations, cozy benches, and even pop-up mulled wine vendors during Christmas. You could almost imagine being in a small European village rather than the Great White North.
Another reason to visit Québec City during Christmas is for its incredible German Christmas Market. Complete with gorgeous wooden stalls, roaming carolers, amazing food, and, of course, Glühwein, the Marché de Noël allemand de Québec should be on your bucket list.
If you are traveling with kids, the Market is very family friendly. There is a puppet theater, visits with Santa in his sleigh, an indoor craft chalet, Christmas concerts, and more. Just be sure to bundle up; it gets pretty cold!
If you want more outdoor fun, Québec is world-famous for its skiing. Just a short drive outside the city, you will find four top ski resorts in the province: Mont-Sainte-Anne, Massif de Charlevoix, Stoneham, and Le Relais.
Of course, when it's time to come inside and warm up, sampling some of the amazing local cuisine that Québec City is known for is a must. From the iconic poutine to traditional dishes like tourtière (a meat pie), sugar pie, or maple taffy, you will surely find something that will tickle your taste buds.
And remember to try some Caribou. You can enjoy this iconic mulled wine beverage hot or cold!
Contributed by Marianne of The Journeying Giordano's
2. Niagara-On-The-Lake, Ontario
Imagine yourself spending Christmas in a small Canadian town straight out of a Hallmark movie.
A town with stores adorned with sparkling Christmas lights and wreaths hanging from the windows and doors. A place with an abundance of Victorian-style homes lit up with a warm and welcoming glow, creating the magic of Christmas. This is exactly what you'll experience when you spend Christmas in Niagara-on-the-Lake.
While there's always plenty of opportunity to indulge in the famous ice wine that Niagara-on-the-Lake is known for, you won't experience the true magic of Christmas without bundling up and taking a horse-drawn carriage ride around town.
The more active visitor may want to don skates and glide around the outdoor ice rink at the Pillar and Post Inn. If you didn't bring skates, don't worry- skate rentals are available for 5 dollars a pair.
After a full day of Christmas magic and activity, warm yourself with a hot chocolate by one of the fire pits scattered around the rink. If you'd rather get out of the cold, indulge in a traditional afternoon tea at the Prince of Wales Hotel.
When I visit Niagara-on-the-Lake during the Christmas season, which I do frequently, I love to stay at the Pillar and Post Inn. After a delicious 5-star meal in the Cannery Dining Room, you can relax in the heated outdoor pool or hot springs.
Surrounded by firepits and lit-up Christmas trees, the outdoor pool area has a truly magical ambiance – precisely what I imagine Christmas would feel like in a Hallmark movie.
Contributed by Kelly of Just One Passport
3. Banff, Alberta
Spending Christmas in Banff is a magical experience, with its snow-covered peaks and cozy alpine atmosphere. Beyond the powdery ski slopes, you can engage in unique experiences to soak up the winter magic.
During our December Banff vacation, we enjoyed dog sledding in Canmore, ice skating on Lake Louise, and a sleigh ride along the lake. If you don't have skates, don't worry. A rental shop inside the Chateau has skates, snowshoes, snowboarding, and ski equipment.
While we enjoyed some wintery hikes, we had to be aware of shortened daylight during the winter solstice. With short days and dark nights, you could see the northern lights.
Cascading waterfalls that flow with turquoise hues in summer become icy walls in many areas. It's an an opportunity to try ice climbing. Alternatively, you can enjoy the Johnston Canyon Icewalk which provides picturesque views of the canyon.
The Banff Gondola offers a breathtaking ride up Sulphur Mountain, where you can enjoy panoramic views of the winter wonderland. Remember to bundle up because it's mighty cold at the peak.
The town of Banff is adorned with festive lights, creating a warm holiday ambiance. You can explore the Banff Christmas Market or enjoy the "In Search of Christmas Spirit" event, as we did. Held in the Cascades of Time Garden, get your complimentary tickets early before they're gone.
The Chateau Lake Louise and Banff Springs Hotels offer luxury accommodations that are more affordable in the off-season. Both hotels decorate their interiors, adding to the Christmas spirit.
While I have stayed at both, I prefer the Fairmont Chateau Lake Louise, because of its location by the lake.
4. Mont-Tremblant, Québec
At more than 3,000 feet, Mont-Tremblant is one of the highest peaks in Québec and a major draw for ski lovers. Ski Magazine consistently ranks it among the top ski resorts east of the Canadian Rockies.
And although spending Christmas in Banff is more popular because of its spectacular nature, you could argue that Mont-Tremblant village has more charm.
Mont Tremblant is a pedestrian-only village with European-style architecture and beautiful, colorful buildings. It may strike you as a bit of Disney in the mountains.
The village offers plenty of other fun activities if you're not a skier. Choose from ice sculpting workshops, soap bubble blowing, outdoor disco, dining at cozy restaurants, or boutique shopping.
Around Christmas, the atmosphere is magical, with festive lights, a delicatessen market, horse sleigh rides, and decorations everywhere you look.
On Christmas Eve, you can watch a Santa Claus parade with Rudolph, elves, and even the Grinch. It's a fun experience for kids and adults alike.
Lake Mercier, just outside Mont Tremblant, becomes a giant ice-skating rink in winter. And what better way to spend Christmas Day than gliding across the ice or dashing through the snow while taking in the stunning mountain scenery?
Mont Tremblant charms everyone who visits. So, you'll want to spend more than just the Christmas holidays. If that's the case, consider working a ski season in Canada. It's also a great way to save on ski passes, as ski resort employees usually get free or discounted ski tickets.
Contributed by Kamila of Expat in Canada
5. Whistler, British Columbia
One of the most magical places in Canada to spend Christmas is Whistler, British Columbia. Nestled in the mountains just two hours north of Vancouver, Whistler-Blackcomb is Canada's premier ski resort.
Although it's a wonderful place all year round, with some of the best biking and hiking in Canada during the summer and amazing snow sports all winter, Christmas is the best time to visit.
Whistler Village transforms into a spectacular winter wonderland during the holiday season. The picturesque European-style village lights up with over 350,000 festive fairy lights during the holidays.
The village typically gets a lot of snow in December, making the whole town look like a giant snow globe.
Aside from skiing and snowboarding, the best Christmas activities in Whistler are taking a horse-drawn sleigh ride through the snow, ice skating in the village, dog sledding, tubing, and snowshoeing.
For the kids, Whistler hosts an annual Christmas pop-up called 'Wintersphere.' It includes a holiday maze, visits from Santa, and plenty of family-friendly festive activities.
My favorite Christmas activity was the Fire and Ice show, held every Sunday and on New Year's Eve. During this spectacular show, world-class skiers and snowboarders perform tricks and jump through rings of fire.
Music accompanies the show, which ends with a fireworks display. I was lucky enough to see it on NYE, and the spectacle and atmosphere made for a particularly memorable way to ring in the new year.
Finally, the village is full of excellent dining options, from fine dining to cozy pubs and everything in between, where you can indulge in a delicious Christmas feast.
Contributed by Chanelle of Chasing Chanelle
6. Victoria, British Columbia
One of the prettiest places to spend Christmas in Canada is Victoria, British Columbia. Located on Vancouver Island, Victoria can easily be reached from Vancouver by ferry or Seattle with the Victoria Clipper.
Because of its proximity to Vancouver, it makes a great winter weekend getaway. There are lots of things to do in Victoria during Christmas.
There are Santa breakfasts, holiday afternoon teas, gingerbread villages, the festival of trees, horse-drawn carriage rides, the Nutcracker ballet, holiday markets, craft fairs, the Dickens Christmas fair, and more.
Holiday lights fill most of the city, and it truly feels magical. There are also lots of boutique shops and malls where you can buy special Christmas gifts.
Of course, the Magic of Christmas at Butchart Gardens provides the main attraction. It has a 12 Days of Christmas theme with beautiful light displays, outdoor ice skating, and photo ops all across the gardens.
The famous Fairmont Empress Hotel is a popular place to stay in Victoria at Christmas. The festive décor is breathtaking, and the location makes it easy to walk around and enjoy the holiday activities.
But no matter where you stay in Victoria, you'll feel the holiday spirit all around you!
Contributed by Marcie of Marcie in Mommyland
7. Calgary, Alberta
The holiday season is a fantastic time of year to plan a visit and walk through Calgary, Canada's gem of the west.
With several events, including seasonal markets, festive light displays, and family-friendly attractions, Calgary fully embraces its natural cold weather. During Christmas, it transforms into a magical city worth exploring.
During the evening, ZOOLIGHTS, held at Calgary's Wilder Institute/Calgary Zoo, showcases over one million lights across 250 light and animal-shaped installations.
ZOOLIGHTS is a favorite in my household, as it brings much joy to my young daughter, who loves the twinkling lights and creative displays. This family-friendly, magical holiday event begins mid-November and extends into early January.
Once Upon A Christmas runs from the end of November to mid-December and occurs in Calgary's Heritage Park. For those unfamiliar with Heritage Park, it is a faithful recreation of a turn-of-the-century settlement, which would have been common throughout Calgary's history.
Horse-drawn carriage rides, music, entertainment, and, of course, visits from Santa can be enjoyed at Heritage Park.
Calgary also has a wide array of Christmas markets in November and December. Vendors across the city come together to sell locally sourced and handmade items.
The Inglewood Night Market, Market Collective, and Spruce Meadows International Christmas Market are some of the more popular markets held within Calgary each year around Christmas.
Contributed by Deirdre of Build & Board Travel
8. Vancouver, British Columbia
While this West Coast city rarely sees a white Christmas, the locals embrace the season just the same. The Vancouver Christmas Market provides the flavors of the season. Bratwurst sausage, Transylvanian chimney cakes, Knedla, and roasted chestnuts are readily available.
If you're a fan of Christmas caroling, take to the water on a carol ship. This Vancouver tradition allows guests to enjoy roast turkey with cranberry sauce, and sing Christmas carols while sailing the False Creek waters. You'll even enjoy a visit from the man in the red suit!
While this British Columbia city experiences higher temperatures than the other Canadian cities, you can still enjoy traditions. Ice skating at the Shipyards, traveling to the North Pole at the FlyOver Canada, and riding the Stanley Park Christmas train come to mind.
By staying at the Fairmont Waterfront Hotel, you'll have easy access to all the attractions.
The Capilano Suspension Bridge Park provides my favorite activity, known as Canyon Lights. The suspension bridge park fills its trees with Christmas lights, best enjoyed at dusk. To avoid the crowd, plan to visit the park in early December.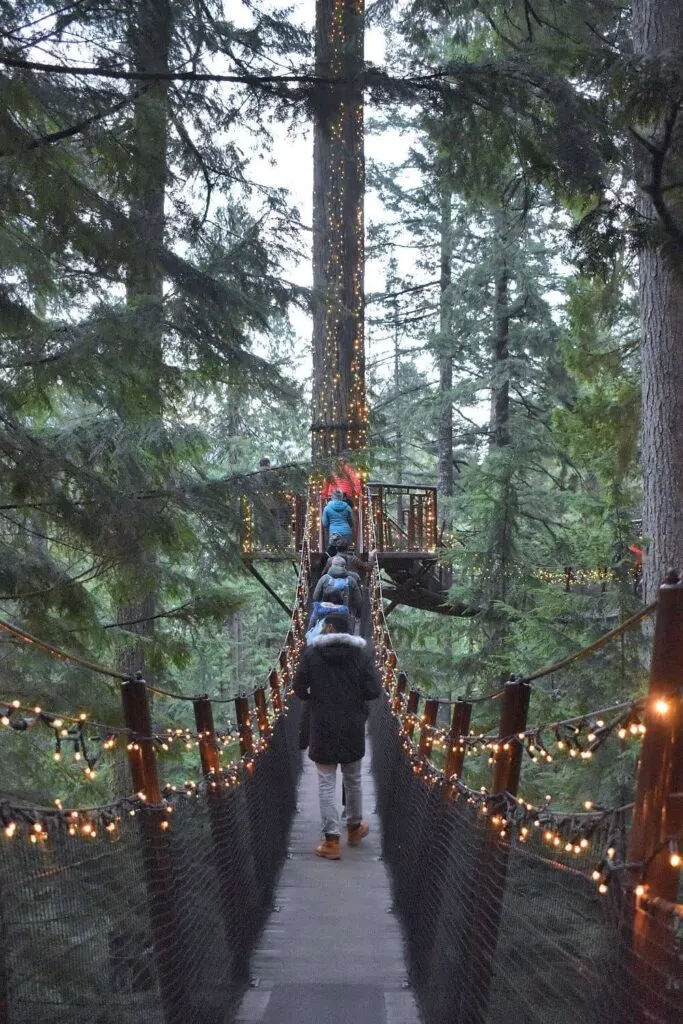 Since Vancouver sits at the base of the North Shore mountains, you won't have to go far for winter sports. If you visit Vancouver in December, Grouse, Cypress, and Seymour offer skiing, snowboarding, snowshoeing, tubing, and cross-country skiing.
Light shows are popular in Vancouver and help welcome the festive season. The Festival of Lights at VanDusen Botanical Gardens and Lights at Lafarge are excellent choices. I prefer the latter, a family-friendly event that requires no fee.
Should you stay in Vancouver until New Year's Day, you participate in a popular tradition, the polar bear swim. With warmer temperatures, you won't need to break the ice to try the icy dip.
9. Ottawa, Ontario
Christmas in Ottawa shouldn't be missed! The snowy city usually gets a white Christmas, but it's not the snow that makes it the best place to spend December in Canada.
It's all the lights! Ottawa hangs up 300,000 lights in just the downtown core to create the Pathway of Lights. Walk Elgin Street and Wellington Street to find famous monuments and trees draped in colorful lights.
Parliament Hill runs an evening light show, with images projected onto the front of the building. The show, which features animated stories set in Canadian landscapes, is fun for kids and adults.
But the best place for Christmas festivities is Wesley Clover Parks. Every year, I go with my friends to drive through the Christmas light sculptures of the 12 days of Christmas and common Christmas figures as we listen to their custom Christmas music station and sip hot chocolate. Go early or late as midday is very busy.
Beyond the lights are markets throughout the city and in the small towns. Perth and Almonte both do craft markets with artisan goods and amazing chocolates.
The city isn't crazy busy yet because the Rideau Canal and Winterlude don't kick off until February, so you'll find cheaper hotels. The Fairmont Chateau Laurier is a great place to stay- it's right by the lights downtown and offers easy access to the best restaurants if it's too snowy to drive.
Level One, the Elgin St Diner, Whalesbone Oyster House, and Aroma Meze are all a short walk away with amazing bites.
Contributed by Nina of Ottawa Things to Do
10. Jasper, Alberta
Nothing is more magical than being surrounded by the Rocky Mountains during the festive season. Of course, one of the best places in Canada to spend Christmas in the mountains is in Jasper National Park!
Jasper National Park is nothing short of breathtaking, and to be honest, it's even more beautiful when the snow falls. There are plenty of fun things to do in Jasper in the winter, from visiting frozen waterfalls to stargazing (and maybe you'll see the North Lights!) to shopping in the small town.
The top activity is definitely the Maligne Canyon Icewalk. You can actually walk inside the frozen canyon, where icicles and frozen waterfalls surround you! Be sure to also hit up Athabasca Falls, which are simply stunning when they are half-frozen and snow-covered.
Skiing and snowboarding at Marmot Basin should also not be missed. In fact, did you know Marmot Basin is even open on Christmas Day?! So, even during the holidays, you can hit the slopes.
Of course, if you visit Jasper for Christmas, there are a few special events that should also be on your radar. The Fairmont Jasper Park Lodge holds a huge annual event called the Festival of Christmas.
Here, you can visit Santa's Cabin, enjoy beautiful Christmas lights and decorations all around, and go ice skating on Lake Mildred. If you weren't in the festive spirit before, you will be as soon as you arrive!
Contributed by Bailey from Destinationless Travel
11. Muskoka, Ontario
If you're looking for the best places to visit in Ontario in winter, a retreat in the beautiful Muskoka district has to be on your bucket list.
Take a trip to Arrowhead Provincial Park's popular ice skating trail, or book a unique dog sledding tour through the wilderness. Fat bike around forested trails or snowmobile the 1200 km of groomed trails across the district.
Whatever your ideal winter vacation in Canada looks like, Muskoka provides the ultimate outdoor adventure zone for winter enthusiasts.
And while there are endless Canadian outdoor winter activities to explore in Muskoka, the region also offers luxurious escapes. Rent a wilderness cabin, book a stay at an all-inclusive lakeside lodge resort, or book a quaint inn in the small town of Bracebridge or Huntsville.
Alternatively, consider winter camping in the nearby Algonquin Park (Ontario's oldest and largest provincial park).
Some of our fondest memories of visiting Muskokas in winter are snowshoeing through the picturesque, forested trails and hiking to the many waterfalls scattered across the region.
The winter vibe in Northern Ontario is much more inviting than in Southern Ontario, and we find people are eager to explore outdoors despite the chilly air.
While there are plenty of resorts across Muskoka for all budgets, our family's favorite is Deerhurst Resort in Huntsville. This lakeside resort offers activities for guests in every season, including snowmobiling, skating, and dog sledding tours in the winter.
Contributed by Erie of Everywhere Ontario
12. Edmonton, Alberta
Christmas is a special time of the year, especially in Edmonton. Although the city is known for its cold winters, it knows how to create warmth and joy during the holiday season.
As a local, we look forward to spending our winters in Edmonton, Alberta's capital city in Canada. Head to the iconic Legislature Building grounds as it is transferred into a festive spectacle during Christmas with its colorful lights and decorations.
Be sure to stroll around the grounds, take in the beautiful displays, and catch a free concert.
Make time to visit the YEG Christmas Market to grab local food and maple candies! These markets are perfect for finding unique gifts for your loved ones or treating yourself to something special.
Set aside an evening to drive around different neighborhoods and marvel at their festive light displays. The Candy Cane Lane is a popular choice, but be sure to explore other areas, including drive-thru light events such as Castrol Raceway Magic of Lights!
Edmonton is also known for its thriving performing arts scene. During Christmas, there are plenty of holiday-themed shows to choose from. Catch a performance of the Nutcracker ballet or enjoy a festive concert by the Edmonton Symphony Orchestra.
If you want to get outdoors and enjoy winter activities, Edmonton offers many options, from ice skating to winter hikes, particularly snowshoeing.
Depending on your location within the city, you can explore numerous snowshoeing trails. The best part is that enjoying this winter wonderland amidst nature is completely free (just bring your snowshoes)!
Contributed by Mayuri from To Some Place New
13. Toronto, Ontario
Toronto is an amazing place to spend Christmas in Canada due to the city's numerous activities and events during the holiday season. Despite the chilly winter, the city is alive with visitors embarking on Christmas Shopping or visiting the giant decorated tree in the Eaton Centre.
Each season, the Distillery District boasts a must-visit Christmas Market. Visitors can explore the cobblestone streets lined with local shops, drink mulled wine, and try food from the numerous food stalls.
The area is decorated with numerous festive flights, including a countdown to Christmas display. It can get quite busy, so buy tickets in advance and arrive early!
No visit to Toronto during Christmas is complete without skating on one of the city's outdoor skating rinks.
My favorite skating rink is in Nathan Phillips Square, in front of the hot photo spot, the Toronto sign (which lights up in festive colors!). The rink also offers skate rentals. Its prime location near the mall makes it a great activity to try before shopping!
If visiting the city for a few days, opt to explore waterfalls on a day trip from Toronto. Depending on the temperature, you may experience frozen waterfalls, which are truly memorable sights! Dress warm and bring suitable footwear, as the trails may be icy during this time.
Contributed by Devin of Deventuretime
14. Halifax, Nova Scotia
Christmas in Halifax is a magical experience. The Historic Properties along the waterfront transform into a Victorian Christmas wonderland. Here, you can shop for unique gifts with a maritime twist and sample local food.
The Grand Parade, a central square in Halifax, features a large, beautifully decorated Christmas tree. It's a popular spot for photographs and to feel the holiday spirit.
The Halifax Citadel National Historic Site offers a Victorian Christmas with decorations and activities from the 1800s. Visitors can participate in crafts, enjoy carols, and learn about historical Christmas traditions.
For outdoor enthusiasts, the Emera Oval provides free ice skating. It's an ideal place to enjoy winter and partake in a cherished Canadian pastime.
The Halifax Public Gardens are a serene spot for a winter stroll. Although the flowers are gone, the Victorian-era garden's structure lends a timeless charm to the snowy scene.
At night, the city's Christmas lights make for a dazzling display. Neighborhoods compete in unofficial "light up" contests, making evening drives to see the lights a local pastime.
Halifax's music scene thrives during the holidays. You can attend live performances of holiday classics, such as "The Nutcracker" by Symphony Nova Scotia.
Local pubs often host musicians playing festive tunes. The Craft Nova Scotia Christmas Show is a must-visit for handcrafted gifts. Artisans from all over the province gather to sell their work, from jewelry to woodwork.
15. Montréal, Québec
If you spend Christmas in Montréal, you'll enjoy the city transformed into a winter wonderland, adorned with festive lights and decorations. The iconic Mont-Royal offers breathtaking snowy views, perfect for a winter hike.
Old Montréal, with its cobblestone streets, is even more enchanting during the holidays. Here, you can explore charming Christmas markets, filled with local crafts and delicious treats.
Notre-Dame Basilica, a must-see, showcases stunning architecture and a beautifully decorated interior for the season. For those seeking indoor activities, the Montréal Museum of Fine Arts offers a warm escape with impressive art collections.
Skating enthusiasts will enjoy the Bonsecours Basin ice rink, offering a picturesque skating experience. For a unique holiday treat, try the famous Montreal-style bagels, perfect for a leisurely breakfast.
At night, the Place Ville Marie Summit hosts a spectacular light show, creating a festive atmosphere. For families, the Santa Claus Parade is a delightful event, bringing joy and excitement.
Finally, indulge in a traditional Quebecois holiday meal at a local restaurant, a memorable culinary experience.