Christmas markets originated in Germany but have migrated to other countries. Vancouver models its Christmas market on the German ones, complete with German beer, Glühwein, and Bratwurst sausages.
If you're visiting Vancouver in December, be sure to attend the metro Vancouver market. You can taste treats from Germany and other nations without experiencing the frigid winter weather where it began.
The event is well-attended, especially in the evenings, as the European-inspired Christmas village sparkles with fairy lights.
Whether you go for a date night or visit with children, attend with an appetite and a full wallet because you'll want to try the food and purchase unique gifts at the merchant alley.
Where Is The Vancouver Christmas Market?
Locals and visitors can find the event at Jack Poole Plaza, near Canada Place and the Vancouver Convention Centre. The wooden vendor huts are assembled around the Olympic Cauldron in downtown Vancouver.
The convention centre has a large parkade, close to the market if you drive. Parking costs CAD 25 for 2.5 hours or CAD 30 daily until 6 pm.
The event opens in mid-November with only evening hours. The hours changed in the last few days of November, offering an earlier opening at 11:30 am. Since it's a Christmas event, it runs until 6 pm on December 24th.
The Vancouver Christmas Market started in 2010. With a six-week window, there's a lot of time to get into the Christmas spirit and attend during the holiday season.
Where To Get Tickets?
To attend the downtown event, you'll need to buy a ticket. While you can purchase at the entrance, buying tickets online saves you money. You can buy a one-day or season pass, which pays off after two visits.
When purchasing a ticket, you must select a time slot from increments of ½ hour and show up within 30 minutes of your chosen time. However, once inside the event, you can stay as long as you want.
For the 2022 season, tickets are CAD 21.99 for adults, CAD 18.99 for seniors, and CAD 13.99 for kids aged 7 to 17 on the day of the event. If you purchase online at least a day before, you'll save CAD 2 per person.
Alternatively, you can buy a season pass for CAD 35.99, which gives you access on any day at any time. We found the busiest time was between 4 pm and 5 pm, more so on weekends.
Twilight offers the best time to take photos of Christmas lights, so no wonder it's the busiest period.
Why not combine your visit to the market with a trip to VanDusen Gardens or Capilano Suspension Bridge to view some of Vancouver's best light displays?
Ticket holders can get a stamp, leave the event and return later within the same day. So, you can visit during the day when it's less crowded and come back at dusk to see the lights.
What Can You Do At The Vancouver Christmas Market?
While most attend for the food, you can enjoy daily holiday entertainment, a Christmas carousel ride, and a scavenger hunt for the little ones.
The love lock installation and lover's lane are a hit amongst couples. You can bring a lock or purchase a heart-shaped one for CAD 3.
There are lots of opportunities for Instagram pictures. The carousel, walk-in Christmas tree, the curtain of lights, and the WinterDeck beg for photos with a backdrop of the north shore mountains frosted with snow.
New in 2022, guests can watch three augmented reality animated stories on their smartphones after scanning a QR code. The stories feature the Christmas Spider, Snow Queen, and Nutcracker and the Mouse King.
The vendor huts have many unique gifts if you want to do some shopping. There are hand-painted ornaments, glass ornaments, and handmade soaps.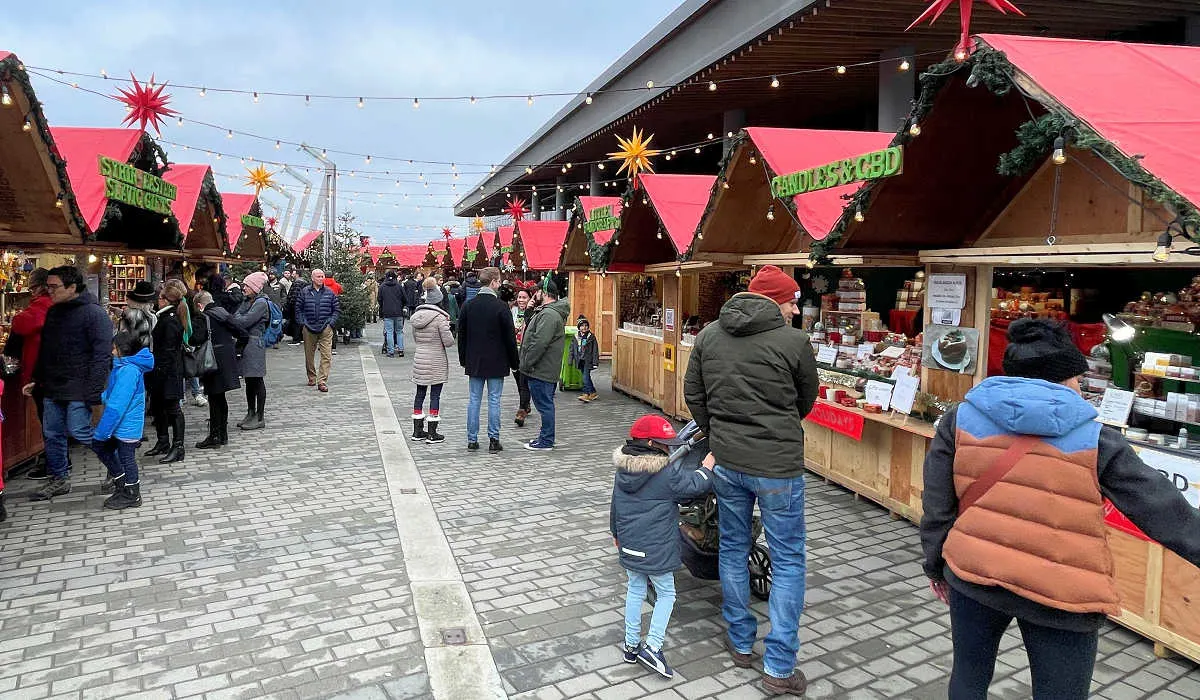 Vancouver Christmas Market Food
But the best part of visiting is tasting the food. Some huts offer samples, and I recommend attending with friends so you can share your food. With more people, you can cover most of the food vendors and taste test each booth.
The Vancouver Christmas Market website impressed me because vendors showed whether they could cater to food allergies.
So, if you're vegan, gluten-free, lactose-free, or allergic to nuts, you can hone in on vendors who sell food you can eat.
So, here are some top picks of foods and drinks to try.
1. Transylvanian Chimney Cakes
Similar to English cream horns, these Hungarian sweet treats are made the same way. Traditionally, chimney cones were made with butter and a dusting of sugar.
Today, you can try one with toppings and an optional filling. Choose from lemon curd, Nutella, Black Forest Cherry, or apple cinnamon fillings. The hardest part is choosing one!
2. Bratwurst Sausage
Having lived in Germany for five years, this was always a favorite. Made of beef, pork, and veal and topped with sauerkraut and spicy German mustard, Bratwurst makes a nice lunch or snack.
Even better is the Currywurst, served with a curry ketchup sauce and curry powder. If you prefer a bit of kick, pass on the Bratwurst and go for the Currywurst.
3. Soft Pretzels
Hand-rolled wheat pretzels originated in Puerto Rico. Made to order, the freshly baked aromatic dough provides a soft pretzel that is low in fat and contains no preservatives.
Choose from sweet or salty. Favorites include Nutella, parmesan, and cinnamon and sugar.
4. Hurricane Potatoes
Hurricane potatoes are delicious and great for sharing. Spiral-cut spuds are deep-fried and sprinkled with a variety of toppings, such as ketchup, spicy mayo, and white cheddar.
Outside the Christmas market, you can also buy the crispy hurricane potatoes at the Richmond Night Market, which operates from April to mid-October.
5. Macarons
Popular in France, Macarons are made from egg whites, powdered sugar, and almond flour. The sweet and savory treats consist of two meringue shells with a buttercream, ganache, or cream cheese filling. Since they're just a few mouthfuls, you can indulge by trying a few flavors.
Flavors include coffee, raspberry balsamic, rhubarb vanilla, ginger plum, Nutella, and Matcha. While you can buy a loner for CAD 2, you'll probably want a 6-pack, 12-pack, or a bag of minis.
6. Gingerbread
Soft and spicy, there's something extraordinary about the taste of gingerbread. Most associate the hard gingerbread with decorated houses.
However, the soft version called Lebkuchen has the perfect mix of sweet and spice, and melts in your mouth. Choose from plain, decorated, or lollipop gingerbread.
7. Mr. Hotcakes
Mr. Hotcakes' pancakes are meant to be eaten rolled, not flat. The flaky outside contrasts nicely with a gooey inside.
Drizzled with lots of maple syrup and topped with whipping cream, vanilla ice cream, or cream cheese. They have vegan options too.
8. Knedla
Relatively unknown in Vancouver, Knedla (meaning dumpling) consists of a steamed potato dough dumpling filled with a sweet plum.
At the Vancouver Christmas Market, you can try a new twist on an old recipe; cookies & creme, Nutella, white chocolate raspberry, and Raffaello.
9. Poffertjes
A popular street food in the Netherlands, poffertjes are mini puffed pancakes dusted with powdered sugar. Baked on a plate with small holes, the resulting pastry resembles a yeasty doughnut hole.
10. Roasted Chestnuts
Roasted chestnuts are a quintessential Christmas food. You can relive an old-fashioned Christmas with a bag of roasted chestnuts at the market. So, take your pick, a pack of 6 or a bag of 10?
11. Roasted Pork Hocks
Haxen Haus has a unique concept where their booth entices people with their open roasteries. It worked because we queued to try their roasted pork hock, which comes with sauerkraut and rye bread. If you love crunchy pork, this is the place to get it!
12. Affogato
Affogato (Italian for drowned) is an Italian coffee dessert. The dessert or beverage consists of vanilla ice cream or gelato with a shot of espresso. It's a lovely cold weather treat combining a hot drink with something cold.
13. Spanish Churros
Churros are a Spanish treat made from fried pastry and sprinkled with sugar or cinnamon sugar. You can add toppings, such as caramel, chocolate, Nutella, whipped cream, or maple syrup, if you have a sweet tooth.
14. Warm Candies Nuts
The warm candied nuts are sinfully delicious and the perfect treat after some savory food. So after you've had your fill of Bratwurst and Hurricane Potatoes, try some warm candied nuts. Who can resist candied macadamia, cashews, or pecans?
15. Cheese Me Raclette
Are you looking to try a Swiss favorite without flying to Europe? The Cheese Me Raclette consists of melting cheese on meat, potatoes, and pickles!
16. Bierbeisser Pepperoni
The Chop N Block makes a variety of dried meats, beef jerky, and charcuterie sausages. With flavors like orange and walnut, black truffle, and Sicilian olive, it's hard to choose one.
They also offer four types of pepperoni sticks. Their Bierbeisser was flavorful and very chewy.
17. Croffle
Invented in Ireland, a croffle combines the pastry of a croissant but is cooked in a waffle iron. It results in a flaky and chewy consistency. Top it with cream cheese, and you have a sinful breakfast, dessert, or anytime snack with tons of calories, but who's counting?
18. Gulasch
Gulasch comes from Hungary and Austria, and the later Hungarian version was adapted with the addition of paprika. At the Vancouver Christmas Market, you can enjoy the beef, and vegan potato stews served in bread bowls for a hearty meal.
19. Langos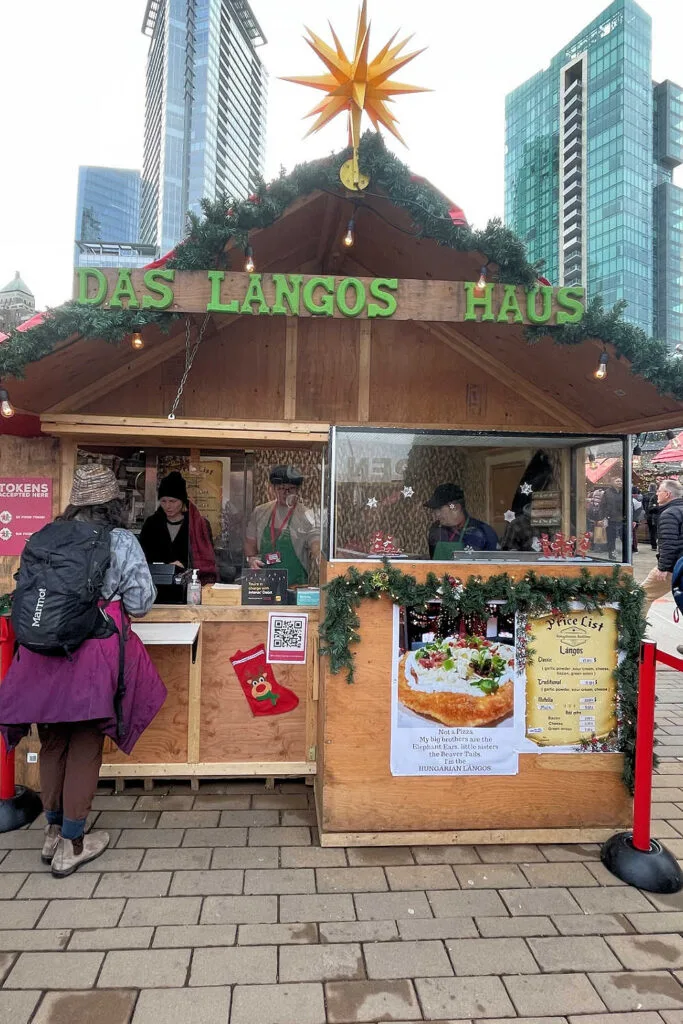 A Hungarian Langos is a cross between an Elephant Ear and a Beaver Tail. The traditional one comes with sour cream, garlic powder, and cheese. The classic is similar to the traditional (above) but with bacon and green onions.
20. Deep-Fried Squid
A popular Taiwanese street food, Vancouverites can enjoy deep-fried squid at the Christmas market in winter. Locals have enjoyed the tasty food at the Richmond Night Market in summer, but now they can get it in winter too.
5 Tasty Drinks To Try
To wash down all that food, here are five options for drinks.
Ho Ho Hot Chocolate
Nothing warms you better on a cold day than hot chocolate. The one at the market was a premium drink with superb flavor.
It came with extra mini marshmallows and a sprinkling of red and white candy cane, which didn't alter the taste.
Apfel
You can purchase German apple drinks made the traditional way by visiting the Das Apfel Haus. Choose from an alcoholic option or a non-alcoholic one. For an extra CAD 8, you can enjoy it in a Vancouver Christmas Market souvenir mug.
Glühwein
It wouldn't be a German Christmas Market without Glühwein, a hot spiced "glow wine." Traditionally made for skiers after a cold day on the mountain, the mulled wine can still warm you up even if it isn't frigid in Vancouver.
German Beer
What's a Christmas Market without German beer? At the Beer Haus, you can choose from Stiegl lager, Stiegl raspberry Radler, Stiegl grapefruit Radler, Erdinger wheat beer, Erdinger Dunkel, and Erdinger non-alcoholic beer.
Hot Chocolate Bomb
You might have heard of bath bombs, but do you know about hot chocolate bombs? As the name suggests, put a bomb in a mug, add hot soy, almond, rice, or your favorite milk, and you have an explosion of Belgian chocolate flavor in a cup.
While you can't drink this at the venue, you can savor the bomb at home.
Our Thoughts On The Market
Overall, the food at the market was good but pretty expensive. A chimney cake costs CAD 11.50 and CAD 2.50 more if you want the Nutella spread. However, this is a Christmas event, so expect to pay a hefty amount for the experience and festive entertainment.
We spent CAD 148.50 for three people, including parking, food, and drink. We spent almost three hours at the market but stopped to take many photos.
In the future when we spend Christmas in this Canadian city, we'd probably attend in November, when the event offers discounted tickets, and park further away to save on the CAD 30 parkade fee.
We left feeling like we ate a three-course meal and skipped dinner.