Vancouver's west coast location offers a warmer climate than its Canadian cousins in winter. While a visit in December may bring plenty of rain, don't let the damp weather stop you from enjoying the Christmas events, winter festivals, and indoor activities that make Vancouver, British Columbia, so unique.
While many visitors travel to Vancouver, British Columbia, to ski and snowboard its powdery slopes, the city, and surrounding areas offer plenty of activities, for the non-skiers. So, layer up, grab a hot brew and enjoy a plethora of events suited for every vacationer's budget.
December Weather In Vancouver
Vancouver on the west coast offers warmer temperatures than most imagine. Its coastal location brings more rain than snow, especially at lower levels. On average, it rains 19 to 20 days in December with approximately 7 to 8 inches of monthly rain.
While December is off-season for visitation, a winter stay means avoiding the summer crowds and scoring better pricing in hotels. Expect average daytime temperatures of 4.5C and lows just above freezing.
Does it snow in Vancouver in December?
The city of Vancouver might experience an odd snowfall in December but often melts immediately. The snow is often wet and not the fluffy powdery kind seen on the nearby slopes. Typically, January sees more snow and can often hang around for days.
So, prepare for a December visit by packing layers, an umbrella, and a waterproof jacket. Even if the weather doesn't cooperate, visitors can enjoy many indoor Vancouver rainy day activities.
Enjoy The Peak Of Vancouver
Grouse Mountain, also known as the Peak of Vancouver, offers year-round events. While snow bunnies take the gondola to snowboard and ski in winter, families, and non-skiers can enjoy other fun winter activities.
In December, the Peak of Christmas event features a Santa's Workshop complete with elves, a Gingerbread Village, an illuminated Light Walk, a skating pond, and an option to use a crazy carpet in the Sliding Zone.
Grouse Mountain also brings in a couple of Santa's reindeer to offer magical sleigh rides in the winter wonderland during the winter months. On a clear day, you'll also enjoy one of the best views of Vancouver.
Have Christmas Tea At Neverland
High teas aren't just a drink but a scrumptious meal with finger sandwiches, scones, and delicate pastries. At Christmas, the Neverland Tea Salon on West Broadway serves a special high tea to celebrate the holiday season.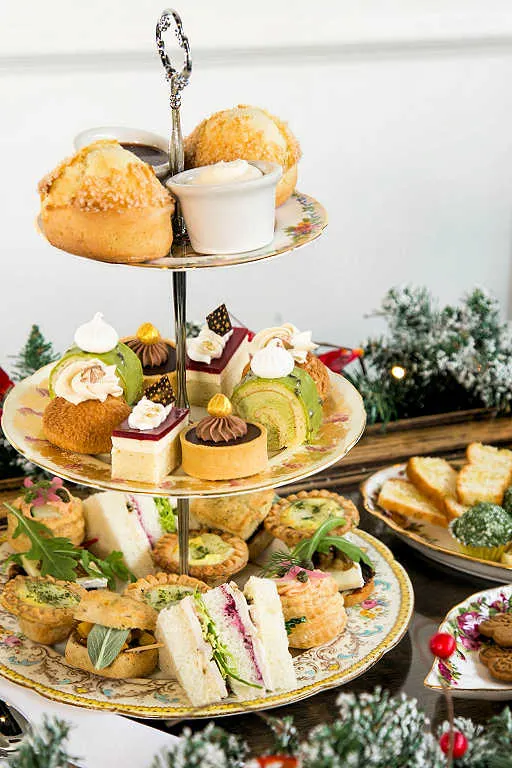 Guests can enjoy Neverland high tea in gluten-free, dairy-free, vegan, and vegetarian versions if they have dietary needs. Who can resist turkey and cranberry sandwiches and mini quiches?
Enjoy Ice Staking Outdoors
While Robson Square's covered outdoor rink was a hotspot for a free ice skate, it's currently closed due to the pandemic.
However, located on North Vancouver's waterfront, the Shipyards Plaza offers the largest outdoor covered skating rink in the area. Like Robson Square rink, skating is free to the public.
If you don't own skates, the facility provides rentals for a small fee. Skate aids and helmets are available for free, but supervision is not provided during the skate.
Admire The Canyon Lights
When the sun goes down, head over to the Capilano Suspension Bridge in North Vancouver. In December, the park hosts Canyon Lights, a magical event that lights up the trees, suspension bridge, and Cliffwalk with thousands of twinkling lights.
The event is popular amongst the locals, so expect a large crowd on dry nights, especially the last few days before Christmas.
In the park, visitors can take selfies in a sleigh, spot illuminated owls in the trees, decorate gingerbread cookies, and make Christmas cards. You'll enjoy the Treetop Adventures with the ambiance of white fairy lights and listen to Christmas music as you cross the suspension bridge.
Go Snowshoeing
With a backdrop of mountain peaks dusted in snow, visitors can enjoy many trails by snowshoeing. Cypress, Seymour, and Grouse Mountains offer snowshoeing trails for different levels of fitness. Anmore and Coquitlam also have trails suitable for snowshoeing.
Whether you're a beginner or an avid athlete, you can choose a route for moderate leg burn or a leisurely outing with scenic winter views.
Walk The Lights At Lafarge
Located in Coquitlam, just east of Vancouver, Lafarge Lake illuminates its pathway around the lake. The Christmas lights attract thousands to see the complimentary display.
With a paved path and lots of parking, Lights at Lafarge brings families, couples, and singles walking dogs.
The outdoor free light display makes a fantastic alternative for those not wanting to pay for an expensive excursion. To avoid the crowds and parking congestion, arrive before 6 pm or after 8 pm. Since weekends are busier, aim to enjoy the illuminations on a weekday.
Try Bobsleigh or Skeleton
Whistler, an hour and a half north of Vancouver, is a winter wonderland if Vancouver has no snow. In 2010 Whistler Blackcomb hosted many of the winter Olympic events, including downhill skiing, luge, and bobsleigh.
After the Olympics, the Whistler Sliding Centre continued operating to encourage youngsters to engage in sliding sports. In December, visitors can travel from Vancouver on a day trip and take to the track on a bobsleigh or skeleton.
With a safety briefing and an experienced pilot, you'll be racing down the track at 125 km/hour. Not for the faint of heart, this unique activity will leave your heart pumping.
Go Dog Sledding
Another Whistler activity that's sure to bring smiles to everyone's faces is dog sledding. Bundle up and relax in a sled as your enthusiastic dog team hurtles you around the wintery landscape on an unforgettable ride.
Be sure to bring some hand warmers to slip into your gloves and boots. With your camera ready, you'll enjoy a route through an old-growth forest in Whistler's Callaghan Valley. Not so budget-friendly, expect to pay around CAD 500 for two adults sharing a sleigh.
Enjoy FlyOver Canada
FlyOver Canada offers a popular simulated ride at Canada Place. Throughout the year, visitors fly over Newfoundland's Iceberg Alley, Mount Assiniboine, and Niagara Falls.
The ride combines movable seats with a movie projected onto a 20-meter curved screen. You'll have a feeling of flying while smelling the pine trees, feeling the wind in your hair, and the mist of Niagara Falls.
However, every December, event-goers get to ride in Santa's sleigh as they fly across Canada, from the east coast to the west.
During your ride, Santa has given you the task of finding two missing elves, Pinecone and Chestnut. At the end f your flight, you'll enjoy the wintery landscape of the North Pole.
See Scuba Claus
Around the globe, carol singers pipe, "Santa Claus is coming to town." However, in December, Vancouverites welcome "Scuba Claus."
Decked in his traditional red suit, Vancouver Aquarium visitors get to see Santa diving in the fish tank. The Holiday Splash event rings in the holidays, along with a 4D experience of the Polar Express movie.
With two daily dives at 11 am and 2 pm, children can wave to Santa in the tank, have their picture taken in a Jelly Snow Globe, and participate in fun family activities.
Enjoy The Winter Solstice Lantern Festival
Celebrated on the longest, darkest night of the year, the winter solstice proclaims the end of darker nights and the return of the sun. On December 21st, Vancouverites illuminate the dark city with fire, lanterns, dancing, and music.
Once a religious and spiritual festival, the free event allows people to celebrate in person or make a lantern and share it via Zoom.
Attend The Vancouver Christmas Market
Located in Jack Poole Plaza, the Vancouver Christmas Market delights locals and visitors with its festivities in December.
Based on an authentic German Christkindlmarkt, the unique event features holiday entertainment, a walk-through giant Christmas tree, a Christmas Carousel, and a lively village of vendors.
As you wander the European-inspired village, enjoy festive treats like Glühwein (mulled wine), German sausages, European beer, and tasty Schnitzel. The market sells a Canadian classic, Beaver Tails too.
If you love Beaver Tails, check out the food at the Richmond Night Market. Operated in the summer months, it's a popular place to try different street food.
The Christmas Market provides a scavenger hunt for the children to keep them busy while the parents' shop. At the end of your visit, take a stroll through the lighted archway, and enjoy the thousands of twinkling lights.
See The Holiday Train
Since 1999, the CP Rail Holiday Train has been traveling across the country, stopping in communities and bringing smiles to all those who come to see it.
During the free event, the train brings celebrities who play live music to entertain the crowds. The illuminated train collects non-perishable food and cash donations for the food bank.
Due to the pandemic, the CP Holiday Train did not travel across the country in 2020 or 2021. Instead, CP Rail arranged a virtual concert to continue raising food and money for the less fortunate.
Spend An Evening On A Carol Ship
A tradition in Vancouver, the waters around the city glows with a procession of illuminated carol ships. Event-goers can purchase tickets to join a carol ship on Granville Island or Coal Harbour.
Decking out in Christmas décor and twinkling lights, you'll cruise the sheltered waters while enjoying a traditional Christmas feast.
Afterward, get into the holiday spirit by singing Christmas carols, and enjoy visiting the jolly man himself. Outside on the deck, you can admire the colored lights of the city and nearby carol ships.
Ride The Stanley Park Holiday Train
After being closed for two years, the merriest train in Vancouver reopens in Stanley Park with its Bright Nights event. The Christmas train is popular amongst locals who bring their families to enjoy a crisp ride through a forest filled with festive lights.
Bring a blanket to stay warm, and with a toot of a whistle, you'll be on your way to the most illuminated place in Vancouver.
The train opens most days, from 4 pm to 10 pm, and ride must purchase tickets online. The December event also accepts donations for the Burn Fund, and to date, the Vancouver event has raised over CAD 1.5 million.
Go Tubing On Seymour Mountain
The wintery slopes aren't just for skiers and snowboarders; some local slopes offer tubing too. Less expensive than the more popular winter sports, tubing allows for just as much fun for the whole family.
Since Cypress and Seymour Mountains provide the tubes, this activity doesn't require any expensive equipment.
Since most mountains have a lift system, tubing is suitable for all fitness levels and ideal for those who have never tried a winter sport. So, lay across your inflatable tube and enjoy the adrenaline glide down a slippery slope.
Drive Through A Festive Light Display
WinterLights is Vancouver's newest festive attraction. Starting on December 3, event-goers can enjoy nine festive-themed areas from the comfort of their vehicle. The drive-through allows safe illumination viewing, perfect for the whole family.
As you admire the live performances and jovial characters, turn your radio on to listen to the WinterLights soundtrack. Like most events during the pandemic, tickets must be purchased in advance online.
Go Tobogganing
When the snow covers the mountains around Vancouver, there's no better fun than tobogganing on fresh powder. Many ski resorts offer gentle slopes for tobogganing, but you're required to bring your own sled.
There are plenty of areas to use a sled or crazy carpet if the city gets snow since the urban city has hills. The best city slopes include Burnaby Mountain, Queen Elizabeth Park, and Kensington Park.
Final Thoughts
While December isn't the most popular month to visit Vancouver, it's the most festive. With snow-filled outdoor activities and indoor events, your Vancouver itinerary will be packed with things to do. So, don't let the wet weather spoil your fun. Instead, embrace the west coast climate like a local.
Happy travels ~ Karen