In the Peter Pan fairy tale, directions to Neverland were "second star to the right, and straight on till morning." However, did you know they have a Neverland in Vancouver, Canada, and it serves the most magical afternoon tea?
The Neverland Tea Salon in the Westend of Vancouver is an ideal restaurant for anyone with food allergies. My wife Karen is celiac, lactose-intolerant, and allergic to tree nuts.
If you want afternoon tea in Vancouver, this tea salon offers four choices; regular, vegetarian, gluten-free and lactose-free, and vegan and gluten-free.
Since Karen is British and I enjoy tea, we take the opportunity to have afternoon tea wherever we can. On our recent Alaska cruise on Cunard Queen Elizabeth, they served daily afternoon tea in the Queen's Room.
We were pleasantly surprised Karen could get it gluten-free and lactose-free upon request, and we enjoyed the leisurely event while cruising through Glacier Bay National Park.
Two childhood friends, Terri Tatchell and Renee Laci, founded Neverland in 2013. With backgrounds in film and theater, their creativity shines throughout the restaurant. The best word to describe the Neverland Tea Salon is "whimsical!"
Neverland Tea Location And Hours
Located at 1066 West Broadway in Vancouver, British Columbia, Neverland opens daily at 11 am and closes at 5 pm. They have seating times every 90 minutes, starting at 11 am, with the last seating at 3:30 pm.
As a result, preferred seat times are as follows: 11 am, 12:30 pm, 2:00 pm, and 3:30 pm. Weekends are much busier, so it's best to go on weekdays if possible. We went on a Friday for the final seating at 3:30, and the restaurant was less than half-full.
Also, consider making a reservation to ensure you can get a seat. During our seating, they appeared to allow walk-ins between the scheduled seatings. I presume that was acceptable because they were not busy.
While their main restaurant is in Vancouver, they have another location further north in British Columbia, which only opens during the summer months.
Neverland Décor
One of the things that makes Neverland so memorable is the décor. Based on the story of Peter Pan, Neverland brings out the child in all of us. For me, the décor was fun, unusual, and not your typical boring restaurant format.
There are cute phrases and sayings on the walls that I had to look at during our time there. A large Peter Pan book by JM Barrie sits conspicuously on a stand adding to the whimsy of the room.
There was a large curio cabinet with many teacups that staff used to set the tables when new guests arrived. How authentic! Nearby, a birdcage is filled with clocks. Teacups could also be seen hanging from the many chandeliers, which added to the charm.
While your reservation is 90 minutes, this is a place where you could sip tea, drift into a fairy tale, and let the world pass by.
Diners have the option to eat inside or outside. However, enjoying the indoor decor makes a great Vancouver rainy day activity if it's wet out.
Delicious Neverland Food
From the afternoon tea menu, Karen ordered the Summer Gluten/Dairy Free High Tea in accordance with her food allergies. I ordered the Summer Regular High Tea menu.
Both came with a mix of sweet and savory: five sandwiches, four desserts, one scone, and unlimited tea. You could order several teas and try out different kinds.
The kitchen had made a mistake with two of the desserts possibly having nuts. Karen is deathly allergic to tree nuts! Our hostess quickly checked with the chef and promptly substituted those items.
Gluten-free bread can be hit or miss, but the sandwiches were exceptional and delicious. I always love having cucumber sandwiches as a standard fare with high tea.
In typical fashion, we started on the bottom of the platter with the traditional finger sandwiches. The presentation was incredible, and the food was sumptuous!
The cucumber sandwiches had the added flavor of mascarpone, and cucumber slices were added to the top of the bread for presentation.
For me, the chicken salad sandwich with mango chutney was amazing in presentation AND taste. I liked that the sandwiches varied in presentation with different shapes and opened-faced ones too.
Like traditional scones, mine was round, but Karen's gluten-free version was square. It came with clotted cream and house-made strawberry jam. Karen's included a lactose-free Devonshire cream. Both were delicious, and Karen remarked that her scone had good flavor and wasn't crumbly.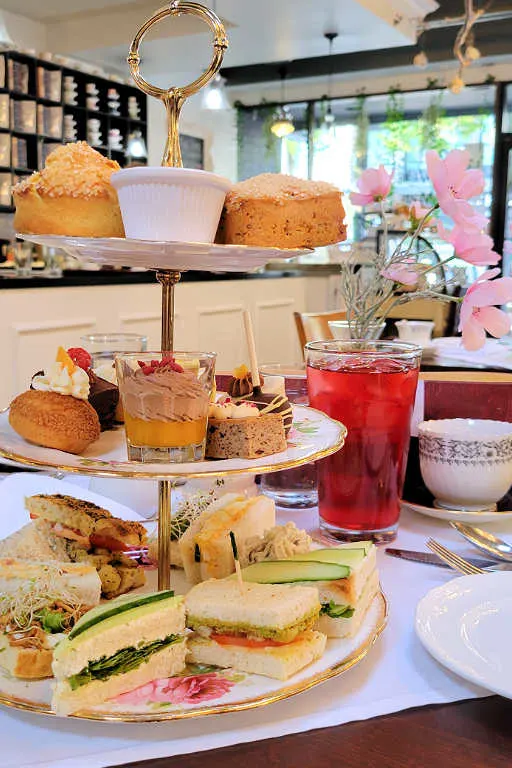 The sweet treats were the icing on the cake. Since I had the regular Summer High Tea, my treats consisted of a banana tart, orange cake, raspberry chocolate brownie, and peachy mango choux.
Karen's selection included banana caramel cake, passionfruit mango amandier, orange chocolate cheesecake, and a chocolate cake pop. Each item was decorated beautifully as if sprinkled with fairy dust.
The only item which was a miss was Karen's cheesecake. Although she loves cheesecake, she felt it had a strange texture and taste. Otherwise, we cleaned the cake tower from top to bottom.
Other Neverland Options
Other summer menu options include Vegetarian High Tea, Vegan High Tea, and Tinker Bell Summer High Tea (for 12 yrs and under). Each of the high teas is similar but with varying ingredients.
Neverland offers other selections if you are not in the mood for high tea. This includes soup and salad, chicken avocado BLT salad, or spinach and fruit salad. However, the tea salon only offers an additional lunch menu on weekdays.
If you are dining with kids under 12, children have another menu at a lower cost. Popular items such as pizza bagels, Nutella banana on croissants, and grilled cheese are kids' favorites.
The Tea Menu
The tea selection is impressive, with over 75 teas available. The only other place I've been that had more tea was the Agnes Lake Teahouse in Lake Louise. While it has 100 loose-leaf teas, it requires a strenuous hike to get there.
I ordered the Mumbai Chai, and it was delicious. Since Karen needed a decaf tea, she could choose from a chai, earl grey, or fruit-flavored teas. You have the option to get fruit teas hot or cold.
She was not a fan of earl grey or chai, so she tried the cold pink lemonade tea, which was quite refreshing. Then she ordered mint chocolate as a hot tea.
She found the teas okay but not spectacular and wished they had English breakfast. There is a choice of scented black, green, white, oolong, and black tea.
In addition, there are over ten herbal and fruit teas. The five premium teas, such as Bergamint and London Fog, are available at a modest additional cost. If you've enjoyed your selection of tea, Neverland sells loose tea so you can enjoy it at home.
If you prefer to enjoy some bubbly instead, you can order the Take me to Neverland Bubbly High Tea. That package includes a glass of sparkling wine, rosé, or mimosa.
Changing Menus and Décor
One of the best features of Neverland is the menus that change at different times of the year. As a testament to the founders' creativity, the décor takes advantage of various seasons or holidays.
We dined during the Summer High Tea season, which they offer until late September. Next is Mad Hatter in the fall. Their Grande Adventure High Tea includes whimsical items such as a Cherry Chocolate "Deck of Cards," White Rabbit Chocolate Clock, and "Queen of Heart" Chou.
This is one of the most popular high teas and pays homage to Alice in Wonderland. On occasion, some visitors have had their birthday or other special events at this time.
On social media, you can find pictures of clients dressed in Mad Hatter costumes as part of their celebration. How fun is that?
The décor includes playing cards, lots of clocks, and more. If you are playful and a child at heart, consider attending the Mad Hatter's tea party. Now, don't be late…..for that very important date!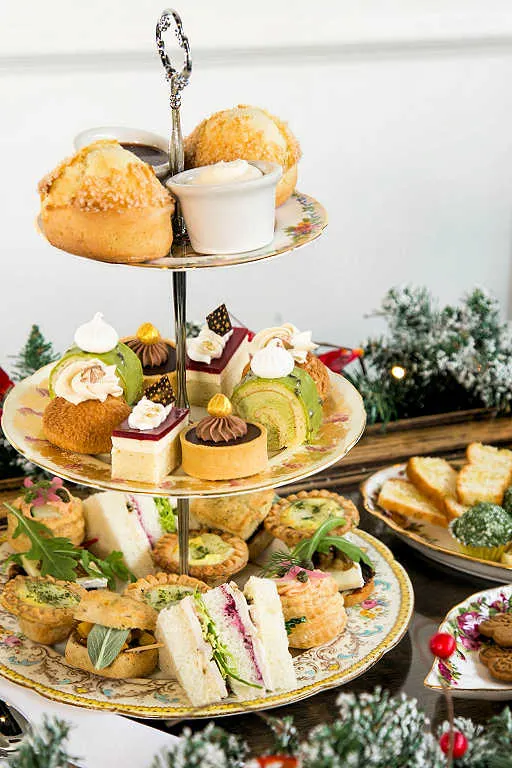 Additionally, Neverland offers Christmas High Tea, Mother's Day, and more. If you prefer not to dine in, you can order afternoon tea to go.
Vancouver Afternoon Tea With Exceptional Service
Our appointment was for 3:30 pm, and we knew we would be a little late due to traffic congestion driving there. As a courtesy, we called ahead at about 3:15 pm to let the staff know. I was pleasantly surprised that they took our order over the phone during the call.
This was to ensure that our food would be ready shortly after we arrived. It also benefited the kitchen staff because they liked to close the area after 4 pm. However, we arrived around 3:45 pm. Our hostess was exceptional and provided attentive service throughout.
We enjoyed our leisurely tea on a weekday when it was not busy. The hostess said it can be jam-packed with wait times during the weekends. During our visit, the restaurant was less than half-full. This is one of the reasons she could spend more time with us.
Final Thoughts
Overall, we had an exceptional dining experience at the Neverland Tea Salon. We'll be back for its fun and whimsical décor, and the delicious high tea experience.
While you can't substitute food on the tea towers, the cafe will adapt the selection to your dietary needs.
I love the fact that their menus and themes change throughout the year. This is excellent marketing on their part and a reason for patrons like us to keep coming back.
We found the tea reasonable at CAD 50 per person compared to The Empress Hotel Afternoon Tea at CAD 89 pp.
If you suffer from food allergies, Neverland is one of the best restaurants we found for safe dining. Their gluten and dairy-free options were terrific and prepared separately to prevent cross-contamination.
Although, we found it a little strange that the kitchen served them on the same plates as regular items.
Neverland has become one of our favorite restaurants in Vancouver, and we look forward to our next visit.
While high tea started in England, thankfully it has branched out worldwide. Our Vancouver afternoon tea experience at Neverland exceeded the Raffles Hotel afternoon tea in Singapore, and some of those we enjoyed in the UK.
If you're seeking another Vancouver venue to have afternoon tea, check out our review of the Adonia Tea House in Kitsilano.