Located in Vancouver, British Columbia, the Adonia Tea House honors the centuries-old tradition of tea-taking with elegance and grace. The tea house is named after Adonis, the beautiful Greek goddess, and partner to Aphrodite.
Tea connoisseur Ping Chou established the quaint tea shop on West 41st street. While most visitors go for afternoon tea, the tea salon has lunch items too.
Being half British, I always jump at the opportunity to try a traditional afternoon tea at new venues. Having had a fantastic afternoon tea at the Neverland Tea Salon, another Vancouver venue, I looked forward to a new location.
Adonia Tea House Location And Hours
Located at 2057 W 41st Ave, you can visit Adonia from 11 am to 4:30 pm from Wednesday to Monday. We found their website a little dated and couldn't make a reservation online.
Since their venue is small, reservations are recommended, especially on weekends. You can only reserve a table by calling them or emailing them.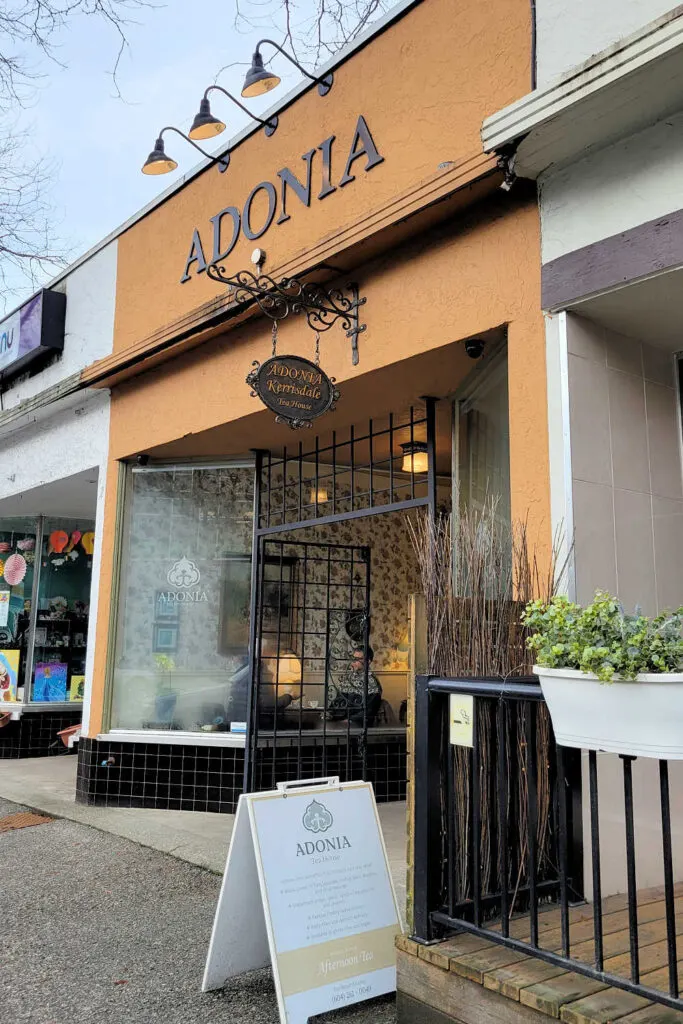 If you have food allergies or follow a restricted diet, you should order your afternoon tea 24 hours before your appointment.
Afternoon tea varies by season, and since we visited in early January, they were still serving Winter Afternoon Tea. Guests can choose from a full tea which consists of twelve petite items, or a mini afternoon tea with eight pieces.
Mini-teas are ideal for those with smaller appetites or if you're attending the afternoon ritual with children.
During our visit, a full tea was CAD 55 per person and a mini-tea CAD 38 when dining in-house. You can also order soups, salads, sandwiches, scones, and desserts.
Most diners ordered afternoon tea on our visit, but some shared a tea tower with accompanied lunch items.
The Decor
We visited on a cold January day, right after the new year, and the evergreen wreath on the door still signaled Christmas. Inside Adonia, the tea house is tiny, and I felt like I stepped back in time, as if visiting grandma's house.
Old-fashioned wallpaper adorned the walls, and eclectic antique furniture was arranged in settings of two to six. The tables were small and set with bone china, and soft music echoed from an old radio.
On one wall, tea selections were packaged for sale, and Royal Doulton China transported me back in time.
We were given a table next to the door, and since it was frigid outside, we requested one further away. Since the venue is small, we only got to move over one more table.
The tea house was cold, and I almost didn't want to remove my coat. In fact, my mum, who was 81, kept her jacket on.
With visitors coming and going, the front door's opening made the tea room uncomfortably cold. I realized this was going to be an eat-and-dash experience.
The Tea Selection
Adonia has an excellent selection of loose-leaf tea. You can choose from 13 black teas, five green teas, and also fruit tea. Additionally, they carry Rooibos, White, Spice, and Japanese teas.
My husband chose his favorite, the Chai tea, I had the decaf Earl Grey, and my mother had the Gyokuro Japanese tea. The tea arrived in clear glass teapots on candle warmers. I loved that the warmers kept the tea from getting cold.
The tea salon uses mesh stoppers to keep the loose leaves in the teapot, which somewhat works. But we all drank our share of the tea leaves.
If you choose black tea, the leaves continue to steep and may result in strong tea. I wished they used a tea ball so customers could remove the tea leaves, to prevent the tea leaves from steeping too long.
I found my tea weak, which suited me fine because I prefer more diluted tea with a milder flavor. My mom found her Japanese tea flavorless and watery. Brian said his Chai tea was good.
Brian requested his tea with milk and sugar. We found it unusual to receive rock sugar in chunks, which took some stirring to dissolve.
As the tea shop got busier, we noticed they ran out of warmers. So new arrivals had regular teapots with no warmers.
Afternoon Tea
Since two of us had food allergies, we placed our high tea orders the day before. I needed one that was gluten-free, lactose-free, and nut free. My mother requested hers, nut-free and lactose-free. Adonia also caters to vegetarians and vegans.
Since it's often difficult to find a venue serving lactose and gluten-free tea, I always try them wherever I am. On a recent cruise to Alaska on Cunard Queen Elizabeth, I enjoyed a fantastic afternoon tea in the Queen's Room.
Once we got our hot teas, our waitress confirmed our orders. It worried me when she returned two more times to check on the food allergies.
We didn't wait long before our three tea towers arrived. The twelve items consisted of seven finger sandwiches, four sweet treats, and one scone.
While twelve items might seem like a lot (and I almost opted for the mini-tea), the savories and sweets were incredibly small.
The sandwiches and pastries were so tiny they actually looked lost on the towers. After our tea, I compared our photos with their Instagram pictures; the difference was night and day.
With three pots of steeping tea and three towers of sandwiches and pastries, we almost didn't have any room on our table. We were thankful to have a different table than the initial one, which was much smaller.
Along with the traditional egg salad, classic cream cheese and cucumber sandwich, there were other changeable selections.
These were turkey and cranberry, caramelized onion and red pepper, baked ham and potato salad cone, smoked salmon pate, and cranberry Brie crostini.
Since I needed gluten- and lactose-free selections, the kitchen staff made my sandwiches with GF bread and adapted the fillings. I appreciated the fact that my items came on a separate tower to prevent cross-contamination.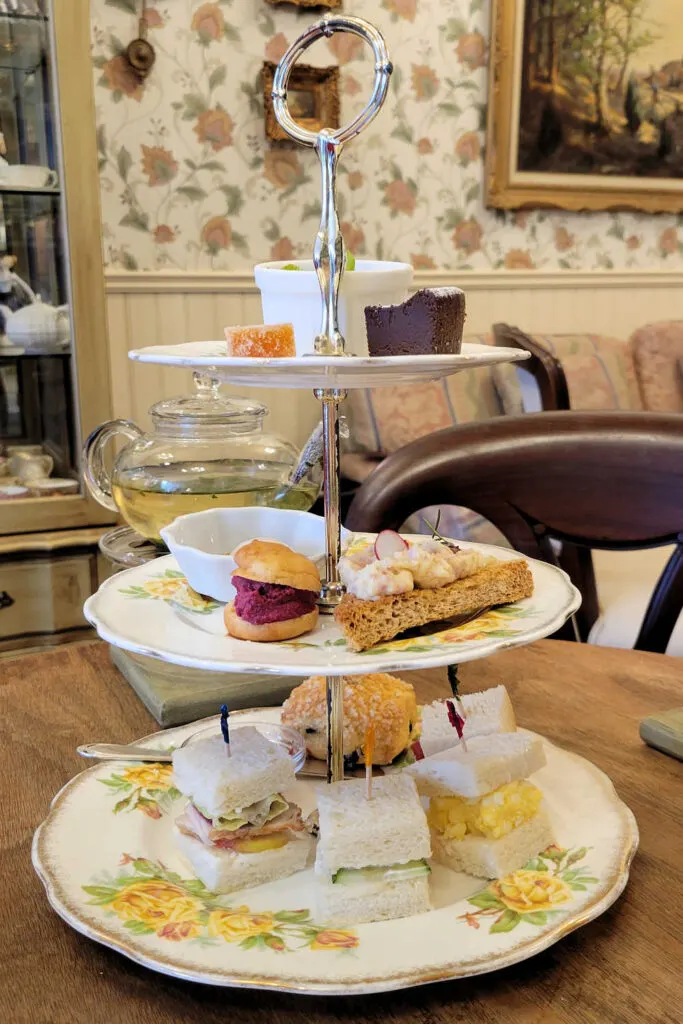 The fillings were nice, but my bread was dry, hard, and almost stale. Gluten-free bread tends to be drier, but this bread was exceptionally dry.
Of the savory sandwiches, our favorites were the egg salad and the baked ham and potato cone.
Overall, I felt the presentation lacked what you'd expect of a CAD 55 tea. If you prefer to order your afternoon tea to go, you'll save CAD 2 off the in-house price.
The Sweets
On the upper tea towers, the Adonia Tea House served the following pastries:
An orange and chocolate mousse cake.
Vanilla lime layered cake.
Eggnog creme brulee.
Canele.
The sweet treat portions were tiny, and I wished there were one more and fewer savories.
Nothing stood out, and I was surprised that one of my selections was a small scoop of sorbet and another, was a piece of candied ginger.
Each tea tower came with one scone, and the selection changed with the season. Since we were visiting during the Winter Tea, we received a cranberry scone. You might receive a cheese and chive version at other times of the year.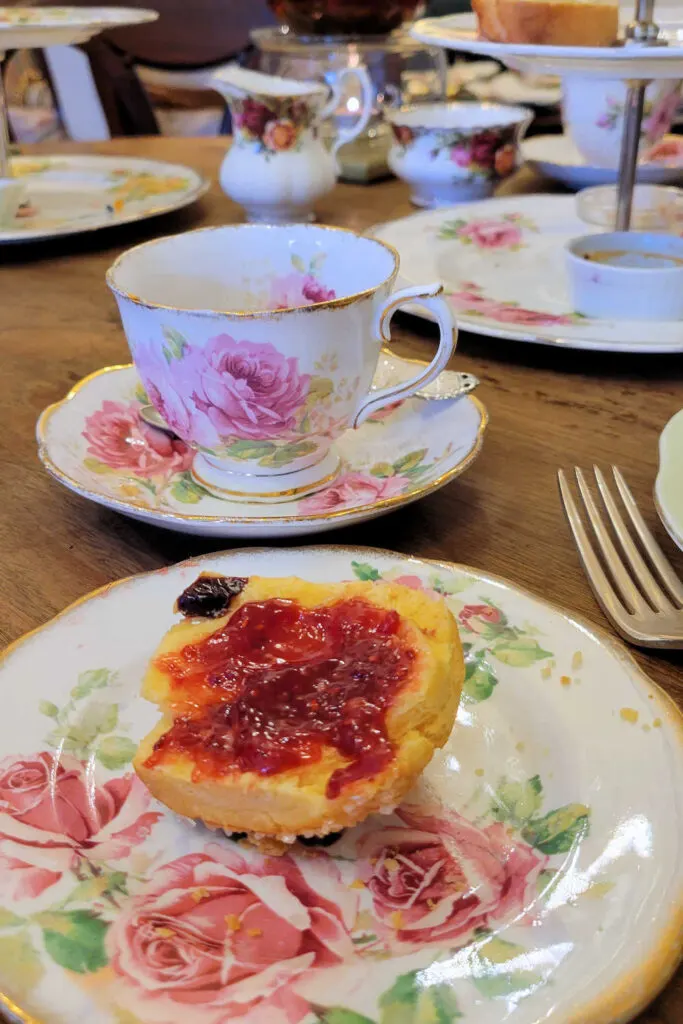 The cranberry scone was very lovely and extremely fresh. Even the gluten-free version was delicious. I only wished mine came with cream and not just the jam.
If you want to order additional scones, they are CAD 4.50 for one or a trio (plain, cranberry, cheese and chive) for CAD 12.
They change the menu slightly if you visit at other times of the year. Selling a "special" tea such as Valentine's, Spring, Mother's Day, Summer, and Autumn entices patrons to come back for a seasonal event.
My Verdict
Afternoon tea is one of those treats that I like to indulge in once in a while. It also makes a great outing when it rains in Vancouver.
While high tea tends to be overpriced everywhere, you expect a high level of presentation and a mix of culinary flavors. At Adonia, the food didn't live up to the CAD 55 price tag, and the items lacked creativity and taste.
While I wanted to love this place, the fact that I got sick after the tea indicated that my food had some cross-contamination problems in the kitchen.