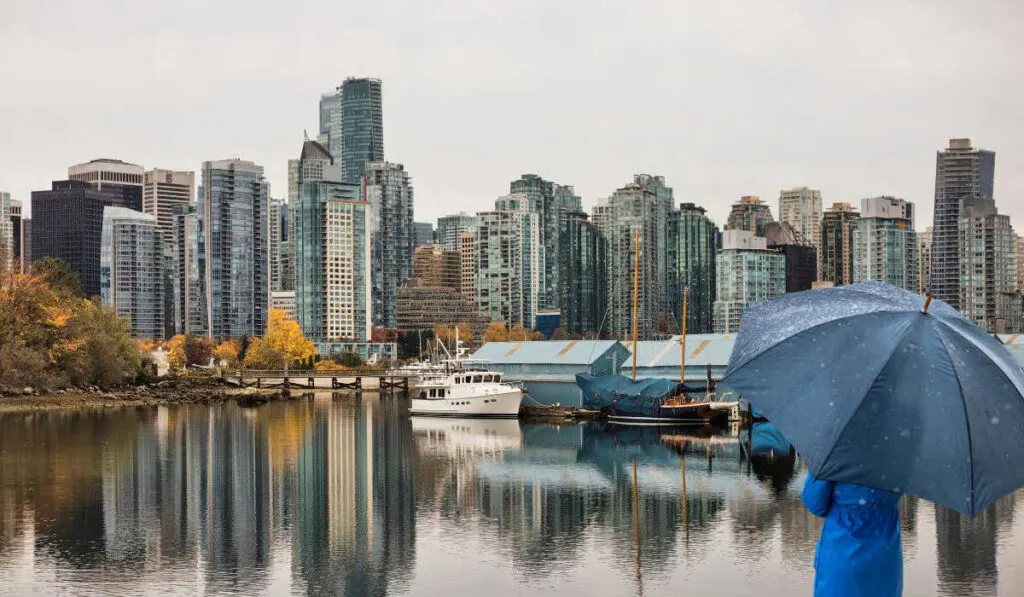 Nestled at the foot of the North Shore mountains, Vancouver, Canada, is blessed (or cursed; however you look at it) with plenty of rain showers. Being the third wettest city in Canada, the frequent showers create a temperate rainforest backdrop to the downtown area.
During the winter months (rainy season), the city sees more precipitation in the form of rain than snow.
The yearly rainfall averages 2350 mm (93 inches) in metro Vancouver, with July being the driest month. While most travelers cringe at the thought of rain on their vacation, don't let it spoil your fun.
Instead, find some Vancouver rainy day activities that you can enjoy during your few days in Vancouver, Canada.
Most Vancouverites embrace the rain in their everyday lives. Not me, however. I was born on a tropical island and still resign myself to want to live in a warm climate, even though Vancouver is my home.
So, whether you reside in this Canadian city or are on vacation, there are plenty of fun indoor activities to keep you dry.
Vancouver In The Rain: Activities For Children
If you're traveling to the lower mainland with children, there are plenty of fun things to do when it rains.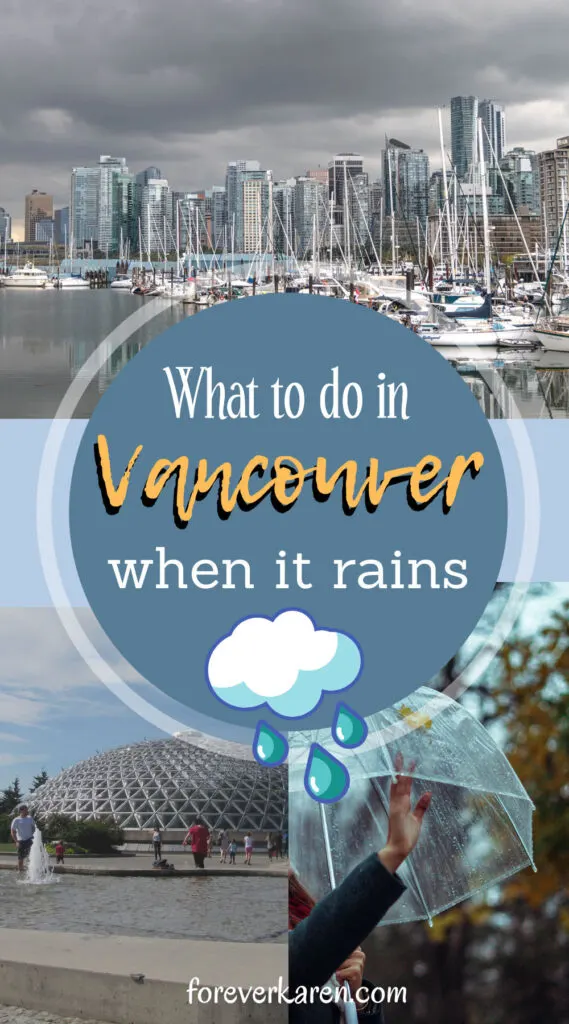 1. Take A Virtual Flight Over Canada
Location: 201 – 999 Canada Place | Open: Mon to Thurs 3 pm to 7 pm Fri to Sun, 11 am to 7 pm
Flyover Canada is a flight simulation ride that will not only delight children but adults too. Located in downtown Vancouver at Canada Place, riders enjoy Canada's highlights while soaring through the air.
Nothing is more incredible than feeling the rumbling waters of Niagara Falls, flying over the Rocky Mountains, and hovering over Saskatchewan's wheat fields. Experience the best places in Canada without a commercial airline flight.
The unforgettable ride will tease your senses with the wind, mist sprays, and smells that will whisk you away to another province. In the winter, riders experience a sleigh ride that travels to the north pole to see Santa's workshop.
Sometimes when you visit Flyover, Canada, you'll have the option to enjoy a flight in a different country. On occasion, they feature Flyover Iceland, Hawaii from Above, and Windbourne: Call of the Canadian Rockies.
Experiencing Iceland virtually made me want to book an airline ticket to Iceland to see the incredible waterfalls in person.
2. Stargaze At The MacMillan Space Centre
Location: 1100 Chestnut Street | Open: Mon to Fri 10 am to 3 pm, Sat 11 am to 5 pm
Who wanted to be an astronaut when they grew up? The small-scale Vancouver museum is located by the beautiful Vanier Park, with spectacular views of English Bay.
Although a bit pricey and outdated, it makes for an excellent stop during light rain. Kids will love the interactive exhibits and the fact that they can see space suits and part of a rocket.
So, recline in a comfy chair and enjoy a fantastic educational show in the planetarium. Travel through the solar system virtually as you learn about the stars, black holes, nebulas, and galaxies. Amongst the exhibits, you can touch a meteorite and some moon rocks.
3. Enjoy The Tropics At The Aquarium
Location: 845 Avison Way in Stanley Park | Open: Daily 10 am to 5 pm
The Vancouver Aquarium has undergone many changes over the years, with the biggest transition of no longer keeping whales in captivity. However, the outdoor area has a great selection of sea lions, penguins, dolphins, sea otters, and seals.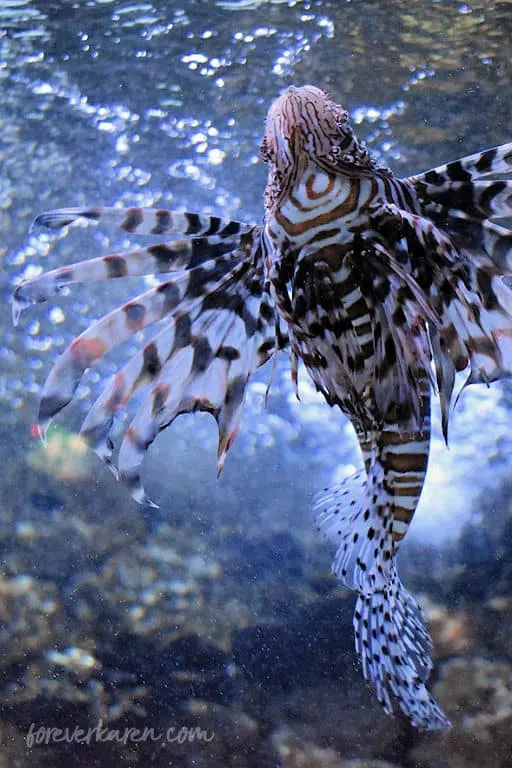 But the most prominent exhibits are indoors and the perfect place to be in Vancouver on a rainy day. See sloths, exotic birds, and colorful flowers in the rainforest of the Amazon gallery.
The jellyfish are a huge favorite, as they gracefully float around the giant tanks, mesmerizing visitors with their beauty. The tropical frogs are fascinating, too, along with reef sharks and rescued sea turtles.
Many of the indoor aquarium feature exhibits from different destinations. The west coast tank has salmon and other species from the Vancouver area.
Many of the larger sea mammals were distressed creatures who have a second chance at life. So, visiting the Vancouver Aquarium supports its efforts for rehabilitation and mission to protect the marine environment.
If your little ones are into creepy crawlies, check out the spiders, snakes, crocodiles, and even a collection of fruit bats! The Aquarium makes a great day out for the whole family.
4. Play Mini-Golf At Castle Fun Park
Location: 36165 N Parallel Road, Abbotsford | Open: Daily 10 am to 10 pm
Castle Fun Park provides a favorite place to go on a wet day. Located outside Vancouver, in Abbotsford, it's also an excellent place for children's birthday parties. Not only does it have an outdoor mini-golf course, but the two unique indoor courses have an extra element of fun.
The undersea coral golf course enthralls players with its aquatic treasures, shipwrecks, and underwater Kraken. Alternatively, play the Jurassic jungle course, complete with jungle sounds and hungry dinosaurs.
Other indoor activities include batting cages, a laser maze, a driving range, arcade games, bumper cars, and lots more.
5. Get Interactive At Science World
Location: 1455 Quebec Street | Open: Wed to Sun 10 am to 5 pm
Science World is another Vancouver indoor venue that's not only for children but adults too. Located at 1455 Quebec Street, the golf-ball-shaped structure is a marvel of engineering and overlooks the picturesque waters of False Creek.
The non-profit exhibit features a permanent year-round section with many fun and educational activities. Its Omnimax Theatre seats 400 people and shows incredible natural and scientific films in high definition. It also has a special exhibit that changes periodically.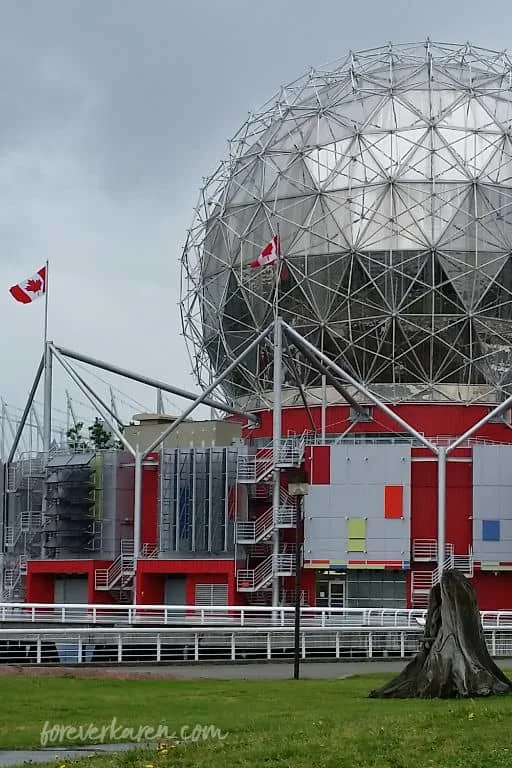 So, relive your childhood by dancing on drums, playing with a water table, and testing your skills at puzzles. The various hands-on exhibits are suitable for toddlers to retirees and are guaranteed to entertain you.
Science World is the perfect rainy-day adventure for both young and old. After three or four hours of playtime, you'll forget about Vancouver's rain while enjoying indoor activities.
6. See The Salmon Run At Capilano's Fish Hatchery
Location: 4500 Capilano Park Road, North Vancouver | Open: Daily 8 am to 4 pm
Located in North Vancouver on the Capilano River, the hatchery is free to visit. The Capilano Salmon Hatchery's self-guided tours allow visitors to learn about the life cycle and different salmon types that frequent the area.
Should you visit during a salmon run, the salmon are seen jumping up the falls, swimming through a salmon ladder, and making their way to the spawning area.
At the top of the salmon ladder, the fish are funneled into a channel with glass panels. The glass allows you to view the fish as they reach their resting place.
While Steelhead runs from March to April, the best time for viewing is July to November, when the Coho and Chinook arrive. The hatchery is a fun place to visit for both locals and visitors alike.
Further down the road, I visited the Capilano Suspension Bridge in the rain. While most of the park is outdoors, the dense tree canopy provides a natural umbrella against the rain.
7. Seek Adventure At The Kids Market
Location: 1496 Cartwright Street | Open: Daily 10 am to 6 pm
If it's raining and your children have oodles of energy, head over to Granville Island. The peninsula not only houses Vancouver's well-liked market and a slew of restaurants, but it has a "kids only" market too.
The indoor market is the ideal place to browse its unique selection of kid-friendly stores. The indoor adventure zone provides the ideal environment for the little ones to burn off their energy.
Girls of all ages will love to explore the costume store with endless ideas for dress-up play. For the older kids, the arcade supplies hours of fun.
Vancouver In The Rain: Activities For Adults
While the following Vancouver activities are more suitable for adults, some of these are kid-friendly too.
8. Have High Tea At Neverland
Location: 1066 West Broadway | Open: 11 am to 5 pm
While the tradition of afternoon and high tea started in the United Kingdom, travelers can enjoy the event worldwide. Neverland Tea Salon serves amazing high tea in a whimsical setting.
If you have dietary needs, Neverland has gluten-free, dairy-free, vegan, and vegetarian options. With unlimited tea to enjoy with finger sandwiches and delicate pastries, you can feel like you're having tea in jolly old England.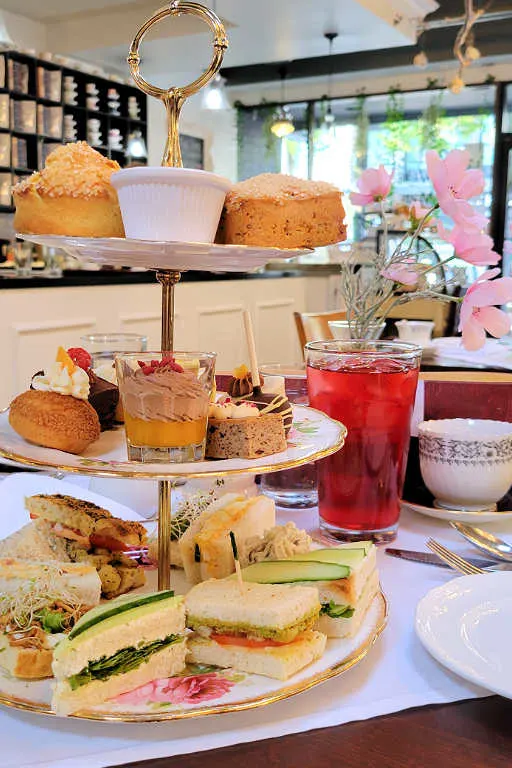 High tea isn't just for adults, as the tea salon offers a "Tinkerbell Tea" for those under 12 years of age.
9. Go Karting Indoors!
Location: 2100 Viceroy Place, Richmond | Open: Daily noon to 10 pm
Experience exhilaration as you race around a track testing your skill at maneuvering a race car. Suitable for those 11 years and up, the TBC Indoor Kart Racing is located in Richmond, south of Vancouver.
With high-performance karts that go up to 70 km/hr. around a 13-corner course, you'll forget it's raining cats and dogs outside.
With a state-of-the-art timing system, racers can test their wits and skills against other competitors. For adrenalin junkies, this is the place to be in Vancouver when it's wet outside.
While reservations are recommended, drop-ins are welcome. To participate in a race, wear closed-toe shoes, and bring your sense of adventure!
10. Admire the Architecture At The Vancouver Library
Location: 350 West Georgia Street | Open: Daily 11 am to 6 pm except for Thurs 1 pm to 8 pm
Like the Museum of Anthropology, Vancouver's downtown library is another masterpiece in design. Funded by the city, the curved building resembles the Colosseum in Italy.
The central library features a rectangular building flanked by three curved study areas connected by bridges.
Inside, the library is mesmerizing with its light-filled spaces and is accented with greenery. In fact, it's just as visually impressive as the exterior. Wow, I almost forgot I was in a library!
If you don't like to read, the spectacular design might be enough to draw you in for a study.
Who would care if it's raining outside with nine floors and countless books? So, take a look, grab a book, find a nook, and maybe you'll be hooked on reading! (I almost sound like Dr. Seuss!)
11. Experience Culture At The Museum Of Anthropology
Location: 6393 NW Marine Drive | Open: Tues to Sun 10 am to 5 pm
Only 20 minutes from downtown Vancouver is the impressive Museum of Anthropology. It's a great place to experience culture in Vancouver when it's raining. Located on the University of British Columbia campus, it's not to be missed.
Arriving at the museum, you can't help but admire the stunning glass building high on the hill, overlooking the ocean. Built by award-winning Arthur Erickson, the iconic outside is a preview of what's inside.
The Vancouver museum features First Nations totem poles, carved canoes, ritual masks, and extensive North American artifacts. Art lovers will also appreciate the world's largest Bill Reid Haida art collection.
As part of the admission, there are free tours that explain the importance of specific objects in the museum. Many cities have their own museums of anthropology, but the Vancouver museum is one of the finest.
12. Delight The Senses At Granville Island Public Market
Location: 1689 Johnston Street | Open: Daily 9 am to 6 pm
While Granville Island has lots of outdoor space, it has plenty of interior shopping too. The market is a top Vancouver destination for locals, rain or shine. With the freshest bread, newly picked vegetables, and the catch of the day seafood, the market is the place to get dinner ingredients.
There's something special about browsing a market. Maybe it takes me back to my childhood when meat came from a butcher and fruits and vegetables from a greengrocer. Those days, big box stores didn't exist, and families purchased their meal ingredients daily.
After you've filled your belly at the market, head over to the stores for some shopping therapy. The artisan vendors sell local products which are unique.
13. Be a Sleuth At The Police Museum
Location: 240 E Cordova St | Open: Thurs to Sat 10 am to 5 pm, Sun noon to 5 pm
If you're a fan of shows like Criminal Minds, Law & Order, or Blacklist, then head on over to the Vancouver Police Museum. Housed in the former city morgue, you can feel like a detective uncovering grim details of a crime.
On a rainy day, take a self-guided tour through the museum's autopsy rooms, complete with stainless steel tables, cold storage lockers, and jars of preserved body parts. The crime labs and other rooms contain confiscated weapons, forensic photos, and lots of criminal artifacts.
The exhibits are well documented and a great way to learn the history of crime and policing progression in the city. Interestingly enough, this is the oldest Police Museum in North America.
14. Get Inspired At The Vancouver Art Gallery
Location: 750 Hornby Street | Open: Daily 10 am to 5 pm except for Tues and Fri noon to 8 pm
Like some art exhibits, the Vancouver Gallery is forever changing. With no permanent collection, the revolving exhibits tend to lean toward the contemporary and modern. If you're a traditionalist, the gallery might not be for you unless there's a special event.
I last visited when there was a Picasso display, which I thoroughly enjoyed. While the gallery has four floors, the gallery displayed Picasso paintings on one level. The other floors contained contemporary works as well as photos by other artists.
I was surprised that photographs were allowed for most of the pictures. Clear signage on the wall showed where photography was forbidden, and there was plenty of staff to enforce the policy.
On Tuesday evenings, the gallery is free (or by donation) from 5 to 8 pm. The first Monday of every month is seniors' day, which admission is by donation again, but between the hours of 10 am to 1 pm.
15. Avoid Vancouver Rain On A Brewery Tour
Vancouver is not only a foodie city with numerous Michelin restaurants, but it's a mecca for craft beer. The craft beer scene is exploding in Vancouver, and what better way to avoid bad weather than taking a brewery tour?
So, if you're a beer enthusiast, hop on a shuttle bus and enjoy the differently flavored brews from several breweries. A brewery tour isn't just about drinking beer but learning the process at each venue. Each brewery has a technique that makes its beer unique and exciting.
For those that lean to the foodie side, some companies offer beer and food tours combined. So, pair a draft with your food or choose edibles with your beer; however you prefer it. Taking a brewery tour is a fun activity to do with your closest friends.
16. Get Warm At The Bloedel Conservatory
Location: 4600 Cambie Street inside Queen Elizabeth Park | Open: Fri to Mon 11 am to 4:45 pm, Tues to Thurs 10 am to 3:45 pm
What better way to stay warm and dry than in a steamy dome surrounded by tropical plants and colorful birds? Located within Queen Elizabeth Park, the Bloedel Conservatory is easy to find and an inexpensive Vancouver tourist attraction.
While not large in size, the geodesic dome is home to over 500 types of plants and trees and a sanctuary to more than 100 flying friends.
This Vancouver gem is not just a destination for adults but kids too. The little ones will enjoy trying to spot the wildlife in a hide-and-seek game. While I thoroughly enjoyed the tropical ambiance, the large parrots were the clincher for me.
At the entrance, a bird handler had a large white cockatoo on his shoulder, by the name of Blanca. Blanca talked and did tricks for the growing audience, which gave me quite a grin.
Not only does this tropical oasis make an excellent indoor destination, but you'll delight in the smells of the flora and the sounds of nature.
17. Relive History At The Vancouver Maritime Museum
Location: 1905 Ogden Ave | Open: Thurs to Sun 10 am to 5 pm
Step back in time at the Vancouver Maritime Museum, where you'll learn the history of Canada's relationship with the ocean. Through extensive exhibits and model ships, visitors can envision life aboard a maritime vessel.
The pinnacle of the museum is St. Roch, a 1940s wooden Police schooner. It made history by being the first to circumnavigate North America and the second ship to sail the Northwest Passage.
Now perfectly preserved, the wooden vessel invites visitors to come aboard to explore its decks and living spaces. Displayed with historical artifacts, I could envision sailing the arctic in cramped quarters in freezing conditions.
Be sure to watch the video about St. Roch to learn more about its remarkable history. There's a lot packed inside the small A-frame building, and the exhibits continue outside.
Ben Franklin, the NASA underwater vessel, is displayed outside the building and at the dock, a small collection of heritage boats.
If wanting to save money in Vancouver, buy an ExplorePass, which gives you one visit to three venues. These include the Vancouver Maritime Museum, MacMillan Space Centre, and the Museum of Vancouver.
18. Admire Aerial Views Of Vancouver
Location: 555 W Hastings Street at Harbour Centre | Open: Winter Hours (Oct to May) 9 am to 9 pm, Summer Hours (May to Oct) 8:30 am to 10:30 pm
Located downtown, the Vancouver Lookout offers 360-degree views of Stanley Park and the city from False Creek to the waterfront at Canada Place and Gastown. Even in the rain, Vancouver is a beautiful city, and having a bird's eye view gives a different perspective.
One of the great things about visiting is that a ticket purchase allows you to visit multiple times a day. So, ride the glass elevator to the top during daylight hours and come back later for the sunset.
Like the CN Tower, the Lookout also has a revolving restaurant available for lunch and dinner. It's the perfect sky-high venue for a romantic date night (even when it's dreary outside).
While we all prefer the non-liquid sunshine, residing in a rainforest, we can't always avoid the wet weather. Living in Vancouver, I can safely say it's a beautiful city, rain or shine.
Final Thoughts
Just outside the city, Vancouverites can discover other gems like the Britannia Mine, a former copper mine that operated for 70 years. Most of its exhibits are undercover, so it makes for a nice day trip on a rainy day.
If you need a little lift on a wet day, check out "Rain or Shine," an ice cream parlor guaranteed to make you smile. Made from locally sourced natural ingredients, it makes unusual but extraordinary flavors like honey lavender, blueberry balsamic, and London fog.
While you can't control the weather, you can control what you eat. So, buy ice cream!