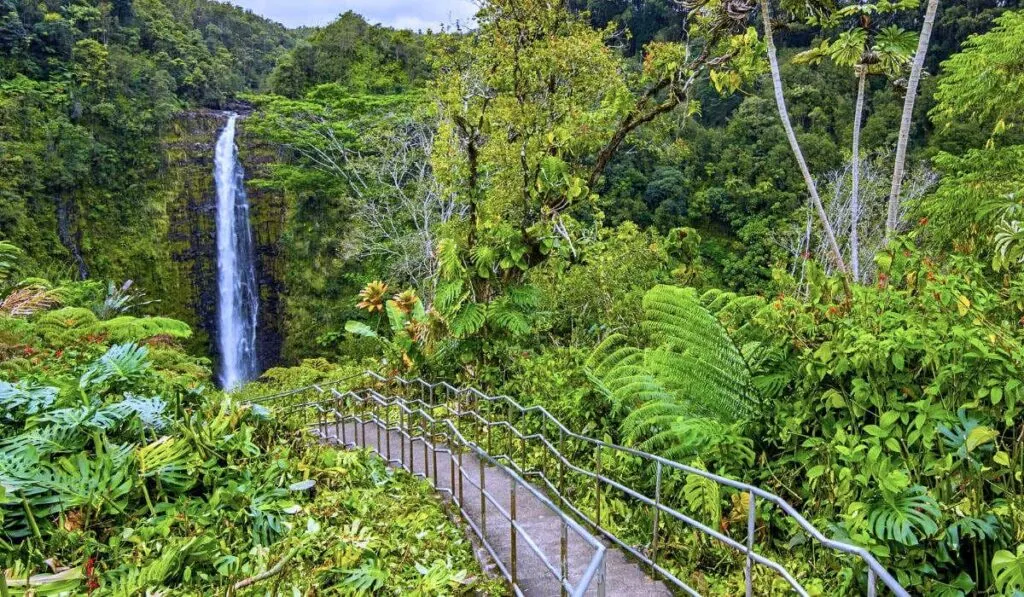 Hawaii, or the "Orchid Isle," has indescribable valleys filled with lush flora from almost daily rainfall. While the Big Island of Hawaii has numerous waterfalls, Akaka Falls is a favorite. Just 11 miles north of Hilo, Akaka Falls State Park wows its visitors with not one but two cascading flumes.
It took me three visits to the Big Island to visit Akaka Falls State Park and hike to the waterfall. While I had always traveled by cruise ship, most port excursions visit Rainbow Falls instead due to its proximity to the cruise port.
However, I planned my entire day with a rental car, including Rainbow Falls, Akaka Falls, and night snorkeling with the manta rays in Kona on the opposing side of the island.
Every waterfall on this island is heavenly, and the surrounding landscape is bursting with life. Having seen Akaka Falls' images, it was a hike I planned to do during my Hawaiian repositioning cruise.
Getting To Akaka Falls State Park
Location: 875 Akaka Falls Rd, Honomu | Open: Daily 8:30 am to 5 pm
From Hilo, it's a leisurely 13 miles north on Highway 19. Turn left at the Akaka Falls Road or route 220 and follow the roadway to the end. Akaka Falls State Park has a small parking lot that fills up quickly.
When I arrived, the small lot was full, but I was fortunate to snag a spot on the roadway leading to the parking area. The parking fee in the lot is USD 10 for non-residents (free for Hawaii residents with ID).
While parking on the road was free when I visited, the park now enforces the fee for those outside the lot. The entrance fee to the park costs an additional USD 5 per person for non-residents but is free for locals with state ID.
Alternatively, some tour companies offer excursions to the state park as a circular island tour.
Akaka Falls Loop Trail
Distance: .64 km or .4 mile loop trail | Hike time: 1/2 hour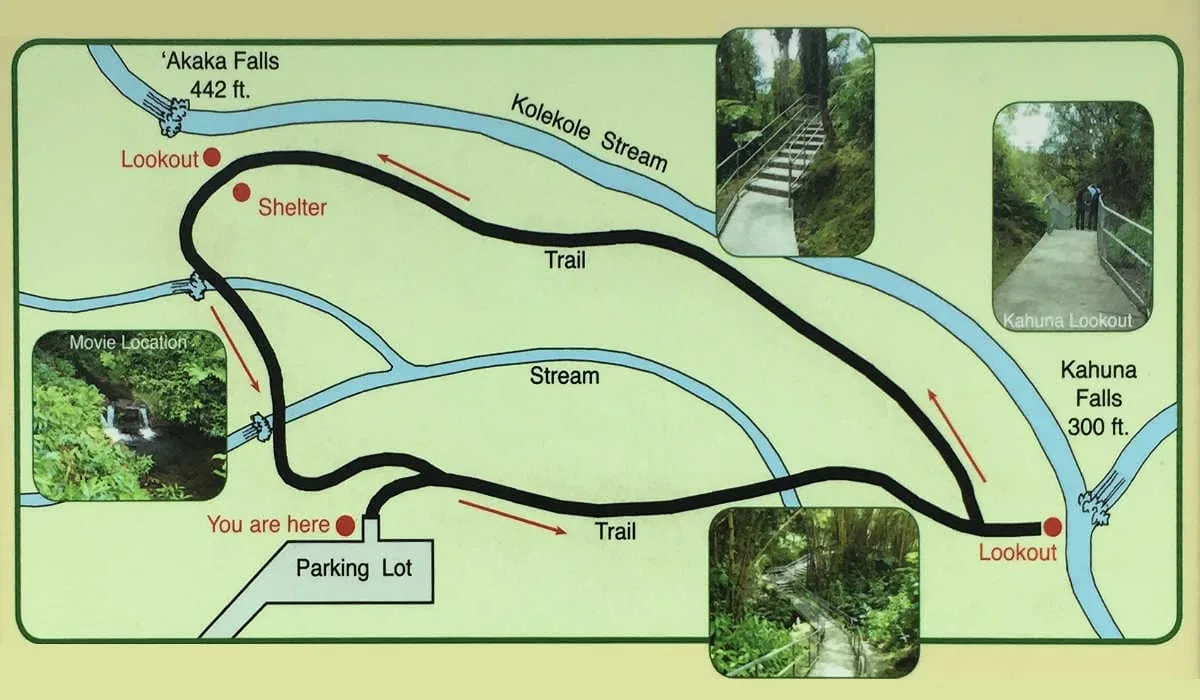 A short 0.4-mile circle route offers views of two beautiful waterfalls. Both Akaka Waterfall and Kahuna Falls flow from the Kolekole Stream, which starts its journey on the upper slopes of Mauna Kea.
If pressed for time, take the left route or Akaka Falls trail and bypass Kahuna Falls. It's important to note that while the short hike has little elevation gain, it's not wheelchair or stroller-friendly due to the number of stairs.
Brian and I opted to walk the full loop, going right for the start of our hike. Make the looping trail if you want to immerse yourself in the area's beauty and lush rainforest.
Before the trail, there is a distant picturesque view of Akaka Falls near the parking area. While taking pictures, the falls looked quite far away, but I soon learned it was closer than it appeared.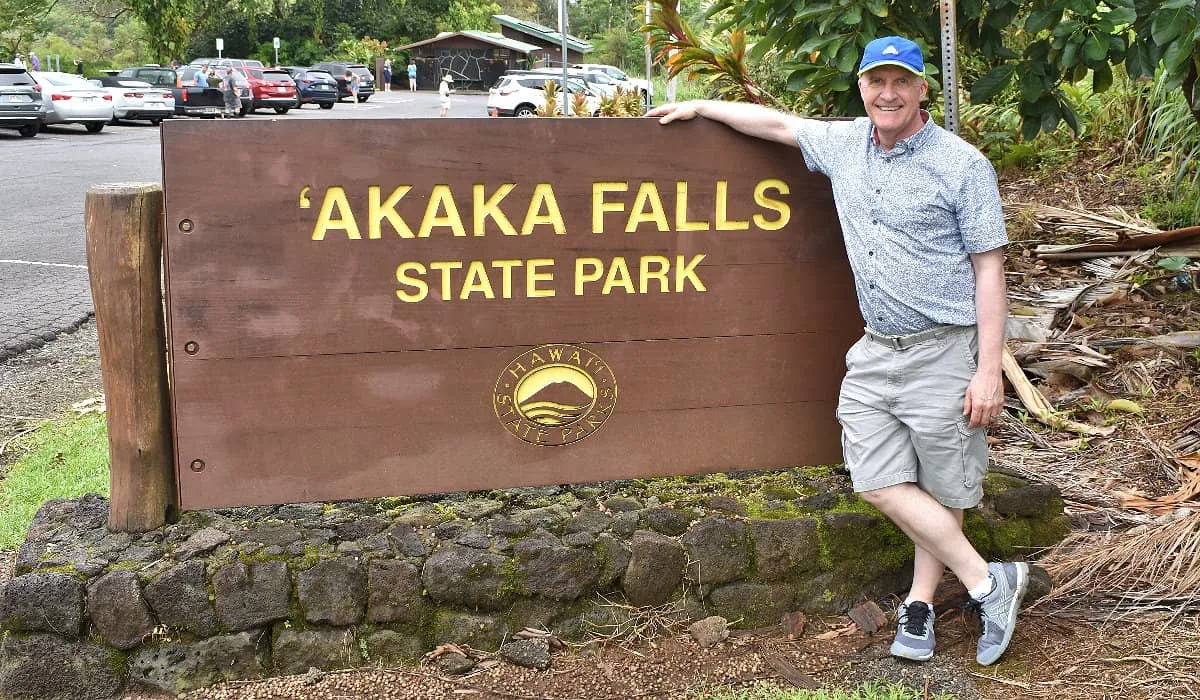 Do not that flying a drone is forbidden in the park and signage near the waterfall reminds visitors of the rule.
The state park has a paved path with metal railings. Not what I expected in a state park overflowing with tropical greenery.
However, the walk was lovely, with lush vegetation and trickling streams. I took my time walking this loop because I wanted to immerse myself in the lush tropical vegetation.
Akaka Falls hike was almost as lovely as the falls, with colorful Hibiscus, bamboo thickets, draping ferns, and sugar cane. Some Banyan trees are so big that you can step inside trunks.
The shady trail provides a canopy from the hot sun or acts as an umbrella during brief rain showers.
Obscure Views Of Kahuna Falls
Walking anti-clockwise, cascading Kahuna Falls is reached approximately 800 feet into the trail. However, it's overlooked by its more impressive cousin further upstream. With a 300 ft drop, Kahuna Falls may not seem spectacular because it's hard to see across the valley.
Over the years, lots of rain has allowed the flora to blossom, shielding most of the views. However, these falls are a feast for the eyes and something out of a Jurassic Park movie.
Kahuna Falls, downstream from Akaka Falls, is a cascading waterfall. It drops from the top of the cliff into a series of falls before joining Kolekole Stream.
Viewing Akaka Falls
Continuing on the paved trail to Akaka Falls, I hiked through dense bamboo groves that tantalized the senses. Consequently, the smells, sights, and sounds of the rainforest filled me with jubilation.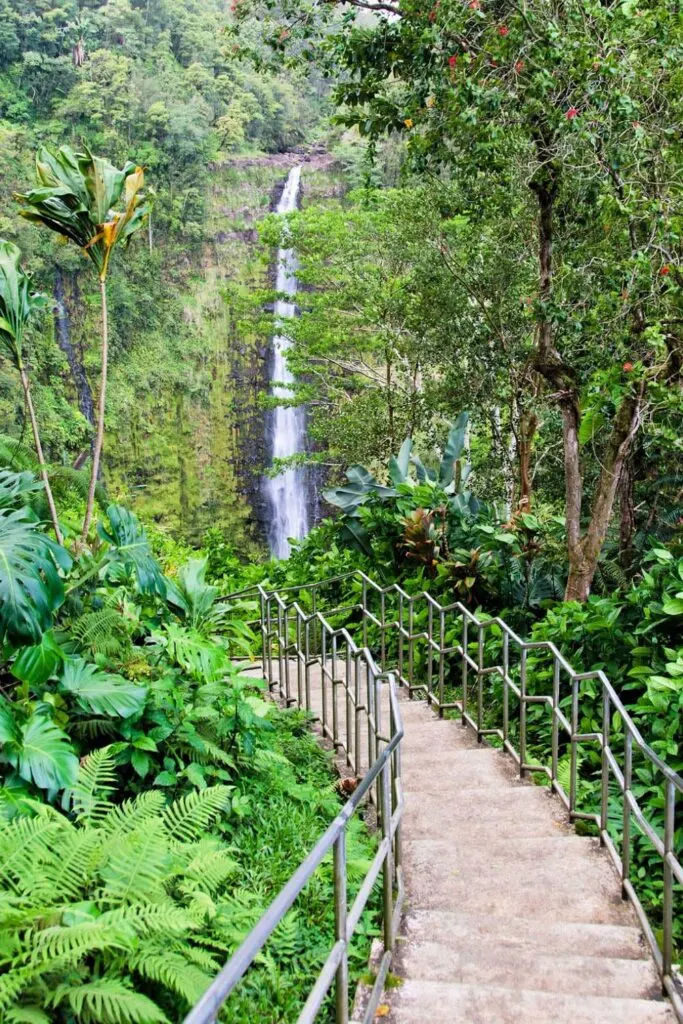 The paved path turned into a series of stairs with the view of the tallest waterfall came into view across the gorge. If you took the quick path going left, you wouldn't get these views.
At twice the height of Niagara Falls, Akaka Falls may not have the same water volume, but it's still an unforgettable sight. As a free-falling waterfall, it drops an incredible 442 feet to the gorge below.
Facing east, the best time for viewing is in the morning when the sun reflects off its cascading waters, sometimes creating rainbows.
There is no access to the bottom of the falls, and of course, no swimming is allowed. At the viewing area, safety barriers keep travelers at a safe distance from the edge of the deep gorge.
With almost a 450-foot drop, it was hard to see the bottom of the falls, but I could hear and feel its power.
With so much mist coming off the falls, it's not surprising the canyon is heavily populated with moss. For me, the abundance of greenery makes Hawaii's Big Island waterfalls so beautiful.
Nearby, informational plaques tell the story of the creatures that live in the Kolekole Stream. In Hawaii, climbing fish and shrimp make their way up the waterfall to spawn. Now, how does a creature ascent a 442-foot waterfall?
Life In A Fast Moving Stream
The O'opu 'alamo'o or Hawaiian freshwater goby has a similar lifecycle to its northern friends, the salmon. In Vancouver, where I live, salmon swim up the rivers to spawn.
In Kolekole Stream, the O'opu begin their lives upstream, float downstream to the ocean, and return to spawn again. But their lives are full of challenges.
In Canada, we create fish ladders to assist the salmon in their journey upstream. This is not so in Hawaii. Imagine beginning life in freshwater, surviving almost a 450-foot drop, and living in the ocean for six months. Then they'd need to climb that giant waterfall to complete the circle of life?
To achieve the monumental climb, the fish use their pectoral fins and a suction cup to stick to the slippery waterfall. Impressive, right?
Like the O'opu, the Opae'kala'ole or Hawaiian mountain shrimp makes its home in Kolekole Stream. It, too, can swim 2.5 miles upstream in fast waters and ascend the giant Akaka Falls.
While visiting Akaka Falls, please think of the creatures that make these fast waters their home. Although I couldn't see them, their story was still splendid.
What To Wear Hiking
Since the paved route is easy on the feet, you don't need special footwear for hiking. Runners or sandals will suffice.
It's hot and humid in Hawaii, so I wore shorts and a sleeveless top. Sunglasses and sunscreen are essential, and you might also want to use bug spray.
On our return hike, it rained as it often does in Hawaii. If you're concerned about getting wet, carry a lightweight jacket.
There is no concession stand at the park to buy water, drink, or a snack. So, be prepared by bringing your own.
Ziplining At Akaka Falls
While swimming at Akaka Falls is not permitted, ziplining is possible over a selection of waterfalls further down the stream.
This thrill-seeking excursion is perfect for the adrenaline junkies who want to experience Hawaii in a different light. Imagine flying over a 250-foot waterfall with deep ravines below you.
Ahead are the panoramic views of the fantastic Hamakua coast. Ride backward for views of towering waterfalls behind you. This is an excursion to bring a GoPro or rent one from your tour operator.
Pros For Doing The Hike
Here are some of the things we loved about this easy hike:
The trail is easy with little incline
It's inexpensive
The path is paved and easy on the ankles
It's mostly shaded, sheltering us from the hot sun
Less traveled than Rainbow Falls
It's family-friendly
While the Big Island has several spectacular waterfalls, doing the Akaka Falls hike should not be missed. If money is no object, consider a helicopter tour over Hawaii Island.
Not only will you see Hawaii Volcanoes National Park from above, but you'll see waterfalls not accessible by land.
Hawaii is all about relaxation with a touch of adventure too. Ideally, you want to spend a day visiting Kilauea and seeing its immense power first-hand.
Happy travels ~ Karen