The Big Island, also known as Hawaii Island, has a diverse landscape with several active volcanoes. Its deep, creviced valleys, coupled with an abundance of rainfall, make for spectacular waterfalls.
On the leeward side, Kona attracts visitors for its sunshine, beaches, and water activities. One of its popular tours allows you to night snorkel with manta rays.
The windward or eastern side of the island is the rainy side and averages almost 150 inches of liquid sunshine annually. That moisture generates the most impressive Big Island waterfalls you'll ever see.
Big Island Waterfall Tours
If you don't have a rental car to explore the island, many operators offer waterfall tours, sometimes combined with other activities.
Although it's hard to compete with Kilauea, Hawaii's star tourist attraction, these majestic cascades are worthy of a visit.
Kaluahine Falls
Kaluahine Falls might be considered a hidden gem in Waipio Valley. This waterfall isn't always visible; it shows up only after heavy rainfall. The falls have a height of about 100 feet, creating a striking view as they flow into the ocean.
There are two main ways to catch a glimpse of Kaluahine Falls. First, you can book a boat trip in North Hawaii. These trips often include snorkeling or diving and provide a distant but breathtaking view of the falls.
Alternatively, reach the falls by hiking. Start at Waipio Black Sand Beach and make your way east. The hike involves climbing over coastal boulders and takes roughly 30 minutes. Both routes offer unique perspectives of this elusive waterfall.
Unfortunately, the falls lack consistent visibility. But many argue that this rarity adds an extra layer of allure to its beauty.
Also, be prepared for no cell coverage in the area. Kaluahine Falls presents a captivating blend of adventure and natural beauty, perfect for those willing to go the extra mile.
Rainbow Falls
Location: Rainbow Drive, off Wainuenue Avenue in Hilo
Rainbow Falls Hawaii is the most visited waterfall on the Big Island due to its accessibility, large parking lot, and requiring no admission fee.
Positioned close to Hilo port, it's commonly included on port excursions for passengers on a Hawaiian cruise.
Visiting early in the morning when the sun is behind you increases the chance of seeing a beautiful rainbow in the mist of this 80-foot watercourse. The locals call it Waiānuenue, which means "rainbow water."
When visiting, you can view the falls from a platform – no hiking required. Located on the Wailuku River, this popular tourist destination is just one of many waterfalls along this waterway. However, Rainbow Falls is the most popular choice and offers excellent viewing for little effort.
During times of heavy rain, the width of the waterfall increases. So, at times, the water rages as a noisy, muddy torrent flowing into the pool below.
Swirling around, the force of the water has created a lava cave behind the falls. Legend says that the Hawaiian goddess Hina, Maui's mother, resides in the cave behind the falls.
From the viewing area, climbing a series of stairs alongside the rainforest allowed me to get above Rainbow Falls. Here, I could see a different aspect of the beautiful falls.
Pe'epe'e Falls And The Boiling Pots
Location: Wainuenue Avenue, one mile north of Rainbow Falls in Hilo
Further up the Wailuku River from Rainbow Falls is Pe'epe'e Falls (or Peepee Falls), which offers a rugged waterfall experience. Pe'epe'e Falls is not as accessible, and the viewpoint overlooks the Boiling Pots, a series of hollowed-out lava pools below the falls.
Since this waterfall is in the Hilo area, it makes sense to visit both cascades. Not as impressive as Rainbow Falls, the 60-foot cascade is still picturesque, surrounded by dense rainforest with plenty of tropical flowers.
The Boiling Pots are just downstream. Lava columns divide the river into several pools. It's very intriguing to see the Boiling Pots and how water's power has carved out circular shapes in the lava.
Since the trails are slippery, forego the flip-flops and wear proper footwear to access the viewpoint.
This area is hazardous during heavy rainfall as raging water "boils" in the pools, giving it its name. Stay away from swimming here, as flash floods can happen at any time, making the river treacherous.
Hi'ilawe Falls
Location: Waipio Road to Waipi'o Valley
Hi'ilawe Falls is one of Hawaii's most majestic waterfalls in the Waipio Valley. With a drop of over 1,400 feet, it's among the tallest waterfalls in Hawaii. The waterfall is part of a private property, but you can see it from various viewpoints in the valley.
Surrounded by a lush landscape, it's reminiscent of Meghalaya state in India, where its tropical forests and jaw-dropping waterfalls offer similar views.
Few visit Hi'ilawe Falls due to its remoteness in the Waipio Valley. Reaching Hi'ilawe is challenging but rewarding. Most visitors take a 4WD vehicle to navigate the narrow and steep Waipio Valley Road.
You can also hike, but it's strenuous. Horses and guided tours are another option. The journey offers breathtaking views of the valley, taro fields, and cliffs.
Since the roads and areas near Hi'ilawe Falls are private, please respect the locals and their land and only visit if you have permission.
The waterfall is a significant cultural site, featured in Hawaiian legends and chants. The area surrounding Hi'ilawe is sacred, so respectful behavior is essential.
A helicopter tour, horseback excursion, or an organized tour is a better way of viewing Hi'ilawe Falls. The flow over these falls is lighter than it once was due to part of the Lalakea Stream above the falls being partially dammed for irrigation.
Wai'ale Falls
Location: Wainuenue Avenue, north of Rainbow Falls and Pe'epe'e Falls
While Hawaii Island is home to countless cascades, many are on private property, and others are barely accessible. But search high and low, and sometimes you'll find a little gem. Wai'ale Falls resides further up the Wailuku River from Rainbow Falls, Pe'epe'e Falls, and the boiling pots.
Wai'ale Falls is two waterfalls, with the lower falls viewable from the road. While the lower falls are manmade, it does not detract from the beauty of the view.
The upper falls are noticeable in the distance. A short trail on the north side follows the river to access the upper falls. Be warned that the path is not maintained and can be very muddy during rainfall.
Umauma Falls
Location: Old Mamalahoa Hwy
Approximately 16 miles north of Hilo, Hawaii, on the Umauma River is Umauma Falls. It's different from the others as it's a series of three falls, arguably making it the prettiest waterfall on the Big Island.
This multi-tiered waterfall is part of the Umauma Experience, a privately owned park. A paid admission gives you access to well-maintained viewing areas, which are part of a large garden, including a rainforest walk, a greenhouse, and a children's maze.
Unlike many other falls on the island, Umauma is easy to reach. Parking is plentiful, and there's no strenuous hike required. Once inside the park, a short walk takes you to viewpoints, making photography easy. You can capture all three cascades in a single frame.
While the three-tiered waterfall has a combined height of 300 feet, it looks smaller from the viewing bridge. Alternatively, thrill-seekers can enjoy a series of waterfalls ziplining down the Umauma River on nine ziplines.
Combine ziplining with a suspension bridge and lava tube for the ultimate adrenaline experience on Hawaii Island.
If you prefer a slower pace, there are also garden walks and river swims. If you're looking for one of the best waterfalls in Hawaii, this waterfall delivers a wow factor, while the park's amenities provide comfort and additional activities.
Onomea Falls
Location: Inside the Hawaii Tropical Botanical Garden, 27-717 Mamalahoa Hwy | Open: Daily 9 am to 5 pm
The Hawaii Tropical Botanical Garden spans 40 acres and showcases over 2,000 species of plants. A key attraction is Onomea Falls, located within the garden. You can reach Onomea Falls via the garden's network of walking trails. Signage and maps guide you to this natural beauty.
Unlike other falls on the island, Onomea Falls is easily accessible and requires no rigorous hiking. However, you will need to pay an entrance fee.
The garden itself is a non-profit organization. It aims to educate people about tropical plants and their conservation. The nominal entry fee helps support these efforts.
It's open year-round, but visiting in the morning offers the best light for photos. Even if you visit to see the waterfall, exploring the gardens provides a peaceful, educational experience.
Nanaue Falls
Location: Nanue Stream, 18 miles north of Hilo
Nanue Falls is one of the Big Island's off-the-beaten-path gems that few visit. The trail starts at the Nanue Stream Bridge with the name "Nanue" marked into the concrete.
You'll encounter slippery rocks, so wear suitable hiking footwear or non-slip water shoes. The trail requires some rock scrambling, adding to your adventure.
Mosquito repellent is a must, as the lush jungle buzzes with bugs. To reach the falls, prepare for 20 minutes of rock scrambling. Do not attempt to see this waterfall after heavy rain due to flash flooding.
Once you arrive, the scenic falls offer a rewarding view. However, don't expect cell coverage. You'll be off-grid during your visit, so plan accordingly and don't go alone.
The falls are less crowded than other tourist spots, giving you a more secluded experience. If you're up for remote adventure and want to enjoy a non-touristy activity, Nanue Falls fits the bill.
You can swim beneath the falls; however, the temperature is rather frigid!
Akaka Falls
Location: 875 Akaka Falls Road | Open: Daily 8:30 am to 5 pm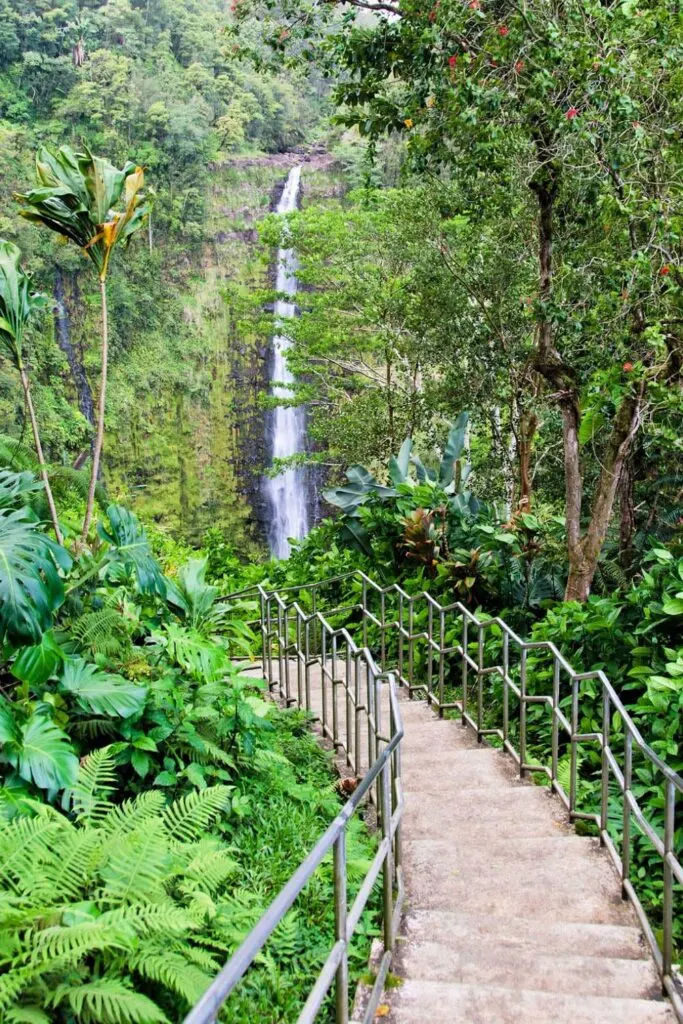 Of all the waterfalls on the Big Island, Akaka Falls will provide you with an unforgettable experience located further from Hilo town. It's a 25-minute drive to reach Akaka Falls State Park.
A word of warning: the park has a tiny parking lot, and there are limited spots to park outside the lot. The State Park charges USD 5 per person to access the 0.4-mile looping trail – a genuine bargain!
From the parking lot and Akaka Falls State Park sign, you can get a teaser view of one of the most beautiful waterfalls on the island. However, the best view is up-close.
It's an easy hike to access the scenic overlook. Visitors can complete a 30-minute loop or walk a shorter distance, doing an out-and-out option. Due to stairs, the path is not wheelchair accessible.
While visitors arrive to see the cascade, the short hike is like walking through botanical gardens. The bamboo groves, wild orchids, and lush rainforest add to the experience.
The tranquil, paved pathway is sheltered in many places by dense vegetation, providing a welcoming natural umbrella from the hot sun. On rainy days, the lush rainforest also acts as a personal umbrella to shield you from the raindrops.
After a fresh rainfall, smells and sounds of the prolific flora will tease your senses. Reaching the viewing platform, thundering Akaka Falls is a glorious sight, falling 442 feet into a deep gorge, which is barely viewable.
Measuring twice as high as the impressive Niagara Falls, it may not be as wide, but still memorable. Facing east, the best time for viewing is early morning because, after midday, the waterfall hides in the shadows.
Kulaniapia Falls
Location: 100 Kulaniapia Drive | Open: Daily 10 am to 3 pm
Kulaniapia Falls is a private waterfall near Hilo, offering the viewer a unique experience. Unlike public falls, you can't just wander in; it sits on private property. You'll need to book a tour through the Kulaniapia Foundation to see this breathtaking cascade.
Booking a tour offers an exclusive, uncrowded experience between 10 am and 3 pm. The foundation limits the number of visitors, ensuring a controlled and respectful visit. Tours often include an informative guide who will educate you on the local ecology and culture.
Kulaniapia Falls plunges 120 feet into a serene pond below. Whether you're a seasoned waterfall chaser or a casual visitor, Kulaniapia Falls provides an organized yet intimate experience.
Due to its size and volume of water, it ranks as one of the best Big Island waterfalls.
Kahuna Falls
Location: 875 Akaka Falls Road | Open: Daily 8:30 am to 5 pm
However, if you take the right path on the looping trail, you'll access a small viewpoint 800 feet into the hike to see this cascade across the valley. Due to the rapidly growing vegetation in the area, Kahuna Falls is less visible.
If you plan to visit Akaka Falls, your admission includes not one but two waterfalls. Shielded by the rainforest, Kahuna Falls is often overlooked by its more famous neighbor, Akaka Falls.
In fact, some visitors miss it altogether. Even though you may not get a clear view of this 300-foot waterfall, it's still an extra treat to see along with Akaka Falls.
Big Island Waterfalls Conclusion
Visiting waterfalls on the Big Island is an unforgettable experience. Whether you're chasing waterfalls like Nanue Falls through rock scrambling and mosquito-infested paths or opting for more accessible options, the island has something for every level of adventurer.
While the most popular waterfalls, such as Akaka and Rainbow Falls, are just a short walk from the parking lot, others, like Kaluahine Falls in Waipio Valley, require a more committed effort.
Each offers unique charm and challenges, but all guarantee stunning views and photo opportunities.
Keep in mind that amenities like cell coverage may not be available in more remote areas. Overall, the Big Island offers a diverse range of waterfalls on the windward side, and the amount of rainfall will determine the amount of flow.
If you're into waterfall chasing, you might want to island hop to check out the cascades on the other Hawaiian Islands.