Manta rays are gentle giants who feed on plankton. In Kona, Hawaii, thrill-seekers have the opportunity to swim with them in their natural habitat.
Whether you choose a night dive or a snorkel, swimming with manta rays in Kona is a memorable experience. Globally, there are lots of places to dive, but few places to snorkel with manta rays.
In Kona, travelers must be able to swim and feel comfortable in the ocean. It's been on my bucket list for quite some time to swim with manta rays.
While I have been to the Big Island several times, I have always done so on a cruise ship. After sunset, the Kona manta rays come into the shallows to feed. Since ships depart before sunset, booking this Kona shore activity was impossible.
However, on a recent Hawaiian cruise, our cruise ship, the Celebrity Eclipse, docked on the Big Island for three days making this bucket list adventure possible.
Having watched several YouTube manta ray videos, I was mesmerized by the gracefulness of these massive creatures. Being there and experiencing the underwater ballet firsthand far exceeded my expectations.
For certified scuba divers, the manta night dive takes place at Garden Eel Cove, known as Manta Heaven. As a snorkeler, the only place for viewing is Keauhou Bay, located next to the Sheraton Keauhou Bay Resort & Spa.
This area is commonly called Manta Village. This article is about my experience of swimming with manta rays in Kona. While there are many charters available, I took my tour with Kona Snorkel Trips.
Getting To The Harbor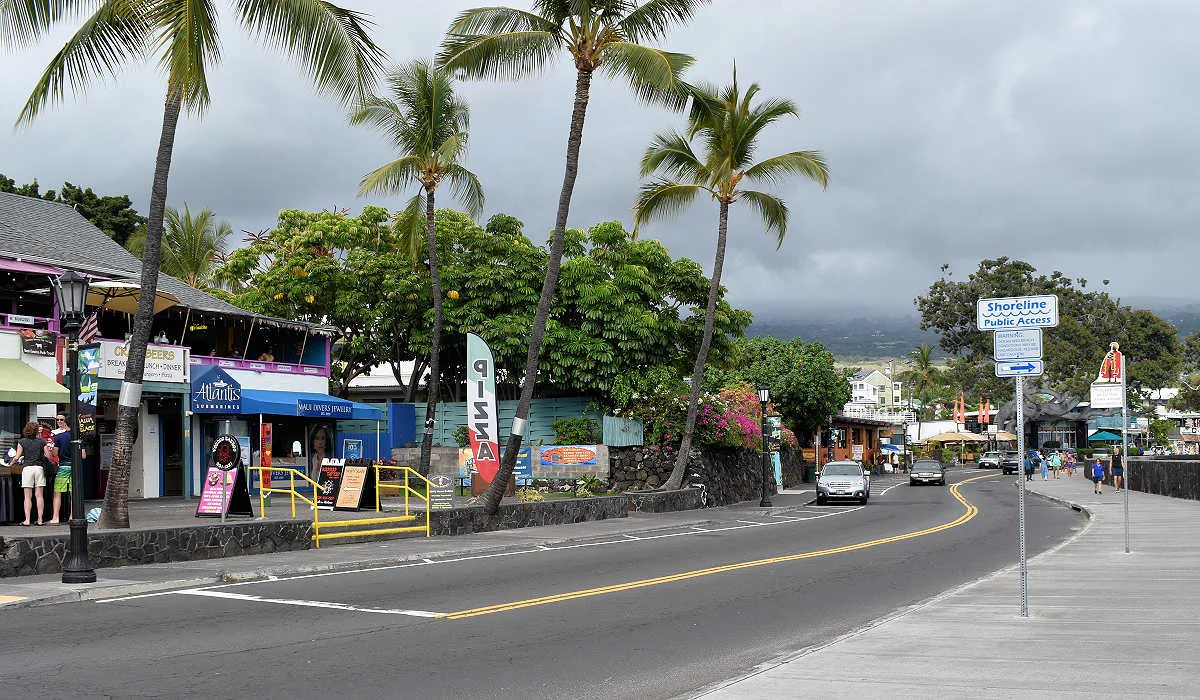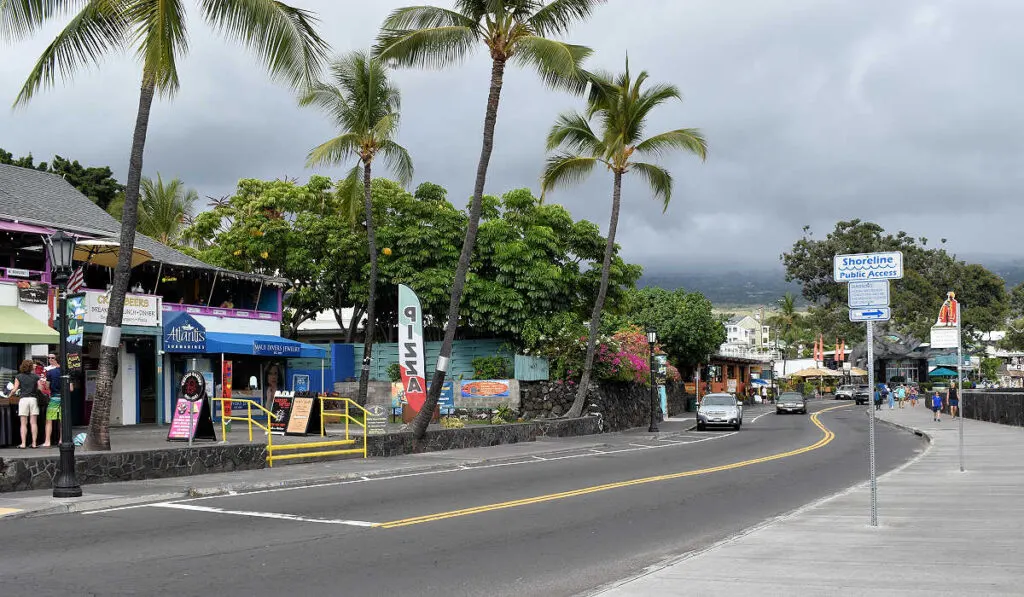 Kona Snorkel Trips, formerly known as Splashers Ocean Adventures, hosted my tour, but all opinions are mine. The excursion starts at Honokohau Harbor, a short distance from Kailua-Kona. The exact address is 74-381 Kealakehe Pkwy, Kailua, HI 96740.
There is ample free parking and a washroom should you need to change into swimwear. We wore our Rashguard t-shirts over our swimsuits as an extra layer to stay warm.
Once we arrived, Shari, the owner of Kona Snorkel Trips, welcomed us. Shari is exceptionally knowledgeable and has the highest respect for the environment and its marine life.
After a thorough safety briefing, we put on wet suits, locked up our belongings, and boarded the boat for the ride out to Keauhou Bay.
With Captain Charlie driving the boat, we watched a breathtaking sunset on the open water. Then we proceeded to the waters outside the Sheraton Keauhou Bay Resort & Spa to start our manta adventure.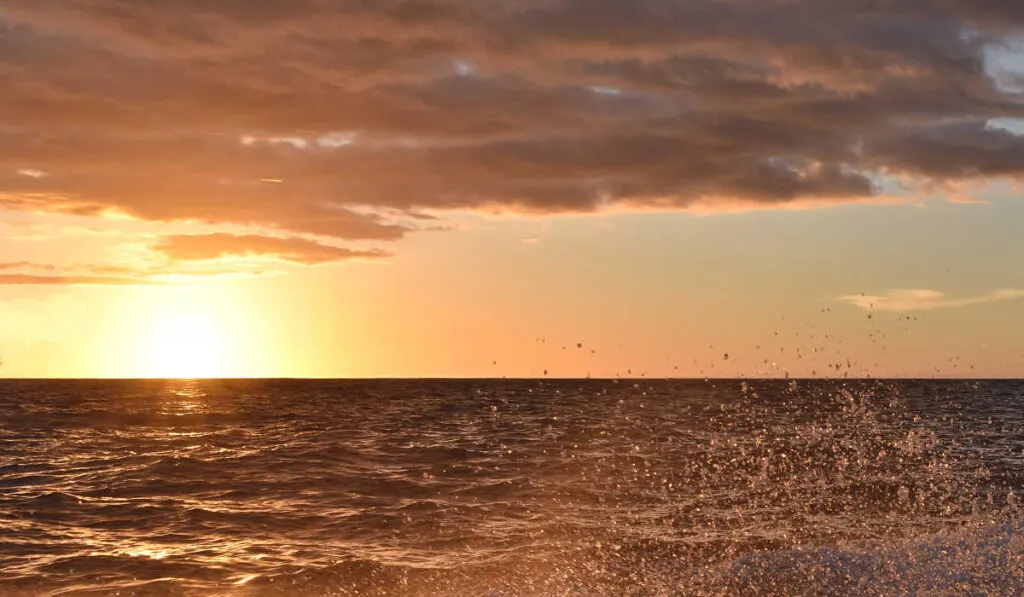 Where To Swim With Manta Rays?
The warm waters off the Kona coastline offer a perfect habitat for the magnificent manta rays. In the 1970s, the oceanside resort (now owned by the Sheraton) added spotlights in the bay to add ambiance to the surrounding waters.
As a result, these spotlights attract microscopic plankton and tiny marine organisms, the perfect smorgasbord for giant manta rays.
Once the sun sets and the spotlights turn on, the manta rays swim into the shallow waters to feed. Manta rays consume up to 3% of their body weight in food per day……….that's a whole lot of plankton!
With the influx of manta rays came the tourists who traveled to see these graceful creatures. Consequently, the Kona snorkel tours and manta ray diving excursions began.
While swimming with manta rays in Kona was a once-in-a-lifetime adventure, Manta Village offers no guarantee that I'd see any. After all, these creatures live in their natural habitat, and they do not appear on demand.
However, snorkel and night dive operators work closely together to find the best snorkeling in Kona to ensure you get the best experience possible.
Arriving at Keauhou Bay, I immediately spotted a group of boats huddled together in the deeper water where the tour operators gathered the divers. Each vessel had its own set of lights to illuminate the waters below.
In the shallows, another group of tours gathered with the snorkelers. From the sounds of the squeals, they had spotted a manta ray.
Swimming With Manta Rays In Kona
With the sun completely gone, the waters were black with no visibility except floodlights. If submerging yourself in dark waters scares you, this isn't the tour for you.
As instructed, we quickly slipped into the dark waters quietly and swam to a surfboard with rope handles along the edges. The board had two holes cut out of it, in which LED lights were mounted, pointing down into the waters beneath us.
Shari quickly moved the board away from the boat, and shortly after, we spotted our first manta ray. It swam by at the bottom of the ocean, teasing us with excitement.
I was amazed at how quickly the plankton gathered under the surfboard. The blanket of krill was so thick, I could almost scoop it up in my hands.
Then, another swim by, and I could hear the squeals of excitement sounding muffled in snorkel gear. In fact, I thought the woman next to my husband was going to hyperventilate because she was squealing and breathing so hard.
I was surprised at how warm the waters were at night and unsure if we needed wet suits. However, preparing for the cold on a Kona snorkeling excursion is best.
The underwater views were a bit cloudy, probably because we were close to the shore, and the sandy ocean floor was being disturbed.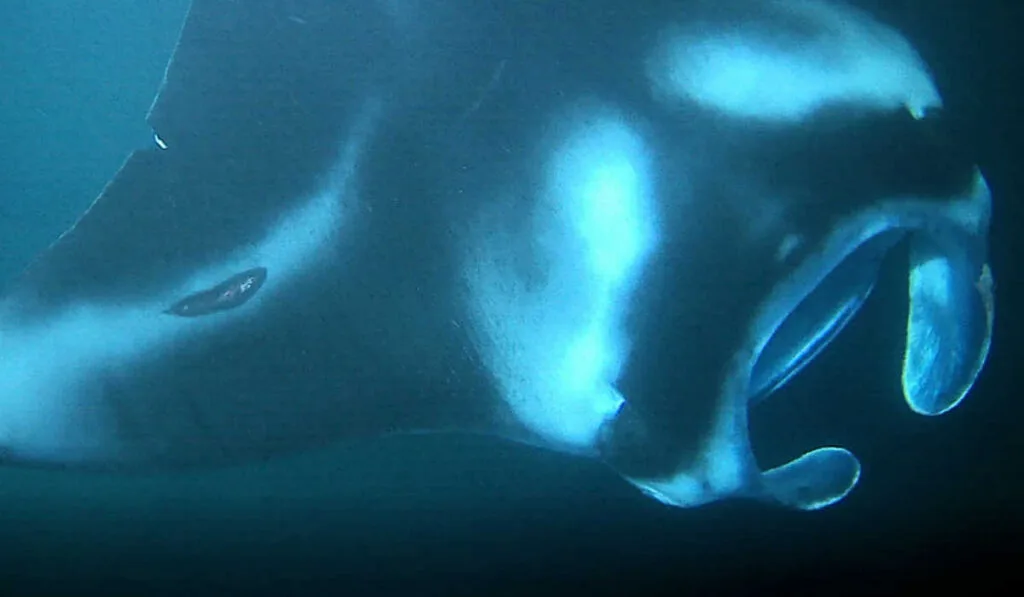 It's important to note free night snorkeling is forbidden on a tour since snorkel gear can harm the mantas. These gentle giants have a slime coating that protects them from bacteria.
As a result, touching them can remove their protective layer.
Manta Ray Dives
If you are a certified diver, you can dive with other tour companies that allow manta ray dives. Imagine being with a group of divers sitting in 10-30 feet of water.
There are large floodlights shining up from the bottom of the ocean to attract plankton. After waiting patiently, giant manta rays arrive at the lit area and begin scooping up plankton above the divers.
They swim in large vertical circles with their mouths wide open. It's a spectacular show made more incredible because it is done at night.
I will never be a diver, but if I was, a manta ray night dive is something I would add to my bucket list. A variation on the dives is the manta ray night snorkel.
Manta Ray Snorkel Ballet
We came to see a manta ray, and we saw a manta ray. While we only saw one, "Alexia" or "Lexi" for short, it was a magnificent, majestic creature.
Alexia performed multiple "pirouette" barrel rolls within arm's reach of our faces. At six-foot-wide and estimated to weigh 800lbs, she glided through the water so gracefully.
It was almost like watching a movie in slow motion, and the underwater ballet was a treat to experience. I noticed she had some damage to one of her wings, probably from a boat.
Some people in our tour group were so mesmerized and excited by the sighting that they forgot to capture those unforgettable moments with a camera.
With or without images, it's a moment I'm sure no one will forget. Luckily, I had a GroPro to capture this unique experience. Although, in the dark, the images aren't great.
If you've considered snorkeling with manta rays, don't think about it any longer. Our manta snorkel experience was so fantastic, we plan on going again next time we're in Hawaii.
It's interesting to note, Kona is the only place in the world where you can snorkel with the manta rays. While you can find mantas in many places worldwide, you can only view them on dives in deeper waters.
While the Galapagos Islands, the Maldives, and the Great Barrier Reef have manta rays, divers usually see them at "cleaning stations." During the cleaning, smaller aquatic creatures remove parasites and algae, which helps heal wounds.
In Kona, snorkelers view mantas at "feeding stations." Attending the dinner event is far more acrobatic than watching the cleanse.
Who Can Go On A Manta Ray Snorkel Tour?
Who is this Hawaii manta ray snorkel suited to? Anyone with a sense of adventure.
Children aged five and up can participate in Kona snorkeling as long as they have excellent swimming abilities. Women who are pregnant and people with back and neck injuries should avoid night snorkeling.
While some thrill-seekers take up sky diving or race car driving, I can attest that having a giant manta ray within inches of your face is immensely thrilling. It's an experience I will never forget.
Is It A Scary Experience?
Was this a scary experience? Absolutely not. Is it safe? Most definitely, if you listen to your guide and follow the rules.
Even though my husband was scared of fish and hadn't snorkeled in over 40 years, Shari took the time to put him at ease. While my family thought I was crazy for doing this tour and promptly reminded me that a stingray killed Steve Irwin, I told them I wasn't swimming with stingrays.
Please don't confuse manta rays with stingrays. So, you might be asking, do manta rays have stingers?
The giant mantas have no stingers or barbs at the end of their tails or teeth in their mouths. While manta rays can reach over 20 feet in size, they are gentle giants who pose no risk to humans. Also, the average Kona manta measures 12 feet in size.
If you're looking for the best manta ray snorkel company, I highly recommend Shari and her team at Kona Snorkel Trips. They are amazing, organized professionals who put your safety first.
Kona Snorkel Trips also offer various other snorkel tours and the best snorkeling on the Big Island. I went swimming with dolphins on one of my other tours to Kealakekua Bay. If you're not into Kona snorkeling, why not take a whale-watching excursion instead?
Manta Ray Identification
There are two types of manta rays in Hawaii. The Mobula alfredi (reef manta) are smaller and have predominantly white undersides with dark topsides.
The Mobula birostris (giant manta) is the larger of the two species and generally has darker undersides. When reviewing their shapes, the reef manta is more triangular.
Every manta ray is unique in appearance, with distinctive markings on its ventral or underside, almost like a fingerprint. Consequently, divers and locals can identify each manta ray by its spots.
I took a picture of "Alexia" during my tour as she did a barrel roll in front of my face. You can compare her markings with the manta ray Kona ID catalog.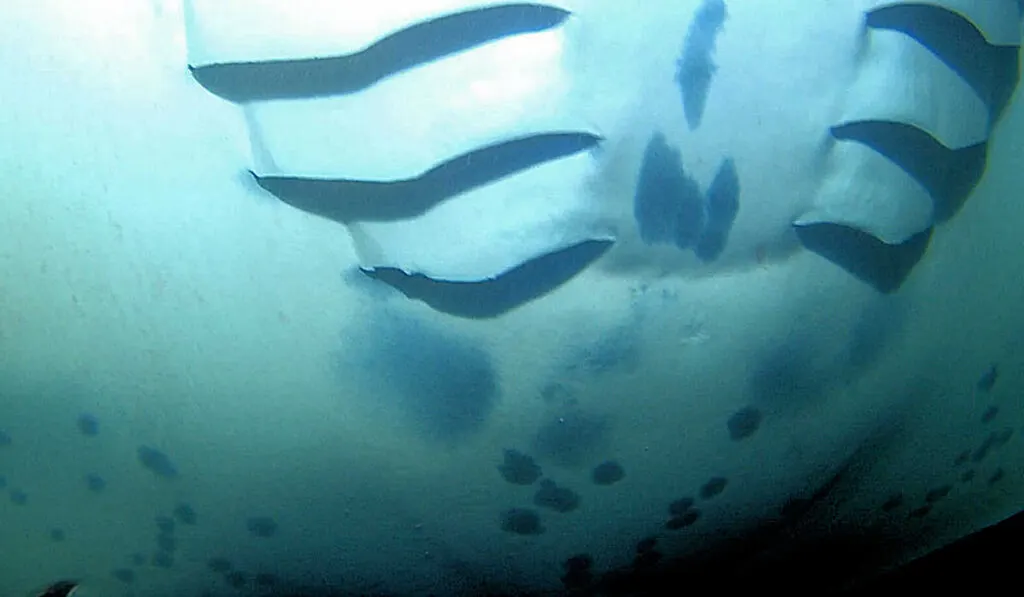 I noticed the black pigmented mantas are less common when viewing the catalog. I also chuckled at some of the names: Captain Kirk, Sugar Ray, Calamity Jane, and Ray Charles.
In 1979, the first manta ray was spotted in Kona and named "Lefty" for her left cephalic fin, which bends inwards.
In 1991, the manta ray identification project began, and to date, divers have identified over 300 manta rays in the Kona area. The website keeps the IDs up-to-date, and those who spot an unnamed manta can give it a name.
The largest of the Kona clan is probably Big Bertha, who has an incredible wingspan of 16 feet. She is friendly and the most commonly sighted manta ray in Kona. Wow, I wish I could have seen Big Bertha!
Shoreline Manta Ray Viewing
If the idea of swimming with manta rays in Kona is an experience that scares you silly, the mantas are viewable from the Sheraton Keauhou Bay Resort & Spa itself.
The Rays on the Bay is the only oceanfront restaurant that offers manta ray viewing in the waters below.
Ultimately, you don't get the same experience on land as the water distorts your viewing. All in all, the best experience is in the ocean, mingling with the aquatic giants during a night swim.
Final Thoughts
The manta ray snorkel in Kona was a thrilling experience that I can't wait to do again. Expect to pay USD 120 and up for this 2-1/2-hour excursion.
Remember to bring a bathing suit, towel, a waterproof camera, and your sense of adventure.
Since manta rays are local and do not migrate to Hawaii, travelers can book a tour year-round. Shari was an excellent tour operator committed to her client's safety and enjoyment.
The Kona coast by the Sheraton hotel is a unique area with the many manta rays that visit each evening. My manta ray excursion was the highlight of my Hawaiian vacation.
I hope you'll consider a manta ray tour on your next vacation to Hawaii.
Happy travels ~ Karen