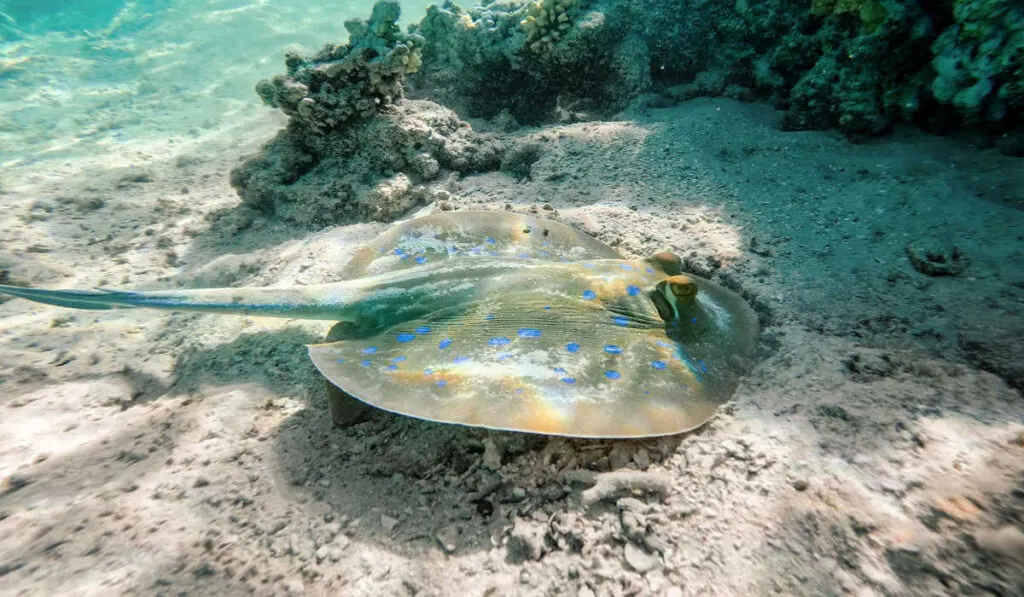 With warm weather destinations come water activities and excursions to satisfy the thrill seekers. While swimming with dolphins in a tank is no longer ethical, travelers prefer to see wildlife in their natural habitat. So, whale-watching and swimming with different species of stingrays have soared in popularity.
Both stingrays and manta rays enjoy the warm water and tropical climates. While many people confuse the two species, they are pretty different.
Mantas are the larger species and can grow up to 30 feet wide. They are two types: Mobula alfredi (reef mantas) and Manta birostris (giant oceanic mantas). These gentle giants have no stingers or teeth and consume microscopic plankton.
The more playful stingrays can reach widths of 7 feet and have adapted to live in fresh water in addition to salt water. Stingrays are bottom feeders, consuming shrimp, clams, mussels, and small fish.
There are hundreds of different types of stingray species, and each one contains a venomous barb at the end of its tail. So, let's discover the places you can swim with stingrays.
Grand Cayman
Undoubtedly, Grand Cayman in the Cayman Islands is the hot spot for a stingray experience in the Caribbean. Rarely does someone travel to the tropical island and not take a trip to the sand bar.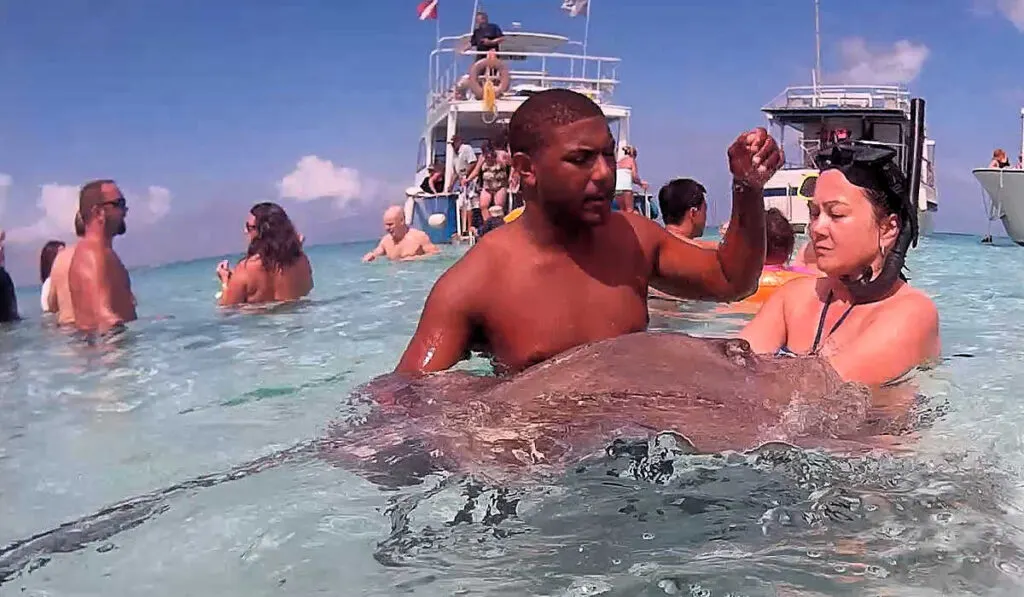 Offshore, the crystal-clear waters and shallow depth make it an ideal activity for any age. Southern stingrays have been habitually coming to the sand bar for years.
It's said, fishermen cleaned their catch in the shallow water, throwing the waste overboard. As a result, the stingrays gathered to retrieve an easy meal. Now, they congregate at the sound of a boat motor, knowing the tours bring food.
For those traveling to the Caribbean by cruise ship, swimming with stingrays is a fantastic shore excursion in Grand Cayman. And it's one you'll want to do more than once.
Guests don't need to know how to swim because the water is only a few feet deep. Excursions typically last 3 hours, including travel time, and cost USD 55+.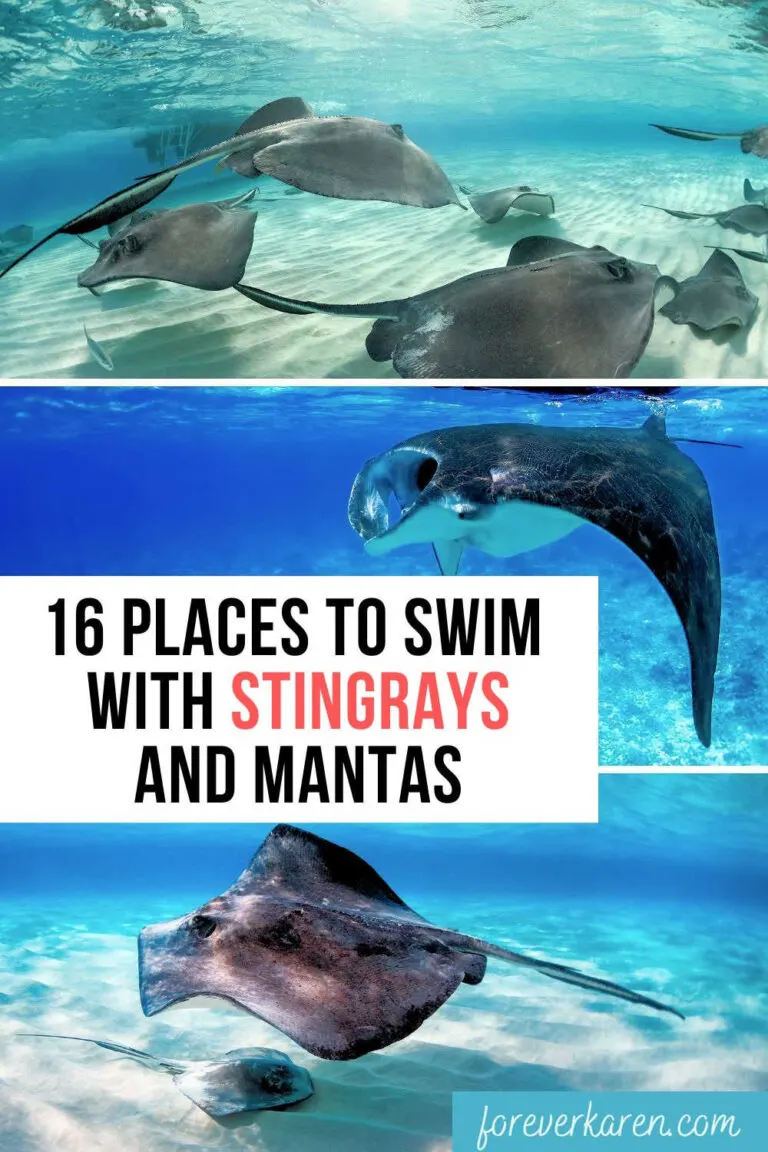 Your tour operator supplies snorkel gear to view the stingrays and tropical fish underwater. Make sure to bring a GoPro to capture the underwater ballet.
You're allowed to touch the stingrays, but you're instructed not to touch the end of their tails. Tour guides give squid to feed the creatures for those brave enough to jump in. With gummy mouths, they suck the food from your hands. It's a fantastic experience!
Caye Caulker, Belize
Caye Caulker, a small island off Belize's coast, is another excellent option to see stingrays. Attracting fewer crowds than Grand Cayman, you can snorkel with stingrays and nurse sharks at another sand bar.
The water is about four feet deep, and the clarity provides views of trumpet fish, puffer fish, and other colorful creatures.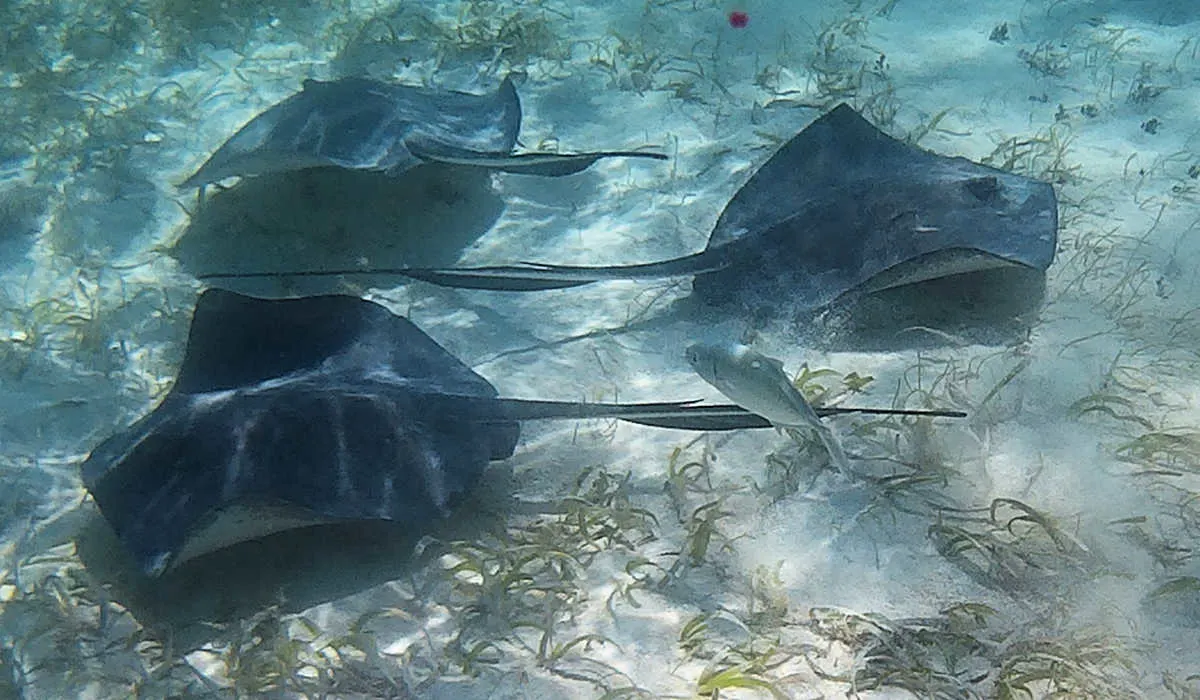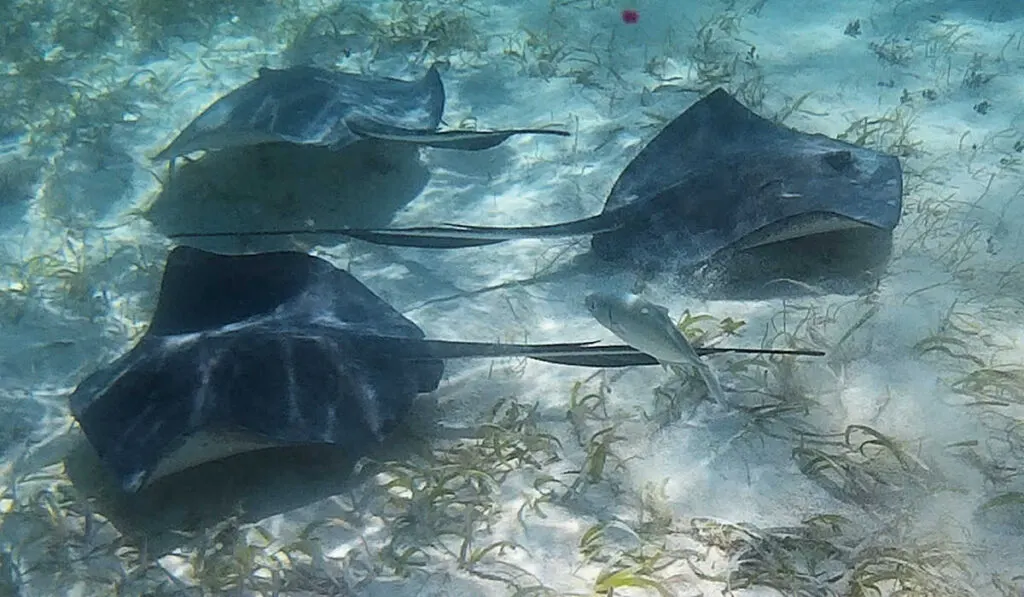 Tours are available from Caye Caulker and Belize City. It takes a full day from Belize City to enjoy the Shark Ray Alley stingray swim. Not only will you swim with these creatures, but you'll snorkel along the Belize Barrier Reef. Plan ahead by making a reservation before your arrival.
The boat ride to the stingray sand bar takes 45 mins. Depending on your tour, you'll spend another 45 mins to an hour with the stingrays before heading to the reef.
Stingrays, being curious creatures, come to the sound of an approaching boat. They enjoy swimming amongst the tourists and often brush up against your legs. This action may cause a few squeals from those not expecting it.
Nurse sharks, however, are much more timid. Sometimes they hang around and observe the action, but most of the time, they swim away as quickly as they arrive.
After you've worked up an appetite, the tour continues to Caye Caulker, where you can savor an authentic Caribbean meal.
Narooma, Australia
Narooma is a coastal town five hours south of Sydney, Australia. The small township sprawls on either side of the Wagonga Inlet, a tidal estuary whose crystal-clear water is home to abundant wildlife, none more spectacular than the resident smooth rays.
In the shallow water, it's hard to miss the shape of these 2-meter-wide creatures gliding across the grass beds in the bay.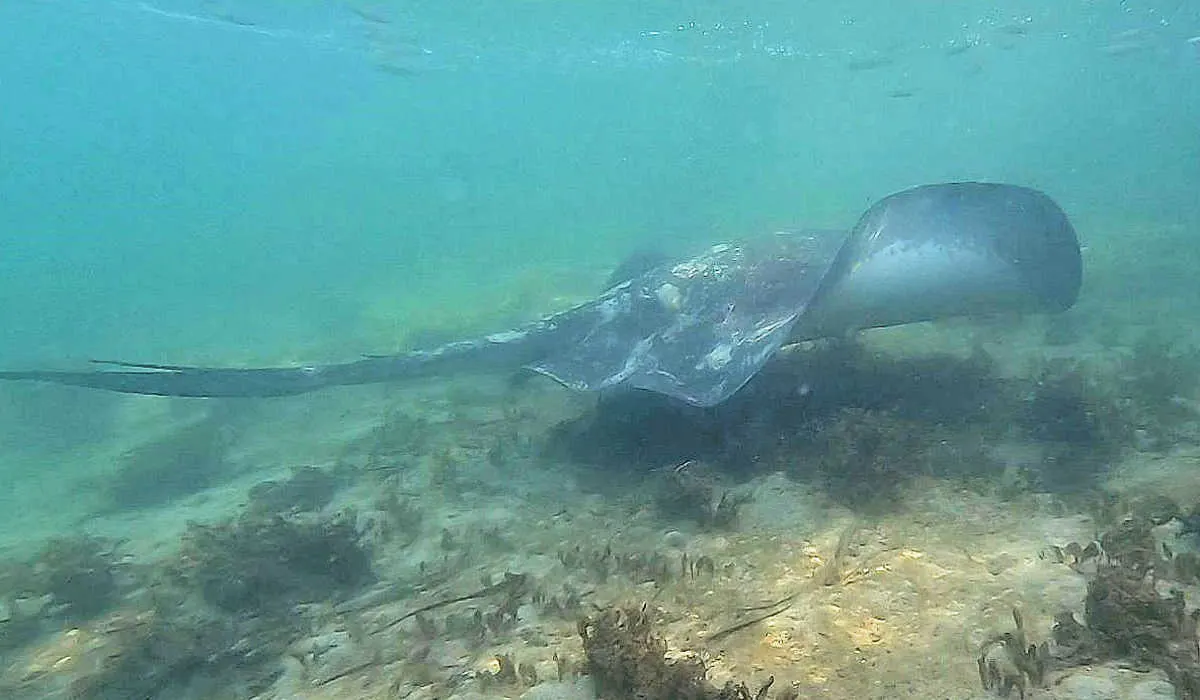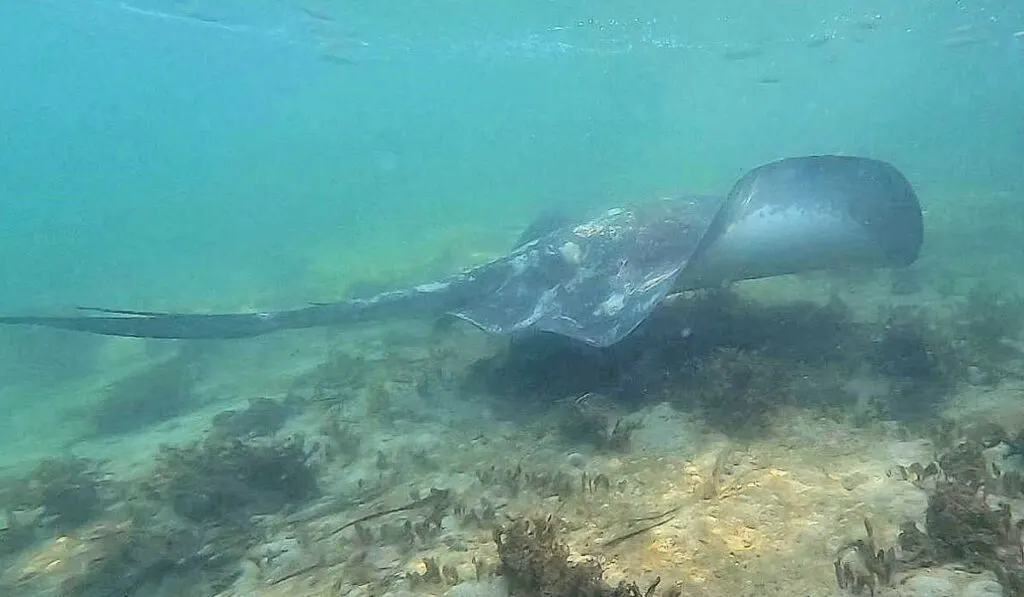 The rays are easy to find, as they often cruise around the jetties and boat ramps, hoping for an easy snack from returning fishing boats.
The best place to swim with the stingrays, and avoid the boats, is by the Mill Bay Boardwalk that runs for 350 meters along the north side of the Inlet.
Because the water is shallow, the tide's ebb and flow can create strong currents, so doing a drift snorkel with the tide from one end of the boardwalk to the other is a good way to go.
There are boat ramps at each end of the boardwalk so getting in and out is easy. As you are only in 2 or 3 meters of water, it is a breathtaking sight when the giant rays swim under you.
The stingrays, despite their scary reputation, are not dangerous, but they are curious. They will often swim to you and follow you around, don't be alarmed; relax and admire them.
The stingrays are around Narooma year-round, but the warmest swimming conditions are from November to March; you might want a wetsuit outside of then.
Contributed by Natalie from Curious Campers
Florida Keys
One of the best places to swim with sting rays is the Florida Keys. And if you're unsure where to start, you can always check out areas known for the best snorkeling in the Florida Keys.
In particular, though, Molasses Reef near Key Largo is a great place since it's known for excellent water clarity and has upwards of 30 dive sites.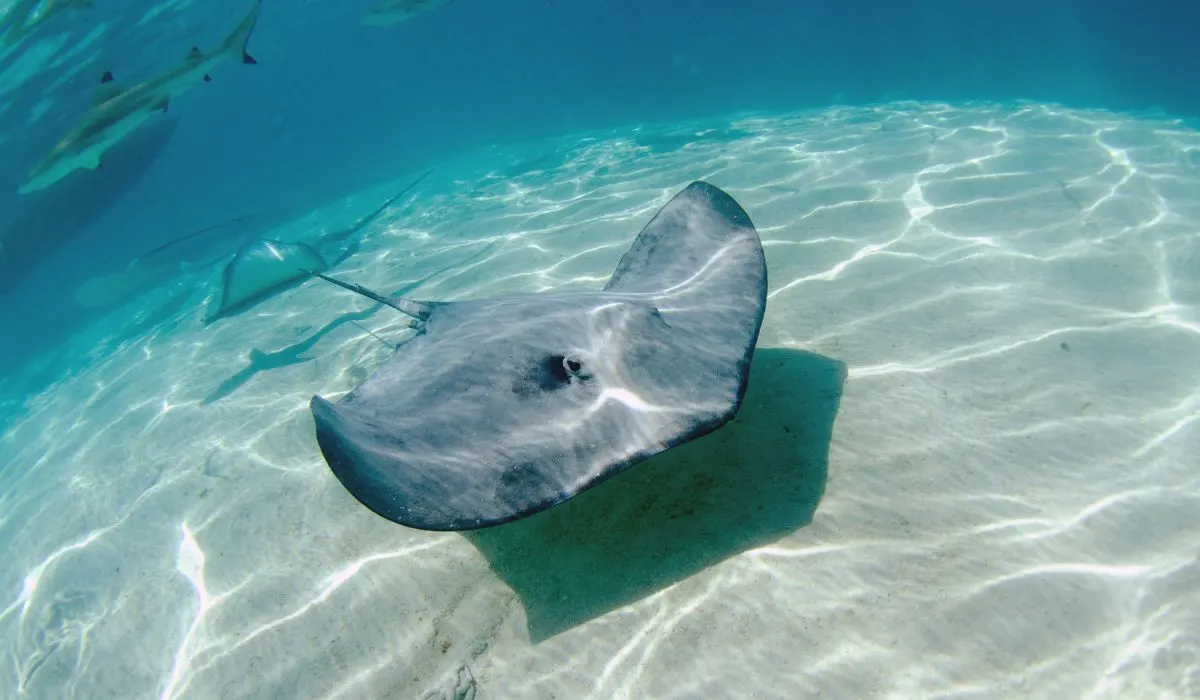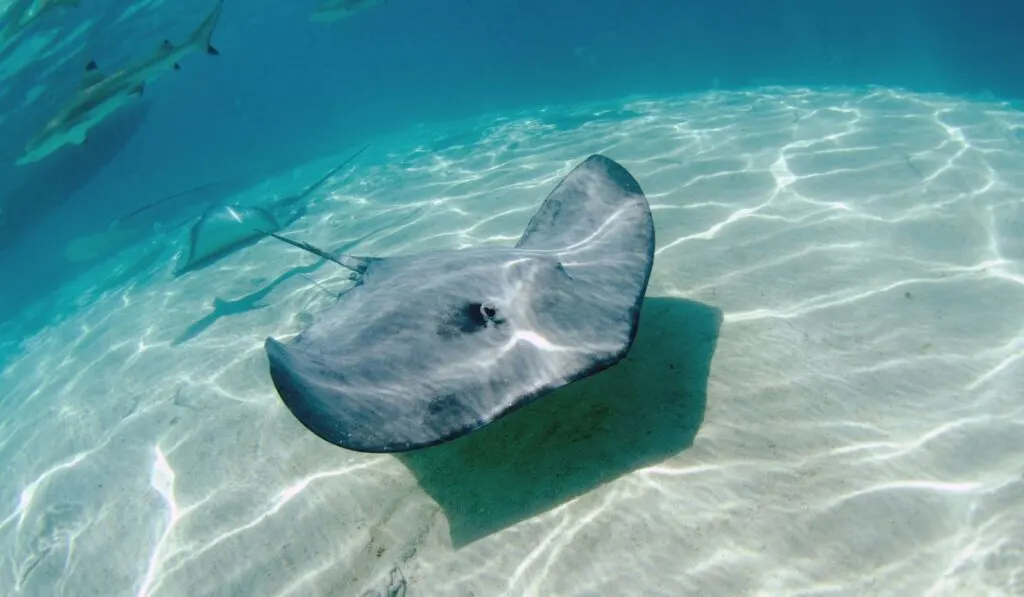 These beautiful spots will introduce you to a classic reef filled with stingrays. Depths also vary from six to ninety feet, allowing you to see a wide variety of marine life since coral heads are between twelve and fifteen feet tall.
However, currents can be pretty strong on the reef's outer edge, so it may be best to book a boat tour here from Key Largo.
Alternatively, the warm water around Key West is another great spot for spotting stingrays in the Florida Keys. After all, this is the southernmost city in the USA, so the waters are quite tropical.
So, join any local sailing and snorkeling tour, and you'll be able to make your way through a sea of mangroves as you look out for stingrays, sharks, etc.
Contributed by Victoria from Florida Trippers
Ningaloo Reef, Australia
Ningaloo Reef off the north coast of Western Australia is the world's longest fringing reef. Teeming with marine life, Ningaloo is well-known for its many turtles, reef sharks, manta rays, and whale sharks.
It is also one of the best places to see stingrays in Australia. The snorkeling sites are accessible from the beach, and the warm water makes for comfortable year-round swimming.
Blue spotted rays, cowtail stingrays, and eagle rays are the most common types you'll see, and the best part is that you don't have to look hard to find them.
You only have to look at the base of coral bommies or for the distinct 'ray shape' in the sand to spot them.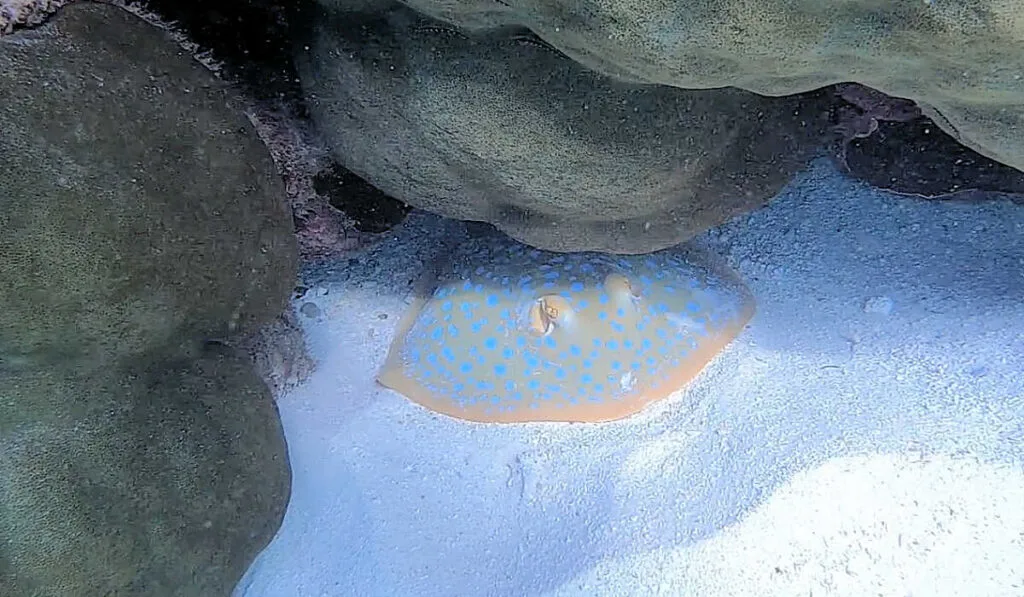 Exmouth, 1200km north of Western Australia's capital Perth, is one of the best access points to the reef. The road trip from Perth to Exmouth is a great travel adventure.
Exmouth has many great snorkeling spots, including Turquoise Bay, The Oyster stacks, and Lakeside. All are accessible from the beach; you can spot stingrays in knee-deep water.
The best time to go to Exmouth is from April to October. The weather is beautiful, and you miss the extreme heat and humidity of the northern summer.
Exmouth is 45-60 minutes from the snorkeling spots, so if you are on a snorkeling safari, look for accommodation on the ocean side of the Exmouth Peninsula. Peak season can be busy, but if you snorkel early, you can still get areas to yourself.
Contributed by Natalie from Curious Campers
Bahamas
If you're traveling to the Bahamas by ship, cruise lines often spend a day on their private islands. Most of these offer stingray beach adventures lasting from 1 to 1.5 hours.
Princess Cays, Half Moon Cay, and Castaway Cay provide one-hour tours in waist-deep water. Cruise ship passengers don't board a boat but walk into the water from the beach. Expect to pay USD 40 to USD 56 for adults.
Given the Bahamas' proximity to Florida, the waters can be pretty frigid in the winter months. Wear a Rashguard t-shirt over your bathing suit. It will protect you from UV rays and help to keep you warmer.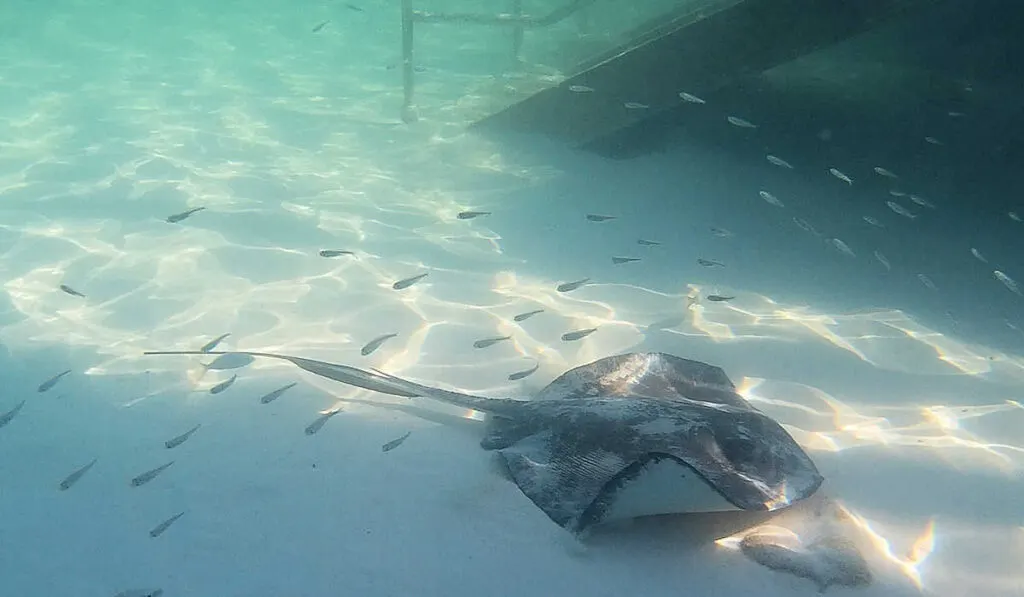 To keep the waters clear, swim or stand stationary instead of walking on the sandy bottom. Walking stirs up the sand and clouds the visibility.
Having taken a stingray tour in Half Moon Cay (Carnival Cruise Line's private island), the cruise line kept the creatures in a fenced enclosure. Some looked beaten up with damaged tails, and one was missing its tail.
Should you book with Norwegian or Royal Caribbean, their tours take you by boat to stingray city. The tours last 1.5 hours, and you'll experience the adventure from the beach. Expect to pay up to USD 100 for a short excursion.
Moorea, French Polynesia
Are you looking for another place to see stingrays and other sea creatures? Consider French Polynesia's small yet popular island of Moorea!
Visitors can vacation directly on the island or comfortably day trip to Moorea from Tahiti, French Polynesia's largest island.
Moorea is a great destination for swimming amongst stingrays because it's one of the only places in the world where you can swim with these majestic creatures from the beach.
That's right, no boat is required! You might even encounter lemon sharks, black tip reef sharks, and sea turtles. Some places where you can swim right out and observe these creatures up close are the shallow waters of Moorea Lagoon and Plage de Tiahura.
While the best time of year to spot lots of stingrays is between May and November, you can generally find a few year-round. A few tips for hanging out with stingrays include:
Not touching their tails since that's where their stinger is located.
Wearing sunscreen since the sun is incredibly intense in French Polynesia.
Adopting a shuffle by moving your feet along the sand rather than trying to walk.
This helps inform the stingrays of your presence so they don't sting you by surprise.
Contributed by Kristin of Global Travel Escapades
Riviera Maya, Mexico
With its crystal-clear waters and warm temperatures all year round, Riviera Maya, Mexico, is one of the best places to swim with stingrays worldwide.
Mexico's Caribbean coast is home to some of the best beaches and coral reefs in the world. Sharing the waters with stingrays is an experience you won't want to miss.
Plenty of operators offer snorkeling tours, boat excursions, and catamaran sails on the Caribbean Sea, so you'll be able to find one that suits your budget and schedule.
These excursions will take you to snorkel at some amazing coral reefs in the Mexican Caribbean, where there's an excellent chance of seeing some stingrays, manta rays, and eagle rays in the wild.
A more guaranteed option for seeing rays in Riviera Maya is to visit one of the Xcaret adventure parks. You can participate in the Stingray Sea Trek activity at Xcaret Park or Xel-Ha.
Wearing a Sea Trek helmet, you can enjoy an underwater walk in a natural cove. It allows you to breathe normally and get an up-close view of stingrays. You can also touch them as they swim all around you.
Whichever option you choose, you're sure to have an incredible experience swimming with stingrays in Mexico. Make sure to add it to your list of things to do when visiting Riviera Maya!
Contributed by Allison from Viva La Travelista
Cozumel, Mexico
Seeing stingrays in the wild is truly an amazing experience. And in Mexico, one of the best places to see stingrays is on the island of Cozumel.
Located in the Caribbean Sea, just off the coast of Mexico's Yucatan Peninsula, Cozumel is an excellent place for diving and snorkeling due to its abundance of nearby coral reefs.
While there are several options for seeing stingrays in Cozumel, an easy choice for visitors to Cozumel is to head to Playa Palancar. The local beach club, situated on the island's southwestern, offers tours.
Access to Playa Palancar is free if visitors purchase food or drink from the adjacent restaurant. From Playa Palancar, travelers can book a snorkel reef tour.
The nearby coral reefs of El Cielo, Colombia, and Palancar are ideal for snorkeling and scuba diving. These beaches are close to the port if you're arriving in Cozumel by cruise ship.
During the snorkeling or diving tour, travelers will see various marine life abundant in these reefs, including fish, sea turtles, and stingrays.
Tours last between 1.5 hours to several hours. The excursions include a guide as well as snorkeling and diving equipment. Prices range from 630 to 810 pesos (USD 31 -40) per person for snorkeling and 1,170 to 2,340 pesos (USD 58 -115) for diving.
Contributed by Astrid from Mexico Family Travel
Bora Bora, French Polynesia
Bora Bora a paradise isle with crystal-clear water, blue lagoons, and over-the-water huts. Let's not forget its snorkeling tours, allowing tourists to interact with reef sharks and stingrays.
Tour operators sell half-day and full-day tours. If you want to see wildlife, take the all-day excursion. The half-day lasts three hours; the longer one is six to seven hours and includes a buffet lunch.
In the Bora Bora lagoon, the coral gardens provide a sanctuary for marine life. The most commonly spotted creatures are stingrays, sea turtles, blacktip reef sharks, and manta rays.
The larger manta rays use the lagoon as a cleaning station. By visiting daily, they get cleaned by the remoras (cleaning fish). The remoras eat the parasites and bacteria from the manta's skin, keeping it healthy.
Since stingrays bury themselves in the sand, move your feet with a shuffle rather than taking steps. You'll alert nearby stingrays, preventing an unwanted sting from their tails. Aqua or water shoes will protect you from stone fish, and a Rashguard t-shirt helps to avoid sunburns.
Of the ray species, stingrays, eagle rays, and manta rays are common. The reef sharks and stingrays will approach when they hear your boat. While the sharks are a little skittish, the stingrays exude a playful personality.
Holbox, Mexico
Isla Holbox is a small island located in Quintana Roo, Mexico. The drive from Cancun to Chiquila, the main access point to the island, takes just over two hours. It can be done by public bus or minivan transport.
A short ferry ride later, you'll arrive in Holbox, known for its many opportunities to swim with whale sharks and manta rays.
There are many things to do in Holbox but swimming with whale sharks and manta rays is one of the most popular, especially from June to September.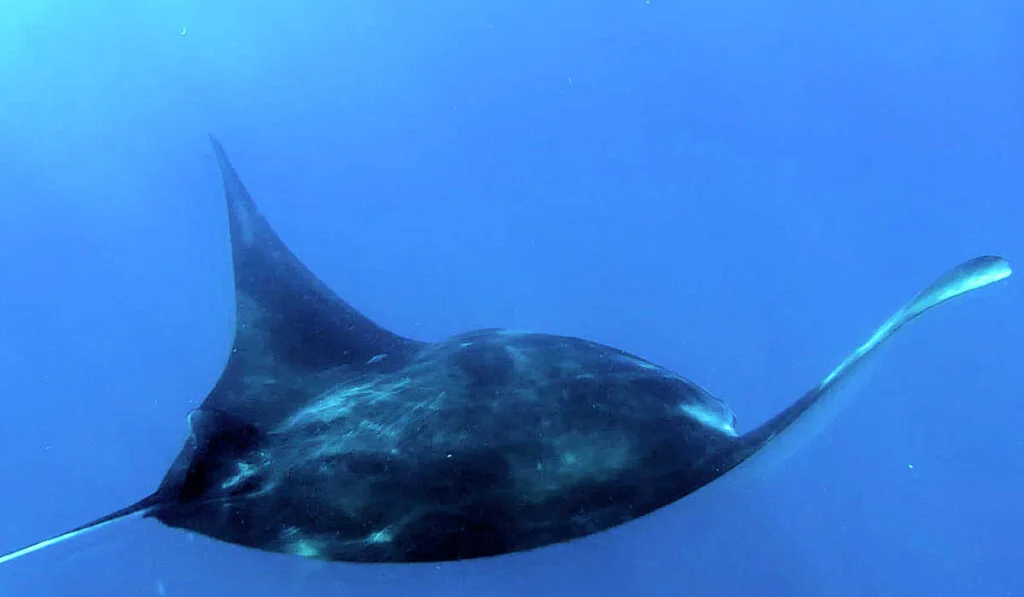 These months are the best time to go if you're hoping to see rays, although it's of course, never guaranteed that you'll actually spot them.
Luckily, the chances are quite good, and the tours are worth the money. The boat tours last two to three hours and take a group of 4 to 10 travelers.
You'll travel to specific places where manta rays and whale sharks are often spotted. Make sure to bring seasickness medication if you're prone to motion sickness, as the ride can get bumpy.
Also, take a GoPro to take plenty of photos and make this trip unforgettable.
Contributed by Victoria of Guide Your Travel
Should you prefer to see the giant mantas, there are several places to observe them by diving and snorkeling.
Komodo National Park, Indonesia
The Komodo National Park is an underwater mecca and one of the best places to see manta rays, whether you're snorkeling or diving.
The town of Labuan Bajo on Flores Island is the gateway to the Komodo Islands. It's the perfect addition to any Indonesian itinerary, as it's a quick 90-minute flight from Bali.
Snorkelers and divers spot these gentle giants throughout the park, but Makassar Reef, Manta Point, and Manta Alley are the most popular sites for seeing mantas.
While the national park is accessible on a day trip, it's recommended to book a multi-day liveaboard.
This guarantees that you'll have several interactions with manta rays while also experiencing other incredible sights, including Padar Island and Rinca Island (where you can see Komodo Dragons in the wild).
The best time of year to plan your trip is during the dry season, from June to September. You can expect sunny skies, no rain, and excellent visibility. However, mantas are often spotted anytime between June and December.
If you're planning on scuba diving at Komodo National Park, be prepared for strong, unpredictable currents and drift dives. This makes it all the more exciting but can also be exhausting!
Contributed by Carryn from Torn Tackies
Lady Elliot Island, Australia
If you want to swim with Sting Rays or Manta Rays in Australia, then Lady Elliot Island is waiting for you. This small Island is located off the southern coast of Queensland and can be accessed from The Gold Coast, Brisbane, Hervey Bay, and Bundaberg.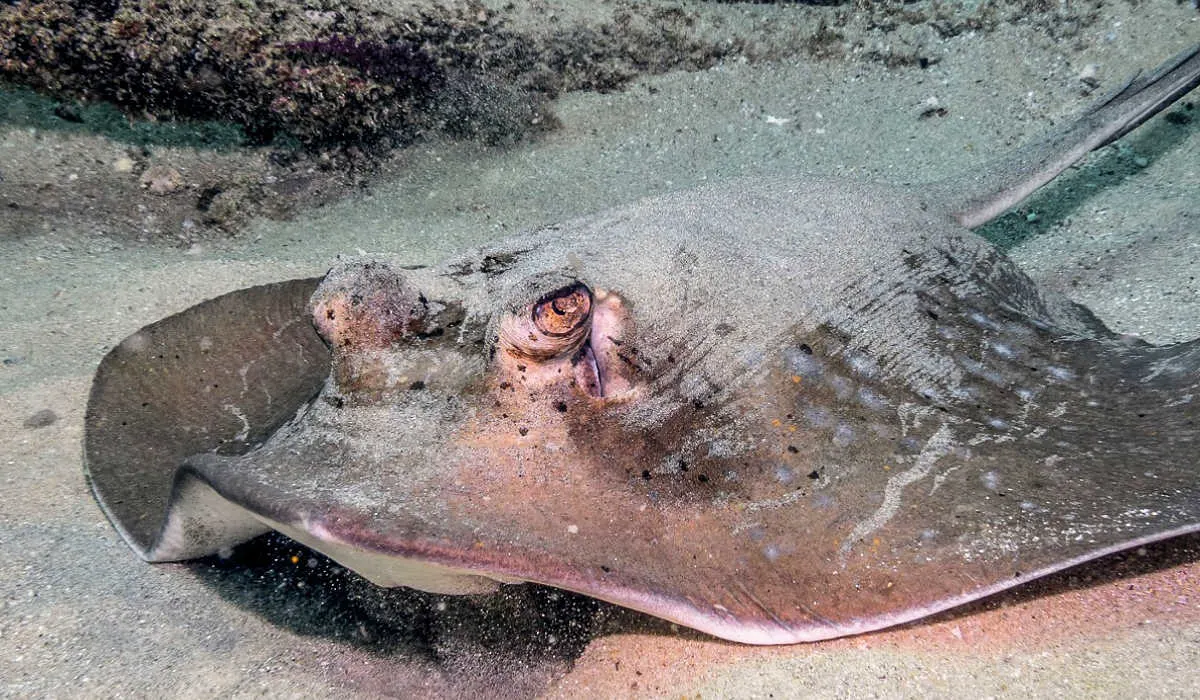 The only way to get there is by flying a lightweight aircraft and very popular for day trip snorkeling fun. Snorkeling gear is provided as part of the tour when you get to the island, or you can pay extra for the diving.
While you can walk straight off the beach into the Southern Great Barrier Reef, it's better to take a short 10-minute boat ride to deeper waters.
Visitors can see manta rays all year round, but they are few and far between. Ultimately, you have to be very lucky to view one.
However, Mantas are more common from June to September each year, and when you're more likely to see them every day.
NOTE: In 2020, there was a very rare siting of the "Pink Manta" at Lady Elliot Island.
On the other hand, many different species of stingrays can be seen all year round. This includes Blue Spotted Sting Rays, Bull Rays, Eagle Rays, Whip Rays, and Cownose Rays.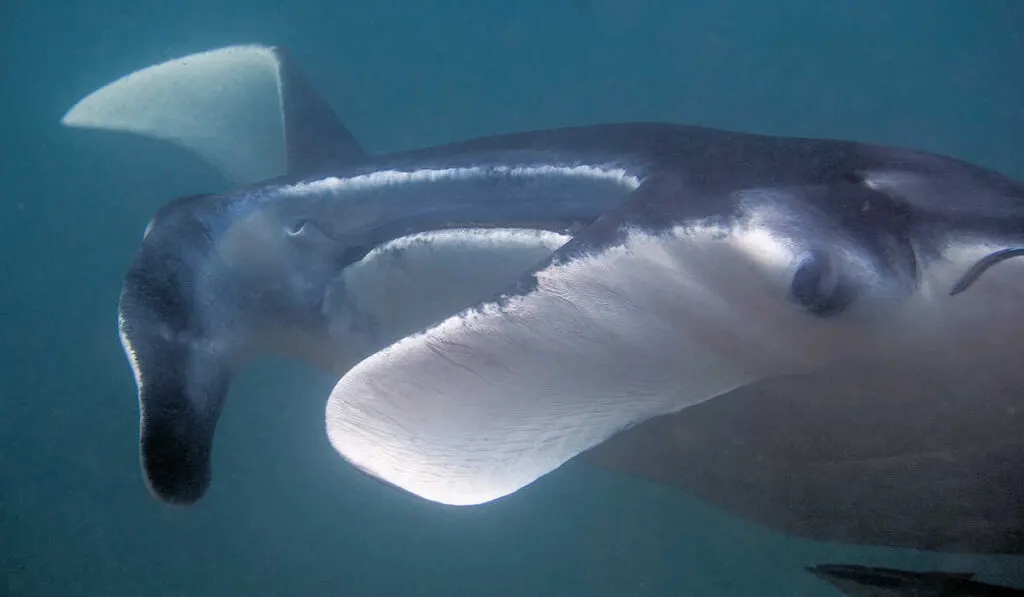 You'll often find these on the surface floor, hiding in the sand, under rocks, or swimming in groups through tropical waters.
Contributed by Chris from the Aquarius Traveller
Minjerribah, Australia
Minjerribah (aka Stradbroke Island or Straddie) is one of Australia's top destinations to swim with manta rays. It's one of the most beautiful islands near Brisbane, Australia's third biggest city, on the East Coast.
Manta rays visit the island in summer when the water gets warmer, from November to March. You'll find them on a rocky reef north of the island called Manta Bommie, a site known as a cleaning station where they get rid of parasites.
Manta rays are not the only marine creature you'll get to see there: leopard sharks, bull rays, mantis shrimps, turtles, and even octopuses, to name a few, are regularly spotted.
Even if it does not look far away, a boat is needed to get to Manta Bommie, as currents and waves can make it challenging. It only takes about 10-15 minutes by boat from Cylinder Beach if you go with the dive center on the island, which also takes snorkellers and free divers.
It's perfect if you plan to enjoy the beautiful island before or after your encounter with manta rays. You won't regret spending a relaxing couple of days on this rather special island.
Alternatively, scuba divers can visit Manta Bommie on a full-day trip from Brisbane with GoDive or BrisbaneScuba.
Contributed by Eloise of My Favourite Escapes
Kona, Hawaii
Kona on the big island allows travelers to experience a different adventure. Here, you can see giant manta rays in their natural environment in Keauhou Bay. The success rate of seeing them is around 90%.
Giant mantas feed on krill, which are attracted by a light source. Years ago, the Sheraton Kona Resort & Spa added lights in the bay to create ambiance around their hotel. Since krill swarmed around the spotlights, the manta rays soon followed to feed.
Afterward, the manta ray tours began. To see the gentle giants, you can either snorkel or take a diving excursion. Both happen at night after the sun goes down. If being in dark waters scares you, this isn't the tour for you.
On a diving tour, operators put spotlights on the ocean bed to attract plankton. Then scuba divers congregate on the ocean floor to watch the anticipated event above them.
Snorkeling with mantas in Kona is more popular because you don't need to be certified or be a strong swimmer. Snorkelers stay on the surface and hover around a lighted surfboard. With patience, the giant mantas come to consume the thick krill which gathers beneath the board.
Since this activity happens at night, it isn't easy to video or take photos. However, living the experience and checking this activity off your bucket list is reward enough.
Nusa Penida, Bali
Nusa Penida is an island 12 Km off the coast of Bali. The island is home to stunning snorkeling locations and some of the best-preserved coral reefs.
On the southwest corner of Nusa Penida, Manta Point provides one of the best places in the world to snorkel with Manta Rays. Manta Point is a Manta Ray cleaning station, where mantas gather to get cleaned by small cleaner wrasses and some parasites.
Manta Rays stay there for long periods or swim in circles around the site. Since mantas stick around the whole year, you can see them year-round.
The only way to access Manta Point is by boat. It takes 45 minutes to reach Manta point from Toyapakeh Harbor, where most boats from Bali arrive.
Once on the island, several local tour operators can bring you to the site. If you do not want to spend the night in Nusa Penida, you can always book a tour from Sanur, which also requires a 45 minutes boat ride.
One of the best ways to visit Manta Point if you are a mixed group of divers and snorkelers is with one of Bali's many scuba diving schools.
You can book with Crystal Divers, but they do not visit Manta Point daily.
Contributed by Pilar from Travel The World Pages
Final Thoughts
Swimming with stingrays, mantas, or any marine mammals is a fantastic experience. Please remember that you're in their territory, so respect their space and environment.
Wear reef-safe sunscreen to prevent bleaching of the fragile corals, or wear a long-sleeved Rashguard t-shirt instead.
Not all creatures welcome your presence, so don't chase, harass, or try to touch if your new-found friend doesn't feel the same way as you.