When most think of Grand Cayman, swimming with stingrays comes to mind. But if you're visiting Grand Cayman on a cruise, the Caribbean Island offers more shore excursions than just a stingray adventure.
The Cayman Islands in the Caribbean consist of three islands, although many only know of one. The British Colony includes Grand Cayman, Little Cayman, and Cayman Brac.
Grand Cayman, being the most developed, has a population of over 67,000. As a banking headquarters, it attracts the ultra-wealthy for business opportunities, lenient taxes, and financial freedom.
But, outside of work, these Caribbean islands provide a playground with a reef-protected lagoon teeming with marine life, ideal for water activities.
Grand Cayman is exceptionally safe for tourists and has a relatively low crime rate. Due to its booming economy, travelers won't get hassled by locals to buy trinkets like they do in Mexico.
Its buses are easy to navigate, inexpensive, and provide a cheap way to access the island.
Where Is Grand Cayman?
Nestled between Cuba, Jamaica, and mainland Mexico, cruise passengers access the banking island on a western Caribbean cruise. The average temperature reaches close to 80F year-round, so it makes the perfect escape for those buried in snow up north.
Your Caribbean cruise attire should include swimsuits, sandals, and loose clothing.
Grand Cayman Island is a tender port. So, when arriving by cruise ship, vessels tender at the capital, George Town, on the western side. Passengers ferry to one of three cruise terminals, within walking distance of the downtown area.
The official currency is the Cayman Islands dollar, although many vendors accept US dollars. The official language is English and Spanish, is secondary.
I still remember the day I arrived in Grand Cayman on a Carnival cruise ship. I was surprised the island is basically a large rock surrounded by a turquoise ocean. With little elevation change, it lacked the greenery of neighboring isles.
While it doesn't have jungles for ziplining like in Roatan, it does have other unique shore excursions. So, if you're looking for what to do in Grand Cayman on a cruise, here are fifteen fantastic ideas.
Go Shopping In George Town
Enjoy the luxury of duty-free shopping in George Town's eclectic stores. Whether you want named brands like Versace, Tiffany jewelry, or Caribbean antiques, you'll find a little of everything downtown.
Located on the waterfront, the Craft Market offers one-of-a-kind artisan items, homemade jams, wood carvings, and more. For a unique gift, consider purchasing a piece of Caymanite jewelry.
Caymanite features contrasting layers of color, and when crafted into a pendant, makes a beautiful keepsake for your visit to this Caribbean Island.
No trip to the Cayman Islands is complete without bringing home some rum cake. Internationally known, the Tortuga Caribbean Rum Cakes are the number one item exported from this tropical island.
The rum cakes were first sold to tourists in 1987 and featured on local restaurant menus. Its moist flavor created an explosion in popularity. You can find them at almost any gift shop.
So, do you choose the traditional Caribbean Rum Cake or a flavor variation? Selections include coconut, cinnamon raisin, Mexican vanilla, key lime, Florida orange, and many more.
Snorkel At Rum Point
Forty-five minutes from the cruise port, Rum Point offers cruisers a relaxing beach away from the bustle of George Town. Here, sun lovers can enjoy the white sand beach, ocean views, and shallow waters, perfect for snorkeling.
With lots of beachside restaurants, diners can enjoy Caribbean cuisine without leaving sight of the ocean.
Alternatively, rent a kayak or paddleboard, or relax in a hammock under the shade of Casuarina trees. Yep, Rum Point is the quintessential Caribbean paradise with white sand, swaying palm trees, and beautiful ocean vistas.
Admire The Blue Iguanas
While this might sound like an alcoholic drink, the blue iguanas are rare ground-dwelling lizards native only to the Cayman Islands. Due to their gray to vibrant blue hues, travelers find them well camouflaged amongst the Caribbean flora.
Growing up to five feet in length, the Grand Cayman blue iguanas' diet consists of fruit, flowers, and leaves. To ensure a sighting of these endangered species, travel to Queen Elizabeth II's Botanical Garden in the North Side District.
On the Wooden Trail, the not-for-profit garden contains a blue iguana habitat. Nestled in a 65-acre sanctuary, the park, named after Queen Elizabeth, features five themed gardens begging for exploration.
Meander the numerous pathways and see if you can spot a Cuban Parrot, Mangrove Cuckoo, or other bird species. Nature lovers will enjoy the tropical flowers, discover Caribbean tree species, and walks through the island's greenery.
Explore A Sunken Wreckage
With over 200 dive sites around Grand Cayman, scuba diving is top-rated. Certified divers can explore a barrier reef or see a shipwreck. Close to the cruise terminal, the west side offers a myriad of wrecks, including the newest "Kittiwake," wall dives, and cave dives.
The USS Kittiwake was sunk in 2011 to create an artificial reef. Experienced divers can explore the vessel's interior rooms, while snorkelers can view the ship from the surface.
Located near George Town, Devil's Grotto is an excellent option for beginner divers. It offers a swim-through, colorful coral reefs, and is home to a large group of Tarpon fish.
Due to its location, divers can access the site by boat or from shore. For some, a diving cruise excursion is the ultimate port activity in Grand Cayman.
Swim With Stingrays
Without a doubt, Grand Cayman's most popular cruise excursion allows tourists to wade amongst stingrays on a sandbar in North Sound. Stingray City sandbar inhabitants have acclimated to fishermen feeding them.
So, years later, tour operators now sell stingray city tour excursions. With tour guides providing squid for the stingrays, they return each day to partake in the ritual.
The boat ride to the sand bar takes around 20 minutes, depending upon the vessel's speed. With water just four feet deep, even non-swimmers can enjoy this thrilling activity.
Having enjoyed stingray adventures in Belize, Grand Cayman, and the Bahamas, I'm telling you, you need to do this at least once. With squeals of delight from surrounding tourists, I can safely say all had a good time!
If sharing the shallow waters with stingrays scares you silly, don't fret. The stingrays are gentle and pose no threat as long as you treat them with respect. Being Grand Cayman's most popular shore excursion, don't expect your tour to be intimate.
Boats will crowd the sand bar adding hundreds of tourists to the water. Just remember, it's hot in the Cayman Islands, so remember your reef-safe sunscreen. However, even with the crowd, Stingray City has enough inhabitants to share in the fun.
If you're daring enough, your tour guide may allow you to hold and kiss a stingray. When revealing its cute face that looks like a smile, you'll leave the adventure grinning from ear to ear.
Some tours combine the stingray adventure with a snorkel at the Coral Garden Reef.
Explore Crystal Caves
Cayman's newest attraction, Crystal Caves, invites tourists to travel underground to explore a cavernous environment. Adventurous individuals will enjoy admiring the stalagmites and stalactites on this must-do Cayman excursion.
The unusual formations are mesmerizing and fantastic that they exist, considering the island has the highest point of just 65 feet.
I enjoy exploring underground natural phenomena and remember walking through a lava tube in Hawaii Volcanoes National Park. While these caves are different (and there are three), I still find the experience wonderful.
Cayman Crystal Caves is a 40-minute drive from George Town. Given its distance, a taxi ride might not be the most economical way to get there. Cruise passengers can rent a car or take a tour that includes transportation from the cruise port.
Hunt For Starfish
Starfish Point's shallow waters offer sightings of the sea stars. While it's a secluded beach, many people know the area as Starfish Beach. Looking for starfish is the perfect activity for families.
Sea stars tend to hang out in the deeper waters but occasionally move to shallower areas. As the beach has become popular with starfish hunters, local operators have begun to offer tours by boat.
While you can snorkel here, there's no coral so you won't see tropical fish. However, most who arrive, come for the sea stars.
Watch Turtles Hatch
While the most popular ocean-going cruise tour includes stingrays, the largest land-based excursion consists of sea turtles.
More than just a tourist attraction, the Cayman Turtle Centre aims to educate, conserve, and research Green Sea Turtles.
Boatswain Beach is home to the Cayman Turtle Centre, a 23-acre park allowing visitors to interact with marine life.
During a visit, travelers can view the breeding pools, enjoy turtle feedings, and watch the cute critters hatch. Visitors may witness the miracle of life between May and November as babies emerge from their eggs beneath the sand.
The turtles range in size from just a few ounces to adults weighing up to 600 lbs at the center. Despite their size and weight, Green Sea Turtles are gentle creatures.
While the primary purpose of the Cayman turtle farm is to raise turtles for meat consumption, the farm also returns turtles to the ocean. By breeding the turtles, the farming process prevents the depletion of turtles in the wild.
Discover Cayman's History
For history buffs, immerse yourself in the cultural history at Cayman Island's National Museum. Located in George Town, within walking distance of the cruise port, the museum connects visitors to the island's cultural heritage.
While the museum is small, it packs a punch with exhibits detailing the natural history, Cayman traditions, and Cayman life.
The process of weaving a wall used in building construction is fascinating. At the Mosaic of Habitats, visitors discover the differences in the islands' environments and how they sustain essential species.
The Grand Cayman Museum is a must-visit for those wanting to get off the beaten path and avoid the crowds on busy cruise excursions. The exhibits will leave you knowing a little more about island life.
Go To Hell
In West Bay, tourists flock to "Hell," a small town, to say they've been to Hell and back. Unfortunately, there isn't much to see in Hell, so consider the town a Grand Cayman point of interest.
However, having an unusual city name has allowed the locals to capitalize on it by selling postcards and t-shirts.
While this isn't a good cruise excursion, you can visit and send a postcard home, so when you get back, the postmark shows you've been to Hell and survived, lol.
Take A Cayman Cuisine Tour
What better way to experience the Cayman spirit than on a food and rum-tasting tour? The three-hour excursion typically visits five establishments. Here, you'll enjoy five tasty Caribbean food samplings while learning some cultural history.
At the restaurants, you'll meet the chefs and owners, and after your tasting, you'll get to take home the recipe to recreate yourself.
Treats may include a tasting of Lionfish, Caribbean-flavored gelato, and the famous Tortuga Caribbean Rum Cakes, all washed down with unlimited rum!
The tour accommodated people with food allergies as long as you notify the tour operator beforehand.
Participants are picked up and dropped off at the cruise port, so this Grand Cayman excursion makes the perfect day tour. And who can resist the unlimited Caribbean rum?
Admire The Views From Pedro St. James
Exploring Pedro St. James, visitors learn about its tragic past and discover its history as a dwelling. At the time of construction over 200 years ago, the three-story building with sweeping verandas resembled a palatial castle in Europe.
Back then, most Caymanians lived in primitive dwellings made of wattle and daub.
Throughout the years, it served as a jail, restaurant, and government building. It has experienced hurricanes, struck by lightning, and the most recent tragedy, a fire.
In 1991, the Cayman Government purchased the property and restored it to the historic building seen today. From its verandas, Pedro St. James offers the best ocean views.
You can take a self-guided path and sample rum from an oceanside seat on the optional rum tour. In Pedro's stamp room, visitors can see some rare Caymanian stamps and delve into the history of its colorful postage.
Relax At Seven Mile Beach
For those who prefer a more relaxing day, head on over to Seven Mile Beach for a relaxing day by the ocean.
Close to the cruise port, beach goes can take a taxi or the local bus. Seven Mile Beach has miles of pristine beach turquoise waters that are usually calm.
There is no fee to use the beach, but lounge chairs and umbrellas incur a fee. This Caribbean beach makes for a great day outing without hurting the pocketbook if you're on a budget.
Relax on the clean, white sand at the beach, or stroll the entire seven miles of coastline. If swimming with stingrays is on your bucket list, some cruise lines combine a stingray excursion with time at Seven Mile Beach.
Swim With Dolphins
Located a short twenty-minute drive from the Grand Cayman cruise port, Dolphin Discovery Grand Cayman is home to dozens of friendly dolphins!
Visitors can join an educational program that includes learning about these amazing creatures and also getting the chance to swim with them.
Admission additionally grants entrance to the Cayman Turtle Centre, making this a great deal for a day-long adventure.
During the thirty-minute swim, visitors can expect to watch the dolphins blow water and splash around in joy, as well as learn more about their anatomy and habits.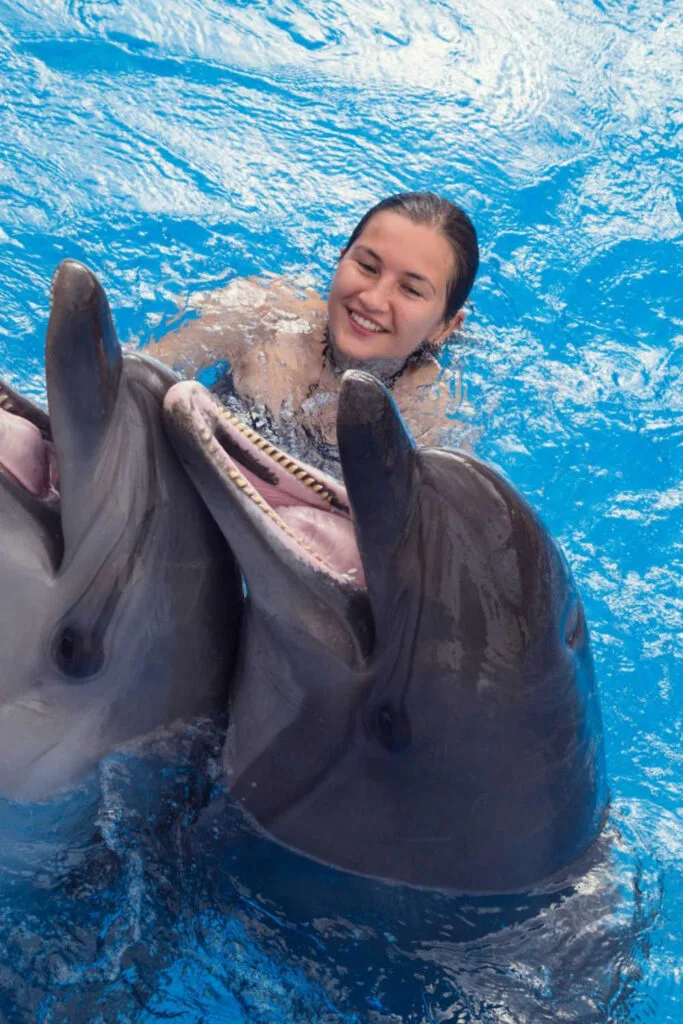 Don't miss out on this special opportunity to experience both swimming with dolphins and seeing turtles on the same day!
Go Horseback Riding On The Beach
Enjoy the sandy beach of the Caribbean on a family-friendly horseback ride. You can choose from a variety of tours including a day adventure, sea swim, or moonlight tour. The moonlight tour provides a romantic couple's idea for a honeymoon or date night.
On the sea swim excursion, the gentle horses enjoy a refreshing dip in the ocean as much as the riders. Travelers can select tours from West Bay, the North Side, and George Town.
If swimming with horses is on your bucket list, check out Pampered Ponies and Spirit of the West.
Final Thoughts
Although Grand Cayman cruise excursions are plentiful, cruise passengers can explore the island on their own. The bus system provides inexpensive transportation to many beaches like Smith Cove.
For those who aren't fond of water, Grand Cayman's culinary smorgasbord offers cuisine fit for any foodie. With an abundance of fresh fish, tropical fruits, and Caribbean spices, there's a dish to satisfy every taste bud.
But, with every Caribbean port, the hours spend onshore are limited. With one day in port, hopefully, you'll experience that fantastic port tour that will leave you yearning for more.
Happy travels ~ Karen