The Caribbean offers warm temperatures year-round, so it's a popular destination for cruises. If you're going to the Caribbean Islands and need a cruise packing list, this one will help with the high humidity and hot weather.
When packing for a Caribbean cruise, think casual over smart. Select lightweight clothing that dries quickly, and use accessories to spruce up your outfits. Pack plenty of sunscreens, after-sun lotion, and Rashguard pieces to provide the best protection.
Let's not forget the "chic" or formal nights that require different attire. This guide helps first-time cruisers determine what to take on their cruise vacation.
Visitors should pack for the weather no matter what time of year they cruise the Caribbean. In most cases, it's hot and humid. Although you shouldn't forget, it can rain, so bring a light jacket.
While cruise lines don't limit the number of suitcases you can bring, the airline will. So, exercise minimalist packing, and choose items you can wear in multiple ways.
Bring A Cruise Carry-On Bag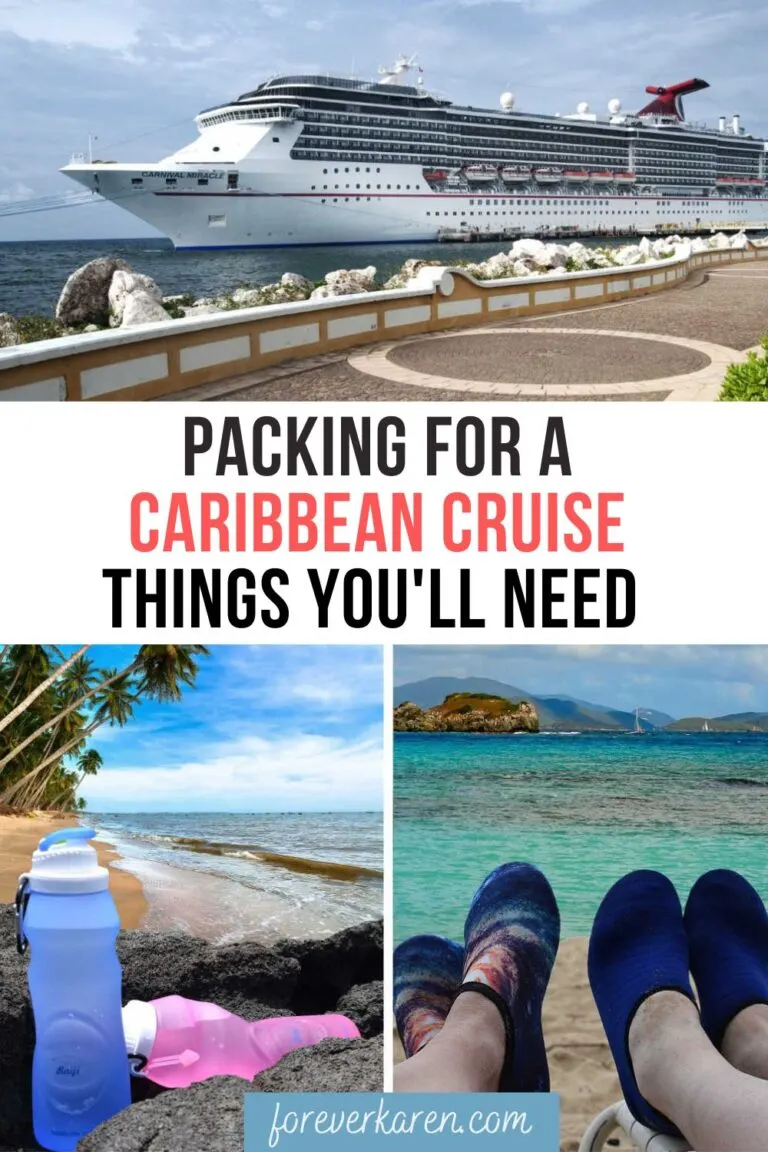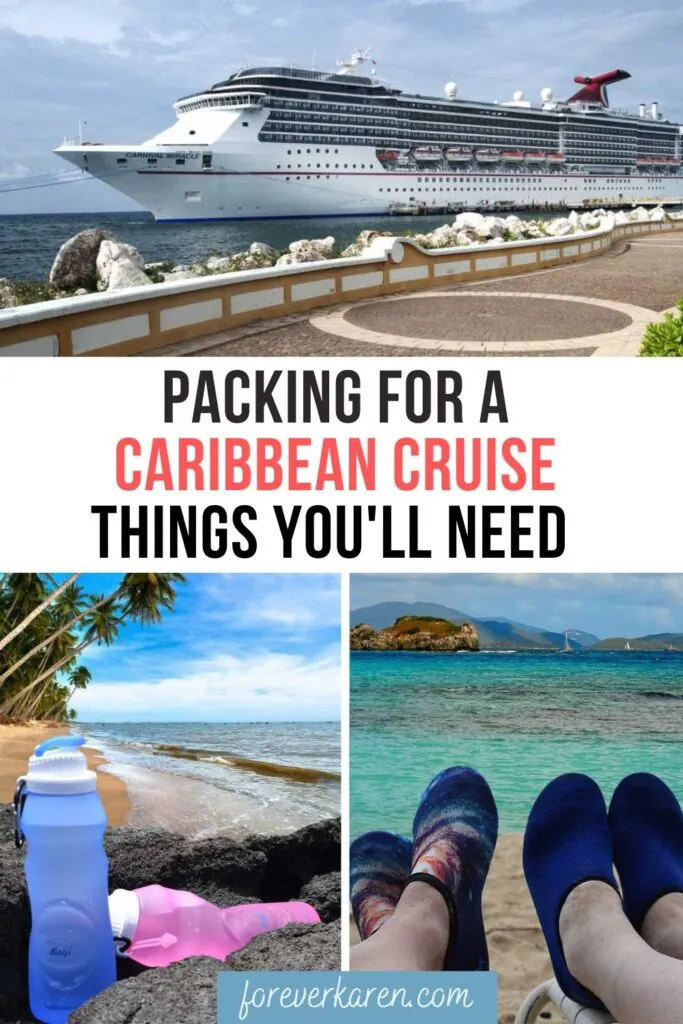 While waiting for my luggage, I kick-start my Caribbean vacation with a carry-on tote bag. Since I'm traveling from Canada to Florida, I pack a change of clothes, a bathing suit, a coverup, flip flops, and sunscreen.
Also, keep your medications should you have any, in your carry-on bag. Be sure you carry your cruise documents, passport, proof of Covid vaccinations, and any other travel documents.
Sun Protection For A Caribbean Cruise
With tropical weather, your most critical packing items are sun protection. Remember to pack reef-safe sunscreen and a beach bag for on port days.
Some islands have banned sunscreens that contain octinoxate and oxybenzone, which are harmful to delicate reefs. Make sure your brand is Caribbean-approved and doesn't contain these ingredients.
I prefer a sunscreen spray over a lotion. The sprays prevent spillage, don't stain, and are easy to carry on port days. Also, I can spray areas that are hard to reach with lotion. Also, bring some lip balm with sunscreen too.
Don't chance getting a sunburn when you can protect your skin with Rashguard clothing. The tops are available in short and long-sleeved for men, women, and children.
The clothing has a UV Block fabric of UPF 50+. Pair your top with Rashguard shorts to protect you from the hot Caribbean sun.
Brian and I take these with us to hot destinations. I like that they dry quickly and are ready for water-based shore excursions.
I literally lived in a Rashguard t-shirt in Mahogany Bay, Roatan, Grand Cayman, and my one day in Old San Juan. But don't limit the clothing for watersports; I used mine on hikes which offered no shade.
Rashguard tops also add a layer of warmth if you're in the Bahamas. Since the Bahamas are much closer to Florida, its waters aren't too warm. By wearing another layer over your swimsuit, you'll tolerate that water excursion a little better.
Whether you're a sun lover or not, it's wise to wear a hat to protect yourself from sunburn and heatstroke. This unisex hat has a wide brim to shield out the rays and an adjustable chin strap to prevent you from losing your cap on a boat ride or windy day.
It goes without saying, with all that sun, a good pair of sunglasses should be on the Caribbean cruise packing list. I've forgotten my sunglasses a few times and had to buy a new pair once I found a store.
I've even broken a couple on vacation, so having more than one set comes in handy.
Items For Excursions
Whether you choose an eastern or western Caribbean itinerary, it's impossible not to include a water activity. Whether you plan a beach day or participate in water activities, it's a good idea to have the following items.
Waterproof Smartphone Case – Protect your expensive cell phone from water damage if you plan to spend any time at the beach or by the pool. Invest in a waterproof phone case that still allows you to use your phone to take pictures even when secure inside the pouch.
Water Shoes – Water shoes are lightweight, quick-drying, and provide a rubberized grip, convenient for paddle boarding, surfing, or walking around the pool deck.
Bug Spray – If you plan to hike in the El Yunque Rainforest in Puerto Rico or tour Mayan Ruins in Mexico, you'll want insect repellent. The tropical climate is a haven for mosquitoes, sand flees, and other nasty insects.
Waterproof Camera – Are you planning to swim with stingrays or nurse sharks in the Caribbean? You want to capture those cherished memories with a waterproof camera. Don't take any chances with a DSLR camera and a waterproof case; get a GoPro instead.
Monopod Selfie Stick – I coupled my camera with a waterproof monopod selfie stick. The telescopic handle allows for close-up shots of marine life, and I can take selfies too.
Refillable Water Bottles – With the ban on one-time-use plastics in many countries, many places can no longer sell bottled water. Instead, I carry a collapsible water bottle that I fill on the cruise ship before getting off in port.
I like that I can collapse the bottle when not in use. It's an upgrade from the bulky containers, and there's no risk of breakage.
Snorkel Mask – Bringing a snorkel mask can save money and avoid germs from rentals.
Dry Bag – Protect expensive electronics with a multi-purpose dry bag. I store my non-waterproof equipment in a dry bag during an excursion to keep it clear of saltwater.
Travel Safe – If you're spending the day at the beach, you can lock your cell phone, credit cards, and cash in a portable travel safe.
Caribbean Cruise Essentials
When packing, I find I use some things throughout my Caribbean cruise, both onboard and in port. Pack as you usually do with sleepwear, undergarments, shoes, casual cruise attire, and the following.
Multiple Bathing Suits – With islands surrounded by the ocean, I always pack at least two bathing suits. While one is drying, I have a dry one for the next port excursion.
Cool Fabric Separates – Try to choose quick-drying clothes made from natural fibers, such as lightweight cotton or bamboo. Skip the polyester, as it doesn't breathe. Pack a few pairs of shorts and t-shirts, or women may prefer lightweight dresses.
Natural fibers breathe and keep you cool, even during the hottest days. You'll want lightweight and moisture-wicking clothes during hot days in Puerto Rico.
Bamboo items wick moisture away from the body and have cooling properties. Items made from bamboo include underwear, t-shirts, and blouses. Also, choose pale colors as they don't absorb heat.
Comfortable Shoes – You're going to walk a lot on every island, so pack a comfortable pair of walking shoes. Puerto Rico has cobblestone streets, so I pass on my pair of sandals that day for something that gives better support.
Downy Wrinkle Release – Pack some Downy wrinkle-releaser plus to eliminate wrinkles from clothes.
Lightweight Jacket – Cruisers experience hot weather most days, but the Caribbean can experience rain. So, a lightweight jacket will keep you dry should a tropical storm hit.
Aloe After Sun – Soothe your skin with aloe vera after-sun gel after a day in the Caribbean sunshine. The lotion, which includes Vitamin E, nourishes sun-parched skin with a cooling effect.
Keep it in the fridge for an added cooling sensation, perfect for sun-burnt skin. After a day of excursions in Belize, I needed the after-sun lotion.
Hats – Hats shield your face and are essential for bald men. Make sure it's tight-fitting, so you don't lose it to the wind on a boat excursion. If you don't have a hat, there are many places to buy one in the Caribbean.
What To Wear For Dinner?
Cruise line dress codes vary from line to line. Most nights, dinner attire is relatively casual. Although, cruise lines don't allow swimwear, ripped jeans, and tank tops to dinner.
For women, choose a solid color skirt, pants, or capris, and compliment it with a patterned blouse or top. Alternatively, choose a simple dress. Men can select pants with a collared shirt and closed-toed shoes.
Most cruise lines have done away with formal nights in favor of "evening chic," "wear your best," or "cruise elegant" evenings. So, instead of tuxedos and ball gowns, choose cocktail dresses or two-piece outfits for women, shirts, pants, and a sports jacket for men.
Some lines, like Norwegian, have optional dress-up nights. So, if you prefer to skip evening wear in favor of something casual, you can.
Even though this more relaxed dress code is a guide, those who want to don formal wear may do so. However, if you prefer not to dress for dinner, cruisers can eat at the buffet.
On a 7-day cruise, cruise lines host two evening chic nights. When my husband and I cruise, he takes a lightweight suit and two different shirts.
I sometimes pack an infinity dress to wear both nights. By changing how I wear it and using other jewelry and accessories, the one dress serves two nights and saves room in my luggage.
One area that generally has a dress code is specialty restaurants. While eating in one incurs an extra fee, you'll need to dress a little less casually.
Other Cruise Attire
By choosing simple, solid-colored pieces that are easy to mix and match, I can change the look with accessories or layering a cardigan, scarf, or blouse. The hardest part of packing for a Caribbean cruise is the shoes.
I usually take an evening pair for chic nights, flip-flops or sandals, and a pair of runners. The men would have a similar selection: runners, sandals, and dress shoes.
Eliminate the dress shoes if you plan to dress casually every night. Should you pack four pairs each, wear the runners on transit day to cut the bulk in your suitcase.
Remember, the air-conditioning can make a cruise ship cold. So, pack some clothing pieces to layer up. Lightweight sweaters, cardigans, and shawls work best. Choose fun colors to add to the Caribbean vibe.
Since all cruise ships have state-of-the-art gyms, pack some workout wear and use the gym to keep off those extra pounds.
Caribbean Cruises Extras
The following packing list items are optional but may come in handy. Since Covid is here to stay, consider packing some portable hand sanitizer and some sanitizer wipes.
While cruise ships have sanitizer stations throughout, it's best to have pocket-sized sanitizer for port excursions. The sanitizer wipes are great for cleaning your stateroom, should you choose to do so.
While no one likes to think about motion sickness when boarding a cruise ship, you may occasionally experience rough seas. Being prepared by packing motion sickness medication will take the stress out of sailing.
I always carry motion sickness patches but thankfully, I've never used them on a ship. The only rough seas I have experienced were in Alaska. Luckily, big waves don't seem to bother me but put me on a bus, and that's a different story.
Travel sickness medication isn't just for rough seas; it works for those who don't tolerate motion in vehicles. So, a remedy can also come in handy on a cruise port excursion.
The Caribbean, Central America, and Mexico are on the advisory list for the Zika virus. So, it's advisable to pack mosquito repellent. Sand fleas are problematic at some Caribbean beaches.
Since mosquito repellent doesn't generally work on them, get a spray bottle and make a homemade mix. Sand fleas hate mint, so a blend of mint mouthwash, a few drops of lavender oil, and Pine-Sol should keep the beach gnats away.
I take multiple ocean-going tours in the Caribbean, so I wash my swimsuits a lot. Since not all cruise lines offer clotheslines on their newer ships, I prefer to travel with a portable one.
The adjustable clothesline with built-in clips makes it easy to dry wet clothes from busy day excursions. The portable line takes up little space in my luggage when not in use. Tide pods are handy to handwash in the bathroom sink.
A non-surge power strip with multiple USB ports is a must to charge all your electronics. Make sure it's one without an extension cord.
Good-quality magnetic hooks provide extra hanging space if you've booked an interior stateroom or cabin with limited storage.
Since the stateroom walls are magnetic, you can hang jackets, bathing suits, hats, and extra items on the hooks. We like the 50lb hooks because they can take the weight of a bathrobe or jacket.
Final Thoughts
If you're traveling to the Caribbean during hurricane season, purchasing travel insurance is essential since the weather could affect your travel plans.
Other than the above items, remember to save space in your suitcase for those delicious Caribbean rum cakes and tropical souvenirs.
With careful cruise planning, a Caribbean packing list, and your sense of adventure, you're set for some fun in the sun.