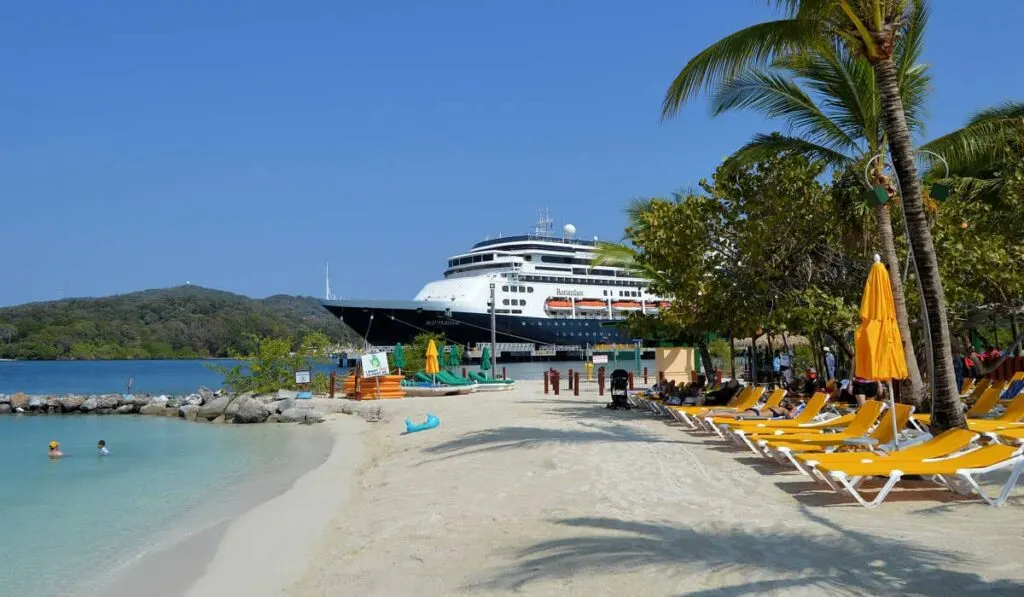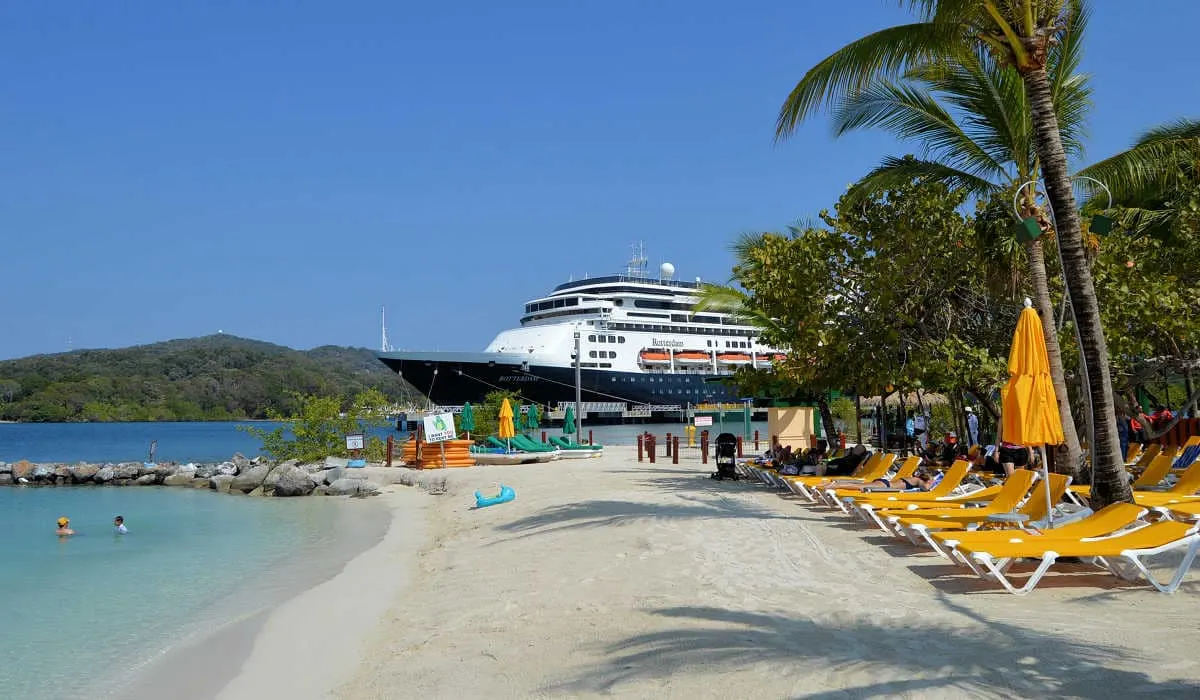 While many Caribbean islands have become commercialized and overrun with tourists, there are still hidden gems waiting to be discovered. One such treasure is Mahogany Bay, located on the island of Roatan off the coast of Honduras.
Roatan is the largest of the Bay Islands and is a popular destination for visitors. However, Mahogany Bay remains relatively undiscovered and offers a peaceful escape from the crowds.
The island is also home to Guanaja and Utila, both smaller and less visited than Roatan. While Western Caribbean cruises often stop at popular destinations like Grand Cayman and Cozumel, a visit to Mahogany Bay offers a unique and tranquil experience.
When arriving by cruise ship, Royal Caribbean, Celebrity, and NCL dock at Coxen Hole on the eastern side. Alternatively, Princess, Holland America, Costa, Regent, and Carnival Cruise lines use the Mahogany Bay Cruise Center, located in Coxen Cove.
Arriving at the Mahogany Bay cruise port, on the Carnival Glory, a rusty shipwreck, a flying chair lift, and miles of sandy beach greeted me at sunrise.
Like many cruise ports, the modern welcome center is quite commercialized. But, outside of the cruise terminals and tourist hot spots, parts of Isla Roatan exude a primitive lifestyle. Although it's obvious many of the locals live in poverty, they emit a sense of happiness with their simple lives.
What To Expect On Roatan Island?
Although many Spanish-speaking residents originated from Jamaica and the Cayman Islands, today, English is universally spoken. Being English, the ability to communicate eliminates stress, especially when ordering in restaurants.
While the lempira is the national currency of Honduras, most businesses accept the US dollar. It's essential to carry some cash as smaller companies and taxi drivers do not accept credit cards.
Since Isla Roatan, Honduras lays close to the equator; it experiences hot weather year-round. The dry season goes from February to June, but these are the hottest months to visit. November to December are the cooler months; however, these the wettest months.
With 3,000 mm of annual rainfall, downpours can happen during the rainy season. When packing for the Caribbean, bring clothing made for natural fibers, a hat, and reef-safe sunscreen.
With rainfall and jungles, mosquitoes are rampant in places, so it's best to use a mosquito repellent. Like Mexico, it's advisable not to drink tap water.
When eating at a restaurant, make sure the water is purified or order a drink in a bottle or can. Personally, I use a collapsible water bottle which I fill on my ship before I disembark in ports.
While rental cars are available near the cruise ports, taxis are plentiful and inexpensive. I negotiated a rate of USD 40.00 for the whole day I was in port. My taxi driver took me to other parts of the island and waited for me while I participated in shore excursions.
Things To Do In Mahogany Bay, Roatan
Like Cozumel, Roatan lies next to the Mesoamerican Barrier Reef. Its rich ecosystem attracts snorkelers and divers globally to see its colorful corals and variety of fish. Sea turtles, nurse sharks, stingrays, and manatees populate these waters too.
Being a region with a rich exploration history, it's no surprise shipwrecks are prominent due to shallow waters. If seeing a Spanish Galleon or exploring sunken treasure interests you, consider a diving excursion.
Without a diving certificate, tour operators provide snorkeling excursions, snuba, and glass-bottom kayaks, which are just as much fun. Beyond diving, there are lots to see and do on Roatan.
1. Ride The Flying Beach Chair
Location: Outside the Mahogany Bay Cruise Center | Cost: USD 14.00 for adults USD 8.00 children (4 to 12 years)
Mahogany Bay's unique flying chair lift may look out of place on a beach. After all, it's what we've come to expect on a ski hill.
However, the Magical Flying Beach Chair transports cruise passengers from the Roatan cruise port to Mahogany Beach. While the ride covers ¼ mile and easily walkable, the lift offers beautiful ocean and tree canopy views.
Being close to the cruise port, passengers have access to the white sand beach without traveling too far. Should you prefer a water activity, kayaks, stand-up paddleboards, aqua cycles, and snorkel equipment are available for rent.
Take relaxation to the next level with a massage in an outdoor pavilion, complete with ocean wave sounds. If you want to connect with family, WiFi is reasonable at just USD 5.00.
2. Enjoy A Zipline Adventure
Location: Outside the Mahogany Bay Cruise Center | Cost: USD 89.99 for adults USD 79.99 children
While Cozumel's port excursions are centered around the ocean, Roatan has some adventurous activities. It has some of the best zipline parks in the Caribbean, and most are available at reasonable prices.
The "Clip 'N' Zip" adventure, located outside the Mahogany Bay, Roatan cruise center, allows cruises to enjoy this adventurous activity within walking distance of their cruise ship.
The Clip 'N' Zip zipline has eleven zip lines ranging from 150 feet to 1,600 feet. This course offers one of the safest tours on the island, using three cables instead of two. So, enjoy soaring through the rainforest with a chance to see birds, iguanas, and agoutis.
At the end of the one-hour excursion, the last zip line travels over the water and ends at the beach. Since it's located within steps of the cruise terminal, this zipline adventure commands the highest prices on the island.
Alternatively, Pirates of the Caribbean claim to be the number one zipline in Roatan. Their extreme zipline package has 15 long zip lines and costs USD 45.00 and includes the 15-minute transfer to and from the cruise ship.
Their extremely extreme package cost USD 65.00 and travels on extremely long ziplines. For instance, one line is 1980 feet long and 328 feet above ground. Both packages are on lines with an automated braking system. The braking system allows thrill-seekers to ride without wearing leather gloves to slow themselves down.
Other companies include King Kong Extreme Zipline, South Shore Canopy Zipline, and Mayan Eden. At Mayan Eden, zipliners can feed the monkeys, see a sloth and tour a butterfly sanctuary.
3. Take An Island Tour
Location: French Cay | Cost: USD 40.00+
With pick-up and drop-off at Mahogany Bay, enjoy a day touring Roatan while learning its history and culture.
Local tour companies offer this island tour but booking with Daniel Johnson includes entrance to their Monkey and Sloth Hangout too. At USD 40.00 per person, it's a budget-friendly option for an all-day excursion.
During the tour in an air-conditioned van, the driver will stop for plenty of photo opportunities and shopping in local boutiques. The tour includes the popular West End, Coxen Hole, West End Beach, and an option to stop at Las Palmas Resort for lunch.
Other stops may include the Roatan Rum Factory to sample rum and rum cakes and Rusty Fish Craft Market. The Rusty Fish eco-friendly store ingeniously recycles junk into new-found treasures.
4. Visit An Iguana Farm
Location: Brooksy Point Rd, French Cay | Cost: USD 12.00
Located east of the cruise terminal, families will enjoy Arch's Iguana and Marine Park, a hidden gem in Roatan. The family-owned business offers beautiful ocean views while admiring, feeding, and holding the resident iguanas.
Iguanas were once hunted and eaten as a protein source, to the point of almost becoming extinct. The iguana sanctuary opened in 1980 to protect the creatures and allow them to thrive.
In the park, the 4,000 iguanas roam freely and happily munch on leaves offered by visitors. In fact, it's a bit of a feeding frenzy when the giant lizards see a person with food.
Everywhere you look, iguanas of different sizes and species crawl around quite lazily. While iguanas look intimidating with their spiny backs, they are actually gentle.
Although the iguanas are the park's star attraction, you may also encounter parrots, monkeys, and scarlet macaws. Nearby, the oceanside enclosure has bass and hungry tarpon.
While the park isn't huge, expect to spend an hour here and combine it with the sloth and monkey sanctuary nearby.
5. Swim With Dolphins
Location: Bailey's Key, off Anthony's Key | Cost: USD 40.00+
Located on Bailey's Key, Roatan Dolphin Encounter allows visitors to experience personal time with Atlantic Bottlenose dolphins.
Unlike most dolphin swim tours, these dolphins live in the ocean, not a cement tank. Dolphin Encounters have a variety of excursions, from basic facetime to the popular dolphin swim and snorkel.
During the thirty-minute dolphin encounter, participants have a chance to interact with dolphins while learning their behavior. While professionals take photos, you can take your camera for candid shots too.
The swim and snorkel excursion includes the encounter but an additional thirty minutes of free snorkeling with the intelligent mammals. Dolphins are spirited creatures that will play in your bubbles and mimic your actions.
Snorkeling freely in the ocean gives a feeling of being part of the pod. Cameras are not allowed during the free swim. However, the professional photos are high quality and available to purchase as a download.
6. Hug A Sloth At The Sloth Sanctuary
Location: French Cay | Cost: USD 13.00
What better way to enjoy a lazy day in the Caribbean than mingle with the world's slowest tropical mammal, the sloth. Native to Central and South America, sloths spend their days in trees and sleep up to 18 hours a day.
AJ's Monkeys and Sloths, and Daniel Johnson's Monkey and Sloth Hangout are both located in the French Cay area.
While visitors are rarely allowed to hold a sloth, each visitor has a chance to hold one at the sanctuary. While the sloths have incredibly long nails, they won't scratch or dig in. Just be very gentle holding the sloth.
You'll also have a chance to hold a parrot, macaw, and monkey, as long as the monkey is willing.
Sloths are gentle creatures that always look like they're smiling. At Daniel Johnson, travelers have the option to add on other activities, such as ziplining, snorkeling, and an island tour.
7. Spend The Day At West Bay Beach
Location: West End, Roatan
When seeking the best beach in Roatan, pass on Mahogany Bay Beach in favor of West Bay Beach. As the name suggests, it's located on the west side of Roatan and rated one of the best beaches globally.
With white sand, turquoise waters, and endless beachside patios, I could understand why readers voted it one of the best beaches.
With calm currents and crystal-clear water, West Bay offers the best snorkeling opportunity on Roatan, with spry coral and vibrant tropical fish. Whether you want to lay on a beach or take to the water, West Bay Beach has something for everyone.
The tranquil waters are perfect for young swimmers, but there are plenty of adventure tours for thrill-seekers.
It takes approximately half an hour to access West Bay by taxi, and the drive is picturesque. Should there be more than one ship in port (as it was the day I visited), the beach area becomes quite crowded.
8. See The Jungle On An ATV
Location: West Bay Beach or West End | Cost: USD 85.00+
For the adventurous, explore Roatan's jungle trails on an all-terrain vehicle. After a safety briefing and video presentation, hop aboard a four-wheeled chariot for a fun-filled adventure off the beaten path.
Pre-arranged tours include transfers to and from the cruise port and beach time. Excursions vary from three to five hours, depending on whether there's a lunch stop.
During the ride, you'll enjoy panoramic vistas from hilltops, rides through local villages, and some include an excursion through the Roatan mangroves. What better way to enjoy Roatan than with the wind in your hair and the sun on your back?
ATVs are easy to operate, a breeze to ride, and suitable for most travelers. Do note; participants may get dusty, dirty, or muddy. After all, this is an ATV adventure.
9. Relax At Little French Key
Bailey's Key, off Anthony's Key | Cost: USD 59.00+
If you're seeking a less crowded beach than Mahogany Bay, head over to Little French Key, Roatan's gem. The Little French Key offers a paradise getaway on a private island just north of the Mahogany Bay Cruise Center.
Embrace the beauty of the Caribbean with turquoise waters, three oceanside restaurants, and aquatic sports.
Activities include standup paddleboarding, snorkeling, kayaking, swimming with horses, or seeing the exotic wildlife at the animal rescue center. The basic discovery packages cost USD 59.00 but do not include food.
It's best to upgrade to the island package, which consists of two drinks, a meal, snorkeling equipment, and the use of kayaks and paddleboards.
The USD 198.00 VIP package includes swimming with horses, a 30-minute massage, a VIP lounge, and a mini pig interaction for the ultimate adventure. If you're familiar with swimming with pigs in the Bahamas, you'll understand this bucket list interaction.
10. Take A Scuba Diving Lesson
Location: West Bay Beach | Cost: USD 89.99+
The Island of Roatan has lots of water sports. You don't need to be a certified diver to enjoy the Mesoamerican Barrier Reef off the Roatan coastline. A certified PADI English-speaking diving instructor teaches the course.
An introduction to the diving course begins with an hour of scuba orientation and a dive video. Then, participants test out those introductory diving skills in shallow waters.
Once each diver feels comfortable with their equipment, the instructor will head out to deeper waters for the initial dive. With a first dive in waters 40 feet deep, you'll experience the underwater world as you've never seen before.
With access to deeper coral reefs, you'll enjoy a variety of marine life, not seen at the surface.
This beginner's scuba lesson allows only four to six people per dive for safety reasons.
The half-day Roatan excursion requires a bathing suit, change of clothes, reef-safe screen, towel, and a waterproof camera to capture those memories.
11. Visit Gumbalimba Park
Location: West Bay, Roatan | Cost: USD 30.00+
When arriving by cruise ship, you'll have one day on Roatan. So, Gumbalimba Park makes a good one-day excursion with a bit of everything. Imagine the iguana farm, sloth sanctuary, and zipline adventure rolled into one. This is essentially Gumbalimba Park.
Obviously, the star of the park is the scenic trail through the rainforest which includes a rope suspension bridge. On the trail, macaws, iguanas, and white-faced monkeys roam freely through the park.
The monkeys are tame and accustomed to humans, so they quite happily climbed on people's shoulders, arms, and heads. The photography opportunities are endless.
For an added adventure, upgrade to the zipline tour, which soars through a canopy of lush rainforest. The additional USD 15.00 for 15 lines of ziplining is a bargain compared to other tours.
Once you've completed your tour, relax on the nearby beach or participate in water activities until you want to return to your ship. Gumbalimba Park offers a fun-filled day for families and adults alike.
12. Enjoy Flora At Carambola Gardens
Location: Sandy Bay across from Anthony's Key | Cost: USD 10.00, USD 15.00 for a guided tour
If there are two things you must enjoy in Honduras, it's the ocean and the jungle. With 40 acres of stunning flora, the Carambola Botanical Gardens provides an unforgettable experience for botanists and naturalists.
Its pristine botanical garden is a must for the avid photographer, and oodles of jungle trails are perfect for hiking and being one with nature.
Expect to spend an hour or two admiring the fruit trees, medicinal plants, and exotic orchids. During your walk, watch out for the monkeys scurrying along with limbs as you seek out the Chocolate Tree.
For adventurous individuals, hike Carambola Mountain for panoramic views of the rainforest, colorful flora, and the world's second-largest coral reef. Along the hike, admire the "Iguana Wall," a steep cliff that naturally protects the parrot and iguana species.
13. Go Parasailing
Location: West Bay Beach | Cost: USD 70.00+
While Roatan, Honduras, is unbelievably beautiful, seeing it from the sky makes it extra special. From Mahogany Bay, head over to Roatan Parasail which operates out of West Bay Beach.
So, soaring over one of the world's best beaches is an adrenaline activity you need to experience.
While the tour usually lasts an hour, the boat carries several people, all taking turns with the parachute. Depending on the number of participants, flying time ranges from ten to twelve minutes.
Although this may seem short, it's enough time to savor the incredible panoramic views from high in the sky.
I've parasailed a few times in different places. But my most memorable experience was a tandem parasail in Cabo San Lucas, Mexico. The tour is relatively safe as long as the operator maintains the equipment and keeps their distance from other vessels.
Combine your parasailing tour with a day at West Bay Beach for the perfect day in Roatan, Honduras.
14 Chill On The Beach
If you've had a few busy days visiting other ports, Mahogany Bay provides the ideal destination to have a relaxing day.
While Mahogany Bay features a man-made beach, the waters are warm and there's plenty of space to grab a lounger. For those who need to "connect," you can purchase Wi-Fi for USD 5.
The beach area has souvenir shops, good restaurants, and bars to great drinks.
15. Take A Horseback Ride
Location: West Bay Beach or cruise terminal | Cost: USD 69.99+
For those that love the ocean and horses, too, Roatan offers the perfect shore excursion. The horseback ride and swim take participants on a trail ride that ends at the beach.
Roatan's coast is gorgeous and the ideal place to ride the rescue horses for a refreshing dip in the ocean. Just in case you're curious, horses are excellent swimmers.
The handlers are experienced, fun and make this tour an over-the-top excursion. Riders are required to wear close-toed shoes, which are available for rental if you've worn flip-flops. Lockers are available too.
Horseback riding is suitable for all, even those who have never been on a horse before. A photographer takes pictures throughout the excursion, which are emailed for a small fee.
Final Thoughts
As you can see, Roatan is a paradise isle of monkeys, iguanas, sloths, and an underwater world with one of the best reef systems.
From water to land, there's no end to the vacationer's activities. Let's not forget the food because baleadas, a dish comprised of flour wraps with cheese, black beans, avocado, and sour cream, is a traditional Honduran favorite.
During my one day in Roatan, I rented a taxi for the day and toured the island. My tour included shopping in Coxen Hole, West Bay Beach, Ziplining, and seeing monkeys, sloths, and iguanas.
This budget-friendly isle allowed me to experience all of this for under USD 100.00 per person. When will you discover the beauty of Isla Roatan?