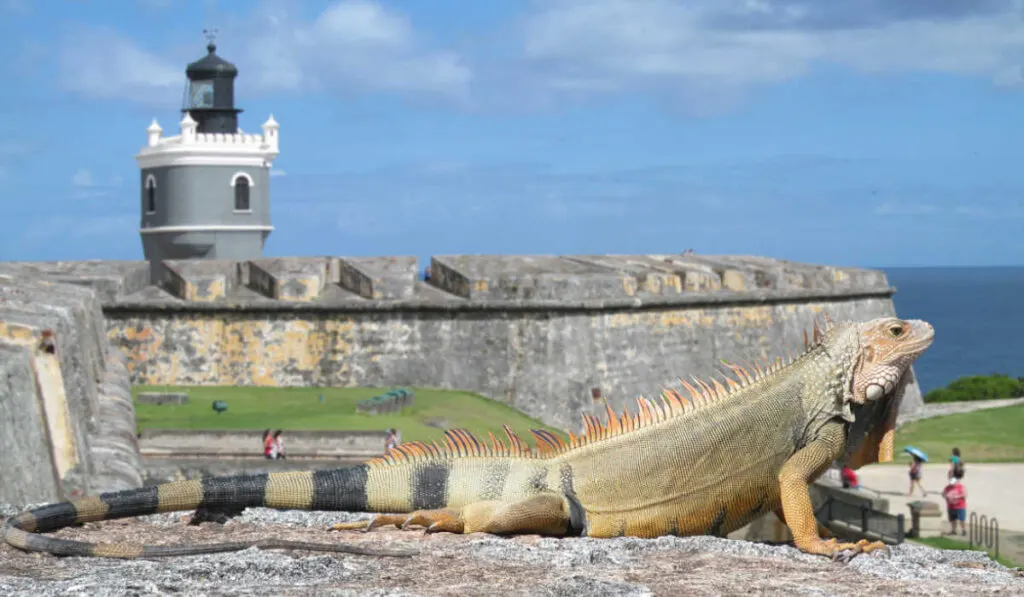 Old San Juan is an old city reminiscent of other global areas. Mix the colorful buildings of Cuba, the cobblestone streets of Belgium, and the historic fort of the Tower of London, and you've arrived in Old San Juan, Puerto Rico.
I remember sailing into Puerto Rico on a back-to-back eastern and western Caribbean cruise. Its old-world charm captivated me, and I couldn't wait to explore its cobblestone walkways. While I only had one day in Old San Juan, its history and beauty encouraged me to soak it all up.
Old San Juan is a UNESCO World Heritage Site and is best explored on foot, as driving the narrow streets is challenging. While most travel to the Caribbean for its sandy beaches, San Juan has much more to offer.
After one visit, you'll fall in love with romantic San Juan, as I did.
What To Pack For Puerto Rico
Being in the Caribbean, Puerto Rico's heat and humidity are stifling, no matter what time of year you visit. Puerto Rico is a great place to cruise in January when the temperatures are more bearable.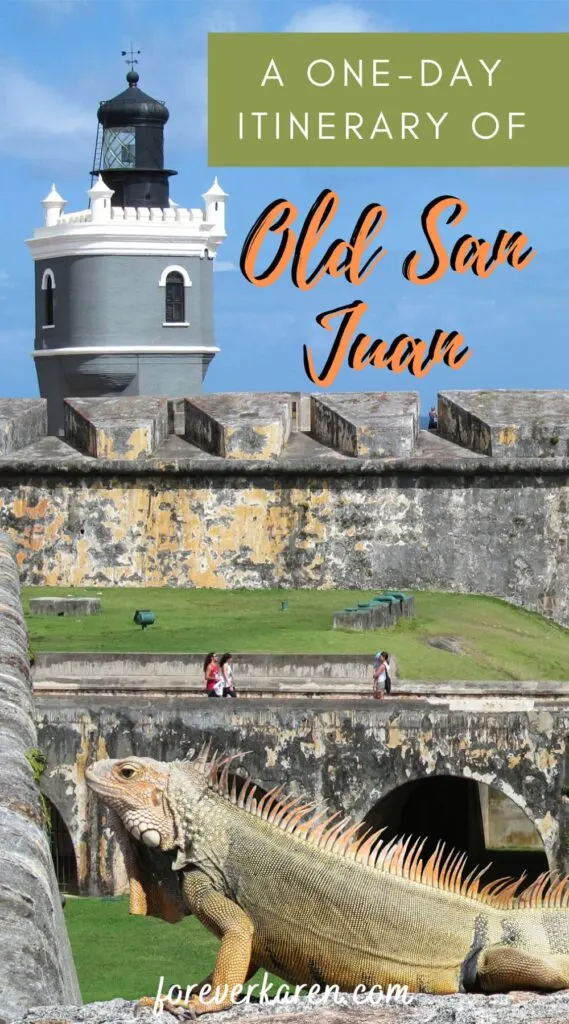 With an average temperature of 29 C or 85 F, the humidity made it seem hotter, especially coming from the wintery conditions in Canada. Puerto Rico is a popular port for taking closed-loop-type cruises.
So, here are the best things to add to your Caribbean packing list that I found useful during my one day in Old San Juan, Puerto Rico.
Wear loose clothing of natural fabrics like cotton and linen. Natural materials breathe and absorb perspiration.
Use and carry sunscreen and apply it often. When I'm active, I prefer sunscreen spray. I can reapply it during the day without getting a sticky lotion on my hands.
Protect your head from the harsh sun by wearing a hat. Remember to use sunscreen on your ears and neck, even with a hat.
Carry bottled water to prevent dehydration. I always pack a collapsible water container because it's easy to fill on my cruise ship and takes up little space when empty.
Bring American dollars. Puerto Rico is part of the United States, so businesses accept US Dollars.
Old San Juan has lots of uneven cobblestone streets. Wear comfortable walking shoes instead of flip-flops to prevent ankle twists and strains.
A compact umbrella is helpful as it can rain a lot in Puerto Rico. I experienced a downpour during my visit and extreme humidity after the rain stopped.
Bring a camera to capture those memories.
Things To Do In Old San Juan
I stopped in Puerto Rico on a back-to-back cruise of the eastern and western Caribbean. It was a magical vacation where I enjoyed a private beach club in Cozumel, swimming with stingrays in Grand Cayman, ziplining in Roatan, and many other excursions.
Cruising into Old San Juan, most ships dock at Terminal 4, a stone's throw from all significant Puerto Rico landmarks.
After disembarking the ship, cruise passengers are often overwhelmed by the tours and excursions. However, Old San Juan is a great place to explore on your own. So, here are the best sites to visit during a one-day itinerary of Old San Juan.
Tour Castillo San Felipe del Morro
Location: 501 Calle Norzagaray / Hours: 9 am to 6 pm daily
Renowned for its rich history, you can't go wrong with visiting one of San Juan's old fortresses, a San Juan National Historic Site. Approaching El Morro, its façade and beautiful grassy esplanade wowed me.
With blistering heat, it was nice to get inside the stone walls to uncover its rich history. Older than Castillo San Cristobal, the fort is showing its age with weathered erosion.
However, this ancient fort served the country well in defense with its 16-foot-deep walls that tower 140 feet above the ocean.
Inside, the Plaza de Armas served as a central gathering for troops training. Off the courtyard, open doorways led to dark hallways and a tunnel of small rooms. Here, there were kitchens and the troops' barracks.
The sleeping rooms featured wooden beds with no mattresses. Surely not a comfy place for rest. Informational plaques tell the history of the fort, along with ancient artifacts and photos.
Outside, the fort is vast and spreads out over six levels. It took me a couple of hours to explore the fort and learn its history.
A steep walkway took me from the Plaza to a lower level. With openings in the stone wall and marking for cannons, it's clear that this is where all the action took place.
From the fort, there are sweeping views of the ocean, San Juan Cemetery, and beyond. Behind Santa Maria Magdalena de Pazzis is a sketchy neighborhood called La Perla, which tourists best avoid.
The fortress is massive, so no matter how people are there, I had areas to myself on many occasions. Be sure to check out the sentry boxes called garitas, positioned on each corner.
Here, armed troops patrolled for intruders, and these garitas are now an iconic symbol of Puerto Rico.
Explore Castillo San Cristobal
Location: 501 Calle Norzagaray / Hours: 9 am to 6 pm daily

While Castillo San Felipe del Morro, or El Morro, was built to stop an ocean invasion, Castillo San Cristobal's structure was to prevent land attacks from the east.
Built by Spaniards to protect San Juan from attack, Castillo San Cristobal has remained a massive stronghold for centuries.
The imposing fortress is within walking distance from the cruise terminal and should only take ten minutes. Named after Saint Christopher, the Patron Saint of Travelers, it's America's largest fort.
On a self-guided tour, expect to spend about two hours exploring this coastal fortress. San Cristobal, like El Morro, is part of the San Juan National Park Service.
So, your US 10.00 entrance fee is a 24-hour pass, suitable for both venues, should you have enough time. Park rangers are a wealth of knowledge, and I left with a greater appreciation for the area's history.
San Cristobal is newer than Castillo San Felipe del Morro (El Morro), and while its interior is not as attractive, the views from the fortress are superb.
During a visit, take time to explore the myriad of tunnels. While some of the ramps are steep, the walk to wander the dungeons and grottos is rewarding.
During my wandering, I discovered numerous green iguanas sunning themselves on the warm stone walls. I was surprised at their colors and enormous size.
Being from Canada, I am accustomed to black bears instead of lizards, haha. Although endangered in many areas of the world, Puerto Rico's iguanas are plentiful.
Visit Santa Maria Magdalena de Pazzis
Location: Calle Cementerio / Hours: 7 am to 3 pm daily
Visiting a cemetery might not seem like the ideal thing to do on vacation. However, Santa Maria Magdalena de Pazzis holds the burial spots for numerous notable Puerto Ricans.
Perched on a cliff overlooking the ocean, the San Juan cemetery couldn't have found a more peaceful setting.
Located on the coast between San Cristobal and El Morro, it's easily added to Old San Juan's one-day itinerary. I stopped by on my way back from seeing El Morro. Access to the cemetery is by way of a tunnel.
The tombstones are predominately white, and even in their deteriorating condition, the graveyard is spectacular. Initially constructed in the mid-1800s, some of the memorials showed their age, and Hurricanes damaged others.
In the center of the compact cemetery, a tiny red-domed chapel provides shade from the scorching sun. Browsing the Genevan memorials and stunning sculptures gave me a glimpse into the lives of influential Puerto Ricans.
The angel sculptures are particularly spectacular, and some of the tombstones are enormous by North American standards.
Some might consider me a cemetery hound for visiting such a place on vacation. However, I find cemeteries are humbling places, and some hold unforgettable histories.
In Oahu, the Cemetery of the Pacific is a must-see for its connection to the sad events at Pearl Harbor.
Discover La Puerta de San Juan
Location: Calle Caleta De San Juan
An ancient city wall surrounds much of downtown and has a door or entrance. La Puerta de San Juan, or San Juan Gate, is the original colonial entrance to Old San Juan. Walking the La Princesa leads to the San Juan Gate.
From the 1500s to 1800s, travelers passed through this gate when entering and leaving the protected city. Above the entrance, the Latin inscription "Benedictus qui venit in nomini Domini" means "Blessed are those who come in the name of the Lord."
Named after Saint John the Baptist, the San Juan Gate is the only existing gate of the original five similar gates.
See Catedral Basilica de San Juan Bautista
Location: 151 Calle del Cristo / Hours: Daily 9 am to 5 pm
The historic Catedral Basilica de San Juan, or San Juan Cathedral, is a must-visit. It's one of the oldest structures in Old San Juan and the oldest church built on US land.
A hurricane destroyed the initial wooden building with a thatched roof, so in the 1540s, a more robust church replaced it.
Interestingly, the cathedral's location is close to the San Juan Gate. When travelers arrived in San Juan, they passed through the gate and into the cathedral to give thanks for their safe arrival.
While free to enter, the church appreciates donations to help pay for restoration work. San Juan cathedral is still operational, and if you're lucky, you can enjoy a service when visiting.
The Roman Catholic church you see today is small, but its gothic-inspired facade is beautiful. The interior features beautiful Spanish architecture and its restored frescoes are exceptional.
I particularly enjoyed the stained glass windows and the Gothic domed ceiling. Inside, I found the resting place of Ponce de Leon encased in a marble tomb.
Ponce de Leon was a Spanish explorer who served as Puerto Rico's first governor. It's also the resting place of the Roman martyr Carlos Manuel Rodriquez Santiago.
Pray For A Miracle At Capilla del Cristo
Location: 1 Calle del Cristo / Open: Tuesdays and religious days
Further down on Calle del Cristo and at the end of the street, a small 18th-century stone structure is the smallest chapel I have ever seen. Almost hidden from sight, most visitors would miss the simple one-story design of stone walls and tiny belfry.
It is said that centuries ago, a rider fell off his horse at this stop during the Festival of San Juan Bautista. While the horse did not survive, Baltazar Montanez did, and he later constructed this chapel to give thanks for his life.
Inside Capilla del Cristo, or Chapel of Christ the Savior, the small altar glistens in silver and gold and is adorned with oil paintings. Many people come here praying for their own miracles.
Next to the small chapel, the Parque de las Palomas is a shaded cobblestone courtyard offering picturesque views of San Juan Bay. The park attracts a large gathering of pigeons eager to be fed.
If you're afraid of birds, you may want to pass on this park. I was astounded by the number of birds in the courtyard the day I visited, and it was almost reminiscent of the movie "The Birds."
On one side, the brick wall has holes in which the birds rest. I'm not sure if it was intentional, but much appreciated by the feather flock, I'm sure.
See Casa Blanca
Location: 1 Calle San Sebastian / Open: Tues to Sun 8:30 am to 12 noon, and 1 pm to 4 pm
While Catedral Basilica de San Juan serves as Ponce de Leon resting place, Casa Blanca was his home. Constructed in 1521, the house consisted of just one room initially.
Expanded several times, a USD 5.00 tour tells each room's history and when it was built. Like Capilla del Cristo, Casa Blanca is off the beaten path and easy to miss.
It's sad to learn since Ponce de Leon traveled a lot, he never lived here and died before completing the home. Nevertheless, his descendants enjoyed the residence for 250 years.
On the second floor, the views of the city and San Juan Bay are stunning. Outside, the beautiful gardens are accessible and do not require a fee.
Admire La Fortaleza
Location: 63 Calle Fortaleza / Hours: Mon to Fri 8:15 am to 3:30 pm
While Catedral Basilica de San Juan serves as Ponce de Leon resting place, Casa Blanca was his home. Constructed in 1521, the house consisted of just one room initially.
Expanded several times, a USD 5.00 tour tells each room's history and when it was built. Like Capilla del Cristo, Casa Blanca is off the beaten path and easy to miss.
It's sad to learn since Ponce de Leon traveled a lot, he never lived here and died before completing the home. Nevertheless, his descendants enjoyed the residence for 250 years.
On the second floor, the views of the city and San Juan Bay are stunning. Outside, the beautiful gardens are accessible and do not require a fee.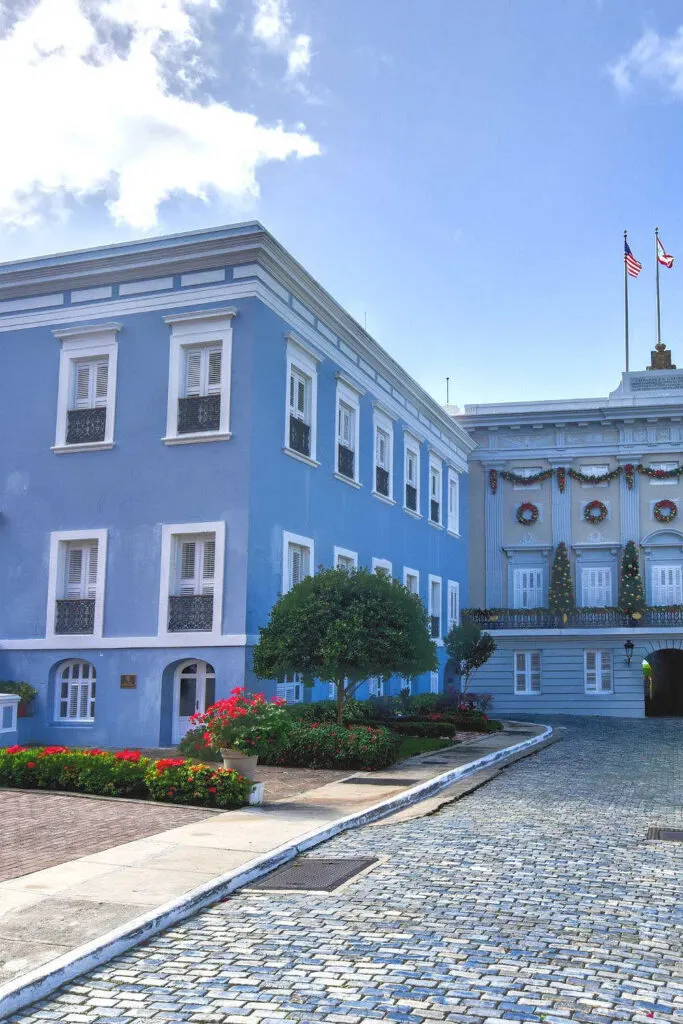 Inside the beautiful mansion, signs of it being a fortress are gone. Instead, the home has become a stately piece of colonial architecture with crystal chandeliers, period furniture, and fine artwork.
The staircase is a show-stopper with Catalonian tiles and a domed ceiling featuring military trophies and shields.
The tour can include the dungeons, chapel, and surrounding gardens. Outside, the home has had a facelift with its baby blue color.
See A Narrow House
Location: 101 Calle Tetuan / Hours: Mon to Fri reservations are required for tours between 4 pm and 6 pm
From the outside, La Casa Estrecha appears too small to be a residential home. At five feet three inches wide at its widest point, it wouldn't meet building codes in most metropolitan cities.
La Casa Estrecha is in the Guinness Book of World Records as being the narrowest two-story house in the Western Hemisphere. Wedged between two homes, what was once an alley, is now a narrow house.
Its current owner, architect Antonio Alvarez, designed the interior visitors see today. With a bright yellow façade and leaf-green doors, the house is hard to miss on Tetuan Street.
Inside, the house has all the comforts of home, just on a much smaller scale. While there is no foyer entering the home, the hallway room features chairs for lounging, a dining table for two, and a tiny kitchen at the end.
Upstairs contains a sleeping area and bathroom similar to an RV washroom. On the upper level, views of the surrounding city are magnificent.
While the humble home is too small for entertaining, it provides the perfect venue for showcasing the works of local artists.
Relax At Balneario El Escambron
Location: Access off Calle San Agustin
If you're not a history buff and prefer a sandy beach, Balneario El Escambron fits the bill. Blue Flag beach is located in Old San Juan and offers great snorkeling in the nearby coral reefs.
At 2.3 km (1.4 miles) from the cruise terminal, it's best to grab a taxi to get here. This Old San Juan beach has calm and protected waters, making it safe to swim.
Being downtown, you'd expect it to be busy, but it's fairly quiet. From the warm waters, enjoy the distant views of the impressive El Morro.
Beyond Balneario El Escambron, you can check out the beautiful beaches of Condado Beach, Ocean Park Beach, and Pine Grove Beach. While these beach fronts have beautiful white sand, they are not protected, so the ocean currents are stronger.
If you prefer to snorkel or are not a strong swimmer, it's best to visit Balneario El Escambron.
Experiencing Puerto Rican Food
When traveling to a new destination, it's great to try the local cuisine and signature drinks. On the recommendation of a local, I ate at the Punto de Vista restaurant on the roof of the Milano Hotel.
Browsing the streets of the city, I would never have found this place, so I always ask the locals for their best picks. Inside, Punto de Vista has simple décor with both an indoor and outdoor dining area.
Just a stone's throw from the cruise ship terminal, the fifth-floor eatery is the perfect location for cruise ship passengers. The day I visited, the elevator was not operational, so the trek to the top floor made me hungrier.
Everything on the menu looked enticing. However, I ordered the waiter's recommendation of Mofongo Relleno (traditional stuffed mofongo), Pechuga de Pollo (grilled chicken breast), and Mojitos.
The mofongo was amazing, the chicken was dry, and the drinks were strong. But then again, I usually don't drink.
If you're a foodie, consider taking a food tour. You'll visit several local establishments and try authentic Puerto Rican food.
Restaurants In Old San Juan
Other restaurants in Old San Juan include:
For the best Mojitos, try out the trendy El Asador. Its menu has a mix of meat and seafood cooked in traditional Puerto Rican fashion. Some also claim it has the best Mofongo in San Juan. I'll let you judge for yourself.
The Stuffed Avocado is the perfect place for something light and refreshing. The healthy menu combines avocadoes with select proteins and yummy sauces.
Choose from signature combinations or build your own meal. The only prerequisite is that you must like avocadoes!
Sofia's Italian Steakhouse adds new aspects to traditional Italian fare. With vegan and gluten-free options, there's something for everyone.
Finca Cialitos is a fabulous coffee shop that I visited during a downpour. It offers authentic Puerto Rican coffee for the coffee hounds. Along with its aromatic brews, it serves amazing paninis and fresh pastries.
For chocolate lovers everywhere, Chocobar Cortes is heaven on earth with its chocolate-focused menu. Inside, the smell of chocolate teases the palette.
If you're looking for a twist on Mofongo, try the Chalupitas de Mofongo, which is served with a hot chocolate sauce. My pick is the chocobar salad bowl with chocolate vinaigrette.
For a cooling treat, Señor Paleta's frozen treats combine natural flavors with yummy toppings to satisfy any sweet tooth.
Walk The Cobblestone Streets
Old San Juan begs to be explored on foot. The cobblestoned streets and historic buildings painted in pastel hues are so charming.
Many streets feature beautiful homes with intricate iron railings and unique wooden doors. These picturesque details are sadly missing in modern architecture.
Can't-miss streets are Calle Fortaleza which has interesting shops and great restaurants, Calle del Cristo, and Calle San Francisco.
Old San Juan Casino is a beautiful building used for events, weddings, and celebrations. Despite its name, it has no slot machines or gambling tables.
Overlooking the ocean, La Rogativa statue, meaning "the procession," commemorates the British coming to San Juan. The bronze sculpture depicts a bishop marching through the streets, followed by torchbearers. It's found close to the San Juan gate.
Located on Calle de Cristo, the Plaza del Quinto Centenario features a 40-foot-tall sculpture called El Tótem Telúrico. It commemorates the 500th anniversary of Columbus's initial journey to the Americas.
Wandering the cobblestone streets, I saw numerous interesting sculptures; most were inspired by Puerto Rico's history.
Old San Juan Shopping
If you're cruising to Puerto Rico and want to do some duty-free shopping, there is endless Puerto Rican merchandise to spend your dollars on. While there are the usual shops like Guess, Tommy Hilfiger, and Coach, I prefer the local goods.
You can't go wrong with Puerto Rican coffee for its delicious flavor and rich aroma. The top picks for caffeine are Volcanica, Alto Grande, Julian Coffee, and Yaucono.
Additionally, the Caribbean is known for its rum, with Puerto Rico supplying much of the United States. Why not pick up some local flavored rums not found on the continental mainland?
I'm not big on trinkets, but I like to purchase food and products to cook at home. Puerto Rico has a wonderful collection of spices and hot sauces.
So, try to replicate a Puerto Rican dish with Sofrito, a blend of spices. Sazon and Abodo are also staples in Spanish and Mexican foods and are readily available in Old San Juan.
Being a fiber artist, I was thrilled to discover San Juan was famous for its bobbin lace or Mundillo. The art of Mundillo is time-consuming, but the result is a magnificent piece of delicate lace.
Used as borders on tablecloths, napkins, and clothing, the lace is almost too beautiful to use.
Segway Tour Of Old San Juan
Location: Pier 2, Office 4, off Calle Marina
If walking in the heat isn't your thing or are mobility challenged, consider a Segway guided tour. A Segway is easy to ride, and participants have a riding lesson before commencing.
Segways are safe and provide a faster way to cover the hills and streets of this historic place. A two-hour tour covers popular tourist spots, and the guide provides explanations of each area.
You'll learn the history of how Puerto Rico transitioned from being a Spanish colony to becoming part of the United States.
I like Segway tours because they're limited to small numbers, so I feel like I'm getting a personal history tour. When booking a tour, I prefer an early time. After viewing snippets of attractions, I then decide where to go for in-depth exploration.
The gathering point for the tour is pier two on Calle Marina, near the cruise ship terminal. A helmet is mandatory (provided) during the excursion, and lockers are available for bags. Remember to bring a cell phone in a pouch or GoPro to capture the adventure digitally.
Wrap It Up
As you can see, Puerto Rico is more than a Caribbean island; it's a living history book of stories and treasures. If you only have an Old San Juan one-day itinerary, the tourist spots' compact area is easily walkable.
With a comfy pair of shoes and plenty of water, most things are viewable within a day. Since many tourist attractions close between 5 pm and 6 pm, cruise ship passengers that arrive late in the afternoon will not see as much.
If Puerto Rico is high on your bucket list when cruising, choose an itinerary that arrives in San Juan early in the day. Alternatively, book a cruise that home ports in Puerto Rico and add a few land days to the seven-day itinerary.
Beyond Old San Juan, a rental car allows El Yunque National Forest access, the only tropical rainforest in the United States. It offers waterfalls, gorgeous foliage, and great hikes for the adventurous.