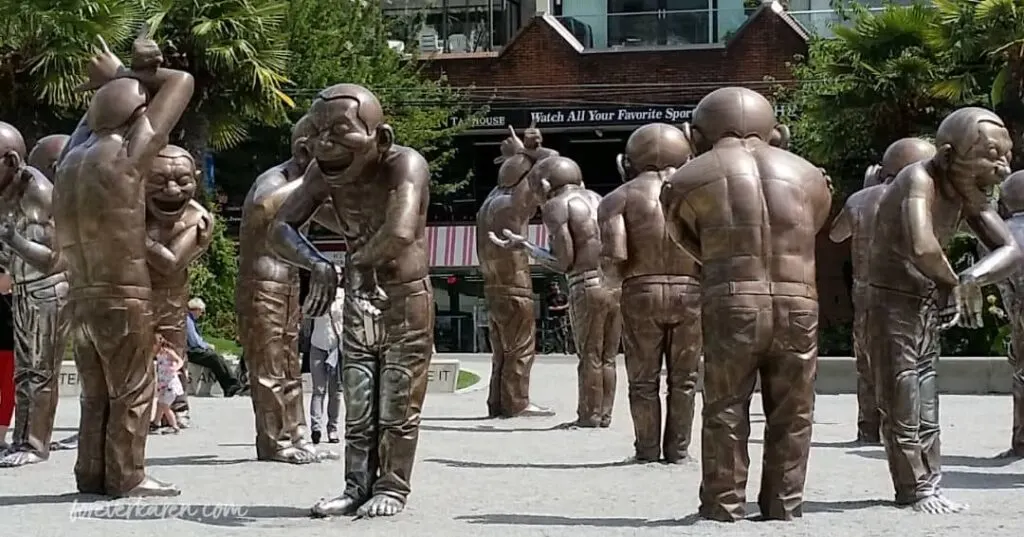 Travels to a new city begs for exploration in search of the highlights and top tourist attractions. While Vancouver activities are vast, sometimes, it's nice to get off the beaten path and find hidden gems, unusual places, and peculiar things. One of the benefits of seeking out the unusual is avoiding tourists and pedestrian congestion. These weird things to do in Vancouver may not be on your radar. But, step outside of your comfort zone to the world of weird and wonderful, and you might be pleasantly surprised.
Living in Vancouver for over 30 years, I have to admit I love this city. While I've grown accustomed to the crowds at tourist hot spots, it was strange to see those areas void of people during the pandemic. So, whether you have 3-days in Vancouver or a week, let's get off the tourist treadmill together and seek out the weird and wondrous delights.
Have Movie Night At The Morgue
Location: 240 East Cordova St | Closest Skytrain Station: Stadium-Chinatown
Do you love thriller movies and want to take date night to the next level? Consider having a sinister movie night at Vancouver's first morgue. Can a Vancouver date night get any weirder than this? Thrill-seekers can find the morgue in the Vancouver Police Museum.
This popular event sells out fast and costs just CAD 12. Add on a drink or popcorn for an additional CAD 1. Covid-19 restricts attendance to only sixteen people. So, grab your loved one and cosy up next to the autopsy table while watching a classic like Silence of the Lambs, Psycho, or The Exorcist. It's best to arrive early so that you can explore the morgue before your perfect fright night!
Roost With Sparrows
Location: Corner of Salt St. and Athletes Way | Closest Skytrain Station: Science World
Nestled in a quiet area of Olympic Village, a pair of house sparrows welcome visitors to the False Creek Olympic Plaza. The male and female sparrows are towering at fifty times their standard size (15 to 18 feet tall) while realistic looking. Not native to North America, the sparrows add a touch of whimsy to the mundane aspects of urban living and beg for a selfie.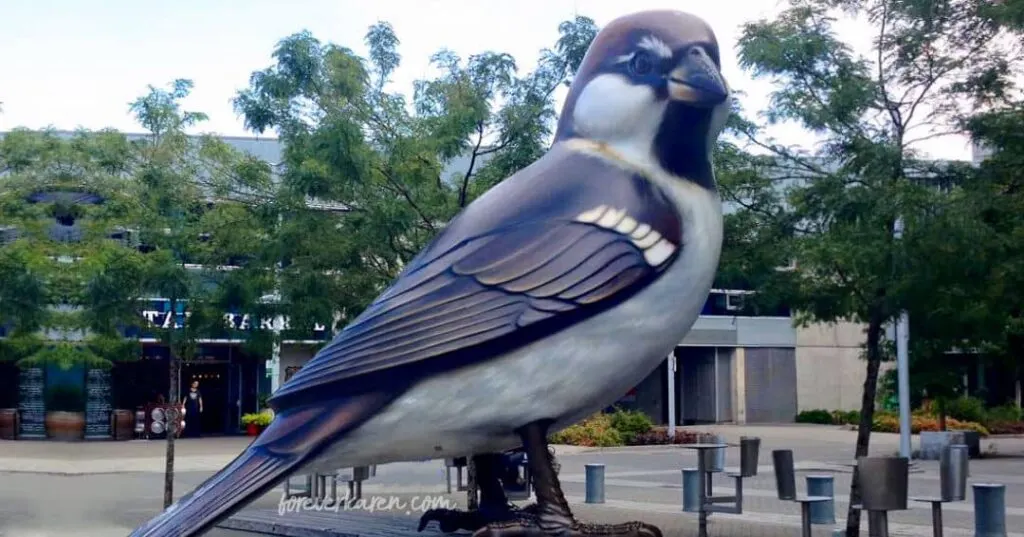 Canadian artist Myfanwy MacLeod designed the pair for the 2010 Winter Olympic Games. In an artist statement, MacLeod said small birds generally go unnoticed in urban landscapes. By making them larger, the relationship between birds and humans changes. We, as humans, become bird food and should stand up and take notice.
Introducing a small creature to a foreign country can create havoc in an established ecosystem. So, the art installation hopes to raise awareness and lead to a sense of shared responsibility. Even at their tall size, I find these sparrows adorable. How about you?
Ride On Top Of The Grouse Gondola
Location: 6400 Nancy Greene Way, North Vancouver
Grouse Mountain is known for its spectacular views of Vancouver. To get to the top of the mountain, visitors can climb the challenging Grouse Grind trail or ride a gondola to the top. The Grouse gondola has a unique feature that other gondolas don't offer. It allows adventurous individuals to ride on top of the cable car for an extra fee.
If you think you misread this, you haven't. The Skyride Surf Adventure is not for the faint of heart. A small group climbs onto the roof of the cable car, which has a safety rail. During the ride, passengers enjoy unabated views of downtown while feeling the wind in their hair. Morning ascents start at 8 am and evening descents at 8 pm.
Reservations are required, as are closed-toed shoes. The Skyride Surf Adventure reserves the right to cancel should it be too windy or it rains. Are you up for the adventure?
Sit In A Giant Adirondack Chair
Location: 555 W. Hastings Street | Closest Skytrain Station: Waterfront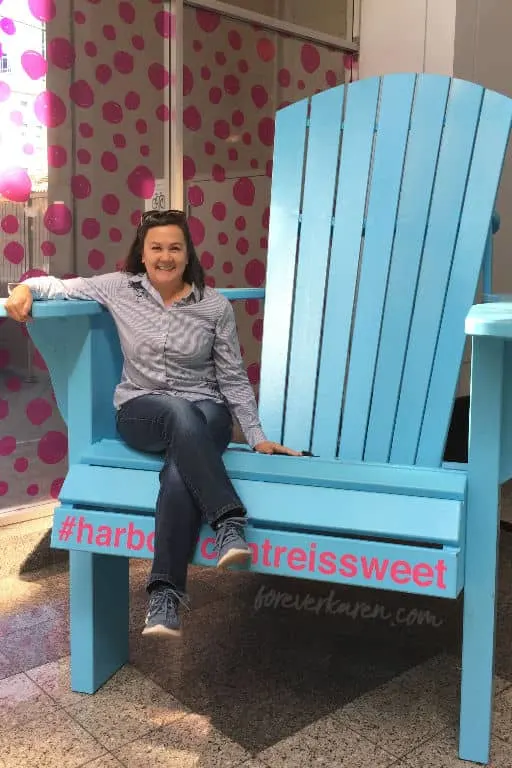 Located downtown, the Harbour Lookout offers impressive Vancouver views of the north shore mountains and urban city. While there's a fee to ride the glass elevator to the sky-high lookout, the foyer harbors a secret inside the Harbour Center building.
It has a giant blue Adirondack chair on display and invites visitors to pose for an Instagram shot and use the hashtag #harbourcentreissweet
It doesn't require an entrance fee to see or sit in it and makes for a fun candid photoshoot. Being only five feet tall (or short), I felt like a character from "Honey, I shrunk the kids" movie scrambling up onto the wooden chair. If you're travelling in a group or with a large family, the entire family can fit in this colourful chair.
Participate In A Polar Bear Swim
Location: English Bay, Vancouver | Closest Skytrain Station: City Centre or Yaletown
Each New Year's Day, approximately 2000 Vancouverites participate in a weird tradition of the Polar Bear Swim. As the phrase suggests, crowds of people strip off their clothes and jump into English Bay's frigid waters. The crazy annual event attracts a large gathering, some participate, while others just watch.
These polar bear swims happen all around the country, and in some areas, they need to break the ice to reach the water. BRRRR!!! Hungover from New Years' celebrations the night before, most participants show up in bizarre costumes, which adds some fun. Maybe the costumes add an extra layer of warmth?
So, the question is, if you're in Vancouver on New Years', are you up for the challenge?
Admire A Totem Pole Of Cars
Location: Quebec Street and Milross Avenue | Closest Skytrain Station: Science World
While the Pacific Northwest houses an extensive collection of wooden totem poles, Vancouver is home to a different flavour of totem pole. Located in False Creek at Quebec Street and Milross Avenue, a large cedar tree acts as the artistic totem base.
The weird Vancouver structure consists of five scrapyard cars stacked on top of each other. With the smallest at the bottom and the largest on top, the totem is quite eye-catching.
The structure, entitled "Trans Am Totem," is the work of Vancouver artist Marcus Bowcott. It's hard to miss in the middle of a roadway median, next to the Georgia Viaduct. At first glance, it might seem like artwork celebrating the automobile, with hundreds of cars driving by each day. But, it's in fact, the opposite.
With the world going to an alternative fuel source, it's a reminder that gasoline vehicles are on their way out. Are you worried about the stability of the cars? Don't be. In the structure's core, a steel column acts as support while each car is drilled with a hole so they could slide over the pole. During dawn and dusk, the headlights and taillights illuminate by use of solar power.
Get A Selfie With A Pixelated Orca
Location: Vancouver Convention Centre West Building, 1055 Canada Place | Closest Skytrain Station: Waterfront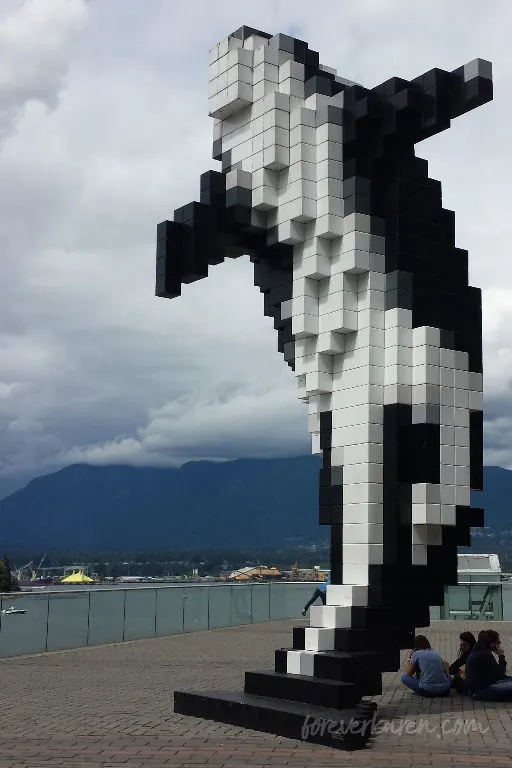 At twenty-five feet tall, Vancouver's Pixel Whale is smaller than most orcas. Yet on land, the giant art installation of a pixelated orca stands out against the blue waters of Burrard Inlet and the snow-capped mountains.
Constructed in 2009, the Digital Orca is Douglas Coupland's work and stands outside the Vancouver Convention Centre near the iconic Olympic Cauldron. Its black and white color scheme and large blocks resemble that of Lego bricks. Interesting that visitors' reactions are mixed. While some say, "meh, my kid can make that from Lego," up close, the intriguing design is pretty cool.
Nearby, the Olympic Cauldron is what draws most visitors to Jack Poole Plaza. However, the art installations of the Digital Orca and "The Drop," a giant water droplet, are a bonus.
Attach A Love Lock
Location: 4600 Cambie Street | Closest Skytrain Station: King Edward Station
You don't need to travel to Paris or Rome to celebrate your love with a love lock. The city of Vancouver invites you to attach a lock legally. Many cities worldwide have been dismantling bridge railings due to the number of key locks attached to them. While attaching love locks is often discouraged today, Vancouver encourages couples to express their love by securing a personalized love lock to their "love in the rain" art installation.
Perched on a hill in QE Park, love in the rain depicts jovial figures carrying umbrellas. The attached locks are all different shapes and sizes, and it's interesting to read the inscriptions. Nearby, a dropbox provides a place to leave your key after attaching your lock. The keys are gathered and melted down and later made into future artwork.
See The Fruity Cement Mixes
Location: 1415 Johnston St, Granville Island | Closest Skytrain Station: Olympic Village
It might seem weird to marvel at a cement mixer. At first thought, you'd be right. However, Ocean Concrete, located on Granville Island, has concrete mixers that will make you smile. Push aside those dusty industrial-looking trucks in favor of some cheery rigs. The larger-than-life bunch of asparagus, corn-on-the-cob and giant strawberry adorn the mixer's drum.
There's even a design of a smiley sunshine face. The colorful mixers drive around the city acting as free moving advertisements for its neighbor, the Granville Island market. Once a year, Ocean Concrete hosts a family day that invites locals to get up close and personal with all aspects of the cement-making business. The kids play in the giant sandboxes while adults can get their selfies next to the cheerful mixing trucks.
To get to Granville Island, take the Skytrain to Olympic Village, then use the Aquabus to Granville Island waterfront.
Watch A Steam Clock
Location: 305 Water Street, Gastown | Closest Skytrain Station: Waterfront
Beneath the cobblestone streets of Gastown, a series of steam pipes supplies heat to the Vancouver downtown area. In the late 1970s, Raymond Saunders and Doug Smith built a steam clock over these pipes. Today, the steam that powers the clock's whistles has become a tourist attraction as visitors gather to hear its unique chimes.
Built to draw travelers to Gastown, the small steam clock is the only functioning clock of its kind in the world. It's easy to find; just look for the crowd on the corner of Water Street and Cambie Street. The clock sounds the Westminster chime every quarter-hour and a large whistle on the hour.
Inside the glass casing, a series of ball weights use gravity to power the clock. Its inner mechanisms are as impressive as hearing the steam chimes. Outside, a series of plaques tell its history, recall its maker, and those who contributed to its existence. Over the years, this steamy clock has become quite an iconic feature of the beautiful area of Gastown.
Barbeque On The Ocean
Location: 1820 Mast Tower Lane, Granville Island | Closest Skytrain Station: Olympic Village
Are you looking for some insane summer fun and want to try the newest craze? Then add a barbeque boat rental to your summer bucket list. Grab a few friends and some BBQ food, and head out onto the water in a circular watercraft from Joe's BBQ Boat.
The round orange boats resemble floating hot tubs with a propane BBQ in the center. Boat rentals don't require a boating license, and a small electric engine powers each craft. Limited to eight persons, you can be captain of your own grill with a fantastic waterfront view.
Laugh With The Laughing Men
Location: Morton Park, 1800 Morton Ave | Closest Skytrain Station: Burrard
"Laughter is the best medicine," as the famous saying goes, so why not laugh with the laughing men in Vancouver? Comprised of fourteen hilarious statues, the A-maze-ing Laughter bronze sculptures each have jovial smiles and funny poses.
Designed by Yue Minjun, the art installation depicts himself laughing hysterically. The bare-chested men have become a popular attraction and a great place to take some memorable selfies.
Located on a grassy patch on Davie St and Denman St's corner, the three-meter-tall statues have the perfect English Bay backdrop. Installed in 2009 for the Vancouver Biennale Exhibition, the non-profit organization aims to capture the viewers' attention with engaging public art.
Once I saw the A-maze-ing Laughter, I agreed they hit the nail on the head with these larger-than-life characters.
Vancouver is home to some amazing artwork, both sculptures, and artwork. The annual mural festival allows artists to add murals in Vancouver, and at last count, there are over 300 in the city.
Feel Engaged At The Engagement Statue
Location: 1204 Beach Ave, Sunset Beach Park | Closest Skytrain Station: City Centre or Yaletown
Sometimes the simplest objects make the best art pieces, just on a different scale. The Engagement Sculpture on Sunset Beach is just that. Embedded in a grassy spot close to the seawall, the diamond ring sculpture pair is 30-feet tall. The art installation is open to interpretation and the artist, Dennis Oppenheim, created the diamonds from clear plexiglass.
At night, the plexiglass diamond "houses" illuminate, leaving the rings invisible. Whether these rings represent love, marriage, or unity, I felt the art installation is both weird and wonderful.
Walk The Plank On A Pirate Ship
Location: 1820 Mast Tower Lane, Granville Island | Closest Skytrain Station: Olympic Village, then take the Aquabus
Muster up your pirate spirit as you take to the high seas, on the Jolly Roger in search of treasure. Wearing pirate costumes, participants learn to read a treasure map, watch some swashbuckling action, use water cannons on Pirate Pete and survive a ships' mutiny.
The unique sail around False Creek is unforgettable, with many want-to-be pirates coming back for more pirate action. Located on Granville Island, the Pirate Adventures & Treasure Shop offers adventures for adults, kids, birthday parties, and corporate events. A 75-minute pirate escapade is CAD 30 plus tax.
As you can see, getting off the beaten path in Vancouver can produce some weird and unusual finds. Looking back on previous travels, I find these unique places and events are the most memorable. Outside of Vancouver, be sure to walk the Train Wreck Trail a wonderful easy hike near Whistler. Buried in an old-growth forest with no train tracks in sight, the strange graffiti-covered boxcars are a huge mystery.
So, do some exploring, whether you're in Vancouver or some other metropolitan city, the weirdness may turn into the wonderful!
Happy travels ~ Karen