Murals have adorned buildings for centuries but usually on ceilings and inner walls. Today, street murals are a way to beautify a naked wall, add color to an older neighborhood, and a method for artists to convey their language of color.
The annual Vancouver Mural Festival (VMF) invites budding artists to paint murals in Vancouver, Canada. The mural festival pays the artists for their time, and the artists design the murals in line with their client's requests.
While some don't find meaning in these outdoor artworks, others discover hope, inspiration, and a way to connect people with their communities. These murals aren't graffiti or splashes of paint on a wall.
They are carefully designed panoramas that convey stories, make connections, and bring smiles to those who view them. When it rains in Vancouver, they add a splash of sunshine to brighten your day.
I recently took a walking tour of several Vancouver neighborhoods, eager to immerse myself in the beauty of these incredible murals. I found not just artwork but also locals who have embraced the changes and take pride in urban poetry.
History Of Murals In Vancouver
The Van Mural Fest began in 2016, and its vision is to change the way individuals view art. Rooted in Mount Pleasant, the murals have branched outwards with over 300 colorful paintings adorning city buildings, streets, billboards, and even garbage dumpsters.
While most of the artists are locals, it was amazing to see other artists from all over the globe. The murals range in size from barely visible and often missed to giant ones that scale a skyscraper.
Outside of the mural festival, other colorful creations have evolved. One of the most popular among tourists is the colorful concrete silos on Granville Island. Painted by Brazilian artists Otavio and Gustavo Pandolfo, their whimsical smiles add life to the dusty silos.
After an artist creates a mural, Goodbye Graffiti, the Mount Pleasant Business Improvement Association maintain the artwork. The neighborhood quickly flags any defacing graffiti and quickly removes it, retaining the original murals for all to enjoy.
The murals have a life expectancy of a few years to decades, depending on their location and weather factors.
Walking several neighborhoods, I was surprised to see the vibrancy of some colors, even years after the artists painted them. At 2702 Main Street, an untitled mural by comic artist Johnnie Christmas depicts a young girl painting foxes.
Although painted in 2017, its scarlet red background still radiates from behind the urban garden blossoming in front of it.
Mount Pleasant Murals
The bulk of the Vancouver murals is between 4th and 12th Streets and Cambie and Main Streets. If you park near the intersection of Main and 8th, you can do a self-guided walking tour.
I downloaded the VMF app, which was incredibly helpful in navigating the area and finding murals nearby. I studied the map and added murals to my favorites so I'd know where to go on my mural walking tour.
Older murals are not always listed, so I was pleasantly surprised to turn some corners and discover them.
Mount Pleasant provides the ideal backdrop for outdoor beautification. The neighborhood blends a mix of mostly heritage buildings with small areas of urban renewal.
With many older buildings constructed with blank sidewalls, it's an opportunity for a blossoming artist to spread their wings.
While some murals are visible from the streets, others are in alleys or high up on tall buildings. 'The Evening,' at East 11th and Kingsway spans fifteen stories high on a condominium building. I can only imagine the task of completing such a mural.
'CommUNITY," a 25-foot mural at Kingsway and Broadway, caught my eye. It features an eclectic group of styles, painted together in a harmonizing goulash.
I later learned four local groups collaborated to create the painting. It was completed by those walking by who were invited to add color to specific spots.
A striking mural, 'Lady Mermaids,' engulfs three sides of a building on Main Street and 4th Ave. Painted by four women, the vibrant painting depicts four mermaid creatures swimming in a turquoise grotto.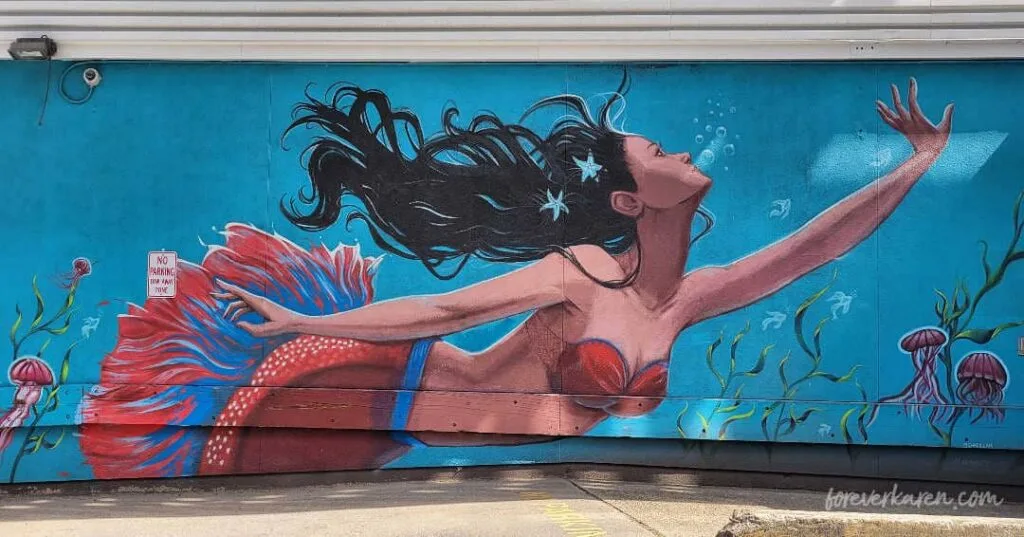 Even when the mural festival finishes, the artwork remains for Vancouverites and visitors to enjoy. But should you visit during the festival, you'll be able to see a creative artist at work and a mural in progress.
Emily Gray Murals In Vancouver
I was particularly drawn to murals by Vancouver artist Emily Gray. Emily prefers to paint large murals because they are challenging, and she likes to obsess over a big project instead of multitasking.
She says, "I like to share my artwork with the world and with the general public; it's there for everyone to enjoy and question and make their own meaning in it."
Her 'Ode to the Oceans' on 350 E 10th Ave features a giant orange octopus swimming in an ocean of sea kelp. Painted in 2017, it still radiates with vibrant colors, four years later.
When connecting with Emily Gray about her art, she says, "I'm inspired by the natural beauty of the west coast and how we are all connected in this cosmic soup."
On the other side of Kingsgate Mall, her love of earthly things is evident with the earth day mural.
A 'Mother Earth' figure intertwined with nature and starfish metamorphize into celestial creatures who dance in the night sky. Its hues reminded me of one of my favorite movies, Avatar by James Cameron.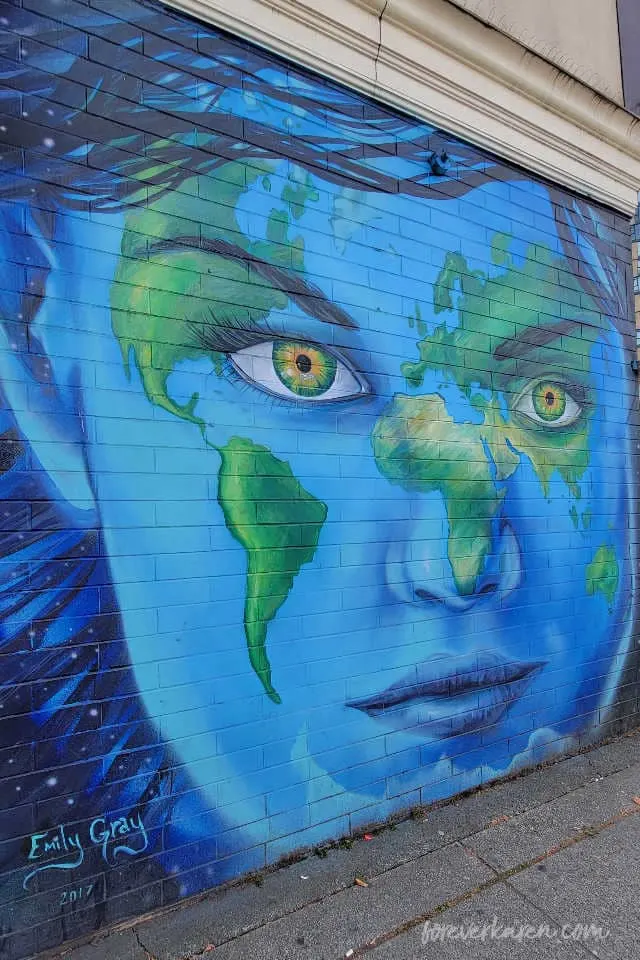 Further down the street, at Main and 10th, another whimsical painting in earth-tone colors celebrates life in Vancouver. Titled 'Cycle,' the elongated panorama features bicyclists and skateboarders riding up a wall of beans, asparagus, and eggplants, with False Creek as a backdrop.
I was captivated by this mural like a child in a storybook, and for a moment, I wanted to be part of its west coast 'neverland.'
Marpole Murals
In the Marpole area, at the south end of Granville Street, there are five murals. They are all on Granville Street from the 8100 to 8600 block.
The most catching one, 'Love ALL Your Neighbours,' says it all. Painted by Jocelyn Wong in 2020 during the height of the pandemic, she chose to focus on a message of love.
It took Jocelyn 12 days to complete the mural, a beautiful message surrounded by a diversity of flora. We can learn a lot from nature and learn to love everyone, no matter who they are.
A block away, two murals were in progress. The first, 'Be Like Water,' by Kyla Yin James, and across Granville Street' Coast Salish Mermaid' by artist Chrystal Sparrow.
The River District Murals
The River District in south Vancouver has some murals close together and doesn't require much footwork. However, these don't give the same vibe as the ones in Mount Pleasant. The artists painted the murals on sheets of plywood lining a footpath running parallel to East Kent Ave N, east of River District Crossing.
Known as the 'Garden Path,' the murals front a construction zone. Without building canvases, these murals lack the character of the former paintings, which are part of a neighborhood.
Parking Lot Murals
All over Vancouver, parking lot murals glamourize otherwise bare walls adjoining parking lots. I found it interesting that most who used the parking stalls were oblivious to the artwork nearby. Are people so busy in their lives that they tune out their surroundings?
When I looked back on the last 18 months, the pandemic has caused a change. It has been especially hard on people suffering from mental health. A local group, the Rabble Rousers, raises awareness and each year engages in a community initiative.
For 2021, the locals were part of the Van Mural Fest, painting a colorful mural at East 11th and Kingsway.
Aptly named 'Courage,' the bold letters say it all. Fronting the mural, I noticed a large dumpster is part of the mural, and an 'X' marks the spot to capture the precise alignment.
The large mural was in progress when I viewed it. Now finished, viewers can look beyond the lettering, and see small, unnoticeable objects which speak of meaningful symbols to the youth.
An acorn represents wisdom and strength, a butterfly transforms into something beautiful, and a feather defines a phoenix, rising from the ashes against all odds.
At 2508 Main Street, the community and Emily Carr students painted a parking lot mural called 'The Community Tree.' A Pacific Dogwood takes center stage and creates a sheltered environment for other creatures. In the same manner, the artist hopes the mural brings the community together.
Edgemont Village Murals
In 2021, Edgemont Village, on the north shore, added some murals during the Vancouver Mural Festival. Close to the Capilano Suspension Bridge, it makes a great stop to grab a latte and enjoy some outdoor artwork.
On the BMO building, Kari Kristensen, a contemporary printmaker, designed her mural in black and white. It contrasts significantly with the other colorful panoramas.
Across the street, the 'Taking Care Of Animals' mural is a fitting painting on the wall of the VCA Vet clinic. Painted in blue hues, it features three creatures that vets may treat; a parrot, a turtle, and a dog.
Final Thoughts
With five years down and over 300 murals, I can only imagine how beautiful Vancouver will be in another five years. Whether you're a local or a visitor with one, two, or three days in Vancouver, take a short walking tour in one of the mural neighborhoods.
The murals are easy to find, especially in Mount Pleasant, and you might be surprised by what you'll discover.
Happy travels ~ Karen