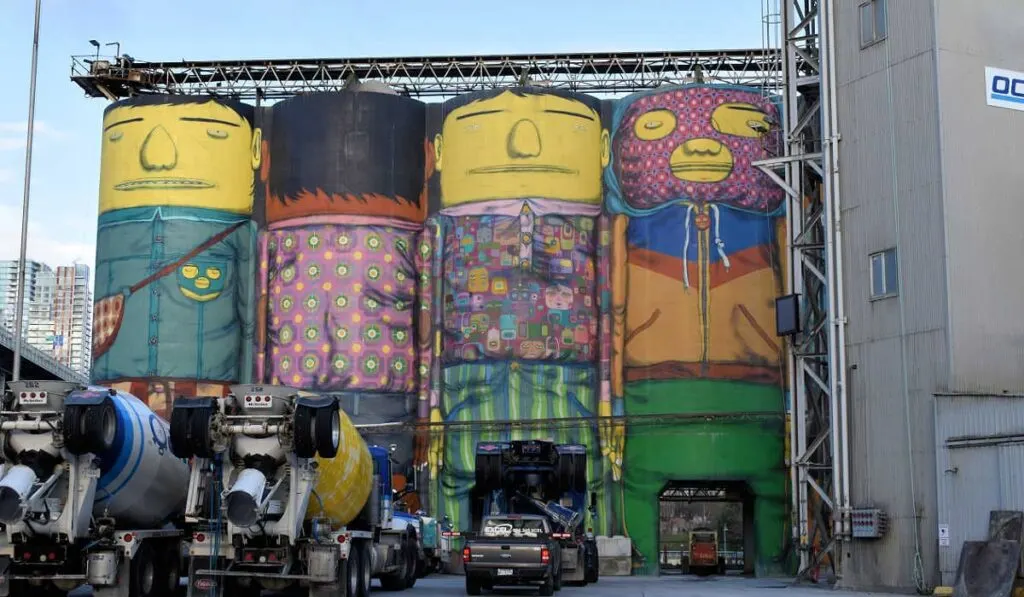 Whether you're a foodie, a family with tots in tow or someone who can't resist the urge to browse little nooks and crannies, Granville Island has a bit of everything. Not technically on an island, Vancouver's famous landmark is a peninsula under the Granville Street Bridge's southern section.
Blend the Portland Saturday Market, London's Borough Market with a sprinkle of New Orleans as the best of Granville Island exudes all of this and so much more.
The 35-acre parcel is home to almost 300 businesses that provide 2,500 jobs. Attracting over ten million visitors a year, Granville Island should be on every Vancouver itinerary.
Getting To Granville Island
Location: Under the south end of Vancouver's Granville Street Bridge
When staying in downtown Vancouver, Granville Island is best reached by the Aquabus or cute little water taxis, which ferry passengers across the water for a small fee. Access to the island is available from docks at Hornby St., David Lam Park, Stamp's Landing, Spyglass Place, Yaletown, Plaza of Nations, and The Village.
Traveling without a vehicle saves the hassle of trying to find parking on a busy day. And let me tell you, every day is a busy day. While the area has plenty of parking stalls, which vary from free one-hour to hourly paid parking, all fill up rapidly as locals vie to shop the fresh produce at the public market.
By vehicle, travel to Fir Street and West 4th Avenue. Drive north on Fir and turn right on West 3rd Street, which travels under the Granville Street Bridge. Under the bridge, the large red-lettered signage shows you have arrived. On the island, the traffic is one way, running anti-clockwise.
Granville Island is a bustling place not only because it's a tourist hotspot, but locals love it too. Living in Vancouver, I enjoy the vibrant atmosphere that Granville Island exudes.
The History Of Granville Island
Once little more than two sandbars, First Nations people used it for fishing. Later, it developed into an industrial district in the late 1800s. By building a seawall and creating the peninsula, the area later became a hub of industrial activity. With warehouse space, manufacturers, sawmills, and factories flourished until the second world war. After several fires and post-war depression, the district fell into disrepair, and businesses abandoned the area favoring other locations.
Fast-forward to the 1970s as the peninsula underwent the start of a facelift for the city's eyesore. Working with what they had, factories and warehouses were repurposed into craft studios, curio shops, urban theatres, and restaurants offering the best culinary journeys. The market became a trendy hub and gave the locals a sense of community. With waterfront views and cherry blossom blooms in spring, the island draws the locals like a magnet.
The lively island continues to thrive in popularity as tourists discover this eclectic gem to the present day. But don't take my word for it; check it out yourself. Here's what to see and do on Granville Island.
Shop The Public Market
Location: 1689 Johnston Street | Open: Daily 9 am to 6 pm
The public market is a place that teases the senses. It's a locale where you'll want to buy and sample everything. The fresh baked goods tantalize the nose while the colorful fruits and fresh-cut blooms appease the eyes. What's wrong with a taste or two?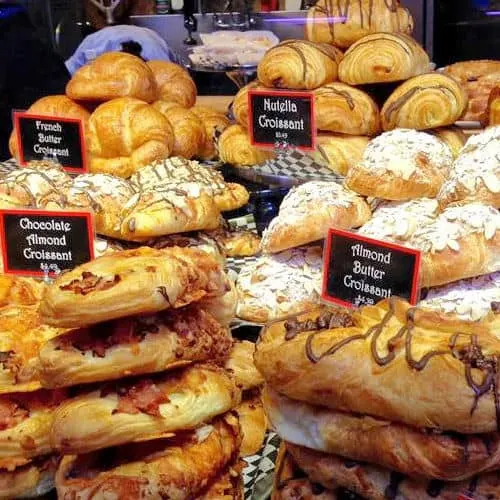 I enjoy meandering the market in search of the unusual. Who can resist the elk pepperoni, salmon candy, or the best cup of Oolong tea? The cheese, meat, loose-leaf tea, and baked goods selection is incredible. The only downside for me is the lack of gluten-free goods. If all that browsing makes you hungry, ready-to-eat nourishments are also available. So, why not eat, drink, and be merry?
One of the bonuses of shopping at the market is that you're supporting the local merchants. There are no big box stores here, just mom-and-pop family-run businesses.
On a warm day, the outdoor seated area becomes packed with shoppers. Add to the mix the resident seagulls who jostle for crumbs, the sweet sounds of local buskers, and the best views across the water, and you've experienced the incredible ambiance of this Vancouver destination.
Venues you can't miss at the market are Lee Donuts (there's always a queue btw), Granville Island Tea Co, The Bread Affair, and Benton Brothers Fine Cheese. Or, maybe you'll discover your favorites.
Smile At The Giants
Location: 1415 Johnston Street | Open: No access to the concrete yard but always available for photos.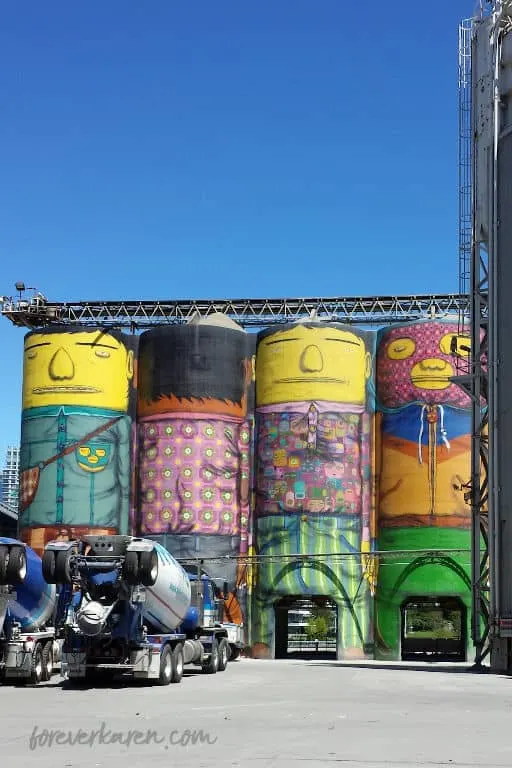 At first glance, the island looks industrial as it once housed various factories, sawmills, and industrial businesses. But walk east from the public market, and the signs of its industrial history remain. A row of colorful silos, nicknamed the "giants," grin happily at tourists.
At 70 feet tall, the towers were painted by Brazilian artists Gustavo and Otavio Pandolfo. Once an eyesore, these silos now add a touch of whimsy to an otherwise dusty facility. As a resident, I enjoy these touches of weirdness scattered around Vancouver.
After these silos were painted, Vancouver's annual mural festival invites artists to paint colorful panoramas on city buildings and streets. It's a fantastic way to add a ray of sunshine to the city.
The six cheery concrete towers belong to Ocean Concrete and are still in use today. Renowned for being the oldest tenant, Ocean Concrete started its business in 1917. Be sure to check out the cement trucks, too, because many of them are as colorful as the giants. Some are painted as a bunch of asparagus and others as a cob of corn, but my favorite is the larger-than-life strawberry.
Outside Ocean Concrete is a cement-inspired ball machine. Follow the balls as they run through the whimsical sculpture, falling into the cement trucks, before making the cycle again. The device is not only entertaining but educates the public on the process of concrete making.
Each year, an open house invites visitors to sit in cement mixers, play in industrial sandboxes, and learn more about the business of making mortar.
Enjoy Culinary Delights
While the public market bustles with activity during the day, the island comes alive at night for different reasons. Experience the best culinary delights at unique Granville Island restaurants, which will wow you with the food and atmosphere. Who can resist the cedar plank salmon at The Sandbar, the seafood trio at The Vancouver Fish Company, or the braised oxtail ragu at the Dockside Restaurant?
Being on the waterfront, the seafood is as fresh as it can get. So, if you're craving salmon, shrimp, or fish and chips, you can't go wrong at the island venues. Some restaurants boast waterfront patios with propane heaters and cozy blankets so that diners can enjoy the stunning views of urban Vancouver year-round.
What I love about these eateries is that many have gluten-free menus and cater to my dietary needs.
Be Inspired By Creativity
Granville Island appeases my creative side by providing studios in which artists demonstrate their desired median. Spread out in areas like Net Loft and Railspur District, various artisan shops and galleries showcase their unique talent.
There's something so mesmerizing about watching a designer blow glass into a fantastic piece of art. At the Silk Weaving Studio, creativity explodes as hand-dyed silk, merino wool, and alpaca are knitted and woven into incredible soft wearables. In an era where traditional crafts are at risk of extinction, it's comforting to see these traditional skills alive and well at Granville Island.
Some of my favorite stores are Maiwa, which prints with natural dyes and traditional wooden blocks, and Opus, an art supply store brimming with colorful ideas to express creativity. Let's not forget The Cloth Shop, named Vancouver's favorite quilting shop for 30 years. Some must-visits are the Granville Island Broom Co., which hand-makes unique shaker-style brooms, Artisan Sake Maker for locally made award-winning Sake, and Make Vancouver for gift items that are quirky, one-of-a-kind, and fabulous.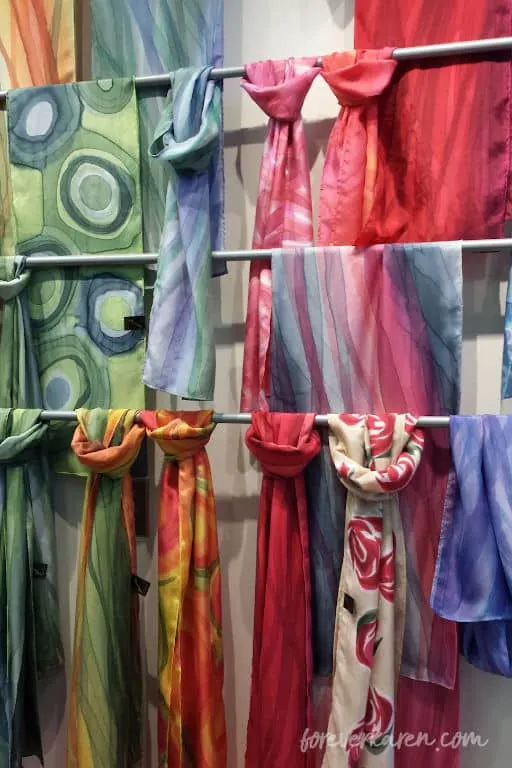 If you're feeling a little creative, try your hand at making a piece of jewelry at Beadworks. With free demos and jewelry classes, and thousands of beads to choose from, that "heart of the ocean" necklace became a handmade item.
Have Some Family Fun
Location: 1496 Cartwright Street | Open: Daily 10 am to 6 pm
Inside the two-story yellow building, kids and kids at heart can feast their eyes on the fantastic kites, hand puppets, wooden train sets, and handmade toys. It's no ordinary market, and browsing the toy selection, I discovered unique and beautiful finds.
The "Kids-Only Market" has everything children love, from babies to teenagers. "Just Imagine" enhances dress-up play with its impressive curated selection of costumes. At "The Granville Island Toy Company," the globally selected toys are chosen for an improved level of learning and participation. Being a puzzler, I was thrilled to find a great selection of jigsaw puzzles at the Kids Market.
Outside, fido is not forgotten as a red Canadian Pacific Caboose sells treats for your furry pets. Not only does the market house an eclectic variety of shops, but it's a full adventure zone with a giant ballroom, virtual reality rides, bumper cars, and an arcade. Being indoors, the Kids' Market play zone is one of the best places for children on a rainy day in Vancouver.
Outside, the water park provides hours of fun. With fire hydrants, water slides, and sprays, it's the ideal destination on a hot summers' day.
Embrace The Arts
Granville Island embraces the arts by offering a myriad of live stage products in a variety of theatres. While some offer an afternoon and evening show, it's best to avoid daytime as parking is an issue. The Arts Club Theatre is a non-profit organization that specializes in live musicals at a reasonable price. If improv comedy is your thing, head on over to the Improv Centre for a taste of raw comedy.
Traditionally, theatre is considered something only adults enjoy. But the Carousel Theatre for Young People produces productions designed to delight and capture a younger audience. To add to the drama (pun intended), young starlets can enroll in drama school. Drama classes promote education, motivation and allow children to blossom in a positive environment.
Hop On The Aquabus
Location: Behind the Public Market | Open: Daily 8 am to 8 pm
Vancouver is an amazingly diverse city, and there's no better way to see it than from the water. Hop in one of those cute water taxis and take a 25-minute sightseeing tour of False Creek, once the centre stage of Expo '86. The Aquabus offers fantastic Vancouver views on a low budget, and no reservations are needed.
Riding the multi-colored ferry, passengers have unabating views of Science World, BC Place, the residential area of Olympic Village, and the beautiful False Creek harbour. All boats are wheelchair accessible and can accommodate strollers, bikes, and pets too.
An all-day pass is just CAD 16, allowing passengers to jump off at any spot for some exploration. When you're ready, hop on the next boat to continue the tour. It's basically a hop-on, hop-off bus, but on water.
The scenic boat tour doesn't offer any commentary on the city sights, but it's still a great way to enjoy the views. If your time is limited in Vancouver, an Aquabus tour is the ideal way to see the waterfront in a short amount of time.
An alternative to the rainbow-colored Aquabus is the False Creek Ferries, which are painted blue.
Sample Some Craft Beer
Location: Granville Island Brewery, 1441 Cartwright St | Open: Daily noon to 8 pm
Location: Dockside Brewing Co, 1253 Johnston St | Open: Daily 7 am to 10 pm
If there's one thing Vancouverites love, it's craft beer, and in the lower mainland, craft breweries are almost as popular as coffee shops. Granville Island Brewery has the distinction of being Canada's oldest microbrewery. The brewery offers daily tours; however, most stop by for a relaxing craft brew and poutine.
Ingredients to make the beer come from local sources. Outside, their hilarious sign declares beer is salad. Yep, it says, "hops are plants, plants are vegetables, vegetables make salad; therefore, beer is salad!" The only problem with that is their "salad" isn't gluten-free. When sampling their brews, try the English Bay Pale Ale, Hey Day Hefeweizen, and the Raspberry Pale Ale.
At the quiet end (eastern side) of Granville Island is Dockside Brewing Company. Its hand-crafted beers are brewed on-site, which makes them remarkably fresh. Why not try their classics like Johnston Street Pilsner or Cartwright Pale Ale? The upscale Dockside Restaurant has one of the best patios in Vancouver with panoramic views across the water.
Go Whale Watching
The waters of Vancouver are rich with marine wildlife. What better way to learn about the aquatic habitat and its creatures than on a whale watching tour. The tours run from April to October, which is the prime whale spotting season.
Most companies offer guaranteed whale sightings, or the next trip is complimentary. A whale watching tour can include orca sightings (killer whales), humpbacks, seals, porpoises, sea lions, and plenty of birds. Many book this excursion in the hope of seeing orca but are happy to see anything. Some boats are covered, offering shelter from bad weather. Others carry hydrophones allowing boaters to hear the whales echoing calls underwater.
I've taken several whale watching tours in Alaska, and seeing a humpback up close is breathtaking. Feeling the mist from a whale spout and hearing it snort through its blowhole is not something I'll soon forget.
On Granville Island, tours are offered by the following companies:
Business: Prince of Wales – 1516 Duranleau Street |Phone: (604)666-6655
Business: Wild Whales – 1806 Mast Tower Lane |Phone: (604)699-2011
Watch A Busker
Granville Island proudly encourages and supports live performances. The street entertainment is as eclectic as the variety of shopping. While there are four locations to enjoy the live presentations, these vary from singers and magic tricks to jugglers and escape artists.
The buskers must audition for their right to perform on the peninsula, so the shows are all top-notch and delightful. On a sunny day, it's not unusual to see a crowd gather outside the market, swaying to the sounds of a sweet melody.
Granville Island Festivals
Vancouver celebrates a myriad of yearly events and festivals. Many of these are held here because it's a place that inspires creativity and freedom of expression. Whatever your interest, a festival or celebration is calling your name.
The famous Fringe Festival celebrates theatre and live performances, while writers worldwide come together at the International Writer's Festival. Families love the children's event, which inspires child's play and playful imagination.
If you've never attended a festival, it's worth going at least once. The event is a chance to discover something new and meet people with the same interest. Most of all, you'll create fun-filled memories that you can reminisce about for years to come.
Get Out On The Water
There's no better way to see the spectacular coastline than from the tranquility of the water. Granville Island companies offer rental boats, from the smaller fishing and crabbing options to larger speed boats. Boating is a fun-filled adventure that gets you away from the hustle and bustle of the island. And, who knows, if you're angling, maybe you'll catch tonight's dinner.
Company: Granville Island Boat Rentals Location: 1699 Johnston St
Company: Vancouver Boat Rentals Location: 1807 Maritime Mews
Alternatively, take to the water on an interactive pirate ship cruise. "Ahoy me hearties! All hands hoy the Jolly Roger!" Who can resist a bit of piracy fun, complete with squash buckling action? During the cruise, the pirate-want-to-be will read a treasure map, survive a mutiny, and share in the loot, all while living the life of a pirate.
Company: Pirate Adventures Location: 1820 Mast Tower Road
For adventurous individuals, have some fitness fun on the water by renting a hydro bike, kayak, or paddleboard. The hydro bikes are easy to maneuver, incredibly sturdy, and provide a great lower body workout. Alternatively, a stand-up paddleboard takes a bit of mastering, especially in the choppy waters of False Creek. But once conquered, stand-up paddleboarding gives a fantastic total body exercise.
On the other hand, kayaks don't require any experience, but you need some excellent upper body strength. Single and dual kayaks are available, as well as "sit on top" styles. Paddling in False Creeks allows you to see Granville island from a different vantage point. For the adrenaline junkies, try a seadoo instead. Zipping past the beautiful British Columbia coastline is an exhilarating way to spend an hour or two during the summer months.
Sail A Carol Ship
Remember the good old days when carollers sang Christmas tunes like Rudolph the Red-Nosed Reindeer or Santa Claus is Coming to Town? On Granville Island, Vancouverites can relive those cherished memories by booking a carol ship cruise. Decorated with twinkling Christmas lights and festive decor, the carol ships ferry passengers on the water while enjoying False Creek's lighted illuminations.
A festive turkey dinner buffet with all the trimmings is the highlight of the yearly event. Even the jolly man himself makes a special appearance during this joyous Vancouver tradition. After dinner, the tradition of singing Christmas carols chants merrily in the cozy cabin as passengers sip on evening tea.
As you can see, Granville Island is one of the best places to experience Vancouver's vibe. Not just a market but an entertainment hub, a foodie locale, a kids' playground, and a tourist mecca.
Beyond the industrial and modern pedestrian zone is Granville Island Sea Village on the eastern side of the peninsula. It's a special place that some call home. These floating properties have a front-row seat to the action of False Creek. How lucky they are.
Happy travels ~ Karen