In Japan, Sakura or cherry blossom, provides an explosion of flowers, signaling the beginning of spring. While the Japanese celebrate the cherry blossom festival, the beautiful blooms have migrated to countries worldwide.
If you're looking for the best places to see the cherry blossoms in Vancouver, Canada, I've got you covered.
Here, in Vancouver, Canada, Vancouverites welcome the end of our Canadian winter and embrace the bursts of color that come with cherry blossom blooms.
Mid-March begins the blooming process, but some varieties don't flower until late April. Towards the end of cherry blossoms, you can enjoy another explosion of color as the city welcomes the Tulip Festival.
Since it rains a lot in Vancouver, seeing cherry blossoms in full bloom can be tricky. One day, the pastel pink flora fills the city streets, and after one storm, the fragile petals are gone.
For some, there's a love-hate relationship with the blushing blooms. While the petals radiate beauty on a branch, if you're ever parked under a cherry blossom tree, you'll relate to the nuisance of dried, sticky pink confetti stuck to the windshield.
Where Did Vancouver's Cherry Blossoms Come From?
With over 40,000 trees, it's easy to understand Vancouver's love affair with the ornamental flowering trees. Japan gifted the first trees to honor Japanese Canadians who served in the first world war.
The initial plantings found their home rooted in the cenotaph in Stanley Park. Twenty years later, the city of Vancouver started removing larger problematic trees that uprooted sidewalks, invaded sewer pipes, and interfered with power lines.
In their place, more petite, ornamental species like the cherry blossom and flowering plum provided more visual appeal and were less problematic.
Today, it's hard to drive anywhere in metro Vancouver in late March or early April without witnessing the explosion of color. Like Canada geese, tree numbers have flourished, almost to the point of being over-abundant.
Each spring, Vancouverites head out into the city, recording sightings of blooming cherry blossoms like paparazzi, trying to capture the perfect shot.
If you live in Washington State, spend a few days in Vancouver enjoying the blooms in spring. Typically, Vancouver cherry blossoms start in mid-March and continue through early May.
Seeing the abundance of cherry blossoms reminded me of "Almond Blossoms," Van Gogh's painting in red hues.
Cherry Tree Varieties
While Japan has over 200 varieties of cherry blossoms in shades of white, pink, and yellow, Vancouver species are far more limited.
Although blooms can last up to two weeks once buds open, in Vancouver, that time is often cut short due to changeable weather.
However, since there are many different bloom times, locals can view blooms somewhere in the city within a four-week window.
In Vancouver, the Yoshino and the Kanzan Cherry are the most predominant species. They are easy to distinguish as the former has five petals, usually in whitish shades.
The Kanzan Cherry blooms a few weeks later than the Yoshino and exudes darker pink petals of over twenty per flower.
Some might confuse flowering plums with cherry blossoms, so it's best to examine the bark. Generally, cherry blossom tree barks have distinctive horizontal lines.
These "lenticels" act as a pore to allow for gaseous exchange with the air.
The species of trees are recognizable by their petals, tree size, and shape. Interestingly, the preferred Japanese blossom has five petals, while North Americans love the double flowers with over 20 petals.
However, the chrysanthemum cherry can have as many as 100 petals, but these are scarcer in the Vancouver area.
Admiring the trees, you'll notice their shapes vary widely. Some have flat tops, others weep, and the visually appealing ones grow large and triangular, creating arched canopies of blooms over city streets.
Naturally, the archways of pink posies are eye-catching and the reason for Vancouverites' love connection with cherry blossoms.
So, if you're visiting Vancouver, your 3-day itinerary should include some cherry blossom sightings. Here are some locations to catch the budding trees in bloom around Vancouver, British Columbia.
David Lam Park
Location: 1300 Pacific Blvd
Located in Yale Town, David Lam Park exudes a sea of pale pink posies at the end of March. Most of the trees are of the Akebono variety, and there are over 100 of them planted to commemorate the 2010 Olympic Games.
Their clusters of low-lying white/pink blooms add a nice contrast to the tall concrete jungle behind them. Like typical varieties that bloom early, these had no visible leaves, which arrive after the petals have fallen.
Scattered around the park, several magnolia trees add to the explosion of color. Amongst the cherry blossom trees, Dr. David Lam's words are commemorated on a plaque.
The words are poignant and a reminder to appreciate the cherry blossoms' beauty.
Japanese Memorial, Stanley Park
Location: Downtown Vancouver. Access is via Georgia Street
Stanley Park's rose garden provides the ideal spot for a "Hanami" (cherry blossom viewing) picnic. By tradition, Japanese people celebrate the blooms by gathering under a blooming tree and enjoying a picnic.
Here, the Yoshino Cherry buds open slightly later due to their shady spot.
Over at the Japanese Canadian War Memorial, more than a dozen cherry blossom trees encompass the column. While most of these are of the fragrant Shirotae variety, there are some Yoshino trees too.
Museum Of Vancouver
Location: 1100 Chestnut St
Driving up to the Museum of Vancouver, I spotted two large cherry blossom trees framing the structure's entrance. Their pale pink tones contrast nicely with the stark white roof of the Museum of Vancouver.
To the right, a few darker pink trees were starting to bloom and coupled with some magnificent magnolia trees.
Walking around the museum and towards Vanier Park, more large triangular trees were blooming and shedding their petals like snow in the gentle breezes.
Here, along the waterfront, you'll also get to enjoy picturesque views of the city's skyline.
Burrard Skytrain Station
If you're looking for a picturesque spot to view cherry blossoms in Vancouver, look no further than Burrard Skytrain station. Outside the station, you'll find thirty-four Akebono cherry trees, whose beautiful pink blossoms create a stunning canopy.
Once the Akebono trees have shed their petals, you can still enjoy the beauty of cherry blossoms in the city with the Shirotae, beni-shidare, and Kanzan species.
Walking under the cherry blossom canopy at Burrard station is a true delight for locals and visitors alike.
Queen Elizabeth Park
Location: 4600 Cambie Street
Vancouver's Cherry Blossom Festival features a month-long event celebrating the blossoms. In 2021, due to Covid-19, most events have gone online.
Each year, Vancouver's Queen Elizabeth Park hosts The Big Picnic to practice "Hanami." The event draws a large crowd, even with cool temperatures.
While the city canceled the picnic two years in a row, the event returned in April 2022. With temperatures in the single digits, they were brave souls for picnicking in less-than-ideal weather.
Driving around, I spotted lots of cherry blossom trees scattered within the large park and at the entrance near 33rd Avenue. With or without the blooms, the park's highest point at the Bloedel Conservatory, offers spectacular views of Vancouver.
Rupert Street And East 33rd
Location: East 33rd and Rupert
The intersection of Rupert Street and East 33rd Avenue near the Akali Singh Sikh Temple provides a great place to see the blooms.
This location offers a stunning view of the temple in the background, making it a popular spot for Instagram-worthy photos.
The contrast of color and concrete creates a unique and beautiful scene that attracts photographers and nature lovers alike.
Austrey Avenue
Location: Austrey Avenue and McHardy Street
As I turned the corner onto Austrey Avenue, I had one of those "WOW" moments. On a quiet dead-end street, a stunning canopy of pale pink blossoms greeted my arrival.
This location at Austrey and McHardy had one of the best displays of blooms, yet it was void of people. Lucky me!
With few cars and people, it was a great place to get a few drone shots with the Mavic mini. The aerial photos captured the beauty and the overhead clouds of blossoms that blanketed the neighborhood.
The locals who reside there were out gardening and seemed blind to the incredible sight on their doorstep. So, maybe too much of a good thing makes the extraordinary seem ordinary?
Vancouver City Hall
Location: 453 W. 12th Ave
Most driving west 12th Avenue notice the beautiful blooms at City Hall on a drive-by. If you can get parking in the area, it's definitely worth a closer look.
For the perfect photo opportunity, head to the stairs leading up to the front doors, where you can capture the blossoms and the statue of George Vancouver in the background.
The variety of blossoms exudes vibrant pink petals contrasting beautifully with the building's grey walls.
Coal Harbor
Location: Downtown along Burrard Inlet
Walking from Canada Place to Stanley Park, you can view a nice selection of Akebono trees. Coal Harbor is picturesque year-round, with views of Burrard Inlet and Stanley Park.
However, the floral explosion makes it much more stunning when the sun is out and the trees are blooming. If you're taking a May Alaska cruise, take some time to walk the waterfront.
Nearby, you can rent a bike and enjoy the blooms on two wheels instead of walking. If you continue on the bike route to Stanley Park, you'll enjoy a circular route with varieties of cherry trees.
Be sure to stop at the eastern edge of Lost Lagoon for another viewing spot.
Art Phillips Park
Adjacent to the Burrard Skytrain station, Art Phillips Park provides another area to enjoy the Akebono cherry blossom varieties.
During rush hour, the station sees a mass of commuters who tend to be oblivious to the beautiful surroundings. So, if you work in the financial district, wander back at lunchtime, to enjoy your food under a flurry of petals.
Granville Street
Location: Granville and 16th Ave
Although a busy location for vehicle traffic, Granville Street and 16th Avenue provides another tree-lined street with flowering trees on either side.
The trees are planted for several blocks, so you can't miss them. From Granville Street, you can capture a photo looking west or you can walk towards Fir Street.
Dr. Sun Yat-Sen Classical Chinese Garden
Located in the heart of Vancouver's Chinatown, Dr. Sun Yat-Sen Classical Garden has been delighting visitors with its landscaped plantings for over 35 years.
While small, the garden reflects its cultural heritage with a serene pond, pagodas, a contrast of rocks within the plants, and of course, cherry blossoms.
Nearby, you can take a break from blossom viewing, to enjoy some Dim Sum.
University Of British Columbia
Location: Lower Mall from University Boulevard to Vanier Place.
The University of British Columbia or UBC offers several areas for viewing.
Scattered around the UBC campus, visitors can find over twenty different varieties of cherry blossom trees. The Lower Mall has a couple of blocks of trees and a more impressive spot for viewing.
So, grab your cameras and escape the crowds of Vancouver for a quieter viewing location.
Nitobe Memorial Gardens
Location: 1895 Lower Mall
The Nitobe Memorial Garden is an authentic Japanese garden with a selection of cherry trees.
Even if you haven't reserved a ticket online to gain admission to the park, there are trees at the entrance.
West 22nd Avenue
Location: West 22nd Avenue and Arbutus Street
West 22nd Avenue is a popular place for avid photographers, all keen to capture shots of the tree-lined street.
You can understand the appeal of the locale, with the sloped terrain and sweeping views down the street. Looking down West 22nd, the flowering cherry trees line the streets for several blocks.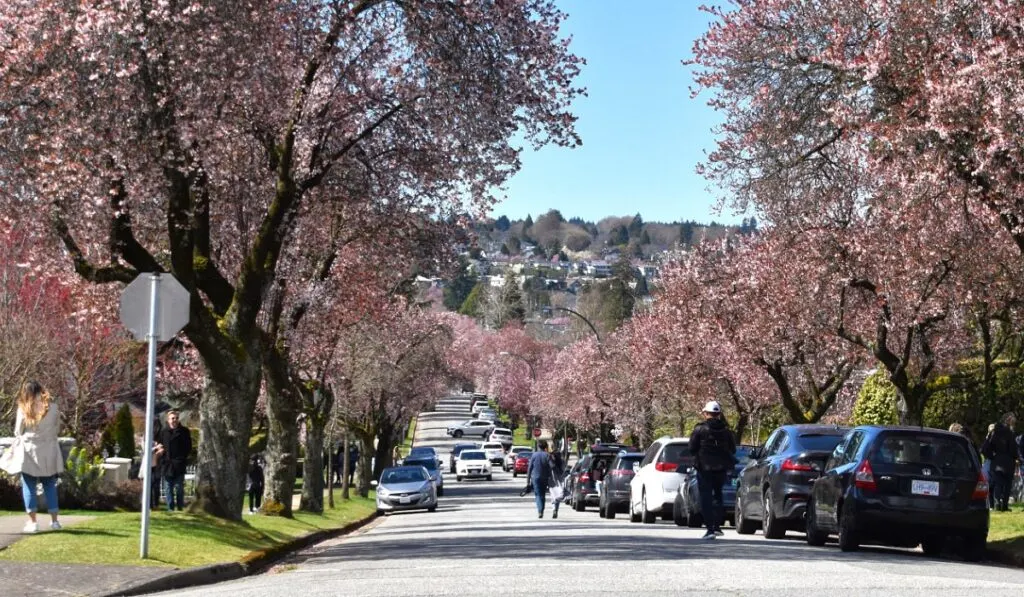 Located on West 22nd, from Carnarvon Street to Arbutus Street, the trees are plentiful. Once the Kanzan Cherry trees are at their peak, expect parking to be a bit of an issue as crowds gather to stand under the arches of petals to enjoy the vibrancy of color.
Kitsilano Beach Park
Location: 1499 Arbutus St
Kitsilano Beach is a must-visit destination for those looking to witness the beauty of cherry blossoms in full bloom.
Located just north of the tennis courts, several majestic cherry trees can be found, adding to the already stunning scenery of the Kitsilano neighborhood.
Take a leisurely stroll along West 5th and 6th, Cypress Street, and Vanier Park to fully immerse yourself in the breathtaking sight of the blossoms.
Granville Island
Location: Under the south end of Vancouver's Granville Street Bridge
While most visit Granville Island to shop at the market or enjoy dinner on a waterfront patio, a stroll on the seawall can include sightings of blooming cherry trees.
From the east side of Granville Island, walk east along the waterfront, and the trees are lining the walkway next to False Creek.
With a backdrop of the harbor and city skyline, it's an ideal spot for a stroll and blossom viewing.
VanDusen Botanical Garden
Location: 5251 Oak Street
While there's a fee to enter VanDusen Gardens, it allows you to see 24 varieties all in one spot. In the garden center, the David Lam cherry grove features weeping Beni-shidare varieties that bloom early in the season.
Their pink blossoms add a beautiful touch of color to the grounds, which have just begun to grow.
Graveley Street
Location: On Graveley Street between Windermere and Lillooet
If you walk along Graveley Street between Windermere and Lillooet, you'll enjoy another street adorned with blooms.
The two rows of Akebono flowering trees gracefully bend towards each other, creating a beautiful arched canopy.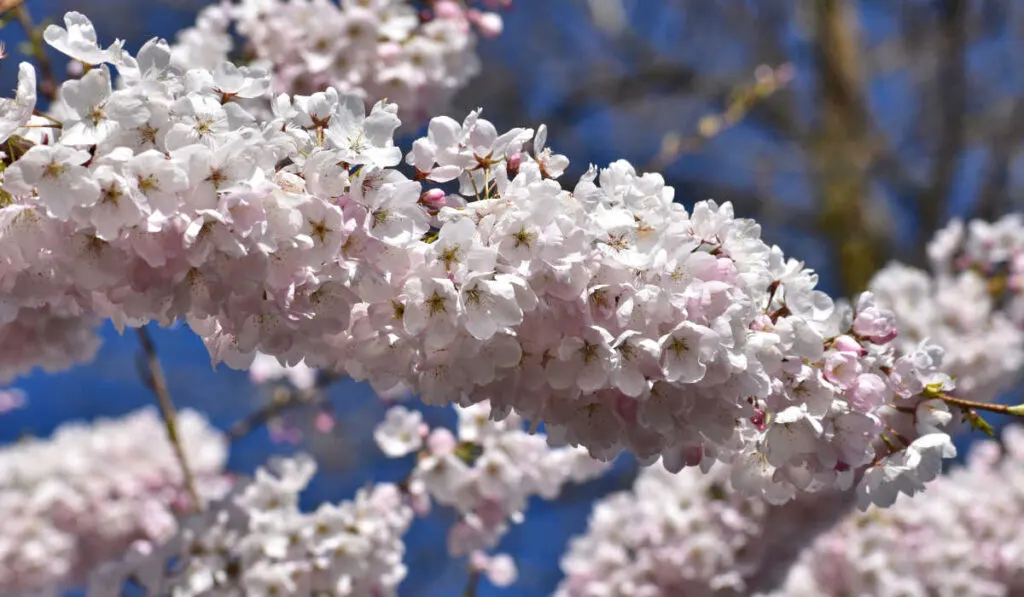 Vancouver Island
If you are visiting Vancouver and decide to make a day-trip over to Vancouver Island, there are a couple locations to enjoy cherry blossoms. One is Hatley Park Gardens, located at 2005 Sooke Road.
This park provides beautiful blooms all summer but comes alive with cherry blossoms during spring.
Another location on the island to see beautiful cherry blossom trees is the world-famous Butchart Gardens. Open year-round, but mid to late April is the best time to see cherry blossoms.
Cherry Blossom Viewing Tips
Before you head out in search of the Vancouver Cherry Blossom Festival, here are some tips to follow:
Do not block driveways on residential streets or park illegally.
Be respectful of private property.
Do not break branches or take clippings.
Don't shake the branches to make the blossoms fall.
Be respectful of other photographers and wait your turn to take a picture.
Be aware of your surroundings. Don't stand in the middle of a busy road to take a picture.
No matter where you live, you don't have to travel far to witness the exploration of color. Once the early buds arrive, it's best to enjoy the fleeting nature of these picturesque flowers before they depart until next year.
After the flowers are gone, most trees will bear fruit. However, the cultivated ornamental trees produce sour fruit that only birds enjoy.
Since I prefer to travel by cruise ship, my dream is to take a cherry blossom cruise to Japan. If you've made this trip, I'd love to hear from you.