Vancouver, British Columbia, is a picturesque city set against a backdrop of rugged mountains and fronting the Pacific Ocean. It has a diverse culture, a world-class culinary scene, and outdoor activities second to none.
Spending a weekend in Vancouver isn't long enough. However, those who live in Seattle further south or in the interior of BC, often come for a few days or a long weekend.
Before visiting metro Vancouver, you should know it is an expensive city, both to live in and visit. However, it offers year-round activities from skiing and snowboarding in winter to biking, hiking, and golfing in the warmer months.
Most who travel to Vancouver for a few days drive north from Washington State, west from the interior, or fly in for an Alaska cruise. If you're cruising to Alaska from Vancouver, the Pan Pacific Hotel provides the ideal accommodation at the cruise terminal.
Skytrain's rapid transit system provides easy access to most venues and comes at a reasonable cost. You can also travel from the Vancouver International Airport to downtown using the Skytrain.
If you're looking for the best things to do in Vancouver on a weekend, you've come to the right place
Where To Stay In Vancouver BC
If you're flying into the west coast city, you'll want to stay downtown. While costly, you'll benefit from being able to access most attractions on foot, without needing a car.
If you're driving from the Pacific Northwest, taking a short ferry ride from Vancouver Island, or the BC interior, you can opt to stay out of the downtown core. However, commuting to attraction will cut into your visitation time.
For your weekend getaway, the Fairmont Pacific Rim and Fairmont Waterfront will put you near Burrard Inlet, close to restaurants.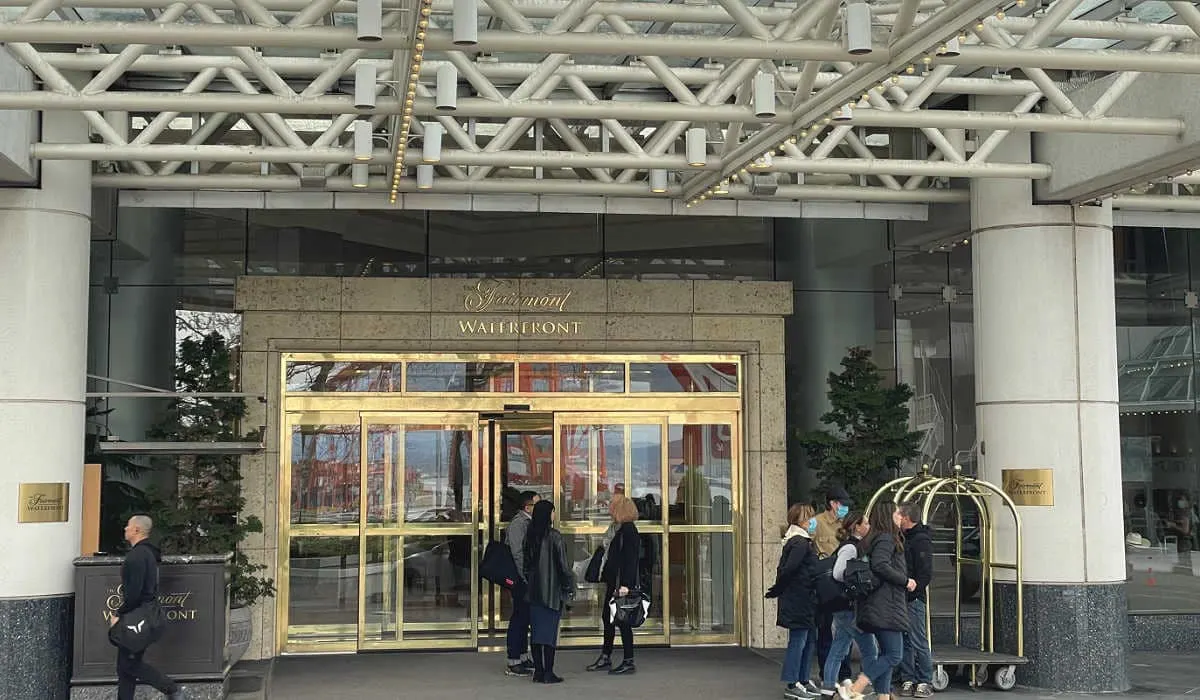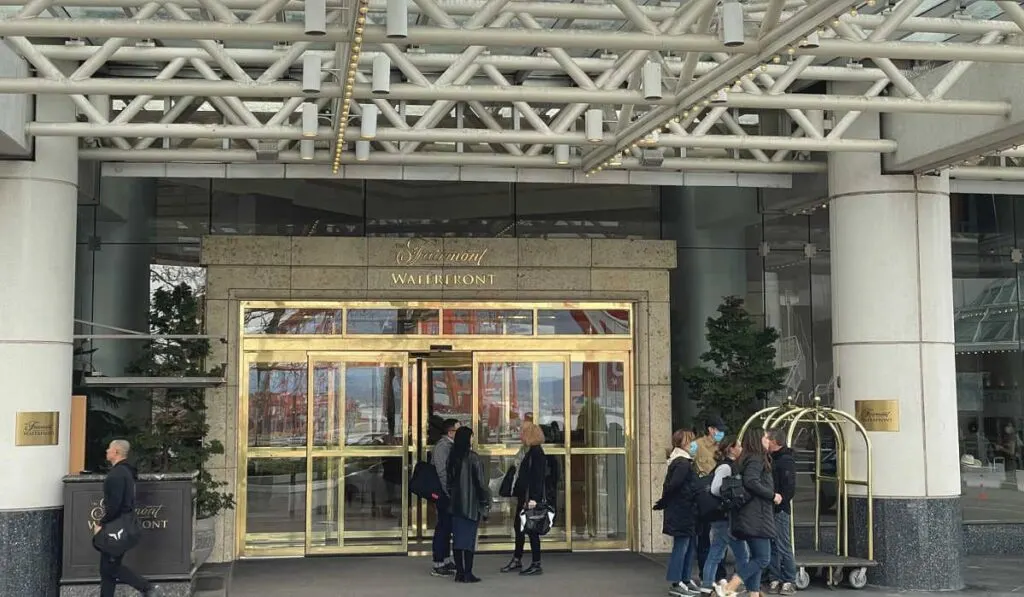 Near the Vancouver Art Gallery, the Sutton Place Hotel makes an excellent option for those on a budget. Around the corner from Robson Street, you will have access to first-class shopping and trendy eateries.
Alternatively, the YMCA Hotel Vancouver at 733 Beatty Street provides the least expensive option without sacrificing a downtown location.
The Sylvia Hotel, Restaurant, and Lounge is another excellent choice in English Bay.
Whether you visit on the weekend or spend two days in Vancouver mid-week, there is no shortage of things to do. This sample itinerary checks off all the must-visit places in this west coast city.
Capilano Suspension Bridge
You will want an early start to make the most of your Vancouver itinerary. Take the complimentary shuttle bus from downtown to the Capilano Suspension Bridge Park in North Vancouver.
A crowd-pleaser for both locals and tourists, it's one of Vancouver's best suspension bridges.
It's best to buy your ticket in advance as there are long queues in the summertime. Your admission ticket includes more than a swaying bridge.
At 450 feet long and hanging 230 feet above the canyon floor, it has been attracting thrill seekers since 1889.
Once you cross the bridge, forest trails allow you to enjoy a lush rainforest with the sound of songbirds. To continue the adventure, walk up a flight of stairs to start treetop adventures.
Guests can traverse seven smaller suspension bridges high up in the trees one hundred feet above the ground. It's a great place to capture some Instagram shots.
A feat of engineering, these bridges were built without the use of screws or nails. Instead, the park uses a unique collar system, which moves as the trees grow.
A thrill-seekers favorite, the Cliffwalk is a semi-circular platform hanging off a cliff. Built in 2011, it adds another element of fun to the park.
The park uses strong cables to hang the cantilevered walkway from the granite cliffs. While the Cliffwalk has a narrow one-way system, it can hold up to 100,000 pounds.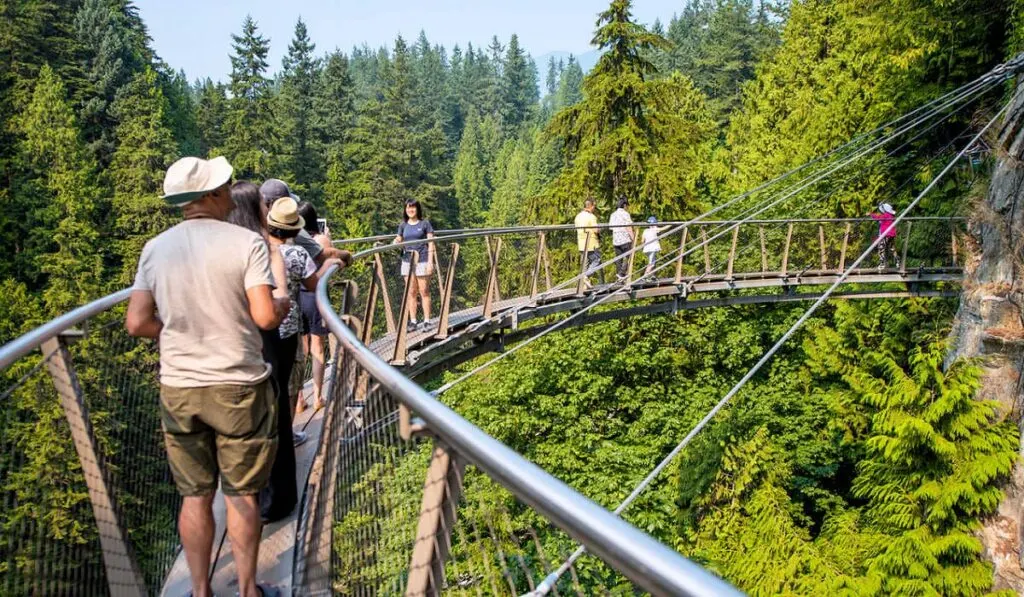 Visitors can view a few birds of prey in the summertime, from peregrine falcons to great-horned owls. However, the winter brings an anticipated event cherished by the locals.
Canyon Lights provides a fantastic Christmas event, ideal for families. The Capilano Suspension Bridge decorates its trees, bridge, and Cliffwalk with thousands of twinkling lights.
Although, you'll want to bundle up, as it's best viewed in the late afternoon as the sun goes down.
Allow at least three hours to explore the Capilano Suspension Bridge Park.
Grouse Mountain
After a few hours at the suspension bridge, take the complimentary shuttle up Capilano Road to Grouse Mountain. If you're driving, there are several parking lots which fill up quickly on sunny days.
After a picturesque gondola ride to the top of The Peak Vancouver, you'll enjoy the best views of the city, the Pacific Ocean, and the surrounding area.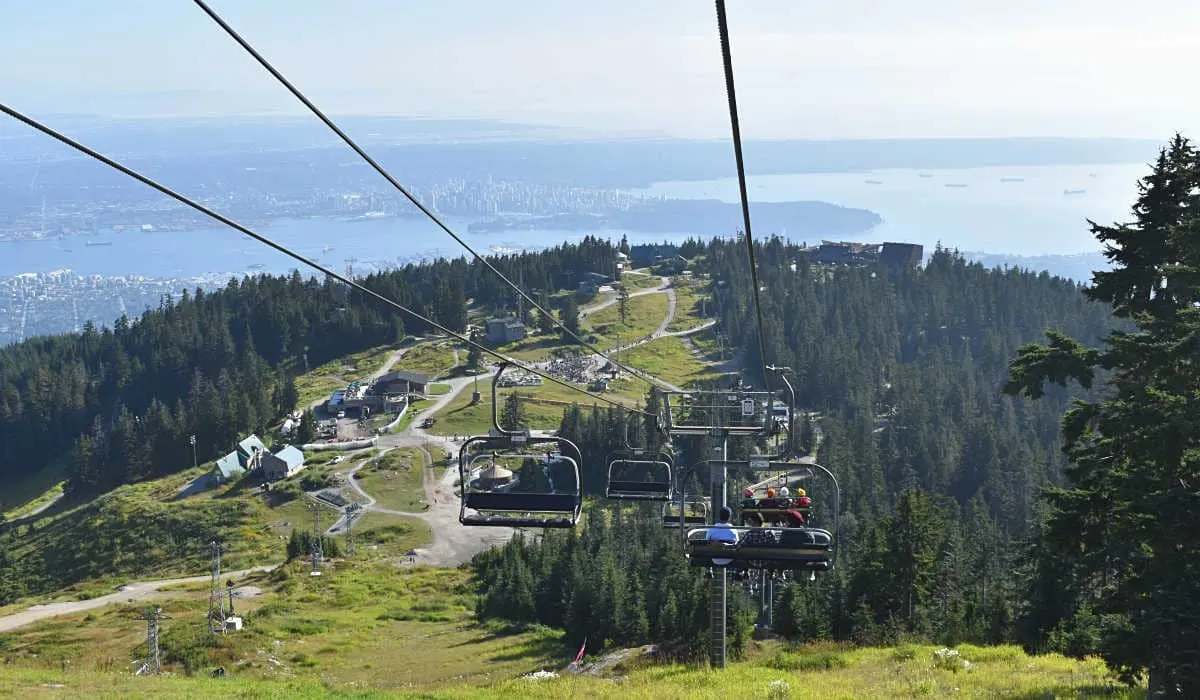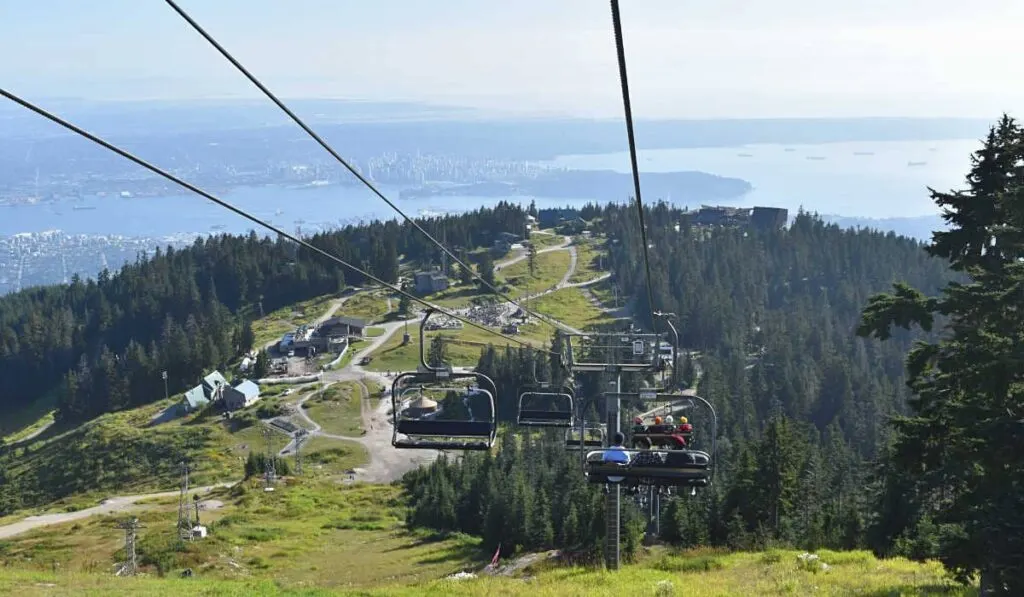 But Grouse Mountain provides more than good views. Hiking trails, zip lining, and paragliding are some of the fun activities offered in summer. Zipline tours last two hours, over the course of five zip lines through a dense forest.
Alternatively, the mountain course adventure provides an obstacle course of ropes, swings, suspension bridges, and balancing beams. The kids' canopy adventure has a tree house and cargo nets for children three to eight.
The birds in motion and lumberjack show are well-attended by families too. After the performances, you can learn about the owls and see them up close.
The Altitudes Bistro offers sandwiches, salads, burgers, and mains when you want to stop for lunch. At 3,770 feet high, you'll enjoy lunch with a view.
Nearby, visitors can see Coola and Grinder, two giant grizzly bears in a large fenced enclosure. Orphaned at a young age, they would have perished in the wild. So, Grouse Mountain became their home.
While grizzly bears are solitary creatures in the wild, Grinder and Coola have grown up as brothers. They do everything that wild bears do, including hibernating in winter.
After a chairlift to the mountain peak, you can enjoy further views from the Eye of the Wind. The observation deck on the wind turbine is small, so you may be waiting in line.
Take to the skies on a helicopter ride for the best views of Vancouver. You can choose from an introductory 8-minute flight over Goat and Crown Mountains or a 15-minute tour over Lions Peak.
The 20-minute ride includes Grouse Mountain, Horseshoe Bay, downtown Vancouver, and Stanley Park.
Dinner Options Downtown
Complete your day by enjoying dinner downtown. There are many choices depending on your taste. The Cactus Club, on the downtown waterfront, offers modern Canadian cuisine with lots of seafood options.
In Gastown, the Steamworks Brewpub has a cheery atmosphere and pub food. Compliment your meal with one of the brews from their microbrewery.
Joey Burrard has an eclectic menu from steaks to sushi. An outdoor patio is an excellent option for a warm evening.
After dinner, stroll around Canada Place. Nearby, you can see the Olympic Cauldron used in the 2010 Winter Olympic Games. Up a flight of stairs, the Pixel Orca overlooks the Burrard Inlet.
You also have the option to add Flyover Canada to your Vancouver itinerary. The simulated ride flies guests to Canada's iconic places, such as Niagara Falls, Iceberg Alley, Vancouver Island, and the Rocky Mountains.
Gastown
In the evening, enjoy strolling the cobblestone streets of Gastown. In the summer, the shops stay open late, and there are plenty of options to grab a casual drink.
Its trendy boutiques and souvenir stores are a great place to do some last-minute shopping if you need a gift for family and friends. Alternatively, you can head to Robson Street, a trendy shopping area with high-end shops.
As one of the initial neighborhoods in Vancouver, Gastown was named after Jack "Gassy" Deighton, who opened the first bar in the area. The highlight of Gastown stands at the corner of Water and Cambie Streets.
The Gastown Steam Clock attracts a crowd in summer. They come to hear its Westminster chimes and see steam rise every fifteen minutes.
Built in 1977, the clock is relatively new, and runs of steam, which once heated the city. Although a relatively new addition, it's one of the few surviving working steam clocks in the world.
Yaletown
Start your second day in Vancouver by exploring Yaletown on your way to Granville Island. Yaletown is a trendy neighborhood with sidewalk cafes, fashionable boutiques, and upscale housing.
It's an ideal place for breakfast or a coffee and pastry on the go.
At the intersection of Pacific Boulevard and Davie Street, you can see an old Canadian Pacific Railway (CPR) roundhouse.
The historic building features the iconic curved building with large bay doors leading to what once was a railway turntable.
Constructed in the 1880s, most of the roundhouse was removed one hundred years later. The remaining building was redeveloped into an art and recreation facility.
However, Locomotive 374 remains as a historical symbol of steam locomotives and the history of the Canadian Pacific Railway.
Granville Island
From Yaletown, catch the Aquabus to Granville Island for a treat to tantalize the senses. The Aquabuses are colorful ferries that transport people across False Creek.
Although it's named an island, Granville Island is located on a peninsula in False Creek. It's a trendy area that developed from The World Expedition in 1986. On the weekend, this Vancouver venue attracts a crowd.
Locals love shopping at Granville Island public market because it has the freshest seafood, cooking ingredients, and baked goods.
The island is always humming with activity as its craft studios, microbreweries, theaters, and restaurants attract visitors all day and night. In the summer months, you can enjoy live music and street entertainers.
Who can resist a locally crafted brew at Granville Island Brewery or a treat from Lee's Donuts? Beware, Lee's Donuts is a favorite, and it always has a long line of customers waiting to purchase its powdered pastries.
If you're looking for unique gifts or one-of-a-kind souvenirs, Granville Island delivers.
The kids-only market provides an adventurous shopping experience for those traveling with children. Its adjacent play area allows the little ones to burn off excess energy.
As you tour Granville Island, be sure to see the silos at Ocean Concrete. The six towers provide a colorful background to the dusty concrete work yard.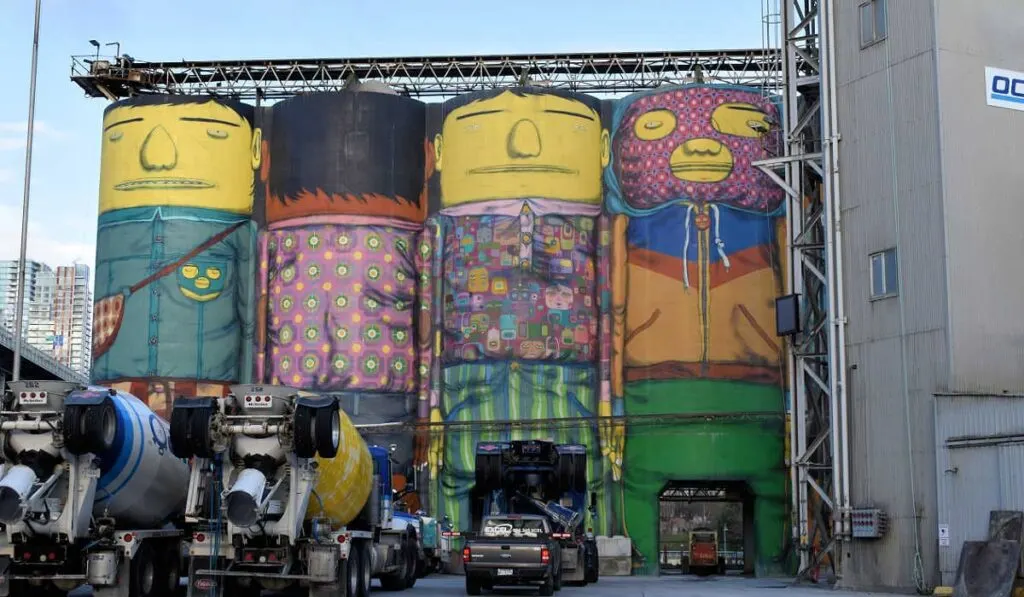 The silos depict six jovial characters in vibrant clothing, were painted by Brazilian artists.
With so many great dining options on Granville Island, consider having lunch at Bridges or the Vancouver Fish Company.
Alternatively, the Sandbar Seafood Restaurant provides terrific waterfront views complimenting its tasty menu selections.
Should you have the time, consider an Aquabus tour of False Creek. While the tour doesn't provide commentary, you'll enjoy views of the golf ball-shaped Science World, Rogers Arena, BC Place Stadium, and Plaza of Nations.
Alternatively, you can take a whale watching tour to the San Juan Islands. Here, you can often spot Orca whales and other marine mammals.
Stanley Park
Continue onto Stanley Park, rated as the best urban park by Trip Advisors, and after one visit, you'll understand why. On the way, you'll enjoy the scenic views across English Bay and out to the ocean.
For an urban park in the heart of downtown, the 1,000-acre destination has so much natural beauty. The public park is circumnavigated by a seawall, allowing visitors to walk, bike, or skate its scenic path.
Along the route, numerous beaches beg for some fun in the sun as you admire the ocean views. Second beach puts you close to the popular Teahouse Restaurant.
The seawall provides lots of photo opportunities, and it's a busy place on the weekend. Sitting on a rock, the Girl in a Wetsuit bronze statue is Vancouver's version of the Copenhagen Mermaid.
Allow two to three hours to walk the seawall or one hour by bike. There are lots of inexpensive bike rental shops walking distance to Stanley Park. You can choose from standard bike or electric ones.
Stanley Park's inner core comprises a dense rainforest with several walking trails. It's an ideal environment for birds, beavers, raccoons, and other small species.
Lost Lagoon provides a haven for bird species, especially swans, ducks, and Canada Geese. If you're visiting with children, the pond's perimeter provides an easy walk.
Being on the coast, Vancouver receives a lot of rain to keep the forests green. Should you visit in the wet season, Vancouver has many rainy-day activities to keep you active and dry.
The park is also home to Vancouver Aquarium, which boasts some fantastic exhibits, including one on the Amazon rainforest. Nearby, a narrow-gauge miniature train provides an exciting family-friendly activity.
Should you prefer to explore on a bike, there are many rental shops on the park's outskirts. Other sightseeing options include a trolley, tour bus, or horse-drawn carriage.
Stop at Brockton Point to view nine beautifully carved Indigenous totem poles when touring the park. Prospect Point, another great stop, provides spectacular views of the Lionsgate Bridge, Burrard Inlet, and the north shore.
The Prospect Point Café has locally roasted coffee and tasty treats should you need a caffeine kick.
Dining Options
If you have finished up late in the park, consider having dinner at the Teahouse in Stanley Park. The restaurant is located at Ferguson Point and offers a romantic setting on the beach. It serves delicious Canadian and west coast items.
Alternatively, Glowbal on West Georgia offers steak and seafood options in a trendy restaurant with exceptional service. Their food is beautifully presented to match the incredible flavors.
Must-tries include their Wagyu Striploin, Haida Gwaii Halibut, and Strawberry and Rhubarb Cheesecake with Sorbet.
If you enjoy Japanese food, Vancouver's Miku specializes in flamed-seared sushi. Their lovely plated meals are innovative, have exceptional flavor, and everything is super fresh. Remember to make a reservation as this restaurant is always busy.
Located near Yaletown, the Lupo Restaurant offers Italian and Mediterranean food in a quaint setting. The fettuccine with shaved black truffles and lamb shank are fantastic choices.
As you can see, Vancouver offers so many cuisine choices and is considered a foodie city.
Vancouver Lookout
Before heading back to your hotel for your final night, stop by the Vancouver Lookout at Harbour Centre, on the corner of Seymour and Hastings Streets.
After an exhilarating glass elevator ride to the top, you will complete your idyllic weekend in Vancouver by watching the sunset. As the city darkens, the area comes alive with twinkling lights.
At 553 feet high, the Lookout provides stunning views of the downtown core, False Creek, Burrard Inlet, and the north shore mountains. Informational plaques provide incite into the surrounding buildings and their history.
If you opted not to eat at the restaurants above, the tower has a revolving restaurant below the observation deck.
Similar to the CN Tower in Toronto and the Space Needle in Seattle, you'll enjoy a romantic dinner with the added ambiance of an evening landscape.
Vancouver's a city where you can spend a week or two and not see it all. While you will only have two days in Vancouver, by visiting its popular attractions, this west coast city will entice you to return.
If you've already seen the sights of Vancouver, consider a a trip to Vancouver Island and spend a few days in Victoria instead.