On Vancouver Island's southern tip sits the capital of British Columbia, Victoria. This coastal city offers rich history, a picturesque waterfront, outdoor activities, and more.
If you planning a long weekend in Victoria but need help figuring out where to start, do not worry; below is a list of things to do while on your long weekend trip.
In this article, discover how to get there, where to stay, and what to do in British Columbia's vibrant capital.
How To Get To Victoria
There are a few ways of getting to Victoria. However, while you do not need a car, it will make your trip more convenient.
The first way you can get to Victoria is by ferry. BC Ferries travels from Tsawwassen Ferry Terminal from Vancouver to Swartz Bay. From there, you could either hop on a bus that will take you to Downtown Victoria or drive.
The journey takes 90 minutes and will be busy on long weekends. To avoid long waits at the terminal, booking ahead costs a little more but guarantees a spot on the ferry.
Planning your trip?
🏠 Find your perfect accommodation on Booking.com
🎡 Make your trip more excited with Viator
The second way is by Harbour Air Seaplanes. Seaplanes fly to Victoria from metro Vancouver and vice versa.
They will land in Inner Harbour, so you will have no problem catching a bus or Uber to your hotel or wherever you plan on staying. While this is the most expensive option, it's also the fastest.
Lastly is by cruise ship. If you are already on a set cruise plan, your vessel will dock at the Victoria cruise point or Ogden Point. From the cruise port, it's only a 10-minute shuttle to downtown, and buses are provided by the cruise line.
However, if you're coming by cruise ship, you'll have four to twelve hours in port and not a weekend.
Best Time To Visit Victoria BC
Victoria is a fantastic place to visit all year round due to its mild climate. However, the best time to visit is from March to May for weather and price. You'll experience cooler weather of 10C in March but climbs to the low to mid-20s by May.
The fall provides a great time too. With the children in school, you'll benefit from lower prices and fewer crowds.
While summer is an obvious choice to visit Victoria, with average daytime highs up to 28C, it will be busy with many tourists. Expect higher prices for hotels.
That being said, there could also be rain between March to May as Vancouver Island is a Temperate Rainforest, so there could be surprise rain at any time during those months.
Victoria Day (in May) provides the start of the preferred long weekends for nicer weather. Canada Day (July 1st), BC Day (1st Monday in August), and Labor Day (1st Monday in September) also are busy long weekends.
However, some Canadians take a Friday or Monday off, creating their own extended weekend and avoid busy statutory holidays.
Where To Stay In Victoria
Downtown Victoria will be your best option for looking for somewhere to stay for the weekend. Here are some suggestions on some of the best hotels in the downtown area.
The Fairmont Empress Hotel is one of the most popular options for hotels in Victoria because of its history. The location is off Inner Harbour and in an excellent spot for all the necessities.
Award-winning boutique hotel The Magnolia Hotel and Spa is a beautiful weekend location. It is a block away from Inner Harbour but in the middle of the hustle and bustle of downtown. It is the perfect hotel if you are looking for a romantic long weekend getaway.
Another hotel that looks out onto Inner Harbour is Hotel Grand Pacific. Their rooms have balconies, so you can sit outside and marvel at the stunning view or sunset. While it may be an older hotel, it is a budget-friendlier option if you want to save money.
Things To Do On A Long Weekend In Victoria
While there are many tourist attractions in Victoria, here are some suggestions and top things to do to add to your list.
Visit Victoria Butterfly Gardens
The Victoria Butterfly Garden is one of the best tourist attractions for children and anyone who loves butterflies or wants to explore an indoor tropical paradise.
Wandering through, you will encounter poison dart frogs, tortoises, iguanas, tropical ducks, flamingos, and more.
In addition, you can see a variety of tropical fish in their serene pond. Of course, their main attraction is the butterflies; the facility houses the up to 70 species.
If you are planning your long weekend with children, there is a scavenger hunt list they can fill out as they explore the Butterfly Gardens.
Have High Tea/Afternoon Tea
An experience that everyone should try at least once when visiting Victoria is experiencing high tea or afternoon tea.
What is the difference between high and afternoon tea? High tea is a wholesome meal of meat, vegetables, and potatoes served in the early evening. Whereas afternoon tea is served midafternoon with pastries, scones, little sandwiches, and cakes.
There are five top locations in Victoria where you can experience high tea or afternoon tea.
The Fairmont Empress Hotel – Tea at The Empress
Butchart Gardens – The Dining Room at Butchart Gardens
White Heather Tea Room
The Tea House at Abkhazi Garden
Pendry Inn and Tea House
The Empress, Pendry Inn, and White Heather Tea Room have gluten-free options for celiacs like me.
Enjoy Butchart Gardens
Victoria, known as "the garden city," is famous for its colorful and fragrant Butchart Gardens, which showcase an array of exquisite flora and fauna. It is located in Brentwood Bay and one of Victoria's most iconic and popular tourist locations.
The must-see garden that has been growing for over 100 years overflows with picturesque flower beds and gardens. Expect to spend 3 to 4 hours touring its acres of gardens.
You can explore its many flower beds, such as the Japanese, Italian, and Mediterranean Gardens. Live entertainment also happens on their outdoor stage from June until September.
The pinnacle of the venue is the Sunken Garden. Originally a pile of rock, it is now the centerpiece of The Butchart Gardens and home to 151 beautiful flower beds and a diverse collection of trees and shrubs.
There are bus tours to Butchart Gardens if you're visiting Victoria without a private vehicle.
Explore The Inner Harbour
Exploring Downtown Victoria is something easy you can do during a long weekend in Victoria. Many restaurants have patio seating in the downtown area, coffee shops, and bars are also around, and retail stores.
The Inner Harbour is lovely to walk on a sunny day or stop off at one of the seafood restaurants nearby. The waterfront features various artwork and a collection of totem poles and often has live music in the summer months.
For a unique perspective of the waterfront, take a 45-minute harbour tour. The excursion lets you view historical buildings and be part of the water traffic, bustling with ferries and fishing boats.
There are two notable museums downtown: the Royal BC Museum, with natural history and film displays, and The Maritime Museum of British Columbia, which focuses on nautical history and exhibits.
In addition, another couple of excellent locations for children or anyone is the Victoria Bug Museum or Miniature World. I highly recommend visiting the Victoria Bug Museum if you love arachnids or insects.
Alternatively, Miniature World lets you see fantasy and history displays in miniature form.
Visit Chinatown
In the small section of Downtown Victoria is Victoria's Historic Chinatown, the oldest Chinatown in Canada. Fan Tan Alley is a popular spot in Chinatown known for being North America's narrowest commercial street.
It is a narrow pathway that connects Pandora Avenue and Fisgard Street. Before, it was an alley used for illegal gambling clubs. Today, there are small local boutique businesses inside the alley.
Head to Don Mee for an authentic dim sum experience in Victoria. While a bit pricey, you'll enjoy the atmosphere of ladies walking by with carts of food, ready for the taking.
Eat At Fisherman's Wharf
West of the Inner Harbour, Fisherman's Wharf has a hodge-podge of many colourful floating boat homes. You can access Fisherman's Wharf by water taxi if you prefer not to walk.
This fun spot has some small boutiques nestled amongst the patio restaurants. You've come to the right place if you're looking for the best fish and chips in town.
Barb's Fish & Chips has been serving fish since 1984. My favourite, The Fish Store, makes the most amazing gluten-free battered halibut.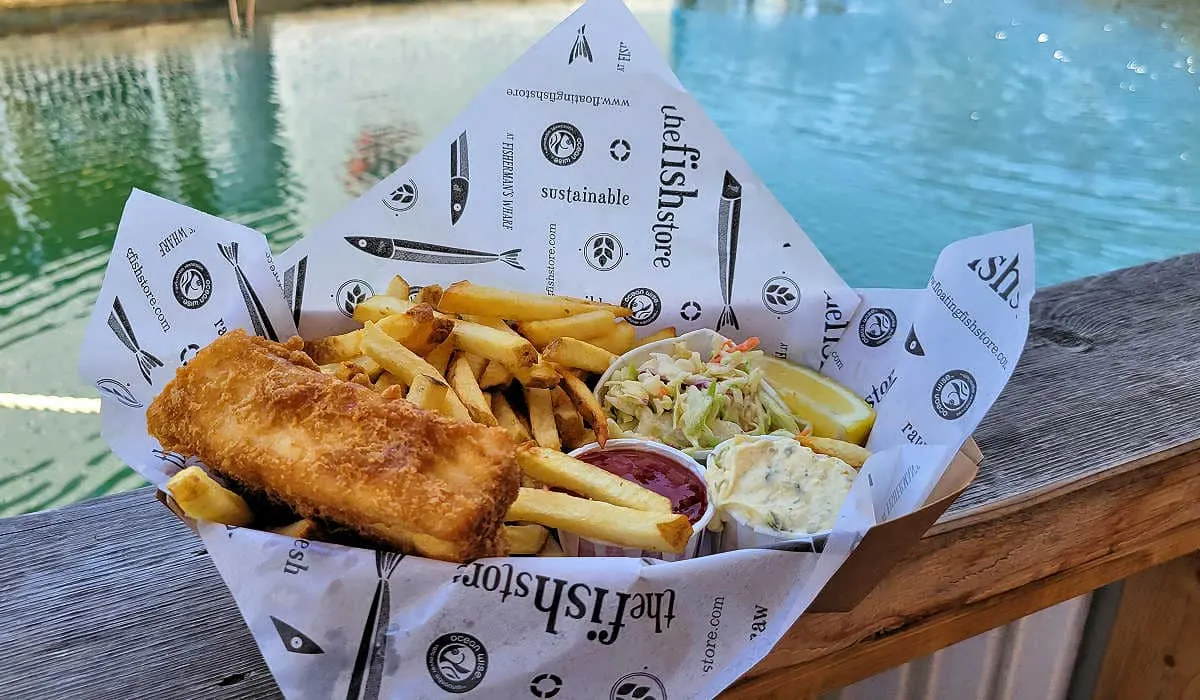 At the pier, Kelp Reef Adventures provides kayaking trips around the inner and outer harbour. You'll enjoy a different waterfront perspective and may see some sea lions or harbour seals.
Check Out A Waterfall
About an hour and a half from Victoria are excellent beaches and hikes that you can do. Mystic Beach is one of the most popular Vancouver Island waterfalls along the Juan de Fuca Marine Trail on Vancouver Island's southwest coast.
Other exploratory locations around Mystic Beach include Hidden Falls, China Beach, Sandcut Beach, and Juan de Fuca Provincial Park.
Take A Carriage Ride
If you're visiting during warm weather, experience the charm of Victoria's downtown area with a romantic horse-drawn carriage ride. These iconic carriages, known as "tally-hos," have been a beloved feature of the city for decades.
Originally used as a primary mode of transportation, they now serve as a charming tourist attraction. The carriages are meticulously maintained and pulled by retired draft horses.
You can select from 30 to 90-minute rides, and some carriages accommodate up to six passengers. While you take in the scenic beauty and historical landmarks, you can enjoy the clip-clop sound of hooves on the pavement, which adds to the nostalgic ambiance.
Go Whale Watching
Vancouver Island is on the migration path for hundreds of whales each year. Now, if you are wondering, is whale-watching worth it on Vancouver Island? Yes, it is a truly breathtaking experience.
Vancouver Island has a rich biodiversity for feeding during their migration from Alaska to warmer waters such as Mexico, Hawaii, and California, so you are most likely to see whales during the migration period.
From March to October, you can spot whales around Vancouver Island. However, peak season could be around May to October in Victoria specifically.
Of course, things change, and it is up to the whales and mother nature to change their migration course and habits.
During peak season, you have a 95% chance of spotting whales. These may include humpbacks, resident orcas, and transient orcas. On your whale-watching tour, you will likely see other mammals and sea birds, so keep a lookout.
It is one of the best places on the west coast to go whale watching.
Picnic At Beacon Hill Park
Suppose you are looking for something relaxing to do on your weekend. Bring a picnic blanket and packed lunch to enjoy an afternoon lunch in Beacon Hill Park. The beautiful 74-acre park has many stunning landscape gardens, ponds, and peacocks running around.
Inside the park, you can find the Beacon Hill Children's Farm, where you and your children can hang out with animals such as goats, pigs, pet alpaca, and more.
Other points of interest and historical landmarks inside Beacon Hill Park include the World's Tallest Free Standing Totem Pole (173 feet), The Moss Lady, Stone Bridge, and more.
Join A Ghost Tour
While it may not be for everyone, a Ghost Tour is a unique activity to Victoria, BC. A local guide will take you on a ghostly walking tour for about an hour, take you to some haunted sites in town, and talk about spooky and tragic tales from Victoria's past.
The walking tours typically last one hour but are double the fun if you attend a Halloween one.
Tour Craigdarroch Castle
Craigdarroch Castle is one of two castles in the city of Victoria. The other, Hatley Castle, is home to the Royal Roads University.
While the Craigdarroch Castle is more like a Victorian mansion, the Canadian castle was built between 1887 to 1890 by industrialist Robert Dunsmuir who got his wealth from mining coal.
The four-floor Victorian-furnished castle with stained glass windows and intricate woodwork is now a museum. So, during a visit, you can tour the castle rooms and learn more about the history of the Dunsmuir family.
In the Craigdarroch Tower, you can stand at the highest point in Victoria and enjoy lovely views from the windows. Be sure to check out its splendid tiled floor.
Unwind At The Boathouse Spa
If your idea of a long weekend is relaxation, there's no better place than the Boathouse Spa in Oak Bay, Victoria. This unique oceanfront spa provides a luxurious and rejuvenating experience for both the body and soul.
The spa offers holistic treatments and therapies promoting personal care and well-being.
Guests also have the opportunity to enhance their spa experience by upgrading to include access to the Mineral Pools, Sauna, Boathouse Kitchen & Bar, and stunning outdoor pool deck.
However, if you're a BC resident, you can enjoy a discounted stay, which includes access to the seaside mineral baths.
Tour The Parliament Building
If you're visiting Victoria on a budget, the Victoria Parliament Building tour is a must. The complimentary tours take approximately 40 minutes, and it's a chance to see where government decisions are made.
You do not have to reserve tickets online. However, getting the free tickets outside the building is on a first-come, first-serve basis. Times and dates are subject to change because of Legislative events.
There are also designated timeslots where you can take the tour in Mandarin or French. My advice; go early in the day, get a time slot and do something else to pass the time until your tour begins.
To the west of the Parliament Buildings, the Premier's Rose Garden features 12 rose varieties and a copy of the Speaker's Chair. While you might not enjoy the most uncomfortable seat in the house, at least you get to "smell the roses."
See Thetis Lake
A 20-minute drive from Downtown Victoria, Thetis Lake is one of the most visited and popular regional parks for those who love hiking, walking their dogs, or swimming in the lake.
It is a loop hike that will take about two hours to complete. The easy-moderate-rated trail makes a great option for the entire family and something to do to escape downtown Victoria.
Conclusion
A Victoria getaway makes a great trip at any time of the year. While parking can be problematic in the downtown area, renting a bike allows you to avoid the parking problem and still get around faster than on two feet. There's even an option to get an electric bike.
As you can see, there are many things you can explore and see on a long weekend in Victoria. From historical landmarks to ghost and castle tours, Victoria is an excellent location for everyone to enjoy a weekend getaway.