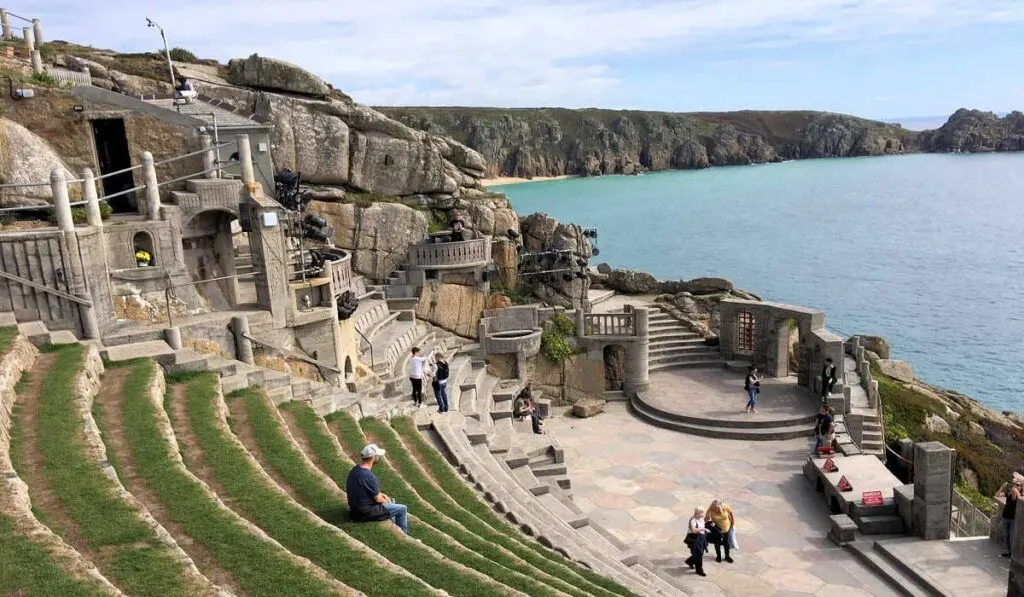 There are so many diverse cities, towns, and landscapes all over England, and if you're paying a visit to the south of England specifically, you're in for a treat.
From the coastal towns of the south west to the bustling cities of the south east, to the quaint and interesting villages dotted all over the bottom half of the country, there's so much to see down south.
Whether you're a city, coast, or country person, there are lots of ideas on this list, including stunning cathedrals, historic monuments, beautiful beaches, and much more.
Here are 20 of the best places to visit in southern England.
1. Canterbury
Over to the south east now. Canterbury in Kent is one of England's UNESCO World Heritage sites. A day out there is always a great idea. If you're coming from London, it's especially quick and easy to reach.
Check out Canterbury Cathedral, walk around the medieval streets, and tuck into delicious food in one of Canterbury's many eateries.
There's always a great atmosphere in Canterbury as they often host events and community gatherings in the city.
2. Exeter
This ancient city sits on the coast of south west England in the popular holiday county of Devon.
It's a fantastic mix of Roman-era architecture (the cathedral is unmissable), beautiful countryside, and a great city vibe that offers something for everyone.
In Exeter, you can lounge out on the beach, walk along the riverbanks, and visit the museums. You can even head down to the underground passages you'll find under the high street left behind from the 14th century — you'll never be short of things to do there!
3. Winchester
Winchester is a blink-and-you'll-miss-it city located in Hampshire. Small but stunningly beautiful, it's well worth a visit. It sits on the edge of the South Downs National Park, so you'll have the option of both the busy city atmosphere and the tranquil nature situated nearby.
Winchester is absolutely packed with history around every corner, and there are lots of cultural activities on offer to keep you thoroughly entertained. Don't miss The Great Hall, home to the iconic Arthur's Round Table.
Winchester Cathedral, another must-visit, holds a volume of the Magna Carta.
4. Dartmouth
Devon is not short of stunning seaside towns that draw crowds every year in summer. But luckily Dartmouth isn't one of the really busy ones (a best-kept secret!).
This gorgeous harbour town offers historic houses, a beautiful waterfront, walks along the River Dart, and numerous events and festivals throughout the year.
Dartmouth's maritime history means there's lots to do if you are interested in boats and the sea. You can take a tour of the Britannia Royal Naval College while there or try your hand at a local pastime… crabbing!
5. Portsmouth
Portsmouth is one of southern England's biggest cities and is an island city. It's another southern place with a rich maritime history, from the sunken Mary Rose just off the coast to the HMS Queen Elizabeth, which once passed through for a few months.
The iconic Spinnaker Tower provides breathtaking panoramic views of the city and the Solent.
Portsmouth is also a fun place to visit for its arty scene, cute coffee shops, and many independent businesses. There are things to do around every corner. Portsmouth should definitely be on your travel list.
You can make a day trip from Portsmouth to the Isle of Wight nearby. The island's rich history, including Osborne House and Carisbrooke Castle, make it an ideal place to spend a day.
6. Swanage
Swanage is a good old-fashioned English holiday town with nostalgia a plenty. They have many festivals and events throughout the year, so you'll never be bored.
From the Swanage Railway and Swanage Museum to the busy beachfront and many hiking options that'll allow you to take in some of the gorgeous surrounding countryside — Swanage is not to be missed.
And you really can't visit without hiking to see the famous Old Harry Rocks. It offer incredible clifftop views and plenty of chances to get your step count up for the day. Don't forget your camera for this one; the views really are stunning.
7. Lyme Regis
Although this is another coastal town, Lyme Regis is unique as it is known as the "Pearl of Dorset" and is home to a collection of fossils in the cliffs along the Jurassic Coast, a UNESCO World Heritage Site.
Heading to Lyme Regis for a guided tour can be a great way to see the area and discover some prehistoric treasures.
Hikers will also find joy in exploring the coastal path, which offers stunning views at every twist and turn. Be sure to wear your comfy shoes while walking around this beautiful town, as you're bound to walk farther than you mean to.
You can explore everything from stunning gardens to routes along the famous South West Coast Path. Alternatively, you can try your hand at water sports or sailing.
8. New Forest
One of England's best National Parks is the New Forest in Hampshire. It is well known for its stunning scenery, unspoiled nature, and even the famous New Forest ponies that roam freely in the park.
The New Forest was founded back in 1079-ish and remains a place of sheer beauty today that you'll absolutely love visiting. This is a great one if you're taking the kids too, as there are a lot of big open spaces for them to run around in.
9. St Ives
When you think of St Ives, you probably think of the beach, but there's so much more to do there.
There's plenty to get up to in this stunning Cornish town, from eating in one of the many excellent independent restaurants to watching the boats in the harbour to bathing in the inviting turquoise waters — you'll never want to leave.
St Ives also happens to be a great surf spot, so if you've wanted to try taking on the waves, this could be the best place to don your wetsuit and give it a go.
The town's quaint streets boast a vibrant art scene featuring renowned galleries and the Tate St. Ives.
10. Salisbury
It's hard not to fall in love with Salisbury when you visit, especially if you go at Christmas when it's most magical. This small city has plenty to do, including a market that happens twice a week.
The magnificent Salisbury Cathedral is perhaps one of the most stunning things to look at and one of the best cathedrals in the UK. Dating back over 900 years to what was once a pagan site; it boasts the tallest spire in the country.
If you love architecture, you might be interested to know that the cathedral is considered one of England's best examples of early English Gothic architecture.
The city's charming medieval streets lead to picturesque landscapes, including the Salisbury Plain and Stonehenge.
11. Arundel
Southern England towns exude so much charm, history, and character, and there's none quainter than Arundel.
Nestled in the picturesque county of West Sussex, Arundel promises a delightful experience for visitors. With its rich history, stunning architecture, and breathtaking surroundings, Arundel offers a perfect blend of charm and cultural heritage.
The star attraction is the magnificent Arundel Castle, a medieval castle home to the Duke and Duchess of Norfolk. Explore its grand halls, exquisite bedrooms, and panoramic views of the River Arun from its spectacular keep.
Outside the castles, the grounds are just as impressive. From its newest addition to the Collector Earls Garden to the organic kitchen garden, there's beauty in each carefully planted area.
12. Bath
Founded by the Romans in the 1st century AD, Bath boasts a remarkable heritage that still resonates today. The city owes its name to the ancient Roman baths, which were constructed around natural hot springs believed to possess healing properties.
Top places in Bath include the magnificent Bath Abbey, a breathtaking Gothic masterpiece, and the Pulteney Bridge, which spans the River Avon and is reminiscent of Florence's Ponte Vecchio.
The Royal Crescent and The Circus, architectural marvels featuring sweeping crescents of Georgian townhouses, offer a glimpse into the city's elegance and grandeur.
However, the star attraction of Bath is the Roman Baths themselves, listed as a UNESCO World Heritage Site. Expect to spend up to two hours exploring the baths, seeing the Temple of Sulis Minerva's ruins, and browsing the museum collection.
13. Gloucester
Situated on the River Severn in the southwest of England, a day trip to Gloucester provides visitors with its rich history city and fascinating heritage.
The city's main attraction, the awe-inspiring Gloucester Cathedral, is a masterpiece of Gothic architecture that dates back to the 11th century. Its magnificent cloisters famously appeared in the Harry Potter films, adding to its allure.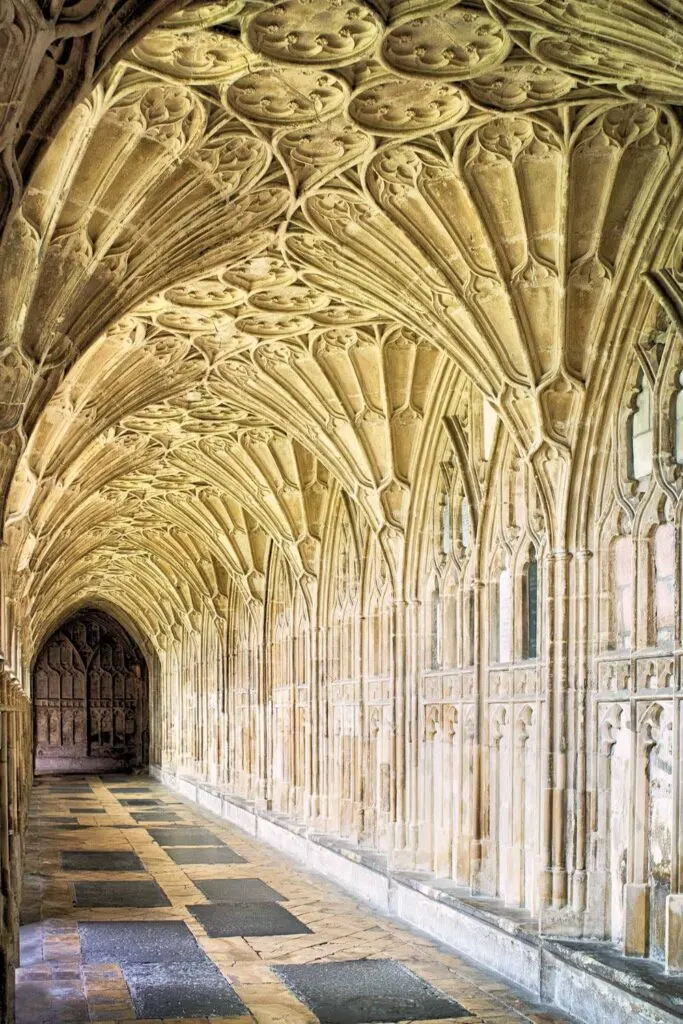 The city's historic docks, known as the Gloucester Quays, are a vibrant hub featuring an array of shops, restaurants, and museums.
The Gloucester City Museum and Art Gallery brings Gloucester's rich history to life, allowing you to explore exhibits that showcase the city's past. The Soldiers of Gloucestershire Museum pays tribute to the military heritage of the region.
14. Castle Combe
Often referred to as the "prettiest village in England," Castle Combe beckons travelers with its idyllic charm and timeless beauty. Exploring Castle Combe feels like stepping back in time, as the village has retained its historic character and enchanting cobblestone streets.
The centerpiece of the village is the charming Market Cross, a 14th-century structure that once served as a hub for trading and community gatherings.
Nearby, the ancient St. Andrew's Church offers a serene retreat with its stunning stained-glass windows and tranquil churchyard.
The surrounding countryside also offers scenic walking trails, allowing you to soak in the beauty of the Cotswolds. If you're looking for a road trip, the Cotswolds provides picturesque villages begging for exploration.
15. Falmouth
Falmouth is renowned for its bustling harbour, where sailboats and yachts bob gracefully on the shimmering waters. It's one of the top places to visit in south west England. While the fishing industry has declined in favour of tourism, its docks still play a major part in its economy.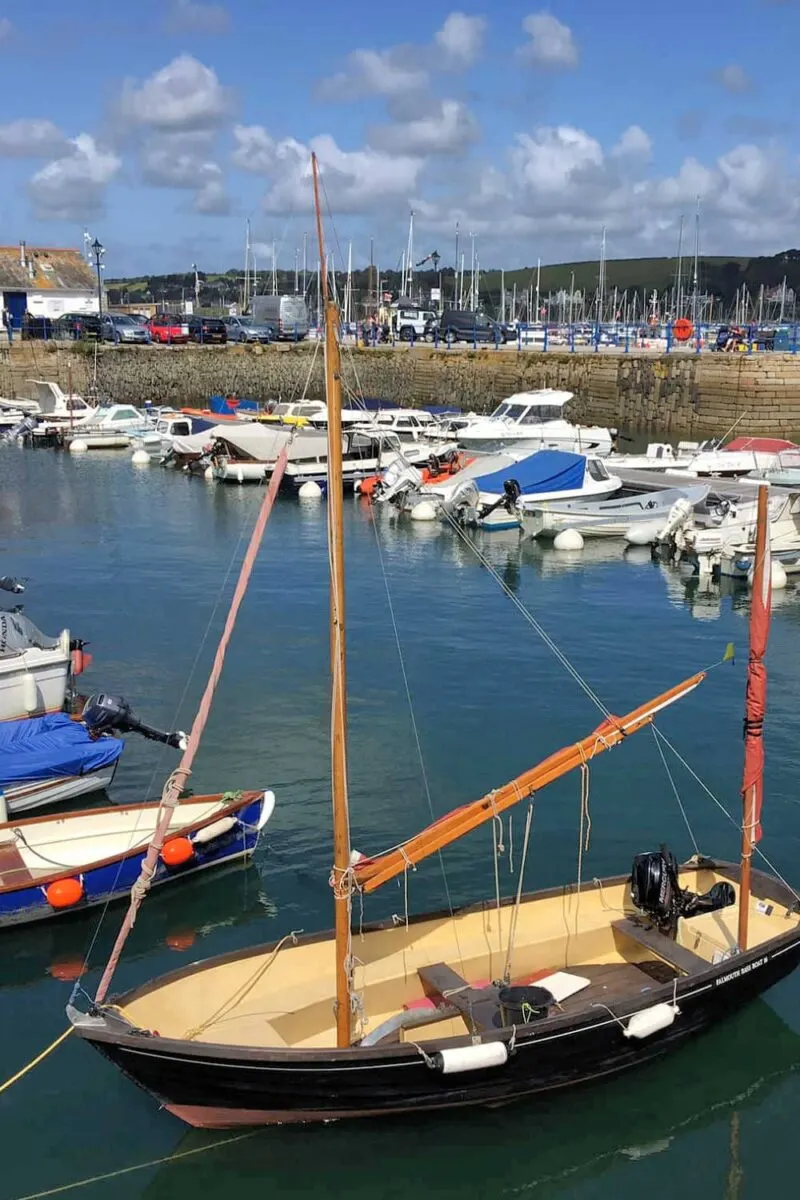 The National Maritime Museum Cornwall showcases the town's rich seafaring history, while the historic Pendennis Castle provides a glimpse into its military past.
The picturesque Gyllyngvase Beach invites sun-seekers to bask in the golden sands of the south coast. Alternatively, they can partake in water activities such as kayaking and paddleboarding.
Strolling through the town's narrow streets reveals a treasure trove of independent shops, art galleries, and cozy cafés. The vibrant Falmouth University campus adds youthful energy to the town, fostering a thriving arts and culture scene.
16. Cirencester
With its Roman legacy, architectural wonders, and vibrant market scene, Cirencester offers a blend of history and modern charm.
This historic market town, often dubbed the "Capital of the Cotswolds," was once the second largest town after London.
The Roman Amphitheatre, a testament to the town's ancient past, offers a glimpse into its fascinating history. Cirencester's crowning jewel is the Corinium Museum, which showcases an impressive collection of artifacts from Roman times.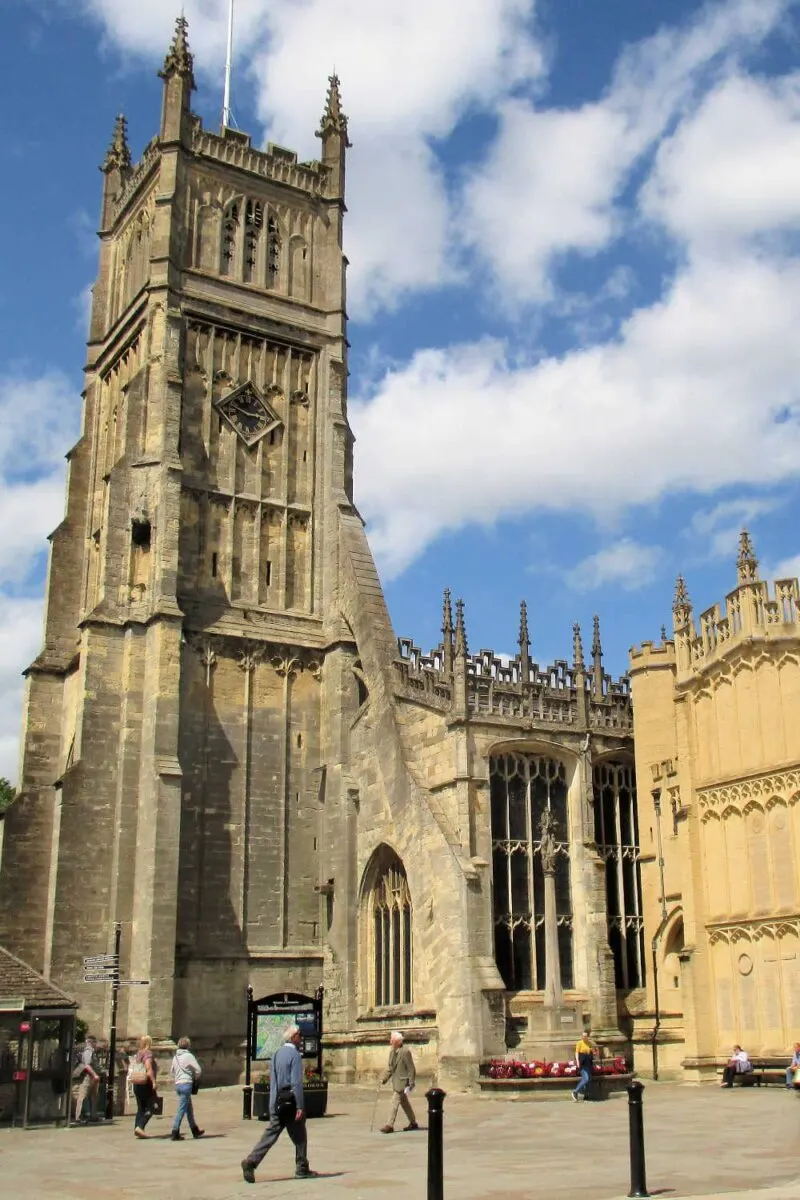 With its towering spire, the magnificent Cirencester Parish Church is a striking example of Gothic architecture and a must-visit for architecture enthusiasts.
17. Hastings
Located on the south coast of England in East Sussex, Hastings makes a great day trip from London. With a history dating back to the Norman Conquest of 1066, this seaside town is renowned for its connection with the Battle of Hastings, a pivotal event in English history.
At Battle Abbey, you can learn about the significant clash that changed the course of the nation. Its Hastings Castle, built by William the Conqueror, is a great spot to savor panoramic views.
Another iconic landmark is the Old Town, with its charming narrow streets, medieval architecture, and traditional fishermen's huts.
Beyond its historical significance, Hastings is a popular destination with stunning beaches like the award-winning Pelham Beach. The vibrant Hastings Pier, a Victorian structure revived with modern amenities, offers entertainment, food, and views of the English Channel.
A 40-minute drive west of Hastings, you can visit Beachy Head. Its striking white cliffs exude natural beauty and are higher than the white cliffs of Dover.
18. Penzance
Nestled on the southwestern tip of Cornwall, Penzance offers a blend of history, natural beauty, and cultural charm. Renowned for its stunning coastal scenery, it boasts pristine sandy beaches, dramatic cliffs, and picturesque harbor view
The town's notable landmarks include St. Michael's Mount and the historic Penlee House Gallery and Museum. You can reach St. Michael's Mount on foot during low tide, but must resort to a boat once the water rises.
Don't miss the Minack Theatre, a mesmerizing open-air amphitheatre perched on a cliff with stunning ocean views.
Its best features include the dramatic setting, intricate stone architecture, and a vibrant lineup of plays, making it a must-visit destination for theater enthusiasts and nature lovers alike.
Penzance is also a gateway to the Isles of Scilly, where visitors can explore idyllic islands and indulge in water sports.
19. Cheddar Gorge
Located in the Mendip Hills in Somerset, Cheddar Gorge is a stunning limestone gorge famous for its natural beauty and historical significance. Its magnificent landscape creates a dramatic backdrop for picturesque walks and hikes.
It is most well-known for being the site where Britain's oldest complete human skeleton, known as Cheddar Man, was discovered in Gough's Cave.
An underground river formed the caves in the gorge. Inside, the magnificent stalactite and stalagmite formations attract tourists and nature enthusiasts alike.
Additionally, in the village of Cheddar, you can experience the warm ambiance of a quintessential English village while indulging in delicious Cheddar cheese, a regional specialty.
20. Brighton
Known for its bohemian atmosphere, cultural diversity, and stunning seaside location, Brighton has become a popular destination for global travelers.
One of the city's best features is its iconic pebble beach, stretching along the English Channel. The city's famous Brighton Pier is a hub of activity, offering thrilling rides, arcade games, and delectable seaside treats.
Beyond its beach, you can explore the North Laine district or tour the Royal Pavilion, an extravagant palace with Indian and Chinese architectural influences.
Moreover, Brighton boasts a lively nightlife, with a myriad of bars, clubs, and restaurants. The city's LGBTQ+ community adds to its inclusive and welcoming atmosphere, with events like Brighton Pride drawing crowds from far and wide.
As you can see, these destinations in southern England offer a mix of historical landmarks, natural beauty, cultural heritage, and unique experiences to explore and enjoy.
Will you be visiting any of these great places in southern England? We'd love to know!