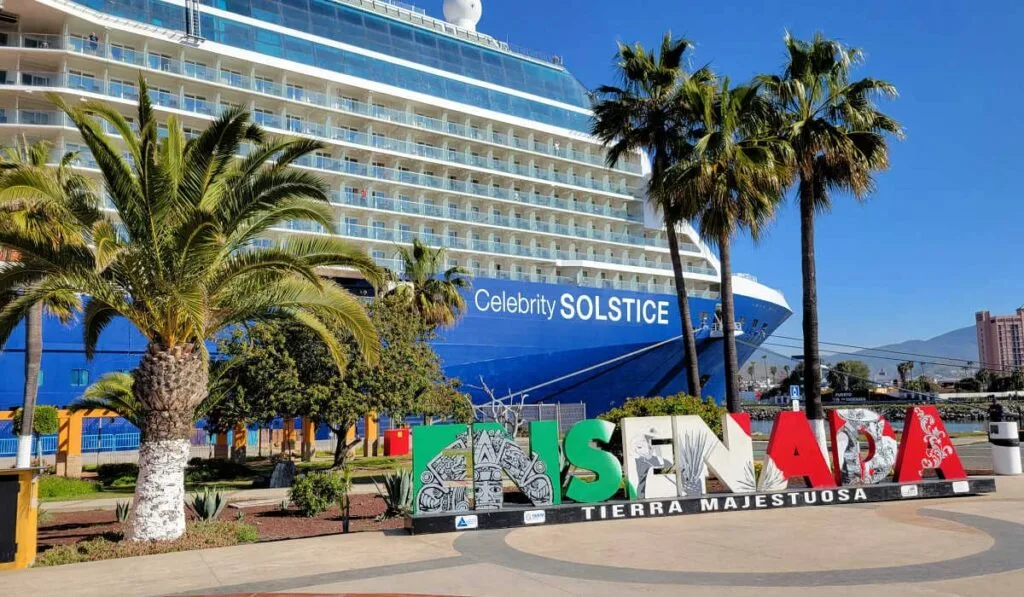 Ensenada, Mexico, is a popular destination often included on Mexican Riviera cruise itineraries. If you're stopping in this port and looking for things to do in Ensenada, I have some great suggestions.
This vibrant city offers some unique shore excursions and mouthwatering culinary experiences that will delight any visitor. While you'll only have one day in Ensenada, you're bound to leave great memories.
Located in Baja California, Mexico, the city is known as a busy cargo port. Since it's located close to the United States border, you can make a day trip to Ensenada from San Diego.
However, this article recommends the following activities when arriving on a cruise ship.
Planning your trip?
🎡 Make your trip more exciting with a shore excursion from Viator
🛳️ Choose a cruise itinerary that stops in Ensenada from Cruise Critic
Where Is The Ensenada Cruise Port?
The Ensenada port in Mexico is home to a Naval cruise terminal where cruise ships dock. This terminal is in the industrial area and can accommodate several ships a day. Due to the Jones Act, closed-loop cruises to Hawaii port in Ensenada.
If you cruise to Ensenada, you can walk to town if they haven't booked a shore excursion or take a shuttle.
Nearby, you'll find the Malecon, which features a huge Mexican flag, a few sculptures, and local vendors selling souvenirs and Mexican food. Next to the giant flag, the water show provides a refreshing mist during a scorching day.
Whether you're on a roundtrip cruise to Hawaii or have a short itinerary from the cruise port in Los Angeles, here are some options to enjoy your day.
1. Visit La Bufadora
Undoubtedly, Ensenada's most popular activity is a visit to see La Bufadora. The natural blowhole is one of the largest marine geysers in North America and a popular tourist attraction in the region.
You'll need to take a tour to reach the blowhole, and the drive from Ensenada typically takes around 30 minutes. The best time to visit La Bufadora is during high tide, when the majestic marine geyser is most impressive.
As waves crash against the rocky cliffs, water enters a sea cave and shoots through a natural blowhole, creating a spectacular display of water sprays reaching heights up to 100 feet.
Aside from the mesmerizing blowhole, La Bufadora offers a busy marketplace showcasing local handicrafts, jewelry, and delicious street food. The food stalls and vendors provide a flea market atmosphere but with new products.
Some people find the vendor area overwhelming. Others go with the flow and tune out the locals peddling their goods.
For just USD 2, you can taste the most delicious and fresh tacos from Lidia's Taco Grill.
2. Take A Wine Tasting Tour
Ensenada offers an unforgettable experience for wine lovers with its captivating wine tasting tours. The renowned Valle de Guadalupe, situated just northeast of Ensenada, boasts a rich viticultural heritage dotted with renowned vineyards.
These wine country tours typically last three to five hours and offer an immersive journey through picturesque vineyards nestled amid breathtaking landscapes.
Ensenada is famous for its production of high-quality wines, particularly its signature varietals such as Cabernet Sauvignon, Merlot, and Zinfandel. The Mediterranean-like climate and fertile soil create ideal conditions for cultivating these grape varieties.
Imagine sipping award-winning wines as you visit the iconic L.A. Cetto, where Nebbiolo and Chardonnay reign supreme. Don't miss Monte Xanic, which produces exceptional Chenin Blanc and Cabernet Sauvignon.
Explore the family-owned Vinos de la Reina and indulge in their handcrafted red blends. A stop at Adobe Guadalupe reveals divine reds like their Uriel blend, made with Merlot, Cabernet Sauvignon, and Tempranillo.
Finish your wine route, relishing a luscious Zinfandel at Baron Balche. The Ensenada wine tasting tour gives you the option to purchase Mexican wine, which makes the best gift.
3. Visit The Fish Market
A popular attraction in Ensenada is the Ensenada Fish Market, located near the waterfront.
This local market, known as the Mercado Negro is a must-visit for seafood lovers, as it offers a wide selection of fresh catch of the day.
Even though you're not staying in Ensenada, you can buy seafood from the market, and nearby restaurants will cook it for you. The market proudly showcases a wide variety of fish and seafood delicacies.
From succulent shrimp and tender octopus to flavorful snapper and tuna, the options are plentiful. Fresh oysters, clams, and mussels are also available, catering to the discerning palates of seafood lovers.
By visiting the market, you'll enjoy a lively atmosphere and a unique experience with various seafood species that may be unfamiliar to you.
4. Take An ATV Tour In Valle De Guadalupe
The Guadalupe Valley has a vast network of trails suited to off-roading. You could say it's a playground for the adventurous. The journey from the cruise port is a half hour drive.
By taking one of many 4WD or ATV tours, you can spend from two to five hours exploring the mountains. Some tours combine off-roading with wine tasting or horseback riding.
The tours include goggles and a safety helmet, but purchasing a sample of wine is optional. With a tour guide to lead the way, you'll ride by hidden vineyards, stop at scenic lookouts, and enjoy the stunning terrain.
Due to the nature of this activity, it's unsuitable for pregnant women, people with back problems, or serious injuries. Should you take this tour, be prepared to get dusty and dirty!
5. Take A Ford Model T Tour
The Ford Model T tour in Ensenada offers a unique and nostalgic way to explore the enchanting city. The tour includes a brief introduction to the history and significance of the Ford Model T, a revolutionary vehicle that transformed the automotive industry.
Then, you'll embark on a one to two-hour guided journey through the streets of Ensenada, soaking in the sights and sounds of the local culture.
Stops include the Opal mine, Tequila Museum, and Bodegas de Santo Tomas, Baja California's first winery. Here, you can enjoy some wine tastings with the option to buy.
Tours are customizable, providing opportunities for photos and exploration. Experiencing Ensenada in a Ford Model T delivers an exceptional way to combine history, culture, and sightseeing in a truly memorable way.
6. See The City On A Segway
Segways provide a fun way to tour Ensenada, especially when it's hot. A Segway is a two-wheeled electric scooter that requires a minimum weight of 90 lbs (40 kg) to ride.
Children must be at least 14 years old and weigh at least 100 lbs, and an adult must accompany them if they are under 16 years old. The tour operator provides safety helmets; participants are given instructions and practice time before the tour.
The tours typically last up to two hours. After the boardwalk, you'll stop by the famous fish market, Plaza Civica, and Riviera Del Pacífico, once a prestigious casino and resort club.
With just two hours committed to this tour, you'll have plenty of free time to explore other areas of Ensenada on your own.
7. Eat Some Fish Tacos
You can't visit Mexico without trying its delicious food. La Guerrerense, a popular seafood spot, serves tasty ceviche tostadas, showcasing fresh fish marinated in lime juice, accompanied by avocado and homemade salsas.
This food stand has been serving delicious street food for over 50 years and is rated one of the best eats in Ensenada by Forbes.
For an extraordinary experience, head to Muelle 3, where you can savor the iconic fish tacos. These crispy delights are filled with freshly caught fish, seasoned to perfection, and served with a side of creamy chipotle sauce.
While mouthwatering fish tacos are the most popular choice, Celiacs like me can opt for chicken or beef tacos with warm corn tortillas. Partnered with creamy guacamole and freshly squeezed lime, it's Mexican cuisine at its finest.
Complete your meal with ceviche, a refreshing medley of citrus-marinated fish, shrimp, and octopus.
8. Check Out The Caracol Science Museum
Close to downtown Ensenada, the Caracol Science Museum is a must-visit if you're traveling with kids. The museum focuses on science, nature, and environmental education.
Its exhibition halls feature astronomy, mathematics, biology, and ecology displays and interactive exhibits. The tour includes three rooms dedicated to land, sea, and sky, as well as a temporary exhibition hall.
Families on a budget will like the low admission fee and the convenience of being close to the cruise port. The interactive displays are suited to kids six years and up.
Expect to spend two hours in this museum, which provides a great educational experience on the area.
9. Hang Out At Civic Plaza
Plaza Cívica de la Patria, or Civic Plaza, is a waterfront hub brimming with people. Next to the plaza, Parque de la Bandera features a huge Mexican flag.
The surrounding area provides a brief history lesson through the use of statues and informational plaques. Nearby, the Monumento a los Ninos Héroes memorializes six young cadets who died 1847 defending their land.
Entitled La Patria Los Une en la Gloria or In Gloria United, the giant white obelisk remembers those who perished during the Battles of Chapultepec and Veracruz during the Mexican-American War from 1846-1848.
Civic Plaza also features three giant head busts of prominent men in Mexico's history. The statues are hard to miss, painted in gold.
They include Padre Miguel Hidalgo (who started the Mexican Revolution), Venustiano Carranza (Mexico's first post-revolution president), and Benito Juárez (Mexico's first president).
10. Go Ziplining In Las Cañadas
Outdoor activities are endless in Ensenada, and there is none better than an adventurous zip-lining excursion in Las Cañadas. Since this one requires a 30-minute drive to reach it, you're best to book a tour.
If you love zip lining, this one offers zip lining and a canopy tour. You'll cross five hanging bridges and repel across five zip lines, some as long as 1300 feet.
Imagine the adrenaline rush as you reach speeds of 25 MPH. The hanging bridges are fun, but some are more challenging than others. Are you up for the barrel bridge and the Tibetan bridge?
You can take photos, and the guides will take group shots for you. Having a clear photo pouch is advisable to prevent dropping your smartphone during the tour.
This activity is suitable for those 7 to 77. Are you up for the challenge?
11. Take A Carriage Ride
Explore the charming streets of downtown Ensenada in a traditional horse-drawn carriage. These affordable 60-minute buggy rides offer a delightful and nostalgic way to discover the city.
Look for the carriages along Alvarado Street and embark on a memorable journey through Ensenada's scenic spots. You can choose from a small over-air carriage for two or a larger covered carriage to accommodate a family.
Compared to other destinations like Victoria, BC, where horse-drawn carriage rides can be quite expensive, Ensenada offers the same enchanting experience at a fraction of the cost.
12. Go On A Food Tasting Tour
Tasting a country's food provides a great way to learn about its culture. Ensenada is a great place to feast on authentic Mexican cuisine. You can select from various food tours or do a taco and brew excursion.
Alternatively, you can wander downtown and eat at various food trucks and stands.
Due to Mexico being an inexpensive country, these tours are super cheap but still provide great foods to tantalize the taste buds. You can also purchase cheap beer or wine to accompany your food.
Stops may include El Fenix, a food truck that has been serving tacos since 1970. Its specialty, Baja-style shrimp and fish tacos, will make you want to return to Ensenada just to experience this street food again.
La Guerrerense, another popular street cart, offers amazing seafood tostadas. Made famous by the late Anthony Bourdain, you may not like his choice of sea urchin with clams.
However, the cart sells scallop, cod, and octopus variations with flavorful salsas that will knock your socks off.
13. See The Sea Lions
With its year-round warm waters, Ensenada is home to a variety of marine mammals. The region's shallow bays are a haven for migrating marine mammals, including gray whales, sea lions, and Guadalupe Fur Seals, which come here to give birth during their breeding season.
In deeper waters around Guadalupe Island, you can encounter Great White Sharks and, until recently, could take a shark cage dive.
However, closer to land, you'll encounter colonies of California Sea Lions, who lazily hang out on the docks, floats, and abandoned ships.
As you cruise into Ensenada cruise port, you can sometimes hear their noisy barks before you see them.
14. Go Horseback Riding
Ensenada offers horseback tours that take you either into the mountains or along the beautiful beaches. These tours are perfect for beginners as they provide gentle-natured horses.
In the mountains, you'll be treated to stunning views of the Bay of Ensenada while the beach rides enjoy the refreshing breezes from the Pacific Ocean.
The tours usually last two to three hours, with an actual ride time of one hour. Despite the heat, wearing long pants, closed-toed shoes, and sunscreen is important for protection.
Desert Trails, Rancho Los Bandidos, and Ensenada Excursions are reputable companies that offer these unforgettable horseback riding experiences.
15. Get A Selfie With An Ensenada Sign
No trip to Ensenada is complete without a selfie with the giant Ensenada sign. Fortunately, you won't have to walk far from the cruise terminal to find one.
As you disembark your cruise, you'll find your first sign, painted in Mexican flag colors. This sign offers the best opportunity for a selfie without others.
Further along the Malecon, a yellow and orange sign sits by the water, behind the dancing water fountains. This area is called El Parque de la Bandera, and since it's always busy, getting a selfie without other people is quite difficult.
If you plan to visit La Bufadora, another giant and colorful sign sits near the viewing area. This one is weather-beaten and in need of a fresh paint job but has the beautiful Pacific Ocean as a backdrop.
16. Hike El Salto Canyon
Located 45 minutes north of Ensenada, El Salto Canyon offers a short, deep gorge, ideal for outdoor adventurers. It's a popular stop for climbing, hiking, and repelling.
Here, you can embark on a breathtaking hike through the canyon in the Guadalupe Valley. If you're going with a knowledgeable guide, you will learn about the area's fascinating natural history.
As you venture deeper into the canyon, the terrain becomes increasingly dramatic, with steep walls blocking even the midday sun. During the rainy season, you may encounter some beautiful cascades.
The canyon is adorned with massive boulders, requiring you to hop from one to another along the trail.
Throughout the hike, your guide will provide insights into the geological formation of the black-rock canyon and point out any fauna you may encounter.
Keep an eye out for hawks soaring above and spiny lizards basking on the boulders and scurrying across the arid landscape.
17. Go Tequila And Mezcal Tasting
No trip to Mexico is complete without experiencing the delightful tequila and mezcal tasting in Ensenada. During this tour, you'll indulge in the flavors of three distinct mezcal and tequila varieties.
A delectable serving of traditional fish ceviche flavored with fresh lime accompanies the alcohol samples. Just don't make the common mistake in Mexico of drinking too much.
During this immersive tour, you will not only savor these exquisite beverages but also gain knowledge about the various types of agave, the intricate production process, and the nuances that differentiate tequila from mezcal.
Scorpion Mezcal is bottled with a real scorpion. While it may look gross, the oils from the arachnid are believed to add flavor and have a healing property. Don't eat the scorpion if you're brave enough to try it.
If you're considering a tour, some tour operators even offer the opportunity to combine this excursion with a city tour, allowing you to explore the Ensenada flea market and admire the stunning Cathedral de la Nuestra Senora de Guadalupe church.
18. Browse The Ensenada Museum Of History
The Ensenada Museum of History, located on Centro Cultural Riviera Blvd, is a fascinating destination showcasing Ensenada's rich history. And the best part is you don't have to walk far from the cruise port to access it.
From the indigenous tribes and their artifacts to the influence of missionaries, the museum provides a comprehensive overview of Ensenada's past.
The Chinese stone lions at the entrance serve as a reminder of the Chinese influence in the region. Despite its unassuming exterior, the museum's interior is filled with a wealth of information and exhibits.
You can explore the various rooms, which takes some walking up and down stairs, and appreciate the strong documentation and English translations accompanying the Spanish narratives.
Remember to stop by the small gift shop at the entrance, often staffed by volunteers, and be prepared for a minimal entrance fee.
19. Go Whale Watching
If you're looking for an incredible natural spectacle, be sure to visit Ensenada between December and April. During this time, you can witness the annual migration of gray whales.
These majestic creatures swim by the Bay of Todos los Santos as they travel from the cold waters of Alaska to the Baja California peninsula's warm waters.
During this migration, they mate and give birth to their young. Ensenada is known as one of the best places to see whales on the west coast, and the best part is that the tours are affordable.
While boats are not allowed to get too close to the whales, the whales themselves often approach the vessels out of curiosity. We have taken whale watching excursions in Cabo San Lucas and Puerto Vallarta, and they never disappoint.
20. Visit Riviera Del Pacífico
The Riviera Del Pacífico, originally a casino and hotel, is now a historic architectural landmark. It offers tours of its stunning interiors, showcasing its former grandeur.
In its heyday, the hotel was a popular destination for Hollywood entertainers and influential figures like William Hearst. The tour includes entertaining shows featuring Mexican dancing, singing, and impressive rope tricks.
Although the hotel suffered from disrepair and theft of fixtures and fittings after being requisitioned during the war, the remaining elements still provide a glimpse into its former magnificence.
Despite half of the building being demolished, impressive light fittings and features still showcase its past glory.